Are you on a low-carb diet but crave some delicious sushi today? Here's a brilliant alternative to sushi rice that will surprise you: sticky cauliflower rice. Let us show you how to make it!
Riced cauliflower is a popular low-carb rice substitute in the keto diet. We especially love it because it's a fun way to eat more veggies and have a grain-free option when you've hit your daily carb allowance.
If you have never made cauliflower rice before, you may wonder: how do you turn a whole cauliflower into rice? Simple: grate or blitz the tender florets into bits until they look like white rice grains. Easy!
Now, turning riced cauliflower into sticky rice is a little trickier as cauliflower doesn't have any starch to bind the "grains" as regular rice does. But don't worry, we sorted it out!
Many recipes use cream cheese to bind the cauliflower rice and make it sticky. But we wanted to use an ingredient that is also vegan, low in calories and neutral-tasting. And that ingredient is agar agar!
What's that? Agar agar is a natural gelling agent derived from red algae, commonly found as a powder. It activates when cooked and sets when cooled — just like gelatine but plant-based!
You may have seen agar agar in dessert recipes like puddings and cheesecakes, and you can now use it to make cauliflower sushi rice too. It works wonders!
In the recipe below, we'll show you how to cook agar agar and add it to steamed riced cauliflower to prepare sushi rice. Make sure you follow our instructions carefully and work fast, as agar agar sets quickly.
Once the sticky rice is sorted, have fun making your low-carb sushi rolls, nigiri, and onigiri. The default ingredients yield enough cauliflower sushi rice for 1 serving of maki rolls, about 8 medium hosomaki.
And if you're looking for some sushi ideas to put your low-carb sticky rice into action, check out these tofu crunchy rolls, mango maki, and kombu onigiri — all delicious!
Ingredients
| | |
| --- | --- |
| Riced Cauliflower | 180 g |
| Agar Agar Powder | 1 tsp |
| Salt | 1/4 tsp |
| Erythritol Sweetener | 11/2 tsp |
| Water | 150 mL |
| Rice Vinegar | 1 tsp |
Step 1
Start by preparing the cauliflower rice using either a food processor or a box grater.
Food processor option: halve a cauliflower head, pull the florets and trim off their hard stems.
Blitz the florets in short pulses (four or five pulses) to grind the cauliflower into rice-like grains.
Box grater option: quarter a cauliflower head and keep the stems, as they'll help you hold the florets onto the grater.
Grate the cauliflower using the large holes of a box grater. Once you get to the stems, stop, and use another floret piece.
Now, weigh the prepared riced cauliflower making sure you have exactly 180 g of cauliflower rice needed for this recipe.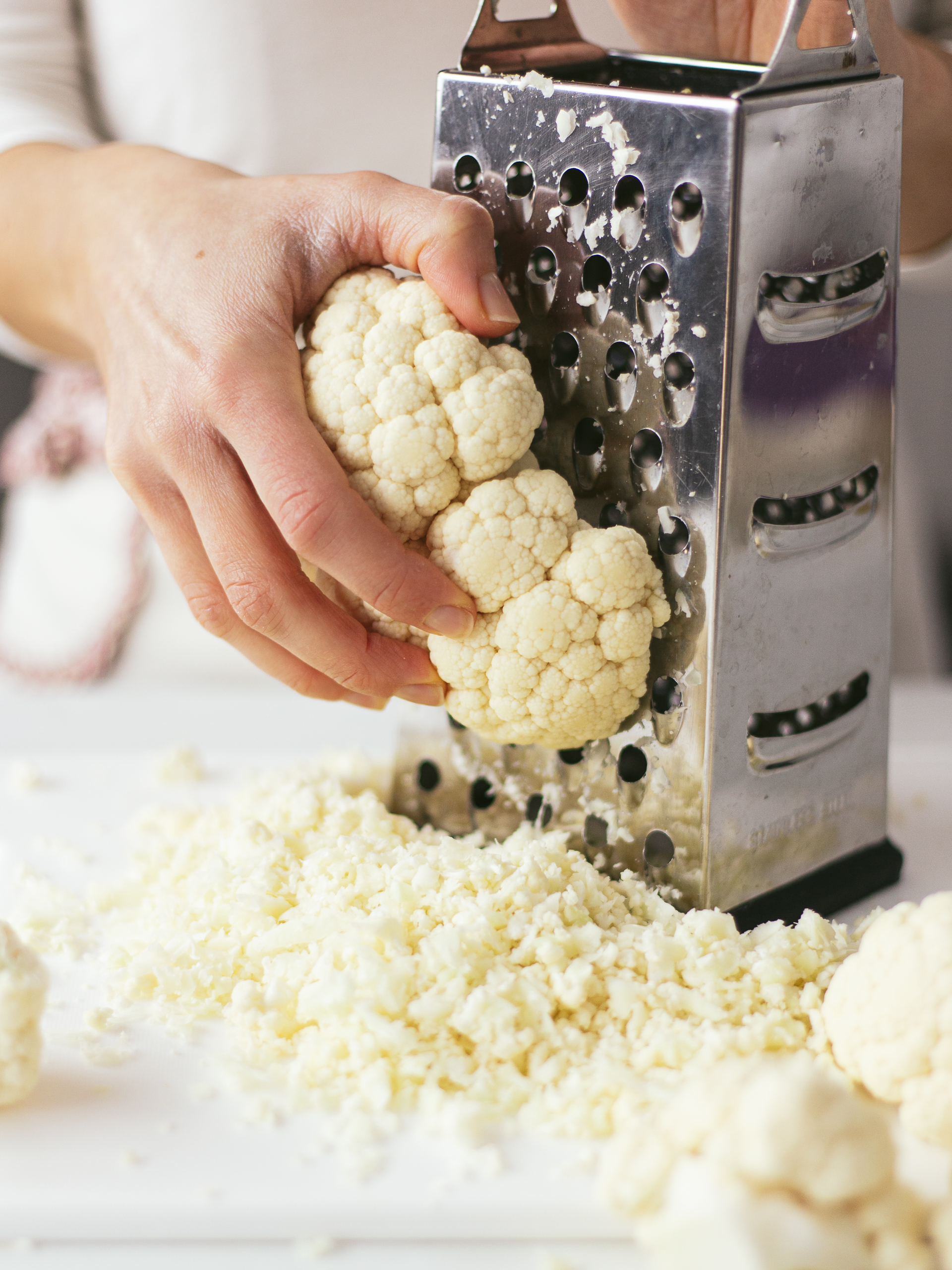 Step 2
Next, steam the cauliflower rice.
Set a steamer on a pot of boiling water without making it touch the water.
Line the steamer basket with baking paper and add the cauliflower rice. Cover and steam for 25-30 minutes over low heat until the rice grains are tender but not soggy.
As an alternative to steaming, cook the riced cauliflower in a non-stick skillet for 6-8 minutes over medium-low heat, stirring continuously.
However, keep in mind the skillet will make the cauliflower rice a bit browned, so it won't look as white as the steamed one.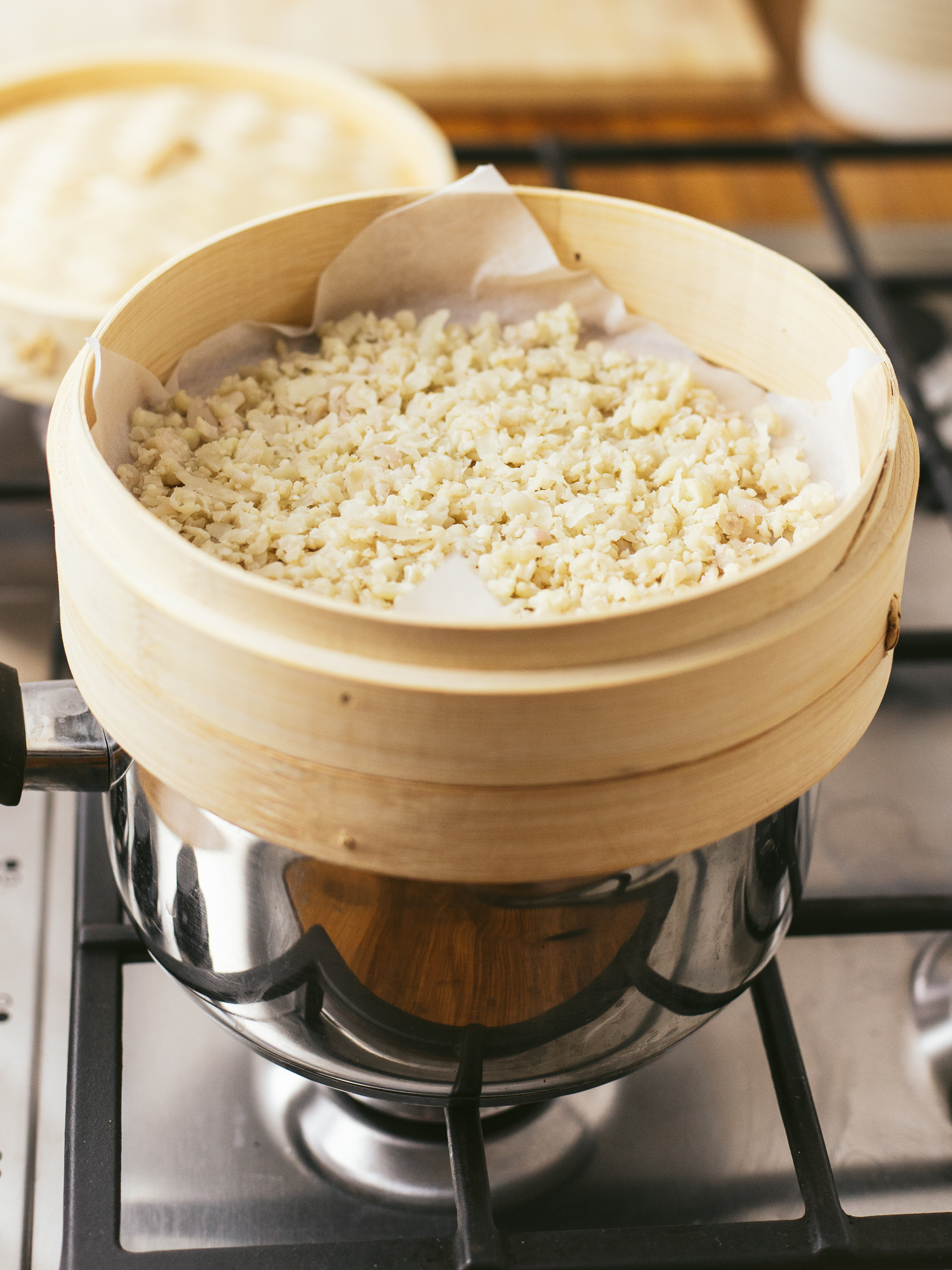 Step 3
While the cauliflower rice cooks, prepare all your sushi-making equipment and ingredients (rolling mat, nori sheets, fillings, etc.).
This is because the agar solution you'll prepare in the next step will set quickly once you stir it into the cooked cauliflower rice, about 10 minutes.
So, keep in mind you'll have to make your sushi rolls and nigiri fast before the agar solidifies completely.
When the steamed cauliflower rice is ready, keep it aside, well-covered.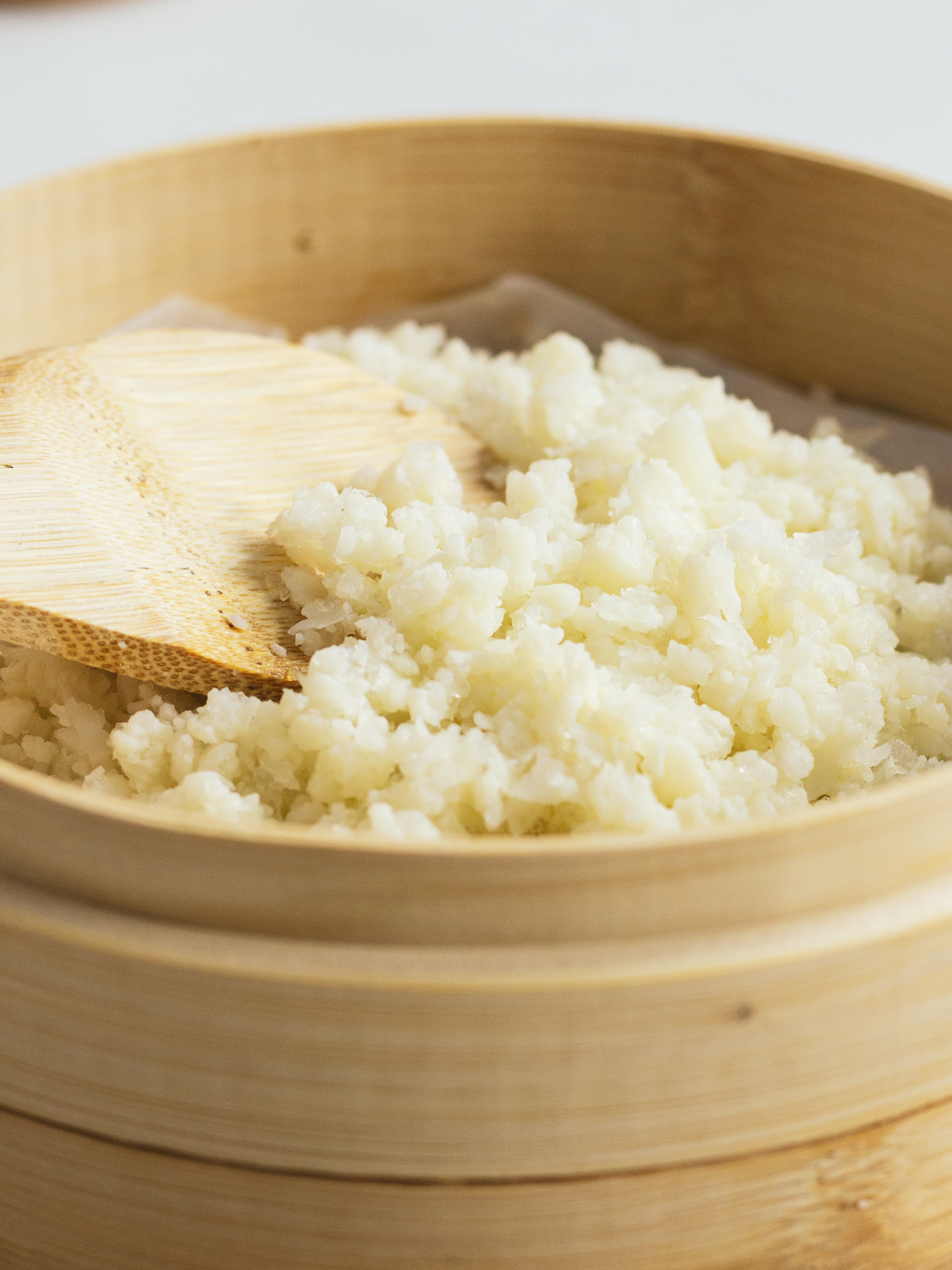 Step 4
Now, prepare the agar solution for the cauliflower sushi rice.
Mix agar agar powder with salt and erythritol sweetener in a pot and stir in the water.
Bring the solution to a boil over medium-low heat while stirring.
As soon as the agar solution boils, turn the heat to low, and simmer for 4 minutes, stirring continuously, to activate the agar agar.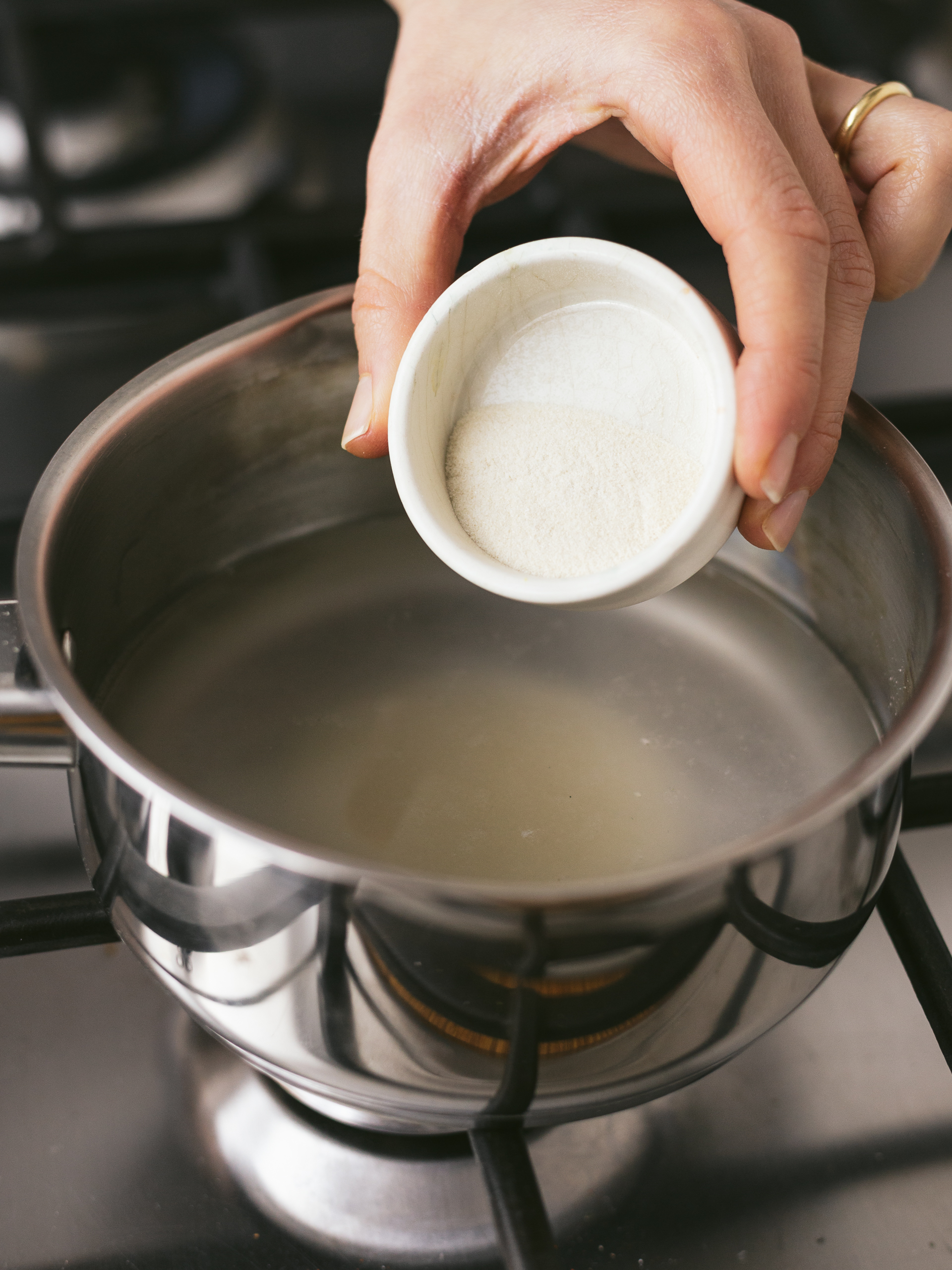 Step 5
Transfer the cooked cauliflower rice to a shallow bowl, tip in the rice vinegar and the hot agar agar solution.
Mix well with a spatula, taking care not to mash the cauliflower rice.
Flatten the sticky cauliflower rice and let it sit for 3 minutes to cool and thicken slightly.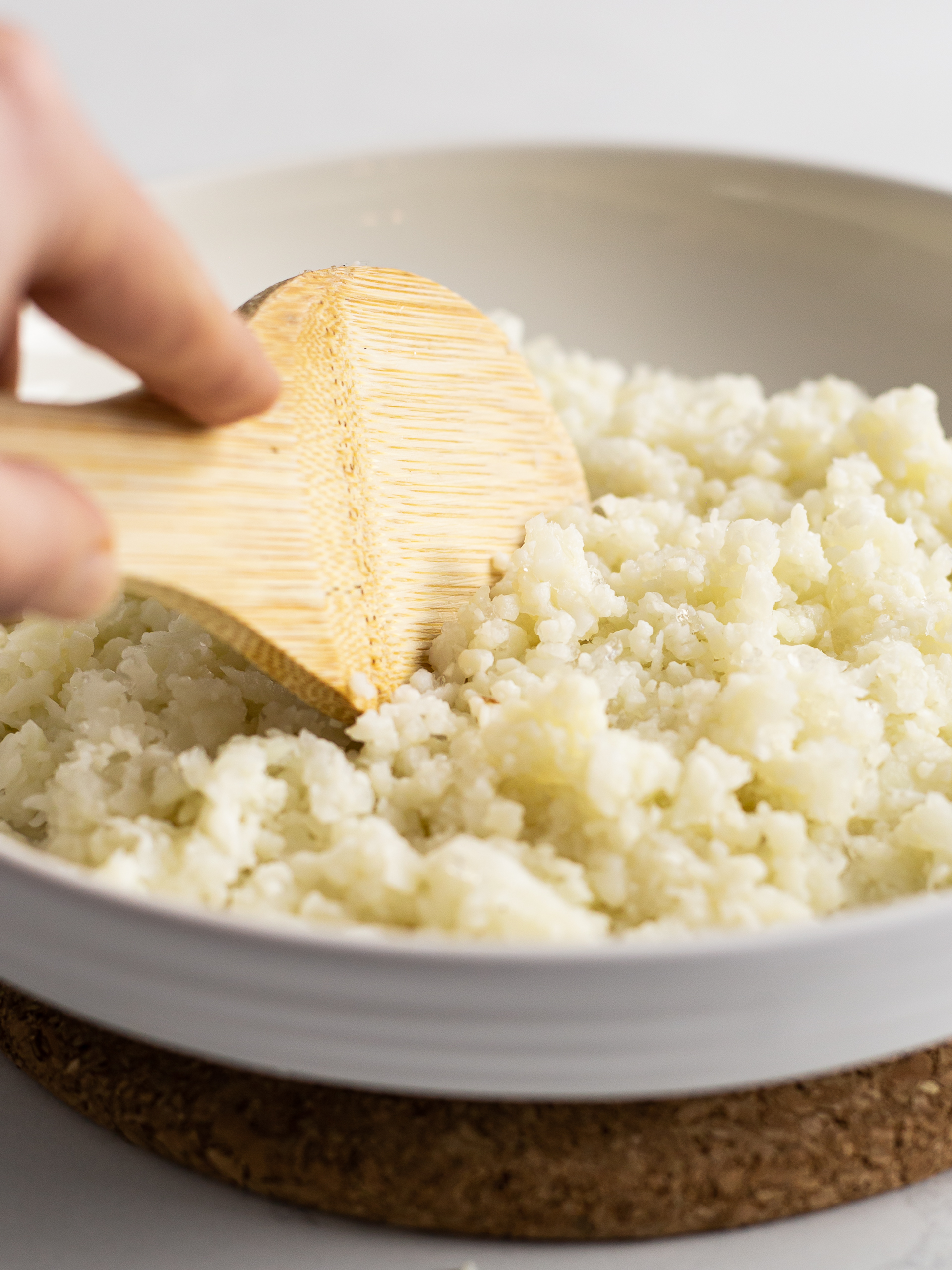 Step 6
After these 3 minutes, immediately start using the sticky cauliflower rice to make sushi as the agar will solidify fast, within 10 minutes (1).
Keep in mind that, at first, the cauliflower sushi rice won't be as sticky as regular sticky rice: it will hold the shape of your sushi rolls and nigiri only after it has completely cooled down and the agar has set.
So, use the cauliflower sushi rice while it's still warm and a bit loose. Then, leave all to cool down until hardened and set, about 20-25 minutes (2).
Your low-carb cauliflower sushi is now ready — enjoy!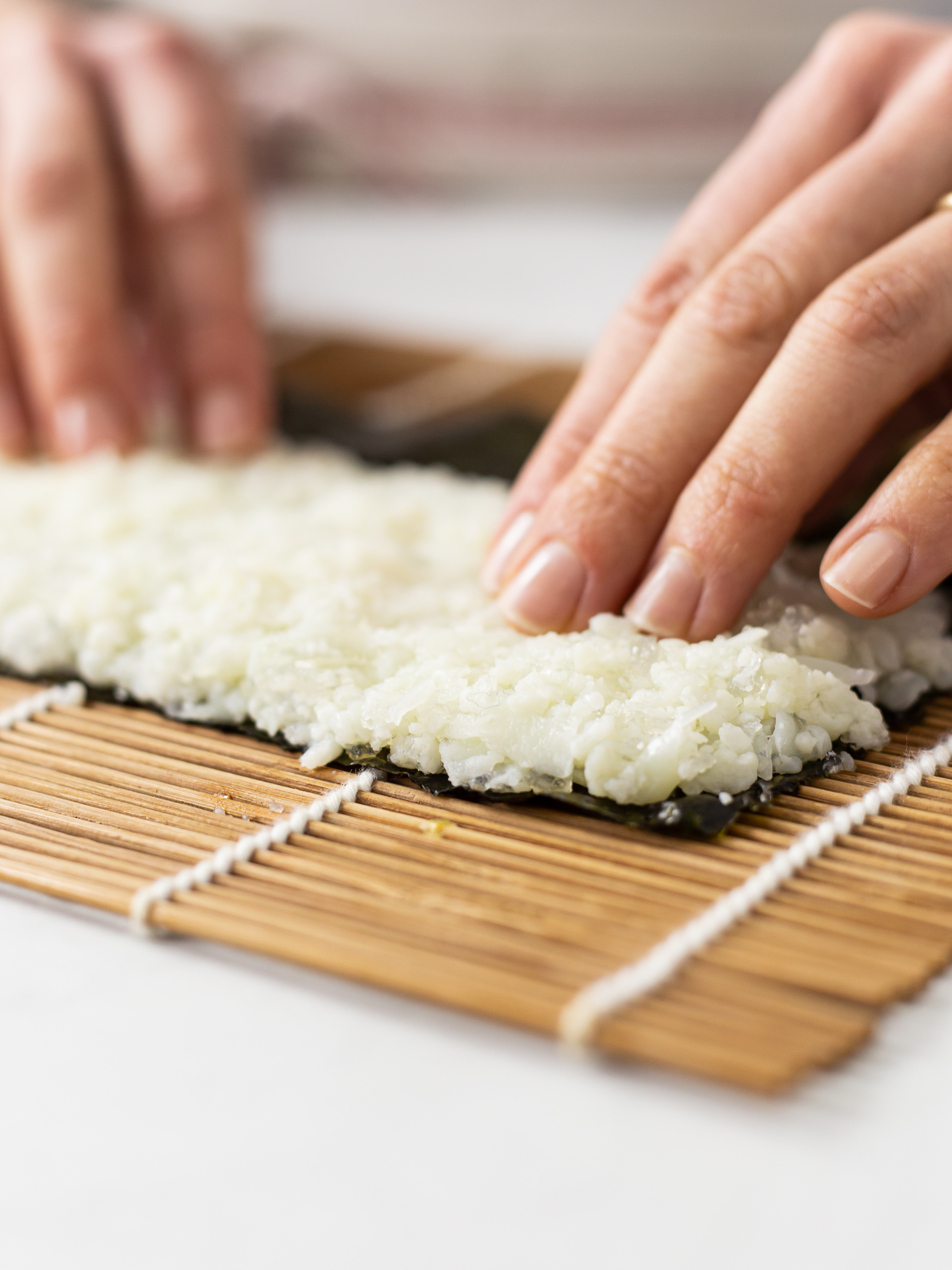 1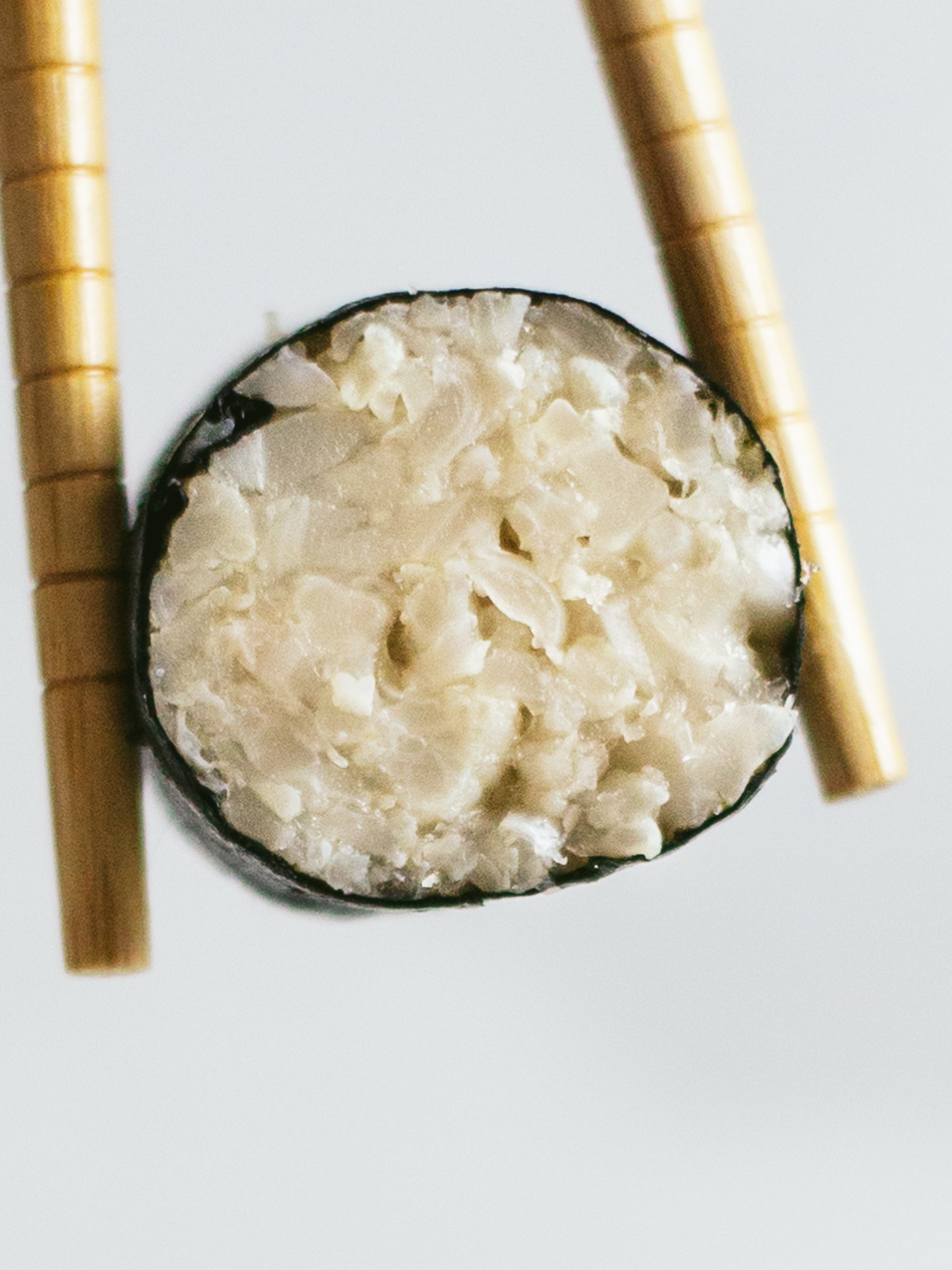 2
Tips
To keep this sticky rice recipe low-carb, we used erythritol sweetener instead of sugar to season the riced cauliflower. You can swap it with other sweeteners like stevia or monk fruit or use regular sugar if you prefer.

You can use the leftover cauliflower stems to make a veggie crumble casserole or bake healthy veggie brownies.