Preparing a colourful fruit salad is a great way to enjoy the bounty of seasonal harvests. And with summer approaching, we decided to make a delicious salad bowl with berries, kiwi, and peaches, all topped with maple-roasted cashews. Yummy!
All you have to do for this recipe is grab the ripest summer fruits you can find, chop them, and toss them with a drizzle of lemon juice. And if you're not in a hurry, we recommend taking 20 minutes of your time to caramelise the nuts with maple syrup in the oven until crunchy and golden. Trust us: it will be worth it!
Summer is one of the best seasons for fruit as you can find a wide variety of juicy fruits. For this recipe, we picked fresh strawberries, cherries, kiwi fruits, and peaches. They're easy to find and pair wonderfully together. But you can also opt for other berries like blackberries and raspberries or swap peaches with apricots and melon.
Fresh fruit works best for salads as it's easy to chop, and it will stay plump and juicy. However, you can also use frozen fruit and let it thaw until it's no longer hard but still cool to the touch. Then, chop it carefully as not to smash it. Canned fruits are also a great option for fruit salad, but make sure they don't have added sugar, or if they do, rinse them thoroughly.
Sweet and colourful, this summer fruit salad is already delicious on its own, but caramelised cashews will bring it to the next level! In a previous recipe, we roasted the nuts with honey, turmeric, ginger, and cardamom — they were simply irresistible. In this fruit salad, we used maple syrup to keep the recipe vegan and didn't add any spice not to overpower the delicate flavours of summer fruits. But, if you're curious about it, you can find the recipe here and give it a try!
You can enjoy this fruit salad for breakfast, paired with yogurt and sugar-free granola for a filling and healthy meal. It's also great as a refreshing dessert served alongside a scoop of gelato. We recommend our vegan lavender ice cream as its delicate floral notes suit this fruit salad perfectly.
Ingredients
| | |
| --- | --- |
| Strawberries | 200 g |
| Peaches | 2 |
| Cherries | 200 g |
| Kiwi Fruit | 2 |
| Cashew Nuts | 60 g |
| Maple Syrup | 1 tbsp |
| Juiced Lemon | 1/2 |
Step 1
Rinse the strawberries, peaches, cherries, and peel the kiwi.
Slice the strawberries and peaches; dice the kiwi; and pit the cherries.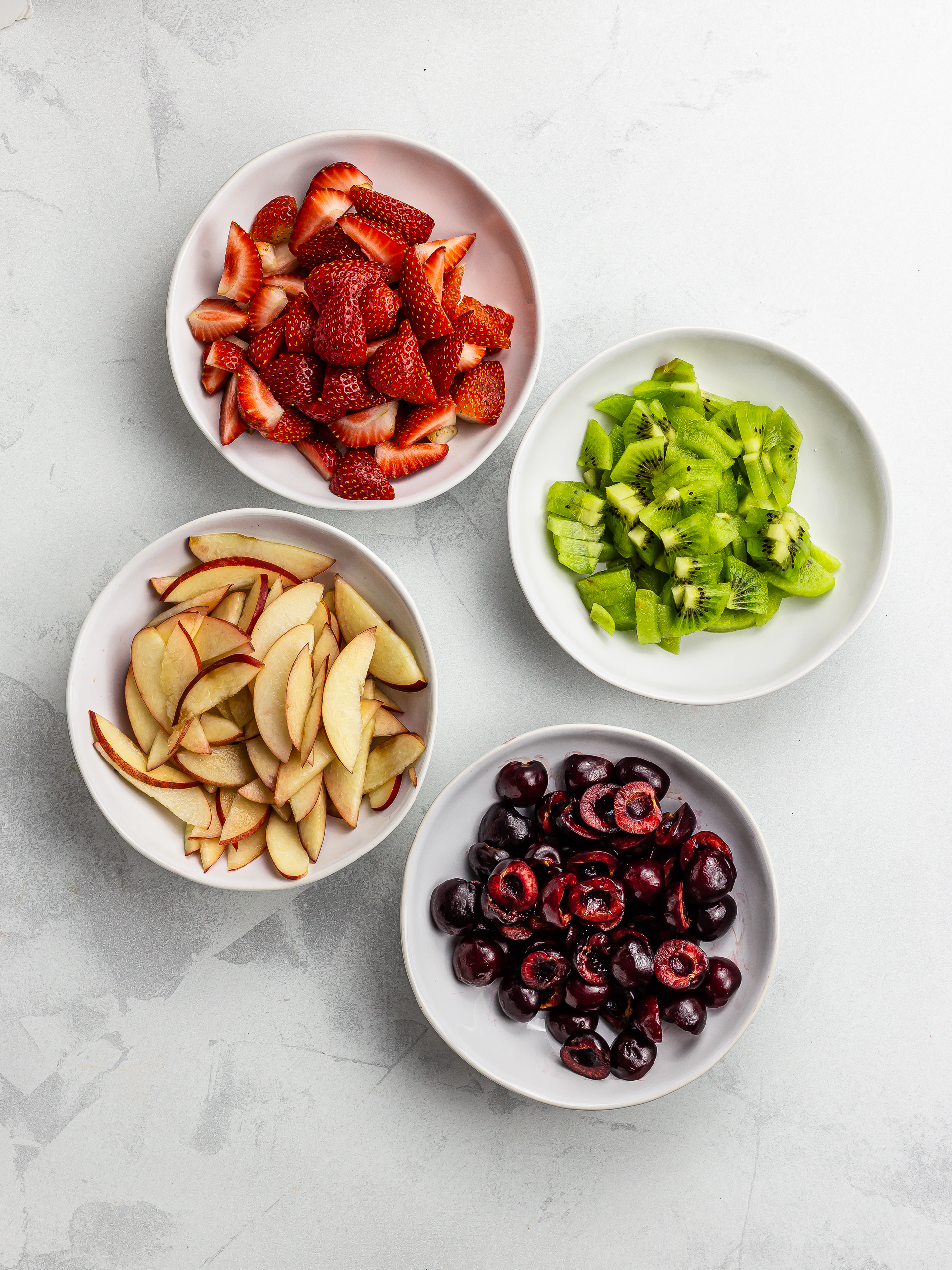 Step 2
In a bowl, toss the cashews with maple syrup until coated.
Then spread the nuts flat on a baking tray lined with parchment paper and roast them for 20-25 minutes at 150°C (300°F).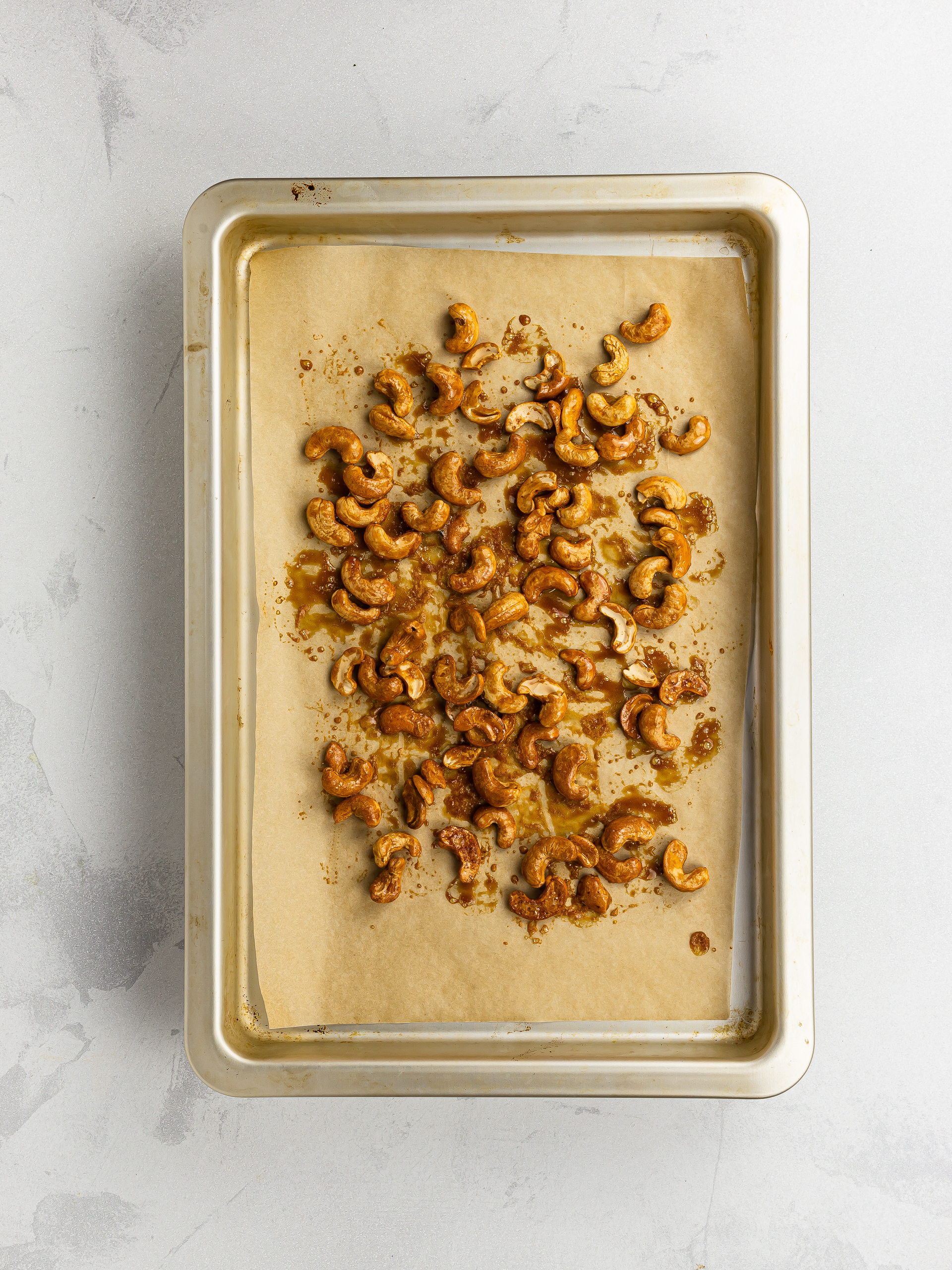 Step 3
Finally, toss the prepared fruit with lemon juice in a serving bowl and top the salad with the caramelised cashews.
You can serve this summer fruit salad with a big scoop of homemade lavender ice cream for a lovely dessert.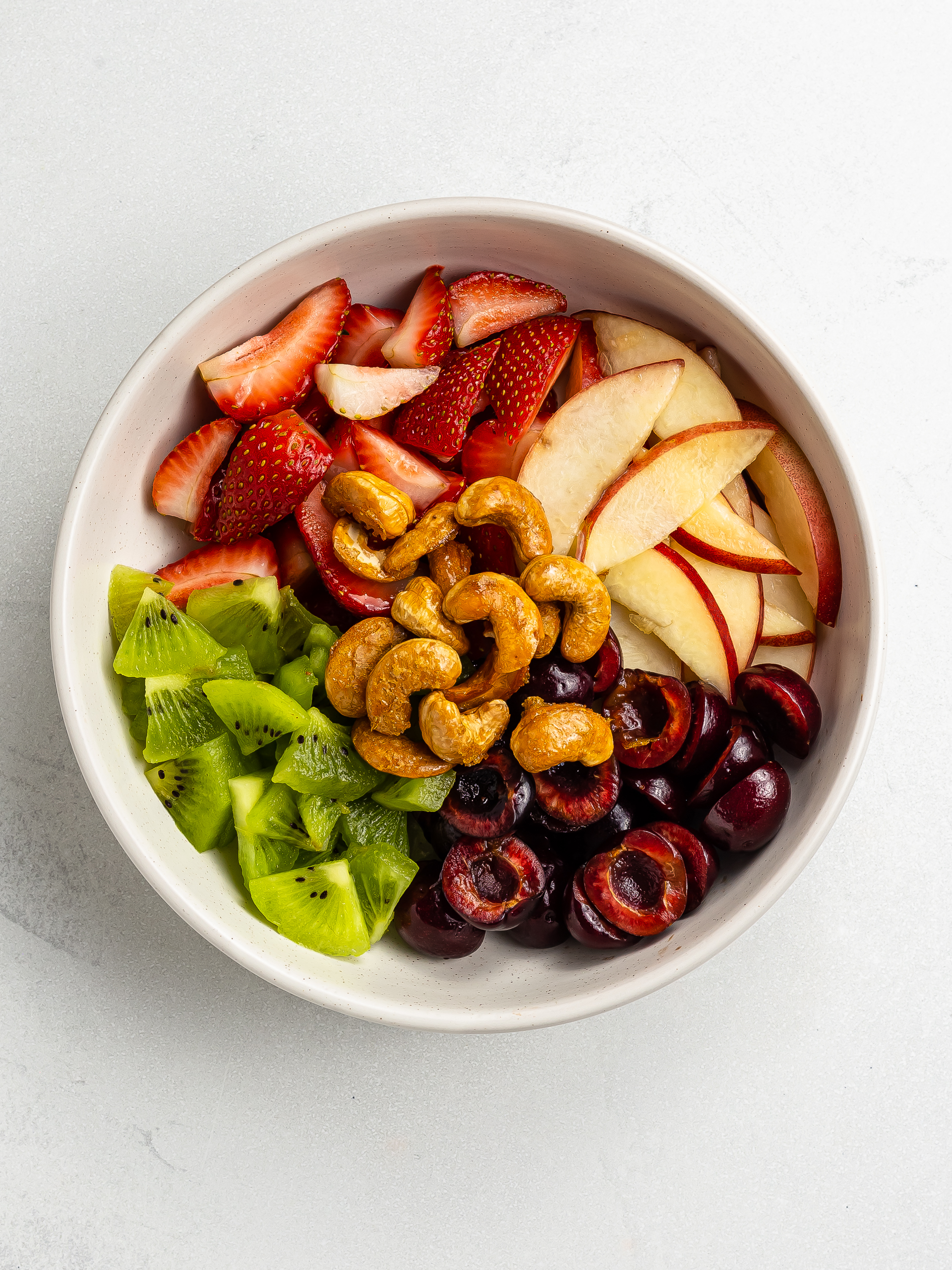 Tips
You can spice up the nuts with ground cinnamon or try our turmeric spice mix for roasted nuts.