Today's recipe is a rich and nutritious one-bowl vegan meal, AKA Buddha Bowl. Take your prettiest bowl, and we'll help you fill it with wholesome quinoa, hearty sweet potatoes, high-protein black beans, beautiful tenderstem broccoli, and a fresh green tahini pesto. This recipe is so smacking good even the most ardent meat-eaters will want a piece of the action.
Most buddha bowls are served cold, but it's not a rule. In fact, you can enjoy our recipe warm or cold. A one-bowl meal filled with veggies that is good cold... Are you thinking what we are thinking? Meal prepping paradise! You can cook a huge batch of this sweet potato bowl, and it will last up to 5 days when stored in the fridge. Such is the beauty of cooking with non-animal products.
All the ingredients in this recipe have something special, and we'd like to write a few words about them below. Don't let our little monologue drift you away from your food, though! Feel free to jump straight to the recipe below if you're hungry.
First of all, the sauce. This green tahini "pesto" is so good that we are considering making a standalone recipe out of it. It consists of tahini, a handful of fresh basil leaves, lemon juice, and garlic. We didn't expect tahini and basil to go so well together; it was a pleasant surprise. We think you'll love it.
Then we have black beans and quinoa, which are excellent sources of fibres and proteins, among many other good things. Both macronutrients are essential for a balanced meal, which is the whole point of a Buddha Bowl. Quinoa is particularly useful here, as in any vegan diet. It's one of the few plants to have all the nine essential amino acids your body needs to build proteins (thus called a complete protein source).
Finally, here come the heroes of the dish. The tenderstem broccoli! They are wonderful veggies that combine the culinary properties of both broccoli (the florets) and asparagus (the edible stem). Moreover, just as any other dark green veggies, they are loaded with antioxidants and vitamins, that help your skin and cells stay young.
Are you ready for this healthy veggie bowl? You could be eating it in 30 minutes, and it could sort out your lunches for up to a week if batch-cooked. Enjoy!
Ingredients
Bowl
Sweet Potato

300 g

Dry Quinoa

200 g

Extra Virgin Olive Oil

1 tbsp

Tenderstem Broccoli

280 g

Garlic Cloves

1

Canned Black Beans (drained weight)

480 g

Tahini Pesto
Fresh Basil

50 g

Tahini

2 tbsp

Garlic Cloves

1

Lemon

1
Step 1
Keeping the skin on, dice the sweet potatoes into small chunks and toss them with 1/2 tbsp of oil, salt and pepper.
Then, roast them for 20 minutes at 210°C (410°F) for static ovens or at 190°C (375°F) for fan ovens.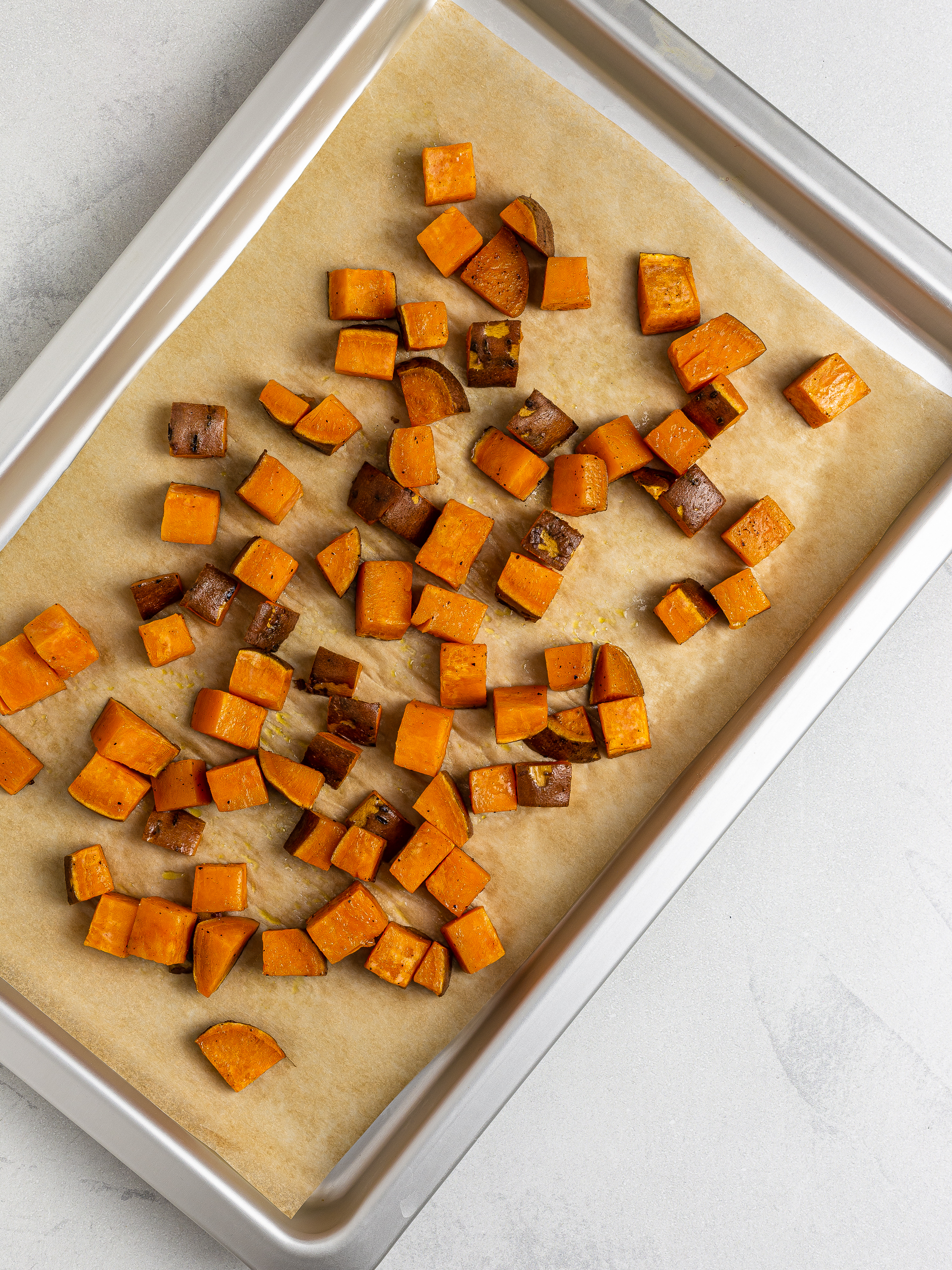 Step 2
Meanwhile, rinse the quinoa under cold water and then add it to a pot with water.
Bring it to a boil and simmer for 12 minutes. Then, drain excess water and set the cooked quinoa aside.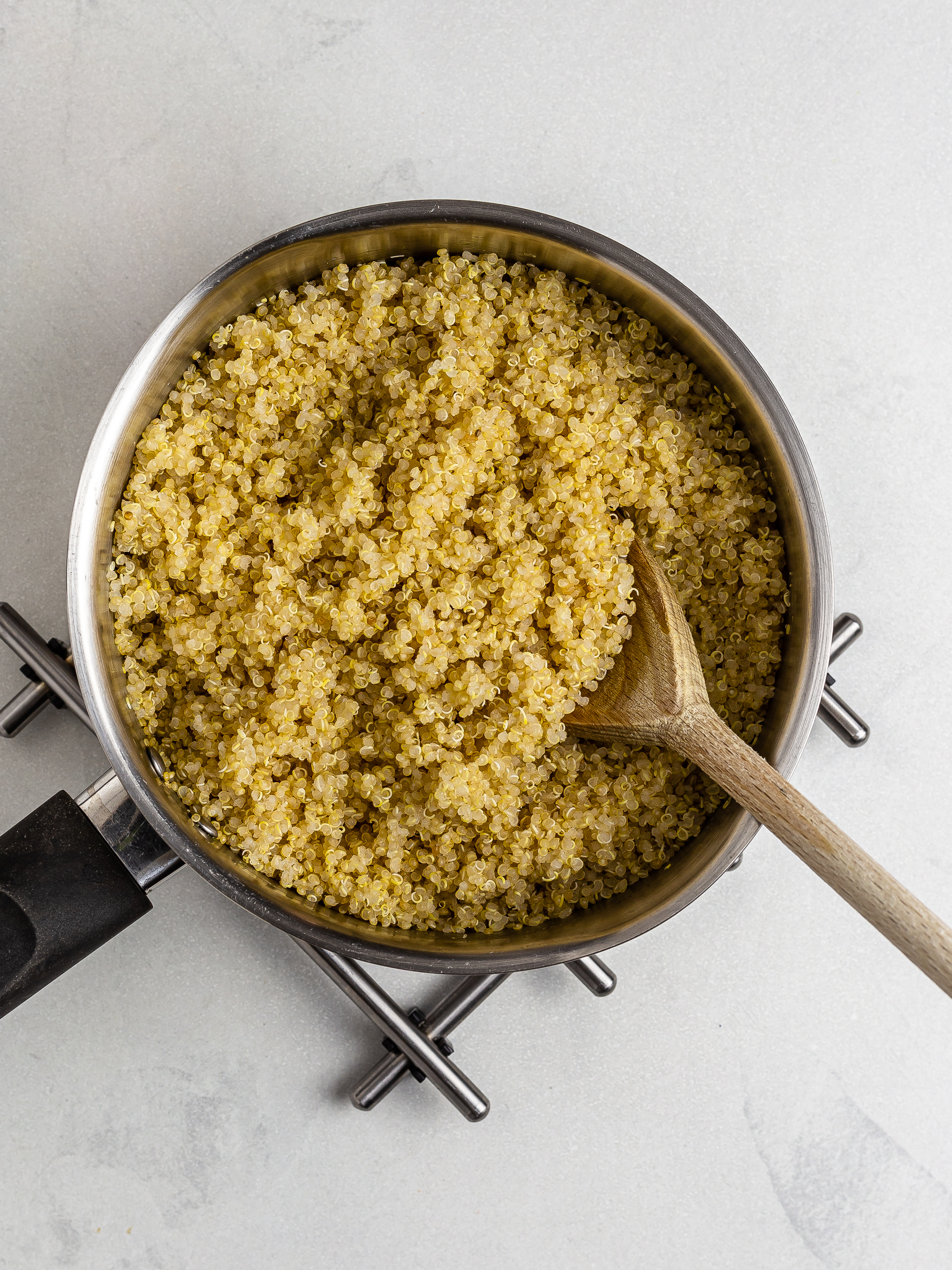 Step 3
Now, add the tendertstem broccoli to the tray with the sweet potatoes and season them with salt and pepper to taste.
Then, roast the vegetables for 10-15 minutes.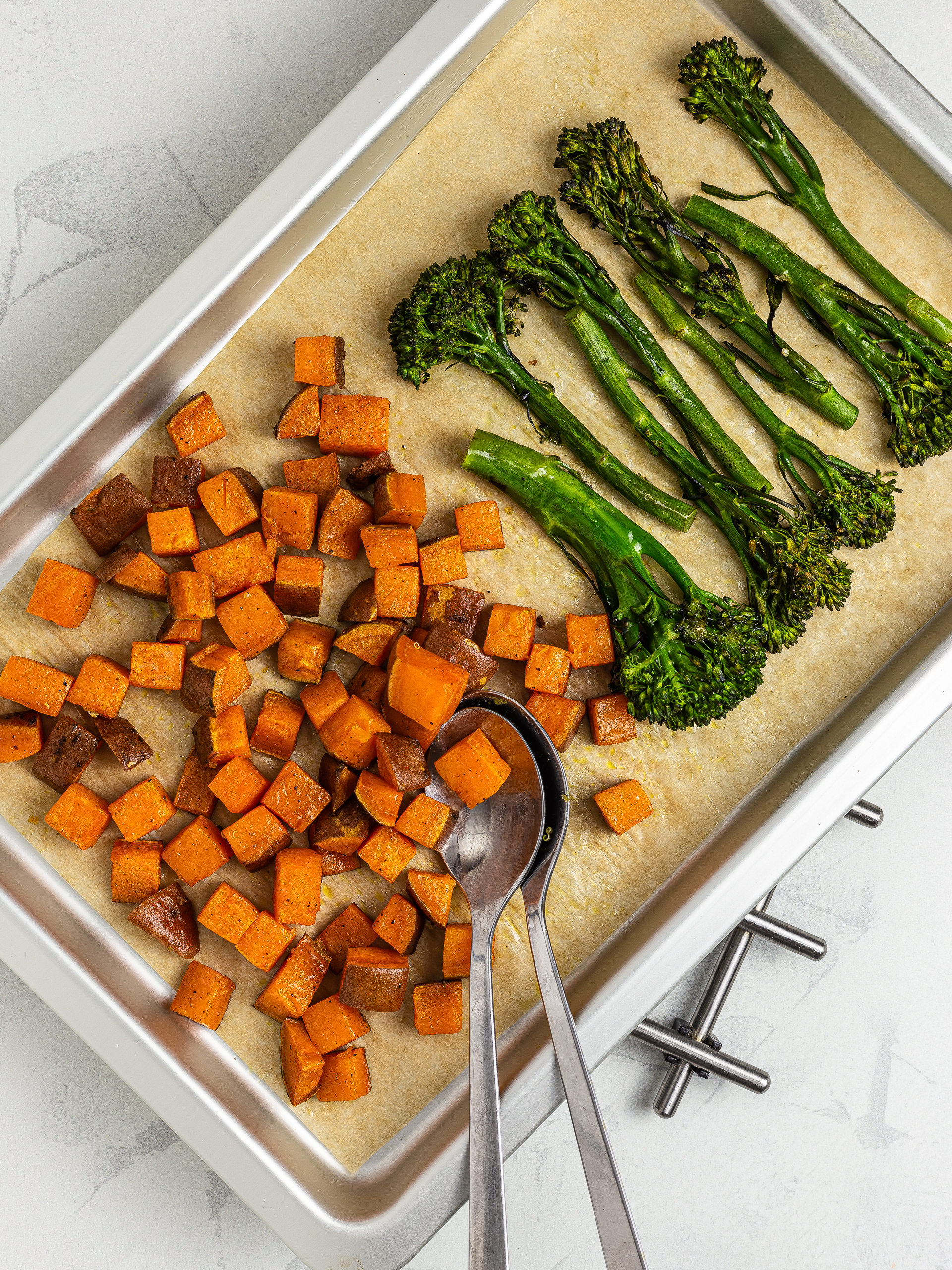 Step 4
In the meantime, heat the remaining 1/2 tbsp of olive oil in a skillet and add the garlic cloves, crushed or thinly sliced.
Sizzle for a minute, add the canned black beans, and sauté for 5 minutes or until the beans are soft.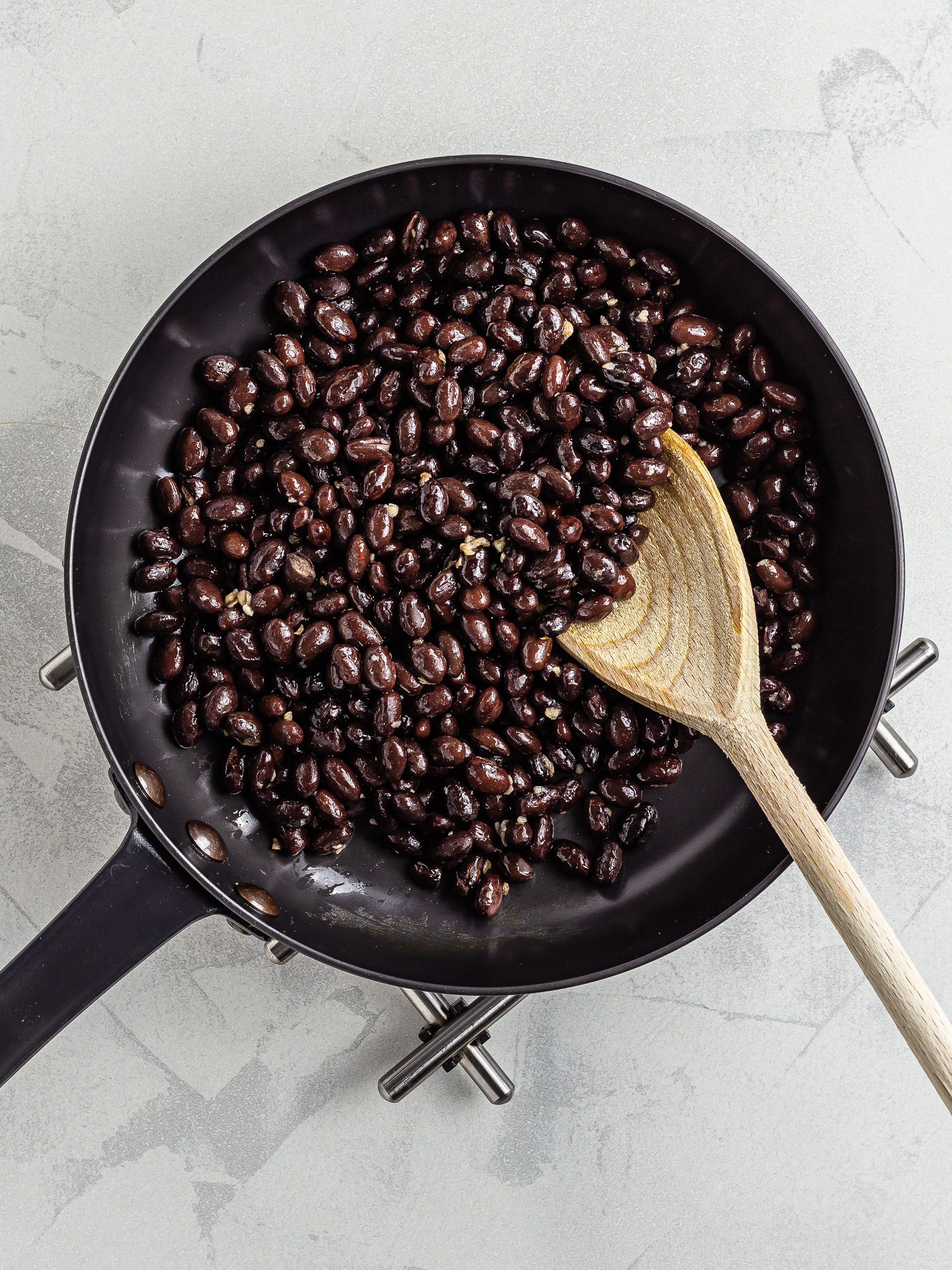 Step 5
Now that all the bowl ingredients are ready, it's time for the tahini pesto.
In a food processor, add fresh basil leaves, tahini, garlic, and the zest and juice of the lemon.
Blitz all into a smooth paste and add a bit of water in between pulses to loosen up the sauce.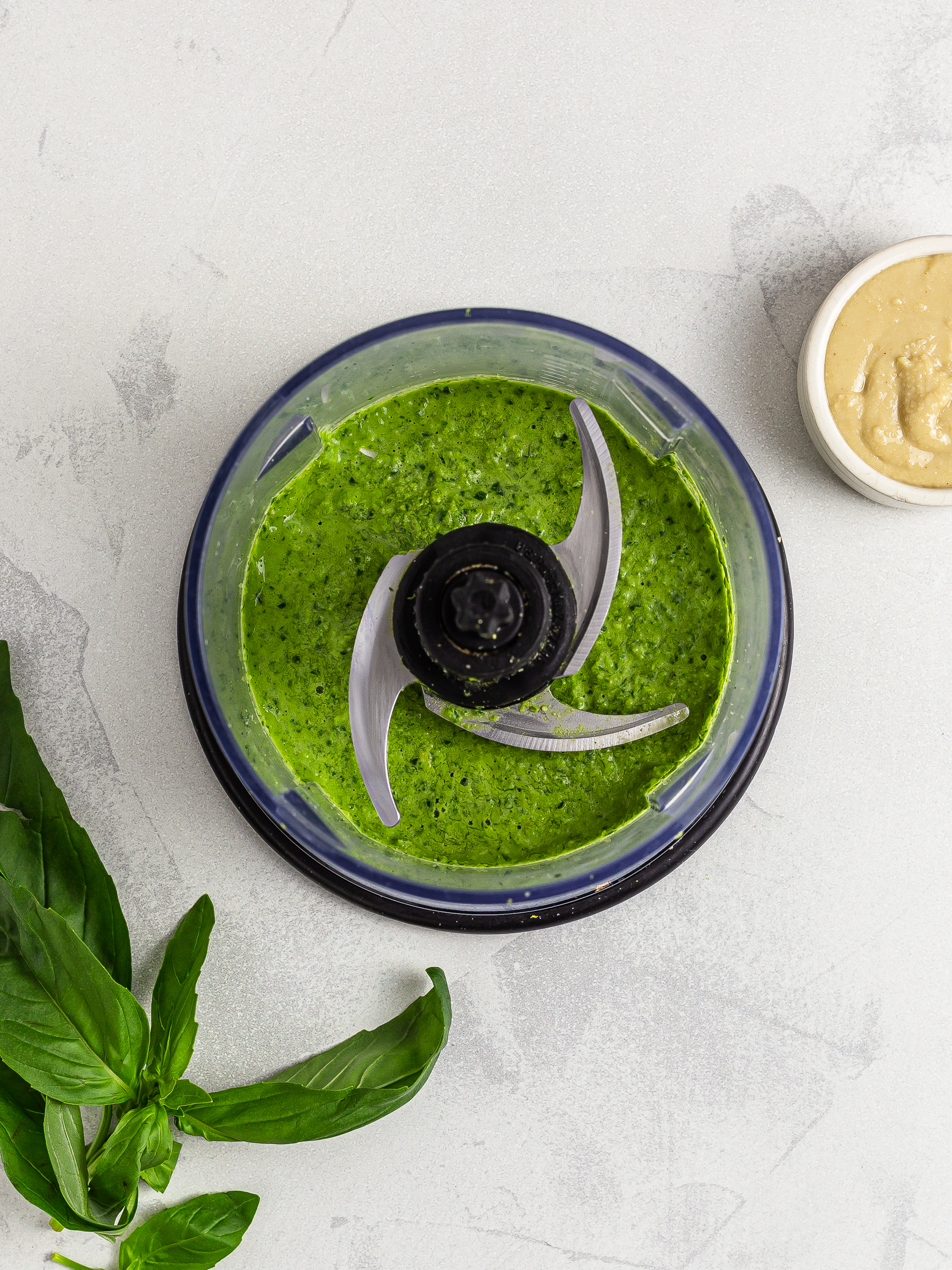 Step 6
Finally, divide the quinoa, beans, and roasted veggies among serving bowls and garnish with the tahini pesto.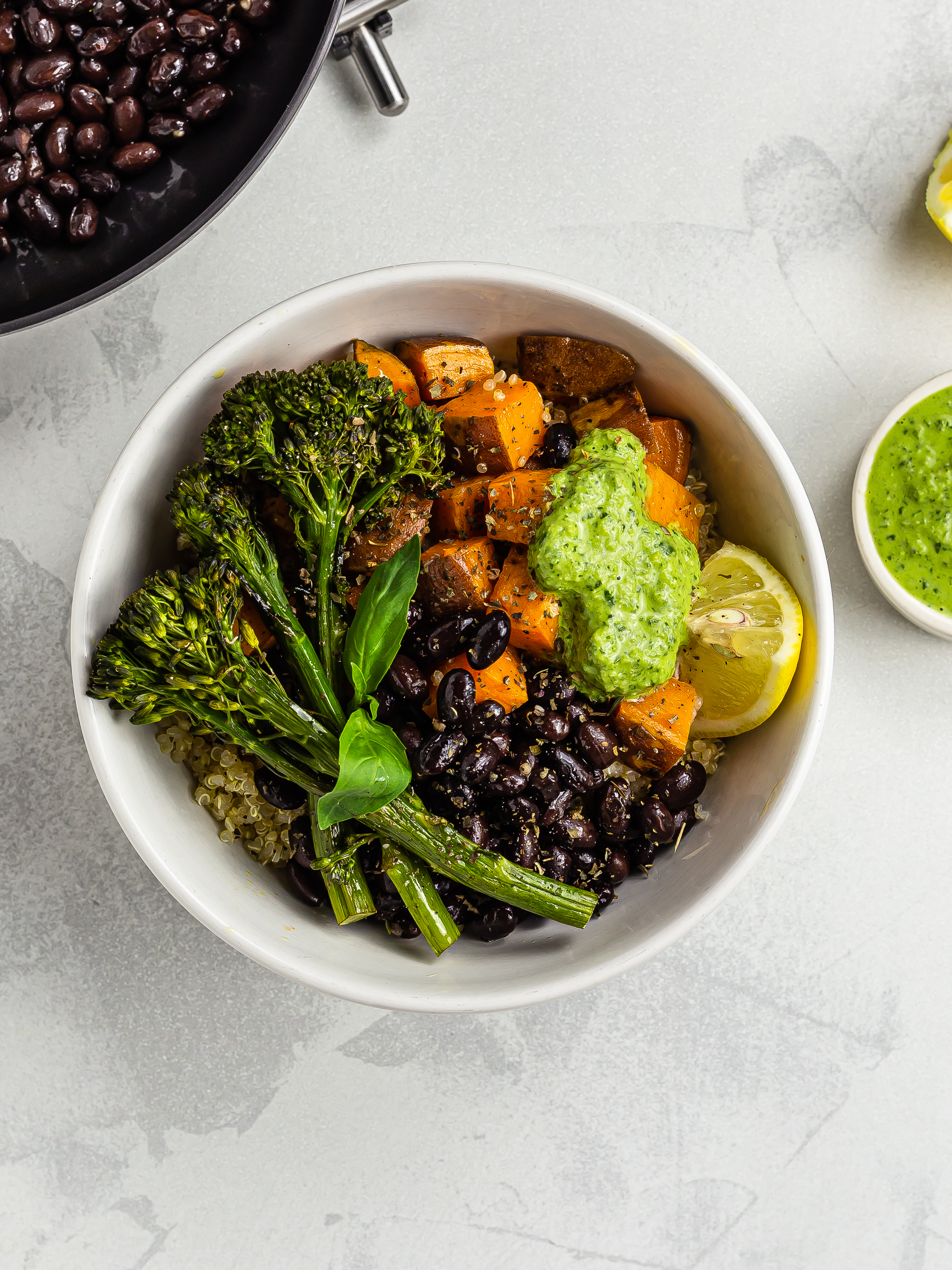 Tips
You can swap sweet potatoes with butternut squash and tenderstem broccoli with regular broccoli or black kale.

You can make the pesto without tahini and use nut butter like almond or cashew butter instead.

Store this quinoa salad in the fridge in an airtight container for up to 5 days.

Got quinoa leftovers? You can use up cooked quinoa to make flatbread in just a few minutes!