If you are looking for a crunchy side dish or a nibble to snack on, then this baked vegetable recipe with crispy kale and sweet potato chips is all you need.
This easy to make recipe makes for a healthy and nutritious meal and is prepared with a few simple ingredients in season during winter, kale and sweet potatoes, and flaxseeds.
It's important to consume seasonal vegetables as they are fresher, cheaper, better tasting, and with a higher nutritional value.
Nowadays kale is regarded as a super food, a nutrient-rich vegetable that promotes health and wellbeing. In fact, it contains:
Vitamins A, C, K in concentrations that cover your RDA per serving

Minerals like calcium and magnesium

Omega-3 fatty acids and cholesterol-lowering compounds

Antioxidants like beta-carotene and quercetin
Sweet potatoes are also nutrient-dense as they provide fibers, beta-carotene, and antioxidants promoting a healthy gut and supporting your vision and immune system.
To boost this meal, we have included ground flaxseeds as they provide many health benefits. In fact, they:
provide a plant-based source of omega-3 fatty acids which support heart health

are rich in fibers promoting regularity

provide a plant-based source of proteins

help to control blood sugar, useful in people with diabetes
Now you know how good these oven-baked kale and sweet potatoes are for you, so it's time to get started!
Ingredients
| | |
| --- | --- |
| Sweet Potato | 200 g |
| Salt | to taste |
| Paprika | 1 tsp |
| Extra Virgin Olive Oil | 2 tbsp |
| Kale | 150 g |
| Ground Flaxseeds | 2 tbsp |
Step 1
Preheat the oven to 130°C (266°F) in fan/convection mode to ensure an even air circulation.
Rinse well the sweet potatoes and slice them thinly, about 2-3 mm thick.
Make sure the chips have the same thickness as they will cook uniformly and become crisp within the cooking time.
Season with salt and paprika and add 1 tbsp of olive oil. Mix well to coat the chips (1).
Arrange the chips over a baking tray lined with parchment paper leaving enough space to place the kale later on (2).
Bake for 25 minutes.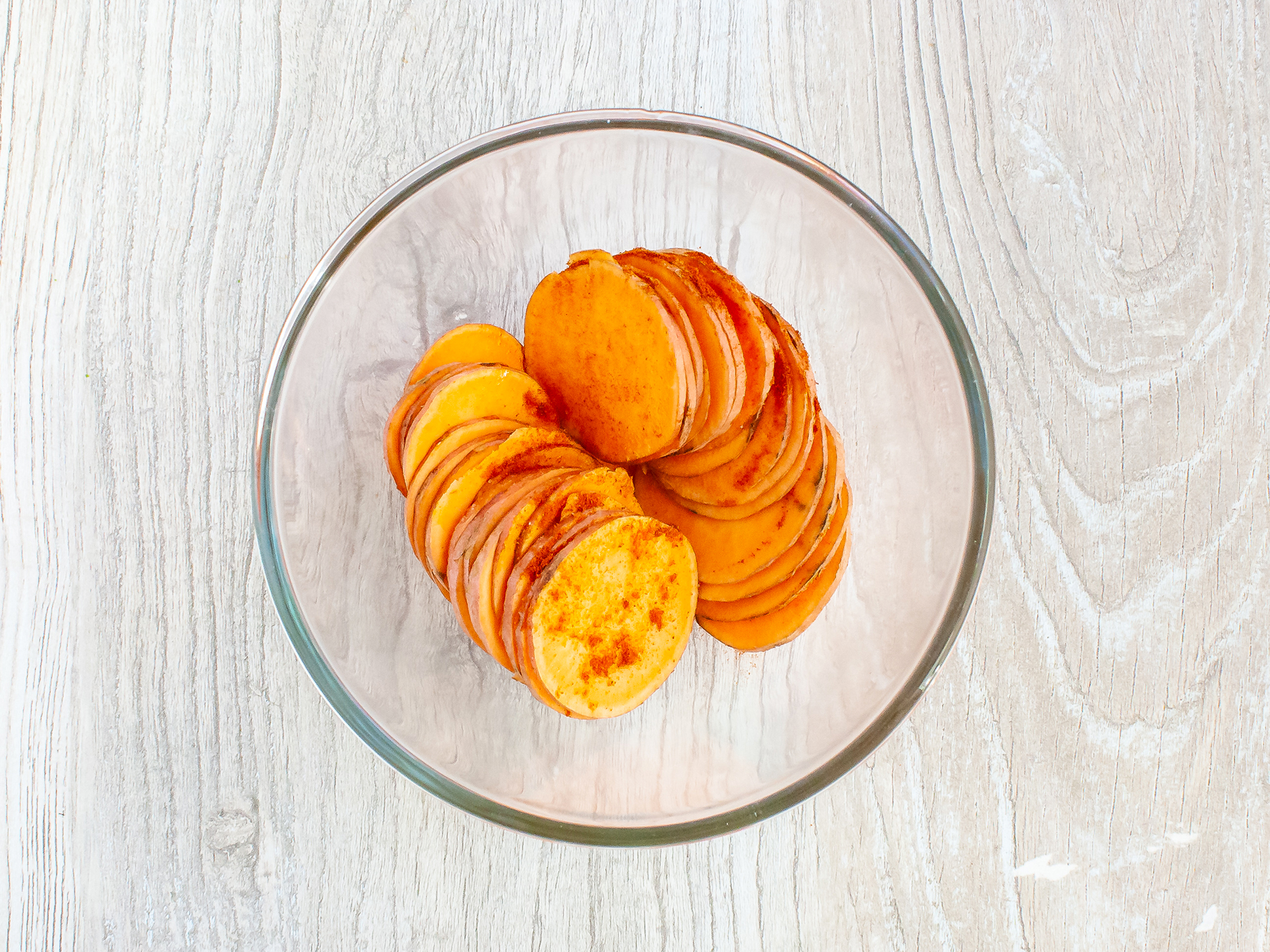 1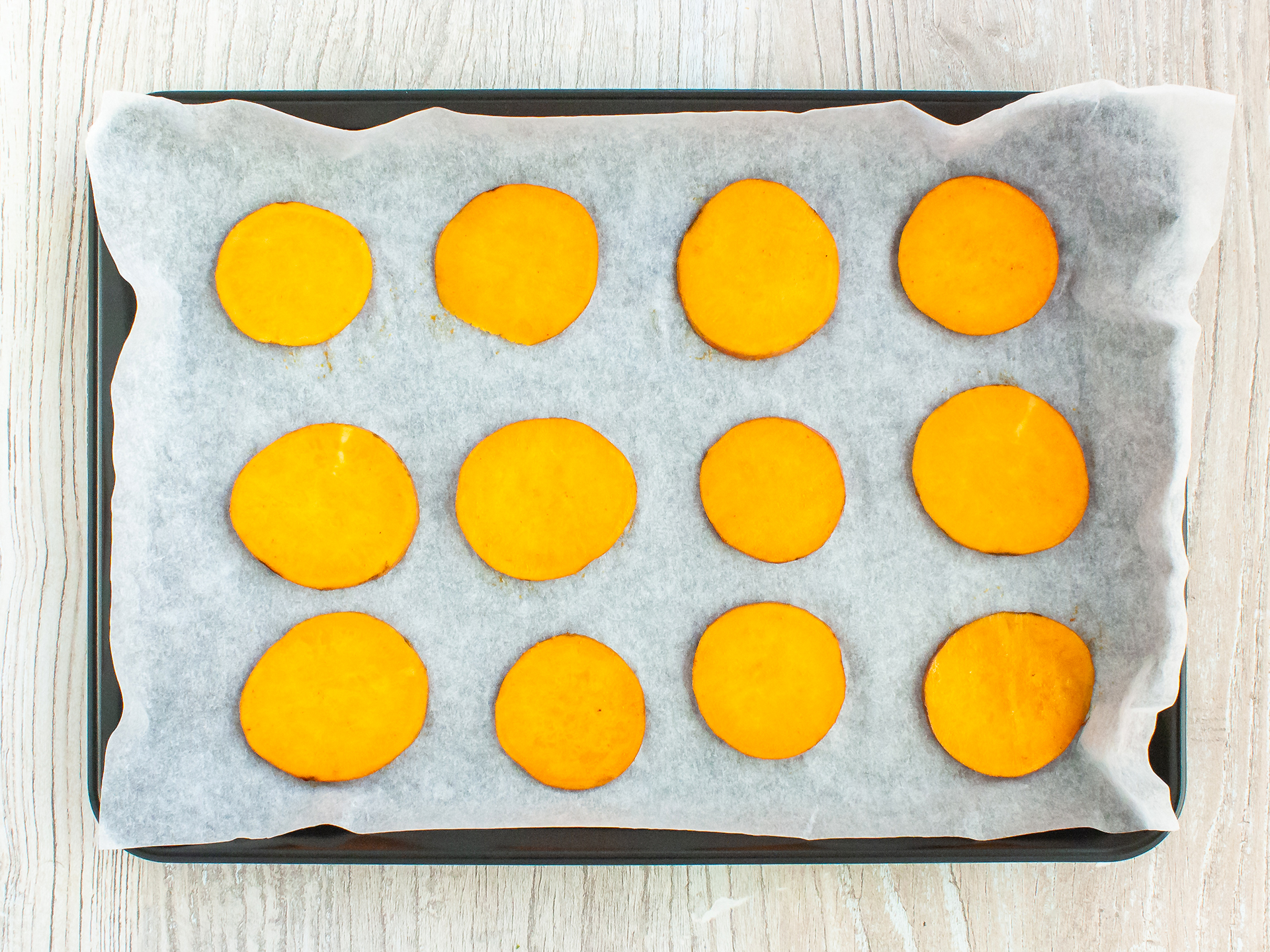 2
Step 2
In the meantime, rinse the kale and pat dry with a tea towel. Tear into small pieces removing the stems.
Add 1 tbsp of olive oil, ground flaxseeds and salt to taste (1). Mix well.
Remove the tray with the sweet potato chips from the oven and flip them to ensure they become crisp on both sides.
Arrange the kale over the baking tray leaving space for the potato chips to crisp (2).
Bake for 20 minutes.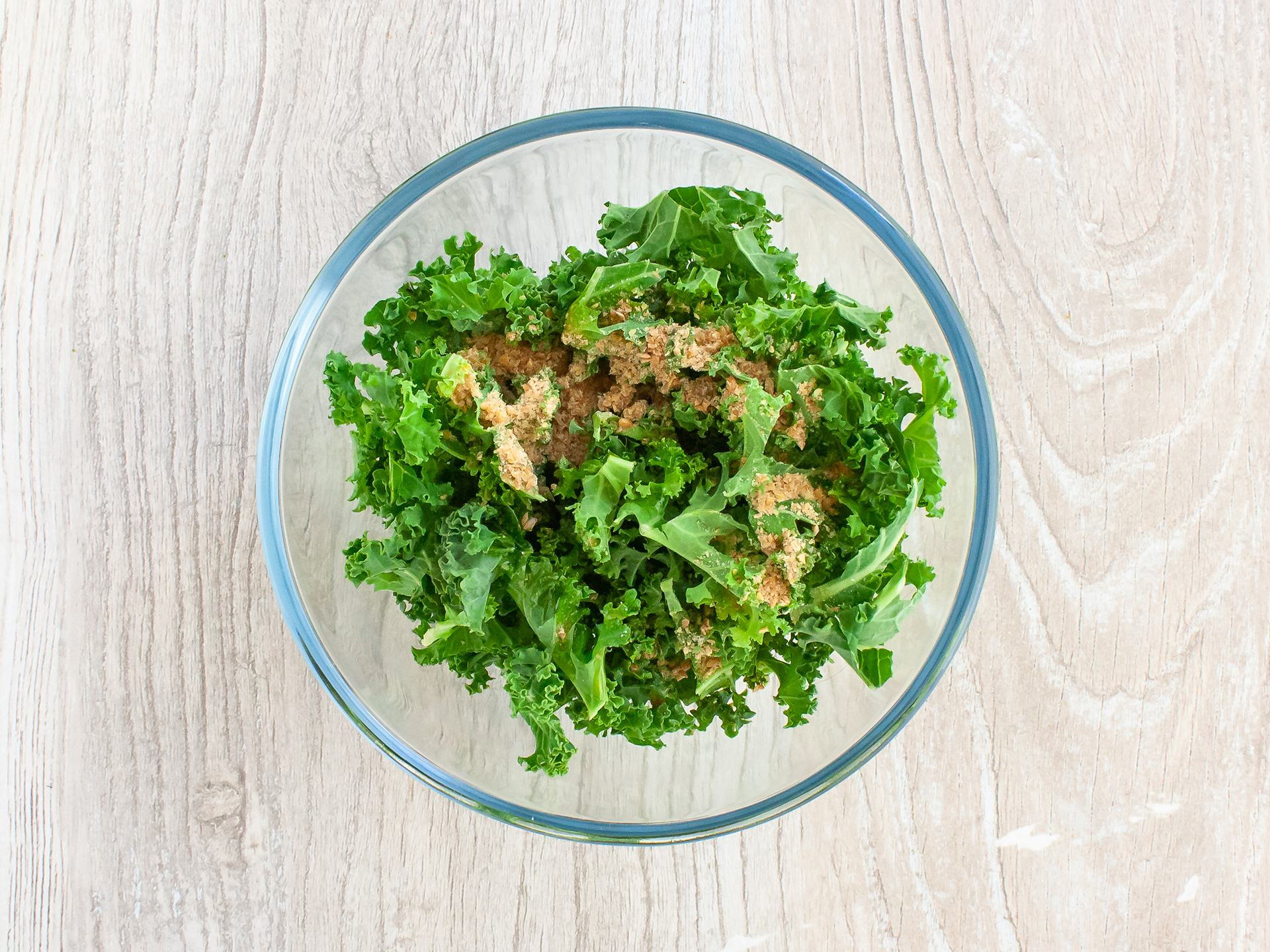 1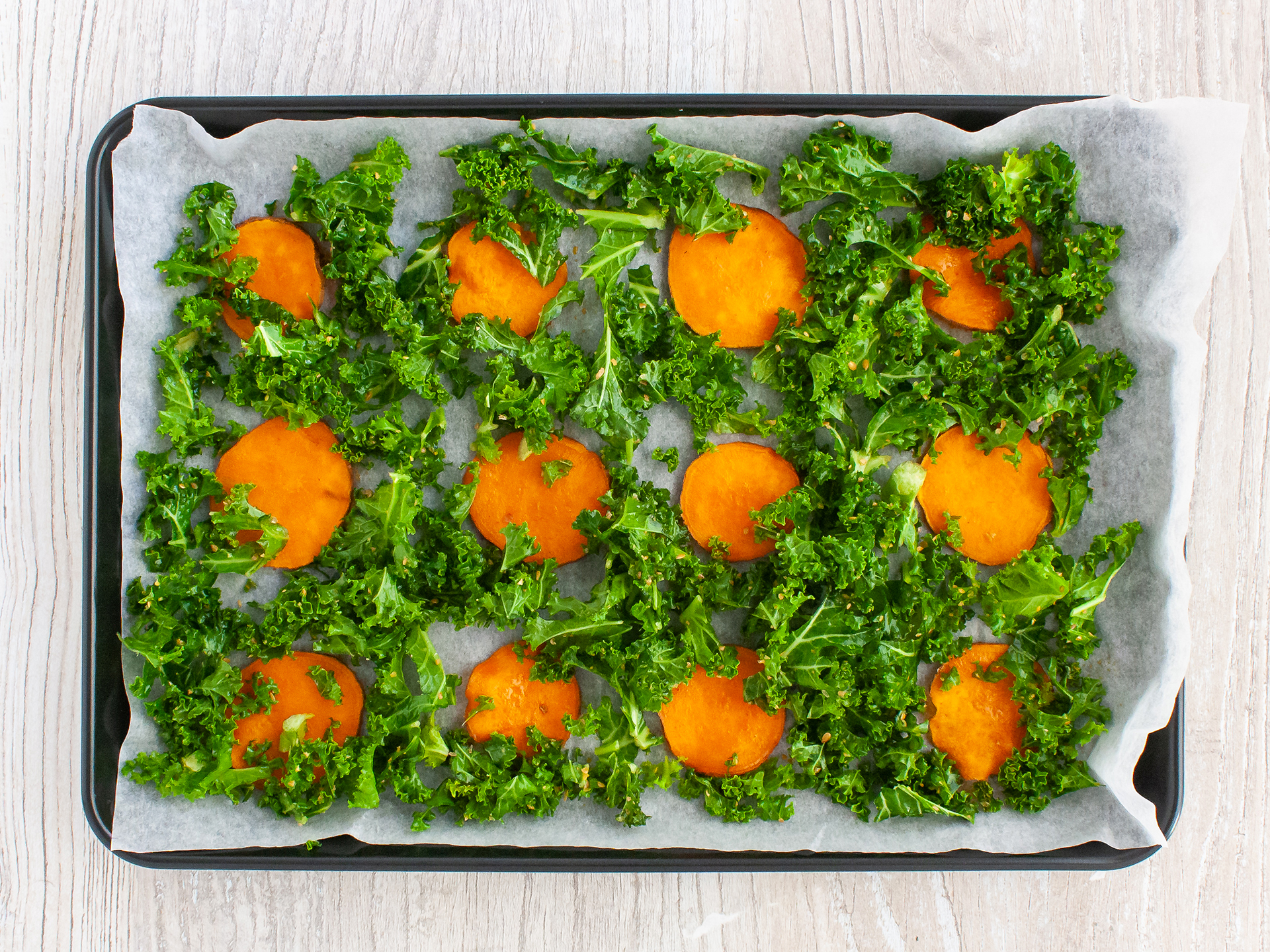 2
Step 3
During cooking time check that the kale crisps don't get burnt.
Once ready, transfer the baked sweet potato chips over a wire rack to cool down. They'll become even crispier!
Before serving squeeze a few drops of lemon juice over the crispy kale chips.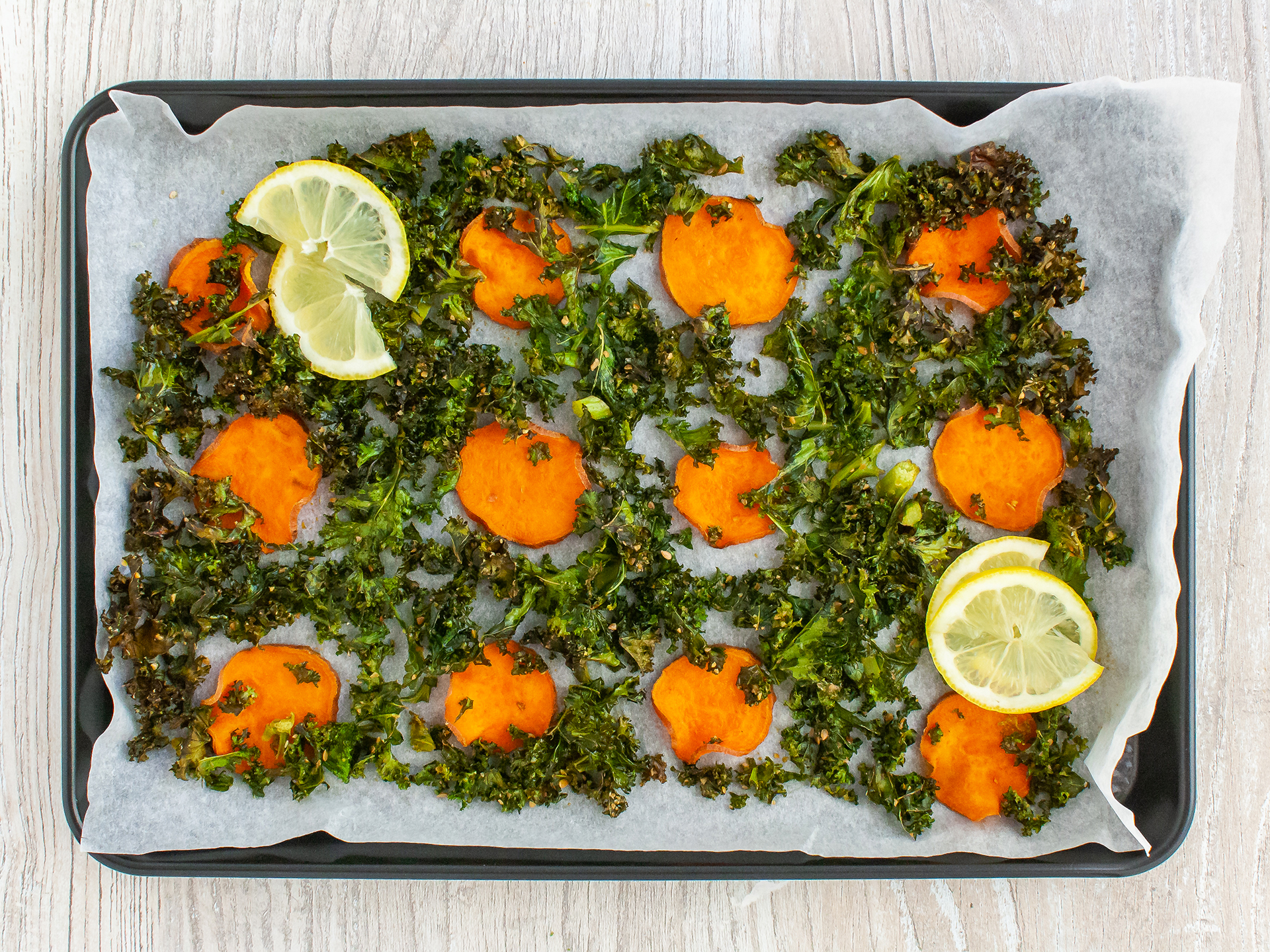 Tips
For crunchy chips, arrange the sweet potatoes and kale distant from one another to leave room for air circulation which will crisp them to perfection.

We recommend you use a large tray, two baking trays or cook in batches.

The key for a crispy finish are low temperature oven and long cooking time. This also prevents the vegetables from burning.
Watch on Youtube