Did you think sweet potatoes were only suited to your roasting tin? Surprise! Just like pumpkins, these versatile tubers are awesome in bakes too. Today, we will show you just how yummy — and healthy — a sweet potato chocolate pie can be. This recipe is vegan, gluten-free, sugar-free, low-fat, and has lots of fibres and proteins.
Sweet potatoes are starchy vegetables with a very subtle flavour. These two qualities make them ideal for low-fat and low-sugar creams and fillings, because:
their mild flavour allows the main ingredients in your recipe — like chocolate — to shine

they are very creamy when boiled and mashed, even without the use of milk or butter

they have no fats, and although they have very few sugars, they still taste sweet
Sorry, did we say this recipe was healthy? We meant to say uber-healthy. This chocolate pie contains no butter or any other dairy products, no oil, no sugars, and no eggs. Instead, it's filled with healthy ingredients like nuts, oats, naturally sweet dates, and of course, sweet potatoes and cocoa powder.
We also used a bit of silken tofu, for extra creaminess and a boost of proteins. It worked out great!
When we look at the nutritional profile of this recipe, we can't help but giggle knowing that it's a dessert and not a salad. Each slice has:
only 7g of fats, which cover only 11% of your RDI

half the sugars compared to a classic chocolate pie

a whopping 5g of fibres that meet a fourth of your daily need for this nutrient
We hope you'll enjoy this sweet potato chocolate pie as much as we did. With the easy steps below, it'll only take you 90 minutes to make this, including baking!
Frequently Asked Questions
What can I use instead of arrowroot powder?

Arrowroot is a thickening agent which adds texture and structure, and you can replace it with cornstarch or potato starch.

Alternatively, you can use plain flour, but you'll need to double the amount as it's not as powerful as the starches.
How do you prepare sweet potato purée?

For this chocolate pudding pie, we have made the purée by mashing baked sweet potatoes with a fork. You can follow our recipe above where we explain how to do it step-by-step.

Another way of preparing it, it's to boil the potatoes until soft, and then drain them before mashing.

Although faster than oven-roasting, this process causes the vegetable to lose some of its fibres and vitamins in the hot water. So, we prefer baking the potatoes to keep all their precious nutrients.
What can I use instead of flaxseeds?

Soaked flaxseeds turn into a dense jelly-like mixture which is perfect for replacing eggs in vegan bakes, like this sweet potato pie.

If you don't have them at hand, you can swap them with other plant-based egg substitutes such as:

Chia seeds, using them the same way

Mashed bananas

Applesauce
What can I use instead of silken tofu?

We used silken tofu to replace whipped cream in the pie filling. This fantastic soy product adds structure and texture to the chocolate cream.

You can replace it with whipped aquafaba (check our recipe here to see how to make it), thick yogurt, or a combination of milk and starch.
How long does this vegan pudding pie keep? And can I freeze it?

You can store the pie in an airtight glass or plastic container in the fridge for up to three days.

The crust might get a bit soggy the longer you keep the tart refrigerated. You can quickly warm the slices in the oven before serving them to get back a bit of the crunchiness.

Alternatively, freeze any leftover slices and keep them for 4 weeks. The pie tastes just as delicious even when frozen.
Ingredients
| | |
| --- | --- |
| Sweet Potatoes | 400 g |
| Pitted Dates | 200 g |
| Water | 150 mL |
| Ground Flaxseeds | 40 g |
| Cashew Nuts | 70 g |
| Rolled Oats | 125 g |
| Baking Powder | 1 tsp |
| Silken Tofu | 280 g |
| Arrowroot Starch | 2 tbsp |
| Cocoa Powder | 3 tbsp |
Step 1
Poke the sweet potatoes with a fork on both sides and then bake them in the preheated oven at 200°C (390°F) for 45 minutes.
Then, remove the skin and scoop out the flesh into a bowl.
Mash it with a fork or blitz in a food processor to make a creamy sweet potato purée.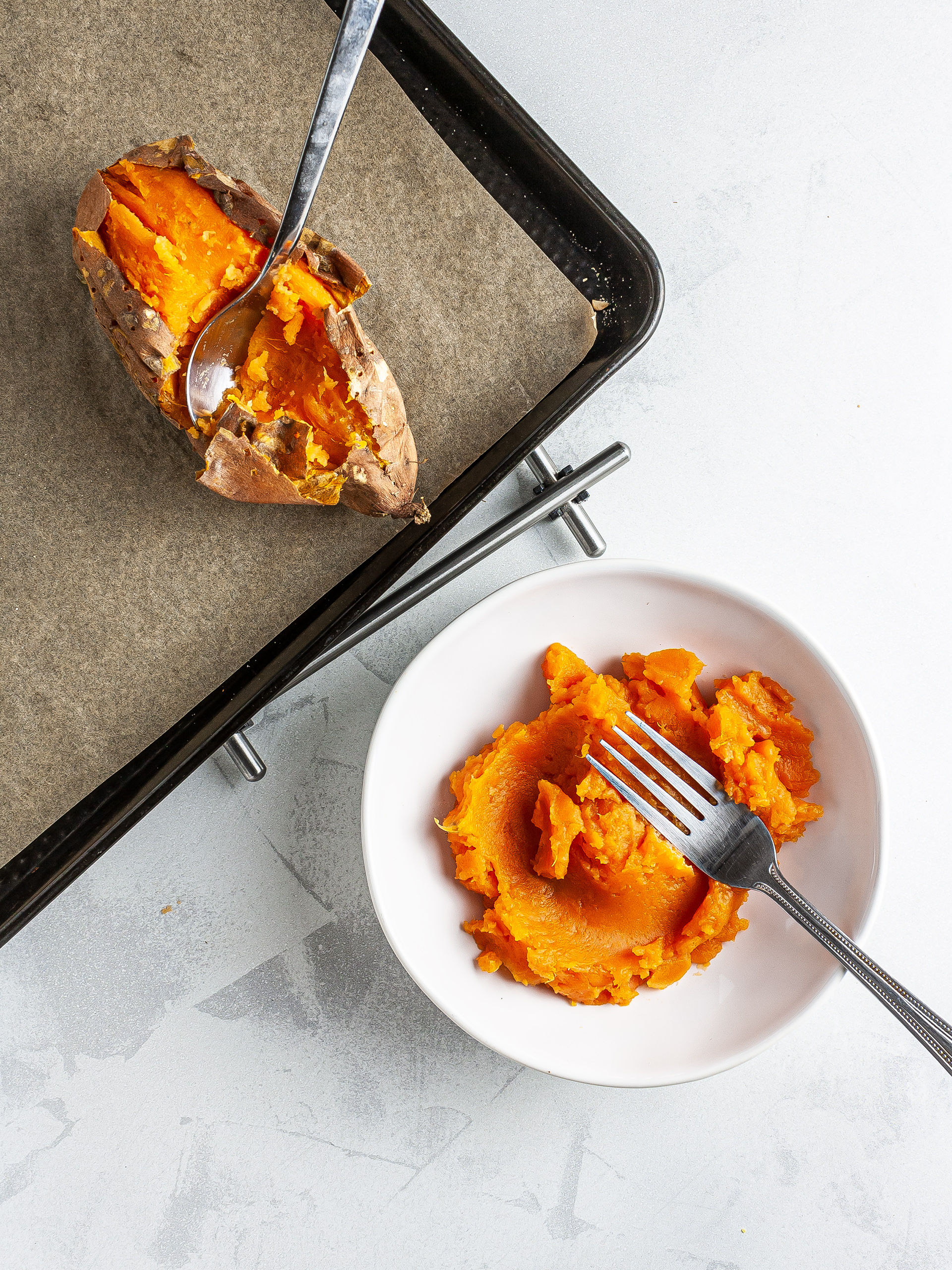 Step 2
While the potatoes cook, let's prepare the other ingredients.
Add the dates to a bowl, cover with enough water and leave to soak for 15 minutes. Then, drain, add them to a food processor with 80 mL of water. Blend into a creamy paste (1).
In another bowl, soak the ground flaxseeds with the remaining 70 mL of water in the fridge for 15 minutes. They will form a thick, gel-like mixture, called "flax-egg" (2).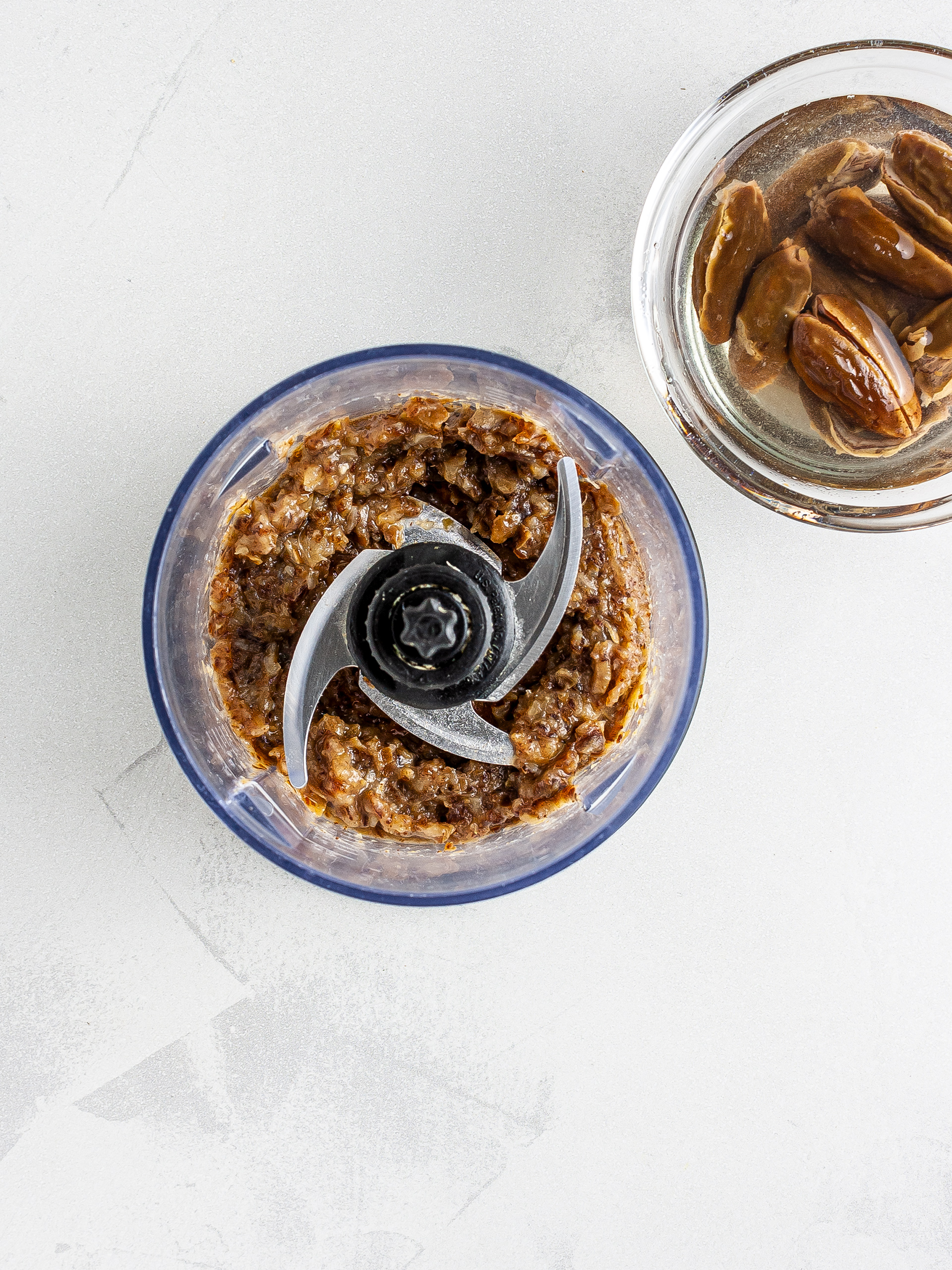 1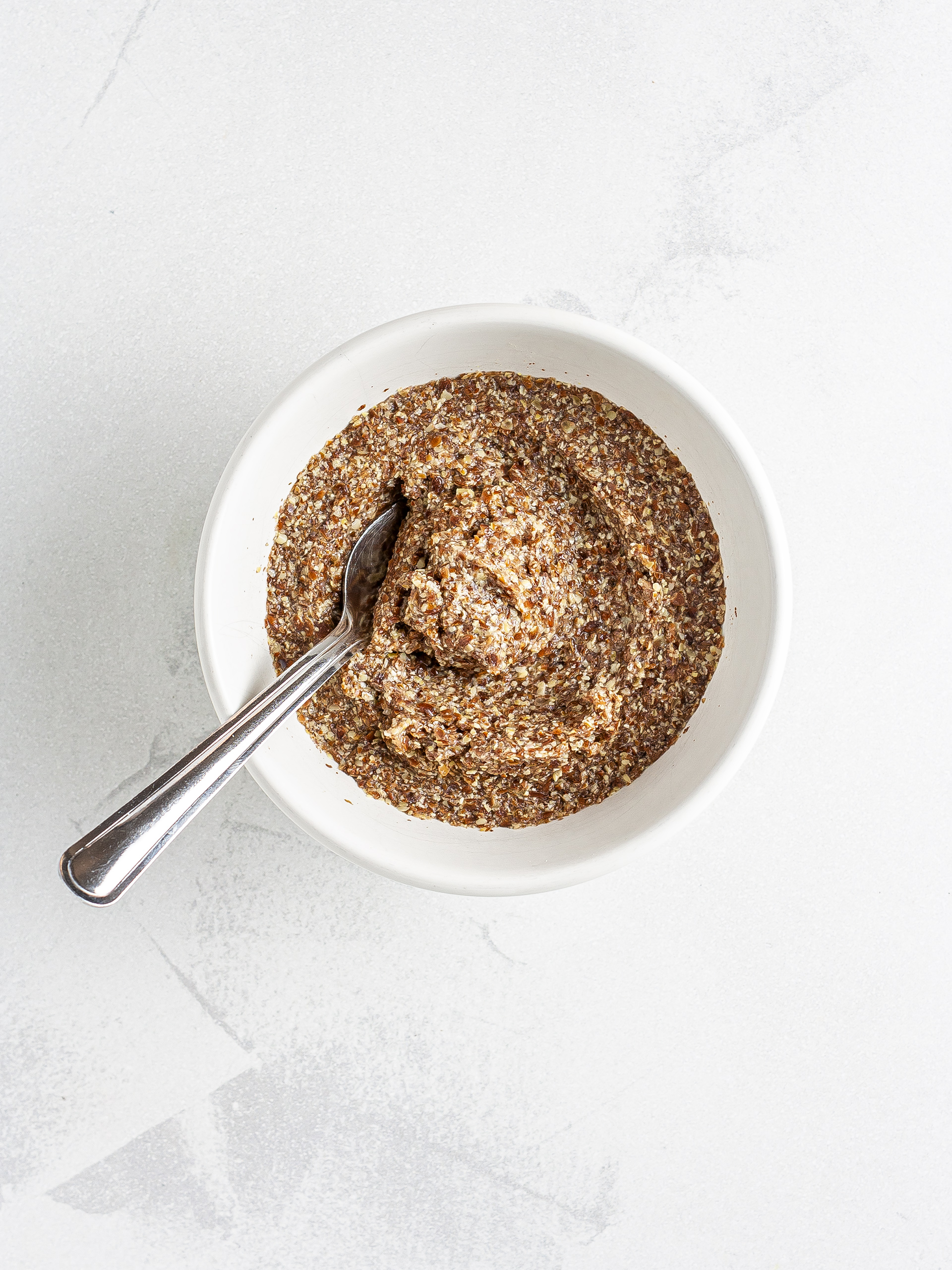 2
Step 3
Roast the cashew nuts at the same temperature of the sweet potatoes - 200°C (390°F) - for 5 minutes or until browned and fragrant.
Then, add them to a food processor along with the oat flakes and blitz all into finely ground flour.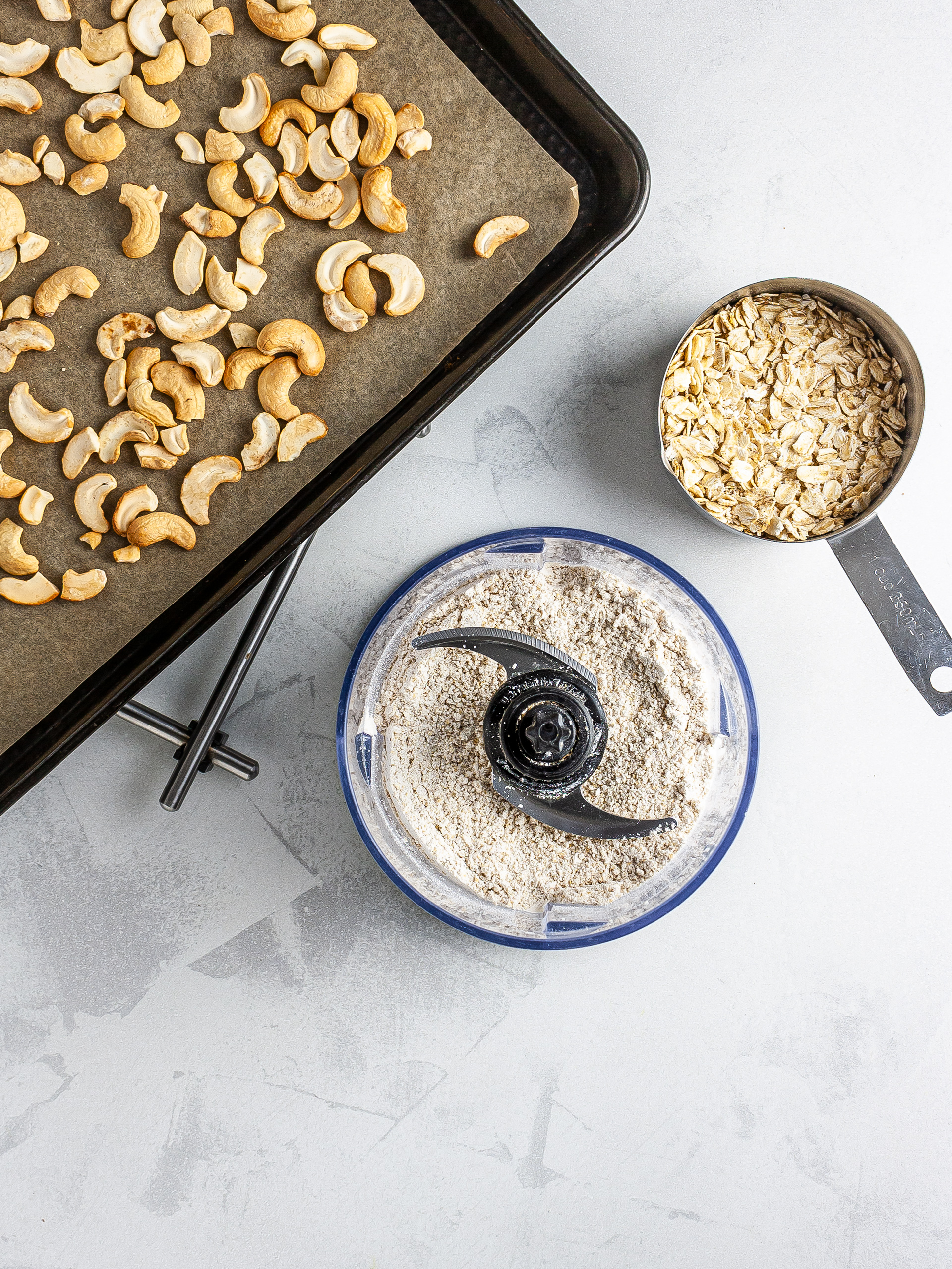 Step 4
Now, combine the oat flour, soaked flaxseeds, half of the date paste, and baking powder in a bowl. Work the ingredients into a compact and slightly sticky dough, similar to cookie dough.
If too wet, add more oat flour or, if too hard, pour in some water to reach the right consistency.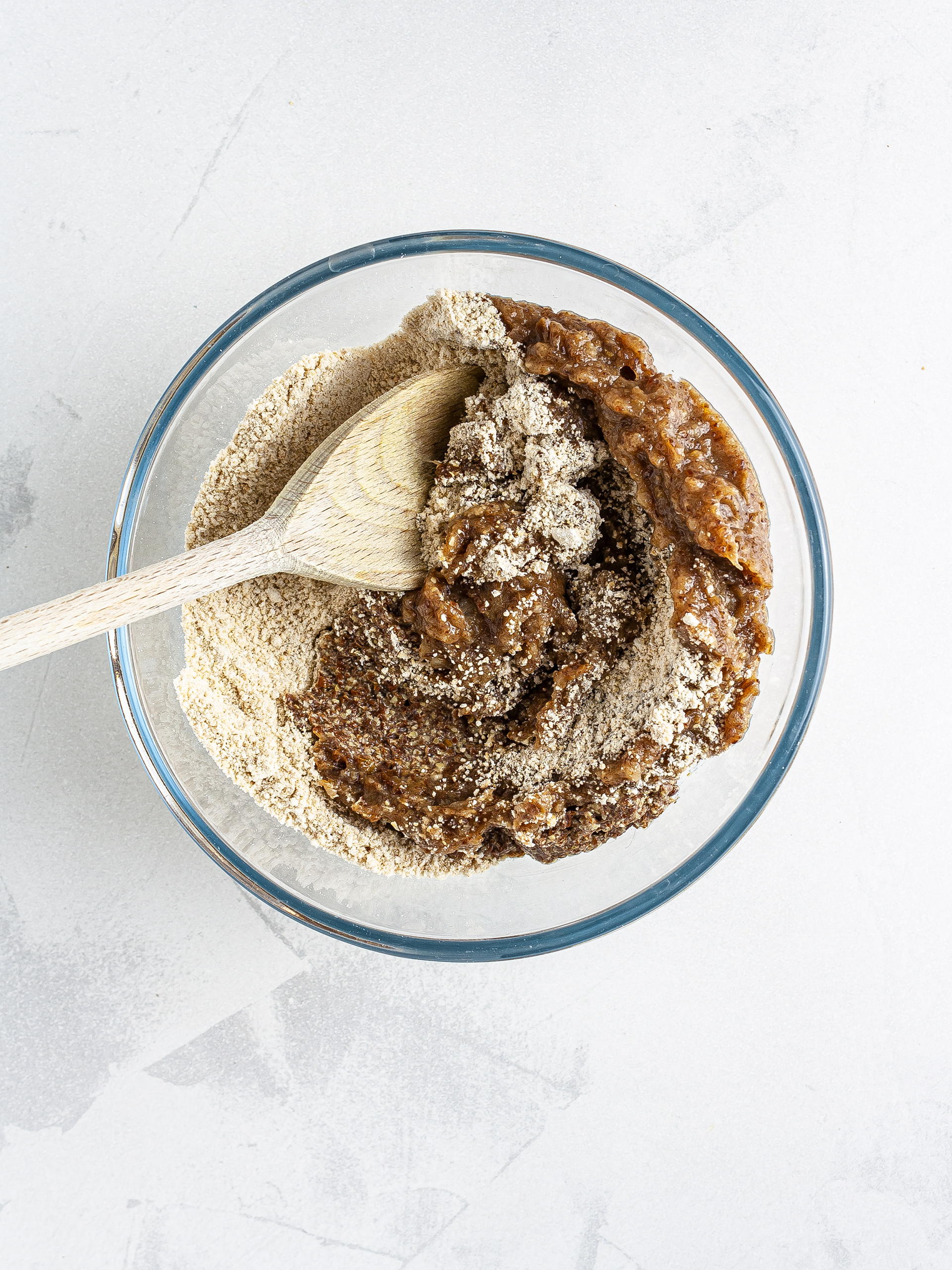 Step 5
Next, ease the dough into a 25 cm (9.8 inches) loose-bottom pie dish greased with oil.
Flatten it down, pressing with your fingertips to a 1/2 cm (1/5 inch) thickness.
Then, refrigerate the crust while you prepare the filling.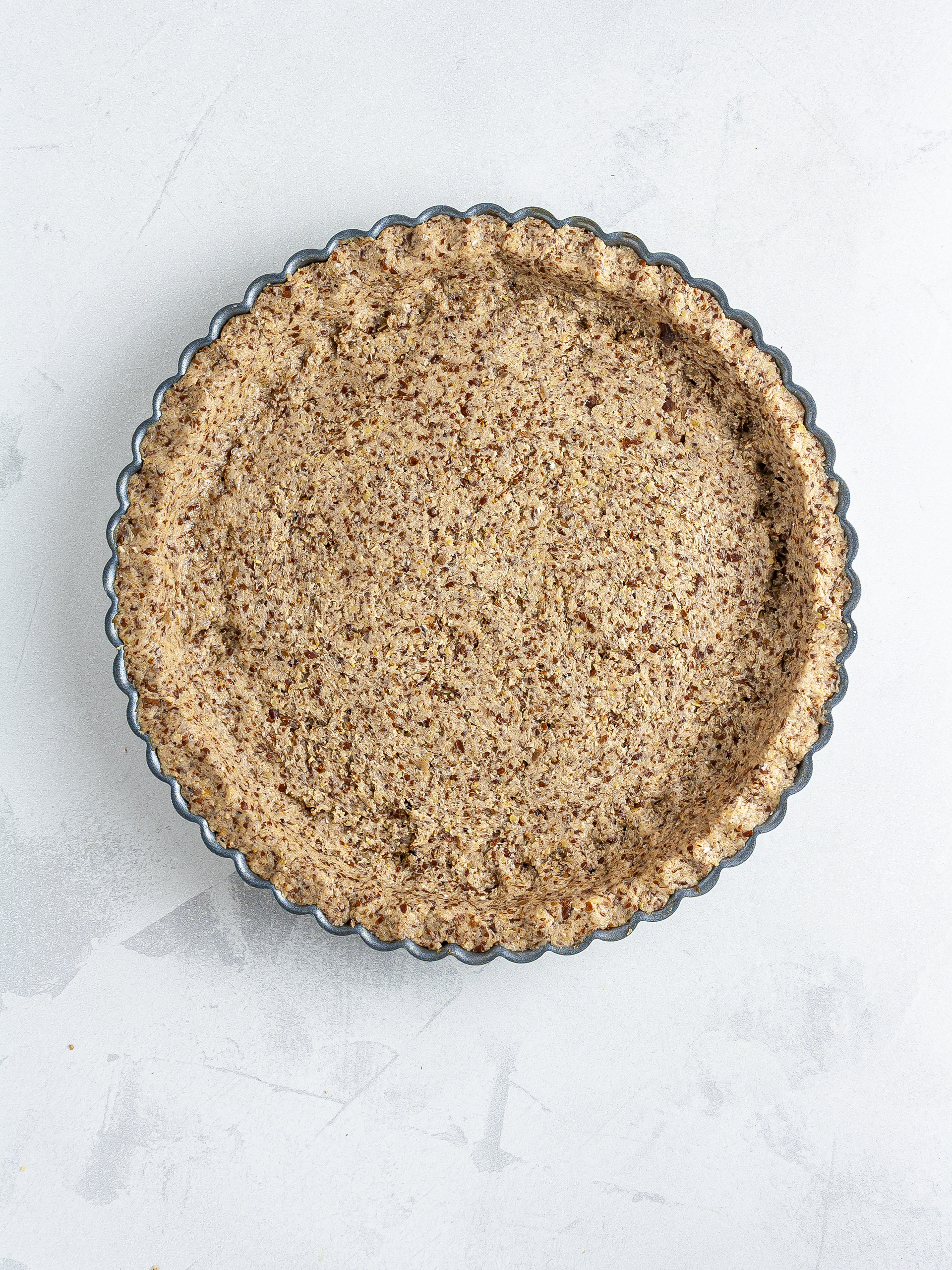 Step 6
For the pie filling, add the sweet potato purée, the remaining half of the date paste, silken tofu, arrowroot, and cocoa powder in a bowl (1).
Work the ingredients into a smooth cream with the help of a hand or electric mixer (2).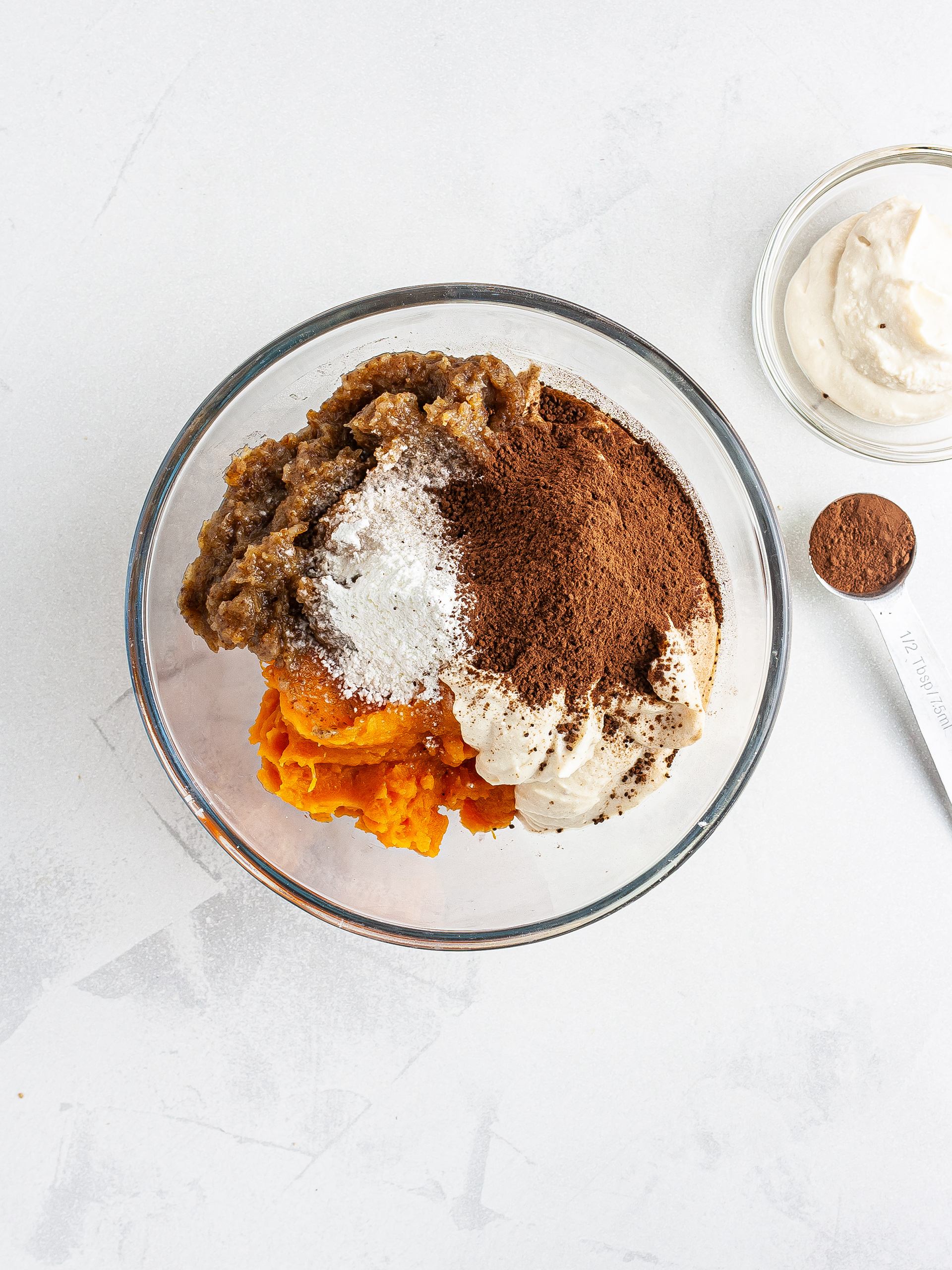 1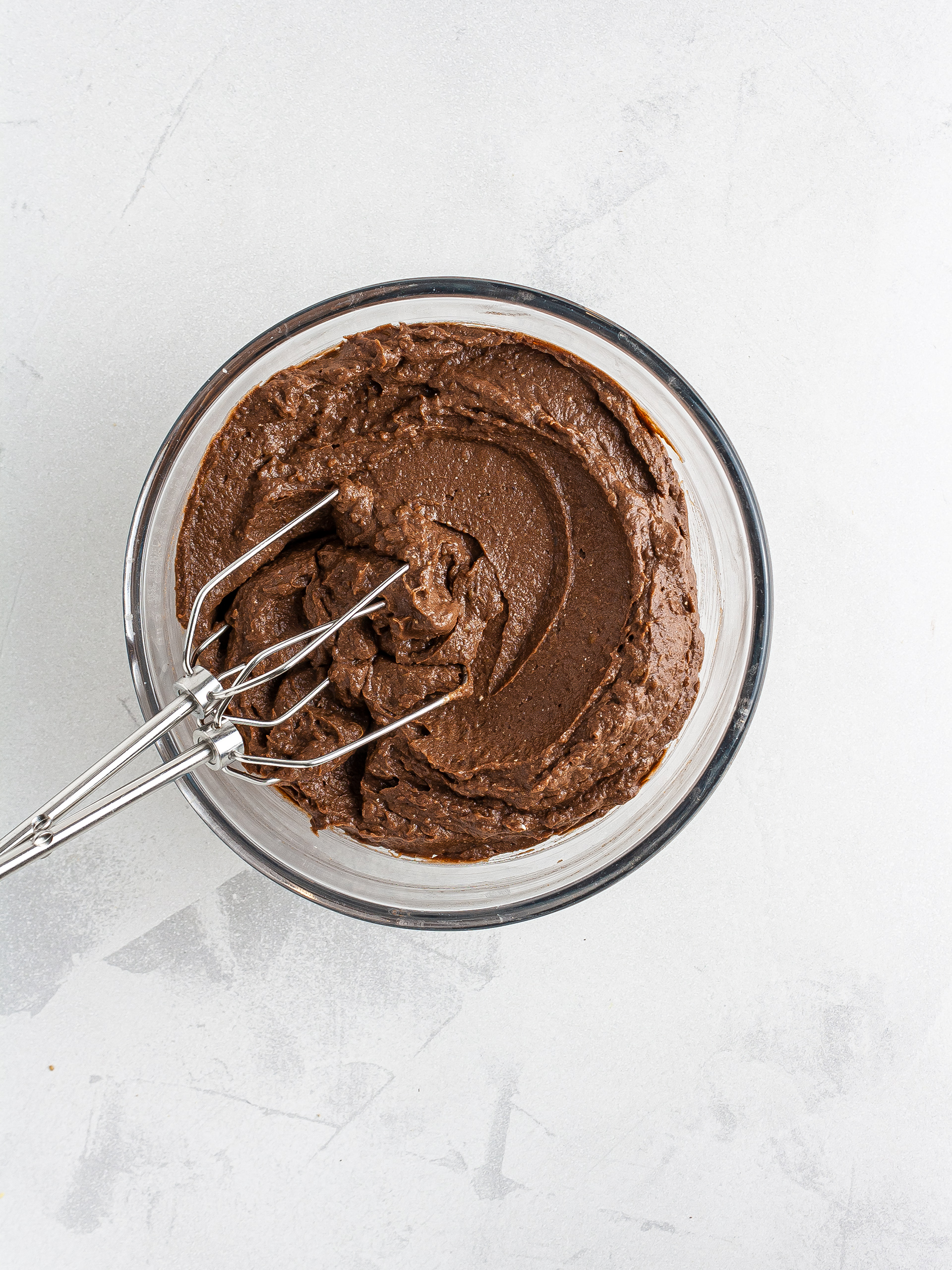 2
Step 7
Spread the chocolate cream evenly over the base with a spatula or the back of a spoon (1).
Bake the pie in the middle shelf for 35 minutes at 180°C (355°F) for static ovens or at 160°C (320°F) for fan ovens.
Allow to cool down completely and dust with cocoa powder before slicing (2).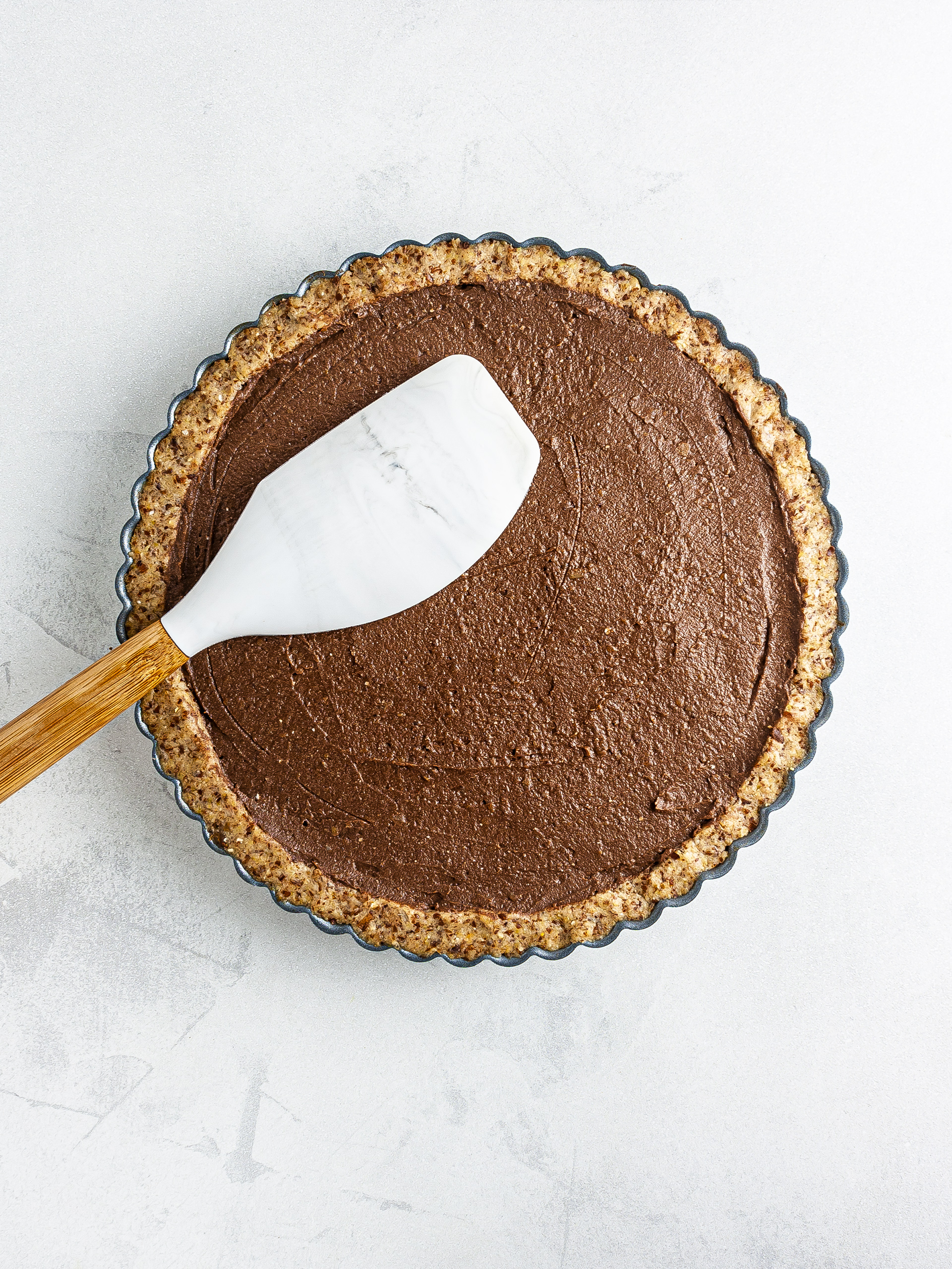 1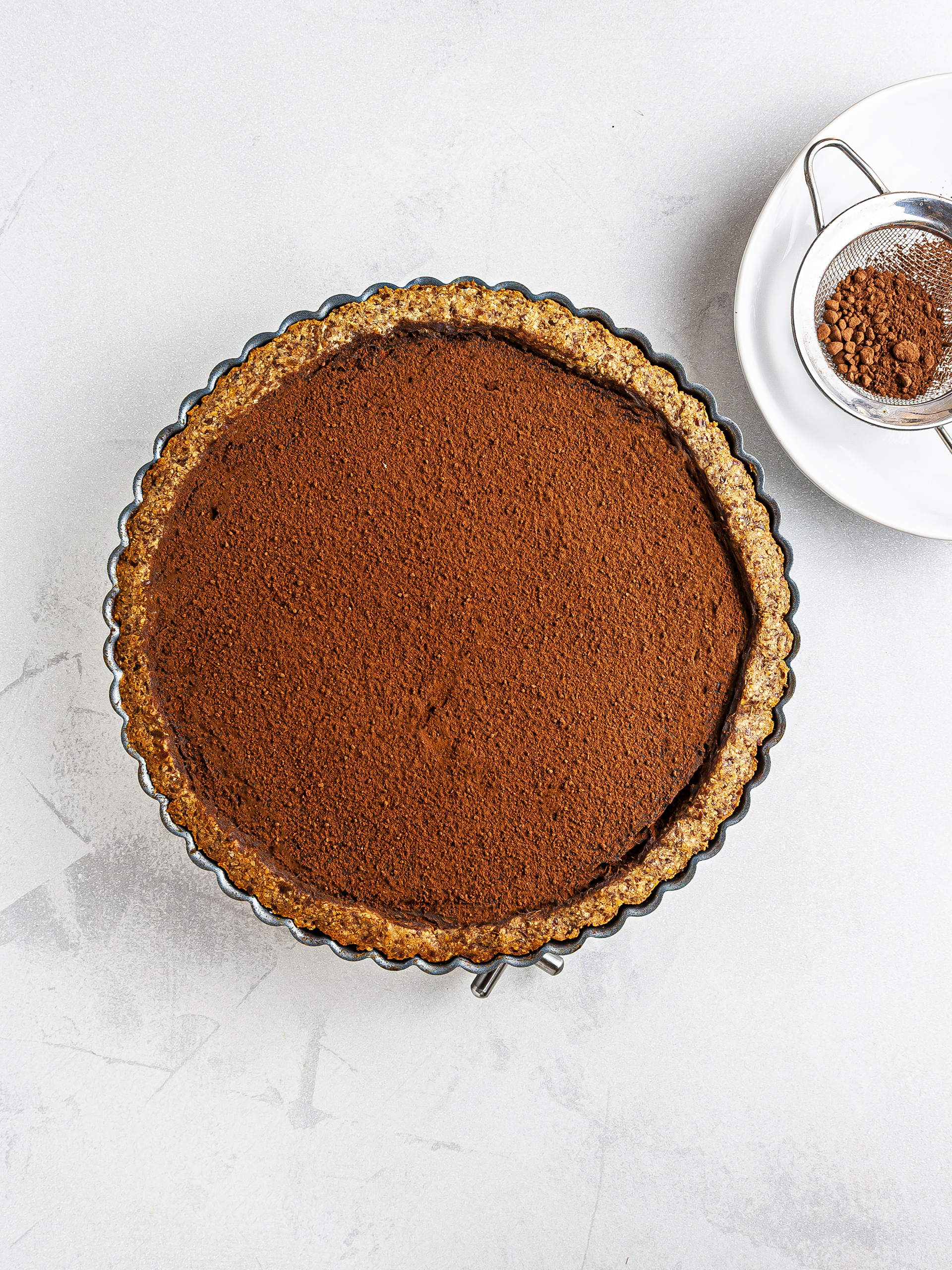 2
Tips
If the crust dough feels too sticky, roll it into a ball, and place it in the fridge. As it cools down, it will harden, and it will be easier to shape.

You can glaze the pie with a layer of our delicious vegan chocolate orange ganache for a perfect finish.