Perfect for decorating your favourite treats, this dark chocolate orange ganache has a rich chocolatey flavour with fragrant citrus notes. And the great thing is it's fully vegan—no cream needed!
Classic ganache is a 1:1 mixture of chocolate and double/heavy cream, warmed and stirred together until smooth and glossy.
For this recipe, we made a dark chocolate-based ganache and flavoured it with orange extract. It's delicious!
Because we wanted to make our ganache dairy-free, vegan, and lower in fats, we replaced heavy cream with plant-based oat milk.
Most vegan chocolate ganache recipes use coconut cream, but in this case, the taste of coconut would overpower the delicate flavour of orange essence.
Instead, using oat milk for ganache makes this chocolate glaze vegan and low-fat without affecting its flavour or consistency.
Because chocolate already contains fats, the orange glaze will still be wonderfully silky and glossy, and it will retain the piping patterns perfectly.
Just make sure you use baking-grade dark chocolate with a percentage of cocoa solids of 70% for best results.
Preparing this no-cream chocolate frosting follows the exact same steps as classic ganache, and it's super easy.
Once ready, you can use the ganache as an orange-flavoured chocolate glaze for covering, drizzling, and dipping.
Or you can leave it to set until thick for frosting, piping and truffle-making!
And if you'd like to try another healthy way of making chocolate icing, check out this chocolate frosting recipe with applesauce!
For more frosting and icing ideas, try this no-sugar white glaze with erythritol, purple ube spread, and lemon-flavoured white ganache next!
Frequently Asked Questions
How do you make ganache taste of orange?

Use orange extract to make orange-flavoured ganache, as it packs all the orangy flavour of the orange peel without the bitterness.

As an alternative to orange extract, you can use orange zest, making sure not to grate the bitter, white pith. But the ganache won't be perfecly smooth.
Is chocolate ganache vegan?

Classic ganache is not vegan as it uses double/heavy cream and often milk chocolate.

You can make ganache vegan and dairy-free using dark chocolate and replacing cream with coconut cream or vegan double cream.

For a healthier low-fat option, you can make ganache with milk, like soy or oat milk just as we did in this recipe.
How do you make chocolate ganache without cream?

To make ganache without cream, you can simply replace heavy/double cream with the same amount of milk, including non-dairy milk like soy or oat milk.

Chocolate used for ganache already contains fats so it will still be silky and glossy even if you don't use cream. And the advantage is that it will be lower in fats!
Can orange chocolate ganache be made with milk?

Yes, we successfully made ganache with milk instead of cream. Even plant-based alternatives like soy or oat milk work for chocolate ganache.

Simply incorporate the hot milk into the chopped chocolate, stirring until smooth and shiny, then wait it for it to set.

The fats in chocolate keep the ganache perfectly glossy and creamy, while milk prevents the chocolate from turning back to solid.

Ganache made with milk is still super silky for glazing and frosting and retains the piping patterns wonderfully.
How long does orange chocolate ganache take to set?

Left to cool at room temperature for 1.5 - 2 hours, the orange chocolate ganache thickens enough for glazing and drizzling. For piping and frosting instead, allow up to 3 - 4 hours (calculated with a room temperature of 20°C / 68°F).

You can leave the ganache to set overnight at room temperature ready for the next day. To use it, slightly thin it out in a heatproof bowl set over a pot of simmering water or beat it with a hand mixer for 3 minutes until creamy and shiny.
What do you use chocolate orange ganache for?

Chocolate orange ganache is extremely versatile, and you can use it for:

Glazing pound cakes, muffins, and cookies

Filling layered cakes, pies, pastries, and crepes

Topping and frosting cakes, cupcakes, cheesecakes, and brownies

Piping cupcakes

Dipping treats, bars, cookies, fruit, and nuts

Making truffles and truffle fillings
Ingredients
| | |
| --- | --- |
| Baking Dark Chocolate 70% | 220 g |
| Oat Milk | 220 mL |
| Orange Extract | 2 tsp |
Step 1
Finely chop the dark chocolate, add it to a heatproof bowl, and tip in the orange extract.
Bring the oat milk to a boil in a pot and pour it over the chocolate.
Don't stir yet: leave the chocolate to warm and soften in the hot milk for 3 minutes.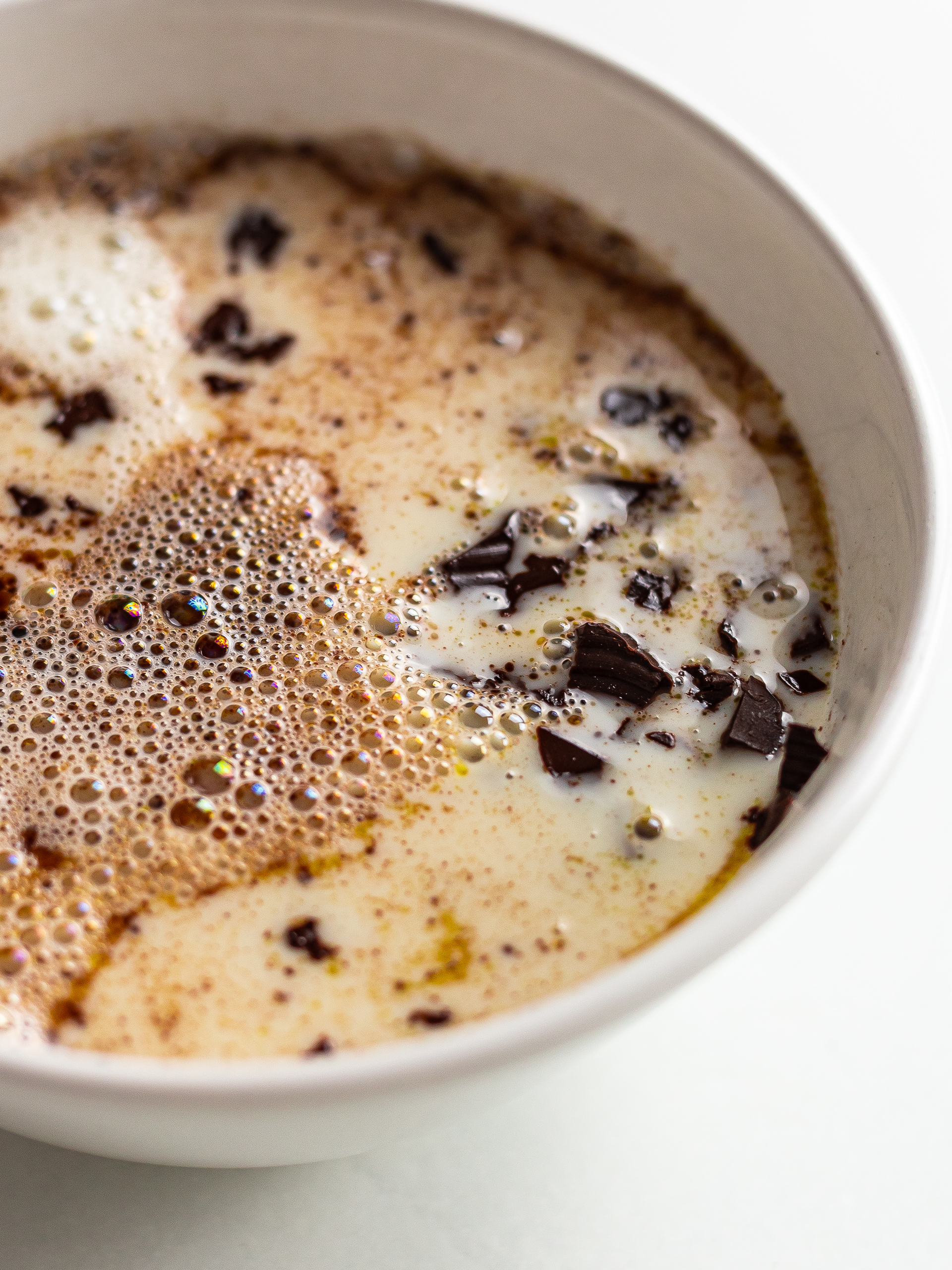 Step 2
Using a spoon or spatula (not a whisk), very slowly stir the dark chocolate until it's completely melted and combined with the milk.
You should have a smooth, silky, and glossy orange ganache.
If the chocolate doesn't melt fully, microwave it for 10 seconds at high power and repeat if needed.
Alternatively, sit the bowl of ganache over a pan with simmering water (without letting it touch the water) and allow the chocolate to melt completely while stirring.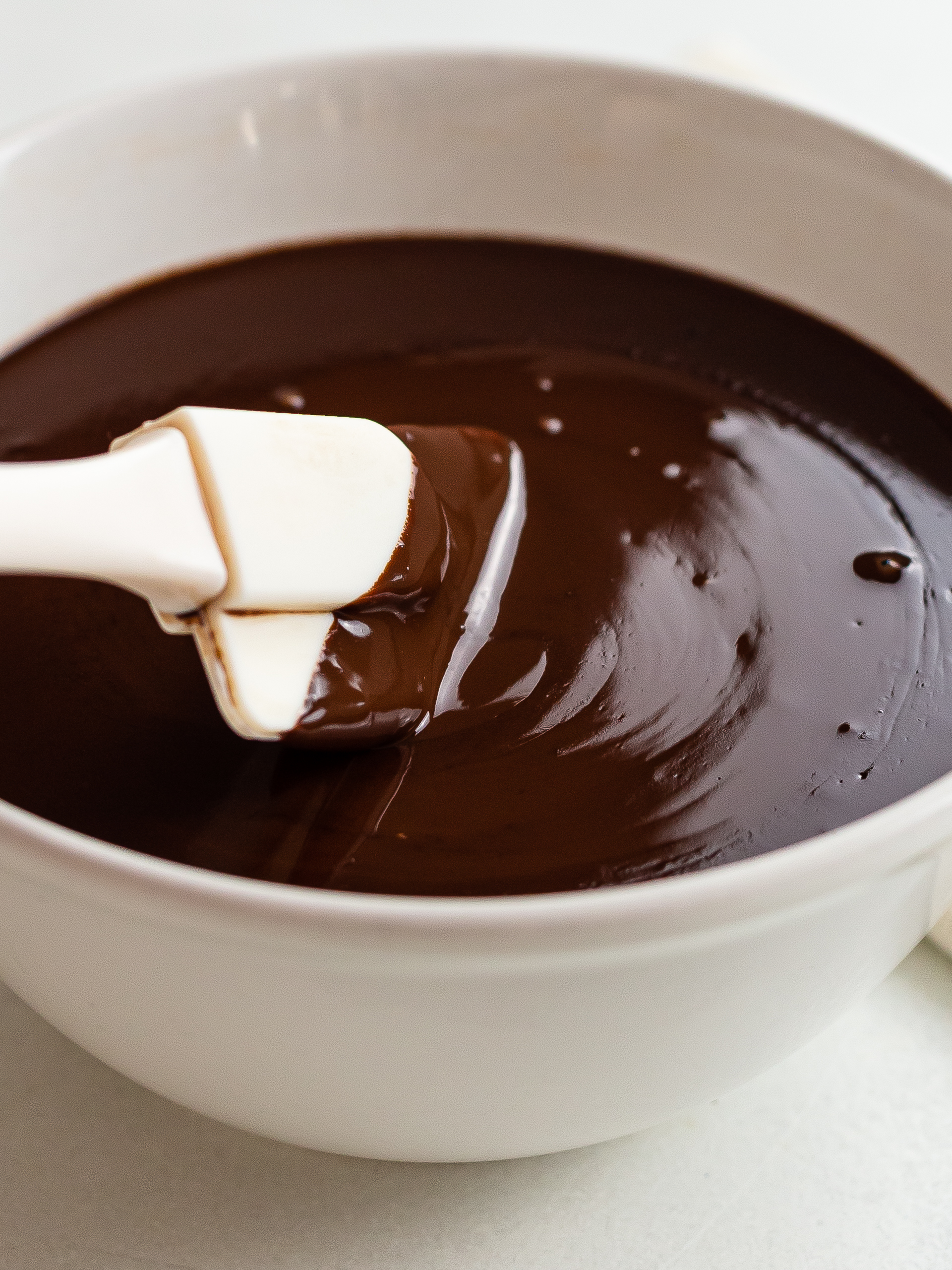 Step 3
The orange chocolate ganache is ready.
To use this vegan ganache as a glaze, dip, or drizzle, leave it to cool at room temperature for 2 hours, covered with cling film, until it's slightly thicker and pourable.
We recommend checking the ganache regularly while it sets.
Depending on your kitchen temperature and how much ganache you made, it can take less or longer than 2 hours for it to thicken into a pourable chocolate glaze.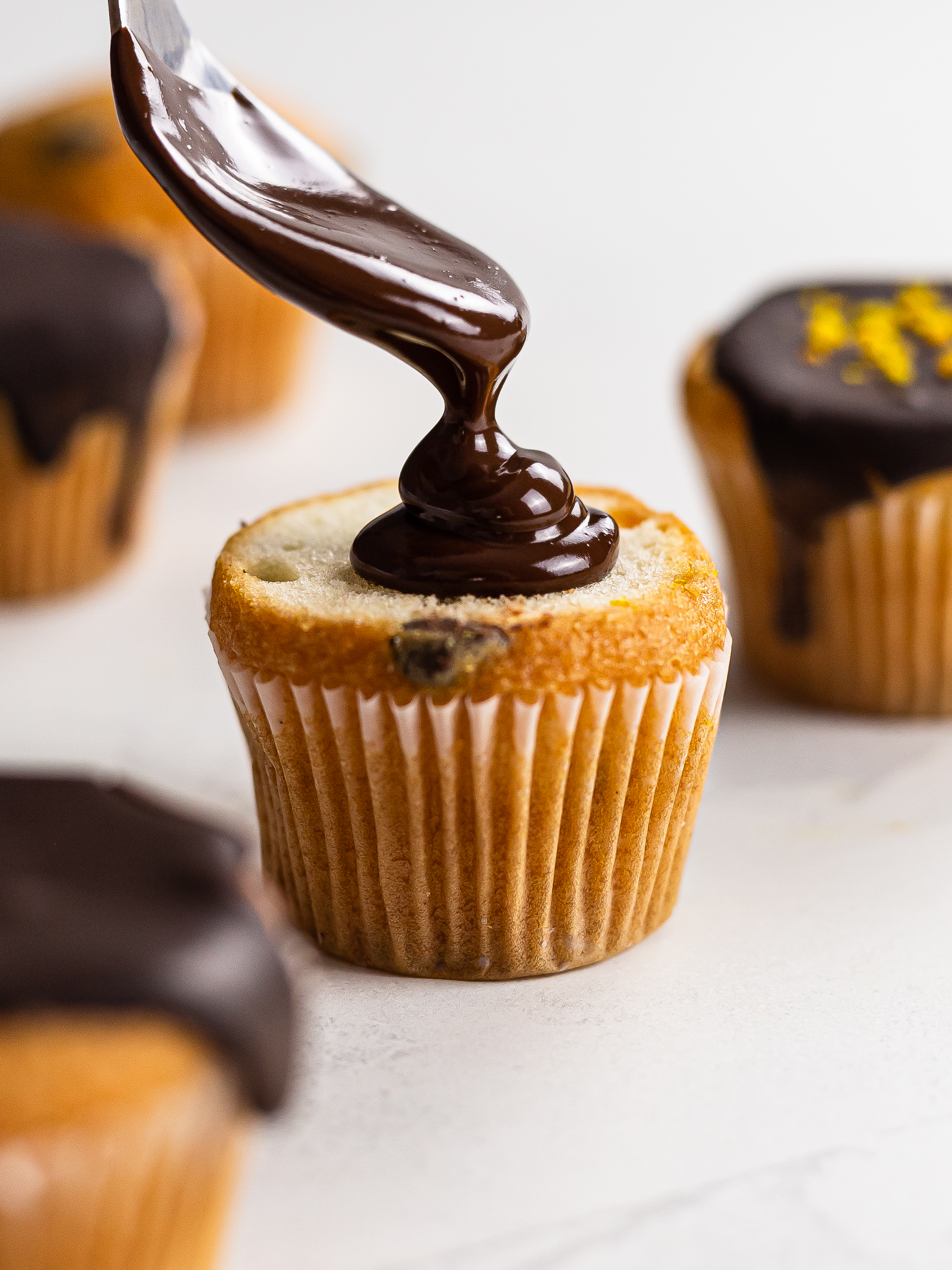 Step 4
The chocolate orange ganache will take 3-4 hours to set completely at room temperature, covered with cling film.
Once thick and scoopable, you can use it as is for truffles.
For frosting and piping instead, beat the cooled, thickened orange ganache with a hand mixer for 3 minutes until creamy and shiny (1).
Then, use it for piping, filling, or frosting cakes and cupcakes (2).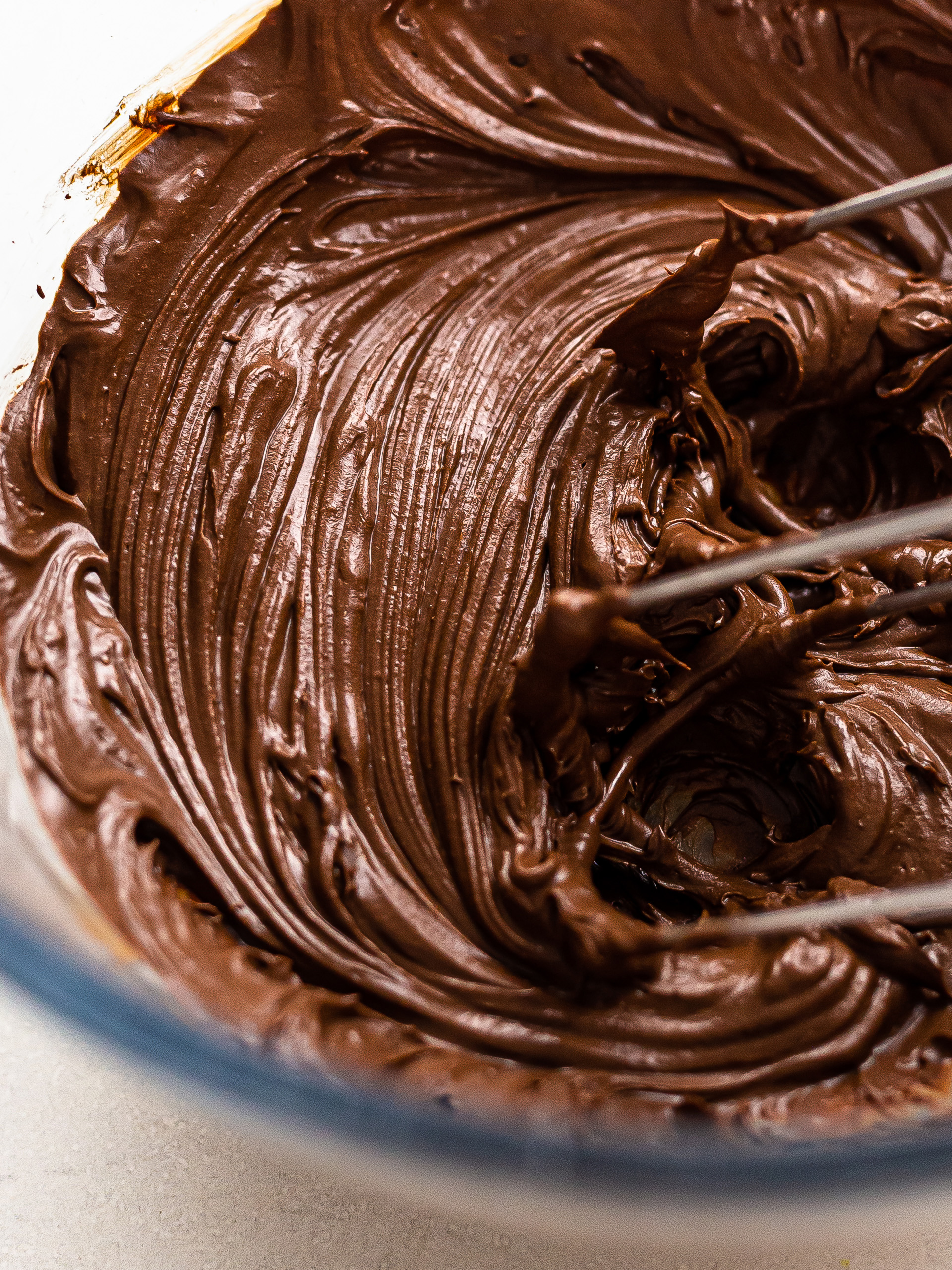 1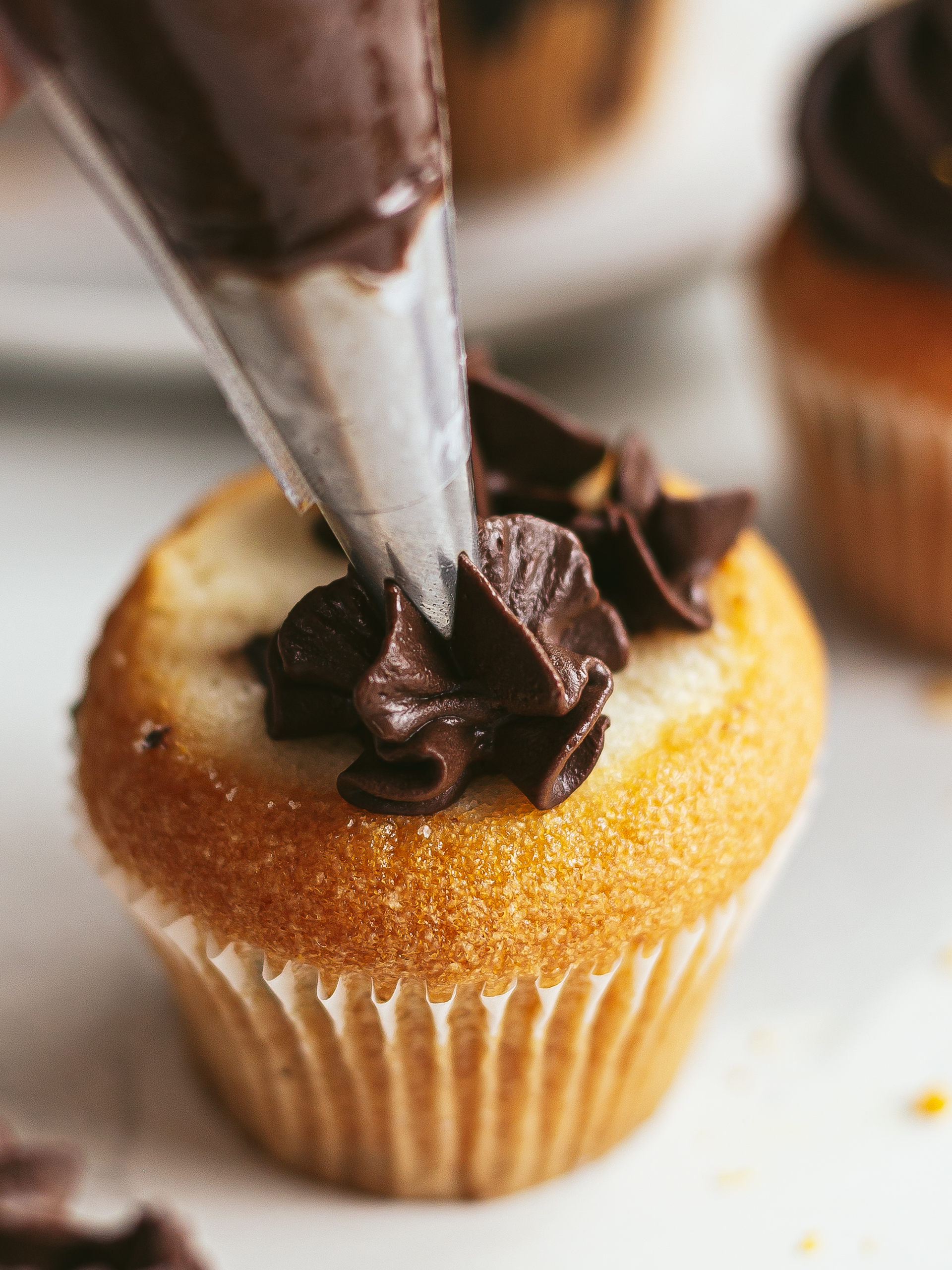 2
Tips
The default ingredients yield enough orange chocolate ganache to frost a two-layer 20cm (8 inches) cake or 12 medium cupcakes.

You can prepare this vegan dark chocolate ganache in advance, cover it tightly and store it in the fridge for 3 days. To use it, slightly thin it out in a heatproof bowl set over a pot of simmering water. Alternatively, beat it with a hand mixer for 3 minutes until creamy and shiny.

Because this ganache recipe has no cream, you can't whip it into a very airy, mousse-like frosting as with regular ganache. Yet, it's perfectly creamy for piping and frosting cakes and cupcakes.

If you want to try the recipe with cream instead, replace milk with the same amount of vegan double cream or use coconut cream—though keep in mind coconut will affect the flavour.