This sweet potato katsu curry is the ultimate vegan Japanese curry to prepare when you crave a hearty and flavourful dish loaded with healthy ingredients.
In our recipe, we replaced the classic chicken with a healthier, plant-based alternative: oven-baked sweet potato katsu. It's lower in fat, packed with fibre, and rich in omega-3. Wow!
How did we do it? We breaded thick sweet potato slices with wholemeal flour, a vegan flax-egg, and, of course, crispy panko breadcrumbs.
Then, instead of frying it, we baked the sweet potato katsu in the oven. It's as crunchy as ever, and yet has a fraction of the fats!
Sweet potatoes are an amazing ingredient for this vegan katsu. They're flavourful and turn wonderfully creamy when baked, which creates a nice contrast with the outer crispy panko coating.
Sweet potatoes are also incredibly healthy, worthy of their superfood title! They pack filling fibres, free radicals-fighting antioxidants, and immunity-boosting vitamins.
Once you've prepared the katsu sweet potatoes, serve them on a bed of rice with a few generous ladles of homemade Japanese curry sauce.
This velvety sauce is made with root vegetables simmered in stock with a spicy blend of curry powder and gram masala, plus soy sauce and tomato puree. It's delicious!
And no worry, we'll show you how to prepare it from scratch easily, no need to make the classic base of roux.
So, get your chopsticks ready, and let's make this sweet potato katsu curry together!
And if you'd like to tuck into more vegan Japanese makeovers, check out our baked tofu teriyaki, vegan "omurice" omelette, and vegan yaki onigiri recipes.
Ingredients
Curry
Vegetable Oil

1 tbsp

Medium White Onion

1/2

Freshly Grated Ginger

1 tsp

Crushed Garlic Cloves

1

Carrots

80 g

White Potatoes

80 g

Mushrooms (shiitake or chestnut mushrooms)

60 g

Vegetable Stock

280 mL

Curry Powder
11/2 tsp
Garam Masala

1 tsp

Soy Sauce

1 tbsp

Tomato Sauce

1 tbsp

Sugar (or syrup or a sweetener)

1/2 tsp

Starch (cornflour or potato starch)

1 tbsp

Sweet Potato Katsu
Sweet Potatoes

250 g

Ground Flaxseeds (or flour, see recipe)

1 tbsp

Water

50 mL

Panko Breadcrumbs

50 g

Flour (whole wheat or plain)

1 tbsp

To Serve
Rice (sushi rice or brown rice)

120 g

Spring Onions

to taste
Step 1
Start by preparing the curry.
Heat half of the oil in a pan, add chopped onions and cook for a few minutes until soft. Then, add ginger and garlic and sizzle until fragrant and golden (1).
Peel the potatoes and carrots and chop them into chunks along with the mushrooms.
Add the vegetables to the pan and let them sweat for 3-5 minutes to draw out the flavours (2).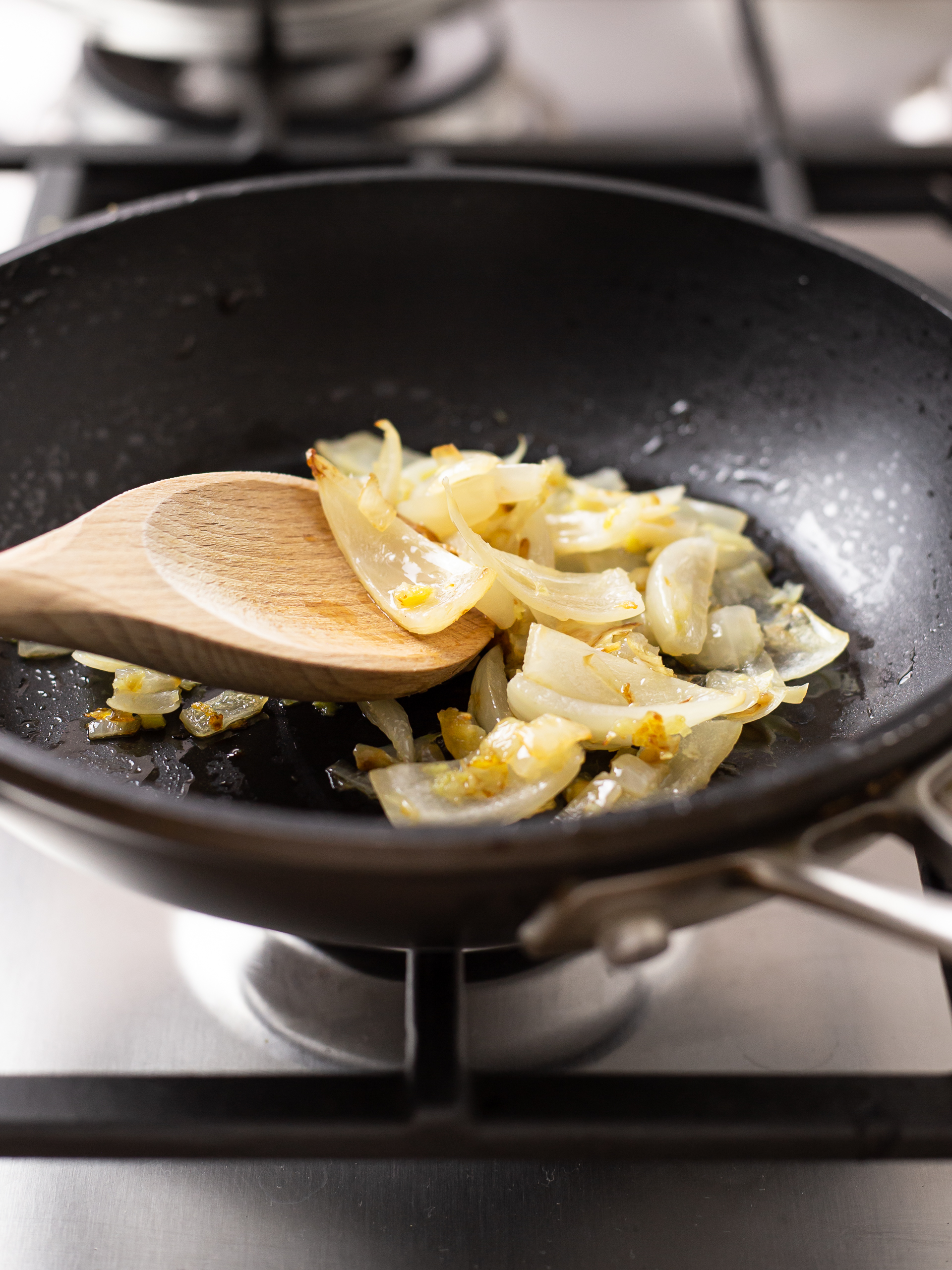 1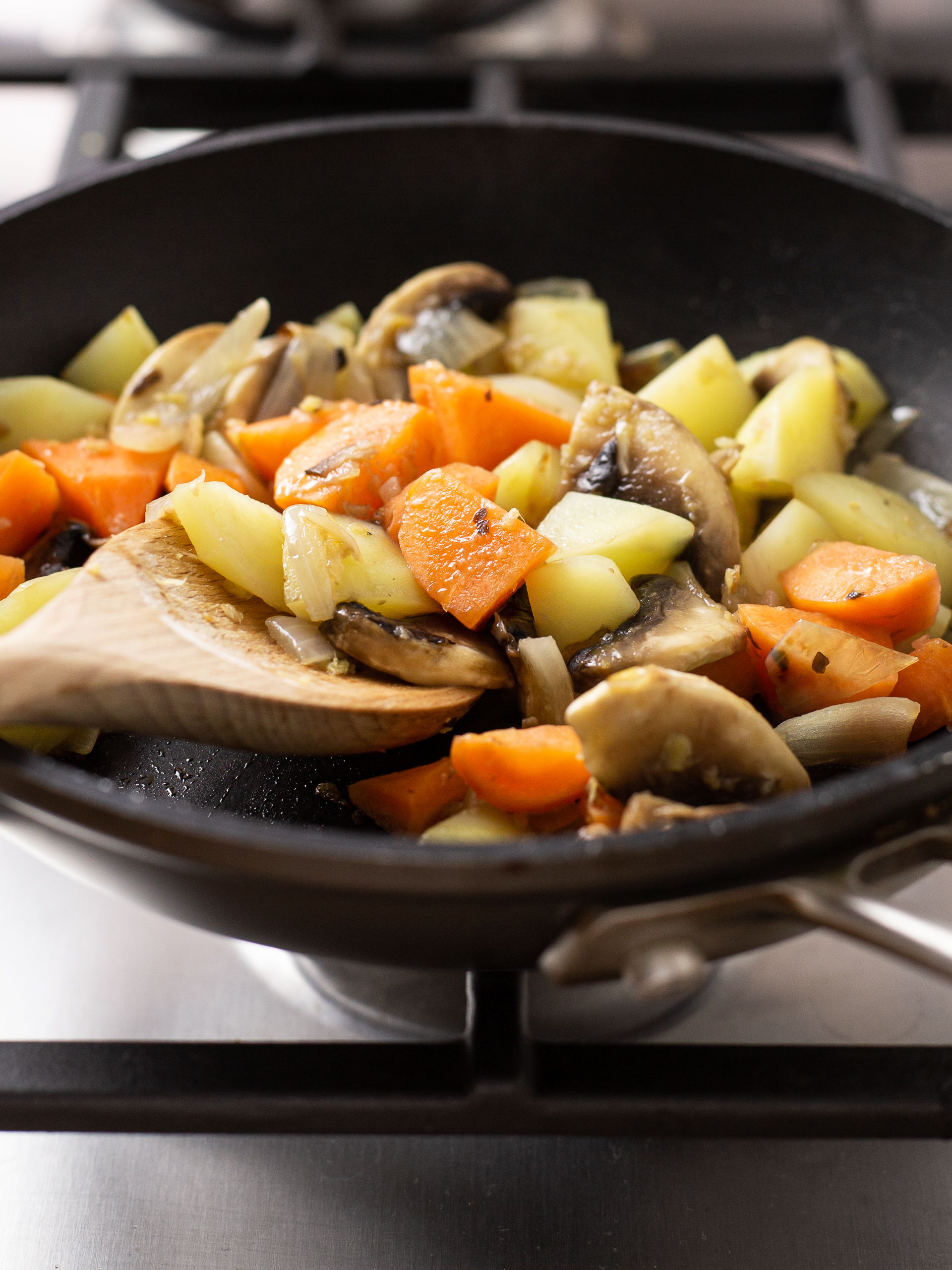 2
Step 2
Next, pour in the vegetable stock and tip in the curry powder, garam masala, soy sauce, tomato sauce, and sugar/syrup.
Bring to a boil and simmer the Japanese curry for 15-20 minutes until the vegetables are soft (1).
Season with salt and pepper to taste.
Now, dissolve the starch in a little bit of cold water in a cup first and then stir this slurry into the curry.
Cook the curry for a few more minutes while stirring, until the starch gets activated and the curry turns creamy and glossy (2).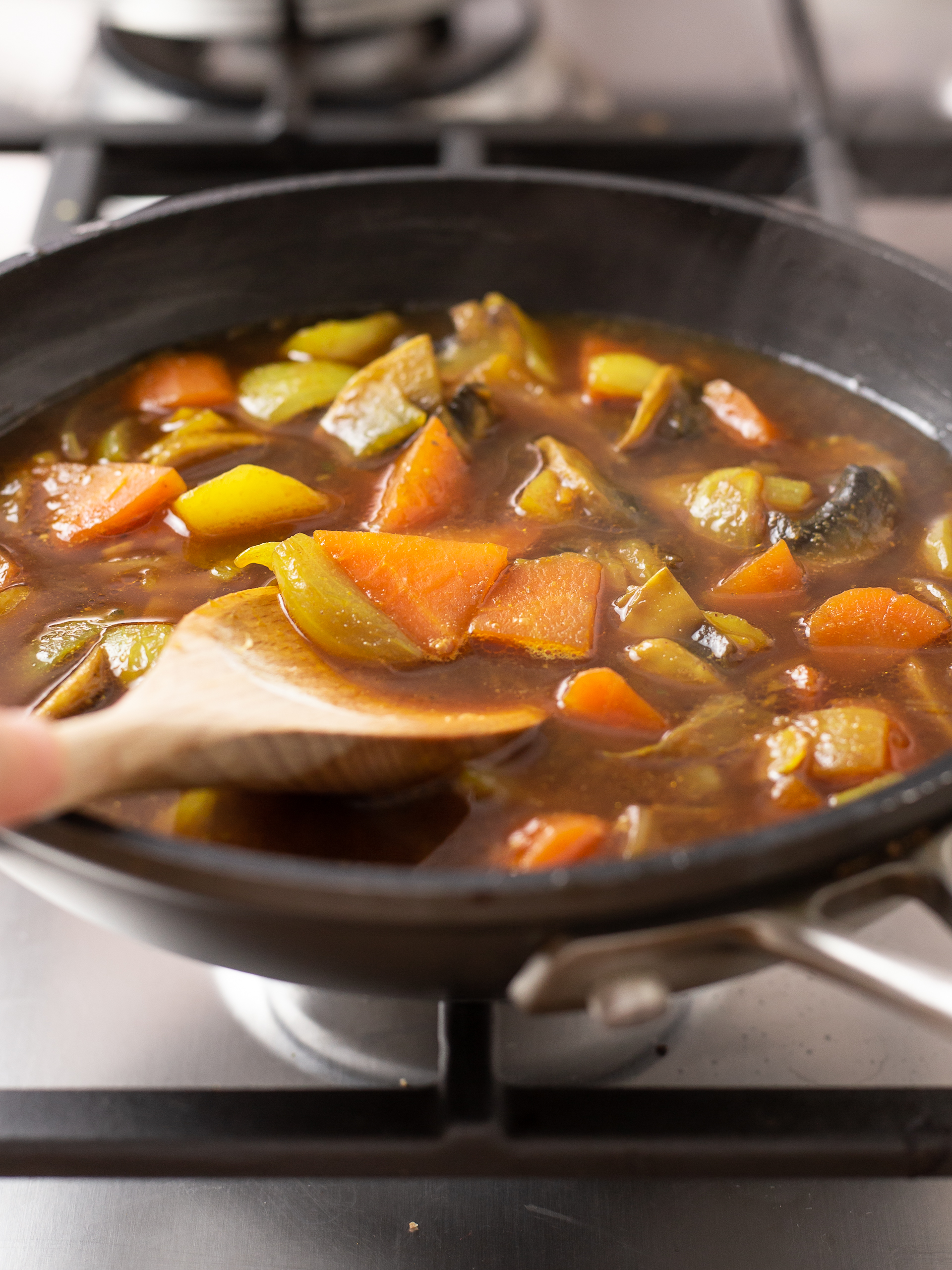 1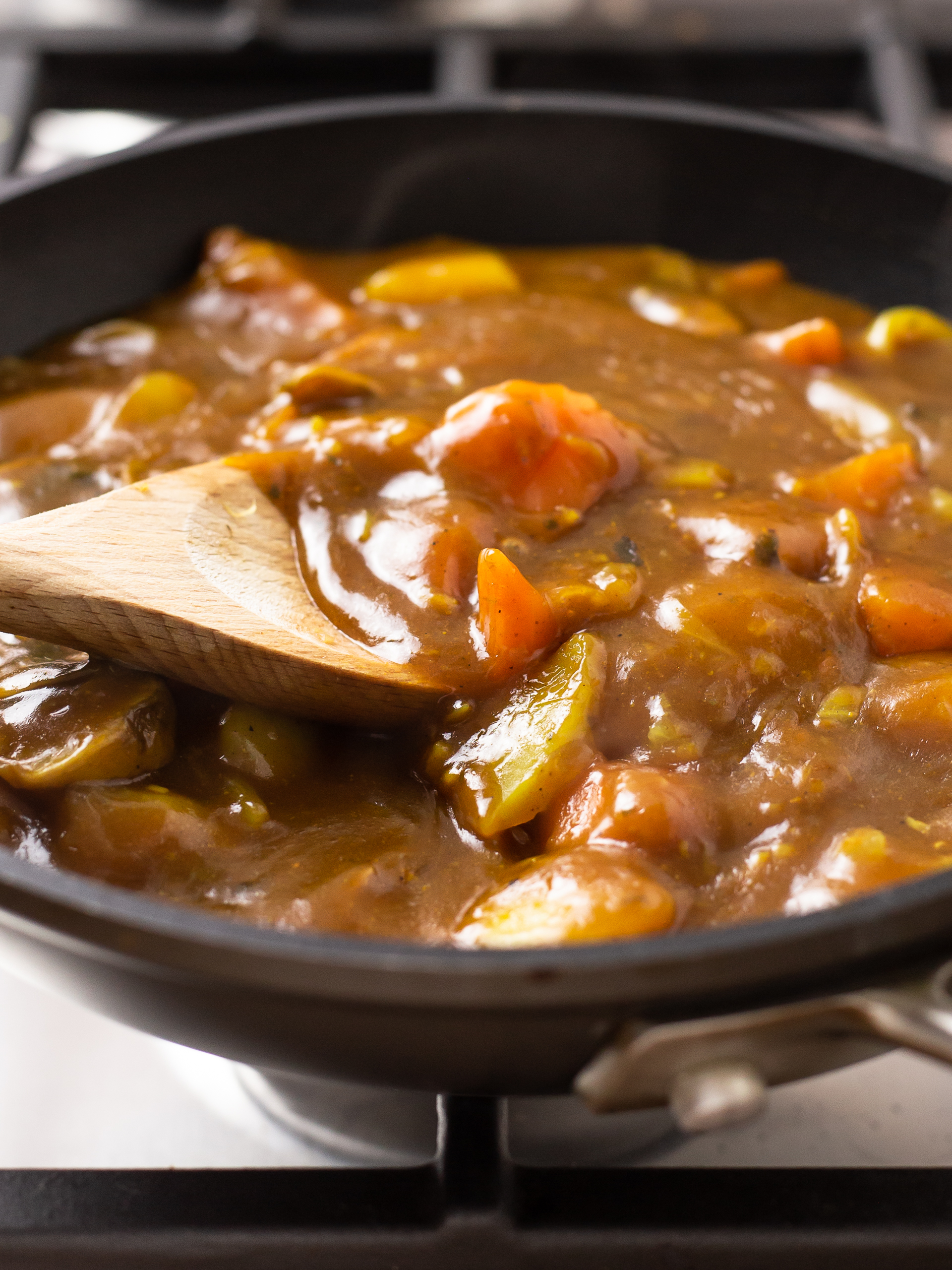 2
Step 3
Next, get the breading ingredients ready for the sweet potato katsu.
First, make a vegan "flax-egg": add the ground flaxseeds to a shallow bowl, stir in the given water, and leave them to soak in the fridge for 15-20 minutes until thick.
As an alternative to the flaxseed "egg", you can make a slurry-like mix with plain flour and water, using them in ratio 1:1.
Meanwhile, heat ​the remaining oil in a pan and add the panko breadcrumbs.
Toast them for 2-3 minutes until golden and crunchy, stirring them frequently so they won't burn.
Then, transfer them to a shallow bowl or tray, ready for coating.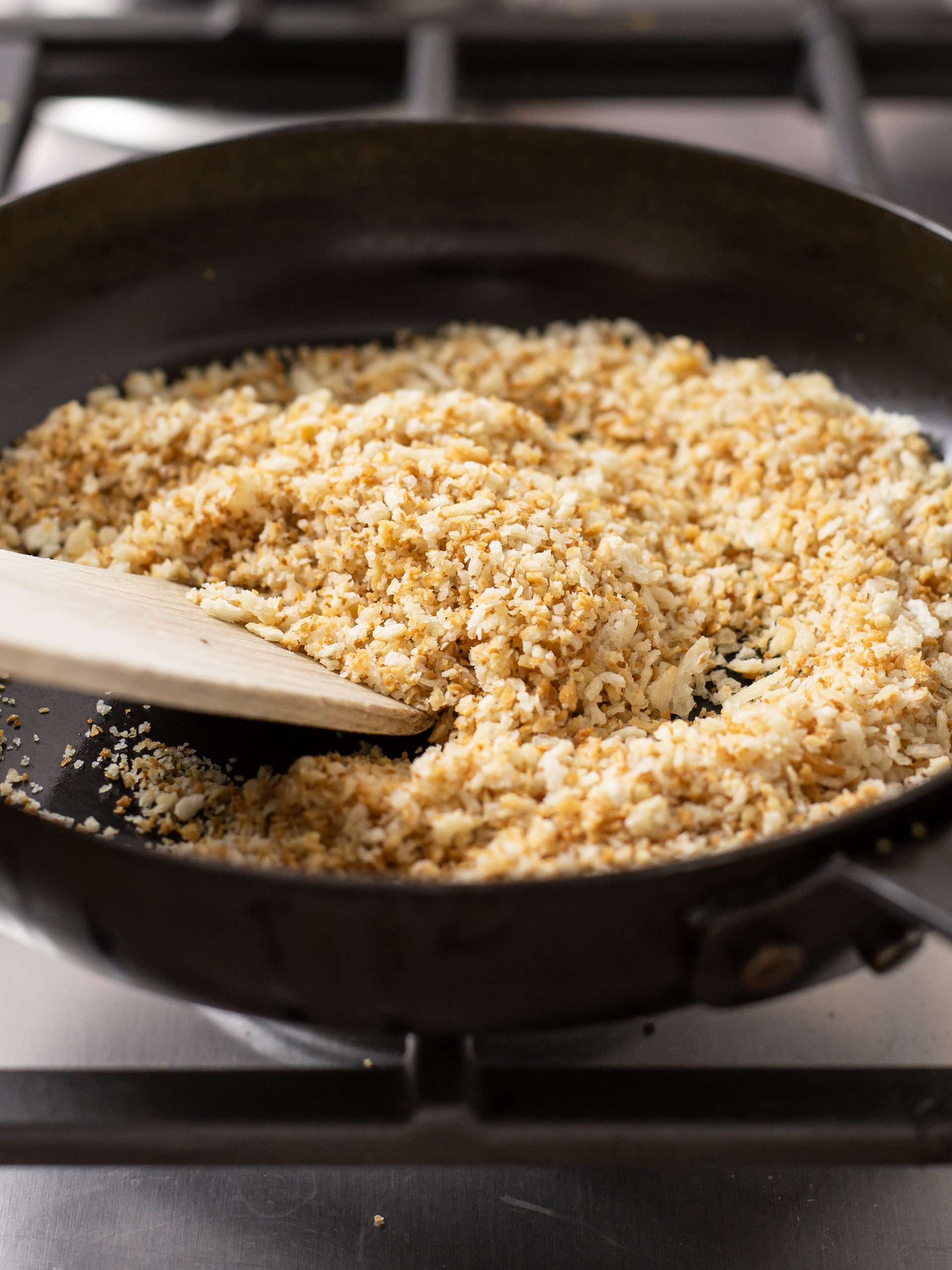 Step 4
Preheat the oven to 200°C (390°F) static or 180°C (355°F) fan.
Slice the sweet potatoes into 1 cm thick slices, keeping the skin on if you like, and coat them with flour (1).
Then, dip them in the prepared flax-egg, shaking off any excess (2).
And finally, press them onto the toasted breadcrumbs, coating them evenly on all sides (3).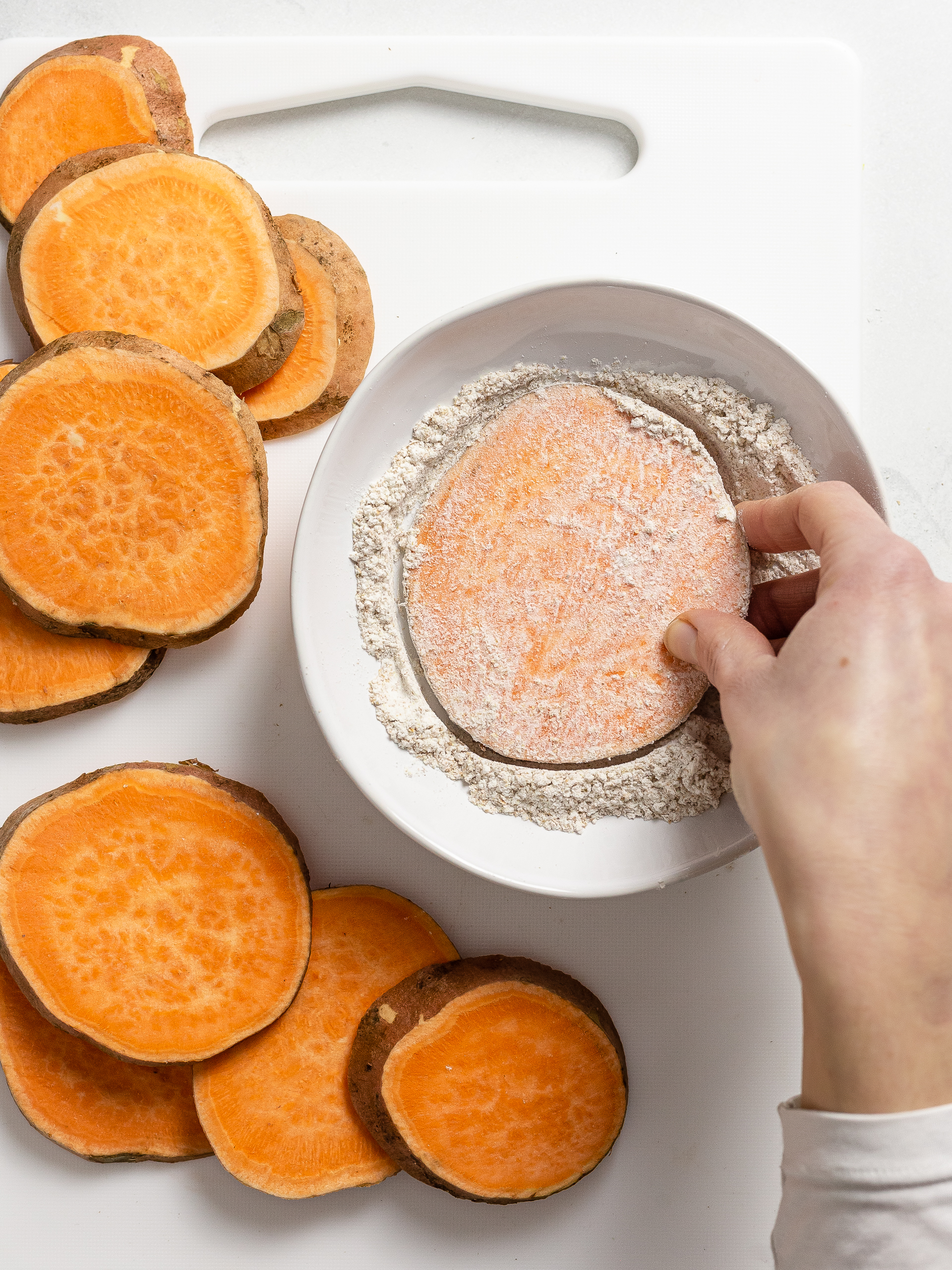 1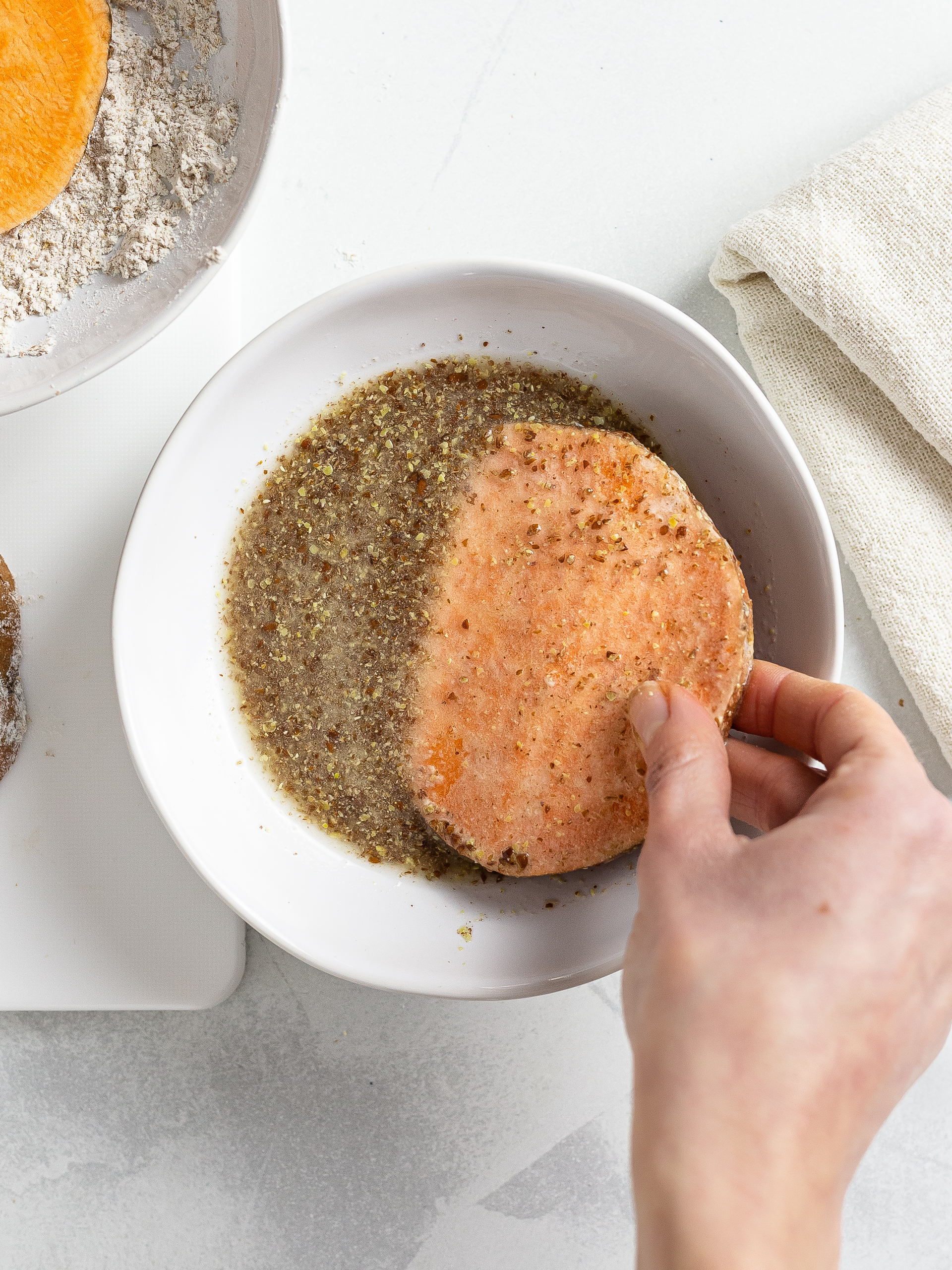 2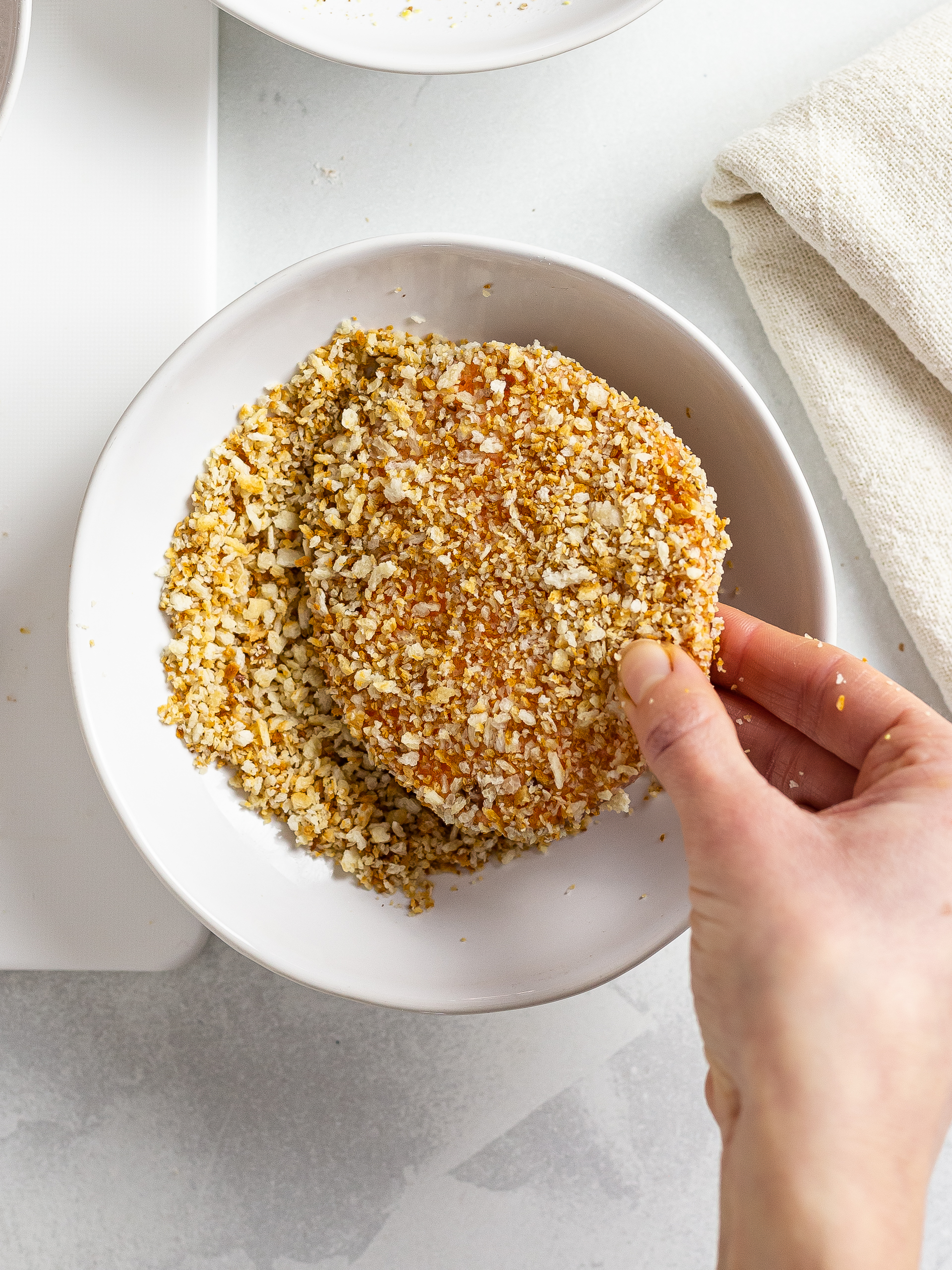 3
Step 5
Arrange the prepared katsu sweet potatoes on a baking tray lined with parchment paper.
For optimal crispiness, you can also place the breaded potatoes on a wire rack sitting on a baking tray to ensure even airflow all around.
Bake them for 30-35 minutes until cooked through and crispy outside.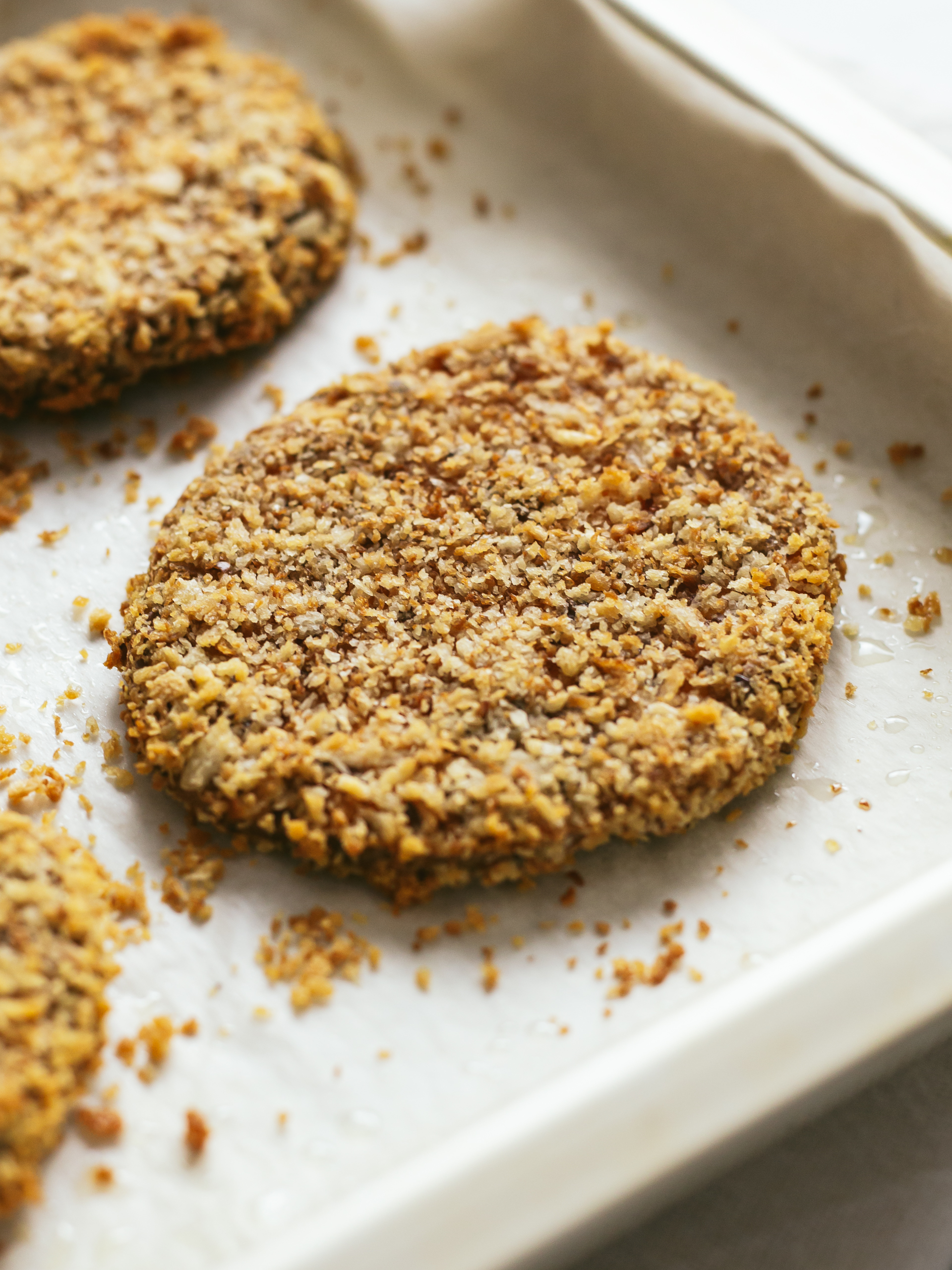 Step 6
Meanwhile, cook the rice according to the packet instructions — if you need some tips on how to cook sushi rice, follow this maki roll recipe.
To serve, grab a shallow bowl and fill half with rice and half with the Japanese curry sauce.
Cut the baked sweet potato katsu into strips and arrange them between the rice and curry.
Top with sliced spring onions and enjoy your delicious vegan sweet potato katsu curry while hot!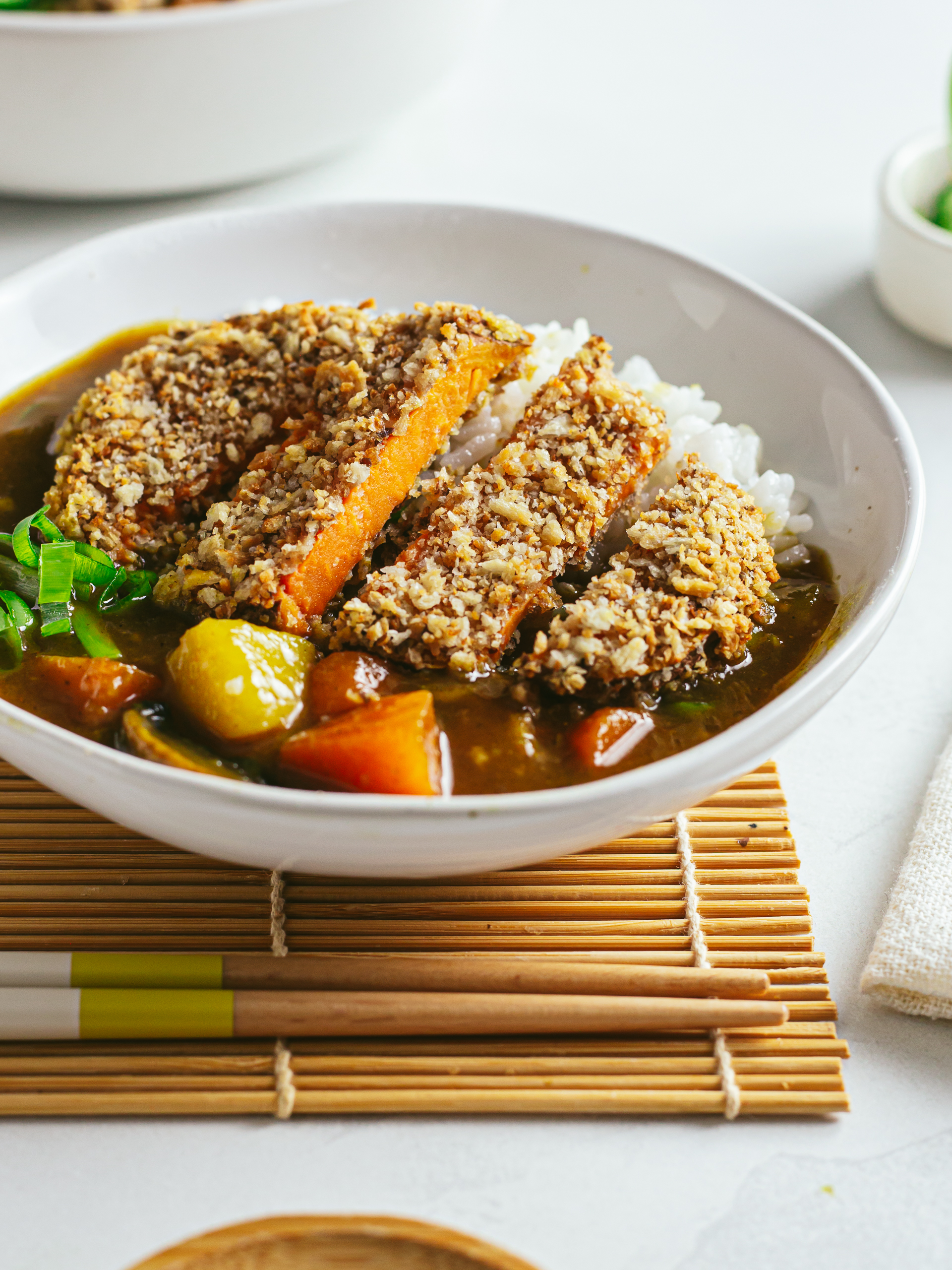 Tips
The classic Japanese recipe includes the vegetables cut into bite-sized chunks, but if you prefer a smoother curry sauce, then just blend it before serving it.

For a faster baking time, you can boil the sweet potatoes before coating them with breadcrumbs.

If you own an air fryer, you can use it to cook the breaded sweet potato katsu. It'll be much faster!