Vindaloo (or Vindaloh) is a staple Indian dish famous for being fiery and spicy. The traditional recipe is typically meat-based, but today we will show you how to make a vegan vindaloo using sweet potatoes and red lentils.
Although aloo means potato in Hindi, there are no potatoes in the original recipe. The name vindaloo comes from the Portuguese dish "carne de vinha d'alhos", which roughly translates to "meat marinated in vinegar and garlic". This recipe was first brought to India by Portuguese explorers of the old days, and then transformed over time in the fiery hot curry it is today.
To give our humble contribution to this historic dish, and to pay tribute to other Aloo curries, we replaced the meat with sweet potatoes and turned this recipe vegan. To get back the lost proteins, we added a generous amount of red lentils, that also contribute to the fiery look of the curry.
What makes this recipe unique after all is not the meat, but the spicy paste. Building on the original Portuguese vinegar marinade, the vindaloo paste has evolved to encompass many seeds and spices typically used in Indian recipes.
And so you will soon be grinding cumin, clove, and other fragrant seeds, splashing in healthy amounts of apple cider vinegar and adding flavour with ultra-spicy chillies, turmeric and gram masala powders.
What comes out is a creamy curry with incredible flavour, rich in healthy fibres and vitamins, and loaded with plant-based proteins. Serve it with a bowl of rice for a wholesome and balanced dish. The best thing about it? It's ready in just 30 minutes!
Frequently Asked Questions
What to serve with vindaloo?

To make a complete and balanced meal out of this vindaloo curry, you should pair it with a side dish.

The classic choice would be basmati rice, and that is what we have used ourselves. To spice things up, you can use a mix of basmati and wild rice. Another favourite of ours is mushroom rice. Make it by stir-frying rice with shredded shitake mushrooms.

If you prefer to dip through the vindaloo, then get yourself some warm and fragrant naan bread. Garlic naan is perfect here. We recommend this option if you found yourself overwhelmed by the fiery curry, as bread can help piping things down.

If you have any vindaloo leftovers but not enough for a second round, then get some crispy poppadoms and drizzle them with remaining curry as you would with chutney.

Are you looking for a vegan and gluten-free alternative? Check out our quinoa flatbread recipe.
What other veggies can I use instead of sweet potatoes in this recipe?

Whenever we make vegetarian curries or soup, we like tho choose starchy vegetables. With these veggies, we can have a thick and creamy stew without recurring to things like flours or potato starch.

At the top of our list of vegetables suitable for creamy stews, we have sweet potatoes - which we chose for our vegan vindaloo recipe. Regular potatoes can also be used as a thickener, but we like the red variant because it is more nourishing.

Another top option is butternut squash or pumpkin, which share many similarities with sweet potatoes.

If you want to use other non-starchy vegetables, we suggest you pair them with red lentils, which are also an excellent stew thickener.

We already used red lentils in our vegan vindaloo recipe above, so you only have to replace sweet potatoes with your favourite veggie and follow the recipe as is.

Here are a few other vegetables that would make a delicious vindaloo curry:

Aubergines cut into cubes

Cauliflowers or Broccoli florets

Diced Courgettes

Carrots

Whatever you chose, remember to pair this spicy vindaloo with a side to get a balanced and complete meal. Here are a few ideas of what goes well with vindaloo.
I want to have vindaloo with a mix of meat and veggies. What can I use?

If you are not ready to abandon the traditional meat-based vindaloo but don't want to give up healthy veggies either, we will tell you how to alter our recipe to use a mix of vegetables and meat.

As you will be getting proteins from the meat, you could get rid of the lentils, or keep them for the ultimate protein boost.

Chicken pairs well with sweet potatoes and still deliver a healthy vindaloo rich in proteins but with few saturated fats.

If you enjoy curries with a stronger taste, then lamb would be our second-best pick for a mixed vindaloo. Choose a lean cut that is also good in stews, like diced lamb leg.

Pork is also an option, but we suggest you use a low-fat cut to minimize unhealthy fats, as this meat has more unsaturated fats than beef or lamb [1].

After selecting your favourite cut of meat, marinate it in the vindaloo paste we prepared in step one for 30 minutes at least. Then place it in the skillet at the same time as the lentils and cook to your desired level. Ensure the curry doesn't dry out in the process by pouring in more liquids as necessary.
Ingredients
Curry
Canola Oil

1 tbsp

Garlic Clove

4

Red Onions

1

Fresh Chillies

1

Sweet Potato

500 g

Dried Red Lentils

280 g

Tomato Sauce

380 g

Vine Ripened Tomatoes

270 g

Spicy Paste
Cumin Seeds

1 tsp

Coriander Seeds

1 tsp

Cloves

1/2 tsp

Mustard Seeds

1 tsp

Cardamom Seeds

1/2 tsp

Fresh Ginger Root

1 tbsp

Apple Cider Vinegar

65 mL

Tomato Puree

2 tbsp

Chilli Flakes or Powder

1 tsp

Garam Masala

1 tsp

Ground Turmeric

1 tsp

To Serve
Basmati Rice

240 g
Step 1
In a dry skillet, toss the cumin seeds, coriander seeds, cloves, mustard seeds, and cardamom seeds over medium heat. When they begin to smell fragrant, remove the pan from the heat (1).
Crush the toasted seeds with a grinder or mortar and pestle.
In a bowl, combine the grounded seeds with 2 crushed garlics, grated ginger, vinegar, tomato puree, chilli flakes and powder, gram masala, and turmeric. Stir well until you have a dense, spicy paste (2).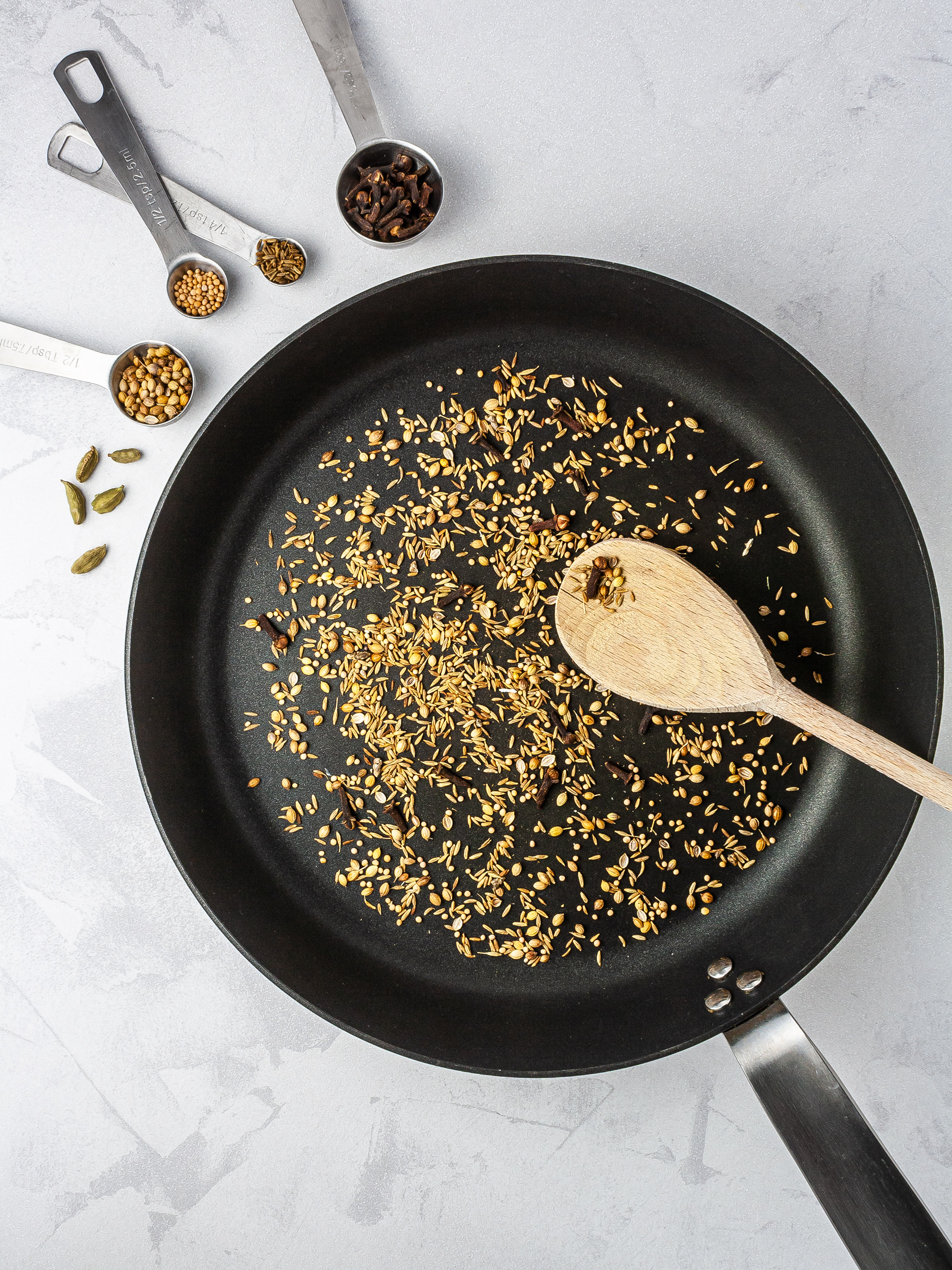 1
2
Step 2
In a large skillet, heat the oil and sizzle 2 sliced garlics, chopped onions, and sliced fresh chillies until fragrant.
Then, add peeled and cubed sweet potatoes, red lentils, tomato passata, and the prepared vindaloo paste.
Stir well, and cook for 5 minutes.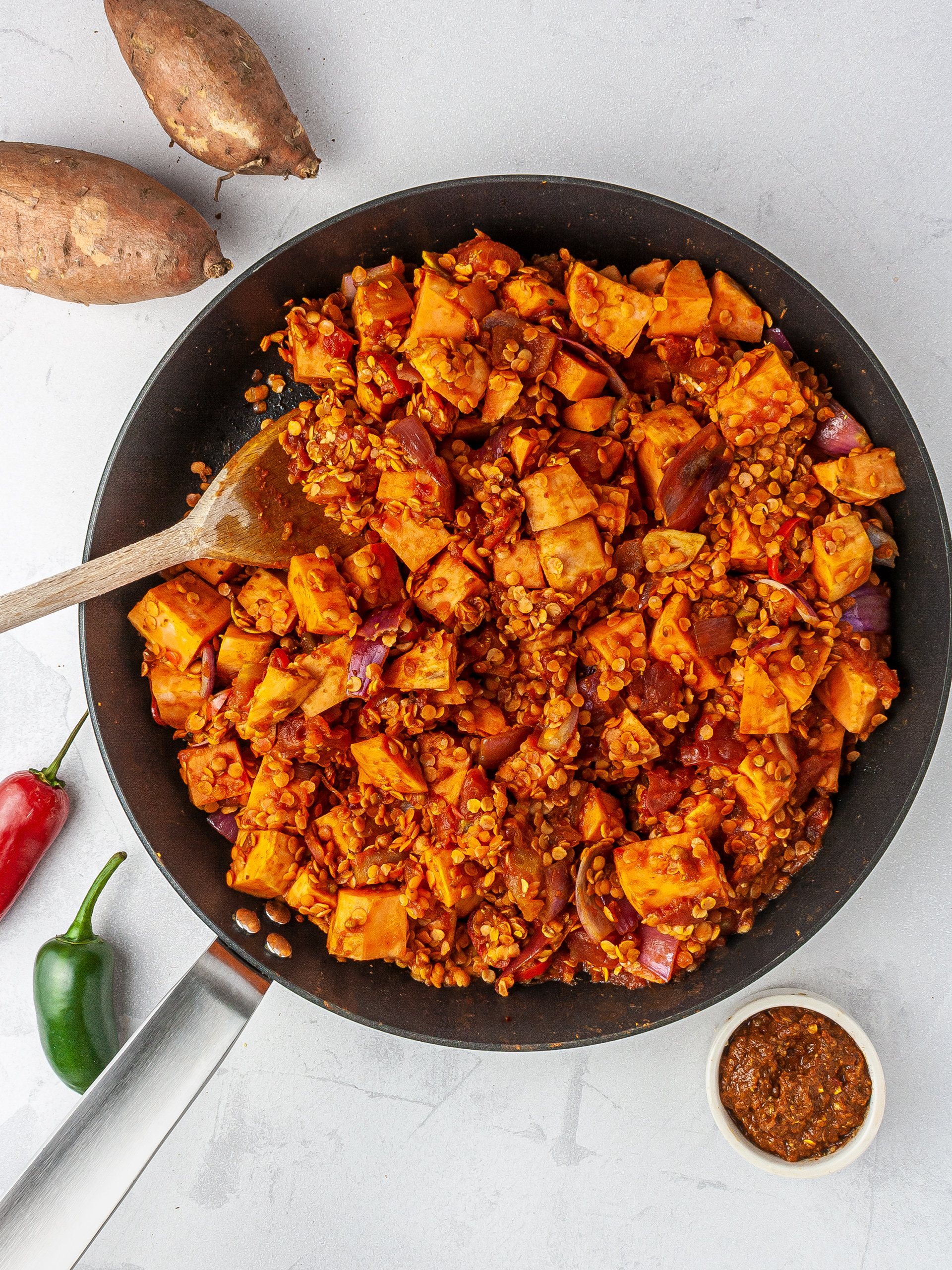 Step 3
Pour enough water to cover the vegetables and add halved salad tomatoes. Simmer the sweet potato stew for 20 minutes or until the lentils are cooked through.
Finally, sprinkle this Indian curry with fresh coriander and serve with steamed basmati rice.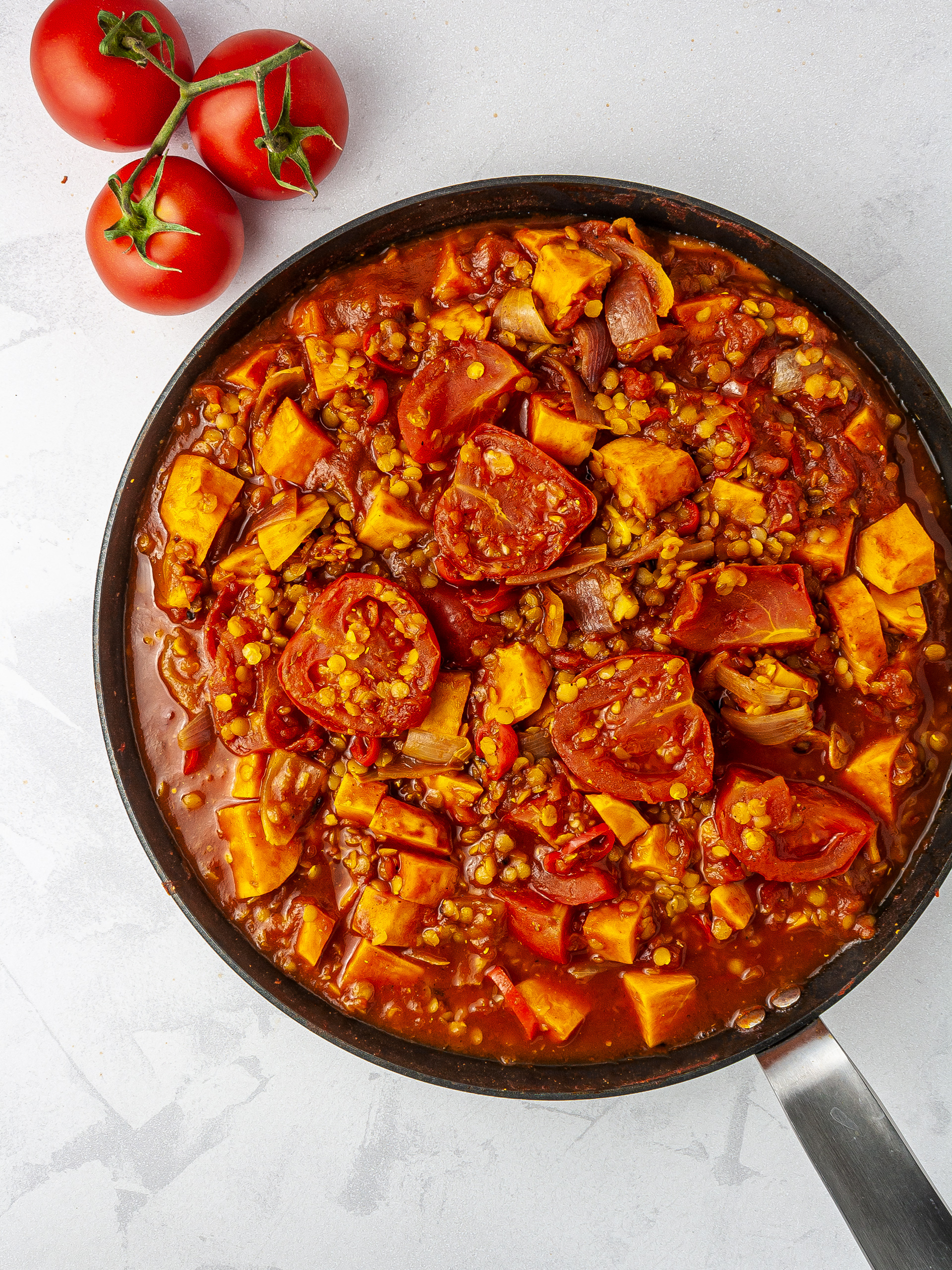 Tips
For a faster potato vindaloo recipe, you can skip toasting the seeds. Just use powdered cumin, cloves, and coriander, and omit the mustard and cardamom seeds. Add them to other spices when preparing the hot curry paste.

You can use this raw ginger turmeric paste as a base for the hot curry paste and keep the leftover paste for preparing sauces, tea, and golden lattes.