When you think about tandoori dishes, the first thing that pops to mind is chicken. Worry not, dear vegan friends! The delicious and colourful tandoori marinade can go with many foods. Today, we'll show you how to make tandoori gobi, AKA tandoori cauliflowers.
As we don't have a traditional tandoori oven at hand, we have adapted this recipe for the house oven. Check out the tips at the bottom of the page to see how to mimic the effects of the traditional Indian oven with common kitchen equipment.
As cauliflower is not as porous as chicken, we have also reduced the marination time by a few hours, to give you a quicker way of making this tandoori dish.
To make this recipe vegan, we have replaced dairy yogurt with soy yogurt. You may also use coconut yogurt if you wish. Moreover, we didn't use any food colourants, as we aren't fans. So our tandoori gobi doesn't have the artificial red colour you may associate with tandoori chicken, but rather a pleasant and natural orange tint.
All in all, this is a spectacular recipe and so easy to make. Apart for marination time, it requires only a few minutes of work. And it bursts with all the goodness of cauliflowers, and the many spices that make up the tandoori paste.
We served this dish with a healthy salad with quinoa, chickpeas, and spinach to balance your meal with extra vegetables, fibres, and plenty of plant-based proteins. A generous portion will give you 40% of your RDI for fibres and 42% of your RDI for proteins.
Ready to level up your cauliflowers? Let's do this!
Ingredients
Side Salad
Dry Quinoa

160 g

Tinned Chickpeas

450 g

Fresh Baby Spinach

150 g

Tandoori Gobi
Cauliflower

600 g

Garam Masala

1 tsp

Chilli Powder

1/2 tsp

Paprika

2 tsp

Turmeric

1 tsp

Garlic Cloves

2

Juiced Lemon

1

Fresh Ginger Root

1 tsp

Soy Yogurt

170 g
Step 1
In a bowl, combine gram masala, chillies, paprika, turmeric, crushed garlic, lemon juice, grated ginger root, and soy yogurt.
Stir well into a creamy sauce, and then add the cauliflower cut into florets.
Give all a good mix until the cauliflowers are nicely coated with the tandoori seasoning.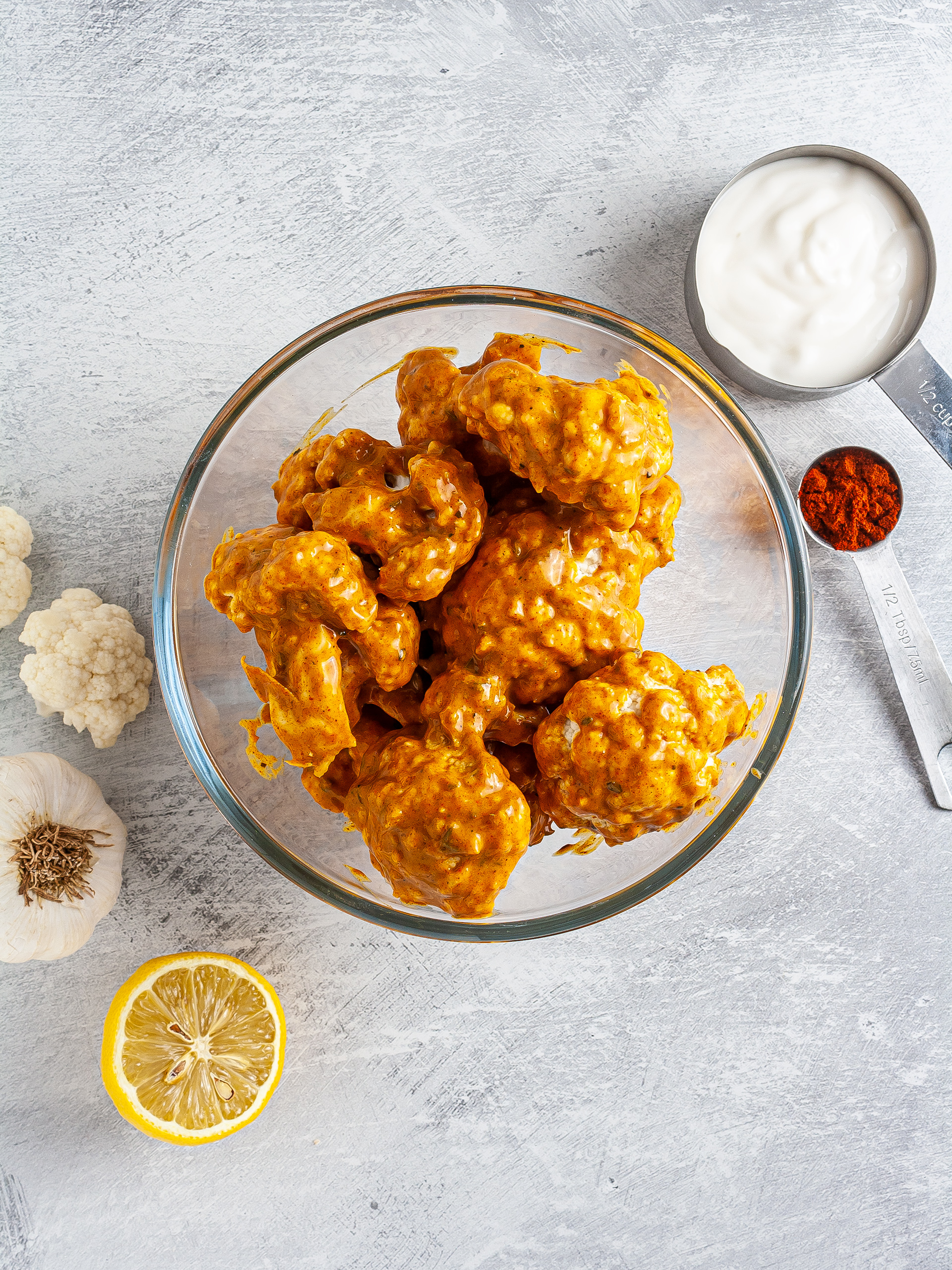 Step 2
Now, you can leave the vegetables to marinate for 1-2 hours or, if you don't have time, you can cook them right away.
Transfer the tandoori florets onto a grilling rack set on a baking tray lined with parchment paper. This way, the cauliflowers will roast evenly, and any sauce drippings will fall onto the tray without messing your oven.
Roast the cauliflowers for 20 minutes at 210°C (410°F) for static ovens or at 190°C (375°F) for fan ovens.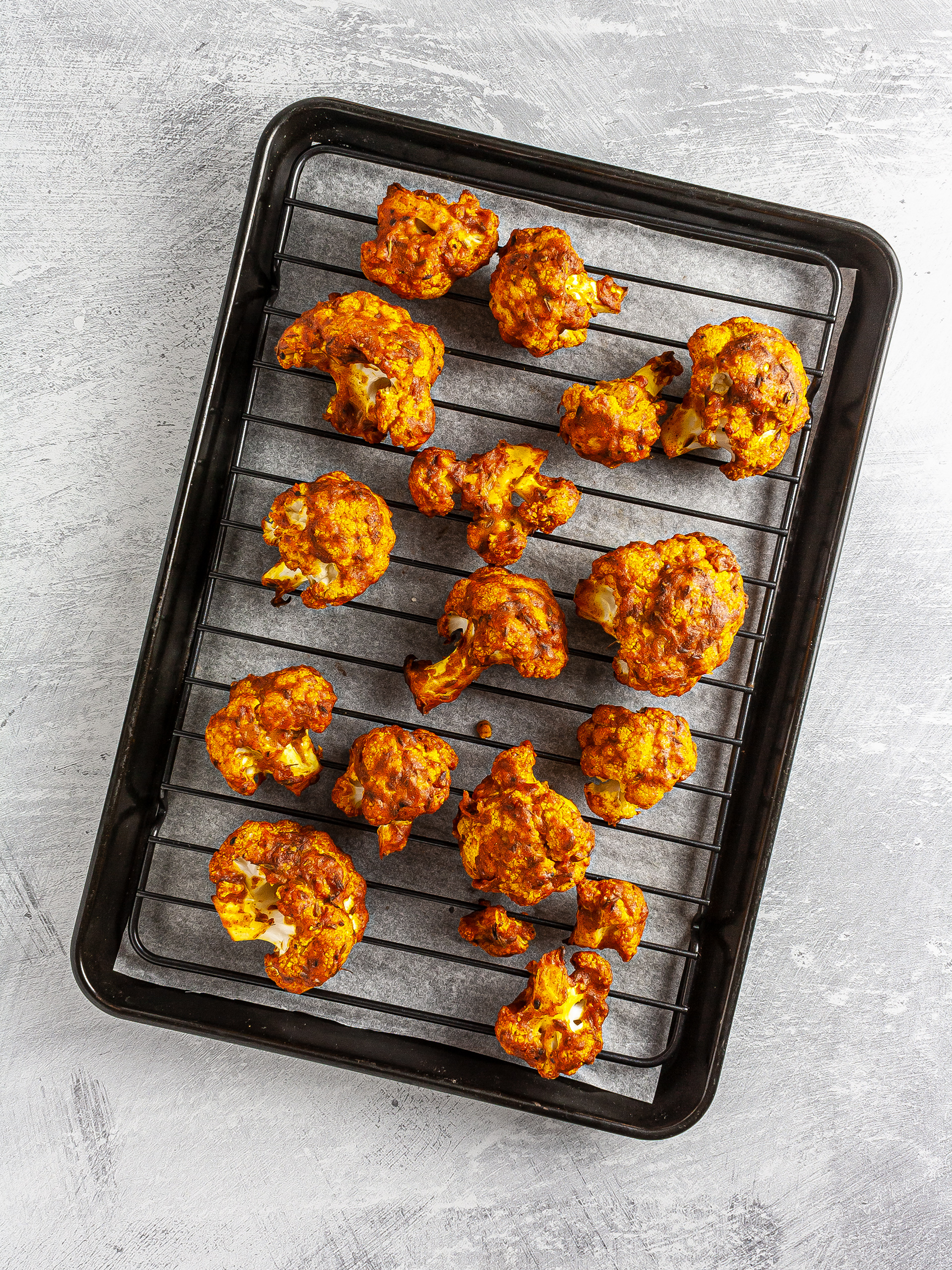 Step 3
Meanwhile, let's get the salad ingredients ready.
Rinse well the quinoa, add it to a pan of boiling water, and simmer for 10 minutes. When the grains are cooked through and fluffy, drain excess water and set aside.
Then, drain and rinse the tinned chickpeas.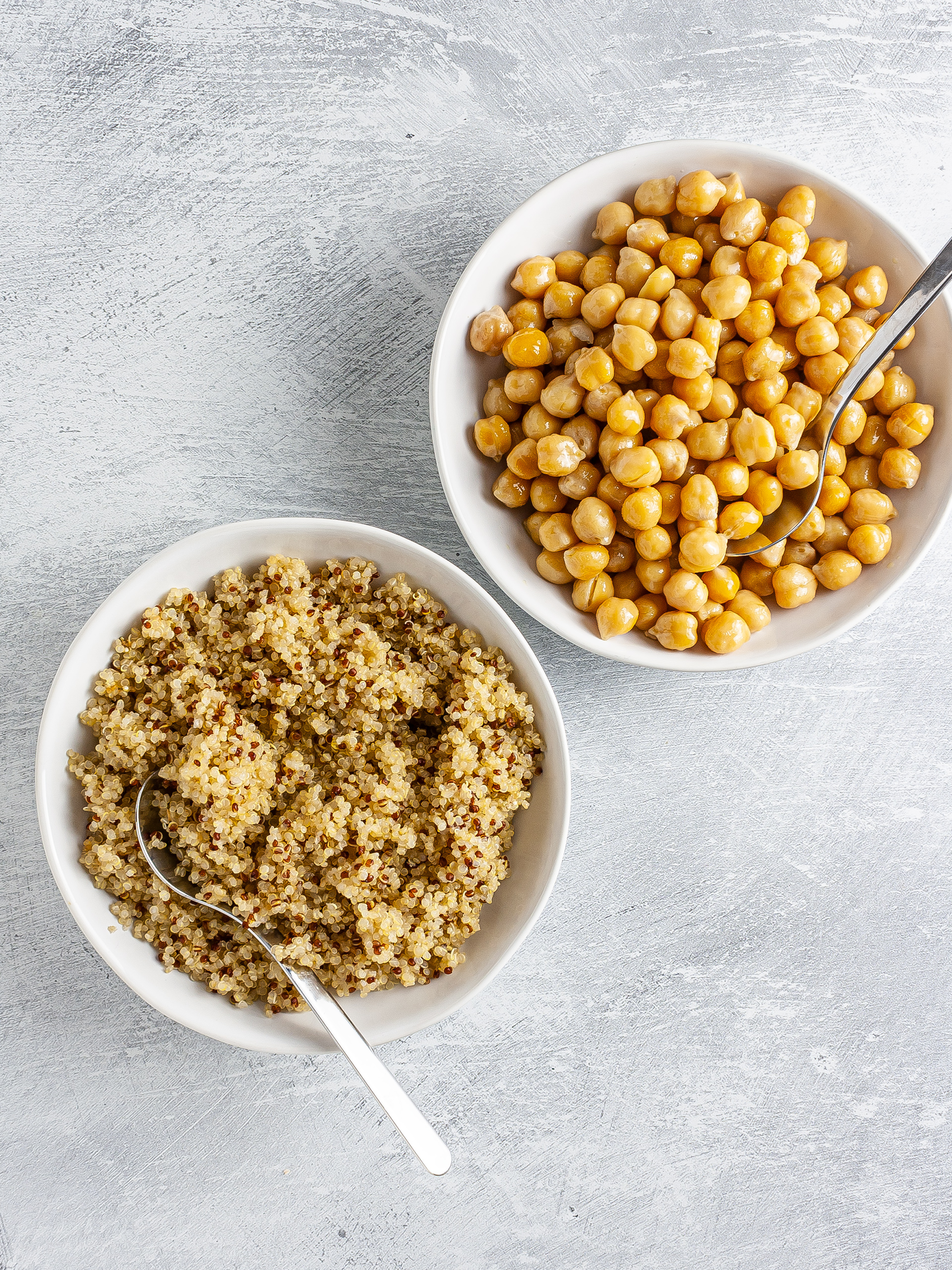 Step 4
Divide the fresh spinach, chickpeas, and quinoa among serving bowls (1).
Then, top with the roasted tandoori cauliflowers, and garnish with fresh cilantro and cracked pepper (2).
Serve the salad with extra yogurt on the side.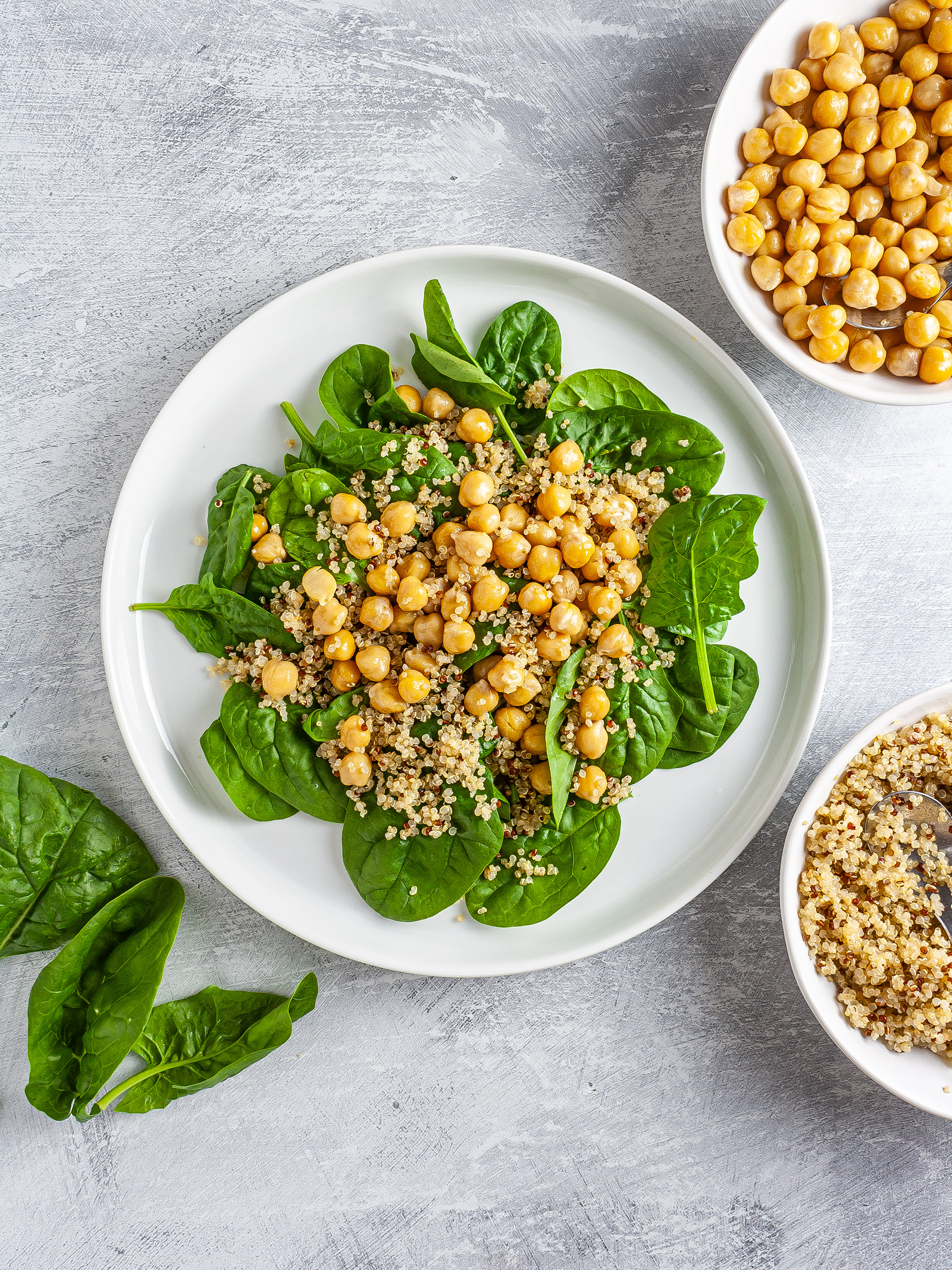 1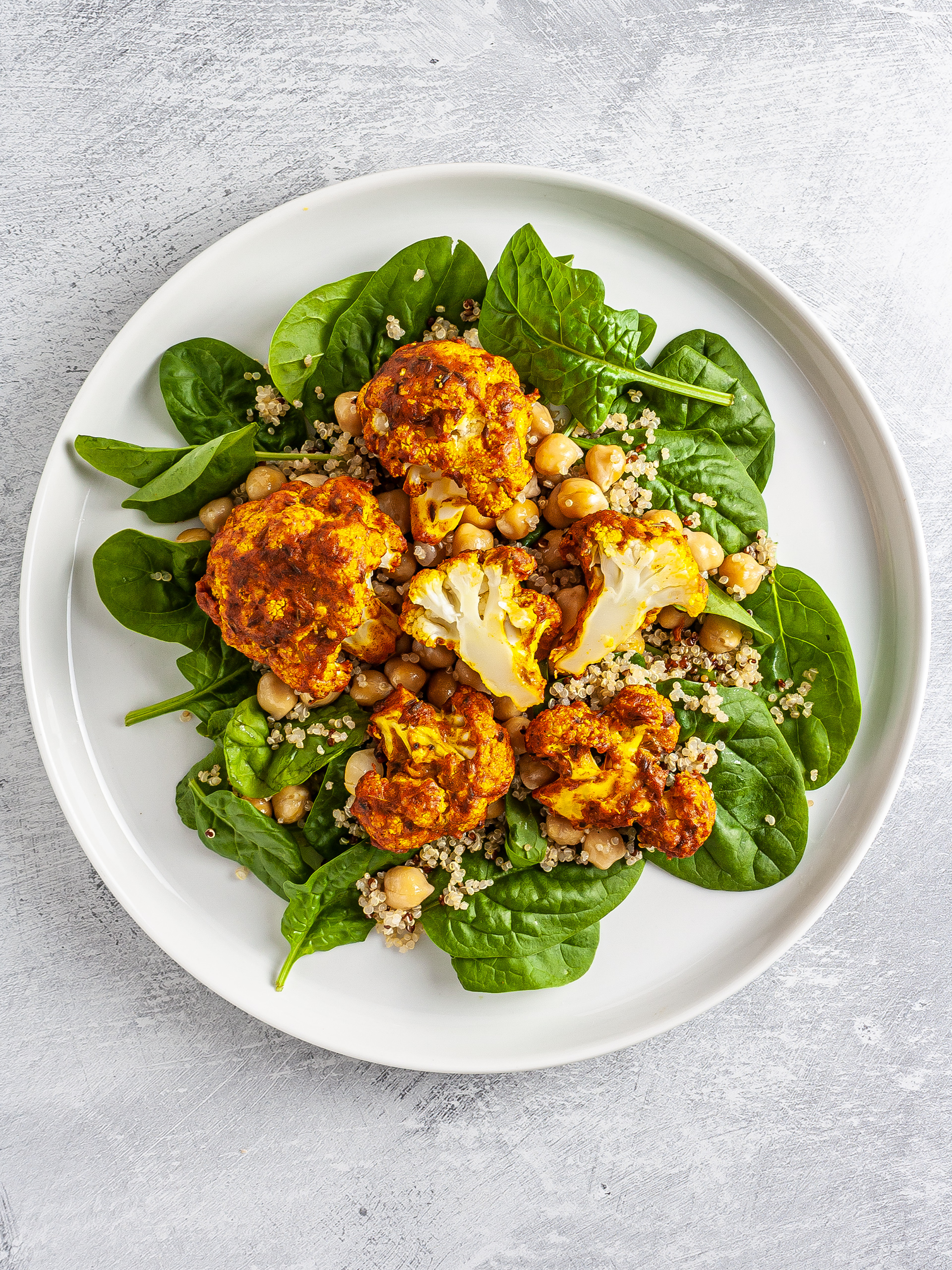 2
Tips
In this recipe, we used a grilling rack to cook the cauliflowers. This cooking method is the closest way of roasting when you don't have a traditional tandoori oven.

Alternatively, you can use a bread cloche or pyrex casserole set to recreate the cooking conditions of the tandoori oven, retaining the heat and flavour of the dishes inside the cloche.