Pilaf is a comforting, one-pot dish of seasoned rice sure to keep you full and satisfied for long. Almost every country has its own recipe, from the Middle East to the Caribbean, with countless variations and ingredient combinations.
We have recently made many recipes inspired by the flavours of Thailand cuisine, like pad thai and curry puffs.
So today, we want to show you how to make a bowl of delicious Thai pilaf rice.
Also known as pilau or pulao, pilaf rice is a simple meal that consists of rice cooked in stock with a blend of tasty spices, meat and vegetables.
We made our Thai pilaf vegan with a delightful combo of brown rice, green beans, and red peppers, all seasoned with lemongrass, turmeric, and lime.
The key to a perfect pilaf is to keep the rice grains well separated, so we recommend using basmati and rinsing it well to remove the excess starch.
Easy to make and incredibly nutritious, this rice dish is an ideal midweek recipe that all your family will love.
What's great about it is that you can store any leftovers and pack them for your next day lunch box!
A bowl of this spicy Thai rice makes a healthy vegan meal that bursts with fibres, slow-digesting carbs, and proteins.
Each serving has 300 calories, a whopping 28% RDI of fibres and only 10% of fats. Awesome!
And if you want another pilaf recipe idea to try next, check out this Kenyan-style spiced pilau. It's delicious!
Frequently Asked Questions
How do you prepare lemongrass for Thai dishes?

Lemongrass is a staple ingredient in Thai curry and rice recipes, and it gives a unique lemony, minty flavour to these dishes.

Follow our steps below to learn how to prepare the lemongrass stalk for cooking:

Grab the stalk and peel off any dried-out layer until it feels soft when pressed.

Then, trim off the whitish/pinkish end of the stalk, where the roots used to be.

Cut the bottom third of the stalk (about 7 cm / 2.8 inches long) and discard the rest.

Finally, thinly chop the lemongrass and use it according to your recipe instructions.
Ingredients
| | |
| --- | --- |
| Vegetable Oil | 2 tbsp |
| Brown Onions | 1 |
| Garlic Cloves | 2 |
| Green Bird's Eye Chillies | 4 |
| Fresh Ginger Root | 10 g |
| Lemon Grass Stalks | 1 |
| Brown Rice | 220 g |
| Ground Turmeric | 1 tsp |
| Vegetable Stock (or water) | 600 mL |
| Green Beans | 260 g |
| Broccoli Florets | 200 g |
| Red Peppers | 240 g |
| Lime | 1 |
| Fresh Coriander | to taste |
Step 1
Heat the vegetable oil in a skillet and add finely chopped onions, crushed garlic, sliced chillies, grated ginger root, and lemongrass.
Sizzle the ingredients for 5 minutes until the onions are soft and translucent and garlic is fragrant.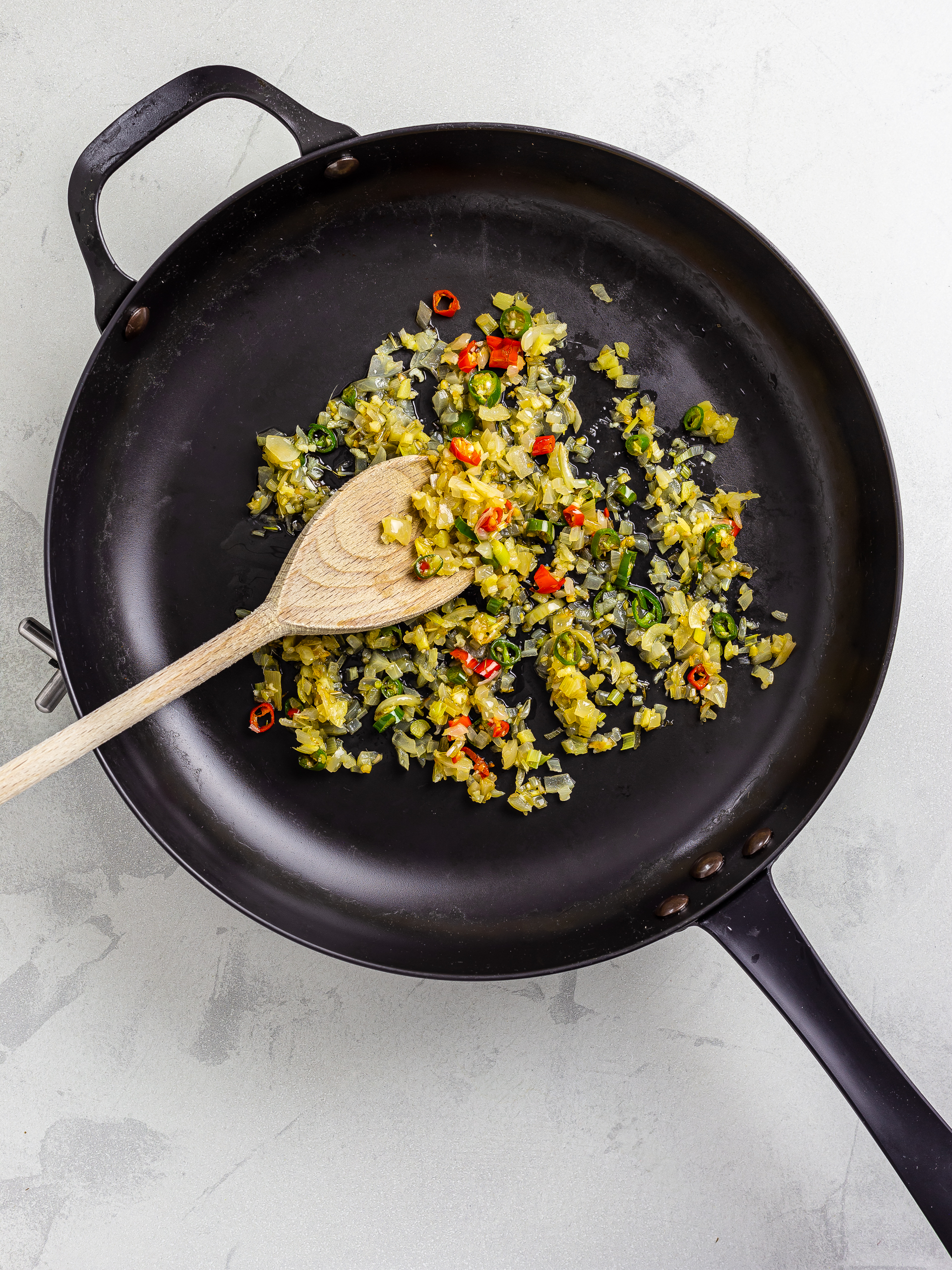 Step 2
Rinse the brown rice a few times, drain it well, and then add it to the skillet.
Tip in the ground turmeric and sauté for 5 minutes while stirring.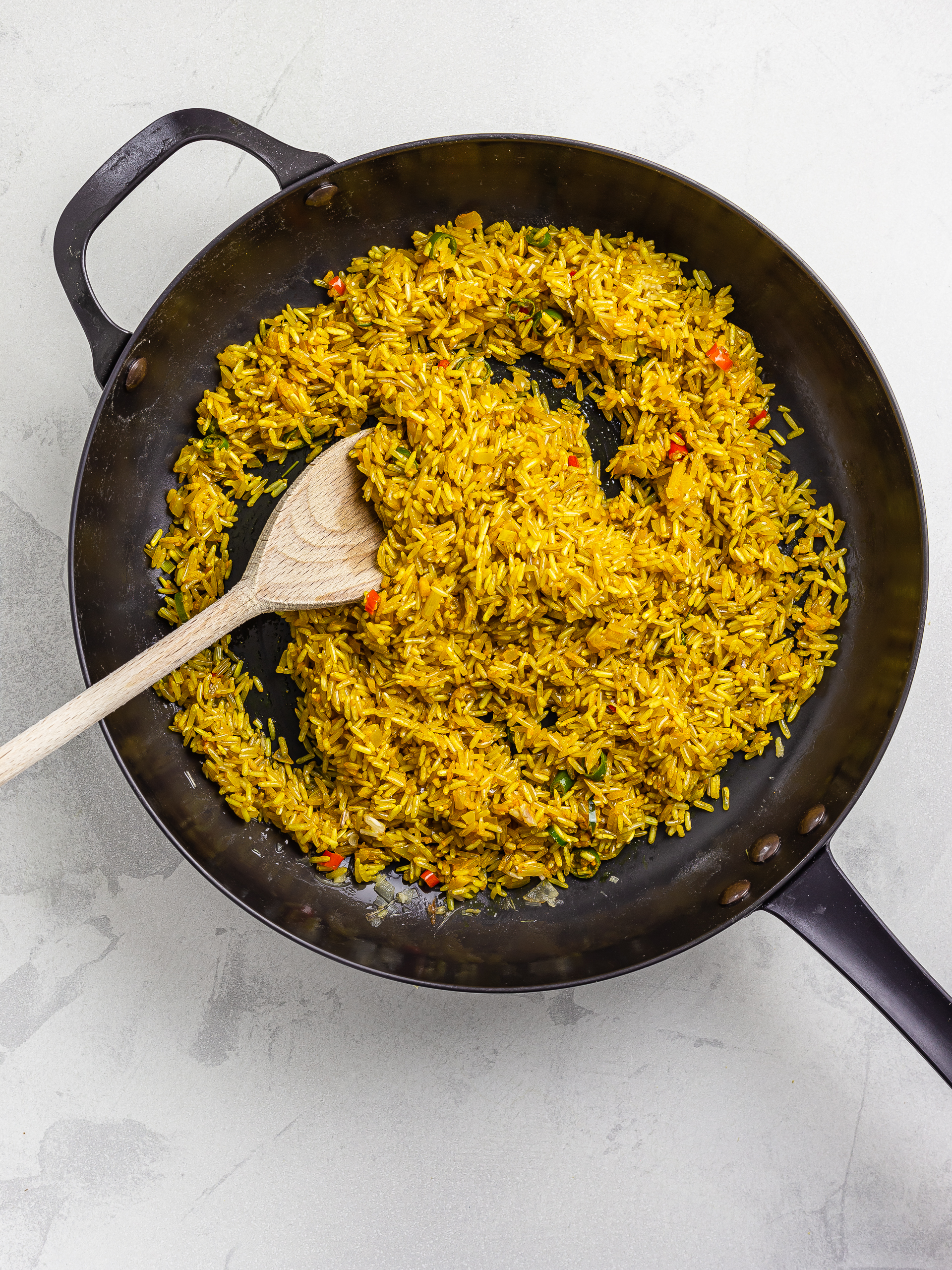 Step 3
Now, cover the rice with the stock, bring to a boil, and simmer with the lid on for 12 minutes.
Season with salt to taste.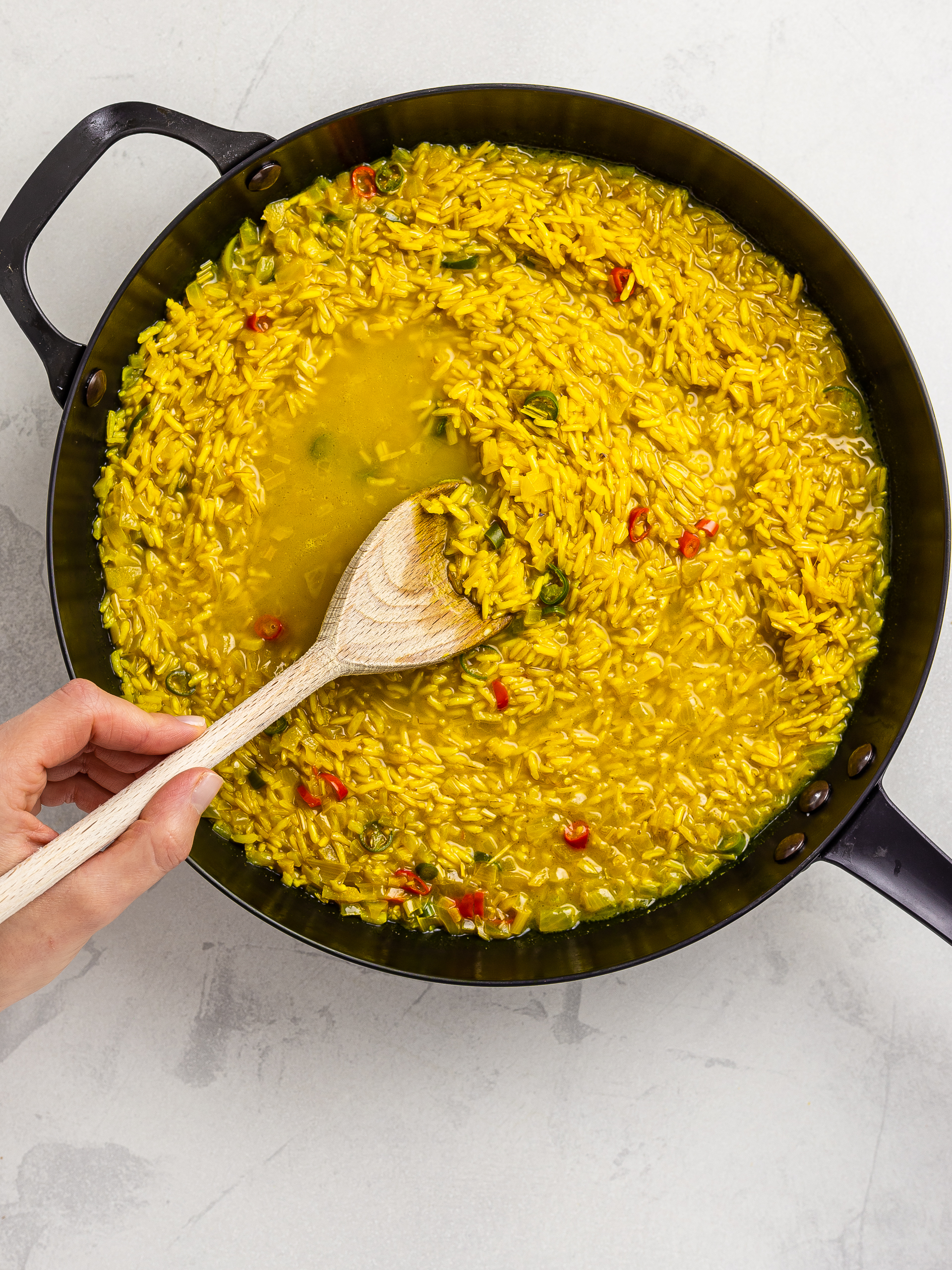 Step 4
Slice the green beans into 1 cm (1/2 inch) long pieces, chop the broccoli florets, and dice the red peppers into small cubes.
Then, add the prepared vegetables to the pilaf rice and cook for a further 10 minutes without the lid.
Stir the rice occasionally to prevent it from sticking to the bottom and burning.
Towards the end of the cooking time, check if the rice is cooked through. If not, pour in more water and continue cooking for a few minutes until the water has reduced and the rice is soft.
Step 5
Finally, remove the pilaf rice from the heat, add lime zest and juice, and give all a good mix.
Divide the Thai rice among bowls and garnish with chopped coriander before serving.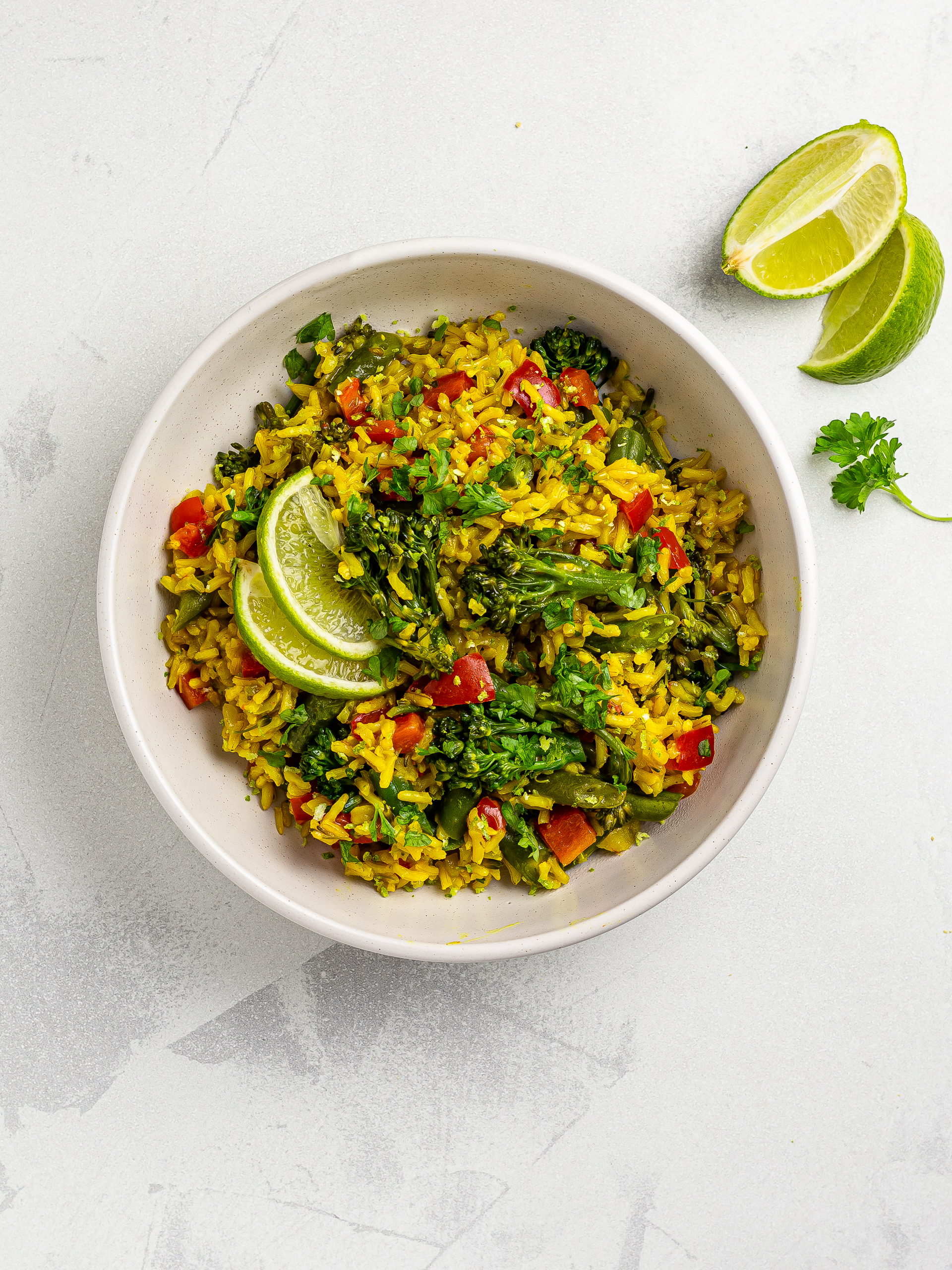 Tips
Add 30g (1 oz) of roasted peanuts or cashew nuts per serving to boost the dish with plant-based proteins.

You can swap coriander with fresh Thai basil.

Store this turmeric rice in the fridge in an airtight container for up to 4 days.