Following our refreshing guava, coconut, and pineapple smoothie recipe and rambutan smoothie recipe, we are super excited to propose a new tropical smoothie with guava mango and passion fruit!
To spice things up and try something different, we have used almond milk instead of coconut milk as a liquid base. Almond milk is even more delicate than coconut, allowing the other fruits to shine through undisturbed. Can't deny yourself the refreshing taste of coconut milk? Just swap it 1:1 with the almond milk, and you're good to go!
We suggest you choose the pink guava variety, but the white one will do just as well.
Guava is a marvellous addition to tropical smoothies, and it deserves more praise. It is among the fruits with the most vitamin C, especially the white variety. Moreover, these quirky fruits are a rich source of critical minerals like calcium and manganese, as well as cells-rejuvenating antioxidants. And they taste awesome. What's there not to like?
Keep your fruits fresh in the fridge overnight and make this smoothie in less than 5 minutes. You'll be off to a great start. And between a sip and another, close your eyes and dream of white beaches, exotic vegetation, and crystal-clear turquoise water. Enjoy!
Frequently Asked Questions
What else can I add to this mango shake?

In this recipe, we have used tropical fruits like mango and passion fruit, but you can also try adding papaya or banana or swap almond milk with coconut water.

To boost this juice with more proteins, you can tip in a spoonful of nut butter such as cashew or almond butter. Another great option is adding a teaspoon of chia seeds to the mango mix and leave it to soak for 10 minutes. These seeds are a real powerhouse, rich in proteins, fibres, and omega-3.

To add even more nutrients, you can stir in a pinch of turmeric, baobab powder, or bee pollen. These superfoods are rich in antioxidants, vitamins, and minerals.

If like us, you're into healthy smoothies, check out our ultimate smoothie guide here.
What can I use instead of almond milk?

Any plant-based drink can substitute almond milk in this recipe.

Oat milk is creamier and sweeter, while soy milk has a more subtle flavour. Also, coconut milk is a great alternative, and it adds even more tropical goodness to this guava smoothie.

Instead, if you're looking for a boost of proteins or a creamier texture, you can swap almond milk with yogurt, either Greek yogurt or soy/coconut yogurt for a vegan option. Blended silken tofu also goes perfectly into shakes and desserts.
Is this smoothie good for weight loss?

This tropical mango smoothie is incredibly healthy, and it can surely be enjoyed as part of a diet plan.

Each serving provides two of your 5-a-day for fruit and vegetables, and it's rich in fibres and vitamins.

Fibres slow down the digestion filling you up and keep you satiated for longer, helping you curb craving and appetite.

A glass of this guava smoothie covers just a fourth of your recommended daily intake (RDI) for sugars. So if you have it for breakfast and then consume balanced meals throughout your day, it won't affect your overall calorie intake or blood sugar levels.

Our advice is to make a breakfast smoothie bowl out of this recipe. Simply pair the smoothie with a handful of nuts and seeds and serving of whole grains like oats, for healthy fats and slow-energy-releasing carbs.
Ingredients
| | |
| --- | --- |
| Ripe Guava | 1/2 |
| Ripe Mango | 1 |
| Passion Fruit | 1 |
| Almond Milk | 200 mL |
Step 1
Let's start by getting the fruit ready.
Peel and slice the mango and the guava.
With the tip of a knife, try to remove as many seeds as you can from the guava slices.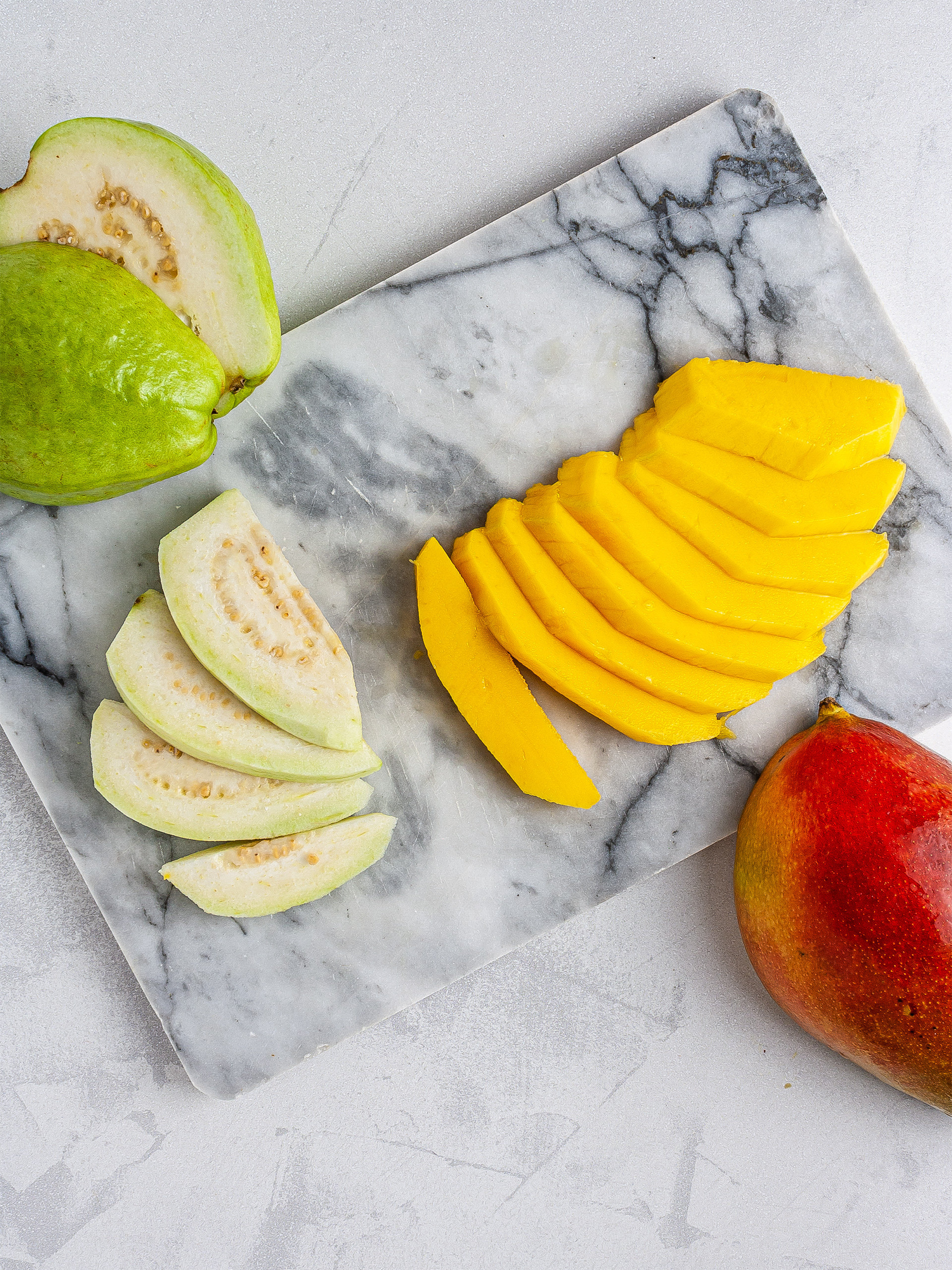 Step 2
Halve the passion fruit and scoop out the flesh and seeds.
Add all the fruit to a food processor along with almond milk.
Pulse the ingredients until smooth and creamy.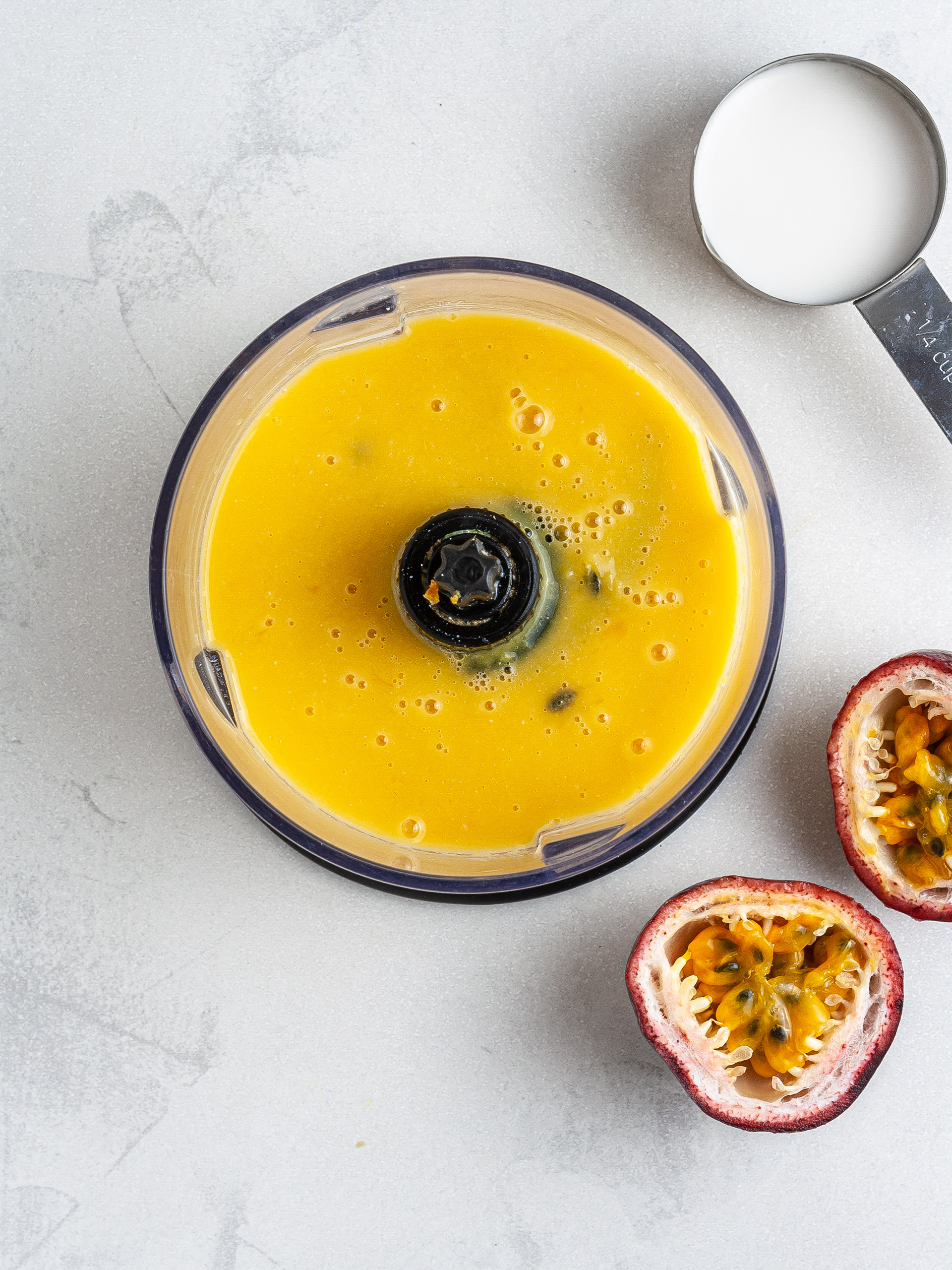 Step 3
Transfer the guava shake to serving glasses and garnish with extra mango slices and passion fruit seeds to taste.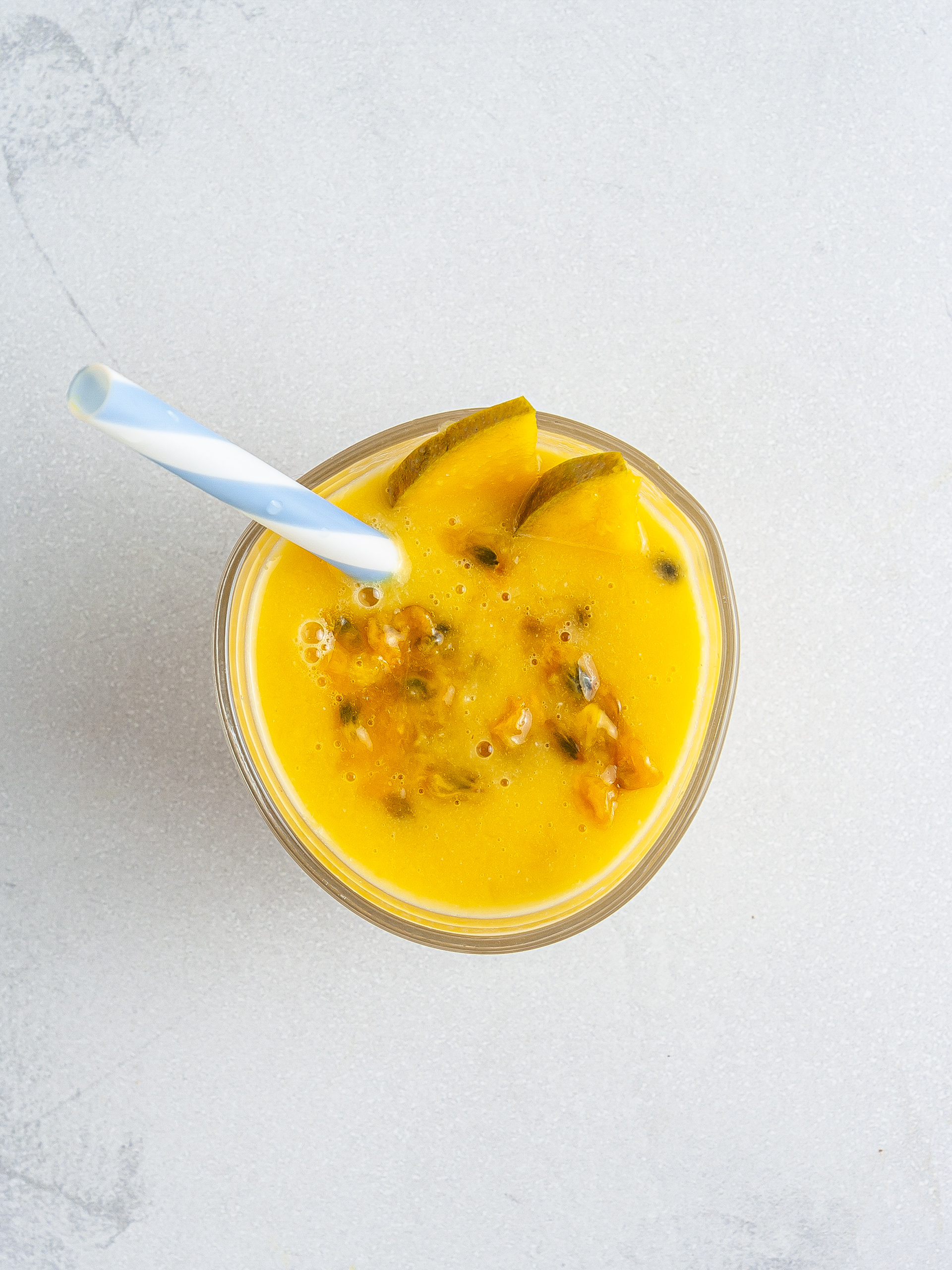 Tips
You can swap mango with sweet and ripe jackfruit. Check out this jackfruit smoothie recipe for tips and instructions.

Store the smoothie in jars or tight-seal bottles for up to two days.