Ube is a delicious and versatile Filipino root that can add flavour and a pop of colour to sweets and bakes. Today, we want to show you how to use this wonderful ingredient to prepare colourful ube bars. They're quick and easy to make, perfect when you need a sweet, pick-me-up treat!
These delightful bars consist of a base layer of crispy puffed rice coated with white chocolate and a top layer of sweet ube butter. They're crunchy and fudgy at the same time — indulgent and irresistible.
We made the ube layer with our homemade ube butter. It's a sweet and creamy spread prepared with mashed purple yams and a little coconut oil.
Our ube butter is a version of the classic Filipino ube halaya (purple yam jam) that works both as a spread and a butter alternative.
Because it contains coconut oil, it has a more buttery consistency than ube halaya, and it hardens when kept in the fridge for a few hours.
It works perfectly as a topping for the rice crispies layer, and because it will solidify in the fridge, you'll be able to slice the bars easily and neatly.
So, if you can find fresh purple yams at your local Asian food store, you can make ube butter from scratch following our recipe.
And the great thing is, you can then use leftover ube butter for other colourful recipes, like these ube waffles, ube brownies, and ube loaf.
However, if you can't get ube or don't have time to make the ube butter, you can still make these ube bars using ready-made ube halaya.
Simply mix ube halaya with a little coconut oil, and you're good to go. Make sure you follow our precise instructions in the recipe below for perfect results.
Once you have the ube butter sorted, preparing these ube bars is ridiculously simple. Coat rice crispies with melted white chocolate, spread them in a square tin, and top them with the ube layer. That's it!
You can use sweetened rice crispies or plain puffed rice to keep the sugars low. And if you're vegan or have a dairy allergy, swap regular white chocolate with vegan white chocolate, available online or at health food stores.
Once prepared, let the ube slab cool down and set in the fridge, slice it into bars, and get ready to savour these mouth-watering purple bars. We're sure you'll love them as much as we did!
Ingredients
White Chocolate (vegan if needed)

200 g

Puffed Rice (rice crispies)

120 g

Homemade Ube Butter

recipe

380 g
Step 1
For the ube layer, you can use ready-made ube halaya, available at Asian food stores or online, or make it from scratch following our homemade vegan ube butter recipe.
In our recipe, we used a little coconut oil which will harden in the fridge and make the ube layer solid enough to slice the bars easily.
If you're using ready-made ube halaya, you need to add some coconut oil to it, or the ube topping will be too soft.
To do so, heat 300 g of ube halaya in the microwave or over the hob and then blitz it with 80 g of coconut oil (semi-soft, kept at room temperature) in a blender.
Then, let it cool down slightly until creamy and spreadable, and then use it in this recipe.
Ok now, let's prepare the base layer.
Finely chop the white chocolate, add it to a heat-proof bowl, and melt it in the microwave or over a pot of boiling water.
Then, pour it over the rice crispies in a bowl and mix well with a spatula until the rice is evenly coated with white chocolate.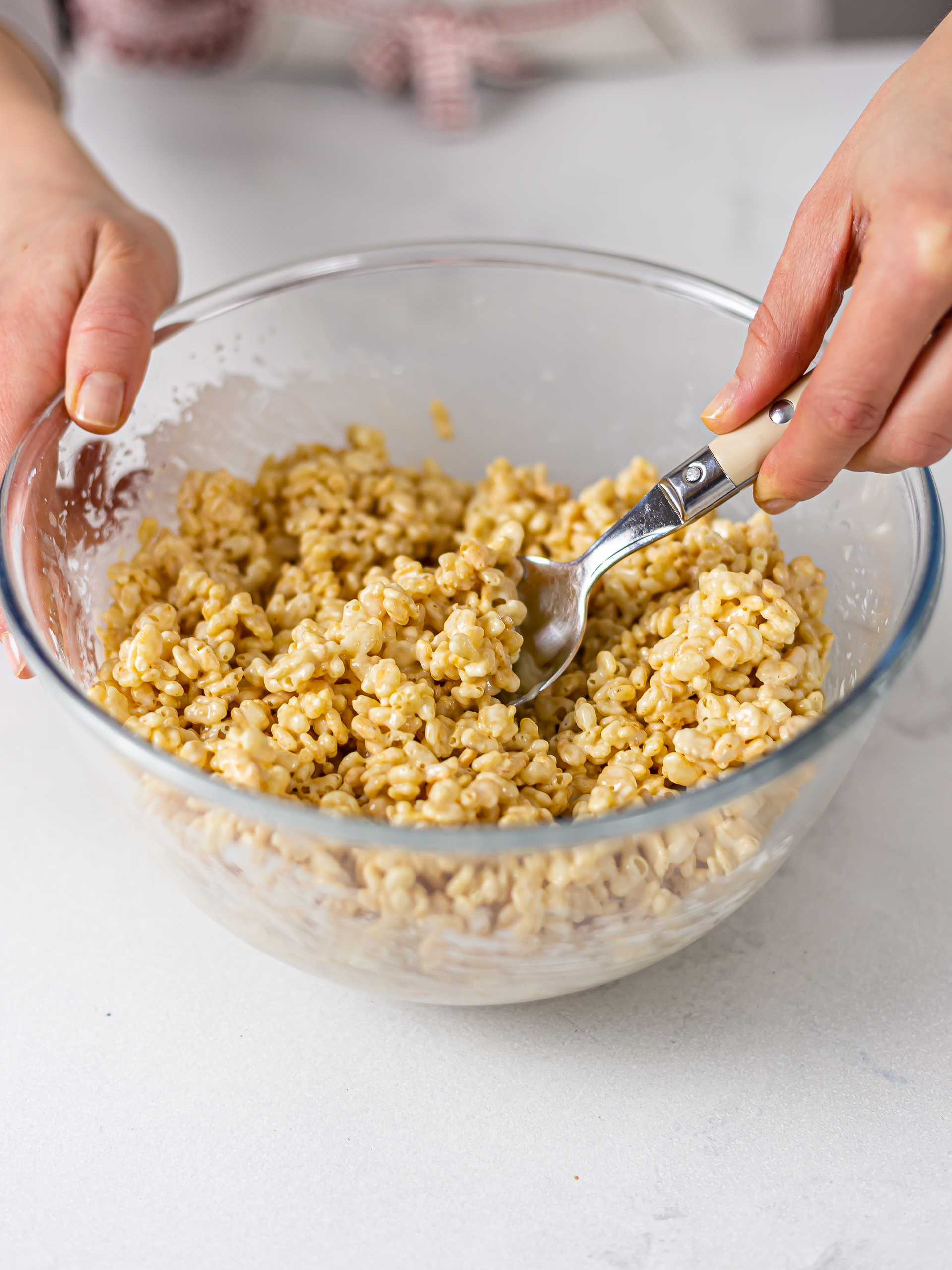 Step 2
Line a 20cm (8 inches) square baking tin with parchment paper.
Let the baking paper hang from the sides of the tin so you can use it later to lift the slab easily.
Transfer the coated rice crispies into the prepared tin and press down with a spatula or the back of a spoon to distribute them evenly and compact them.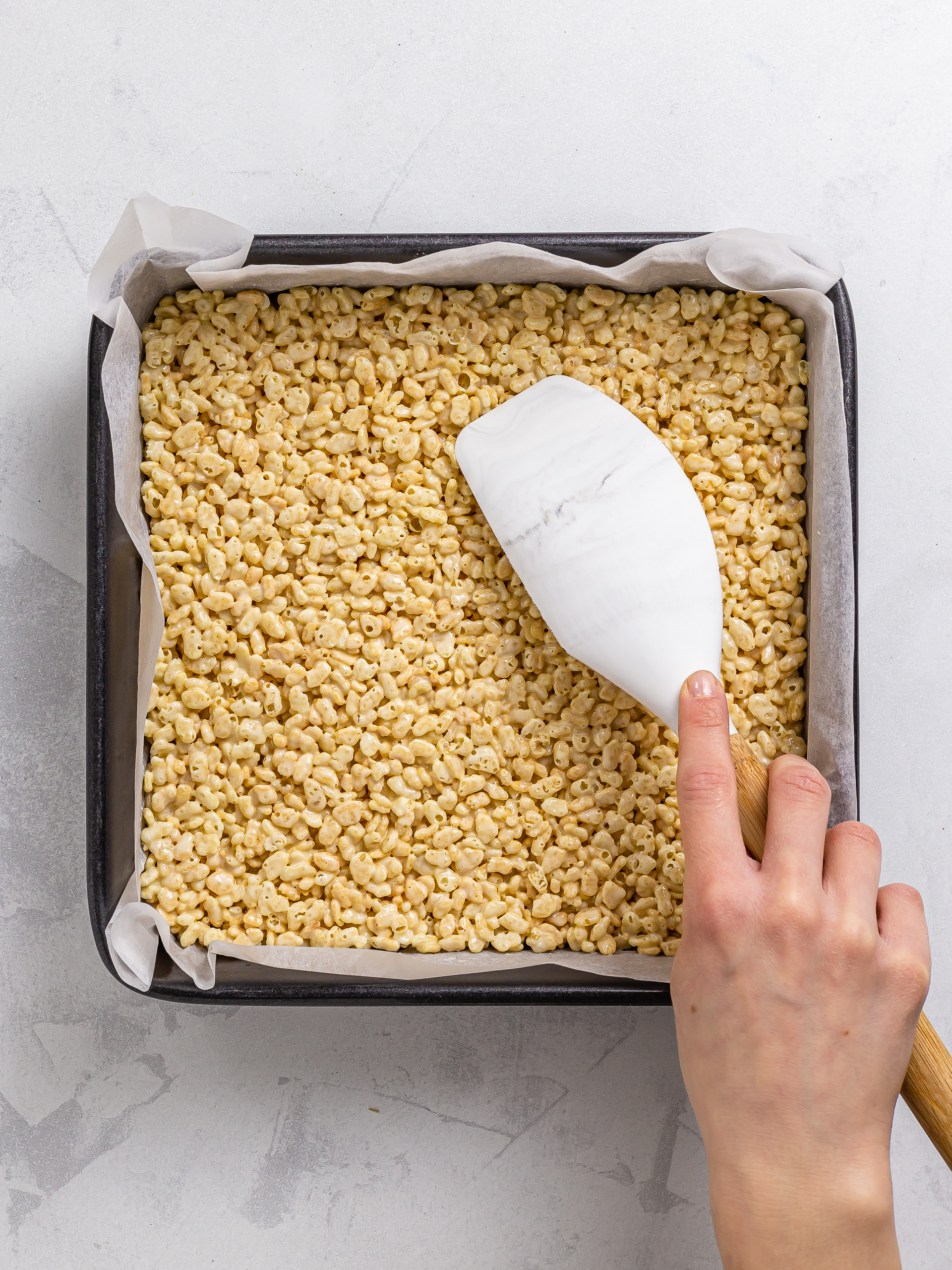 Step 3
Spoon the ube butter over the rice crispies layer and level it with the help of a spatula.
At this point, you can optionally top the ube with coconut flakes or drizzle it with more melted white chocolate.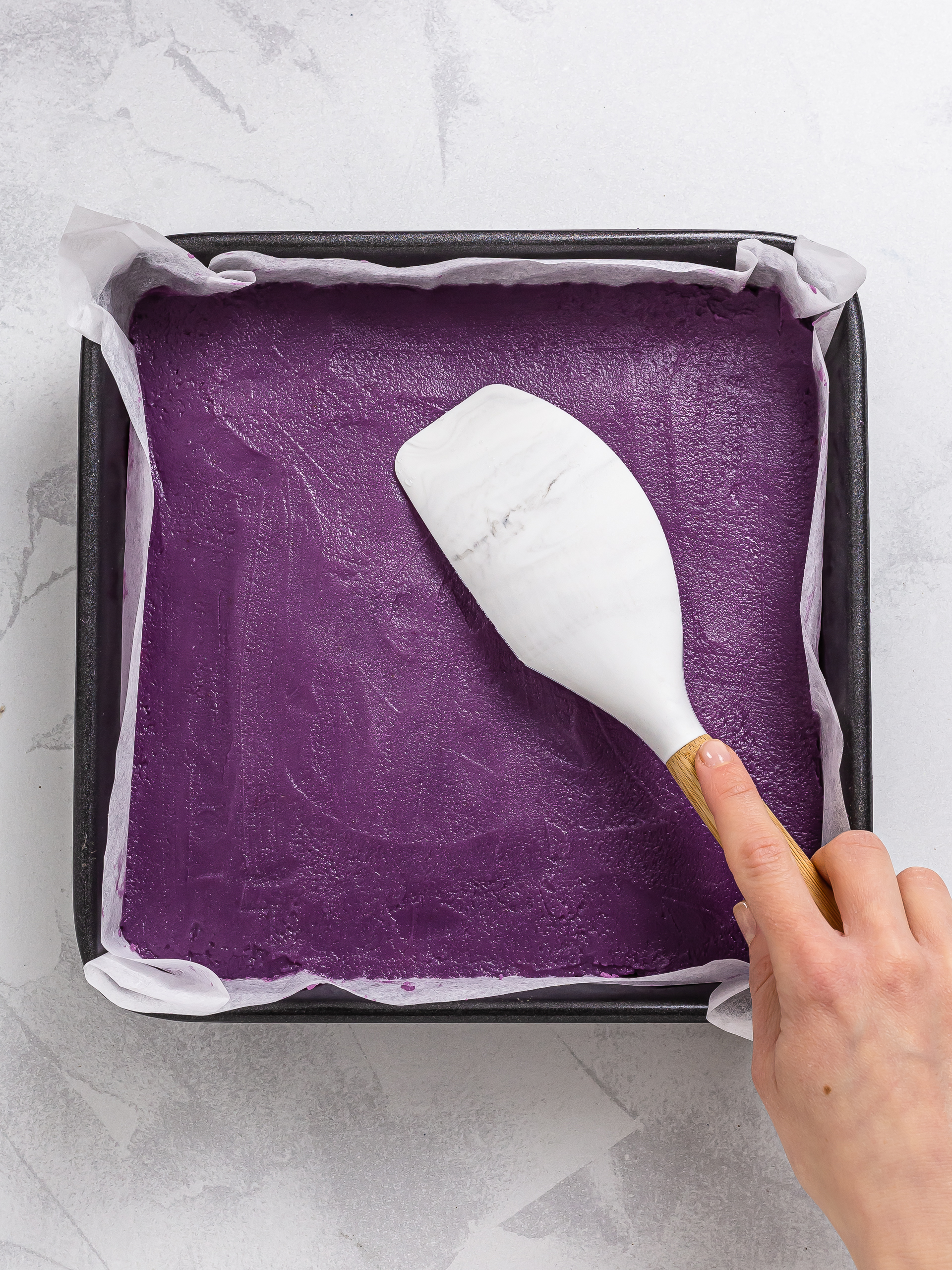 Step 4
Transfer the tin into the fridge and let the ube-rice slab set for 1 hour, or until the ube topping feels solid to the touch.
Finally, remove the slab from the tin, slice it into bars or squares, and enjoy!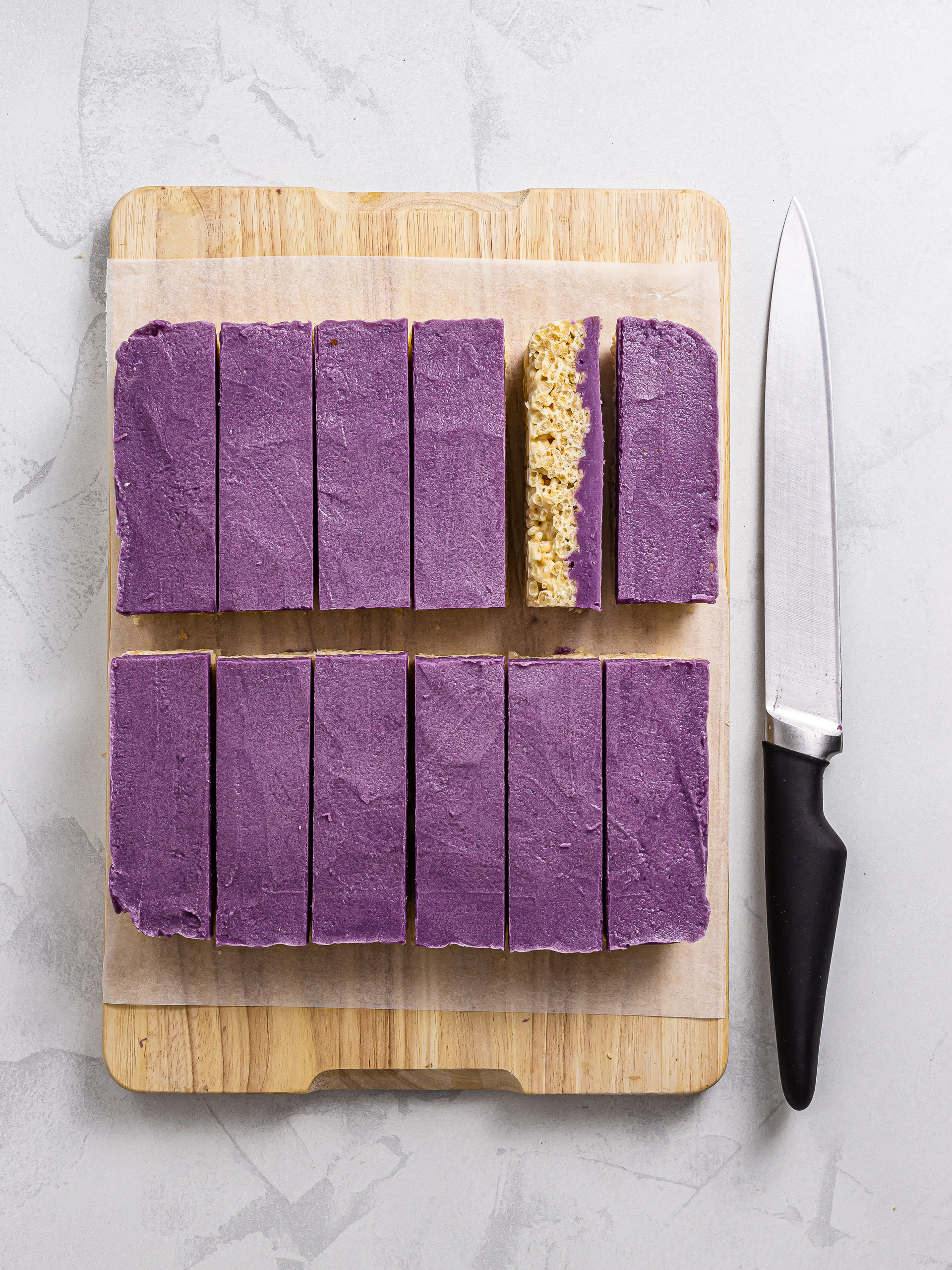 Tips
If you want to make the ube bars with a base layer of oats instead of rice crispies, use the oat mixture we made for these passion fruit bars and then top it with ube butter.

Store these ube bars in an air-tight container in the fridge for 3-4 days. Alternatively, you can freeze them for 2 months, interleaving the bars with some baking paper so they won't stick to one another. The bars actually taste delicious when frozen, so there's no need to let them thaw.