Today, we want to share a fun and easy recipe that will make your next breakfast the happiest meal. It's called ube bread, a soft and fluffy loaf prepared with vegan purple yam butter. If you've never tried ube before, you're in for a treat! It's got the most wonderful colour and flavour. Give it a go — we're sure you'll love it!
Also known as purple yam, ube belongs to the family of yam tubers. It's a root vegetable with a vibrant violet and starchy flesh that bursts with antioxidants. It's a staple ingredient in Filipino cuisine where it's used to prepare a sweet purple spread, called ube halaya, and many colourful desserts.
For this recipe, you could use ready-made ube halaya, available online or at Asian food stores or prepare vegan ube butter from scratch.
Unlike the classic ube halaya, our ube spread is closer to butter than to a jam. That's because we added a little bit of coconut oil which makes it as hard as proper butter once it cools down.
The two things that make Classic toast bread is so soft and spongy are butter and whole milk. But we achieved a very similar result while keeping the recipe fully vegan and dairy-free. We did it by replacing butter with the coconut oil in our ube butter and by using coconut milk instead of whole milk.
Apart from its wonderful colour, this ube bread stands out for its naturally sweet and slightly nutty flavour. It's really a remarkable little thing!
As for the other ingredients, we used basic white loaf foodstuff like bread flour, salt, water and instant dry yeast. And for extra richness and softness, we brushed it with a splash of coconut milk and maple syrup.
All you have to do is knead all into a dough, let it prove until nicely puffed, and then bake it in a loaf tin until crusty. Easy!
We bet you'll be so excited to try this super cute purple bread that you won't even wait until it cools down — just like us!
So slice it, toast it, and slather it with homemade berry jam or no-pectin papaya jam, nut butter, or even some ube spread for extra purpleness. Enjoy!
Step 1
Mix bread flour, salt, and instant dry yeast in a bowl.
Then, add lukewarm water, coconut milk, and ube spread softened at room temperature.
Make sure the water and coconut milk are not too hot, or they will inactivate the yeast.
You can make ube butter from scratch using purple yams (or even purple sweet potatoes) and coconut oil, or buy ube halaya spread online or at an Asian food store.
The ube butter will give the bread a light pink hue once baked. If you want a more purple-looking loaf, you can add a few drops of ube extract (which contains food colourants).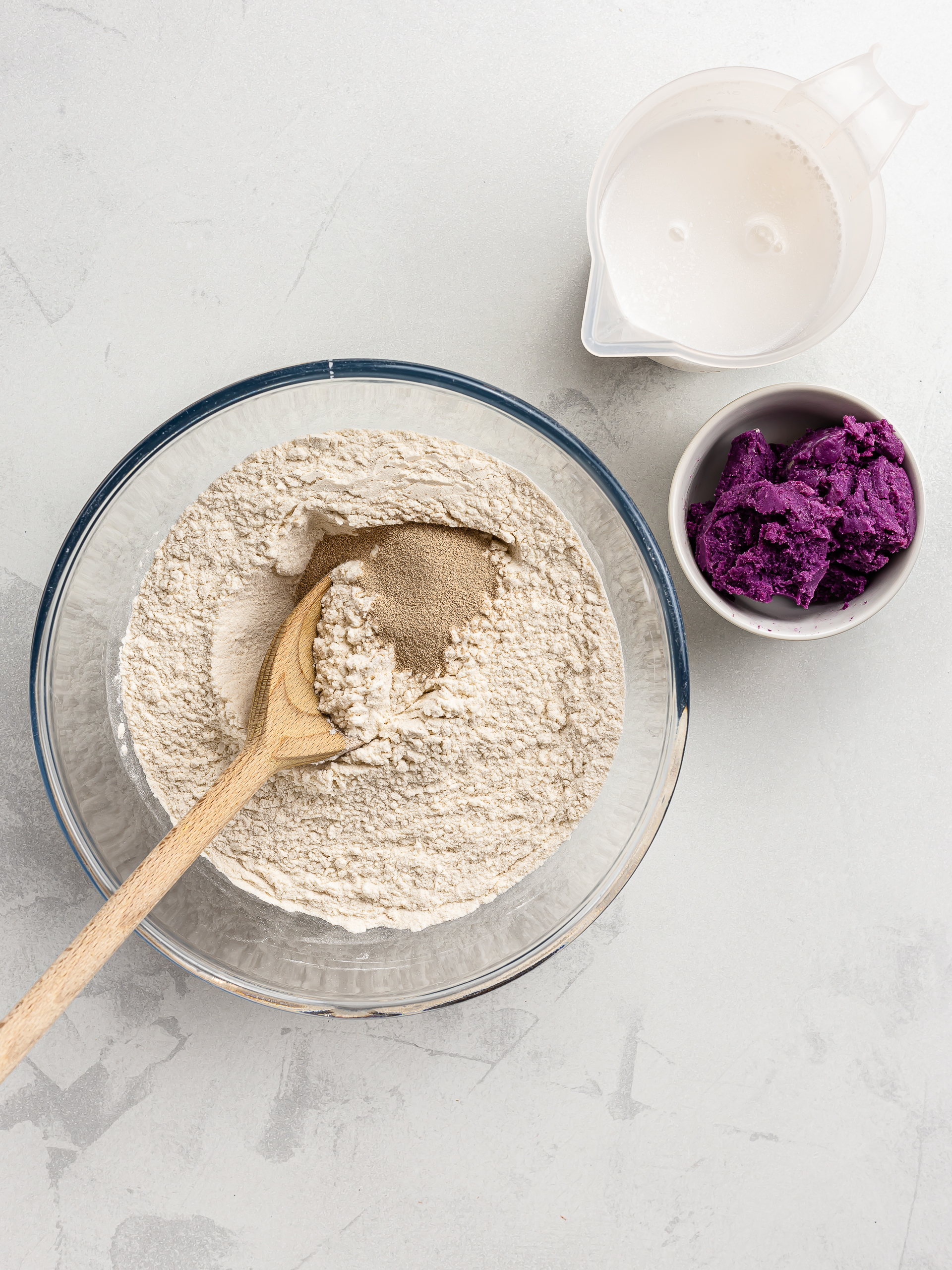 Step 2
Use a dough hook to work the ingredients until they come together into a dough. Then, keep kneading it with the hook for 5 minutes until it's smooth and elastic.
If you don't have dough hooks, use a spatula or wooden spoon instead, and work the dough right inside the bowl — the dough is too moist and sticky to knead by hand.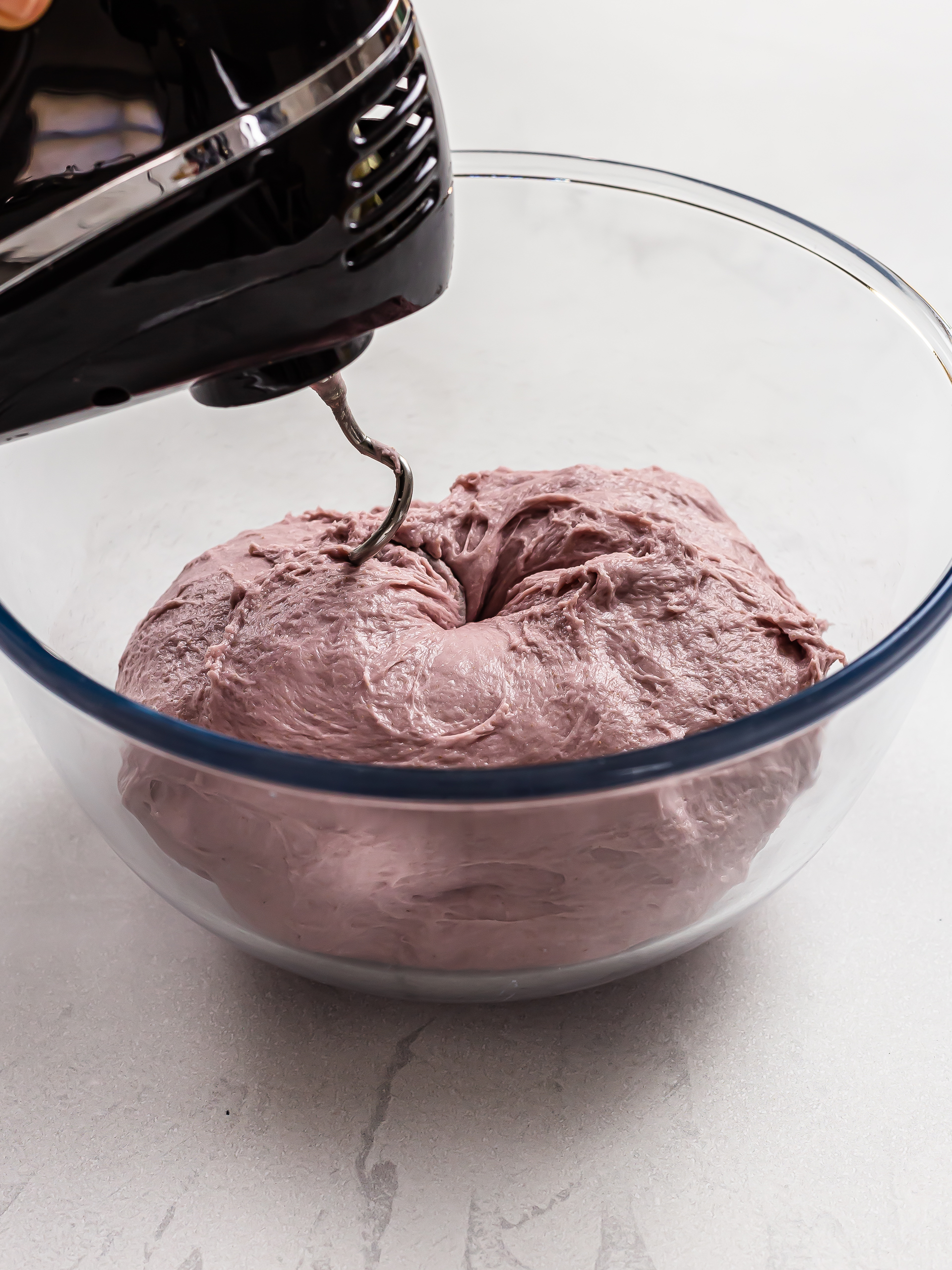 Step 3
Transfer the dough into a bowl lightly greased with oil and cover it with a kitchen towel.
Then, let it prove in a warm place for 30 minutes or until it has doubled in size.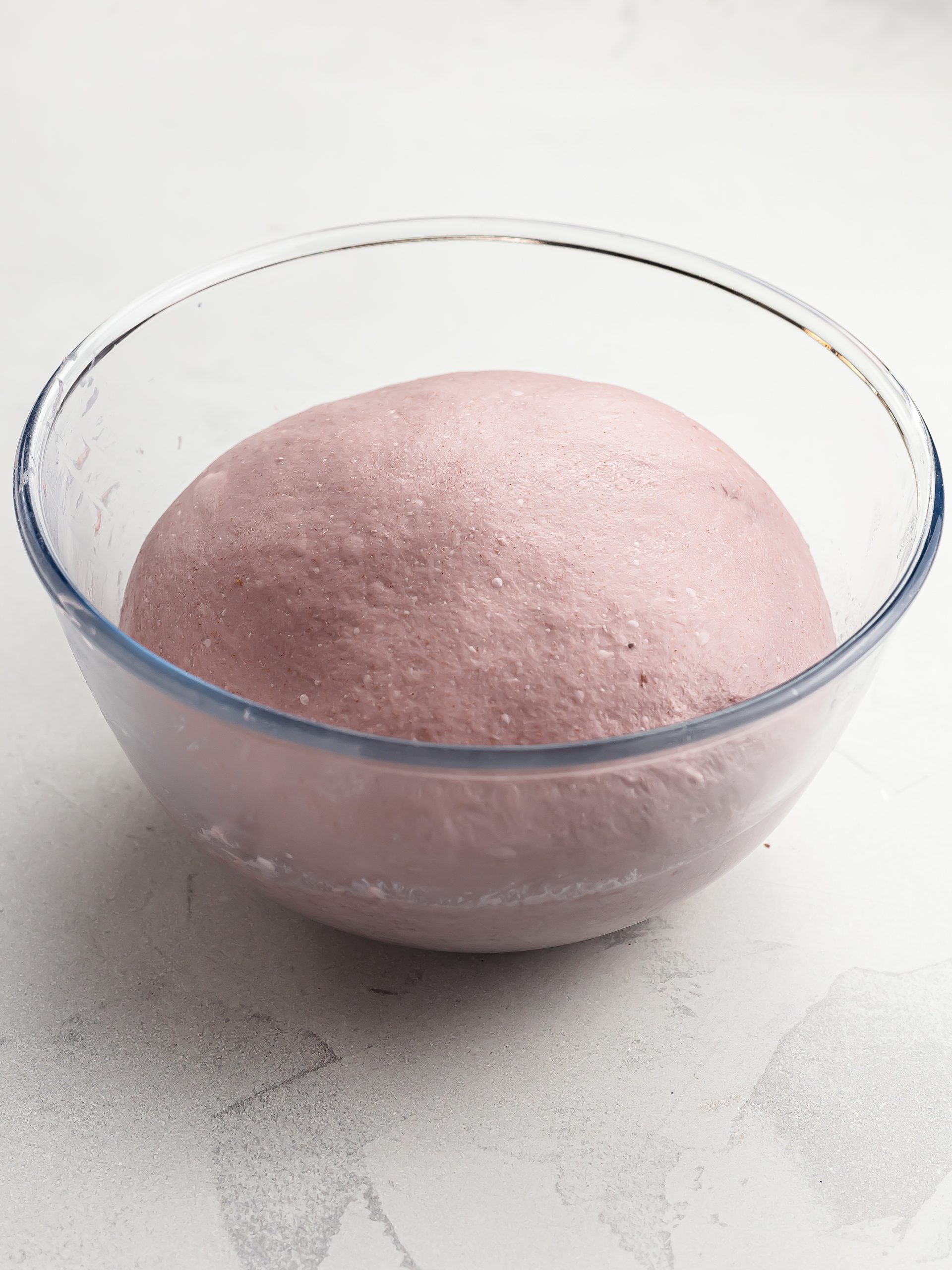 Step 4
Once the dough is ready, punch it down to deflate it and release air.
Grease your hands and stretch the dough into a long rectangle over a sheet of baking paper (1).
Make sure the short side of the rectangle is a little bit shorter than the length of your loaf tin. We're using a 9x5 inches (23x 13 cm) loaf tin, so we made our dough rectangle 8x16 inches (20x40cm).
Then, starting at the short side, tightly roll the dough into an 8-inch (20cm) long log (2).
1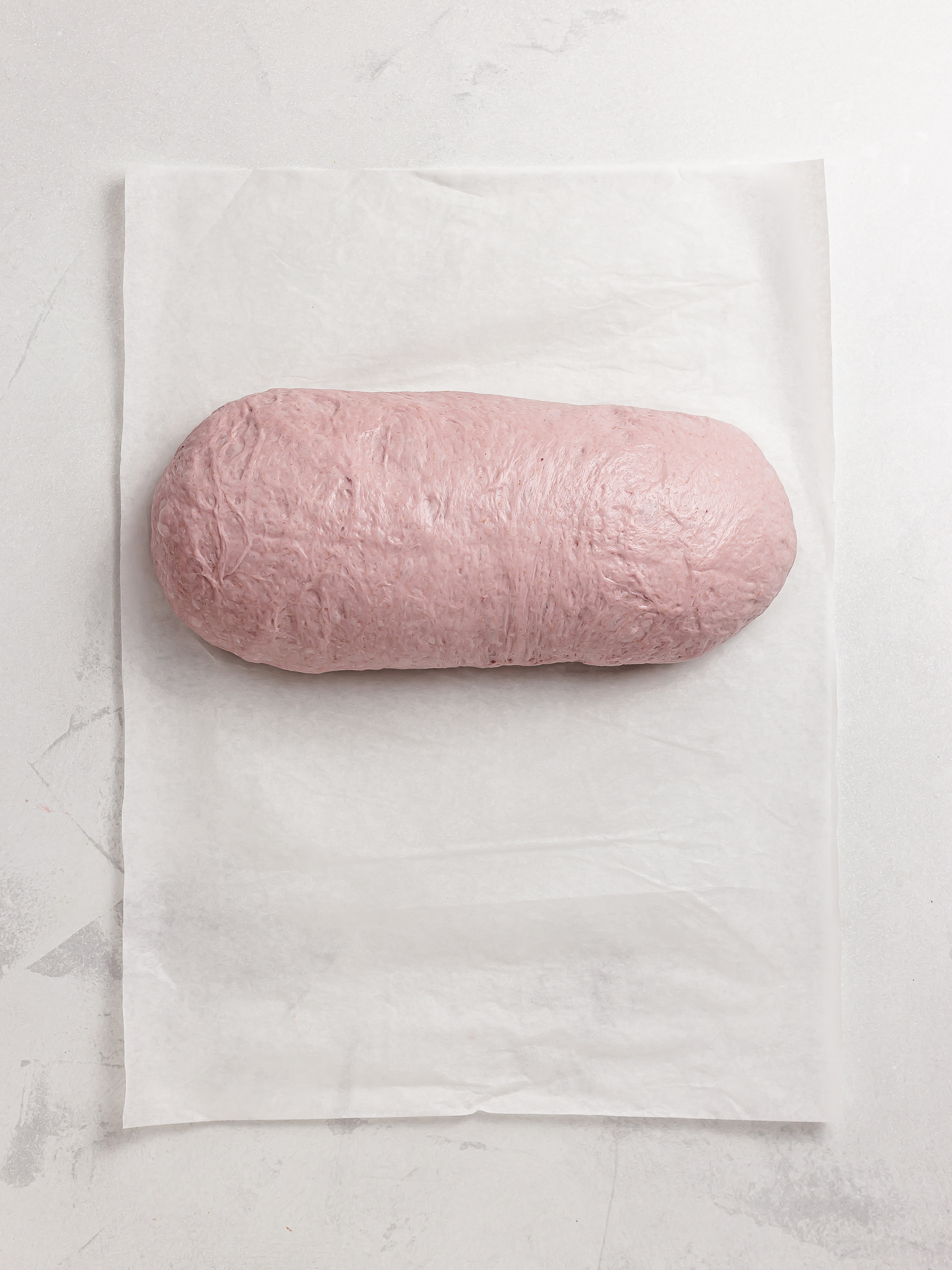 2
Step 5
Grease your loaf tin to keep the dough from sticking. Then, tuck in the ends of the log and transfer it into the tin.
Brush the top of the dough with a little oil and cover it with a kitchen towel.
Let the bread prove in a warm place for 15 minutes or until the dough has risen 1 inch (2 cm) above the top of the loaf tin.
Meanwhile, preheat the oven to 200°C (390°F).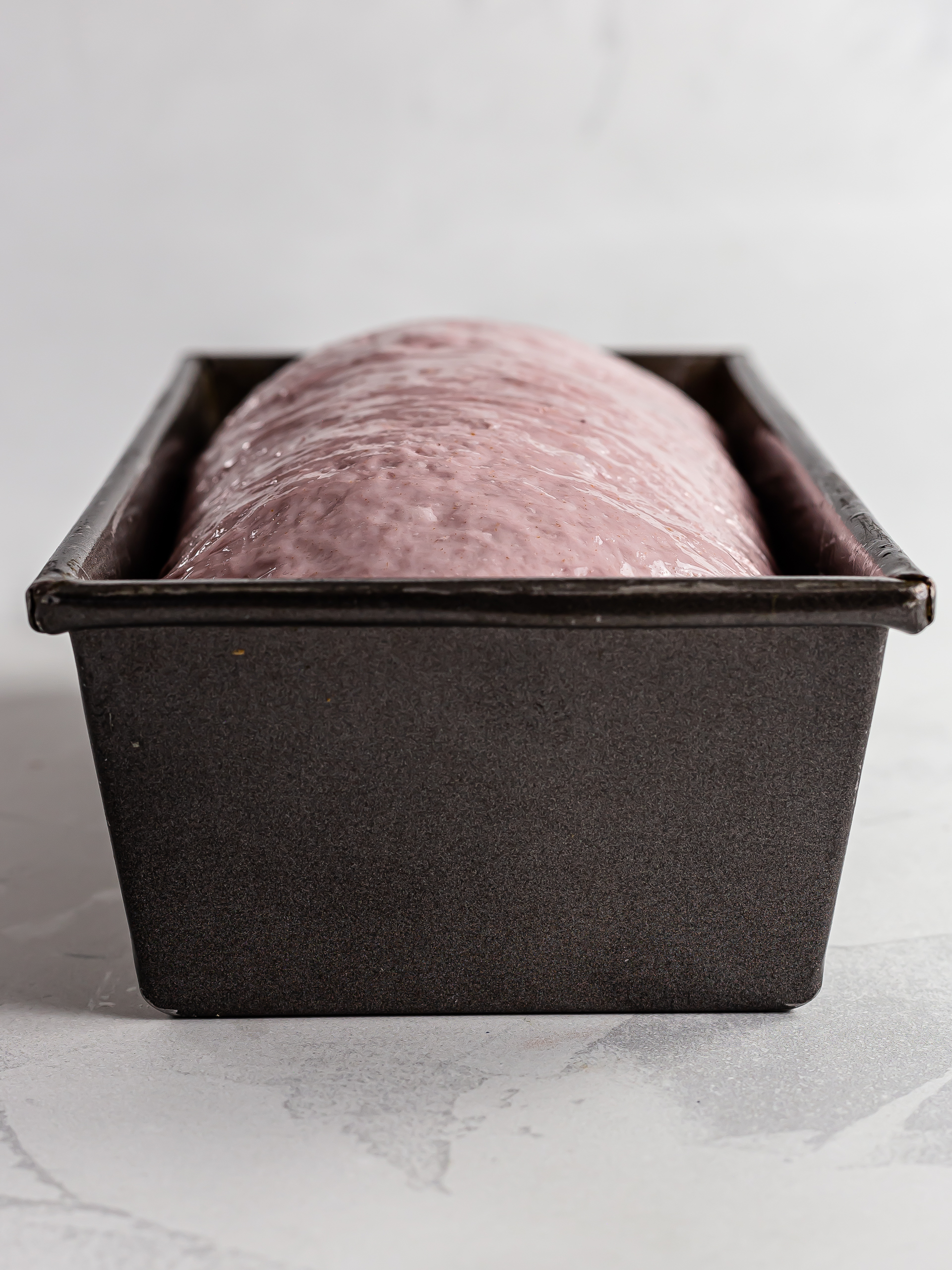 Step 6
Now, you can optionally brush the bread with a mix of maple syrup and melted coconut oil (1 tablespoon each) for a crisper crust and a golden colour.
Set the oven rack on the lowest shelf.
Bake the bread at 200°C (390°F) for the first 10 minutes and then at 180°C (355°F) for 20 more minutes.
When the bread is golden brown on top and sounds hollow when tapped, you know it's ready.
Pop it out of the tin and let it cool down completely on a wire rack before slicing.
Cool thing: toast the bread slices and the crumb will turn from light pink to a more vibrant purple hue. Try it!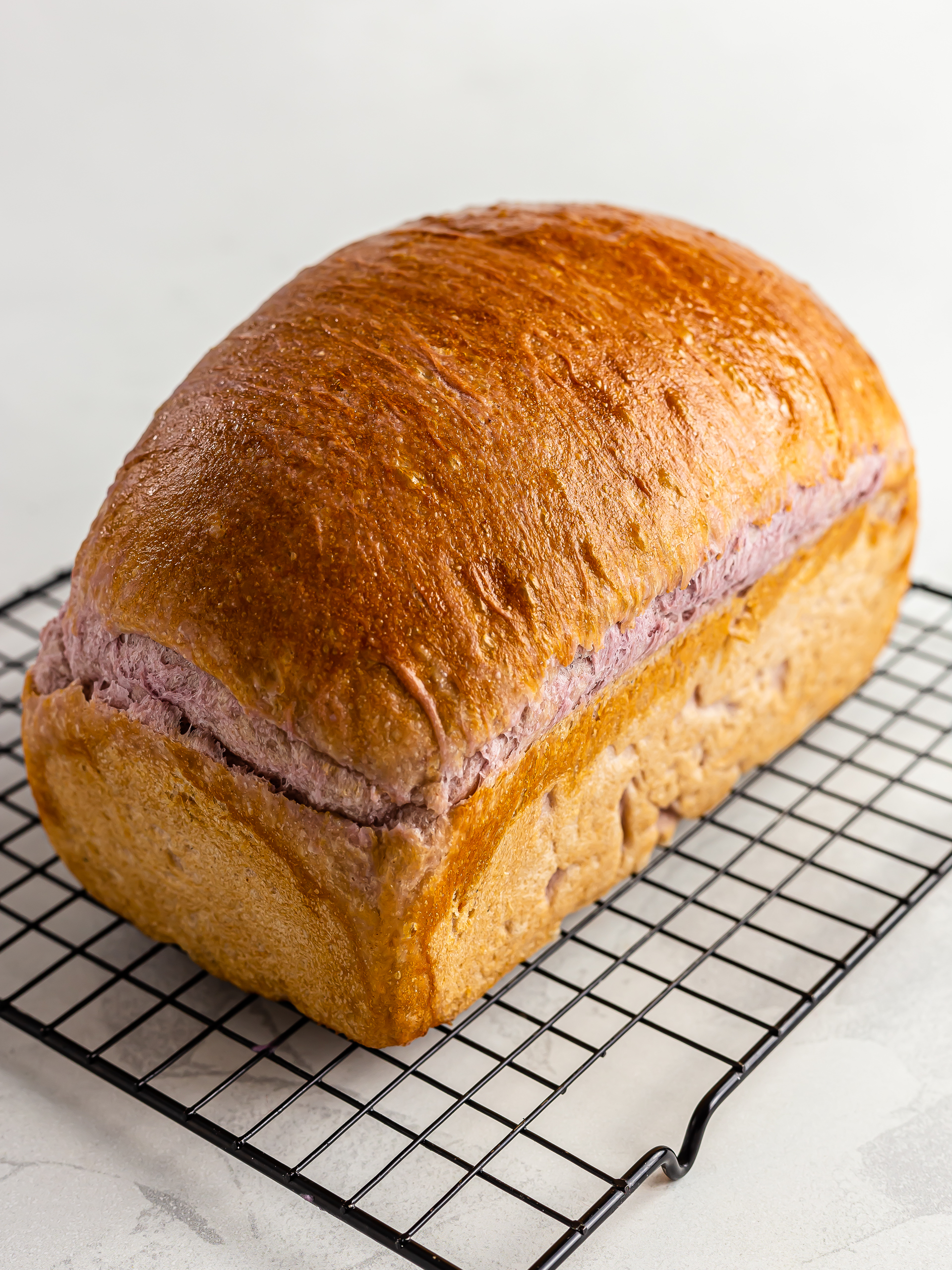 Tips
Store the bread for up to 3 days, wrapped in foil, cling film, or in a bread box. Alternatively, you can slice the loaf and freeze the slices in a zip-lock bag, interleaving them with baking paper.