If you love making fruit preserves and want to try something utterly new and exciting, our papaya jam recipe is perfect for you.
It's colourful, delicious, and ready in 30 minutes. And the great news is our recipe is sugar-free and pectin-free. So let us show you how to do it!
You'll need three simple ingredients:
fresh ripe papayas (also called paw paw or papaw)

sugar-free erythritol as a sweetener

a little cornstarch as a thickener
That's it.
Make sure you select the ripest papayas you can find as they'll taste sweeter, and prep them following our instructions below.
To make our jam recipe healthier and low in sugars, we replaced the classic caster sugar with erythritol.
Erythritol is a natural and safe sweetener that looks and tastes like sugar but has zero calories.
This means all the sugars in this jam are just naturally occurring sugars from papayas and nothing else.
But, because papayas are not particularly high in pectin and you won't have those loads of sugar thickening the jam for you, you'll need a little cornstarch to make the jam set.
Starch is a wonderful thickener that can perfectly replace pectin in jams. We used it with success in many sugar-free jam recipes and decided to use it again in this one.
Just make sure you add starch to the hot papaya jam following our instructions to the letter, or you'll end up with some nasty lumps.
Ok, now that you know how healthy and easy to make this tropical papaya jam is, go ahead and make lots of jars. For yourself, the whole family, and your neighbours too — they'll love it!
And if you want to try another exotic jam, check out this jackfruit jam made with only ripe jackfruit, no sugar added.
Frequently Asked Questions
How do you use fresh papaya to make jam?

When you use fresh papaya to make jam, make sure it's very ripe as it will not only taste better but much sweeter too.

This is especially important when you prepare sugar-free jam or want to cut down on the amount of added sweeteners.

To prep papaya for jam, scrape off and discard the tiny black seeds, peel the skin, and dice the flesh into small chunks.
Does papaya have pectin?

Like nearly all fruits, papaya has some pectin, but it's not amongst those high-pectin fruits like apples, plums, and lemons.

Also, sweet and ripe papayas used for making jams contain less pectin than the under-ripe fruit.

So, when you make jam with papayas, you'll need some other ingredients to help the jam jellify and set.

For example, you could combine papaya with high-pectin fruits, add commercial pectin, or simply stir in starches like cornflour, as we did in our recipe.
How do you make papaya jam without pectin?

When you make papaya jam without pectin, you have three options:

Mix in high-pectin fruits

Use citrus peels (lemons and limes especially), underripe tart apples like Granny Smiths (peel included) or plums. Check our no-pectin plum jam or sugar-free apple raspberry jam for more tips and info.

Add commercial pectin

It works more quickly and strongly than natural fruit pectin, so follow the manufacturer's instructions closely to avoid a Jell-O consistency.

Add flaxseeds or chia seeds

These seeds are rich in soluble fibres which form a gel when mixed with water. The great thing about them is that they are also very nutritious.

Check out how we use them in jams in our cherry jam with flaxseeds or blackberry jam with chia seeds.

Stir in starch

Starches like cornstarch, arrowroot, and potato starch are natural thickeners that work as a perfect substitute for pectin.

In our no-pectin papaya jam recipe, we used a little starch to thicken the jam naturally in just a few minutes.

Make sure you dilute the starch in a little water before adding it to the hot jam, or it will cook too fast and form lumps.
Can you make papaya jam without using sugar?

Yes, you can easily make papaya jam without sugar using erythritol, a safe and natural sweetener.

Use granulated erythritol exactly as you would with sugar: add it to the cooking papaya and stir it until dissolved.

Because erythritol is almost as sweet as sugar, you can use it as a sugar substitute in jams in a 1:1 or 1:1.3 sugar to erythritol ratio.

Alternatively, you can pair papaya with sweet fruits like mangos or bananas or use grape juice instead.

But keep in mind that even if you're using fruit instead of added sugar, the jam will have a higher sugar content.
What can I add to this papaya jam?

This papaya jam tastes delicious as is, but you can add in other ingredients for extra flavour or try exciting combos.

For example, you can pair papaya with other tropical fruits like:

Mangos

Pineapple

Banana

Lime or orange zest

You could also spice the papaya jam with:

Ginger root

Nutmeg

Allspice

Cinnamon

Finally, try it with a splash of rum or vanilla essence for a unique exotic finish.
What can I do with papaya jam?

Here are some delicious things you can do with this papaya jam:

Spread it on toast, oat pancakes, waffles, or almond milk crepes

Stir it into yogurt and oatmeal

Use it as a filling for layered cakes, pastries, cake rolls, or muffins

Use it as a topping for creamy desserts, ice creams, or cheesecakes

Glaze it on meat or tofu

Add it to a salad dressing for a sweet finish
Ingredients
| | |
| --- | --- |
| Large Ripe Papayas | 2 |
| Sugar-Free Erythritol | 80 g |
| Water | 100 mL |
| Cornstarch | 11/2 tbsp |
Step 1
Make sure you're using very ripe papayas as they will taste sweeter.
Halve, deseed and peel the papaya. Then, chop it into small chunks.
We calculated that two peeled papayas should weigh 460g (1 lb) so use more or less papayas if needed.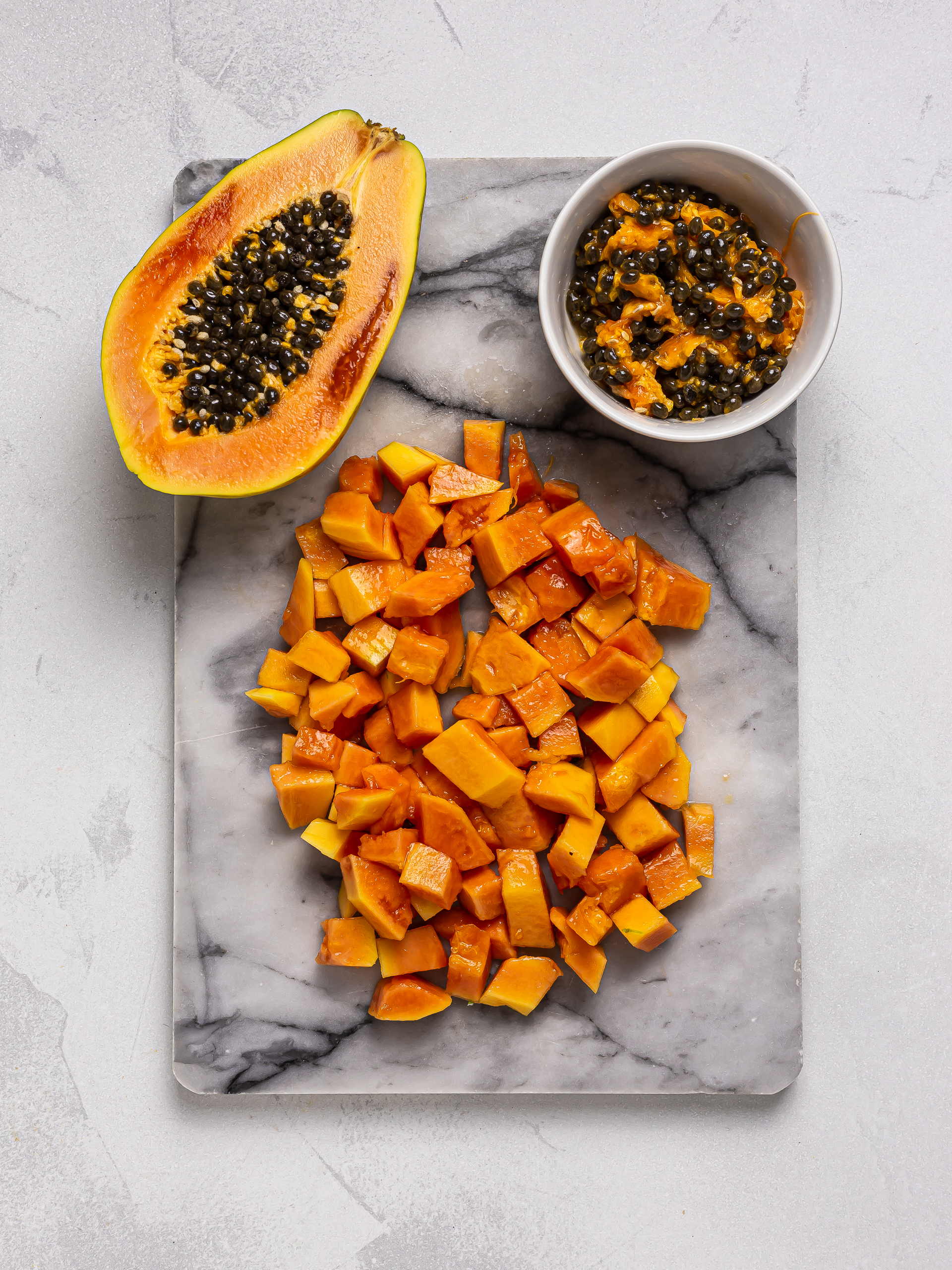 Step 2
Add the papaya to a pot, followed by sugar-free erythritol and the given water.
Bring to boil, lower the heat, and simmer uncovered for 20 minutes, stirring occasionally.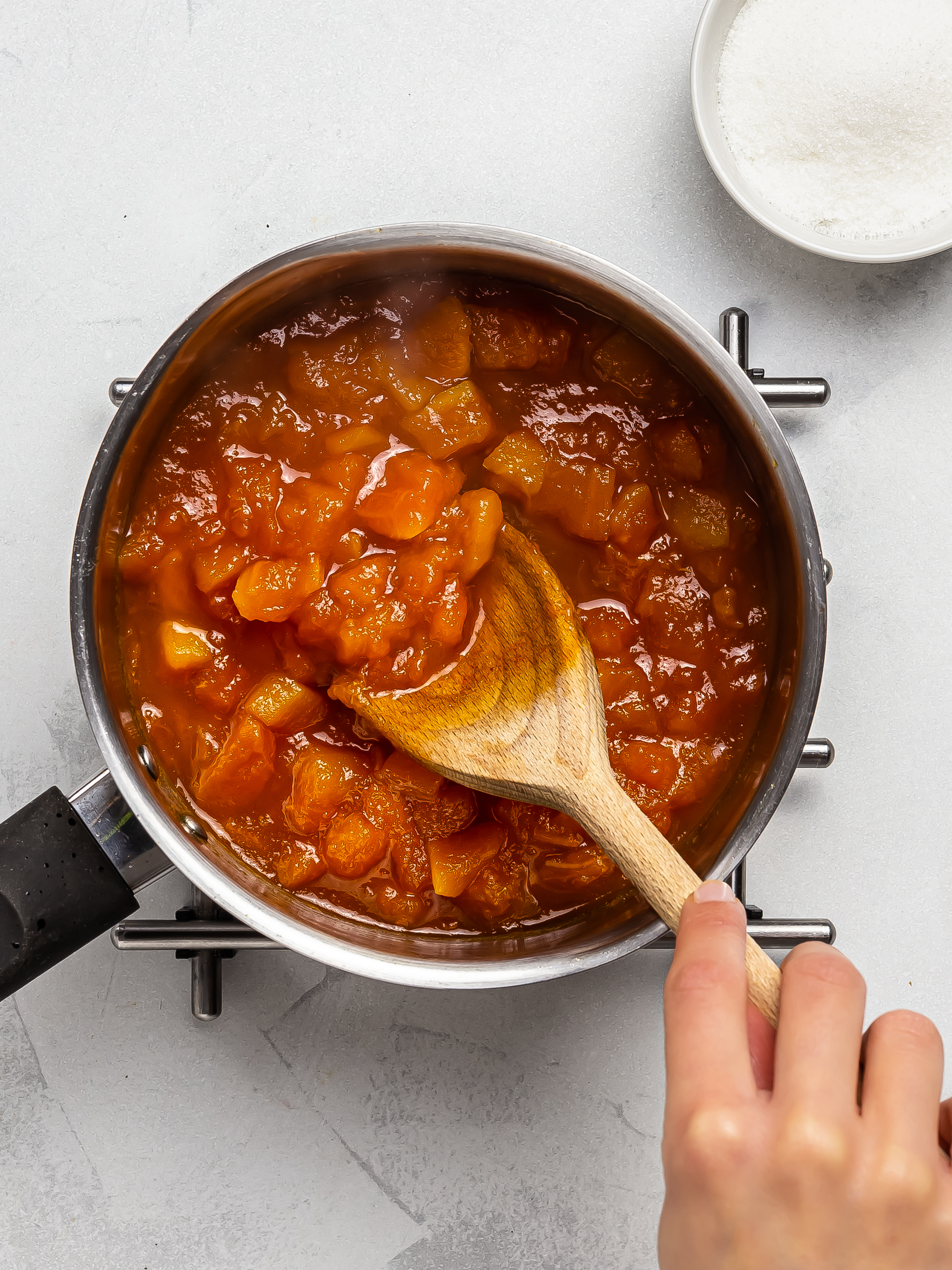 Step 3
Now, use an immersion blender to blitz the papaya jam until smooth.
Bring the jam back to a gentle boil and cook it for 10 more minutes.
Be careful as the jam will spatter while it cooks, so cover the pot with a splatter guard or stir the jam continuously.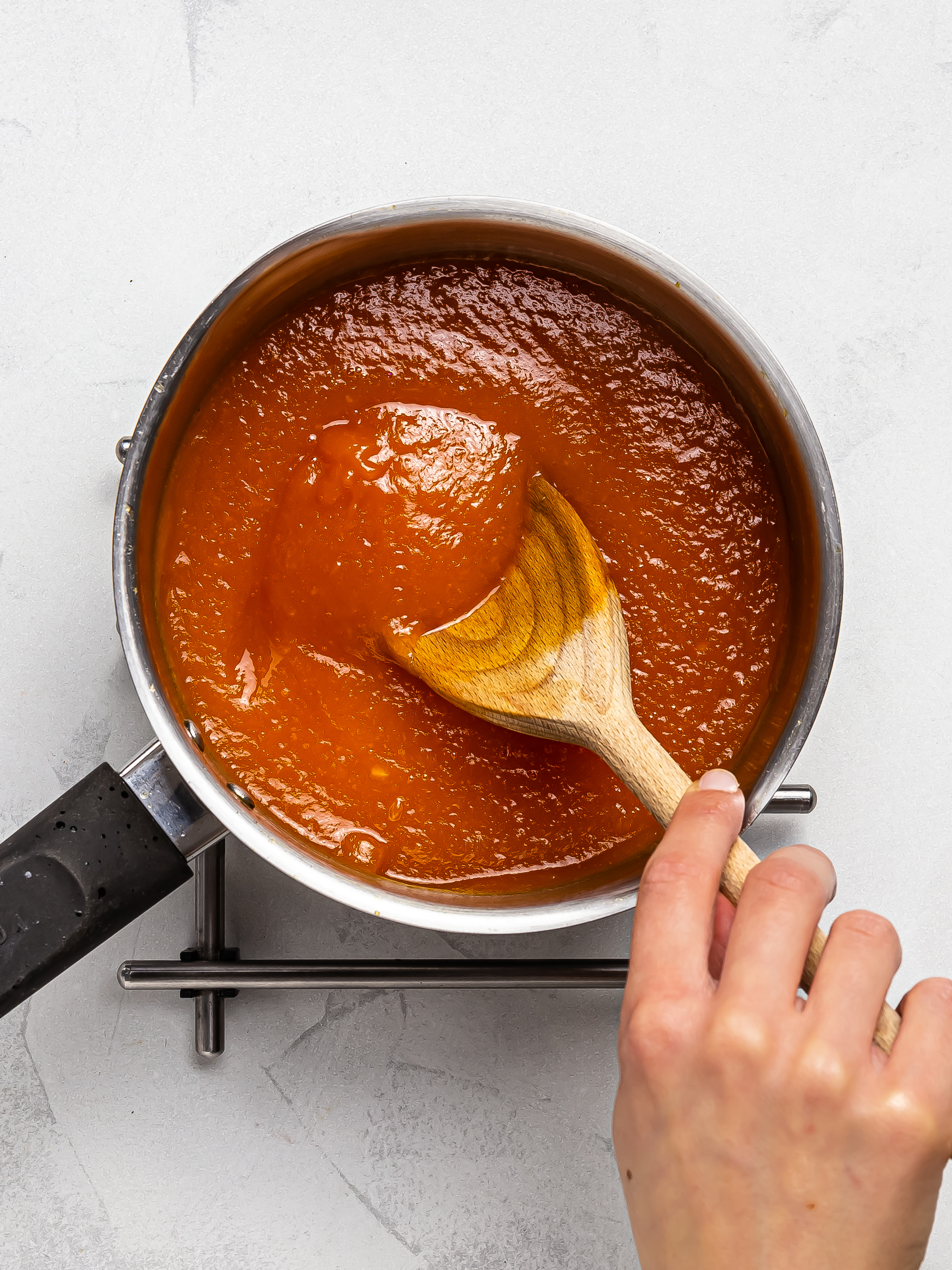 Step 4
Once the papaya jam has reduced, dissolve the starch in a little bit of water in a cup and stir it into the jam.
Keep cooking the jam for 2-3 minutes whisking continuously until it becomes denser and thicker.
Keep in mind that the jam will thicken even more as it cools down.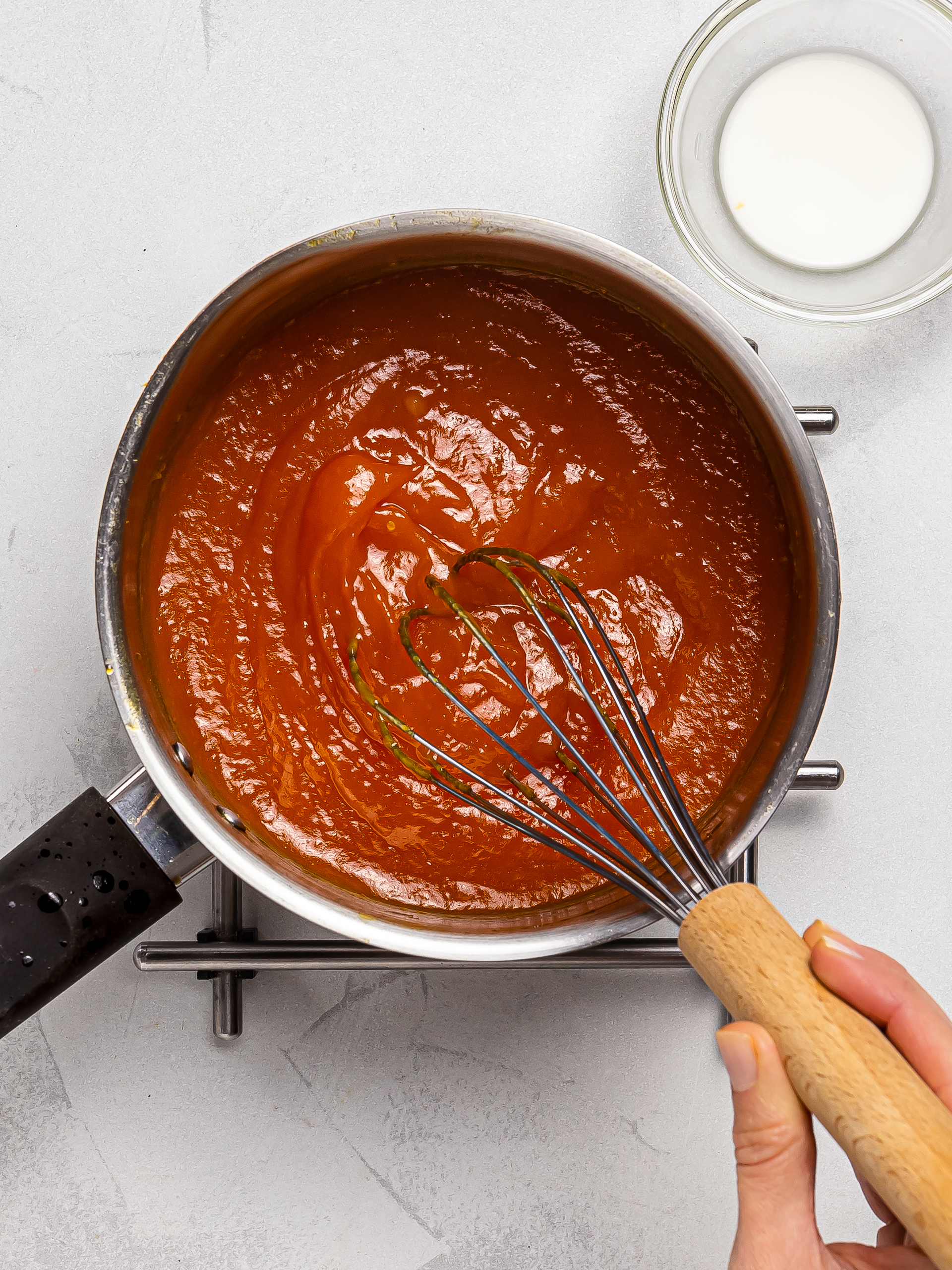 Step 5
Transfer the sugar-free papaya jam into a clean jar and let it cool down completely before serving.
Then, store it in the fridge and consume it within 2 weeks.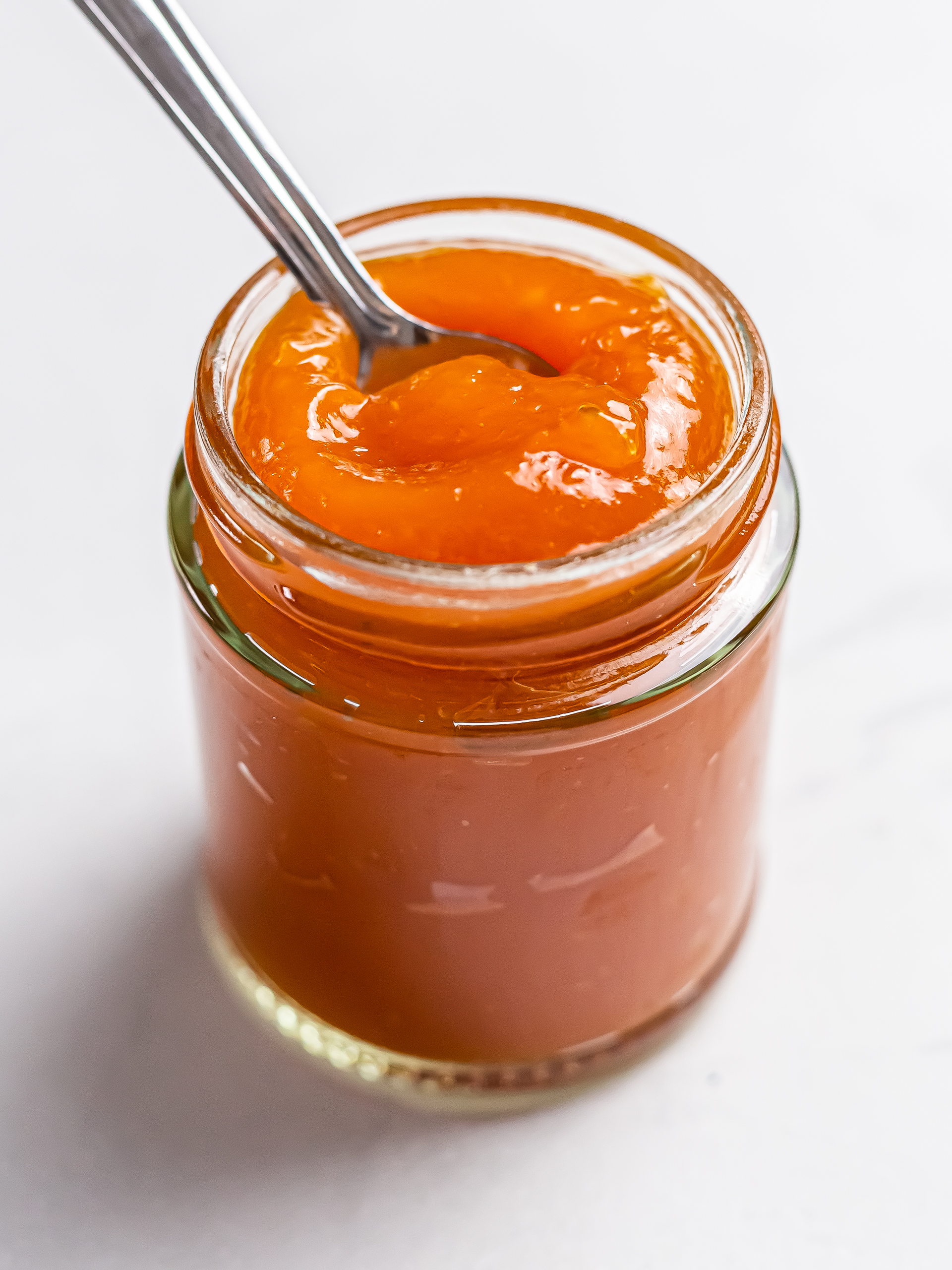 Tips
If you want to preserve the jam for more than a couple of weeks, make sure you properly sterilise and seal the jars.