For today's recipe, we made a quick pastry pie with colourful vegetables that's just perfect for a healthy midweek family dinner. We got inspired by the classic Cretan Boureki filo pie but made it 100% dairy-free and vegan using tofu instead of crumbled feta. Let us show you how to do it!
The great thing about this recipe is that you won't even have to spend time cooking the fillings. Instead, just slice the potatoes and zucchini, crumble the tofu, and assemble the pie. Job done! Then, let the oven take care of the rest and get ready to savour this glorious boureki.
If you're not familiar with the word boureki, it's a broad term that refers to a family of baked phyllo pastries. Boureki is the Greek version of börek, the Turkish yufka (filo dough) pastries. But borek recipes are not limited to Greece and Turkey; you can also find them under the name of bourekas, boreg, or bryrek in Israel, Armenia, Serbia, and Slovenia, to mention a few.
Common stuffings in these filo pastry pies include meat, cheese, greens, and potatoes, but also sweet ones like custard. In Greece, there's a special type of boureki found in the local cuisine of Chania, in Crete. It consists of layers of zucchini and potatoes topped with mint and mizithra, a local crumbly cheese similar to feta.
In our recipe, we kept the base Cretan boureki ingredients like filo sheets, chopped mint, zucchini, and extra virgin olive oil, but we swapped white potatoes with sweet potatoes and cheese with tofu. We opted for sweet potatoes as we've seen some winter variations of the boureki made with pumpkin instead of potatoes. This way, we got that same gorgeous orange colour and yet retained the flavour and texture of potatoes —it's a win-win!
Firm tofu was our go-to choice for this vegan recipe as we have already used it in our previous Greek mushroom pie. But this time, we marinated it with lemon juice, garlic, and nutritional yeast, for a quicker, no-cook option. Thanks to tofu, each slice packs plenty of plant-based proteins, which combined with fibres from the veggies and unsaturated fats from olive oil make this greek pie a balanced meal that will make everyone happy!
Ingredients
| | |
| --- | --- |
| Firm Tofu | 400 g |
| Lemon Juice | 1 tbsp |
| Garlic Powder | 1 tsp |
| Nutritional Yeast (optional) | 1 tbsp |
| Sweet Potatoes | 4 |
| Zucchini | 3 |
| Filo Pastry Sheets | 5 |
| Fresh Mint | 2 tbsp |
| Extra Virgin Olive Oil | 2 tbsp |
Step 1
Remove the tofu from its packaging, rinse it thoroughly, and then squeeze it well to remove excess water.
Crumble the tofu into a bowl, as you would do with feta. Then, tip in the lemon juice, garlic powder, and nutritional yeast if you're using it.
Season with salt and pepper to taste, and leave the tofu to marinate while you prepare the other ingredients.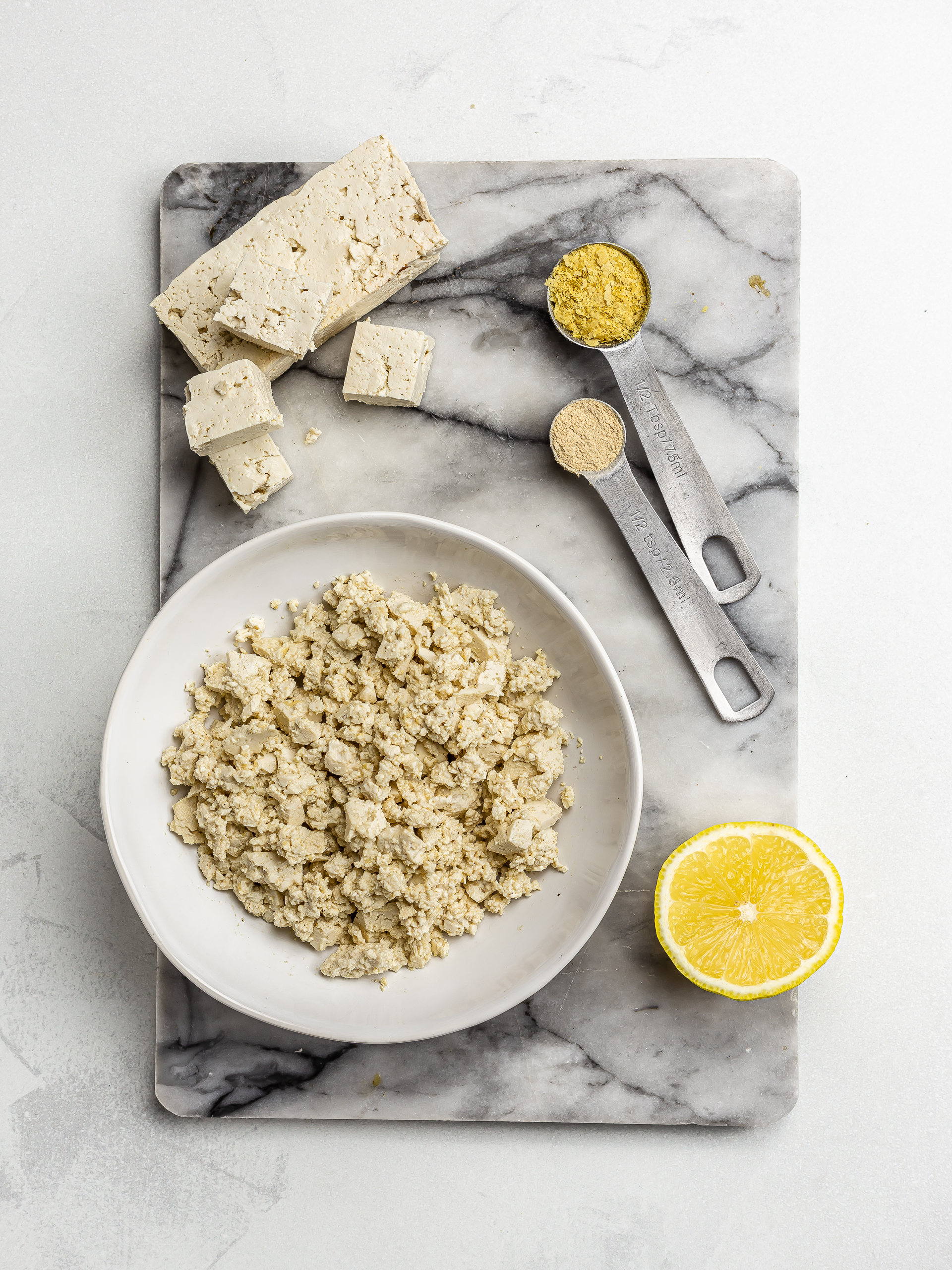 Step 2
For the veggies, peel the sweet potatoes and trim the end of the courgettes.
Then, slice them into chips with a knife or mandoline slicer.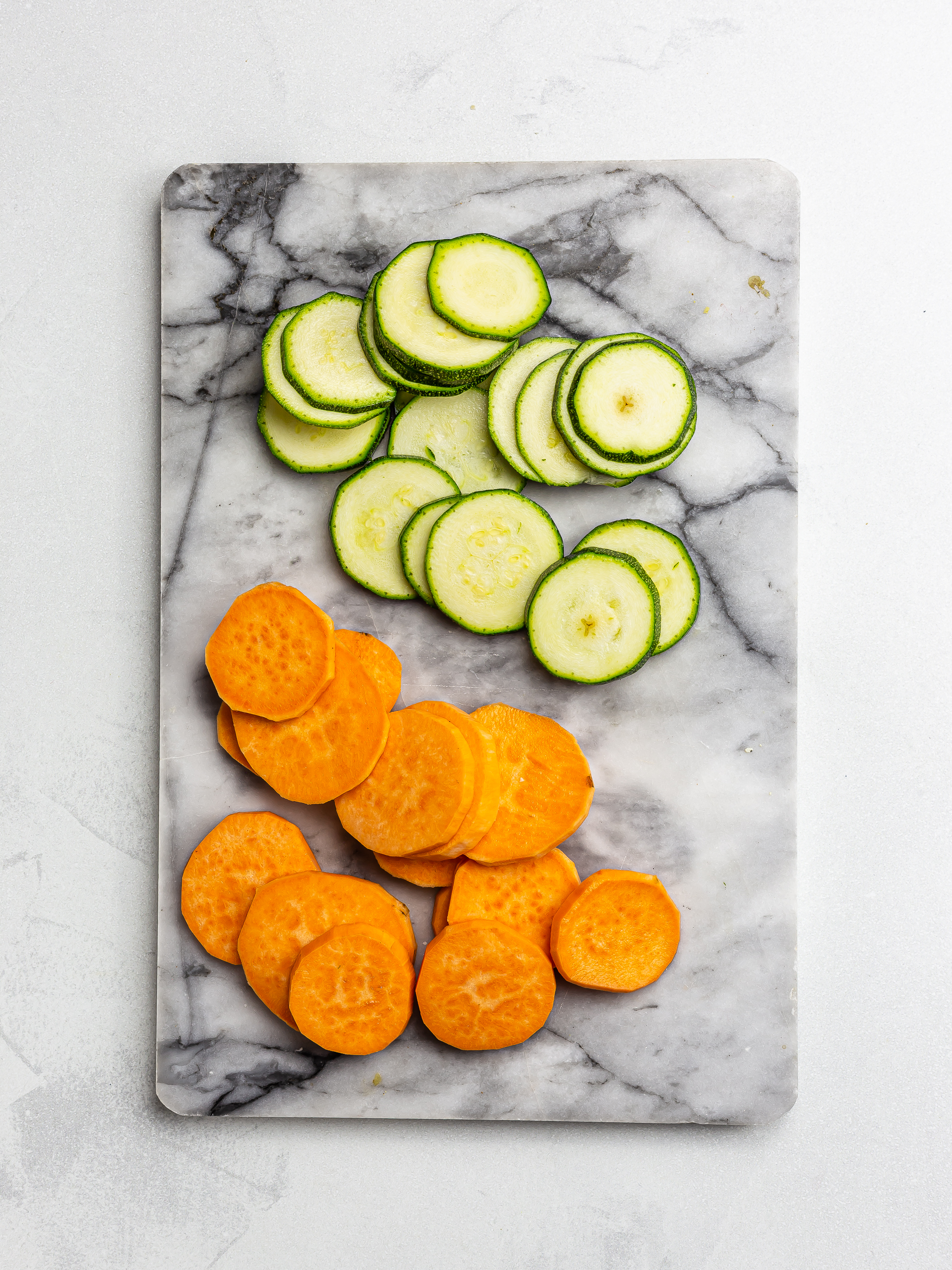 Step 3
Now, roll out the filo pastry, and grease each sheet with a little oil using your fingertips or a pastry brush.
Then, oil a loose-bottom pie dish and line it with the filo sheets.
Arrange the sheets at an angle from each other so that the pastry edges hang from the sides of the tin, as shown in the picture.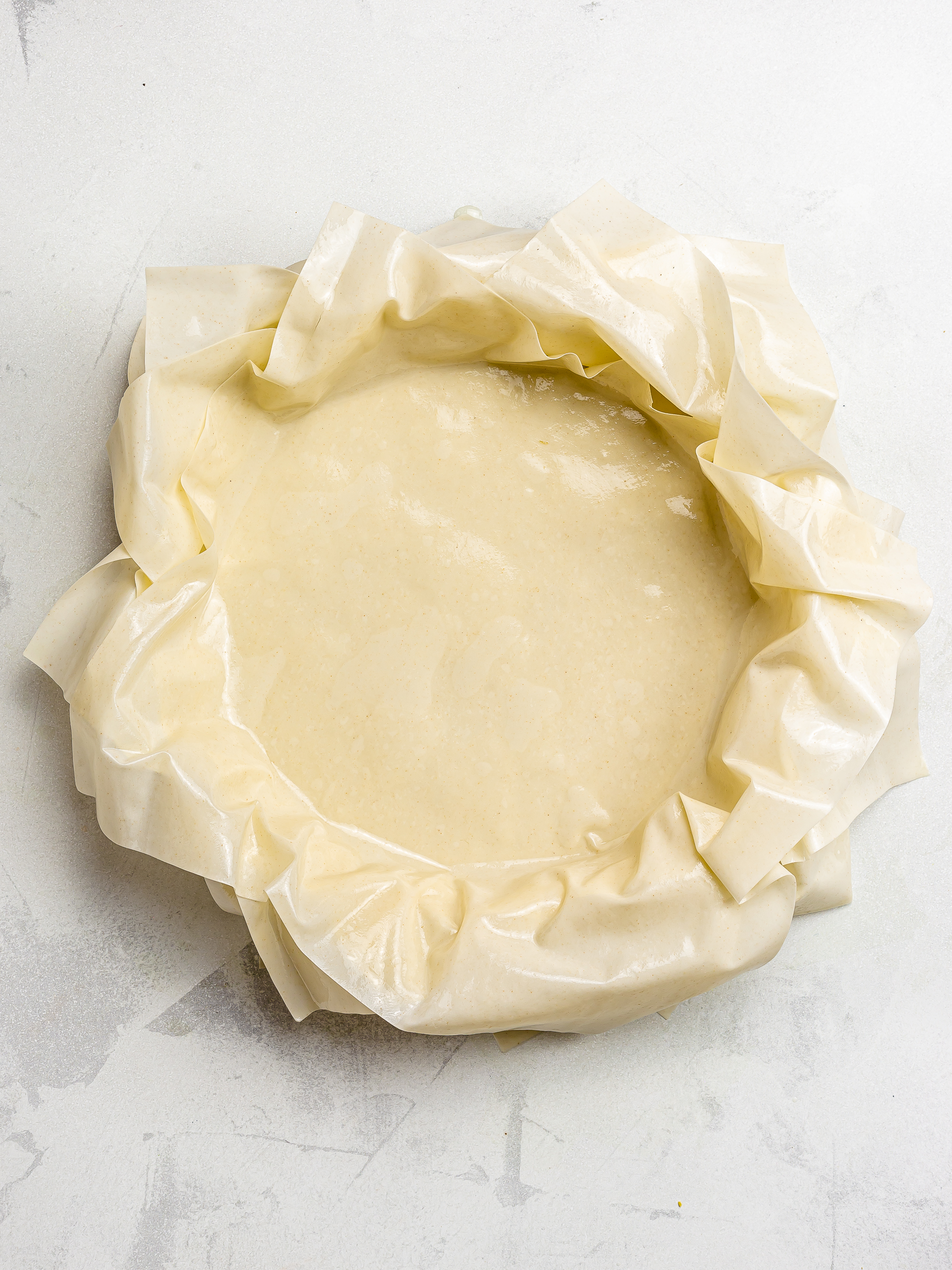 Step 4
Next, make a base layer using half of the vegetables.
Alternate one slice of zucchini and one slice of sweet potatoes and stagger them slightly (1).
Season the veggies with salt and pepper to taste, and then cover them with a layer of the prepared tofu.
Sprinkle it with chopped mint and drizzle with half of the olive oil (2).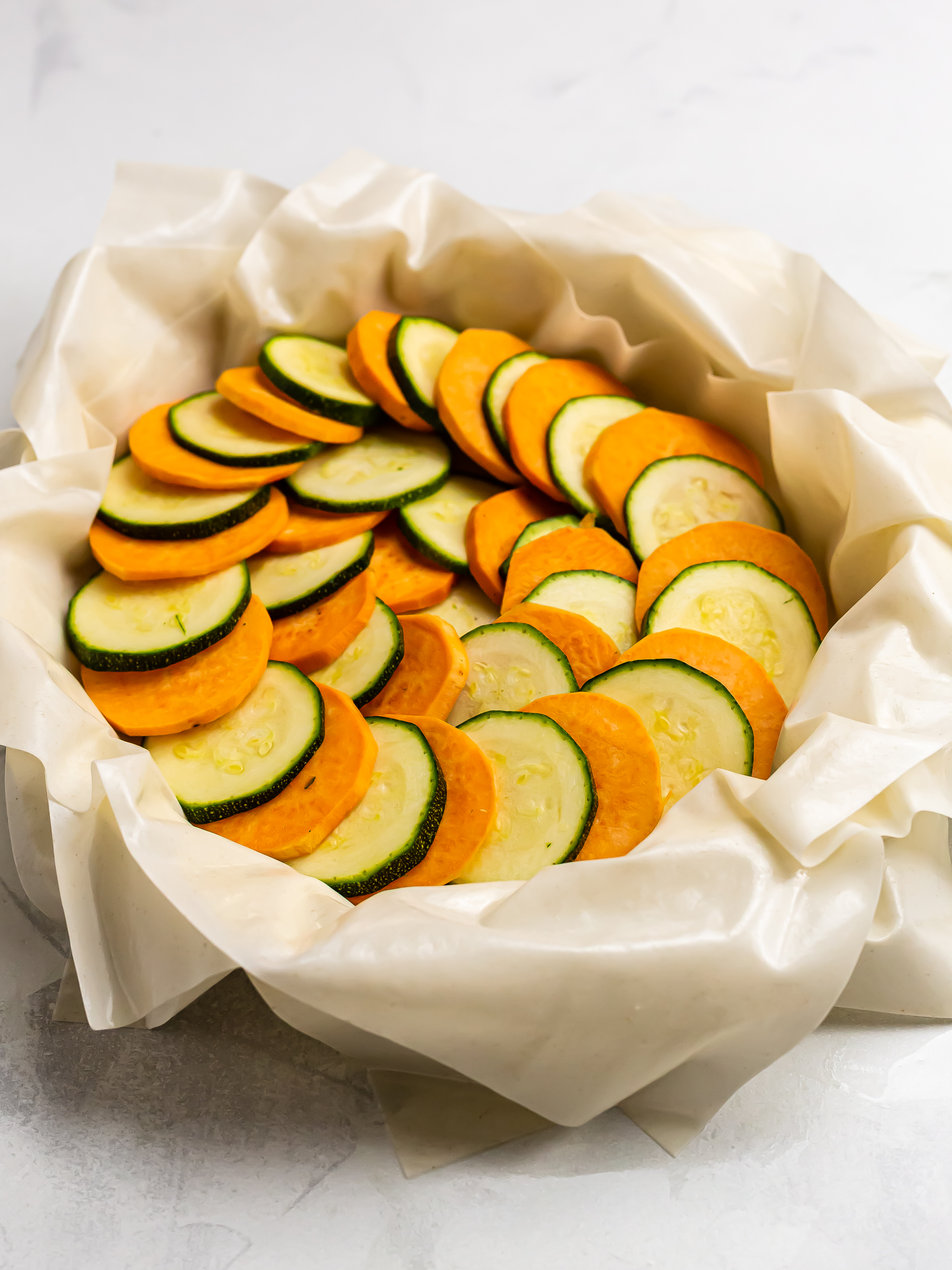 1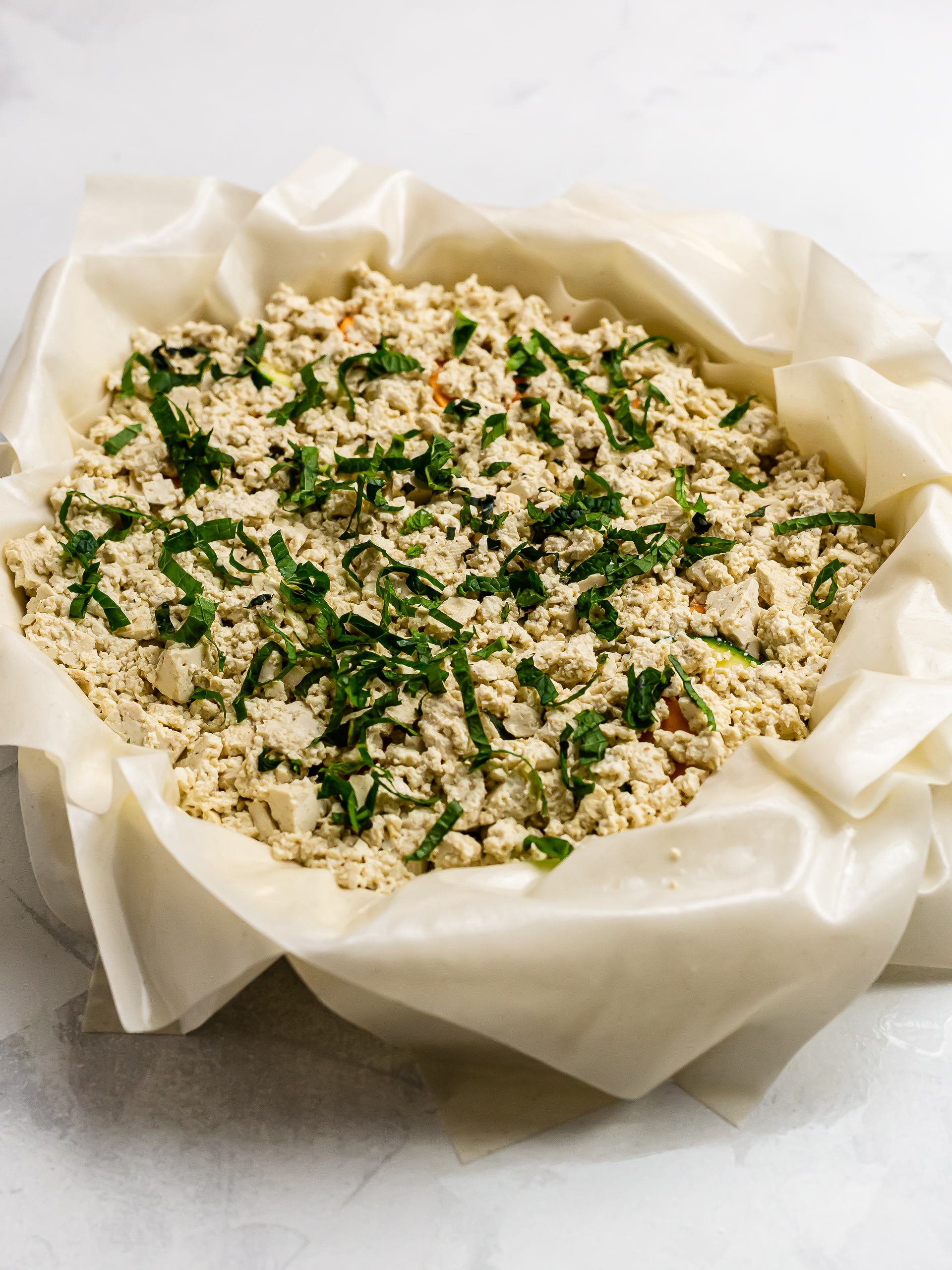 2
Step 5
Make a third layer with the remaining half of the vegetables, again alternating one slice of zucchini and one slice of sweet potatoes.
Season with salt and pepper to taste, and drizzle with the remaining olive oil.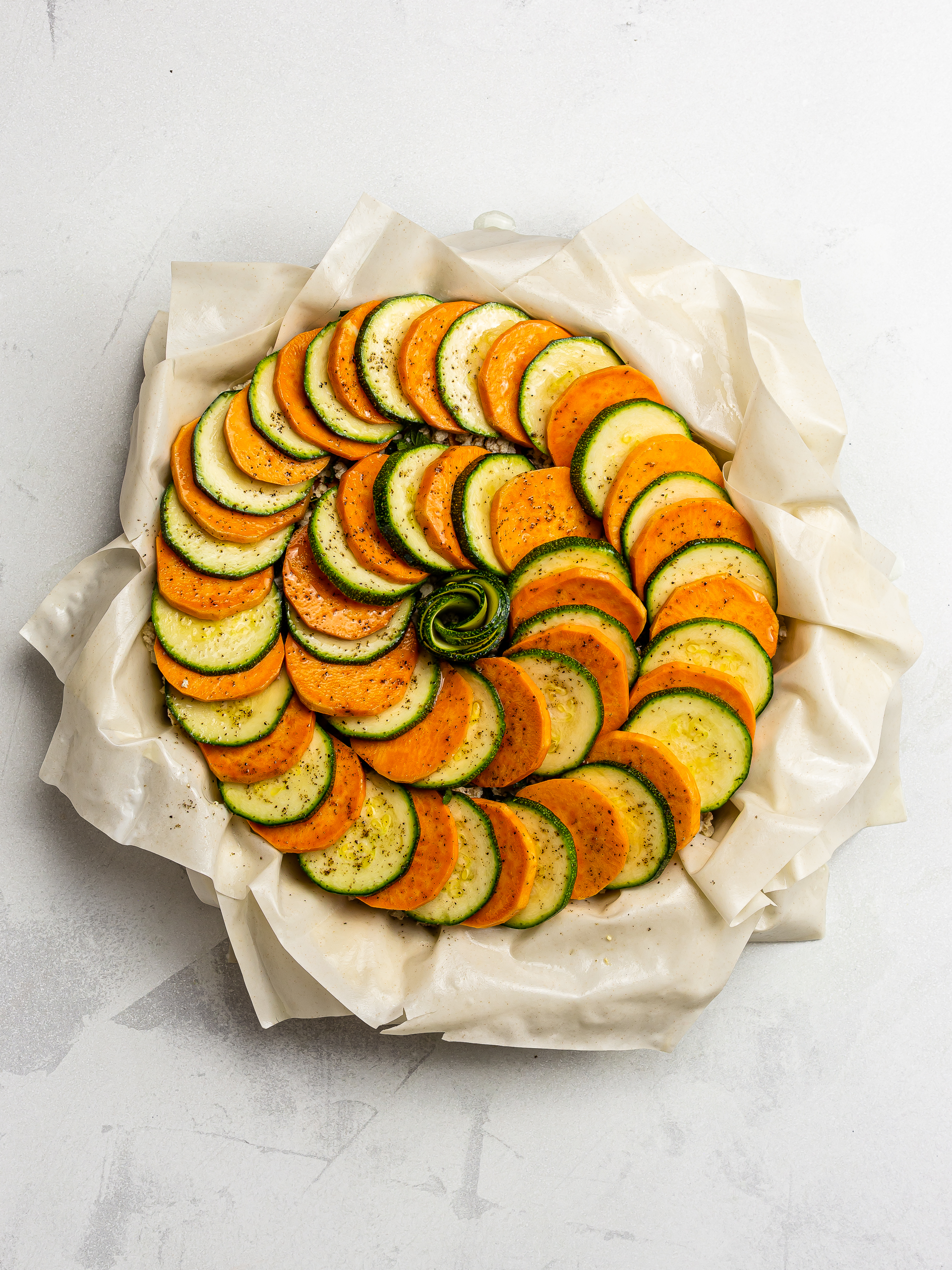 Step 6
Finally, loosely cover the pie with foil and bake it at 180°C (355°F) for 1 hour and 20 minutes.
Then, remove the foil, and cook the pie for 10 more minutes until the filo pastry is golden brown.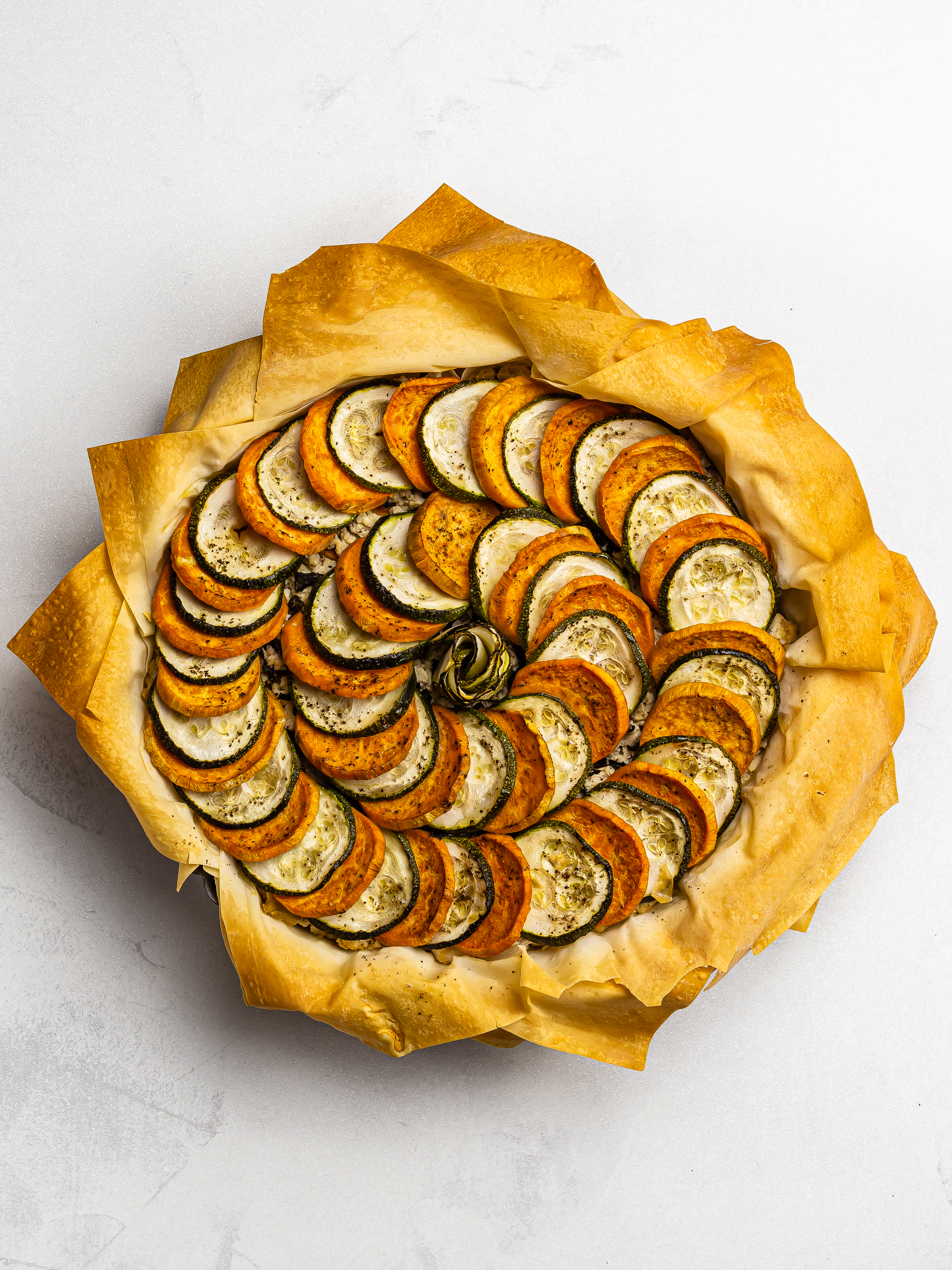 Tips
You can swap sweet potatoes with the classic white potatoes or use butternut squash instead.