After the success of our vegan mango pancakes, we have another delicious Hong Kong-style crepe recipe for you: blue pancakes with durian cream filling. They're so pretty, pillowy, and full of flavour — and fully vegan too!
Stuffed pancakes are a beloved dessert across Southeast Asia. They're shaped like pillows or rolls and consist of an egg crepe wrapped around a sweet, creamy, and fruity filling.
The crepe wrapping can come in a variety of colours, like yellow, pink, green or blue, while the filling is usually a mix of whipped cream and mashed or diced fruit.
Mango is the signature filling in the famous Hong Kong-style pancakes, while creamy durian stuffing is one of the most popular in the Indonesian version.
In this recipe, we'll show you not just how to prepare durian pancakes from scratch, but also how to make them egg-free, dairy-free, and low-sugar — perfect for everyone to enjoy!
As for the crepe, we used silken tofu instead of eggs and coconut milk instead of dairy milk and butter. Then, we tipped in a little starch to help bind the pancake batter, plus butterfly pea flowers powder to make it look blue.
Butterfly pea flowers are widely used in Thai and Malay desserts to give a wonderful blue hue to cakes, blue sticky rice, and sweets.
You can find powdered butterfly pea flowers at your local Asian food store or online — often under the name of "blue matcha", as they taste earthy and grassy like matcha but not as bitter.
The blue pea powder is optional, so feel free to skip it. Alternatively, you can use pandan leaf extract or matcha powder to make the crepes green, taro or ube extract for purple, or turmeric for yellow (as we did in our mango pancake recipe).
As for the durian stuffing, we recommend you buy the ripest fruit segments. Ripe durian will be much creamier, easy to blend and perfect for making a silky crepe filling.
Ripe durians will also be tastier, so you'll savour more the intensely aromatic flavour of this unique tropical fruit.
What do durians taste like? For us, durians taste like ripe bananas and almonds mixed with cream cheese and chives. They are a bit of an acquired taste — I admit — but they grew on us!
In fact, we like durians so much that we used them in two other delicious recipes: durian oat cookies and durian tofu cheesecake. So give them a go if you have any leftovers from this durian pancake recipe!
Ingredients
| | |
| --- | --- |
| Silken Tofu | 90 g |
| Coconut Milk (canned) | 320 mL |
| Butterfly Pea Powder (optional for blue colour) | 11/2 tsp |
| All-Purpose Flour | 70 g |
| Starch (corn or tapioca) | 25 g |
| Sugar-Free Erythritol Sweetener (or regular sugar) | 90 g |
| Durian Flesh | 130 g |
| Vegan Cream Cheese | 180 g |
Step 1
Let's start by making the vegan pancake batter.
Rinse and drain the silken tofu block to remove the brine water and add it to a blender.
Then, tip in the coconut milk and butterfly pea powder, and blitz all until smooth.
Butterfly pea powder will make the crepe batter blue, but it's optional.
If you're not using it, we recommend swapping it with half the amount of turmeric powder to make the vegan crepe look yellow, as we did in this mango pancake recipe.
Next, sift the flour and starch in a bowl, add 30 g of sugar (or sugar-free erythritol sweetener for a healthier option), and mix well (2).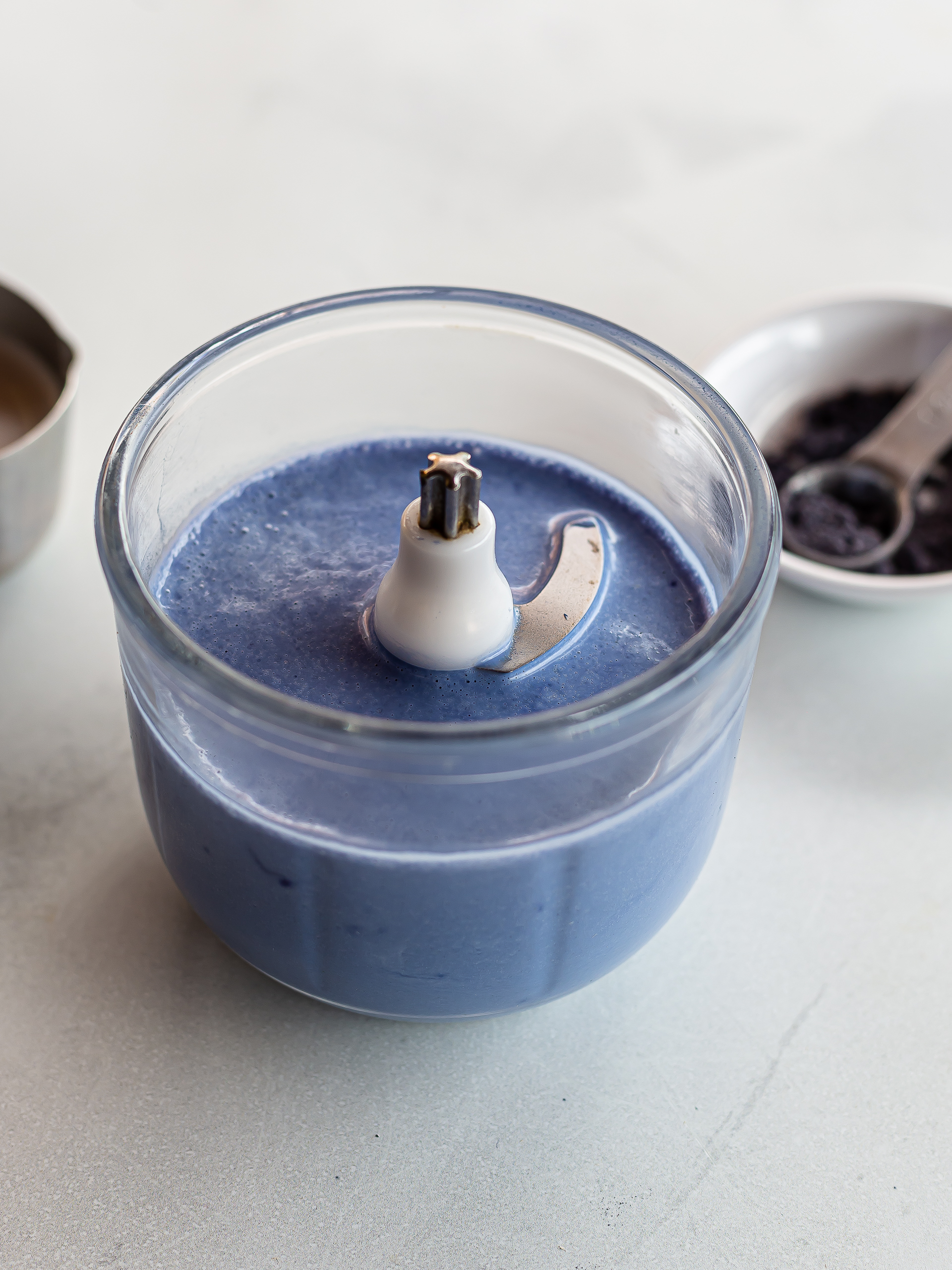 1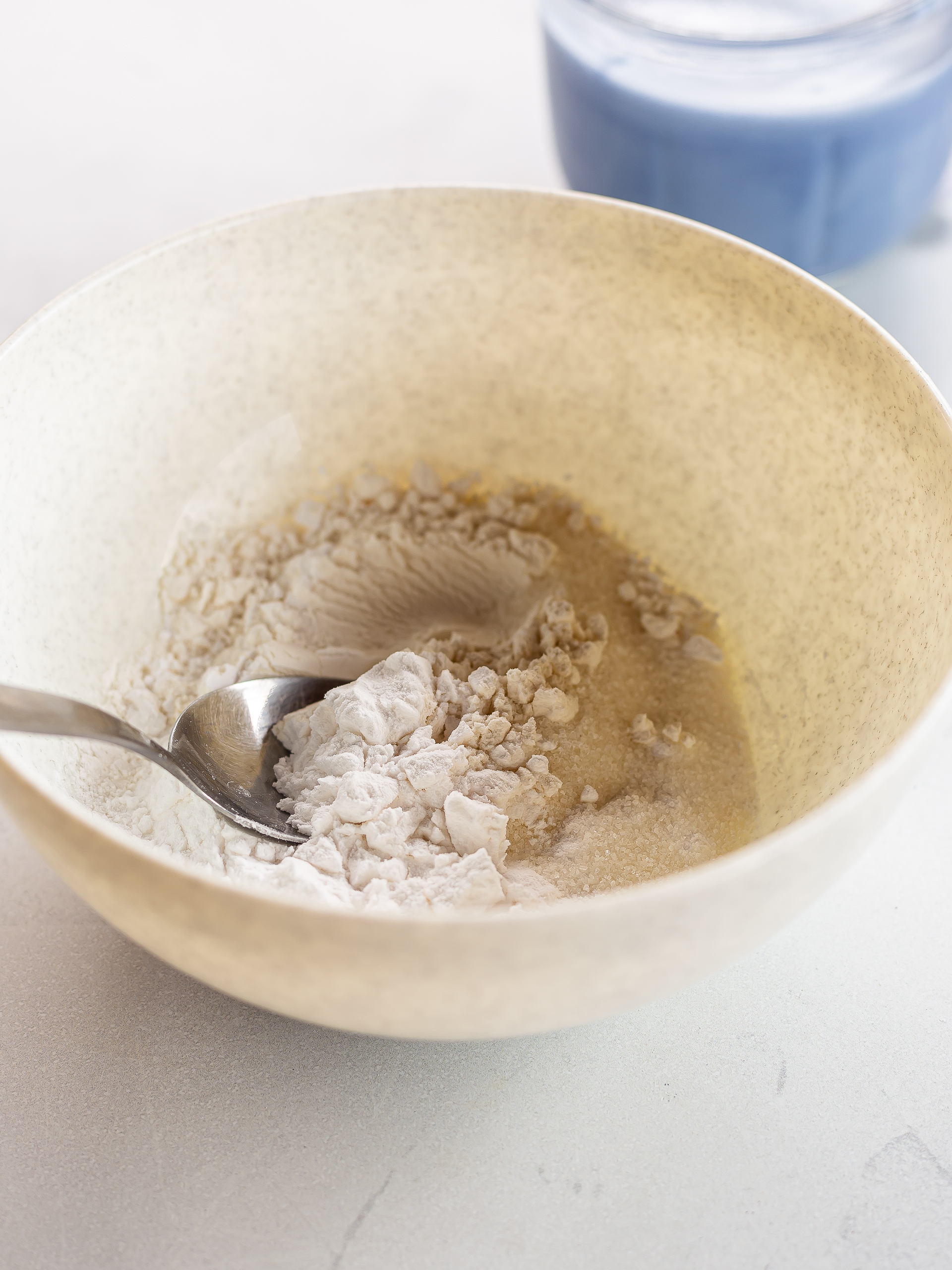 2
Step 2
Now, pour a quarter of the tofu mix into the flour and whisk well until smooth before adding the remaining.
This way, the crepe batter will be smooth and uniform without lumps.
Then, let the pancake batter rest at room temperature for 15 minutes.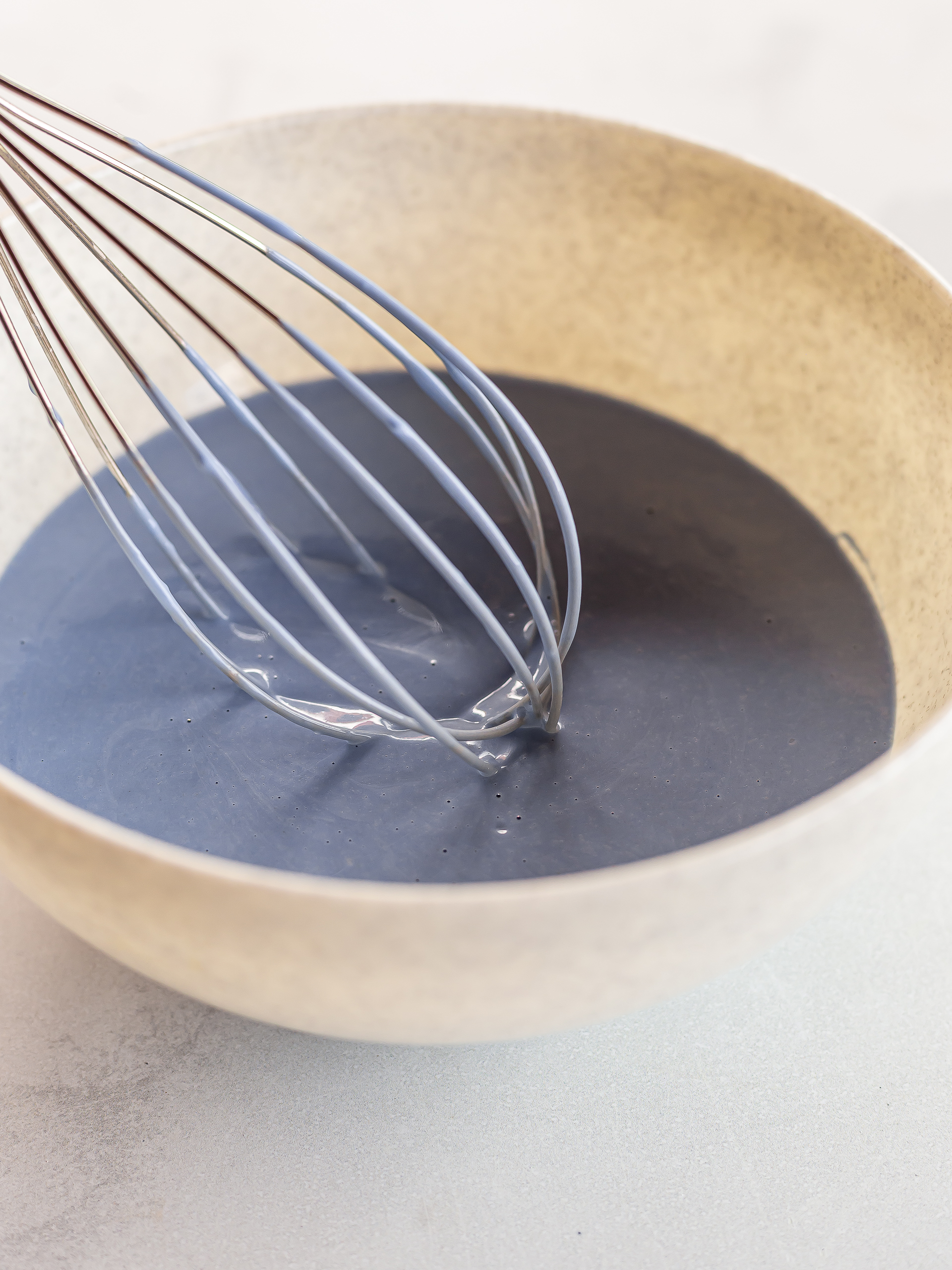 Step 3
Meanwhile, let's prepare the durian cream filling.
As for the durians, try to buy the softest fruit you can find as it will be sweeter, creamier, and more flavourful.
Remove the large brown seeds from the durian segments and add the flesh to a food processor.
Tip in the vegan cream cheese and the remaining 60 g of sugar (or sugar-free erythritol), and blend until smooth and creamy.
For alternatives to vegan cream cheese, check out the tips at the bottom of the recipe.
Keep the durian filling in the fridge while you cook the crepes in the next step.
The durian cream will set and harden slightly, making it easier to stuff and fold the pancakes.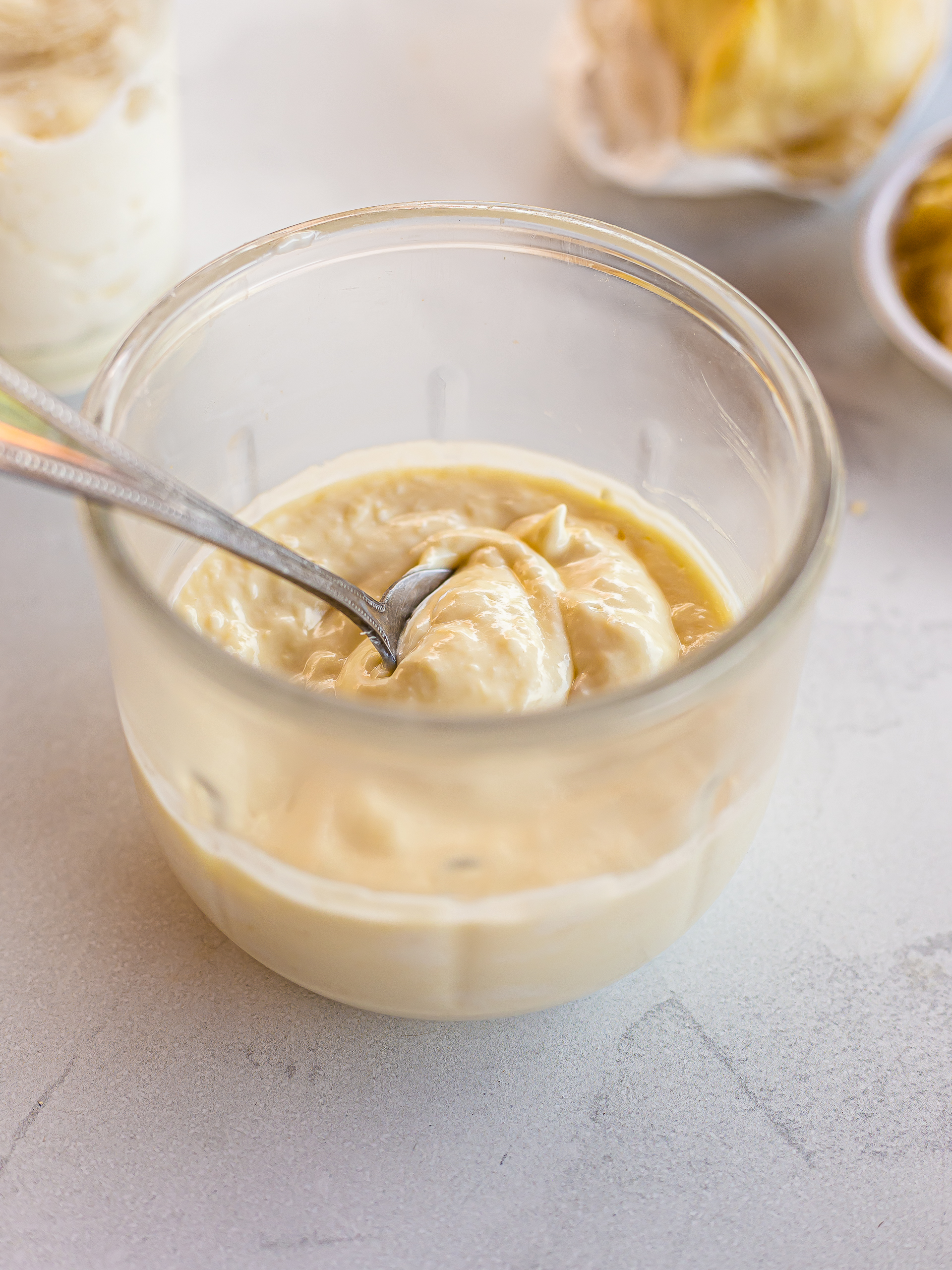 Step 4
To cook the pancakes, heat a dash of vegetable oil in a shallow non-stick skillet or, even better, a crepe pan.
Set the heat to low, and pour about 80ml (80g, 2.7 fl oz, or 1/3 cup) of the blue batter to make one crepe.
Swirl the pan around to spread the batter evenly into a round pancake, slightly thicker than a regular crepe.
Cook the pancake until it detaches from the bottom of the pan and the bottom side is a little browned — about 3 minutes.
Then, carefully flip the crepe and cook it on the other side for no more than 5-6 seconds.
You want this side of the pancake to stay soft and blue (as it will be the side facing out in the pancake pillow).
If you overcook it, it will get too browned and crispy — the crepe won't look as nice, and it may crack when folded.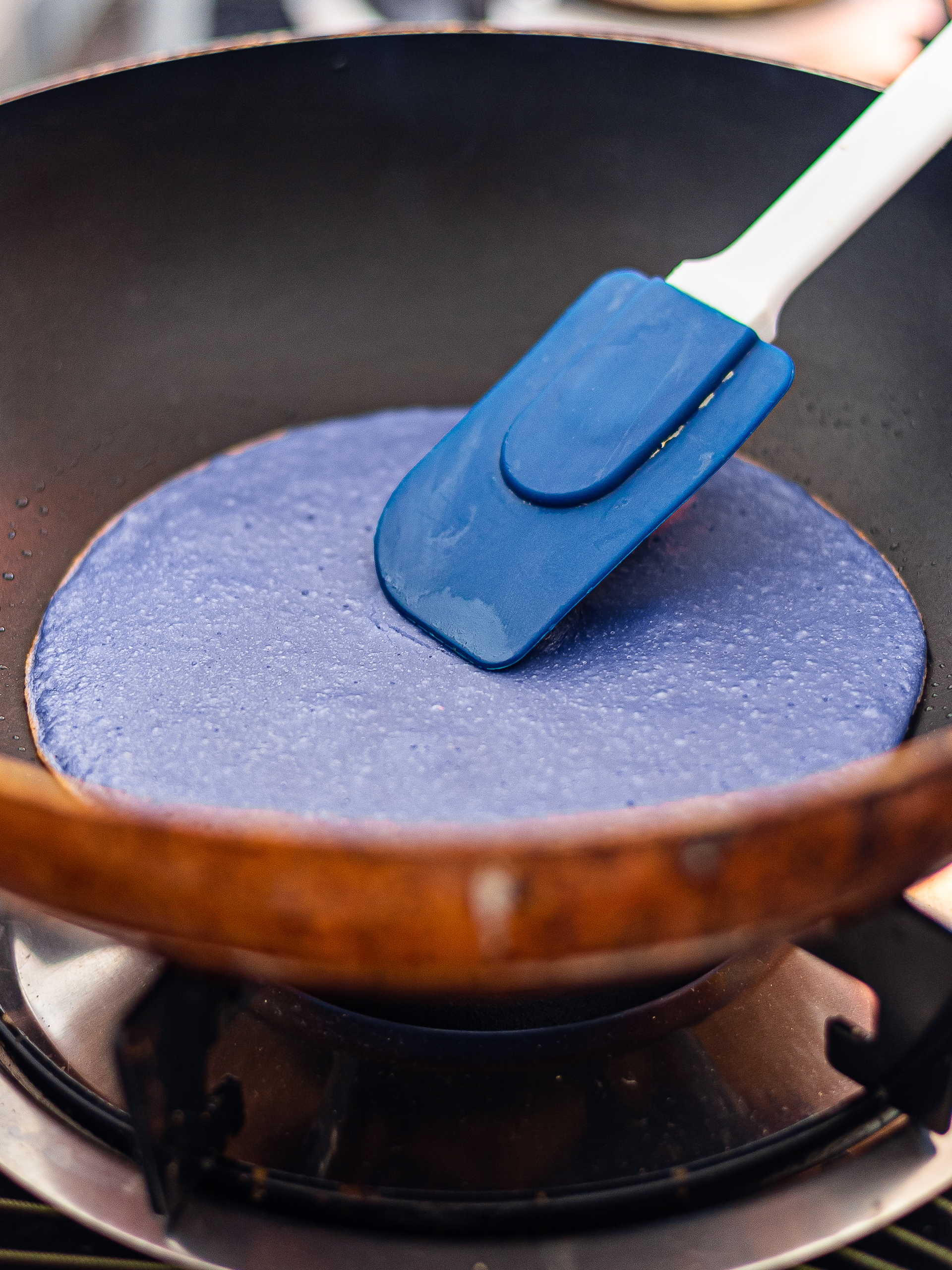 Step 5
Slide the pancake onto a plate so the darker side faces up and the lighter, blue side (the one you cooked last) faces down.
To stuff the pancake with durian, place two spoonfuls of durian cream filling into the centre of the crepe.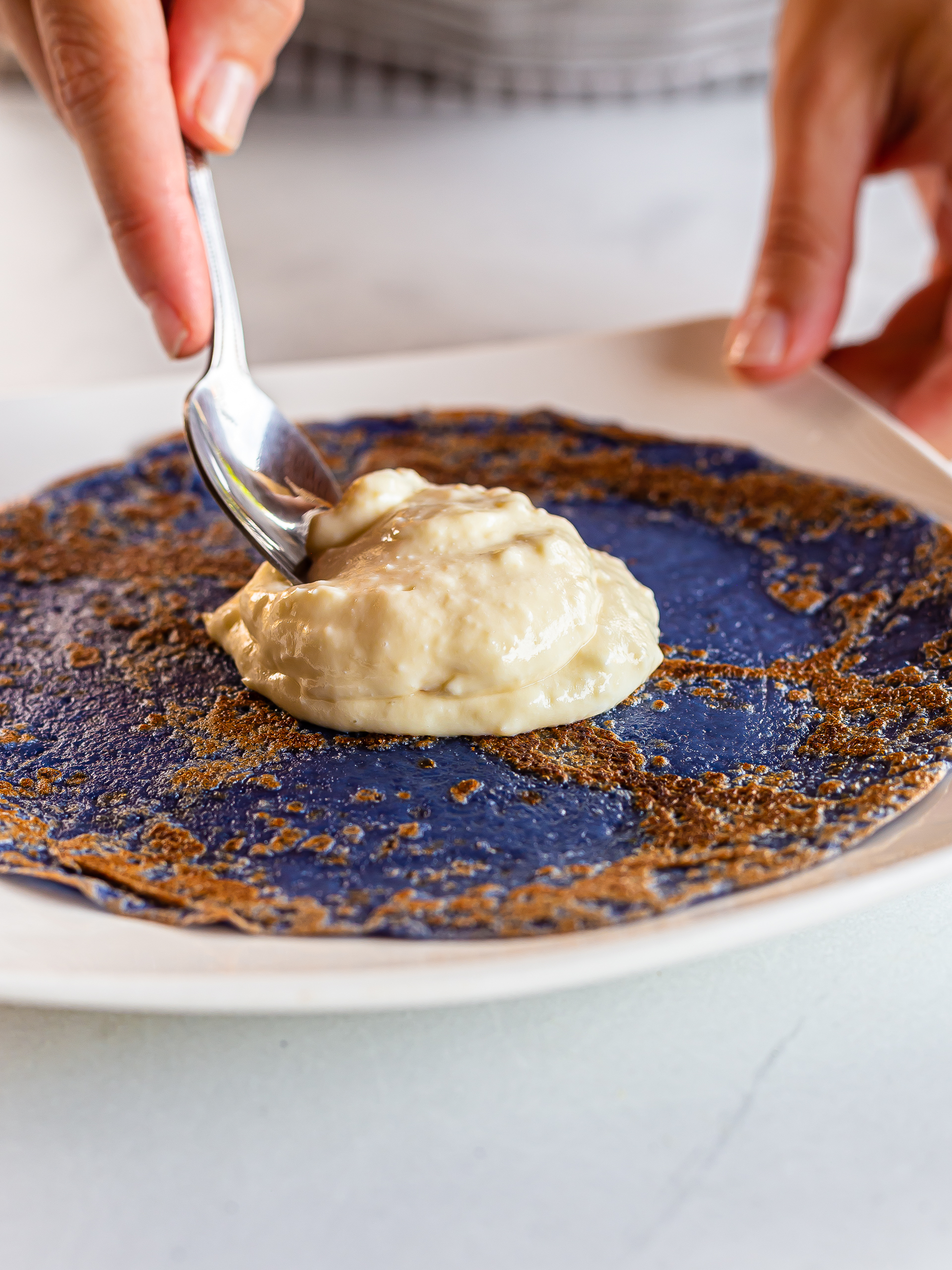 Step 6
Finally, to make the Hong Kong-style, pillow-shaped pancake, carefully lift two opposite sides of the blue crepe and fold them over the durian mash filling so they'll overlap.
Then, repeat for the other sides, folding the crepe like a square envelope.
Lightly press on the folded pancake to hold its shape, then flip it onto a serving plate.
Repeat steps 4-6 until you have used all the blue crepe batter and durian mash, keeping the stuffed crepes in the fridge to firm up.
Your vegan, Hong Kong-style durian blue pancakes are ready!
You can bite right into these soft pillows or serve them sliced in half to reveal the delicious sweet durian filling.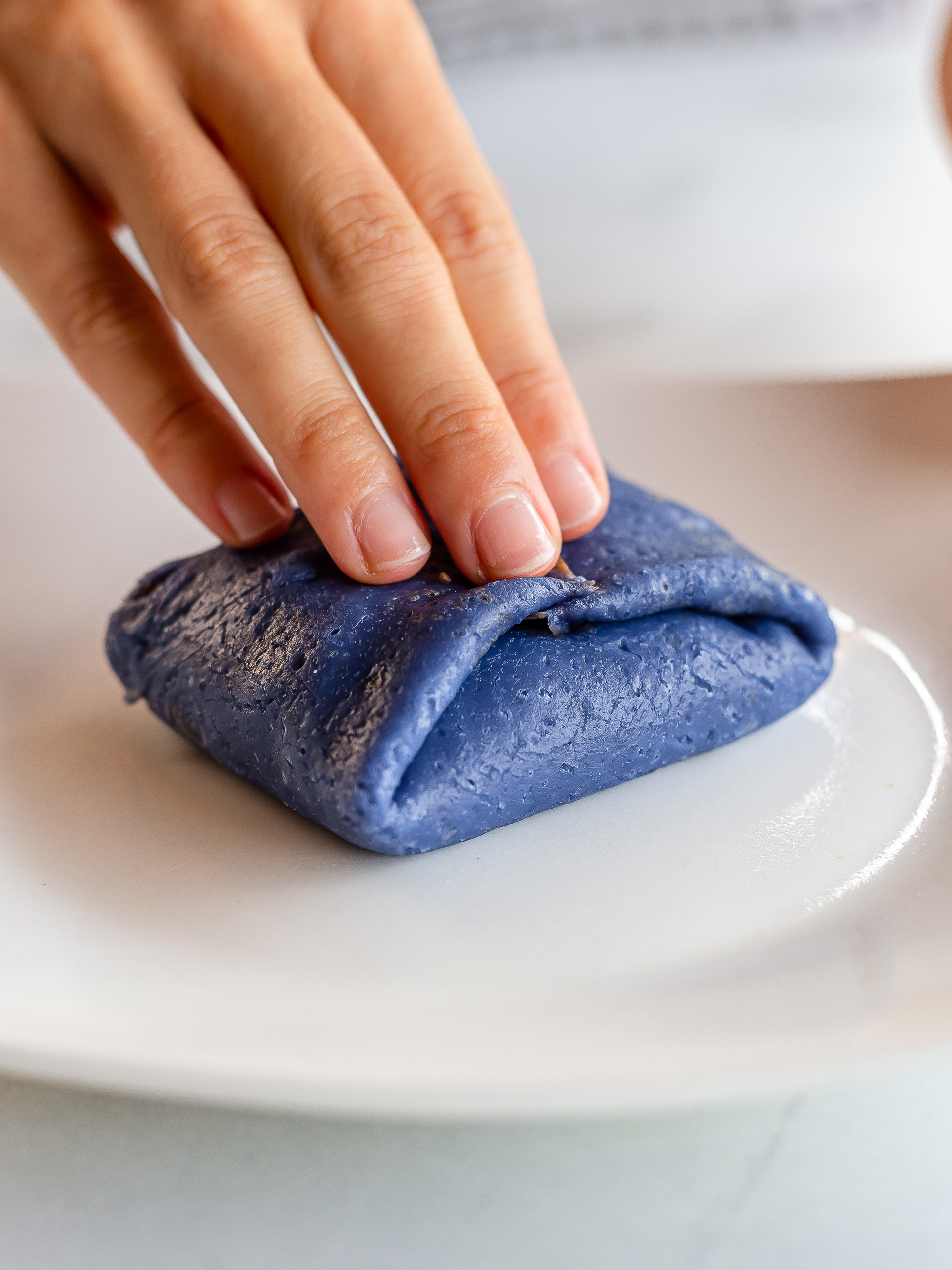 Tips
For the durian cream filling, you can swap vegan cream cheese with thick, Greek-style soy yogurt or coconut yogurt.

Alternatively, you could use coconut cream made with whipped canned coconut milk. Making coconut cream can be a little tricky as you need to separate the coconut fat from the water first — and that doesn't always happen as some brands use emulsifiers.

But if you've made whipped coconut cream before and feel confident about it, you can use it to stuff the pancakes (you can omit the sugar in this case).

The durian crepes are best enjoyed on the same day, but you can store them wrapped in cling film in the fridge for up to 2 days.