Fruity, creamy, and moist, Hong Kong-style mango pancakes are irresistible stuffed sweet crepes. Today, we want to show you how you can make them dairy-free and egg-free with our quick and easy plant-based recipe!
Mango pancakes are a popular dessert in cafes, bakeries, and dim sum restaurants in Hong Kong. Although called pancakes, they're more similar to a French crêpe than an American pancake.
Mango pancakes consist of fresh mango chunks topped with sweetened whipped cream and wrapped with a thin, yellow egg crepe. The crepe is then folded into a cute little pillow shape — as pretty as delicious!
If you have food allergies or are following a vegan diet, you'll be happy to know you can now enjoy this wonderful Hong Kong-style mango dessert.
We revisited the classic recipe and replaced eggs and dairy with a few simple vegan alternatives!
We made the vegan crepe using silken tofu instead of eggs and coconut milk instead of dairy milk and butter. Then, we tipped in a little starch to help bind the pancake batter, plus turmeric to make it look yellow. Super easy!
As for the filling, we replaced the classic whipped cream with vegan cream cheese. It's a coconut-based vegan cheese that is super easy to find at most supermarkets nowadays.
But, if you can't find it, we'll give two more options below.
And if you want to make these crepe-style pancakes healthier too, swap sugar with zero-calorie erythritol sweetener as we did. Same deliciousness but with fewer calories!
Follow our recipe instructions below for tips and tricks on how to cook and shape the vegan crepes — and these delicious mango pillow pancakes will be in your belly in no time!
Once you're confident with the recipe, you can have fun making the crepes with other fillings like strawberries, kiwi, or bananas. We even made pancakes with durian cream filling!
And you can also give the pancakes a different colour, as it's often done across Asia. For example, you can make them green with pandan leaf extract or matcha powder, purple with taro or ube extract, or even blue with butterfly pea flowers!
Ingredients
| | |
| --- | --- |
| Silken Tofu | 90 g |
| Coconut Milk (canned) | 320 mL |
| Turmeric (for colour) | 1/2 tsp |
| Flour | 70 g |
| Starch (corn or tapioca) | 25 g |
| Sugar-Free Erythritol (or regular sugar) | 60 g |
| Vegan Cream Cheese | 180 g |
| Ripe Mango | 120 g |
Step 1
Let's start by making the vegan pancake batter.
Gather all the ingredients except for the mango and cream cheese (1).
Rinse and drain the silken tofu block to remove the brine water and add it to a blender.
Then, tip in the coconut milk, turmeric for colour, and a pinch of salt, and blitz all until smooth.
Sift the flour and starch in a bowl, then add half of the sugar (or sugar-free erythritol for a healthier option), and mix well (2).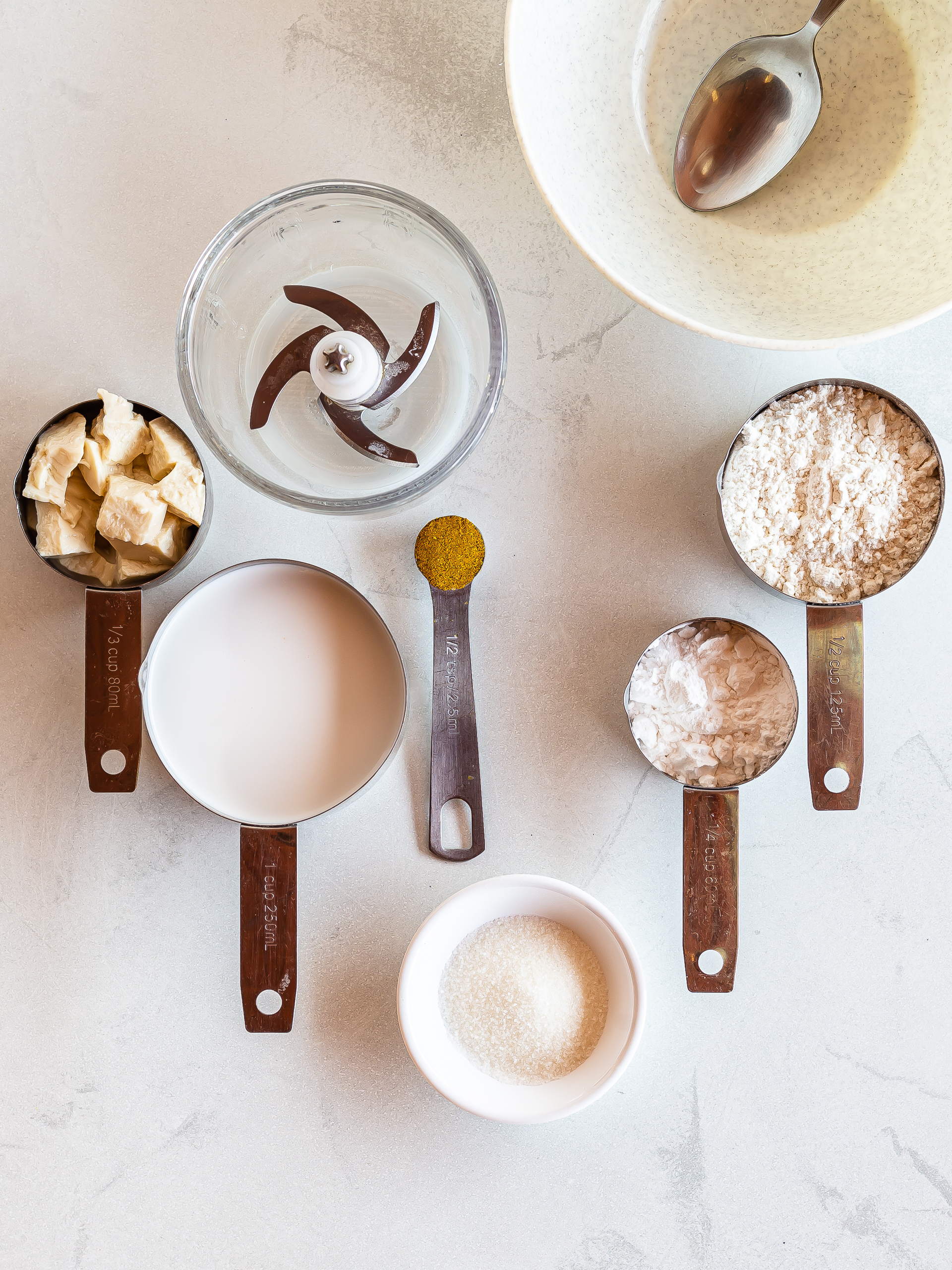 1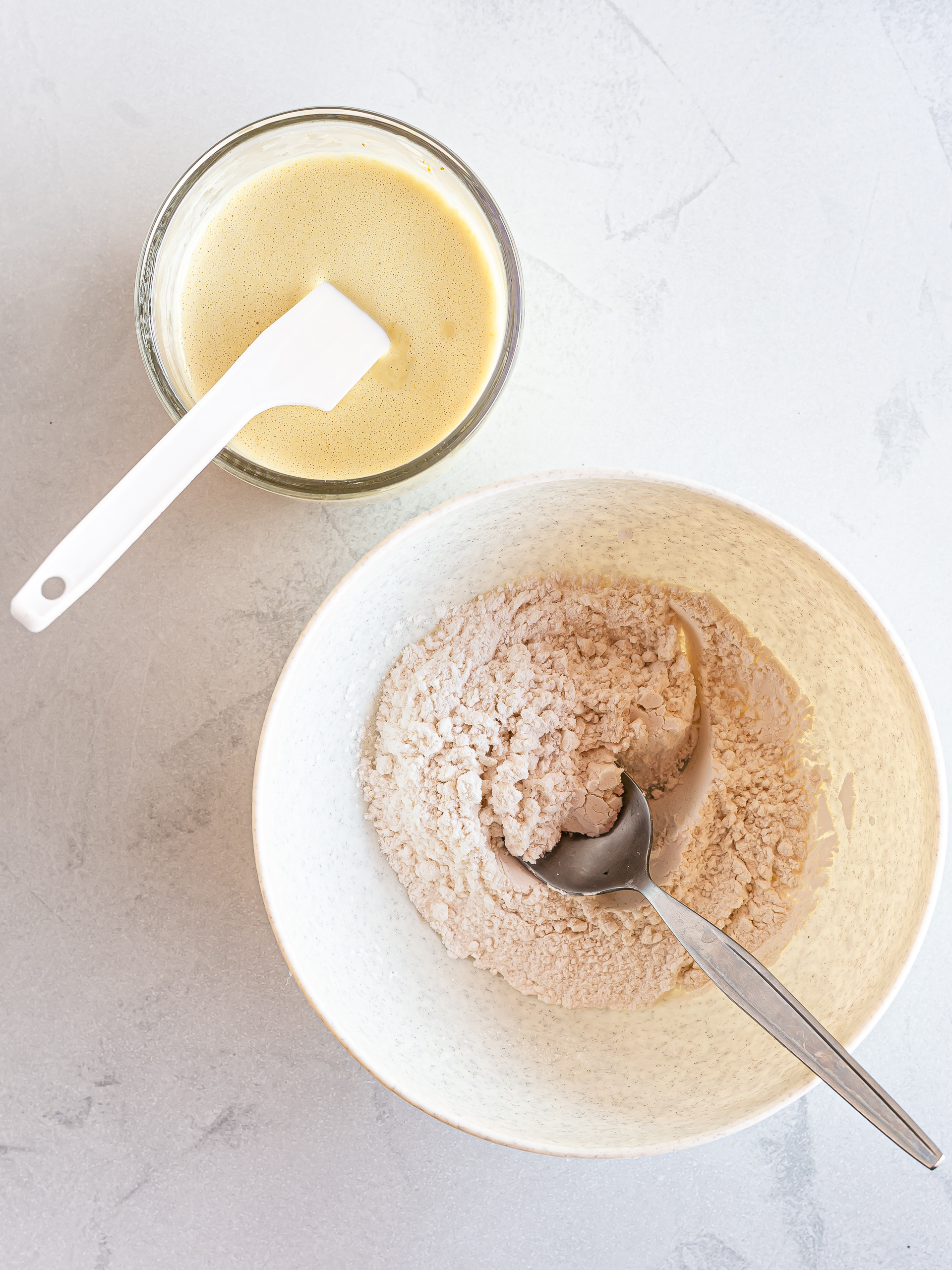 2
Step 2
Now, pour a quarter of the tofu mix into the flour and whisk well until smooth before adding the remaining.
This way, the crepe batter will be smooth and uniform without lumps.
Then, let the pancake batter rest at room temperature for 15 minutes.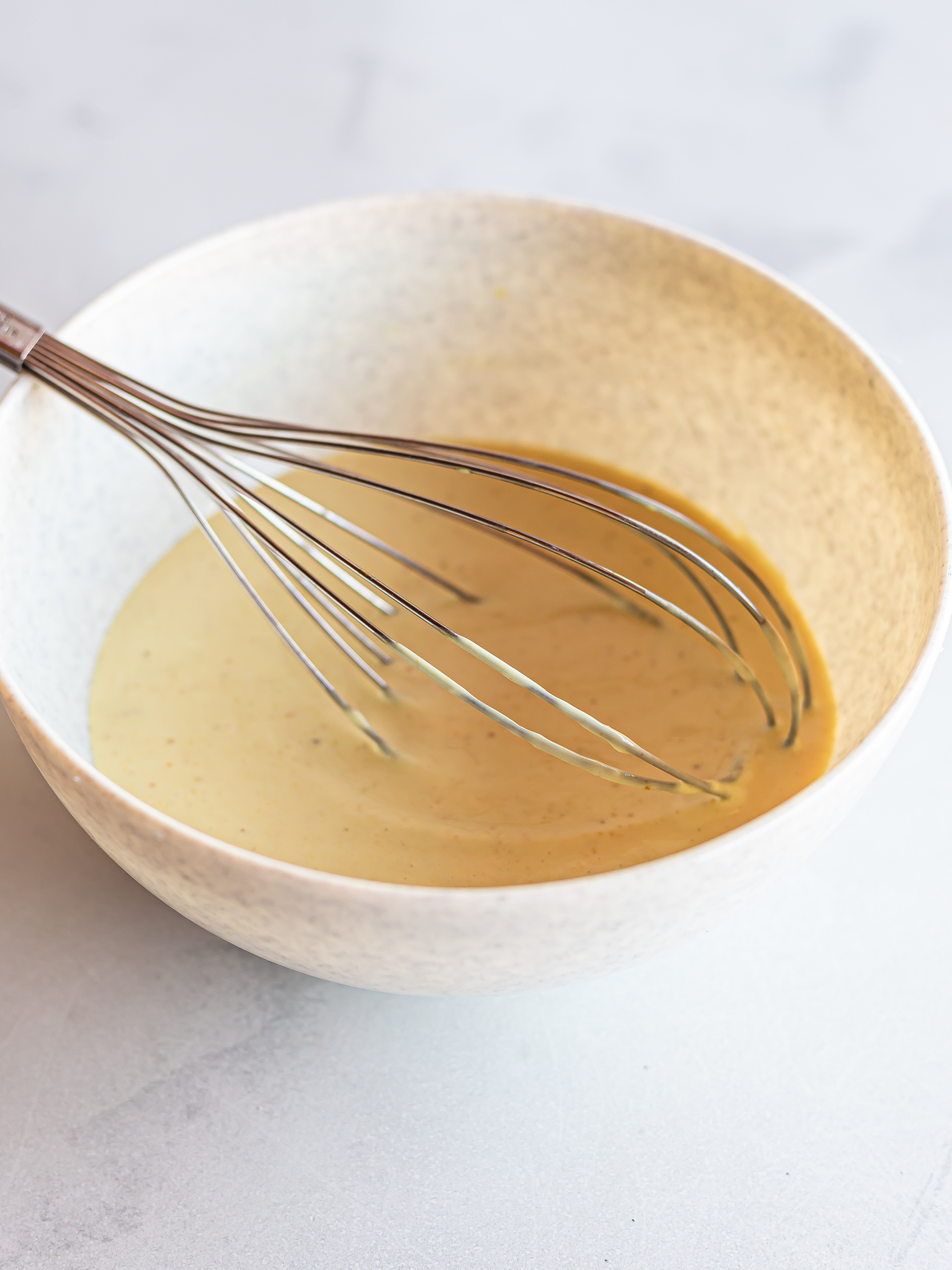 Step 3
Meanwhile, mix the vegan cream cheese with the remaining sugar (or sugar-free erythritol) in a cup.
Instead of vegan cream cheese, you can opt for thick, Greek-style vegan yogurt. Or, you could also use coconut cream made with whipped tinned coconut milk.
Making coconut cream can be a little tricky as the coconut fat needed for whipping doesn't always separate from the water component in the tin.
But if you've done it before and feel confident about it, you can use whipped coconut milk to stuff the pancakes (you can omit the sugar in this case).
Next, peel and deseed the mango, and cut it into thick squares.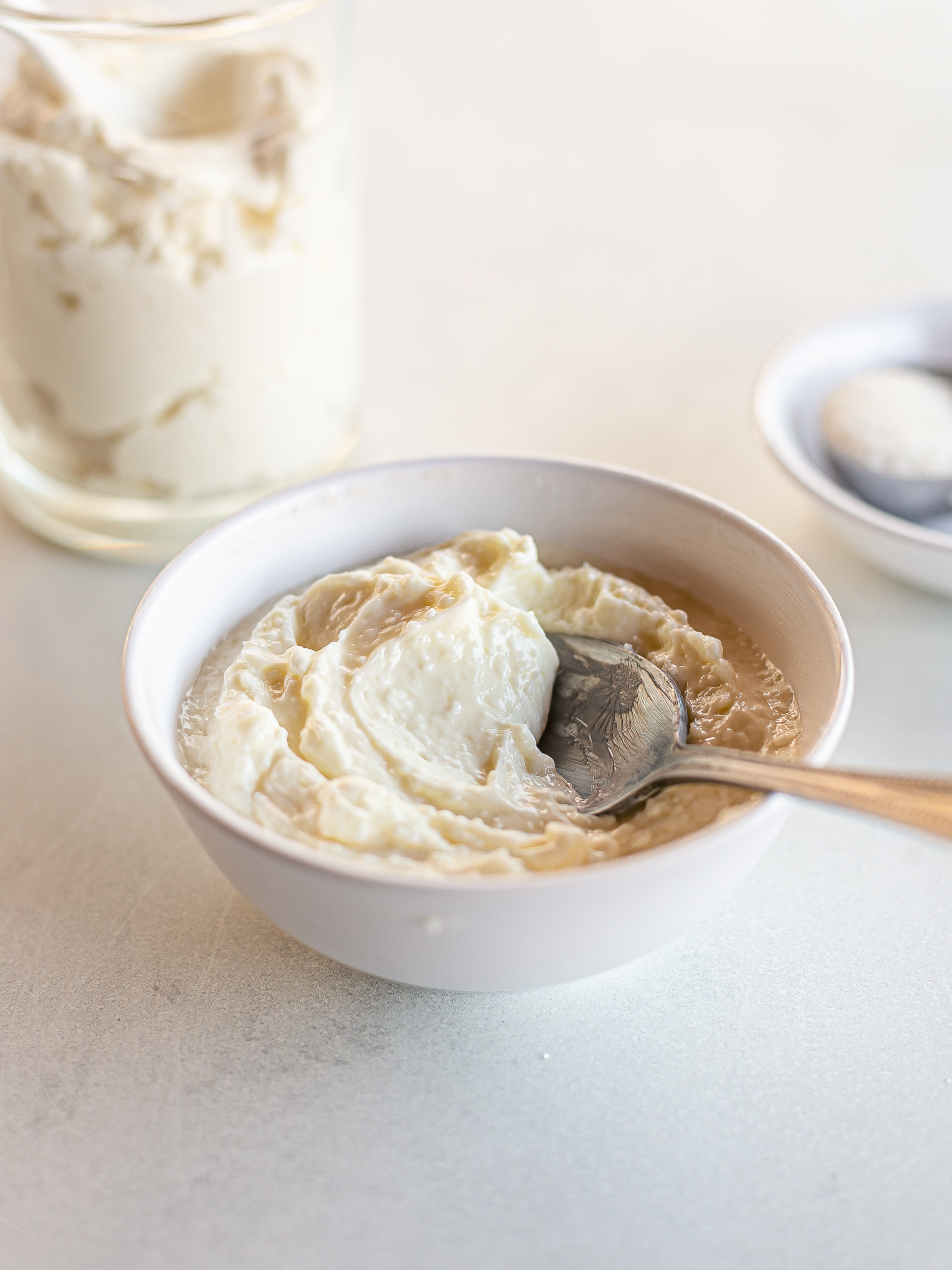 Step 4
To cook the pancakes, heat a dash of vegetable oil in a shallow non-stick skillet or, even better, a crepe pan.
Set the heat to low, and pour about 80ml (1/3 cup or 2.7 fl oz) of batter.
Swirl the pan around to spread the batter evenly into a round pancake, slightly thicker than a regular crepe.
Cook the pancake until it detaches from the bottom of the pan and the bottom of the crepe is golden — about 3 minutes.
Then, carefully flip the crepe and cook it on the other side for no more than 5-6 seconds.
You want this side of the pancake to stay soft and golden yellow (as it will be the side facing out in the pancake pillow). If you overcook it, it will get too browned and crispy.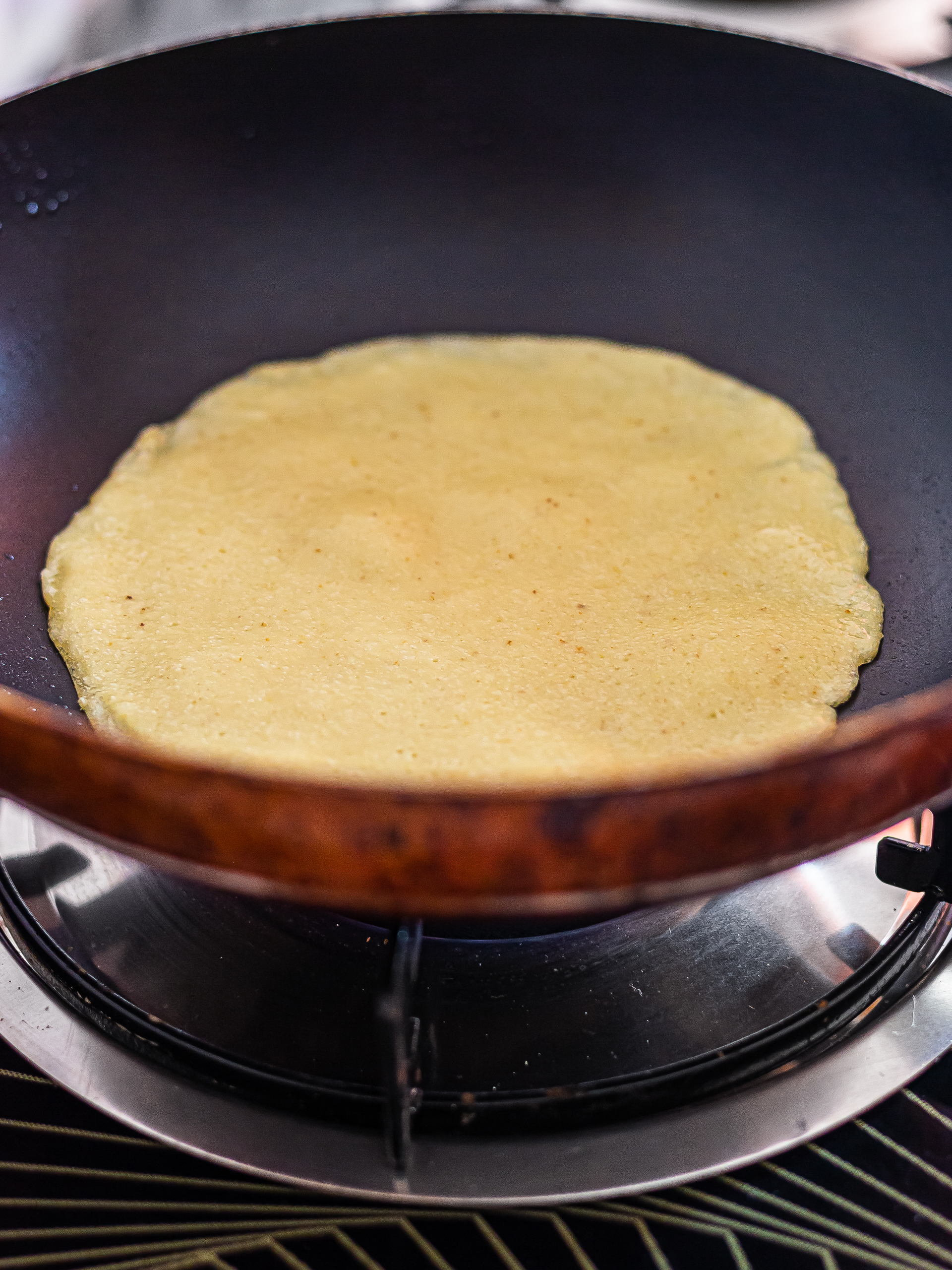 Step 5
Transfer the pancake onto a plate so the darker side faces up and the lighter, golden side (the one you cooked last) is facing down.
To stuff the pancake, place a chunk of mango into the centre of the crepe.
Then, spread 2-3 teaspoons of sweet cream cheese over and on the sides of the mango.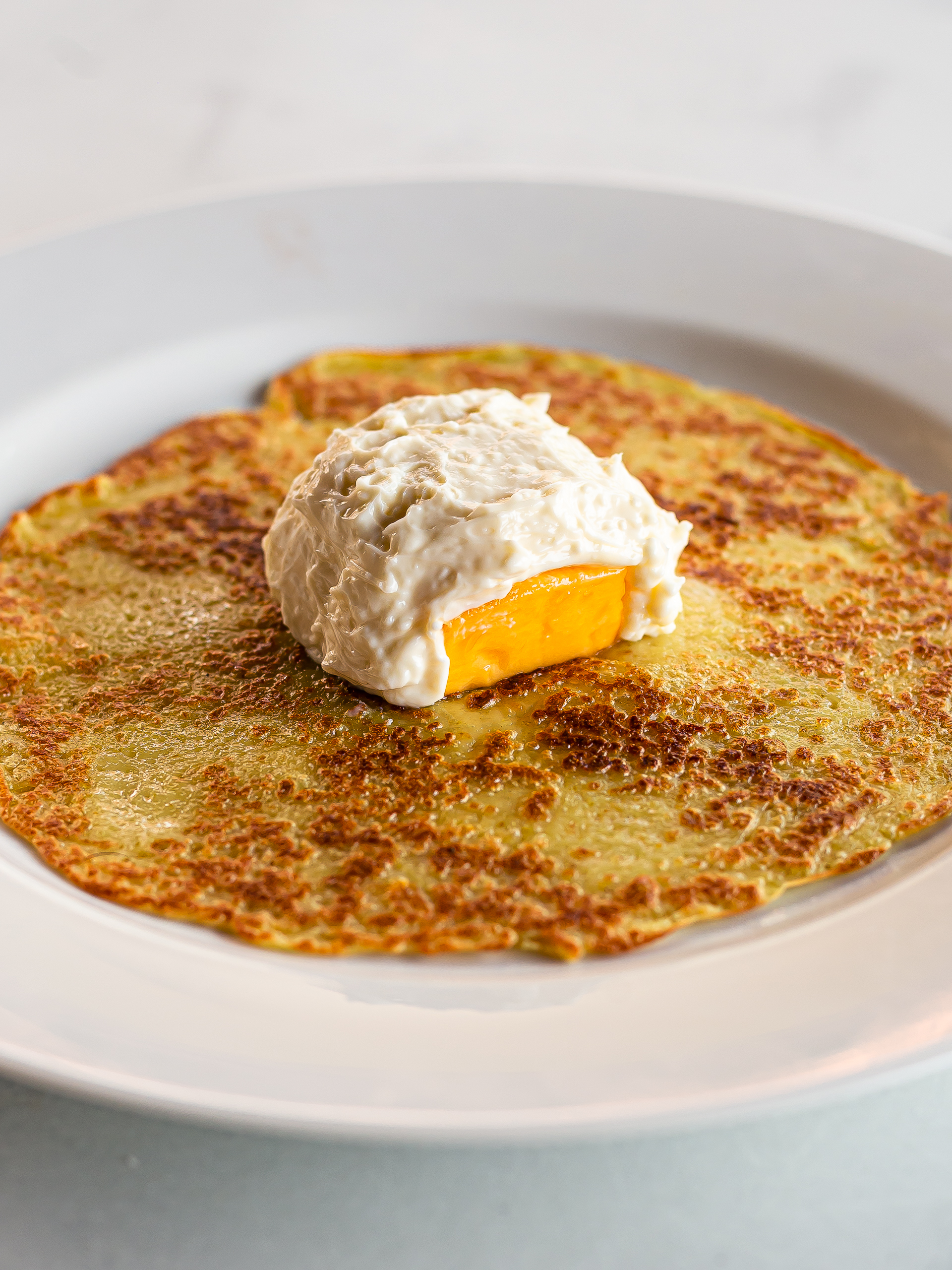 Step 6
Finally, to make the pillow-shaped pancake, lift two opposite sides of the crepe and fold them over the mango cream filling so they'll overlap.
Then, repeat for the other sides, folding the crepe like a square envelope (1).
Flip the stuffed crepe onto a serving plate, and your vegan Hong Kong-style mango pancake is ready!
You can bite right into it or slice it in half to reveal the delicious mango cream filling (2).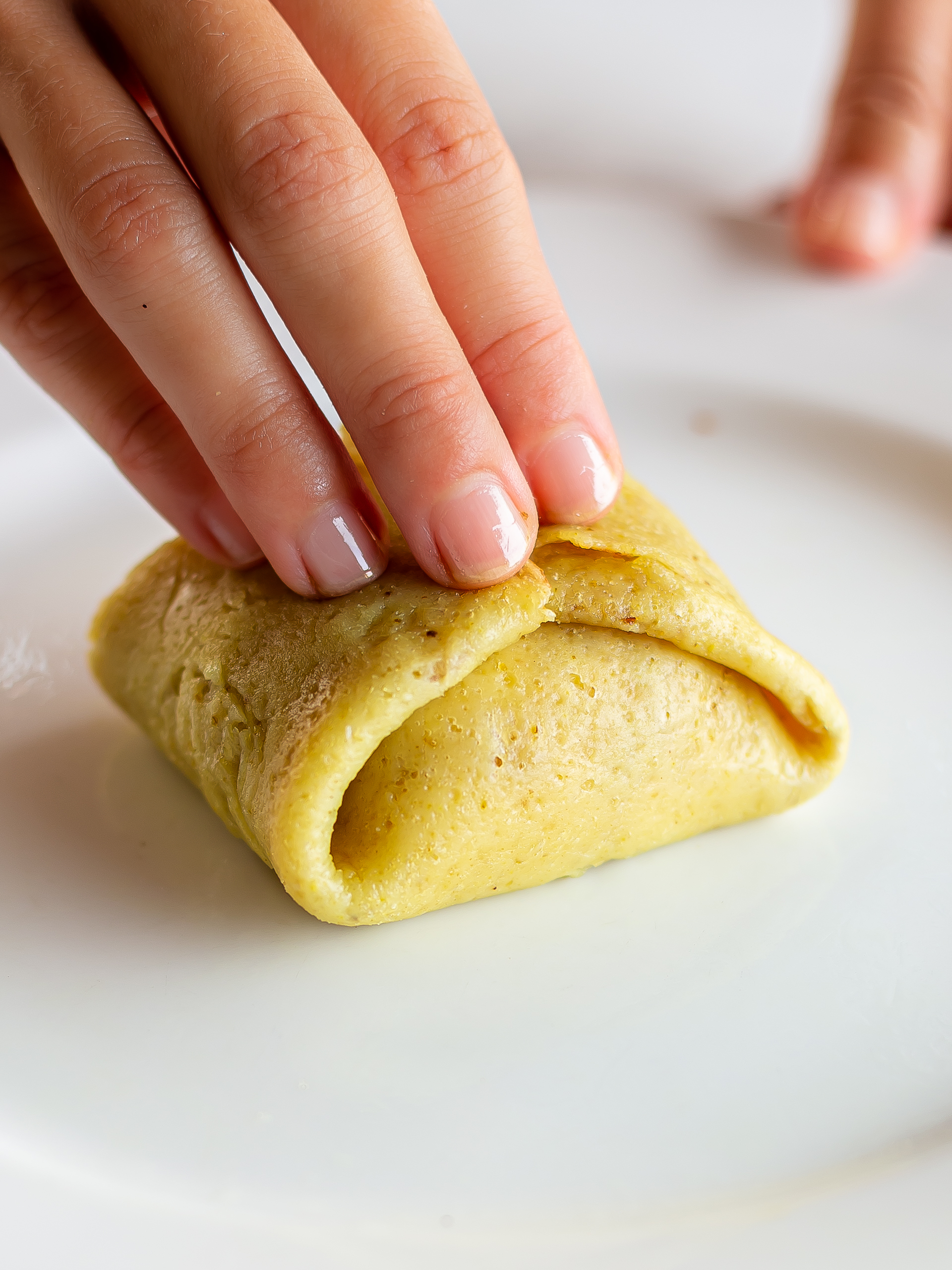 1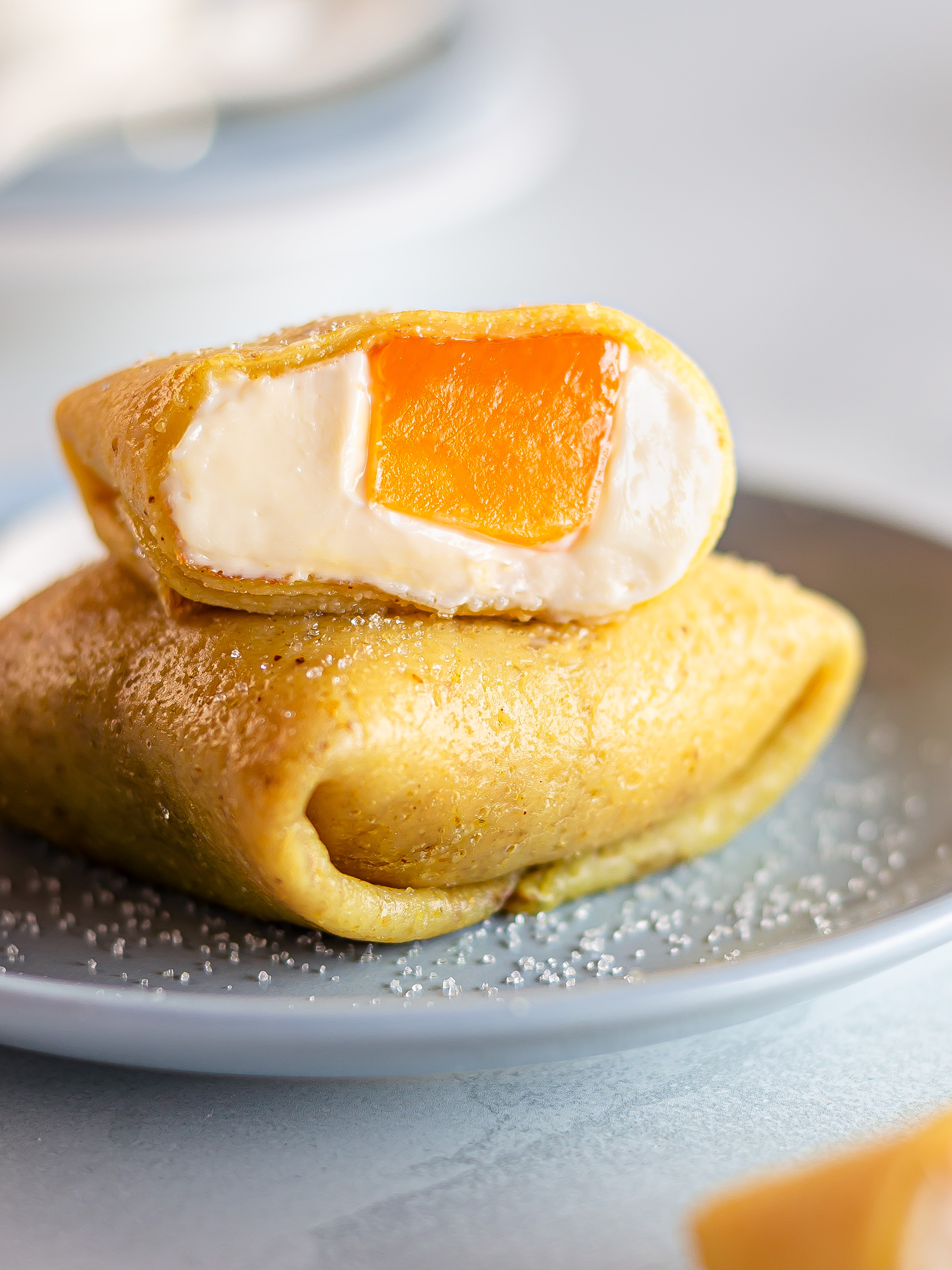 2
Tips
The mango crepes are best enjoyed on the same day, but you can store them wrapped in cling film in the fridge for up to 2 days.