It's comforting, healthy, and vegan. It's black bean stew (feijoada), Brazilan-style! But instead of using beef or pork, we will make it using only plant-based ingredients.
Feijoada is a staple stew in many countries, from Portugal to South America, and even some old Portuguese colonies in Asia, like Macau and Timur. Although the recipe differs by country, the common ingredient is beans (feijãos). Brazilian feijoada uses black beans, and that's what we are using here. You can use white cannellini beans if you prefer, like in the original Portuguese recipe.
In our recipe, we kept all the classic ingredients, like rice, veggies, and oranges. But to make it vegan, we replaced meat with a few more yummy veggies. We opted for carrots and kale, which go so well together. Feel free to experiment with your favourites! We give out some more vegan options in the FAQ section below.
Pairing oranges and beans is quite unusual, right? That's what makes this recipe so brilliant! We love incorporating recipes from across the globe on Foodaciously. You never know what amazing new flavours you'll discover until you try them.
And as usual, we try our best to help you cook food that is truly healthy and accessible. That's why we try to remove as many allergens as possible from our recipes. On top of being vegan, this black bean soup is also gluten-free, wholesome, and makes for a full, balanced meal.
A nice bowl will give you 465 calories, with 84% of your RDI for fibres, 39% of your RDI for proteins, and only 12% of your RDI for fats. Your body will thank you, and your belly will be happy. And if you are short on time, be merry as this recipe is easy and takes only 30 minutes to complete. Enjoy!
Frequently Asked Questions
Can I make feijoada with canned beans?

Black beans are the main ingredient in the classic Brazilian feijoada, and the recipe often includes raw dried beans. That is because they are supposed to cook slowly over low heat and until the liquid has reduced to a thick stew.

Although this process yields a denser soup, it can be quite time consuming, as you'll have to pre-soak the beans and then simmer them for at least 40 minutes.

In our recipe, instead, we have used already cooked, canned black beans to give you a quicker alternative to the classic feijoada.

Don't throw away the brine liquid from the tinned beans, but pour it in the soup along with the other ingredients. It will help thicken the soup as it's rich in starches and it adds extra flavour too.

If you prefer using dried black beans, instead, remember to soak them at room temperature in a bowl with water for at least 4 hours. Then, follow our recipe making sure the beans are almost cooked before adding the carrots and kale.
Which vegetables can I use in this stew?

Greens and vegetables are often served as a side to the feijoada rather than being added to the stew itself.

However, in this vegan twist, we cooked the soup with yummy vegetables, including black kale and carrots. These two ingredients are frequently used in Brazilian cuisine and sometimes in the feijoada too.

Other tasty veggie alternatives for your feijoada Brasileira include:

Cabbage

Spinach

Pumpkin

Potatoes and sweet potatoes

Chayote

Bananas
How do you eat feijoada brasileira?

In Brazilian traditions, this black bean stew is often topped with farofa, a breadcrumb-like flour mixture, and then served with a side of rice, greens like kale or collard greens, and sometimes hot sauce. Orange slices then complete the meal for a refreshing and palate-cleansing finish.

In our vegan recipe, we opted for adding the vegetables right into the soup. Moreover, we drizzle it with freshly squeezed orange juice before serving it for a burst of flavour. Also, pairing citrus fruits like oranges with rice and beans helps to absorb better the iron from the black beans, so it's a double whammy!
Ingredients
| | |
| --- | --- |
| Extra Virgin Olive Oil | 2 tbsp |
| Red Onions | 1 |
| Garlic Cloves | 2 |
| Fresh Red Chillies | 4 |
| Carrots | 400 g |
| Cooked Black Beans | 480 g |
| Paprika | 1 tbsp |
| Wholegrain Rice | 240 g |
| Cavolo Nero (Tuscan Black Kale) | 200 g |
| Oranges | 2 |
Step 1
Heat the olive oil in a deep pot and tip in finely chopped onions, crushed garlic, and sliced chillies.
Sizzle the ingredients for a few minutes or until the onion is soft and the garlic lightly browned.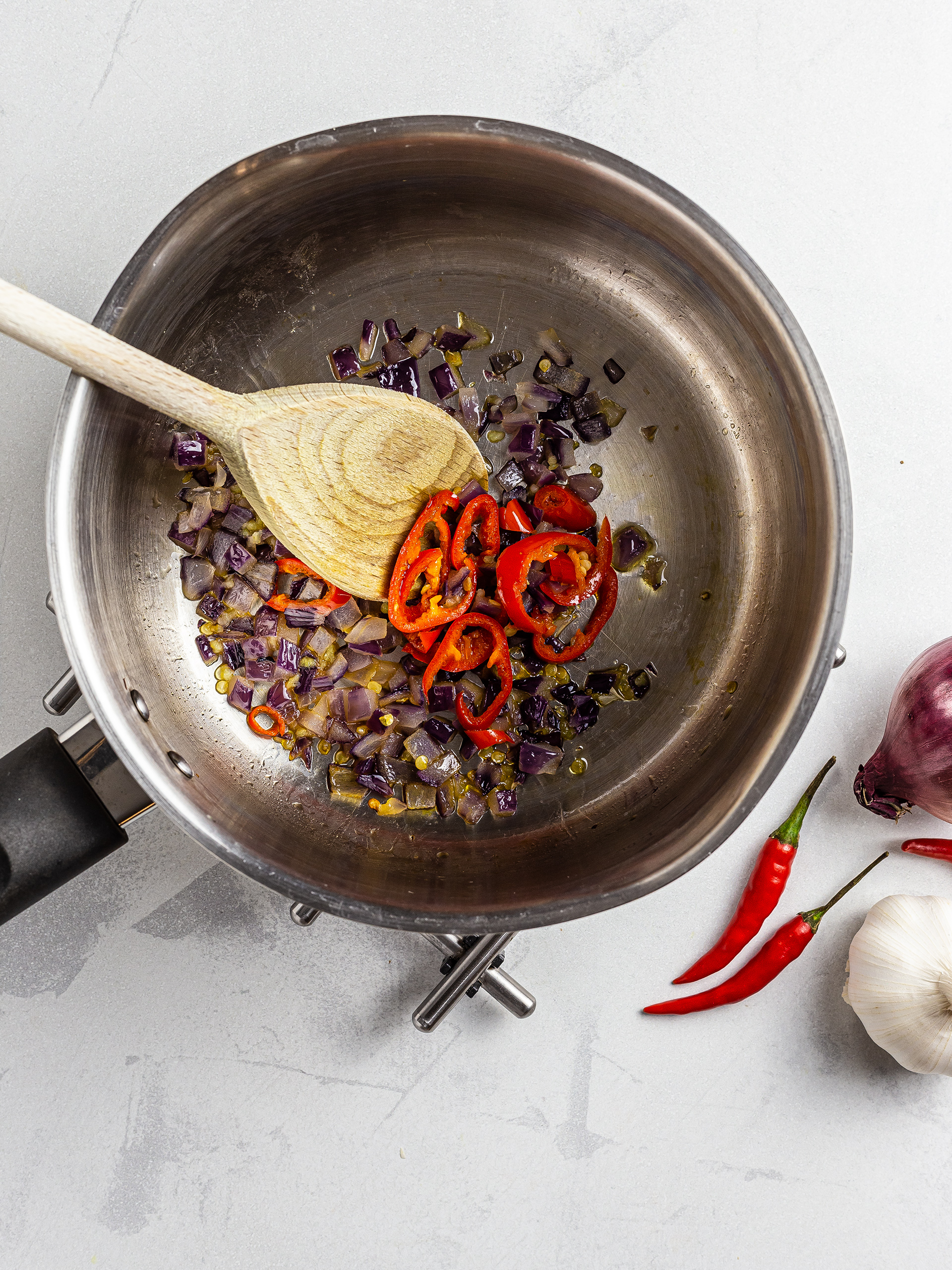 Step 2
Next, add the carrots, peeled and sliced, and the canned black beans along with their brine liquid.
Pour enough water to cover the ingredients and stir in paprika powder and salt to taste.
Bring the stew to a boil and then simmer for 12 minutes or until the carrots have softened.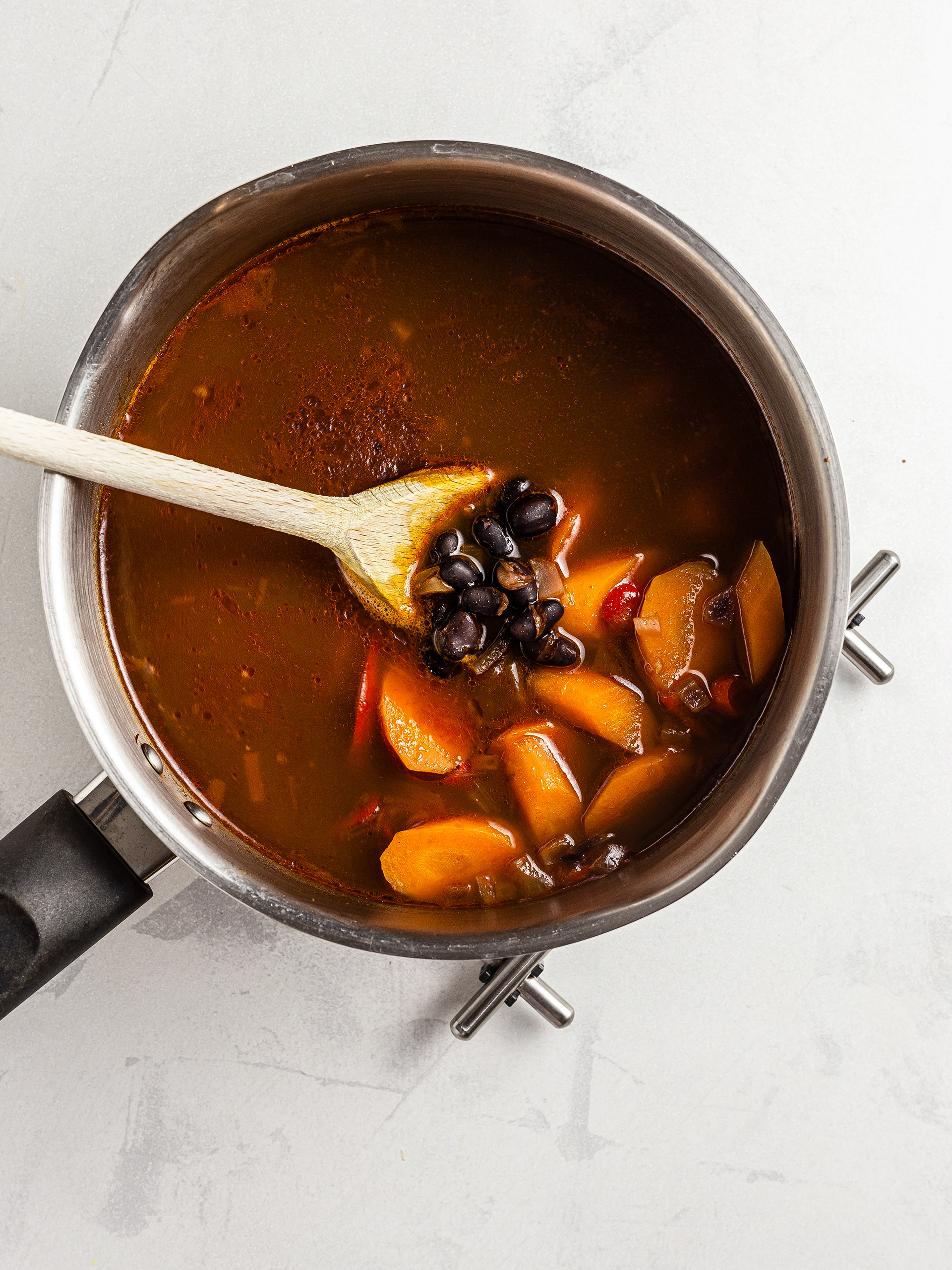 Step 3
While the soup cooks, let's get the rice ready.
Rinse the brown rice and add it to a clean pot, then cover with water and bring to a boil.
Simmer the rice for 12-15 minutes or according to packet instructions, then drain it, and set it aside.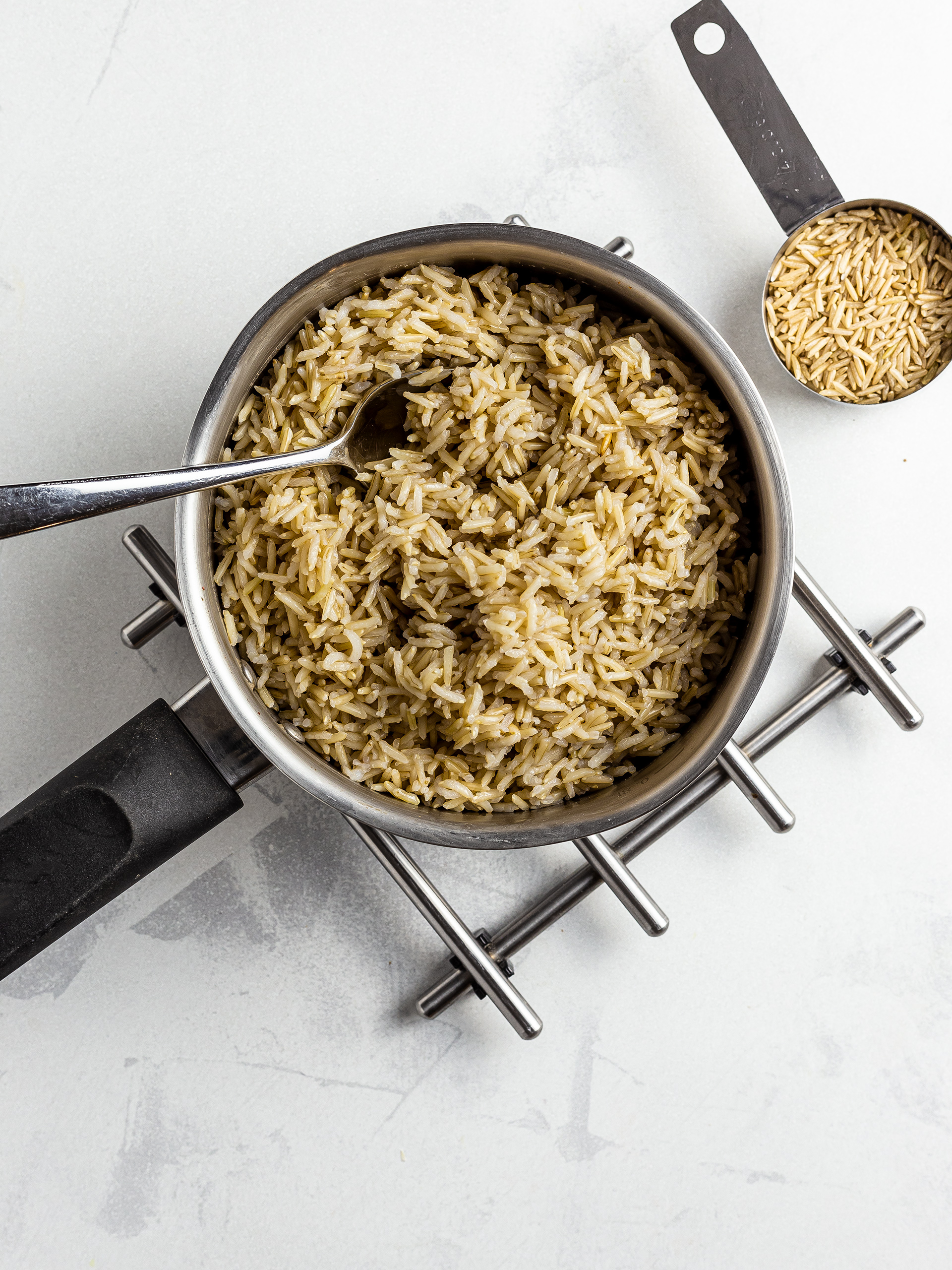 Step 4
Now, add shredded kale to the black bean stew and cook for five more minutes.
Allow the soup to reduce over high heat and then remove it from the hob.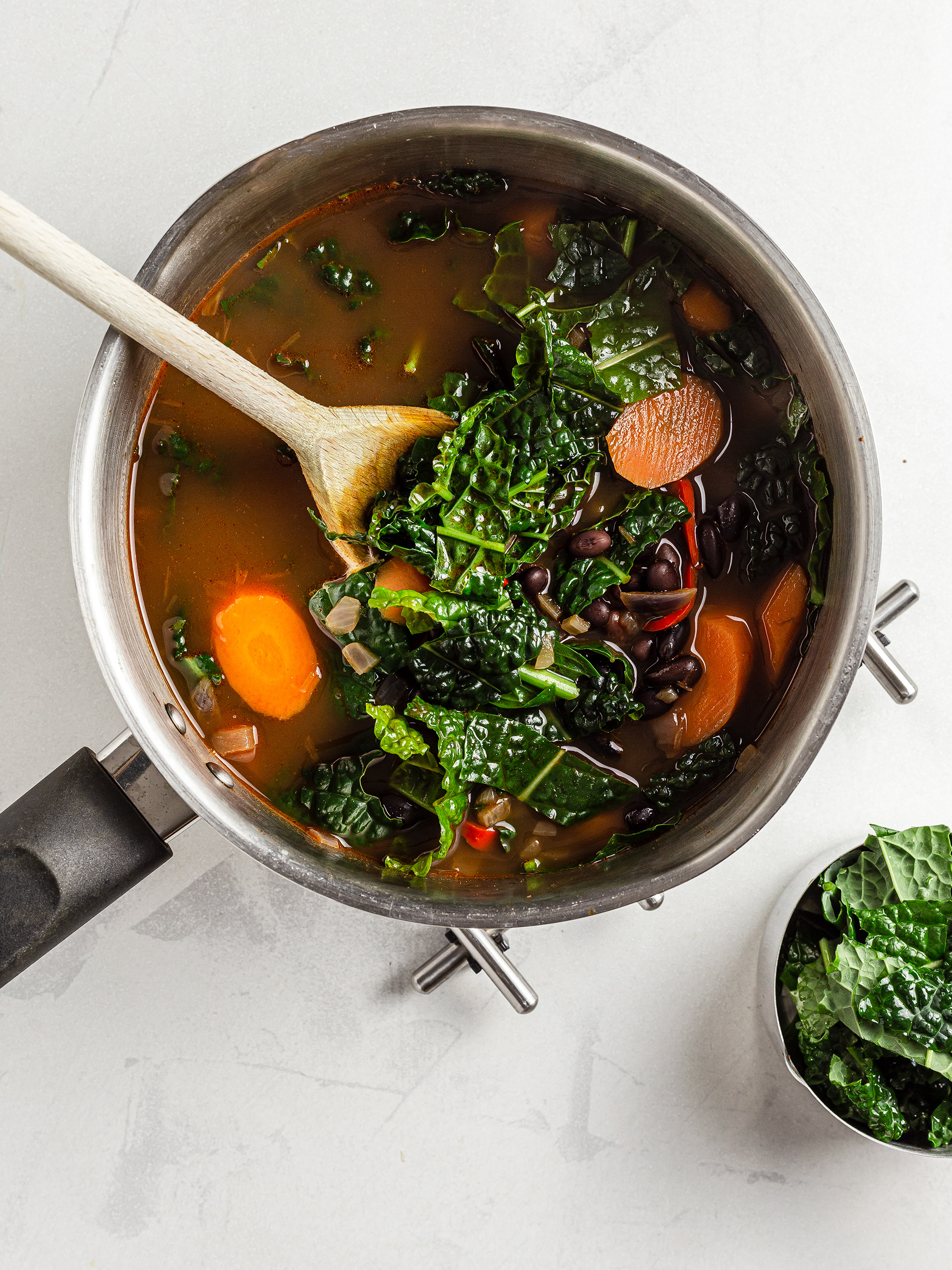 Step 5
Before plating, stir in the juice of 1 squeezed orange and season with pepper to taste.
Finally, divide the feijoada among bowls, top them with the remaining 1 orange, cut into slices, and serve with brown rice on the side.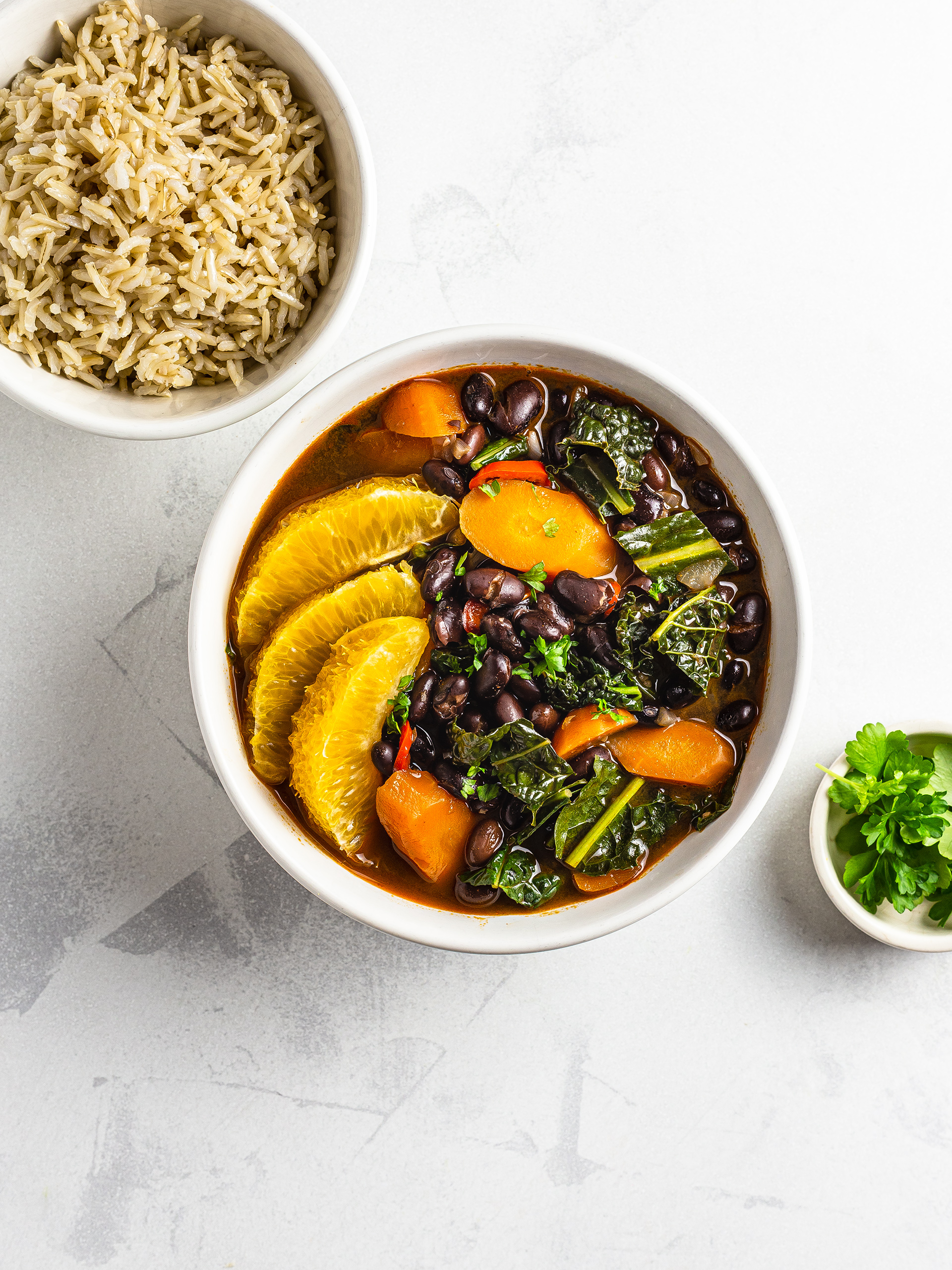 Tips
You can swap brown rice with other grains like pearl barley, quinoa, or buckwheat.

Store this black bean stew in an airtight container in the fridge for up to 3-4 days or freeze it for one month.

Replace classic paprika with smoked paprika for a deeper flavour.