We always strive to make our recipes diet-friendly and allergy-free, so that all of you can enjoy them, no matter what. Today we have exceeded ourselves, and we are so proud of this recipe. Our almond cream cheese cookies are vegan, gluten-free and keto. Virtually everyone can enjoy these delicious biscuits (except people allergic to almonds, but we've got them covered below).
It is hard to make sweets that fit all three of the diets mentioned above:
Vegan means egg-free, dairy-free and no honey.

The gluten-free diet forbids the use of flour rich in gluten, which naturally makes cookies soft and chewy.

Keto requires we ditch all sugars and high carb ingredients and supplement those with abundant healthy fats.
A tall order, but nothing is impossible! The trick is in finding the right ingredients that have all the properties we need: sweetness but low-carbs, chewy but gluten-free, healthy fats and plant-based nutrients.
Below we will share all of this with you and show you how to make keto, gluten-free and vegan cream cheese cookies. Scroll down and let's get baking together, or keep reading to learn more about our process. Also, we give out more tips and info on this recipe in the FAQ section at the bottom of the page. Check that out as well if you are curious!
To make this recipe vegan, we have replaced the classic cream cheese with a homemade cashew nuts cream, and the cow milk with almond milk.
Our cashew spread is the bees' knees. It has a nutty yet delicate flavour and boasts all the proteins, unsaturated fats, and vitamins that nuts have.
We have also replaced wheat flour with a gluten-free mix of coconut and almond flour.
Both these flours are not just gluten-free, but also keto. They have low carb and loads of healthy fats.
If you are allergic to almonds or nuts, we haven't forgotten you! Check out this selection of nuts-free treats and desserts made just for you.
Frequently Asked Questions
How to make cream cheese cookies vegan?

The classic cream cheese cookies are not vegan. Our recipe above is, though. You can find all the info you need to cook these cookies by following our steps above. Alternatively, keep reading to learn about different ways to make vegan cream cheese cookies.

The traditional recipe uses butter and cream cheese. We have replaced the dairy ingredients with our homemade cashew nuts cream, almond milk and almond butter. These ingredients are a great combo of nutrients and flavour, but there are other options you can use to make vegan cream cheese. We will suggest some below.

If you fancy the refreshing taste of coconut, then you can replace the cashew cream with coconut cream, the fatty and dense part at the top of a can of coconut milk. We already use coconut flour in our recipe, so this option will work out great.

Instead of almond milk, you could use coconut milk, soy milk, or hazelnut milk. For this recipe, we vouch for the latter option. Hazelnut milk is one of the tastiest plant-based kinds of milk out there, and its rich nutty flavour is perfect for these vegan biscuits. Get the unsweetened hazelnut milk to keep the recipe keto.

Finally, there are so many ways to replace butter in a vegan cookie recipe: from the typical margarine to coconut or avocado oils, or even nut spreads. We have used almond spread here, but why not trying peanut butter? It's easy to find everywhere and provides all the creaminess you need for chewy cookies.

Another option we love to use as a vegan butter replacement is applesauce. We have a full recipe where we use it and talk more about it.
Are almond cream cheese cookies gluten-free?

Like most cookies, the traditional cream cheese cookies use wheat flour, making them not gluten-free. But it's so easy to make almond cream cheese cookies gluten-free, with the right mix of flours. We have done so in our recipe above, using coconut and almond flour.

There are other gluten-free flours you can use, but not all of them will give the same results. Let us tell you which ones are perfect for baking chewy cookies.

The best thing about wheat flour is gluten, which is what celiac people are allergic to. When kneading cookie dough, it is the gluten that makes it stretchy and compact and ultimately keeps the cookies from crumbling apart. In a vegan recipe made without eggs and butter, the effect of gluten becomes even more critical.

The lack of gluten is the reason traditional gluten-free flours, like rice or buckwheat, produce crispier and "dry" bakes. Although this is quite acceptable and even desirable for crunchy biscuits, we are better off using more suitable gluten-free flours to make chewy cookies.

Say hi to nuts-flours. These flours are made from ground nuts, rich in healthy fats. They are also a perfect choice for a keto diet, by the way. Nutty flours bring softness to the dough, without the need of using added fats, which are often unhealthy. Moreover, they burst with flavour and retain all the nourishments of nuts.

Let's take a look gluten-free fatty flours that are perfect for these keto cream cheese cookies:

Almond flour (we used this).

Coconut flour (yes, coconut is a nut! We have also used this in our recipe).

Hazelnut flour. If you like Nutella, then try this one out!

Macadamia flour. Macadamia nuts are an excellent source of proteins, fibres and copper. You should try them if you haven't already!

But of course, you can also use other gluten-free flours, like rice flour. Just know that the cookies will crumble more easily. Don't overthink it though. They will crumble anyway once they are in your belly ;)
Can I eat these cream cheese cookies if I have diabetes?

We have used zero added sugars in our almond cookies recipe above, so our biscuits are perfect for you if you have diabetes.

Our recipe is not only vegan, gluten-free and keto, but also sugar-free! We have picked so many natural and flavourful ingredients that there is little need for sugar at all. But for the sake of our sweet-tooth, we have resorted to a zero-carb sweetener that is perfect for people with diabetes: erythritol.

Erythritol is a sugar alcohol that occurs naturally in fruit but has no sugar and no calories. It makes the perfect alternative to regular granulated sugar if you have diabetes as it won't raise your glucose levels.

If you don't have access to this ingredient, we have another low GI option for you. We are talking about applesauce! We love using applesauce in our bakes whenever we make low-carb or no added-sugars recipes. Check out this recipe here to see it in action!
Are these almond cookies suitable for my keto diet?

We designed this recipe with the keto diet in mind. Then we took the next step and made it vegan and gluten-free as well. But yes, our almond "cream cheese" cookies are keto.

There are two requirements to satisfy to achieve ketosis. Eat super-low-carbs foods that are rich in fats for long enough. For a healthy and more sustainable keto diet, choose healthy fats over bad saturated ones.

So we have made this recipe without using any sugars or high-carbs flours, and carefully selecting ingredients filled with healthy fats, proteins and vitamins.

The sweetness comes from erythritol, which has zero carbs, while the healthy fats come from almond and coconut.

The result? Chewy cookies with only 3 grams of carbs, 1.3 of sugars, and 120 calories per serving.
What makes these almond cream cheese cookies healthy?

Eating homemade cookies is always a better choice over store-bought ones, which are often heavily processed and contain harmful additives.

These almond cookies are prepared with whole foods and thus are incredibly healthy. Raw ingredients are not as fattening as processed ones, as the body takes longer to digest them. They are also loaded with many precious nutrients, like vitamins and minerals.

As these almond cookies are eggless and prepared without butter, they have very low saturated fats. A healthy diet focuses on replacing these bad fats with unsaturated ones, which are found in nuts, including almonds. Also, fats make you feel full for longer, and they are very satisfying. This way, you are less likely to experience cravings and then overeat.

Moreover, as these almond meal cookies are suitable for ketogenic diets, they are very low in carbs. Eating fewer carbohydrates means reducing your calorie intake and keeping glucose and insulin levels in check, which are essential to promote weight loss.

Go ahead and enjoy one or two of these almond cream cheese cookies, they're so easy-to-make and good for you.
Can I freeze these almond cream cheese cookies?

If you can choose between freezing the cookies or the cookie dough, go for the latter. You can then defrost the excess dough and still make delicious vegan cream cheese cookies when you feel like having them.

But we ran an experiment and tried to freeze the cooked biscuits. Because they are quite chewy, we thought freezing them would turn them into some kind of "ice cream cookie". After a few hours, we pulled them out of the freezer and took a bite.

Although most of the chewiness was gone, the result wasn't half bad! We reckon two frozen biscuits with some vanilla ice cream in between (vegan or otherwise) would make a great ice cream sandwich. We have done it in the past with other cookies, and it was so tasty. If you are craving some ice cream and have some excess cookies, give this a go!
Ingredients
For the Almond Cookies
Coconut Flour

90 g

Almond Flour

90 g

Erythritol

40 g

Baking Powder

1 tsp

Almond Butter

35 g

Almond Milk

80 mL

For the Vegan Cream 'Cheese'
Cashew Nuts

50 g

Water

50 mL

Lemon Zest

1/2 tsp

Salt

1 pinch

To Garnish
Orange Zest

to taste

Chopped Almonds

15 g
Step 1
Let's prepare first the vegan 'cream cheese'.
Soak the cashew nuts in cold water for 10 minutes and then drain the soaking water. The nuts will blend more easily once they soften.
Next, blitz the cashew nuts with water, lemon zest, and salt using a food processor. Pulse the ingredients until you have a smooth and dense cream.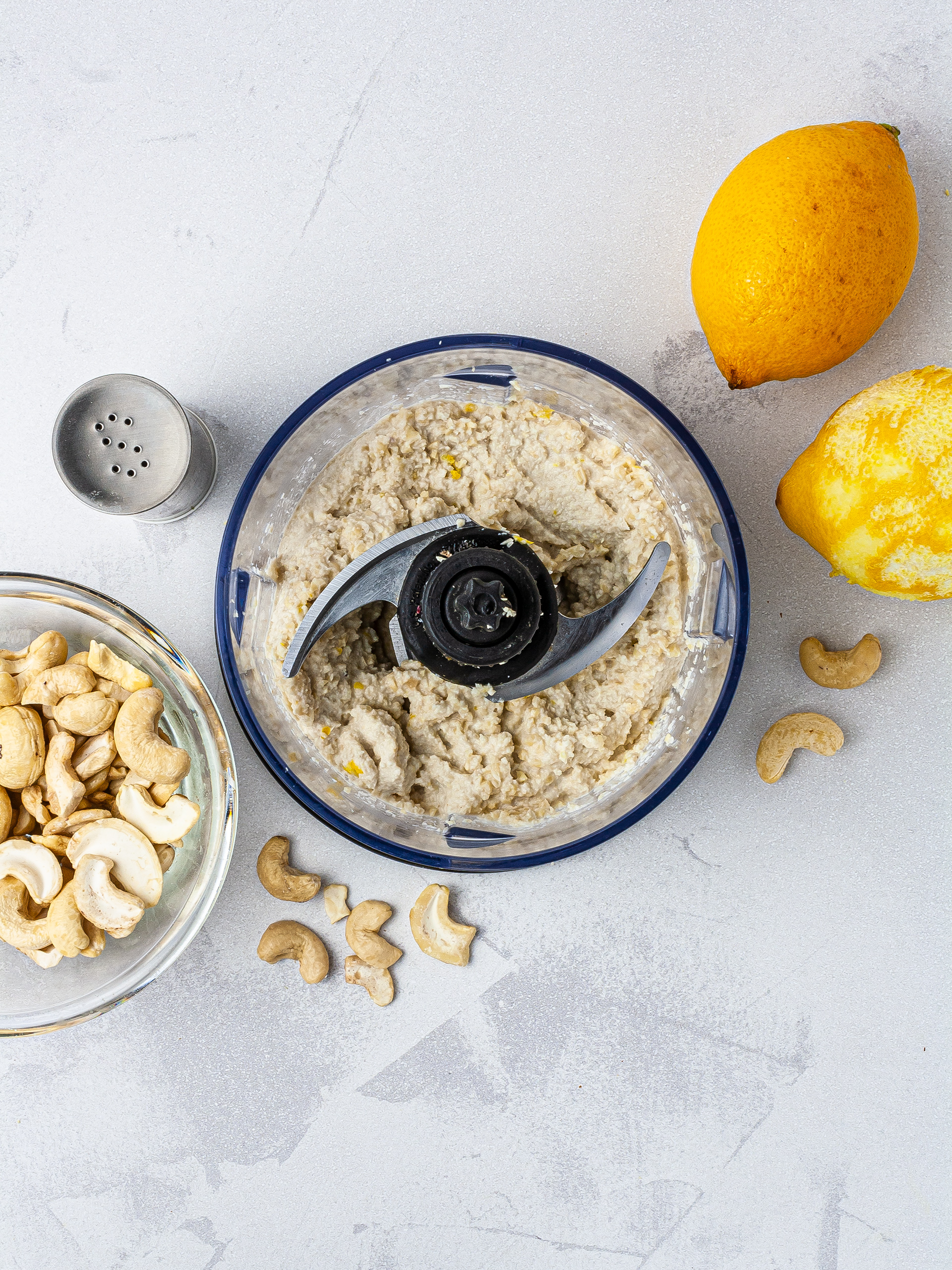 Step 2
Now it's time for the almond cookie dough.
In a large mixing bowl combine the coconut flour, almond flour, erythritol, baking powder, and almond butter. Give all a good stir.
Then add the cashew cream and almond milk and knead the dough until it comes together into a ball.
Cover it with cling film and place in the fridge to rest for 15 minutes.
If needed, add extra almond milk or almond flour to reach the right cookie dough consistency.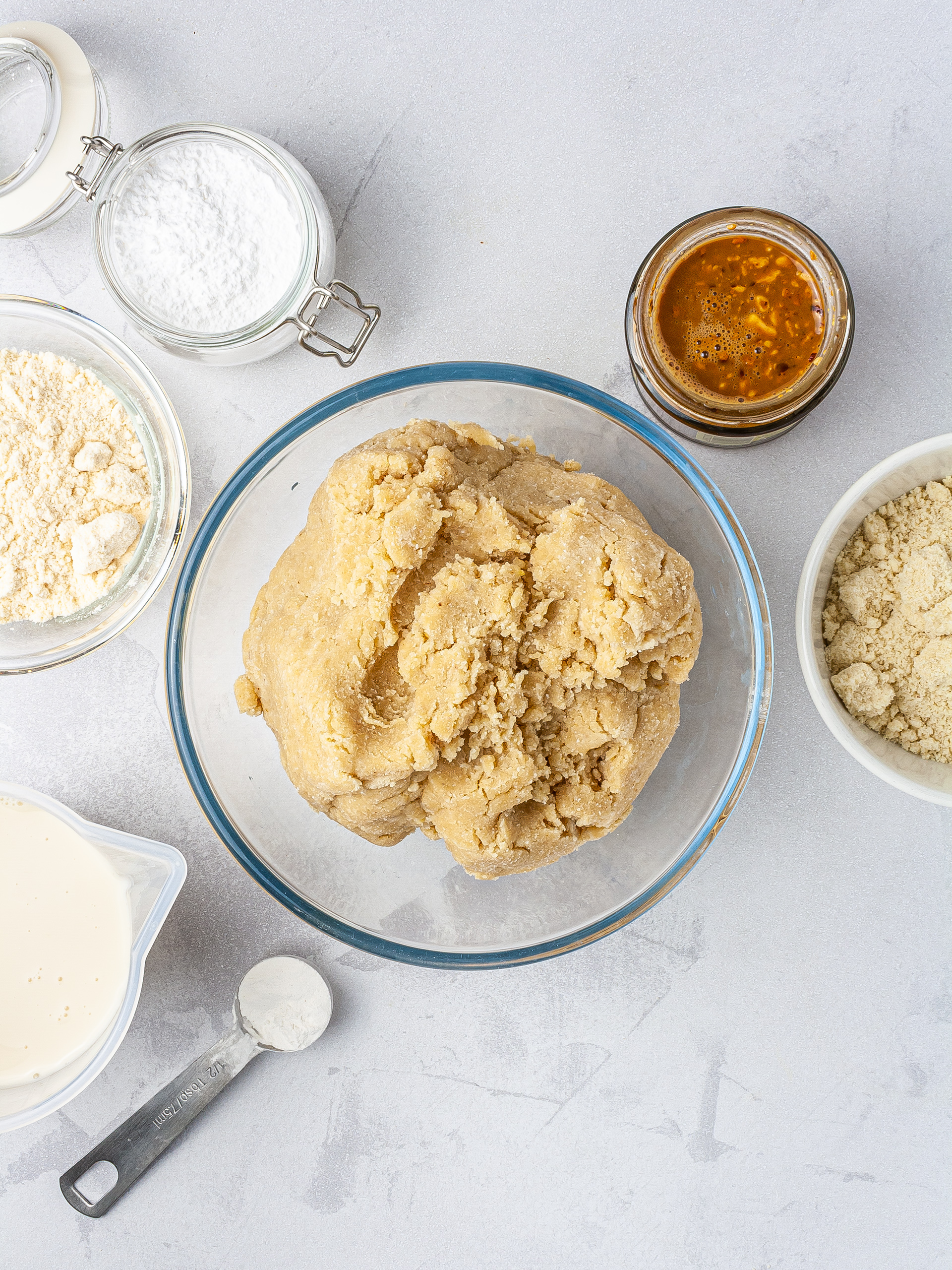 Step 3
Prepare a baking tray lined with parchment paper.
Pinch off a bit dough with your fingers, roll it into a ball the size of a walnut between your palms.
Then flatten it down on the baking paper and press with your fingertips to spread the dough and give it the characteristic cookie look.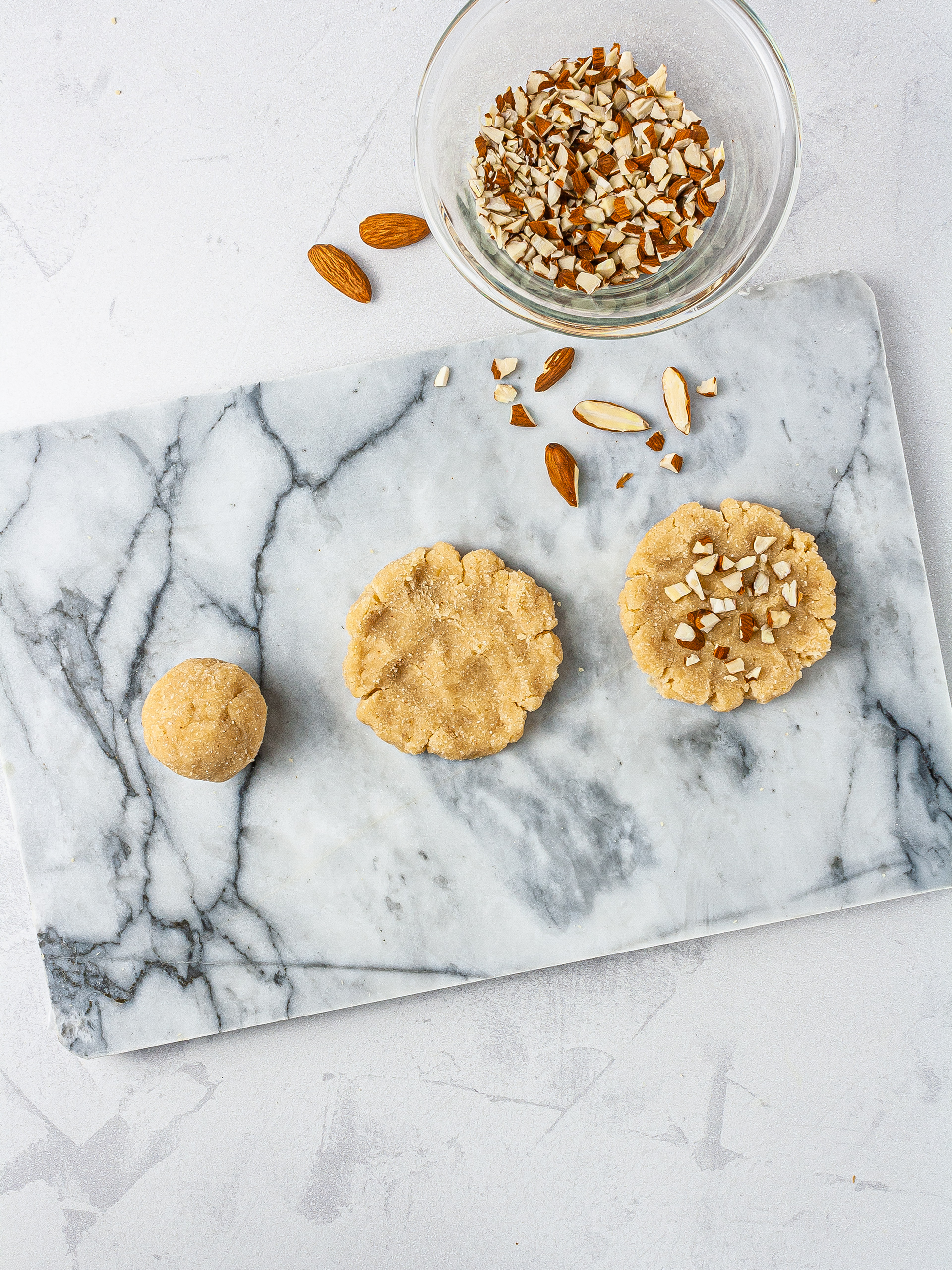 Step 4
Bake the almond cookies at 175° C (350° F) for 10 minutes. They will continue cooking for a short while after they are out of the oven and they will harden.
Transfer the baked biscuits on a wire rack to allow even airflow as they cool down.
Enjoy your keto cream cheese cookies right away or store in an air-tight container for three days.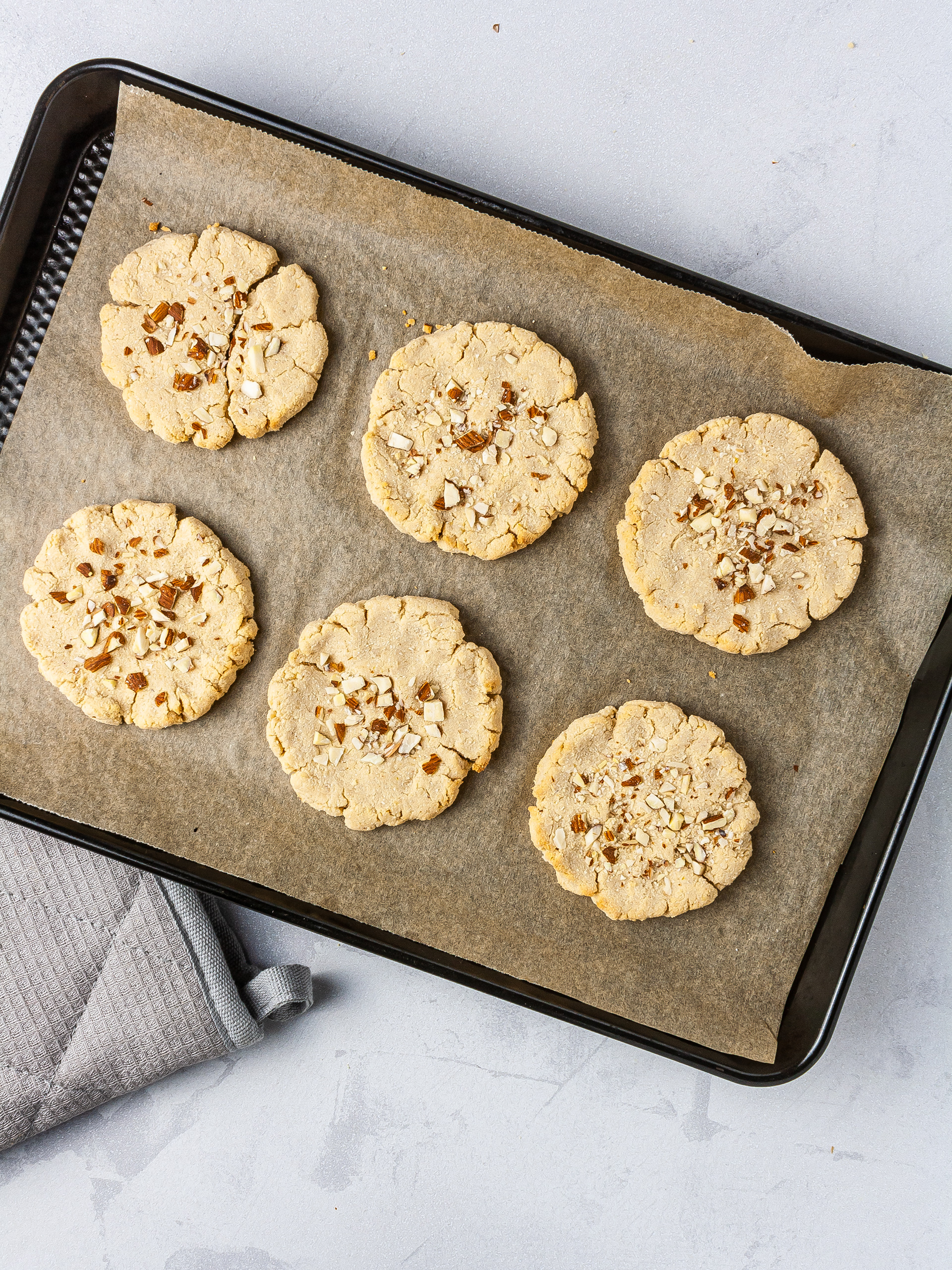 Tips
You can add one teaspoon of vanilla extract or almond extract for extra flavour.