This vegan lemon posset is a creamy, sweet, and tangy dessert recipe prepared with a few simple ingredients, and it's perfect for making ahead and serving for special occasions.
Here at Foodaciously, we want to help you enjoy the food you love without compromise. So we have made this lemon posset vegan, dairy-free, sugar-free. Awesome!
We have replaced double cream with a tasty vegan cream made from soaked and blended cashew nuts. Cashews have a sweet and buttery taste, and they are also rich in vitamins, minerals, and antioxidants. Unlike double cream and other dairy products, cashew nuts provide unsaturated 'healthy fats' and are cholesterol-free. Unsaturated fats help prevent heart disease, make you feel full for longer, and may help in managing your weight.
Moreover, instead of refined white sugar, this recipe includes maple syrup, which has almost half of the sugar content. If preferred, you can also use agave nectar or raw honey.
One of the most typical ways to eat the lemon posset is to pair it with Scottish shortbread biscuits. They are truly delicious but also very fattening! Instead, we suggest you serve this lemon mousse with digestive biscuits as they are lower in calories. We also have a gluten-free and sugar-free digestives recipe right here for you, for a guilt-free treat!
If you love healthy recipes like this, make sure to subscribe to our newsletter, and you'll get our newest recipes sent right into your inbox every week, plus our free ebook!
Frequently Asked Questions
What is Lemon Posset?

The lemon posset is a traditional British dessert that consists of lemon-flavoured thickened cream. It is served cold, garnished with fresh berries and usually paired with Scottish shortbread biscuits.

The classic ingredients include lemons, double cream, and white sugar, and its consistency is in between a pudding and a lemon curd. The posset is prepared by softly boiling double cream and mixing it with a lemon syrup made with simmered lemon juice, lemon zest, and sugar.

The mixture is then poured in serving parfait glasses or ramekins and allowed to set in the fridge.
Can lemon posset be made in advance?

Lemon posset is one of those easy dessert recipes which is perfect for preparing in advance. You can make it ahead like on the day before or in the morning before a dinner party. In fact, not only the lemon posset needs time to set in the fridge and has to be served cold, but it also keeps well in the refrigerator for a few days.
Is lemon posset gluten-free?

Yes, lemon posset is naturally gluten-free as the recipe includes gluten-free ingredients like lemons, double cream, and sugar. Therefore, it is safe for people on a celiac diet or for those who have gluten intolerance to eat this dessert.

Our own vegan lemon posset with cashew cream is therefore 100% gluten-free but also sugar-free and dairy-free!
How long does lemon posset keep in the fridge?

The lemon posset can be stored in the fridge for 2 to 4 days as the low temperature will slow down any deterioration reaction and bacterial growth. However, we recommend you consume it within two days to ensure you enjoy it at its best flavour and consistency.
Does lemon posset contain eggs?

No, lemon posset doesn't contain eggs usually, and our vegan version certainly does not. Therefore, it's a dessert suitable for those who suffer from egg allergy or follow a diet that restricts the consumption of eggs.

Lemon posset is sometimes confused with lemon curd which instead is prepared with eggs.
How to make lemon posset without sugar?

Although the classic lemon posset recipe includes white sugar, you can still prepare this dessert without refined sugars. You can swap it for healthier alternatives like raw honey, agave nectar, and maple syrup. Use them at a ratio 3:2 - for example two parts of maple for every three parts of sugar in the recipe.

You can also opt for a totally sugar-free version using zero calories sweeteners like natural erythritol if you have diabetes or following a calorie-restricted diet.

In any case, we recommend you still include a sweetening ingredient in the lemon posset recipe if you don't fancy the sour taste of lemon on its own.
How to make lemon posset without cream?

Although double cream is a staple ingredient in the classic recipe, you can still make lemon posset without cream. We actually encourage you to do so to get a healthier dessert.

Most people replace double cream with silken tofu to turn this recipe vegan. We have opted for cashew nuts made into a cream, to try something different and to add a delicious nutty flavour. Both tofu and our cashew paste are smooth and buttery and give the lemon posset a thick and creamy consistency.
Ingredients
For the Posset
Cashew Nuts

200 g

Lemon Juice

50 mL

Lemon Zest

1 tbsp

Maple Syrup

70 g

Vanilla Extract

1 tsp

Almond Milk

200 mL

Potato Starch

10 g

Cold Water

2 tbsp

To Garnish
Blueberries

50 g

Raspberries

50 g

Digestive Biscuits

recipe

4
Step 1
Before you prepare this vegan lemon posset, make sure you have soaked the cashew nuts in water for at least 2 hours or even better overnight. Then drain and rinse under cold water.
In a food processor, blitz the soaked nuts until they turn into a creamy paste. You might need to pulse for a few minutes and scrape the edges of the processor bowl with a spatula a few times.
The cashew cream must be perfectly smooth and bits-free.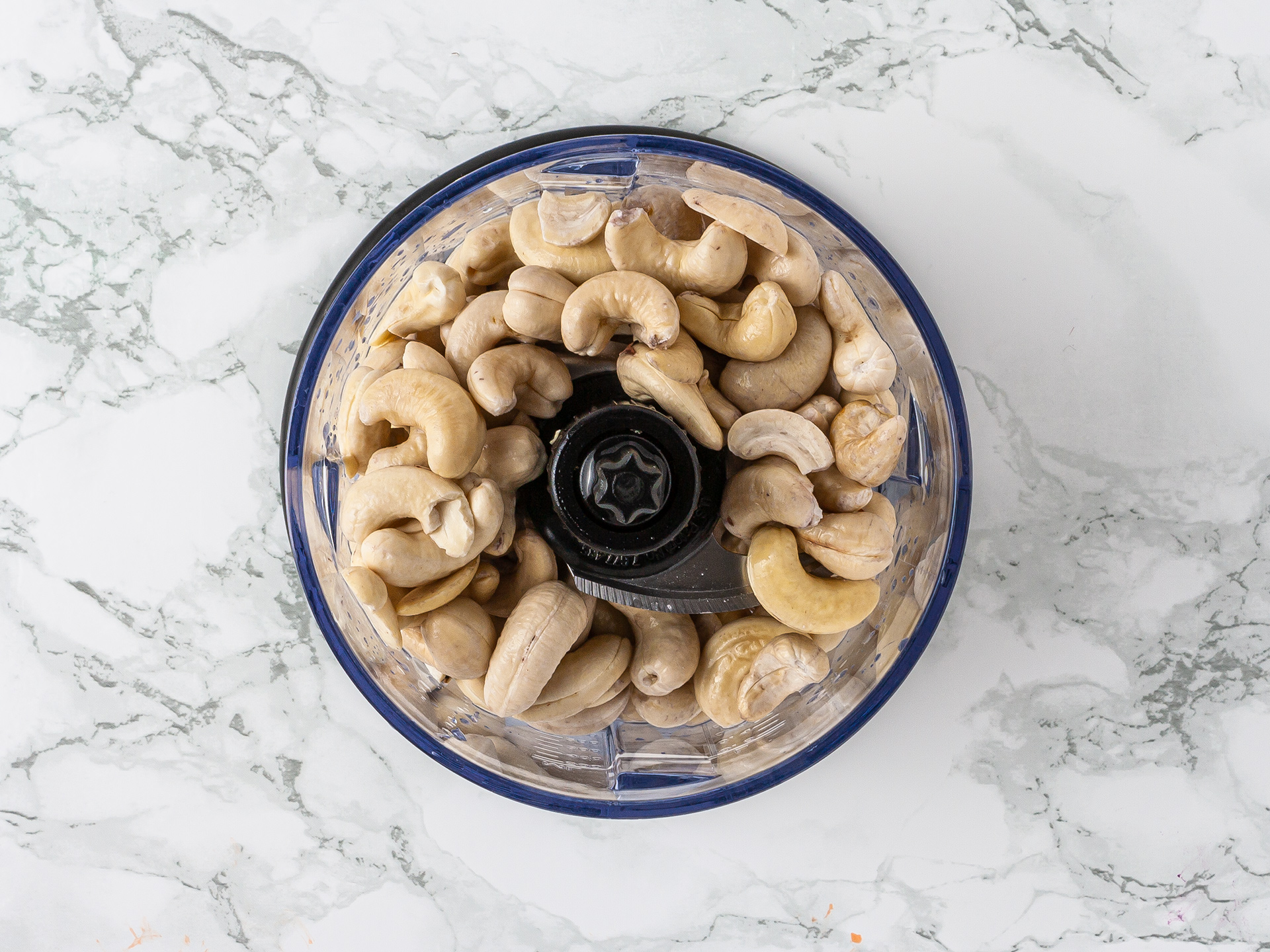 Step 2
Transfer the cashew cream into a medium pot at low heat and add lemon juice, finely grated lemon zest, maple syrup, vanilla extract, and almond milk.
A lemon squeezer is perfect for squeezing lemons to the last drop while keeping the seeds from dropping into your mixture!
Then, cook the lemon posset mix until it bubbles, stirring occasionally.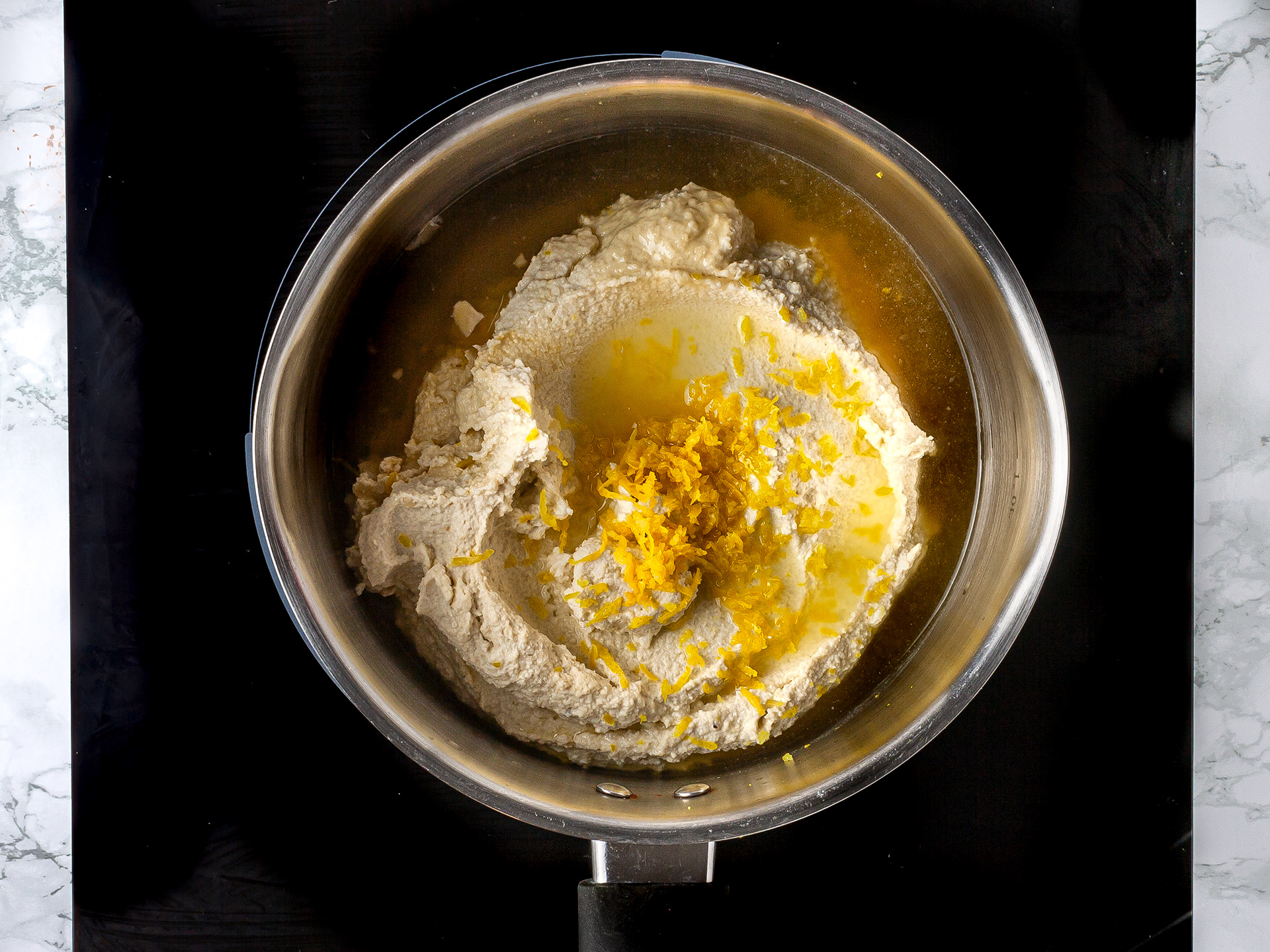 Step 3
Next, add the potato starch mixed with cold water and stir vigorously.
You'll notice the cream getting thicker and denser as the starch cooks. At this point, remove the pan from the heat.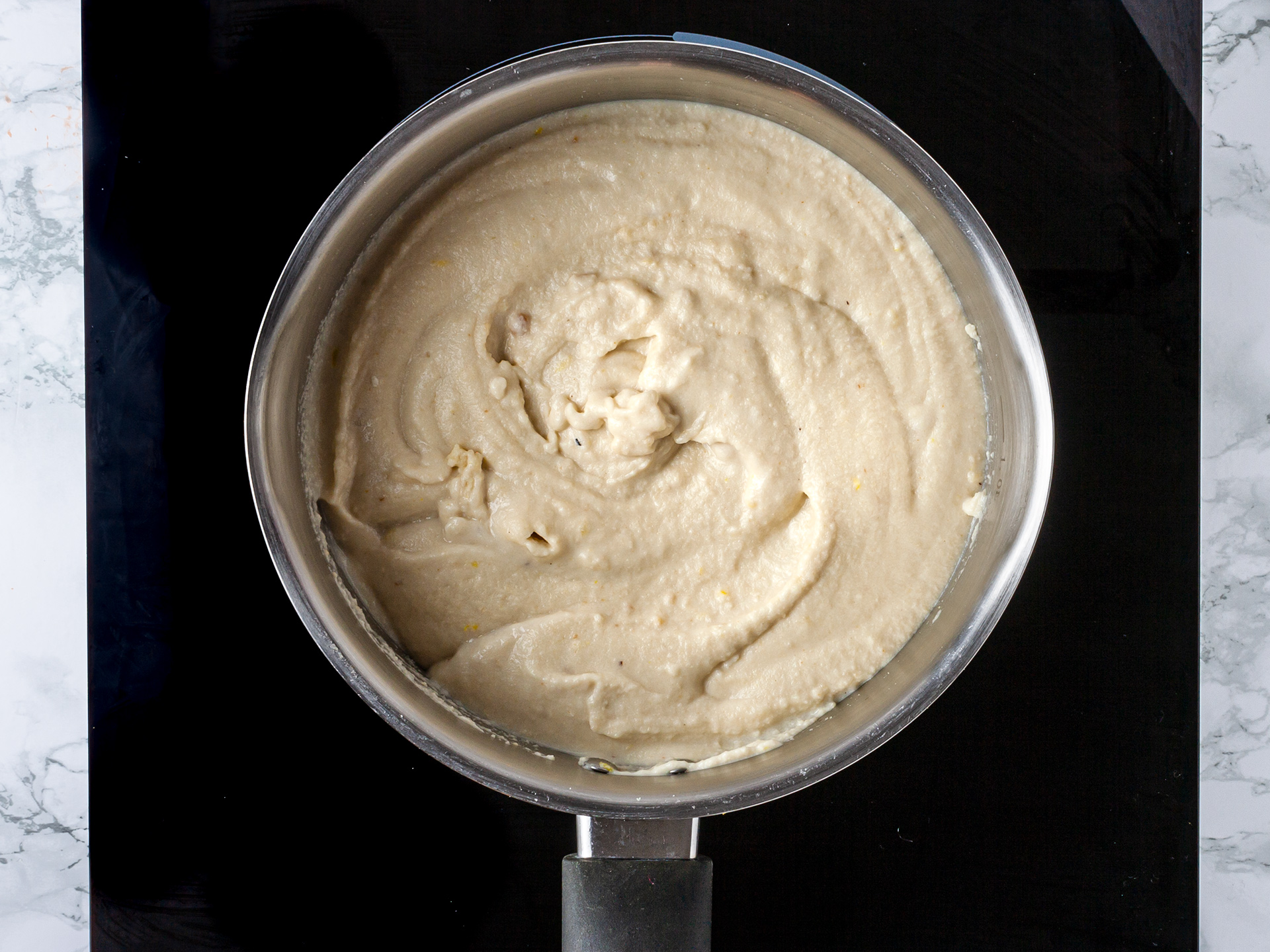 Step 4
Divide the hot cream among serving parfait glasses or ramekins, pouring it carefully to avoid drips on the glass edges.
Refrigerate the lemon possets for at least 30 minutes.
Then, garnish with crumbled digestive biscuits - we have a great gluten-free and sugar-free recipe here!
Finally, top with fresh blueberries and raspberries.
Keep in the fridge before serving and consume within two days.
Enjoy your delicious vegan lemon posset!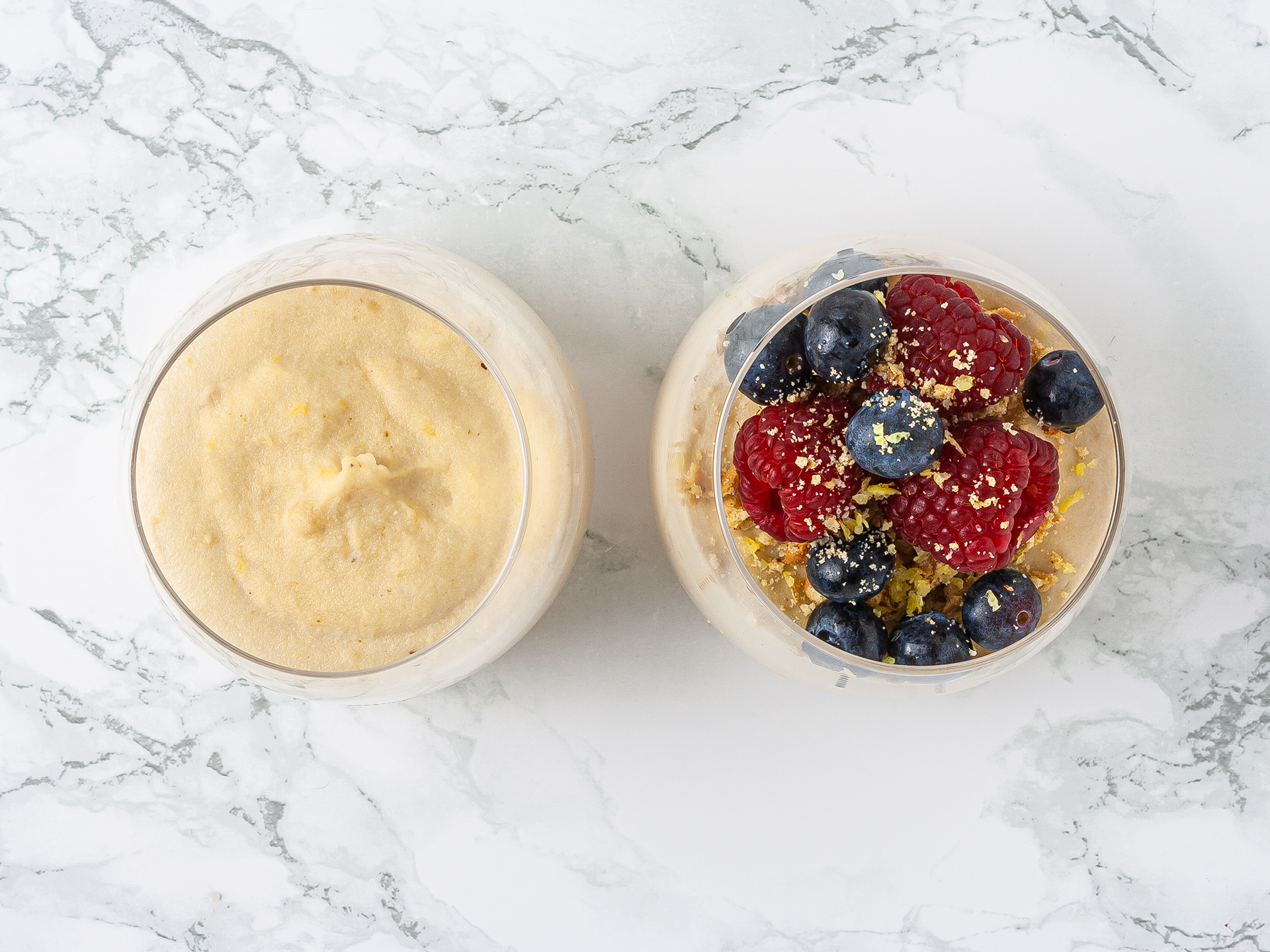 Tips
If you feel experimenting with exciting flavours, you can prepare these lemon possets with oranges and limes, spice them up with ginger and cinnamon, or add chocolate chips.

Instead of fresh berries, you can top the vegan lemon mousse with a spoonful of jam.