If you're into waffles, we bet you'll fall for these coconut and chocolate chip plantain waffles. It's a mouthwatering tropical spin on the classic recipe that's as tasty as it's easy to make.
So, get your waffle machine ready and let's get started!
Overripe plantains are a must for this recipe. You want to use plantains so ripe that their peel is practically black: that's when they are at their sweetest and creamiest.
Exactly what you need to make a delicious waffle batter.
Plantains are the Caribbean cousin of your regular dessert bananas. When nicely ripe, you can use them in all your favourite sweet recipes, exactly like bananas.
We tried them in our plantain bread and plantain muffins and loved them so much that we decided to use them in these vegan waffles too.
Like bananas, mashed ripe plantains can replace eggs or butter in plant-based waffles. They also make the batter sweeter, so you won't need any added sugar.
To make our waffles even more exotic, we used tinned coconut milk instead of dairy milk. Coconut and plantains go so well together, even more so when mixed with dark chocolate chips.
So, give our delicious dairy-free and egg-free plantain waffles a go, and we hope you'll like them as much as we did.
And if you'd like to try more exotic waffles ideas, check out these coconut avocado waffles and purple ube waffles!
Frequently Asked Questions
Are plantain waffles healthy?

Waffles made with plantains are healthier than classic waffles.

That's because mashed plantains can replace eggs, butter, and sugar in the waffle batter, thus reducing the fats and sugars in the recipe.
Can you freeze plantain waffles?

Yes, you can freeze waffles made with bananas or plantains.

To do it, stack the waffles in a resealable plastic bag, interleaving them with baking paper so they won't stick one to another.

Then, squeeze out as much air as possible and seal the bag.

The waffles will keep for 3 months in the freezer.

To defrost them, keep the plantain waffles in the fridge overnight and reheat them the next morning in the oven, waffle machine, or toaster.
Can you put plantains in waffles?

Yes, overripe plantains are perfect for making vegan waffles.

Simply mash or blend the plantains and add them to the waffles batter. They will make the batter sweet and creamy without the need for eggs, butter, or sugar.
How many calories are in plantain waffles?

One plantain waffle wedge has about 180 calories and we calculated that one serving consists of two waffle wedges.

Of course, that depends on the size of your machine. For example, our waffle maker griddle measures 20cm (8 inches) and makes four waffle wedges.
How do you make plantain waffles without eggs?

You can make vegan waffles without eggs using overripe blended plantains (or bananas).

Plantains are moist and starchy, so when you blend them, you get a creamy mash that helps bind the waffles ingredients together while adding moisture, sweetness, and flavour to the batter.

To make egg-free waffles, you'll need 1/2 ripe plantain or 1 ripe banana to replace each egg.
Can I make plantain waffles without butter?

Yes, you can make dairy-free waffles using bananas or plantains instead of butter.

Mashed ripe plantains make the waffle batter sweet, creamy, and thick, perfect for replacing butter.

However, we recommend using plantains to replace most of the butter, not all of it, or the waffles will be too dense and not as fluffy.

In our plantain waffles recipe, we paired plantains with tinned coconut milk, which contains some fat.
What goes well with these plantain waffles?

You can serve these plantain waffles with a drizzle of maple syrup, a sprinkle of chocolate chips, and diced plantains.

Other plantain waffles topping ideas include:
Ingredients
| | |
| --- | --- |
| Very Ripe Plantains (peeled) | 200 g |
| Tinned Coconut Milk | 240 mL |
| Maple Syrup | 20 mL |
| Self-Raising Flour | 150 g |
| Salt | 1 pinch |
| Cinnamon | 1/2 tsp |
| Dark Chocolate Chips | 60 g |
Step 1
In a food processor, blitz peeled plantains with coconut milk and maple syrup until smooth.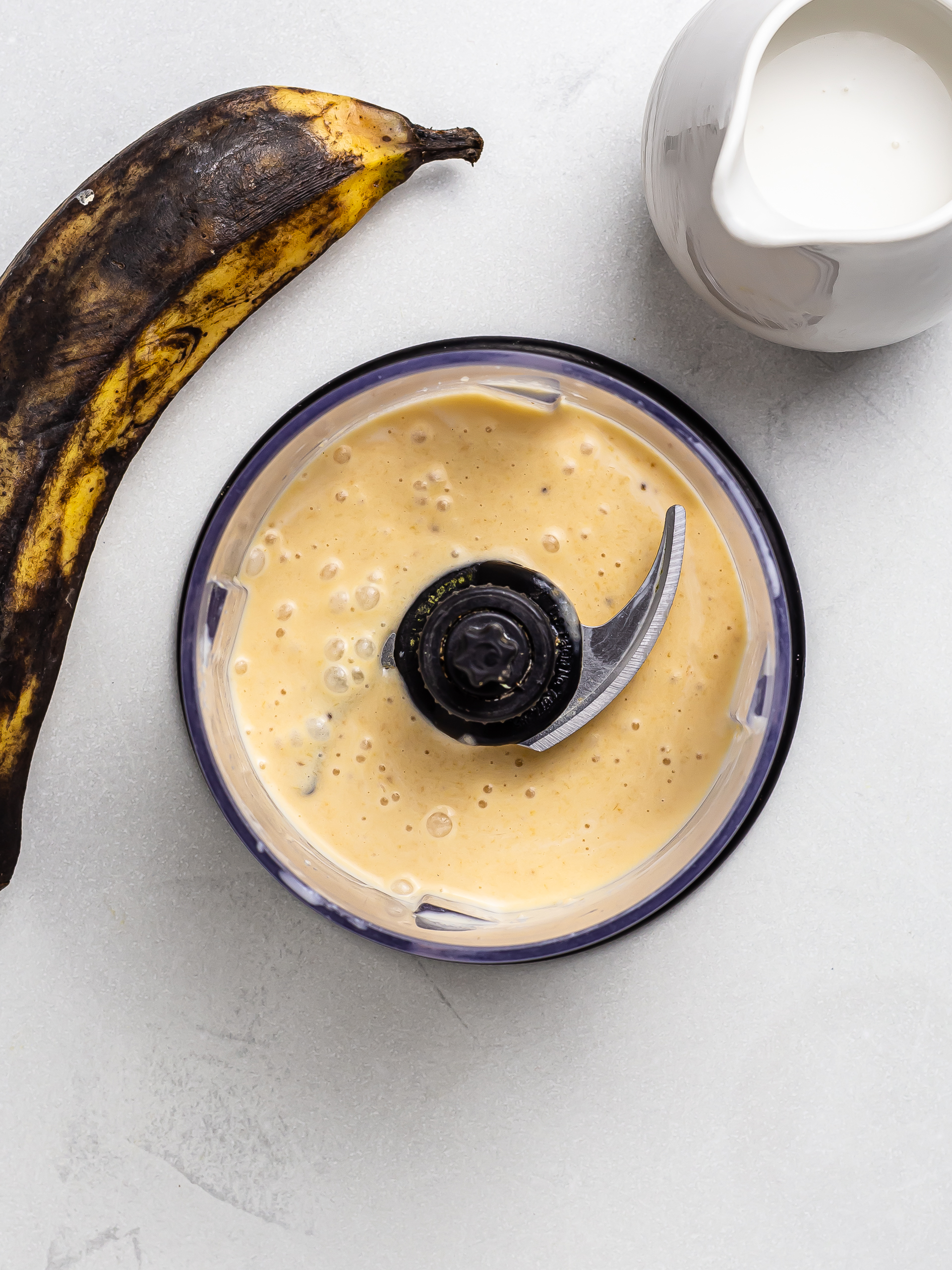 Step 2
Combine flour with salt and cinnamon in a bowl, and then tip in the plantain mix and chocolate chips.
Whisk well until the ingredients come together into a smooth and pourable batter.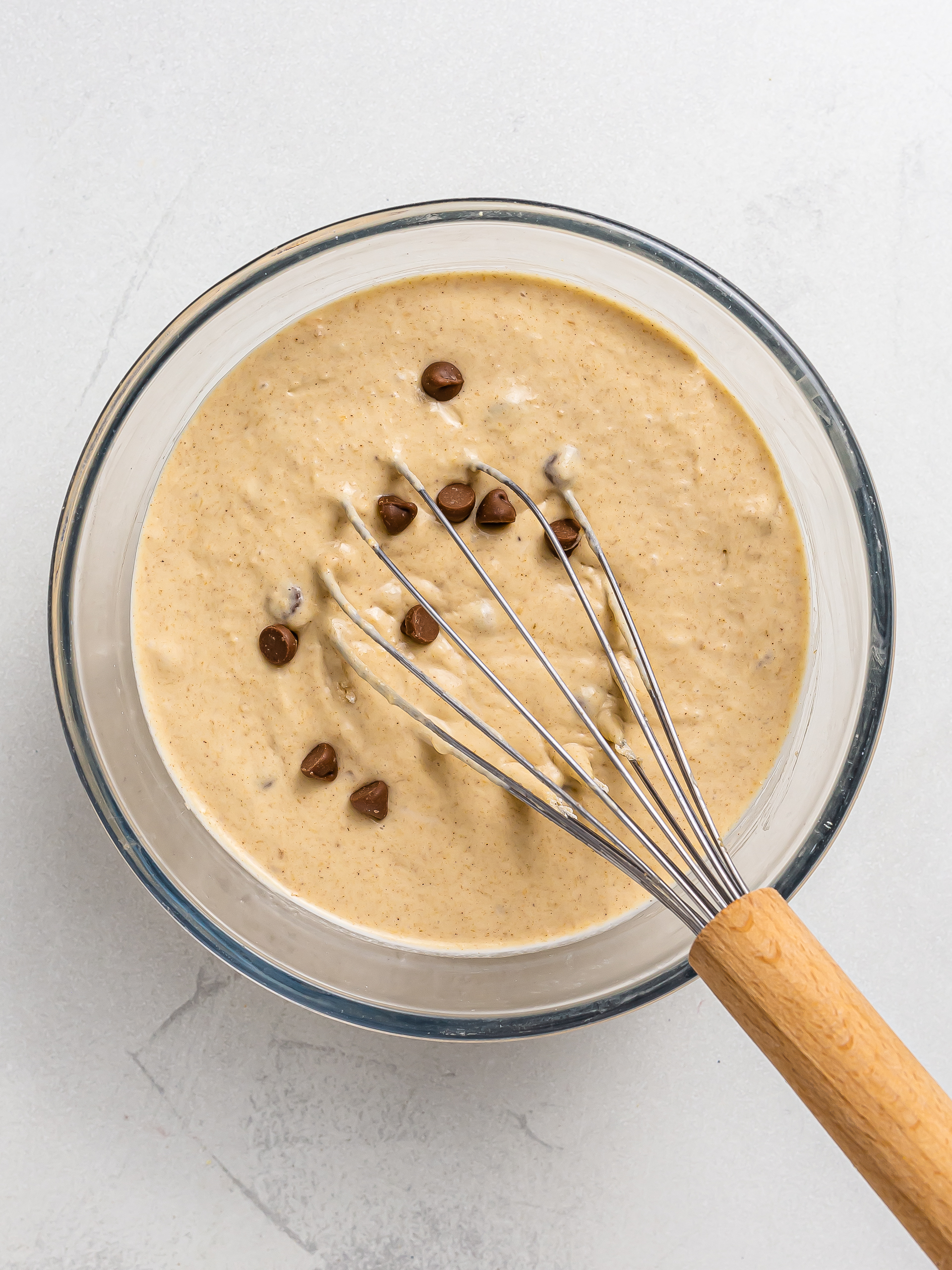 Step 3
Heat your waffle maker and spray the griddles with vegetable oil.
Pour enough plantain batter to fill all the groves and level it with a spatula (1).
Close the machine lid and cook the waffle according to the manufacturer's instructions.
We cooked ours at max temperature for 7 minutes, but you can cook the waffle for more or less, depending on your machine.
Just make sure the waffle is golden brown, spongy, and cooked through (2).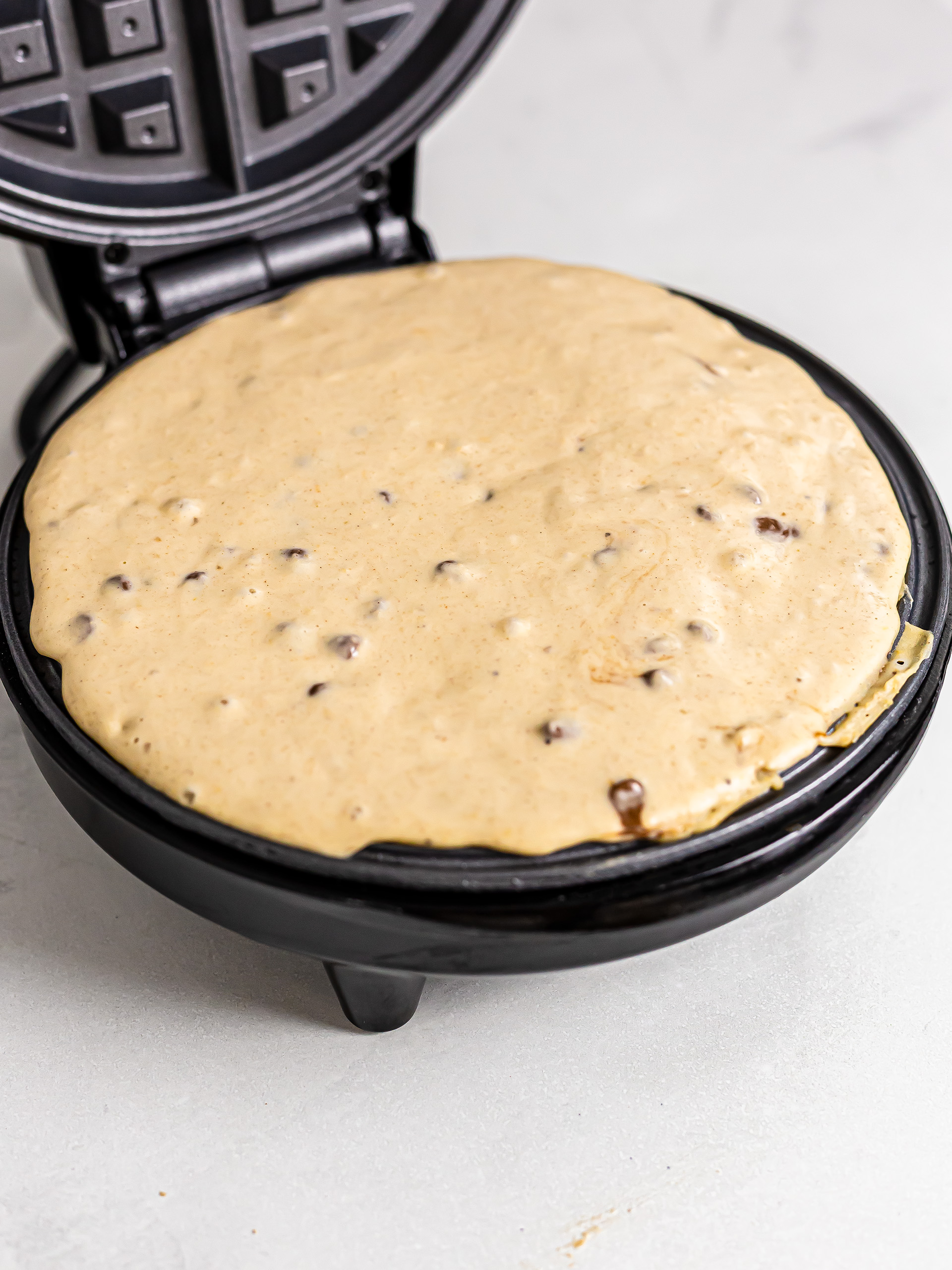 1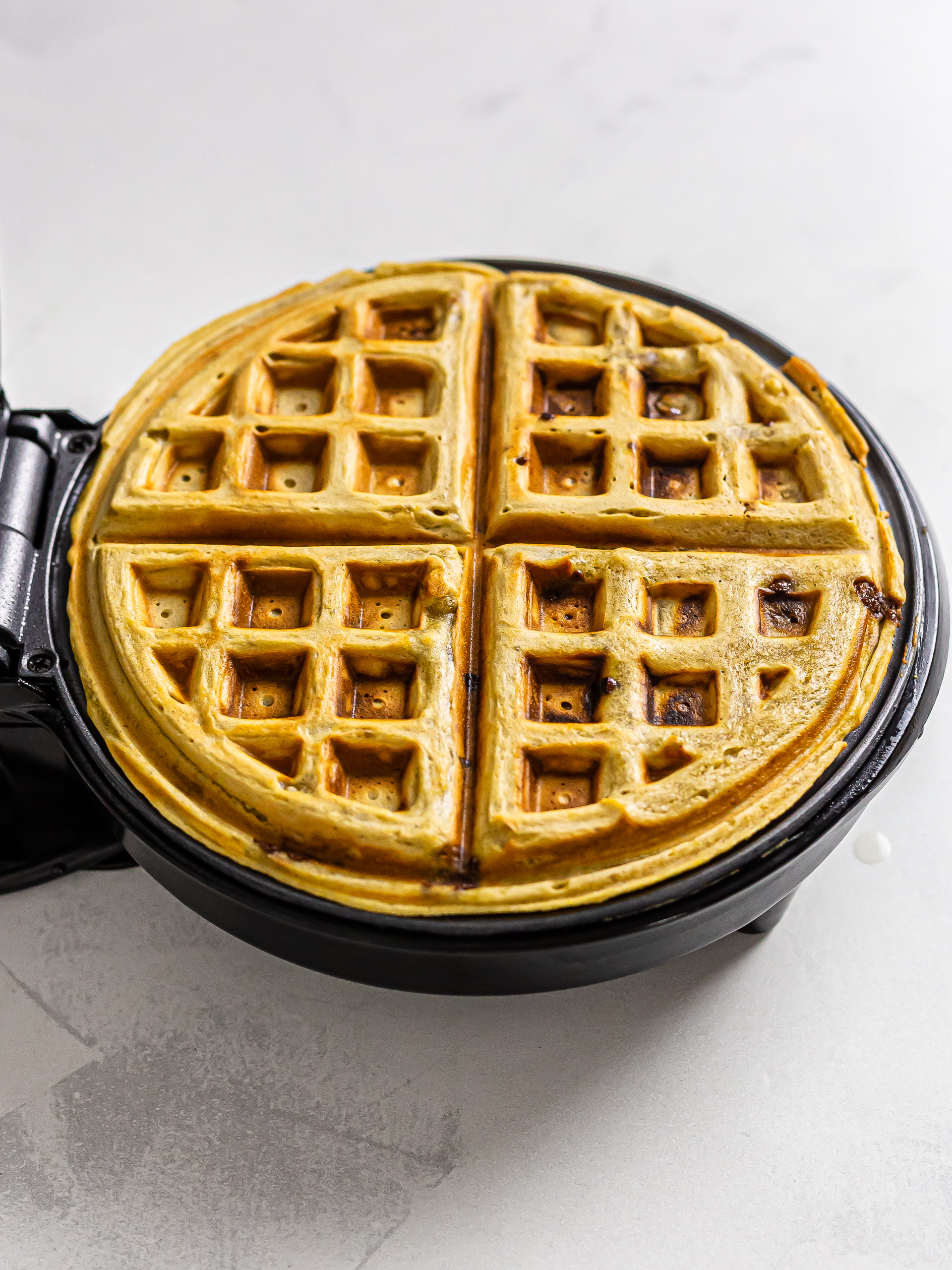 2
Step 4
Repeat step 3 until you have used all the batter.
Serve your vegan plantain waffles warm with a drizzle of maple syrup, and top them with sliced plantains and extra chocolate chips if you like.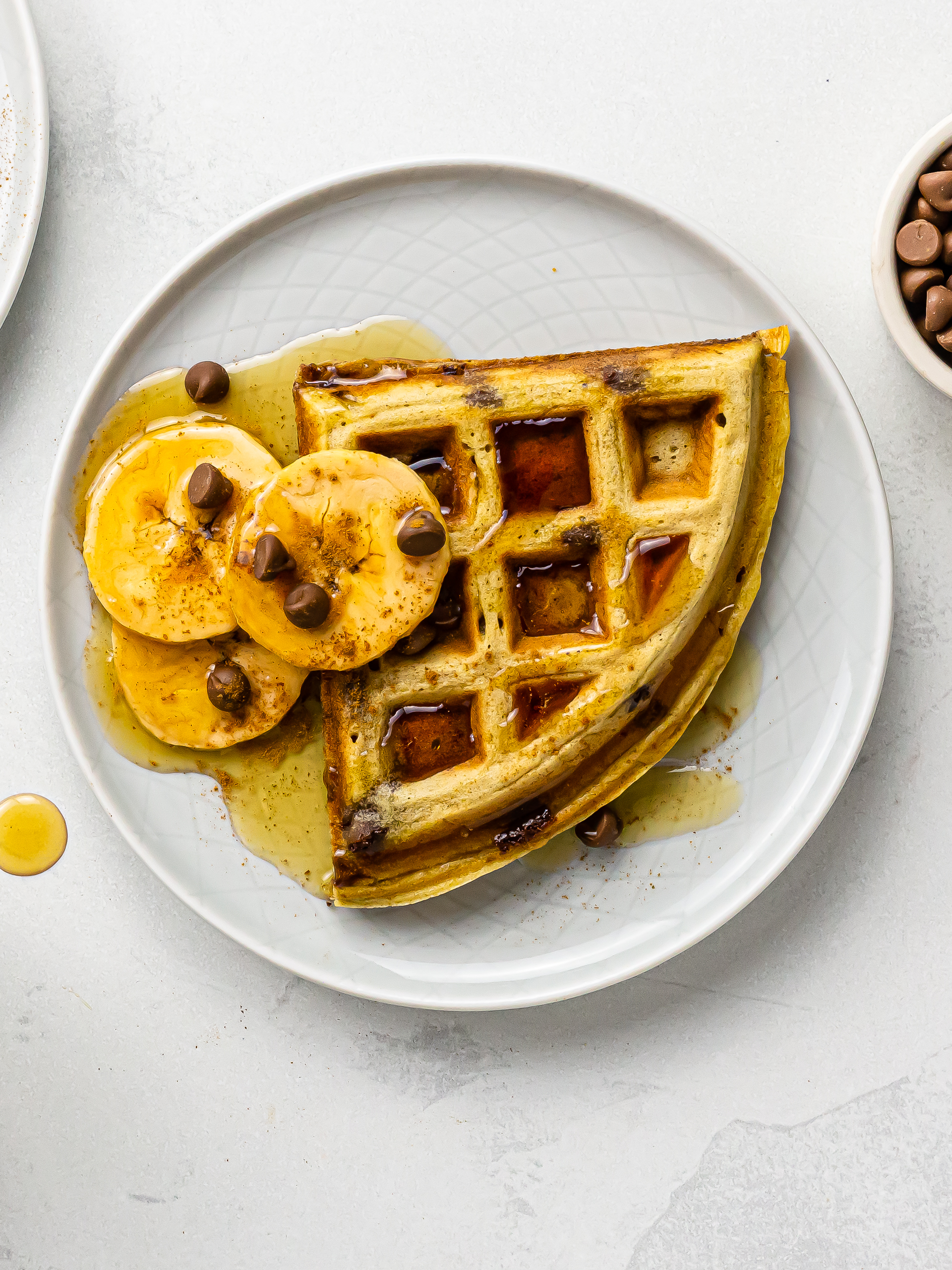 Tips
You can replace canned coconut milk with any plant-based milk, such as almond, oat, or soy drink. Mix the replacement with two tablespoons of vegetable oil and use it as in our recipe above.