Made with flavourful shiitake mushrooms instead of shrimps, these puffy chips are a delicious vegan alternative to the famous prawn crackers. Just follow along, and we'll show you how to make them from scratch!
Also known as krupuk, keropok, and kropek, prawn crackers are a beloved crunchy snack from Southeast Asia, in particular Indonesia, Malaysia, and the Philippines. And, of course, you also have Chinese prawn crackers, which most of us in the West are familiar with.
These crispy fish crackers are the equivalent of our Western potato chips. And they're not just a nibbling favourite: they're also served on special occasions and festivities, such as Chinese New Year.
To help vegetarians, vegans, and folks with fish allergy enjoy this crunchy snack, we revisited the classic prawn recipe and turned it fully plant-based!
Traditionally, prawn crackers are made from a dough of prawn meat, tapioca starch (also called tapioca flour), water, salt, sugar, and seasonings.
In our recipe, we swapped prawns with juicy shiitake mushrooms.
We cooked them with sesame oil for an aromatic punch and then blended them with miso paste, garlic, and nori seaweed for that "fishy" umami-flavour finish.
That's it!
Preparing these fried veggie crackers from scratch is quite easy, but it does require some time. It's like a little project you can do over the weekend!
That's because you need to steam the mushroom dough and leave it to set before slicing it into chips. Then, you must dry the chips completely in a low-heat oven until they're brittle — which can take a few hours.
And only when the chips are perfectly dry, you can finally deep-fry them!
But it'll be worth it: you'll be rewarded with deliciously puffy, cracky, and flavour-jammed vegan prawn chips!
So, time to put your kitchen apron on and get started!
Ingredients
| | |
| --- | --- |
| Sesame Oil | 1 tsp |
| Shiitake Mushrooms (stems removed) | 80 g |
| Water | 60 mL |
| Sugar (or a sweetener) | 1/2 tsp |
| White Pepper | 1/4 tsp |
| Garlic Powder | 1/2 tsp |
| Miso Paste | 1 tbsp |
| Tapioca Starch | 150 g |
| Nori Sheets | 1/2 |
| Vegetable Oil (for frying) | to taste |
Step 1
Heat the sesame oil in a pan and add chopped shiitake mushrooms cups.
Cook for 5 minutes until the mushrooms are soft and their juices have reduced.
Set them aside to cool down.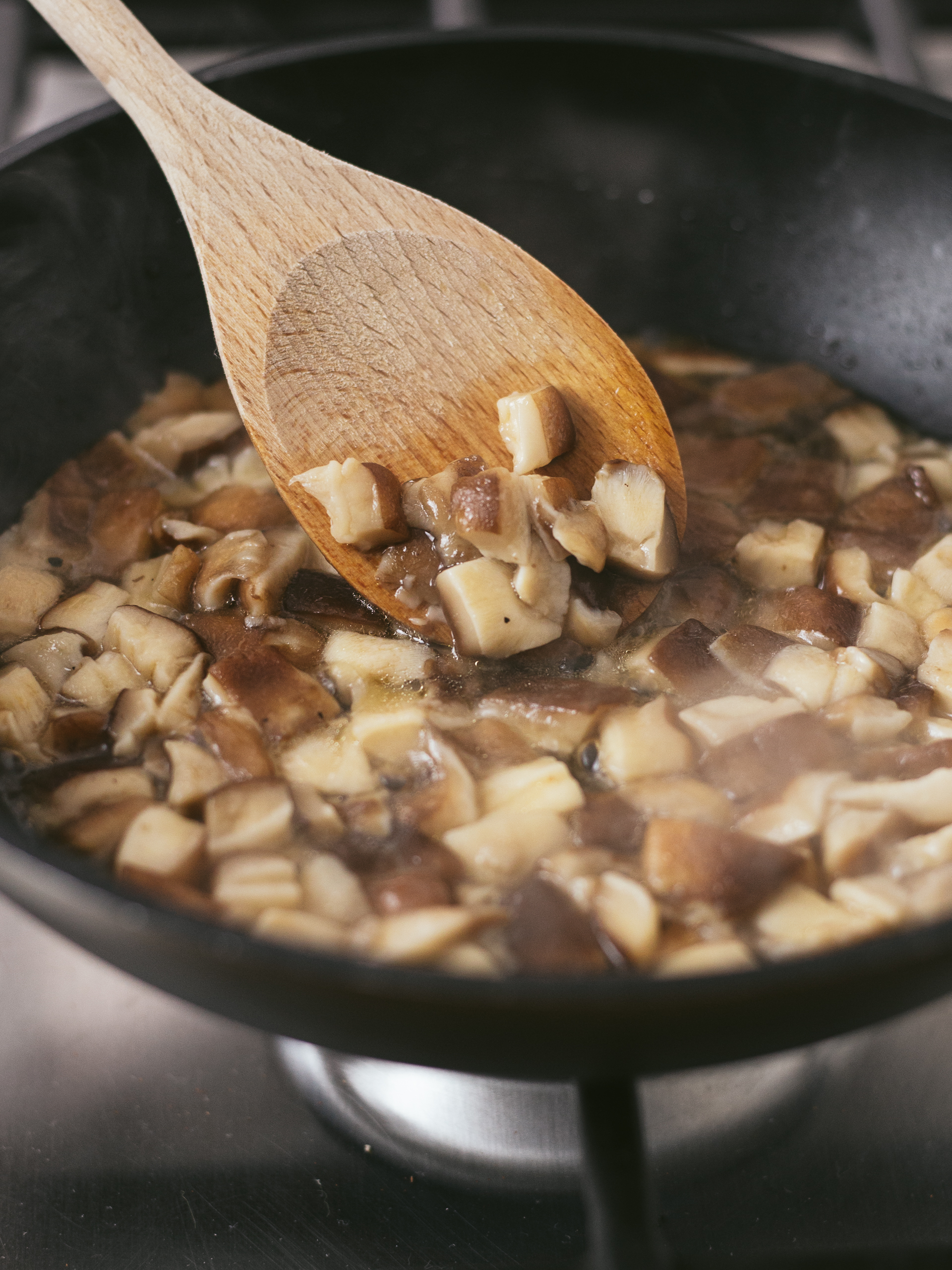 Step 2
When the mushrooms are lukewarm, add them to a food processor.
Tip in the water, sugar, pepper, garlic powder, miso paste, and a third of the tapioca starch.
Tear the nori seaweed sheet into small flakes and add them in too.
Blitz all the ingredients into a smooth and creamy paste.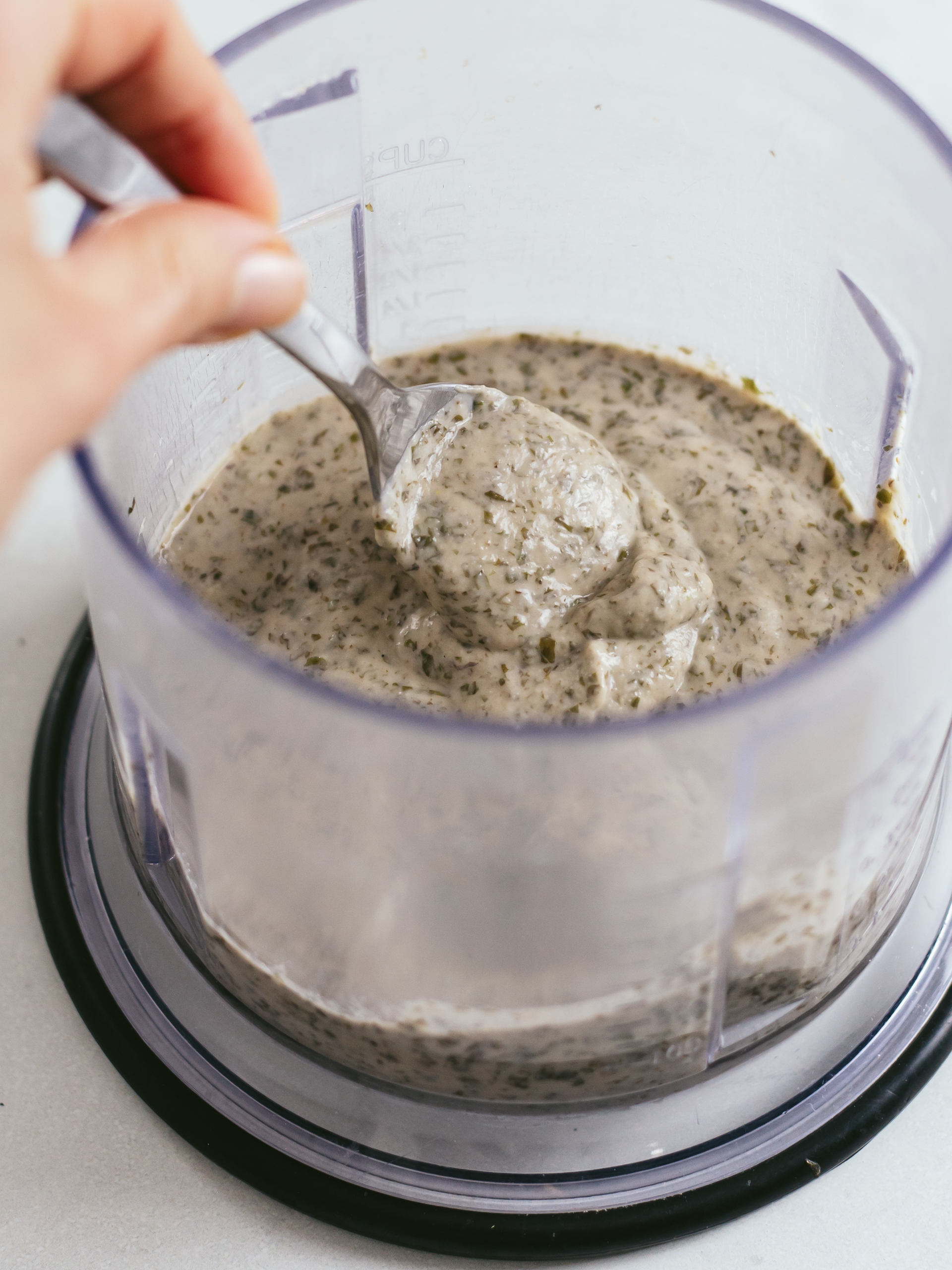 Step 3
Transfer the miso mushroom paste to a bowl, add the remaining tapioca starch, and mix into a dough.
Transfer the dough onto your worktop and knead it until uniform.
The "prawn" cracker dough should be smooth and pliable but slightly stiff (1).
Roll the dough into a log, ensuring it will fit in your steamer basket, and keep it covered with cling film while you set up the steamer (2).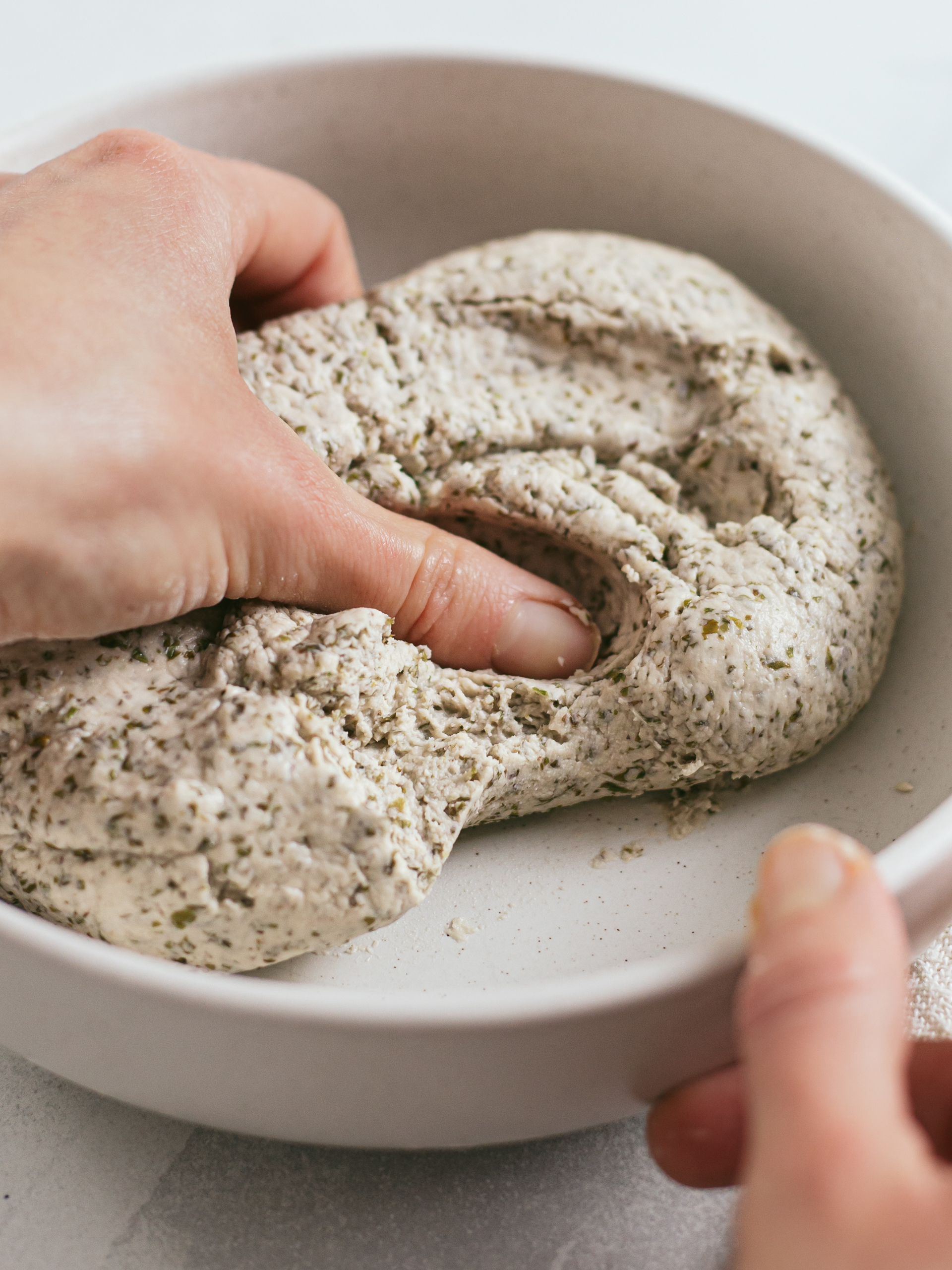 1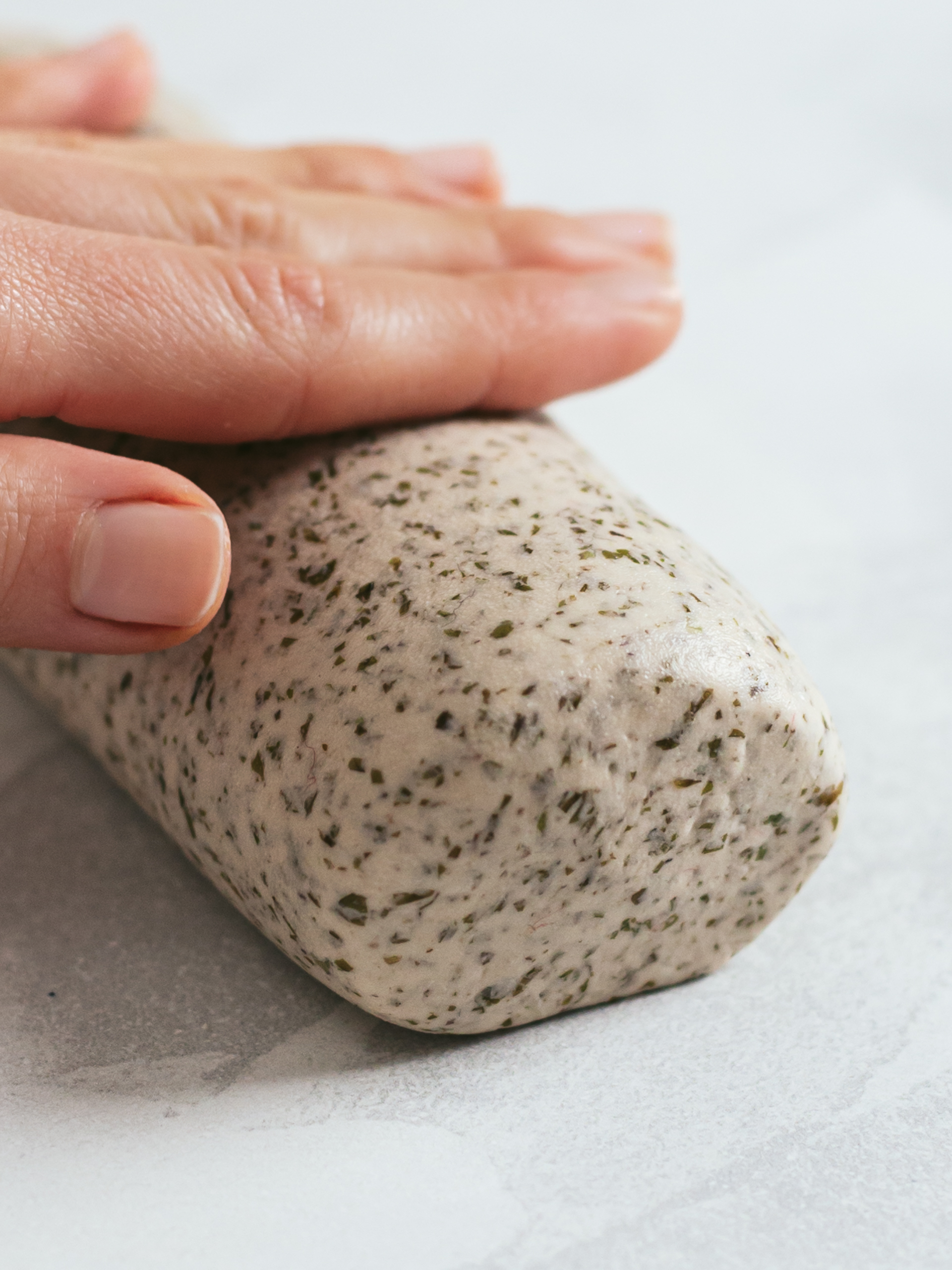 2
Step 4
Sit the steaming basket on a pot of simmering water, making sure it doesn't touch it and line the basket with baking paper.
Grease the roll to prevent sticking, place it in the basket, and close the lid.
Cook the dough roll for 45 minutes, keeping the water at a gentle boil.
Once ready, the dough roll will inflate slightly and become glossy and sticky. It will also look darker, but don't worry: the "shrimp" chips will turn white again when frying.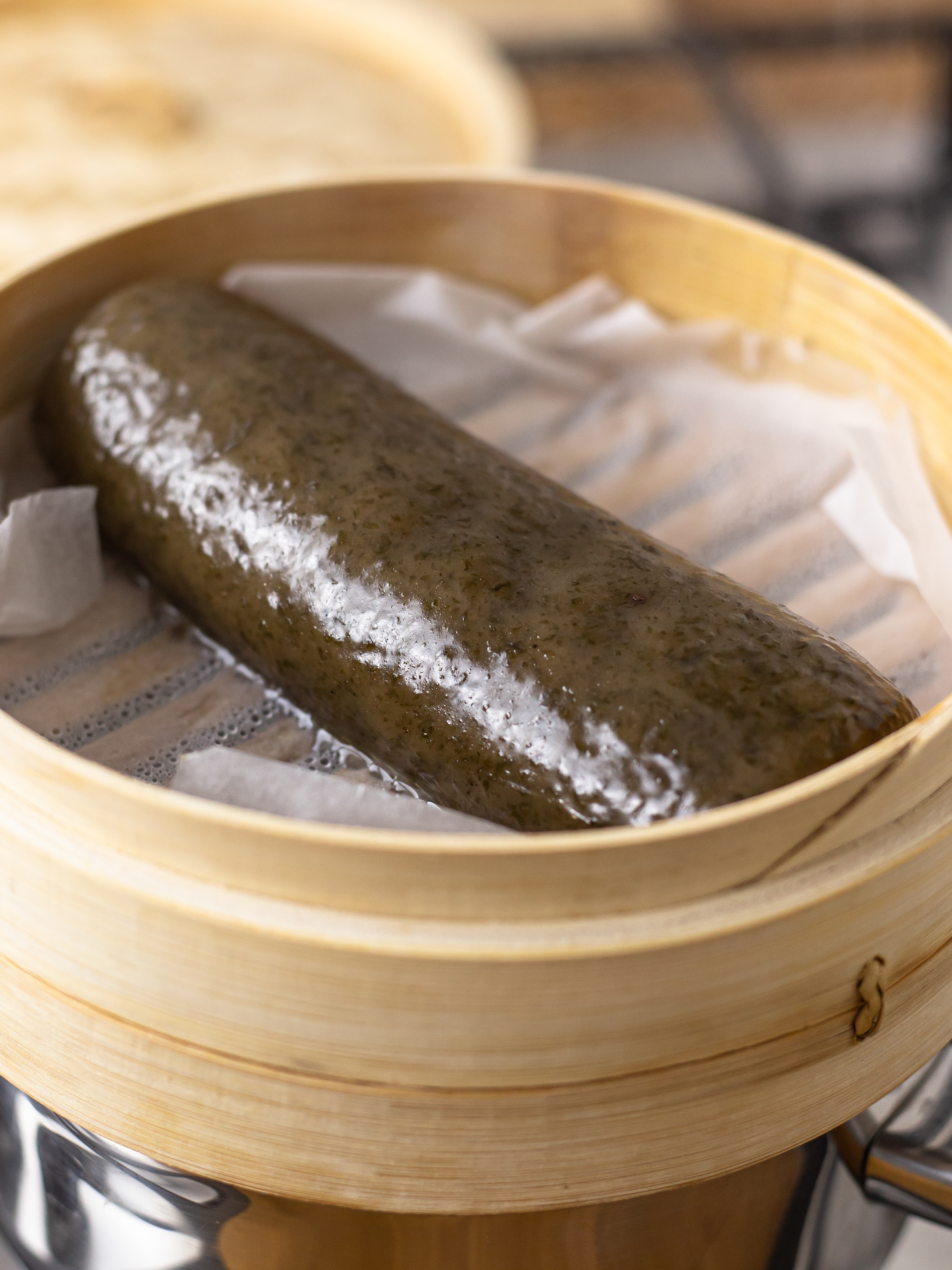 Step 5
Once cooked, let the dough log cool down for 10-15 minutes before wrapping it tightly in cling film.
Then, place it in the fridge and let it chill until hardened — about 2-3 hours, or you can leave it overnight.
The cooling step will make it easier to slice the dough into chips.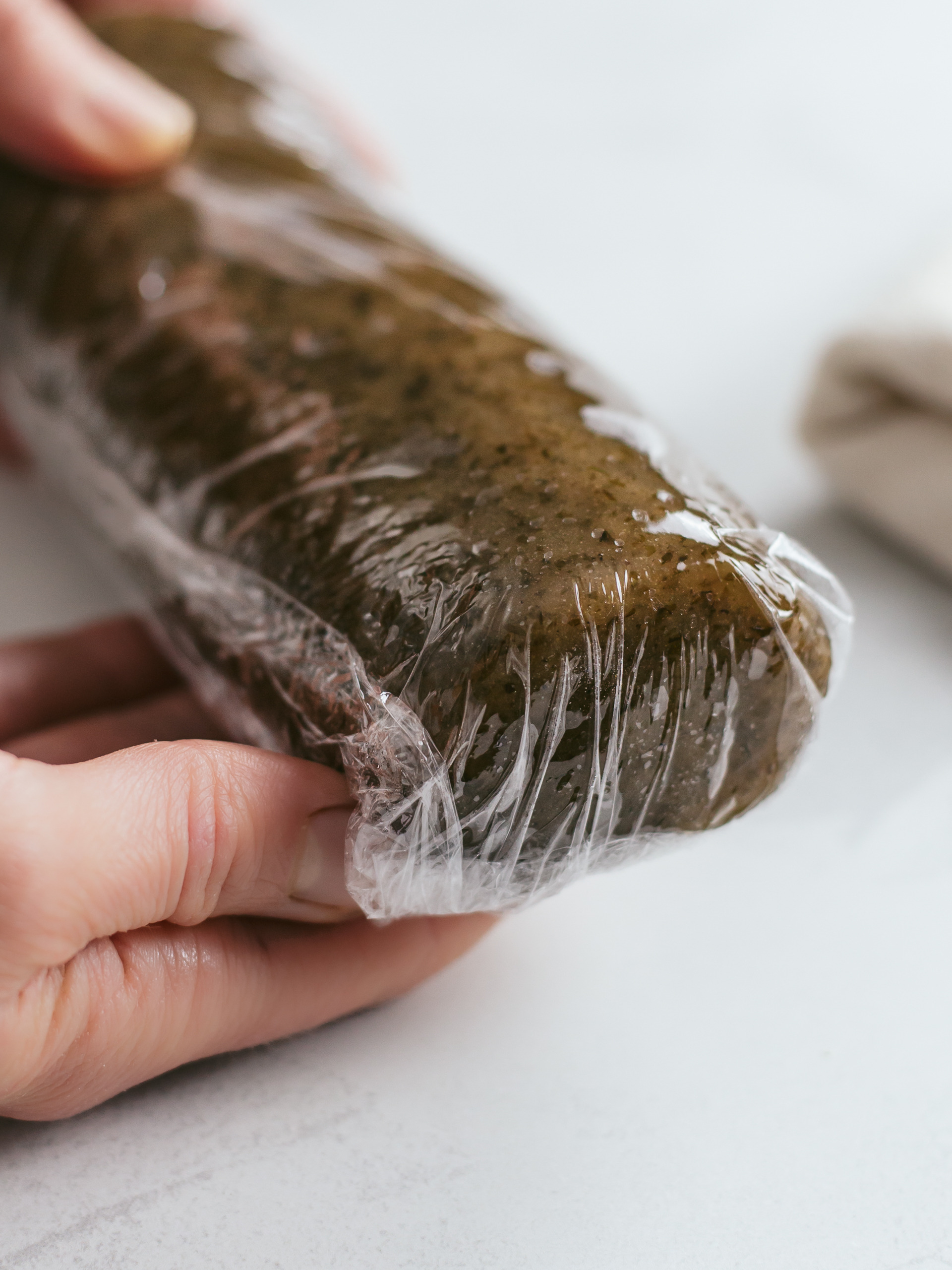 Step 6
Once set, cut the "prawn" cracker log into very thin slices, no more than 2 mm thick.
You can use a long sharp knife, potato peeler, or mandoline slicer.
The thinner you make the chips, the faster they will dry and the sooner you can fry them.
Aim for a 1 mm thickness if possible: the chips should be thin enough you can almost see through them.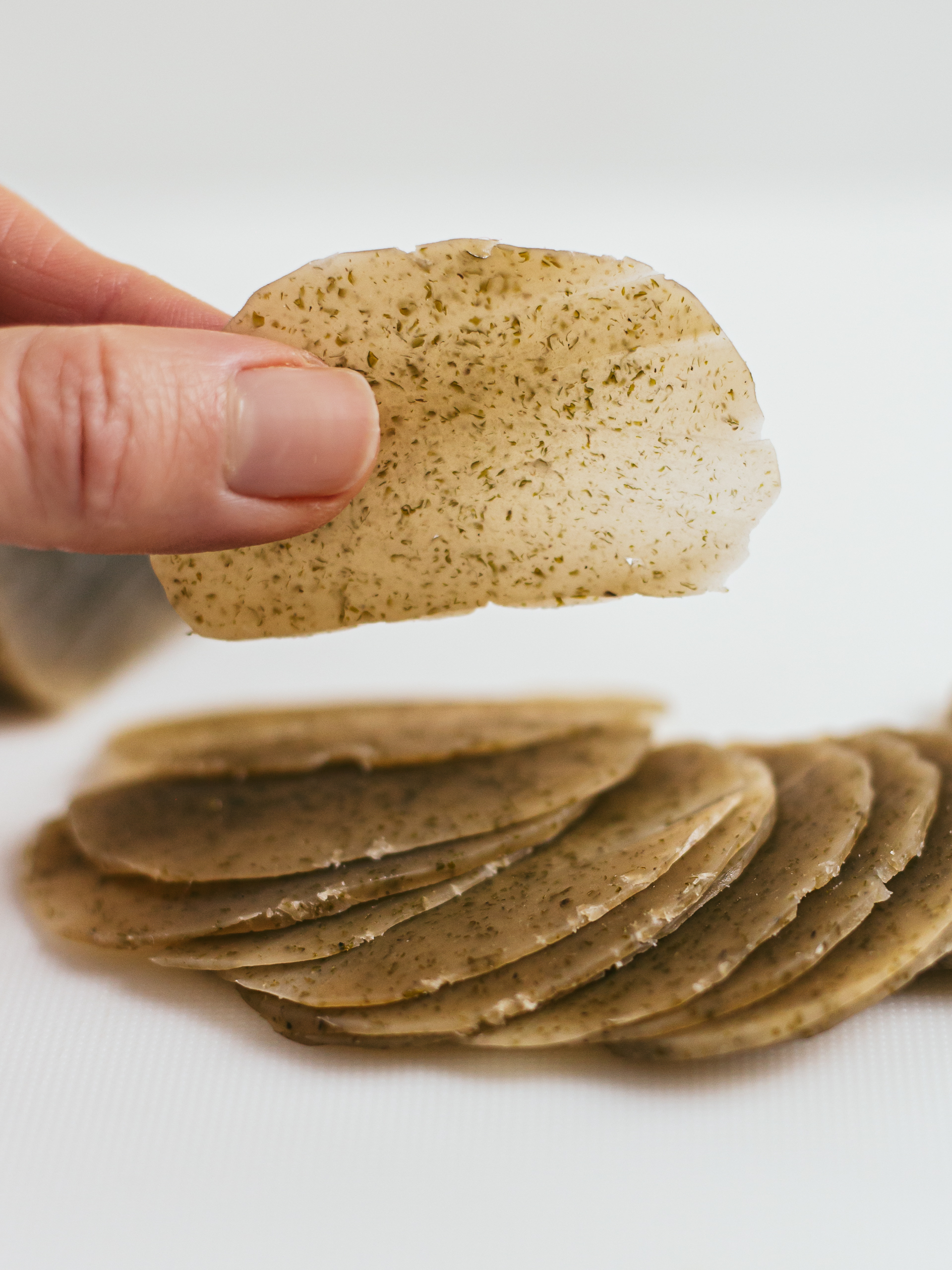 Step 7
Preheat the oven to 50°C (125°F) fan or 70°C (160°F) static.
Line a baking tray with parchment paper, and arrange the chips flat and close to one another, as they'll shrink (1).
You may need more than one tray to fit all of them.
Oven-dry the "prawn" chips for 1 hour and 30 minutes, flipping them halfway through cooking.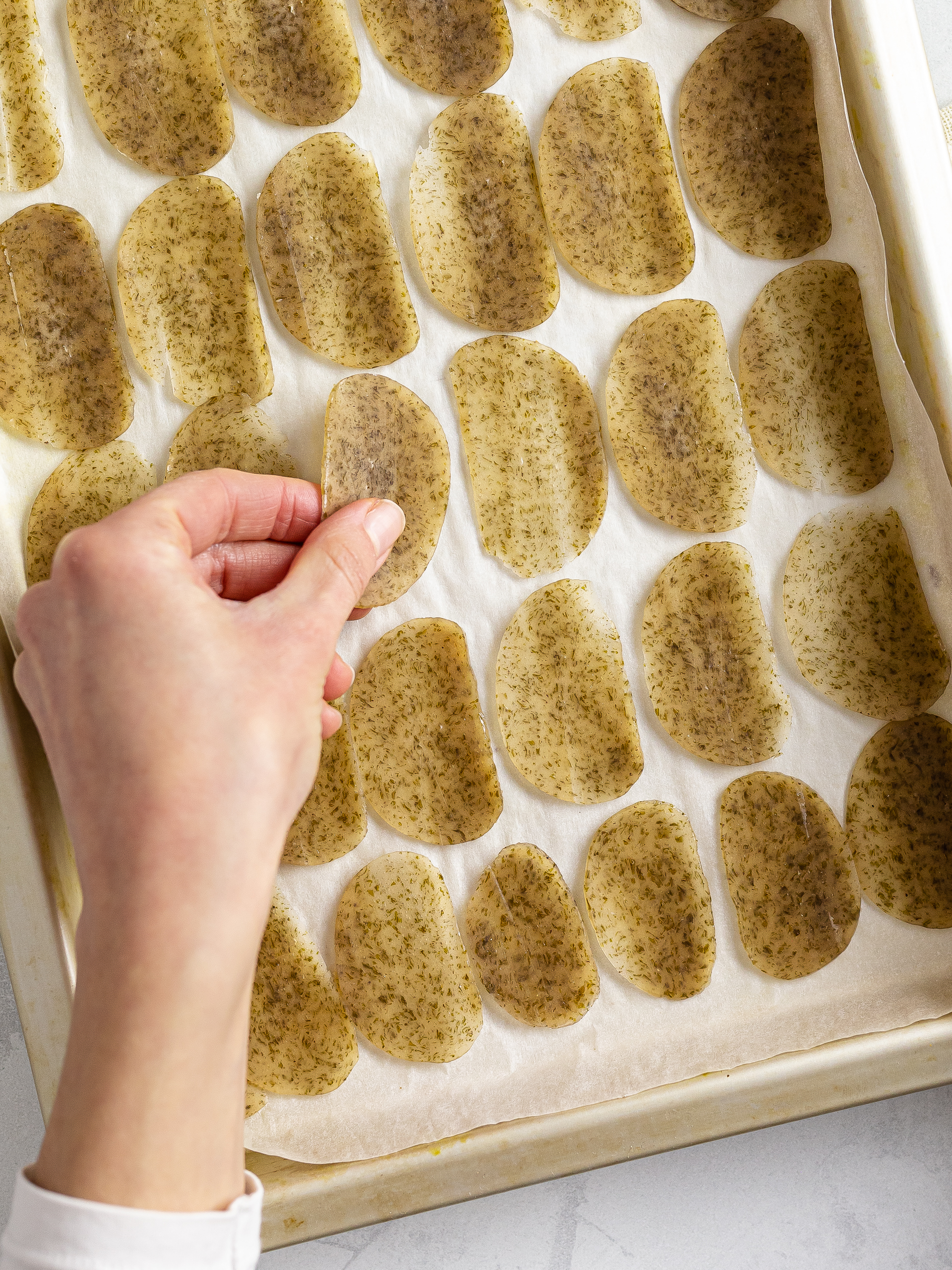 Step 8
Then, let the chips cool down on a rack for 30 minutes to crisp up.
The chips should be hard and dry enough that they crack if you bend them.
So, if the chips bend but don't snap, return them to the oven and keep drying them until completely hard.
You can also leave them to dry out on a tray at room temperature throughout the day or overnight.
If not fully dried, the chips won't puff up when you fry them.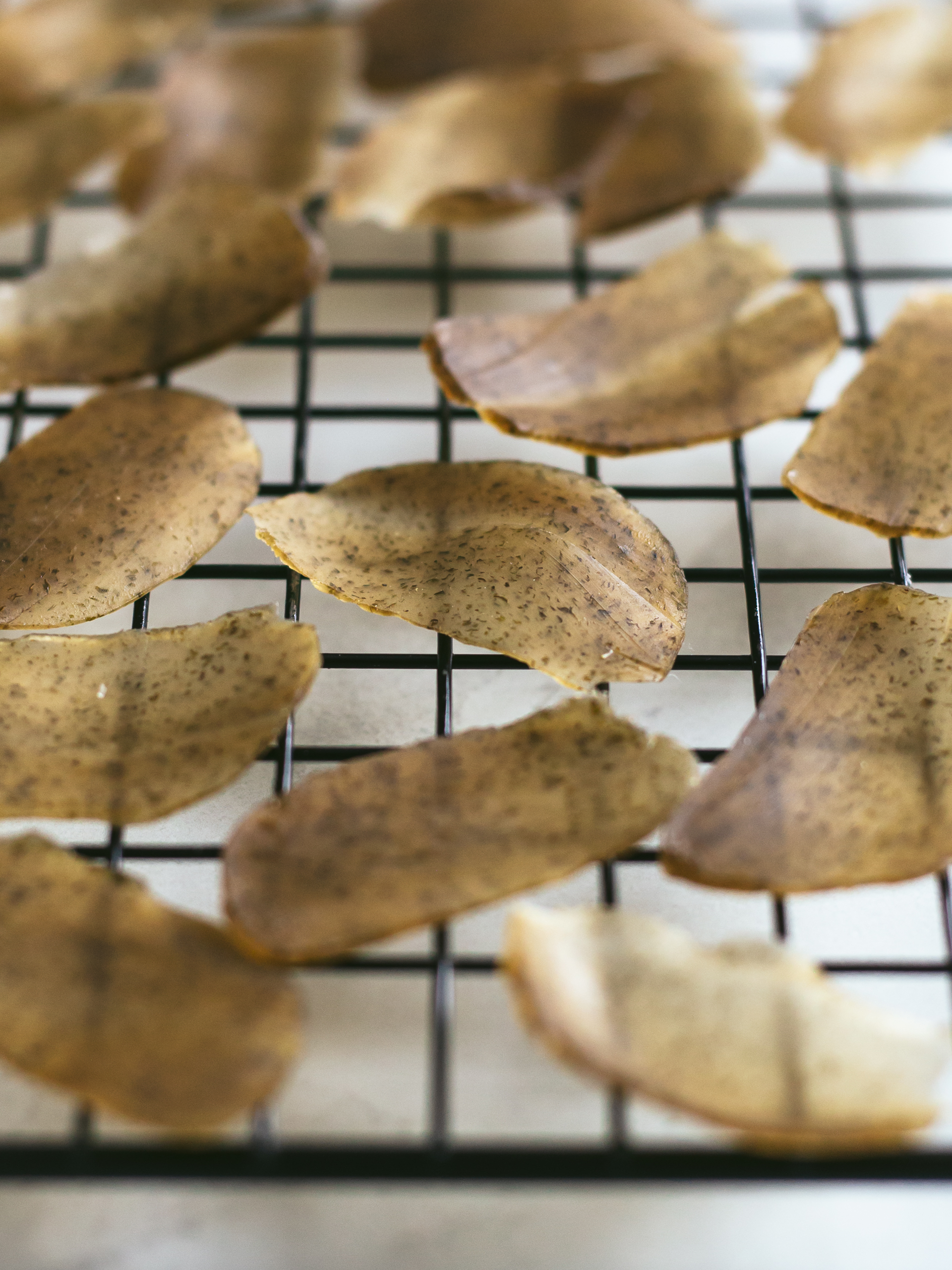 Step 9
Add enough frying oil to a pot to ensure the chips will be fully submerged, and heat it to 180°C (355°F).
Monitoring it with a kitchen thermometer, keep the oil between 170°C-190°C (340°F-375°F) throughout the frying time to avoid undercooking the "prawn" crackers or burning them.
Add one chip to the hot oil and, while pressing it down with a chopstick to keep it submerged (1), fry it until it puffs up (2). It will take just a few seconds.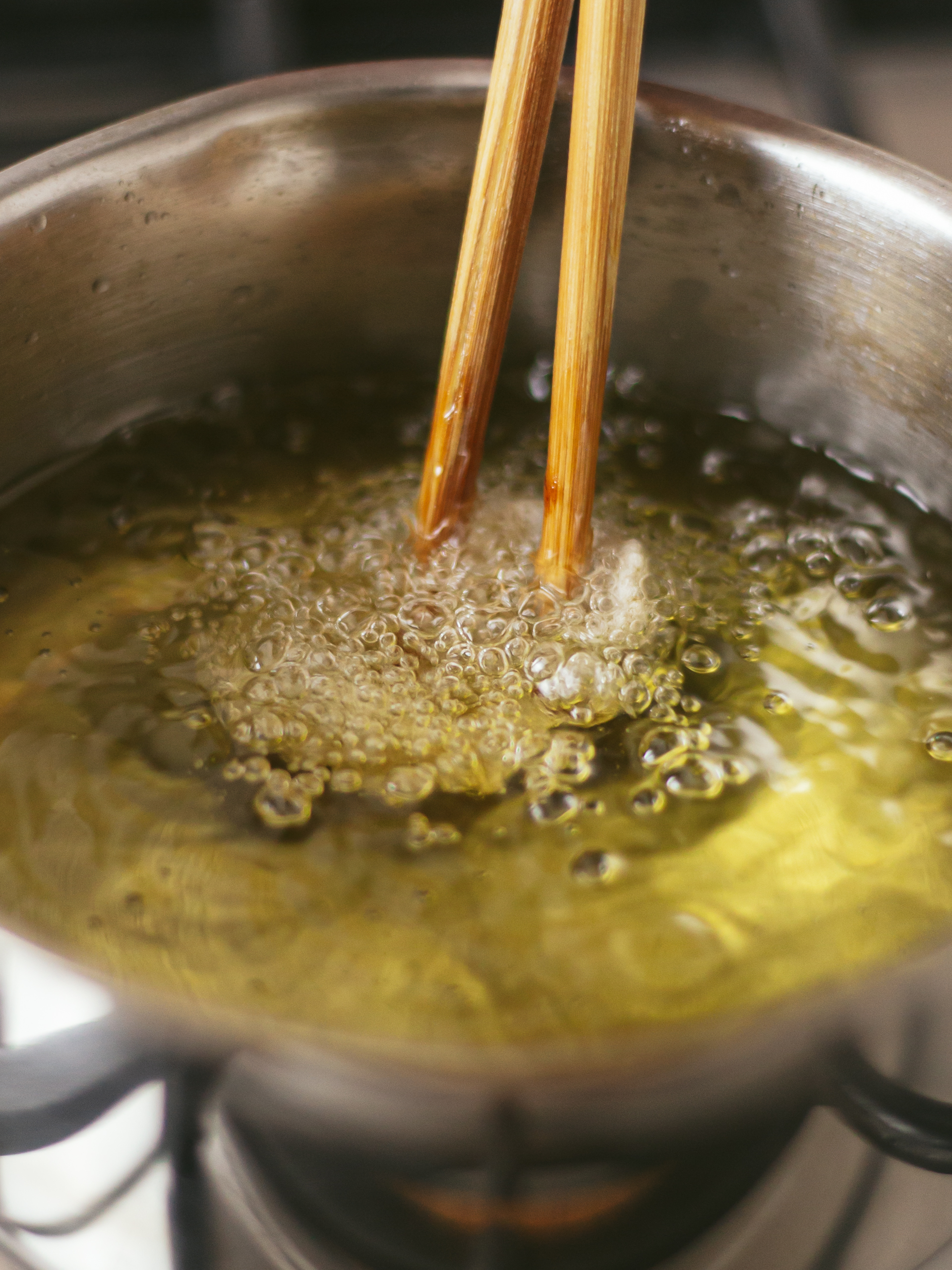 1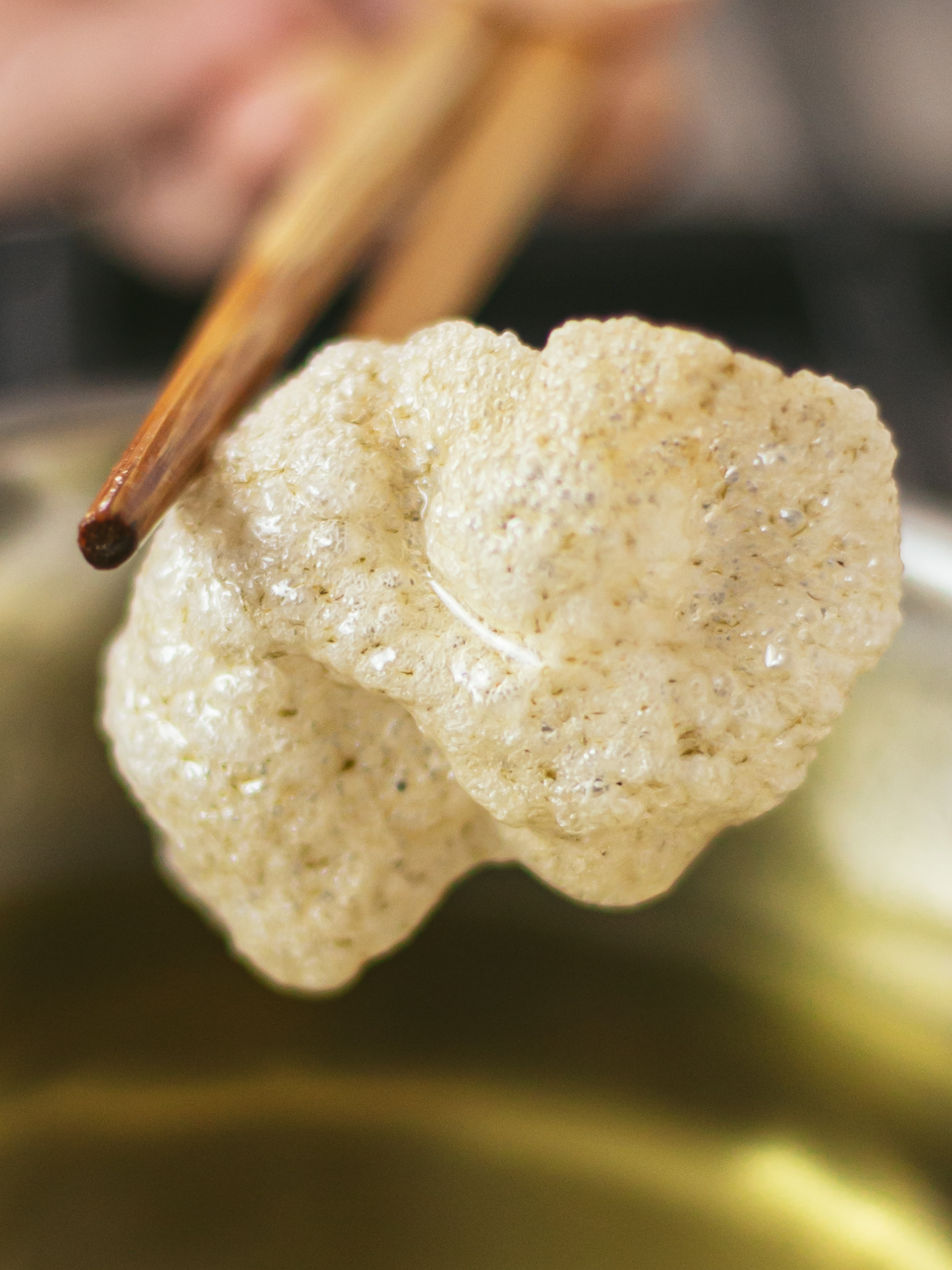 2
Step 10
Shake off or drain any excess oil and transfer the fried cracker to a tray lined with kitchen paper.
Repeat for the other crackers.
Enjoy your homemade vegan prawn chips right away with a sweet chilli sauce for dipping — or with this homemade Asian chilli jam!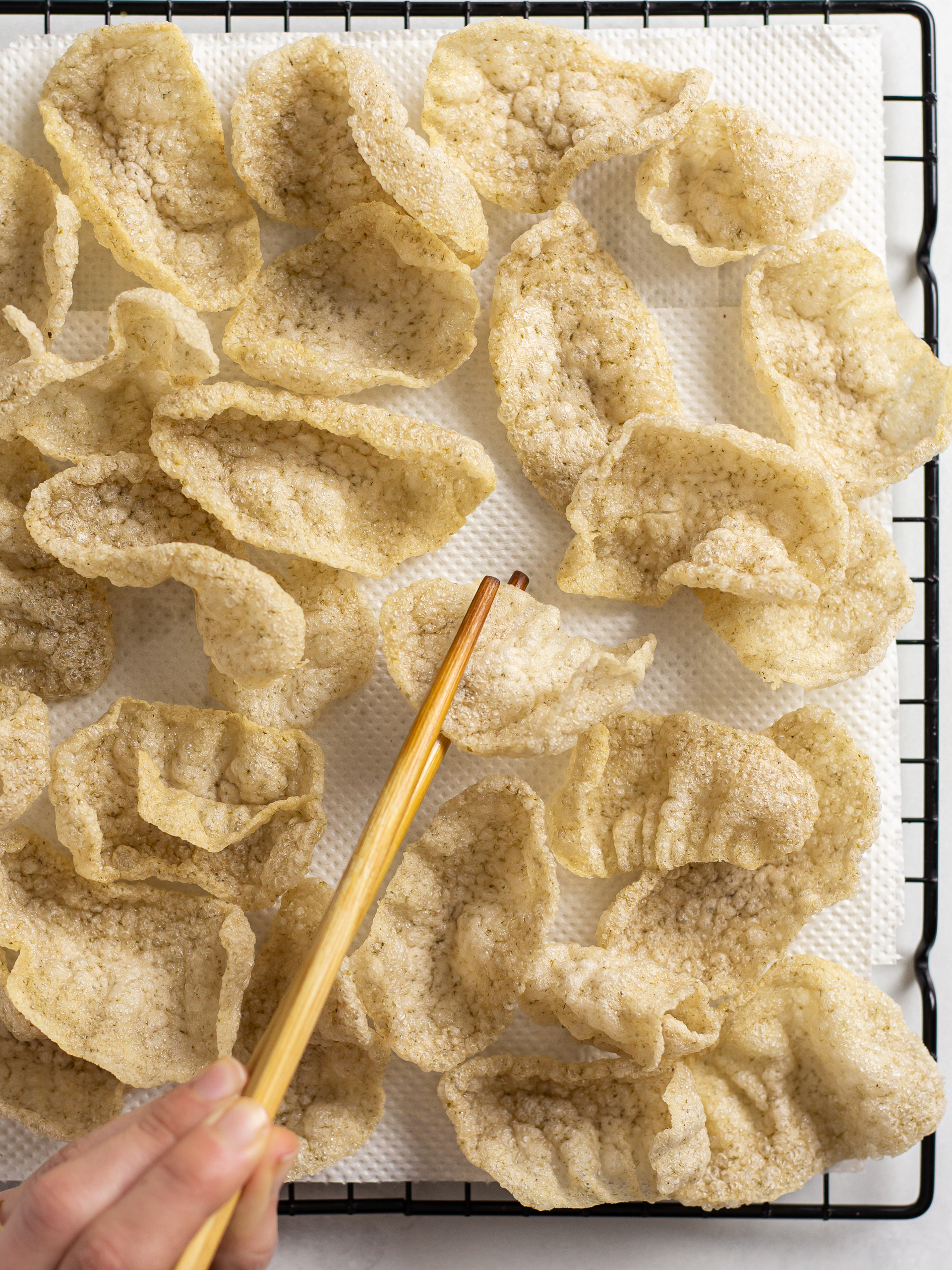 Tips
You can use leftover mushroom stems to make some delicious vegan ebi tempura, and leftover nori sheets for maki rolls or to wrap onigiri balls, like these kombu onigiri.

Keep the chips fully submerged in oil, or they won't expand fully, leaving hard, dry spots instead.

Fry these veggie prawn chips only when you're ready to serve them, as they'll get soggy in just a few hours after frying. You can store the dry chips away and fry a batch when you want them!