Today we'll show you how to make an easy plant-based spin of Japanese "ebi" mayo, fried vegan prawns coated with spicy mayo sauce.
They're so crispy and flavourful — we're sure you'll come back for more!
Ebi translates into "prawns" in Japanese, and ebi mayo means "prawns with mayo". It's a simple yet irresistible starter dish.
And what makes it so good is its combination of fried ebi tempura with a seasoned mayonnaise-based sauce.
To make our recipe vegan, we replaced prawns (shrimps) with a clever plant-based substitute: shiitake mushrooms.
Shiitake mushrooms have a fleshy texture and a lightly savoury taste, perfect for replacing prawns.
We separated the mushroom stems from their caps and used them instead of shrimps for the vegan ebi tempura.
If you select the thickest and curviest stems, they'll look just like curly prawns. Super easy!
But if you feel particularly crafty, you can even carve out shrimps shapes out of the shiitake caps. You'll need just a small knife and a little extra time.
We'll show you how they'll look in the recipe steps.
To give our vegan prawns a "fishy" taste, we prepared two coatings: one with miso paste, garlic, and lemon, and one with starch and nori flakes.
They're super easy to put together and will make your vegan "ebi" much more flavourful.
Tempura batter is the go-to choice for coating and frying ebi mayo.
It's a simple batter made with just flour and sparkling water, but it will give a wonderfully crispy crust to the "prawns".
And finally, the ebi mayo sauce. This sweet and sour mayo-based sauce is what sets ebi mayo apart from classic ebi tempura.
There are different ways to make this sauce; we used our vegan sriracha mayonnaise.
It's a super easy sauce made with egg-free cashew mayo and garlicky sriracha. It's low-fat and low-calorie, a great alternative to regular ebi mayo sauce. You'll love it!
Sounds good? Let's prepare these Japanese "ebi" with mayo together!
Frequently Asked Questions
What is ebi mayo?

Ebi mayo is a simple Japanese appetiser dish consisting of prawns (shrimps) coated with a light tempura-like batter, deep-fried, and then smothered in a seasoned mayo sauce.
Is classic mayo shrimp vegan?

The classic mayo shrimp recipe is not vegan as it's prepared with prawns, usually tiger or king prawns, or shrimps.

Also, the prawns are first fried and then coated with a mayonnaise-based sauce that contains eggs.

So, because ebi mayo contains both seafood and eggs, it is not suitable for those on a plant-based diet or with fish or egg allergies.
How do you make Japanese ebi mayo vegan?

You can make Japanese ebi mayo vegan by replacing prawns with a plant-based alternative and mayonnaise with an egg-free mayo sauce.

For the shrimps, you can use store-bought vegan shrimps or opt for fleshy mushrooms, like shiitake or king oysters, artichokes hearts, palm hearts, or plantains.

As for the mayo, you can use a store-bought vegan mayonnaise, or you can make a healthier mayo sauce following our low-fat vegan cashew mayo recipe.

Then, use the cashew mayo as a base for the ebi sauce.
How do you make vegan shrimps taste like fish?

If you want to make your vegan shrimps substitute taste like fish and seafood, you should mix it or marinate it with ingredients such as miso paste, flaked nori seaweed, and lemon juice.

Both miso paste and nori lend a powerful umami flavour to vegan prawns.

Nori, in particular, with its salty and briny flavour, can add seafood taste to many vegan recipes.

Finally, lemon is usually drizzled on fish, and its acidity helps balance the flavours.
Which batter do you use for frying shrimps in ebi mayo?

Light and crispy tempura batter is the best batter for frying shrimps in this ebi mayo recipe.

Tempura batter is a simple mix of flour, salt, and ice-cold sparkling water.

It will make your vegan ebi mayo coating super crispy and light.
Is ebi mayo like ebi tempura?

Both ebi mayo and ebi tempura are Japanese starters prepared with battered and fried prawns (ebi).

Both recipes use a batter made with flour and sparkling water, called tempura batter, but in ebi mayo, the fried prawns are also slathered in a mayo-based sauce.
Which sauce do you use in shrimp mayo?

The sauce used in Japanse ebi shrimp mayo is a sweet and sour mayonnaise-based sauce.

It usually consists of mayonnaise mixed with sugar, vinegar, and a savoury sauce like ketchup, soy sauce, or spicy sauce.

To make our ebi mayo sauce vegan, we swapped regular mayo with our egg-free cashew mayo, which is super easy to make at home.

Then, we mixed it with sriracha sauce which is sweet, sour, and spicy.
How do you serve mayo ebi tempura?

You can eat ebi mayo on its own or serve it on a bed of crunchy shredded cabbage, which often accompanies this dish in restaurants.

Another way of using shrimp mayo is as a filling for sushi rolls or as a topping for rice or soba noodles dishes.

Give them a go in our vegan crunchy roll sushi instead of tofu, or add them to this Japanese garlic fried rice.
Ingredients
Coating
Miso Paste

45 g

Lemon Juice

60 mL

Water

45 mL

Garlic Powder

3 tsp

Starch (corn or potato)

60 g

Nori Sheets (flaked)

1

Mayo Sauce
Vegan Sriracha Mayo

recipe

80 g

Tempura Batter
Plain Flour

60 g

Salt

1/2 tsp

Ice-Cold Sparkling Water

150 mL

Vegan "Ebi"
Shiitake Mushrooms

280 g

Others
Frying Oil

to taste
Step 1
Make sure you select the shiitake mushrooms with the largest and most curved stems so they'll resemble the shape of a prawn.
Now, use a knife to separate the stems from the mushrooms caps, as shown in the picture.
You'll use the shiitake stems as vegan "shrimps".
If you have a little extra time and feel crafty, we recommend also carving prawn-like shapes from the mushrooms caps with a small knife.
Alternatively, you can use the leftover mushroom caps for a tasty japchae stir fry with glass noodles.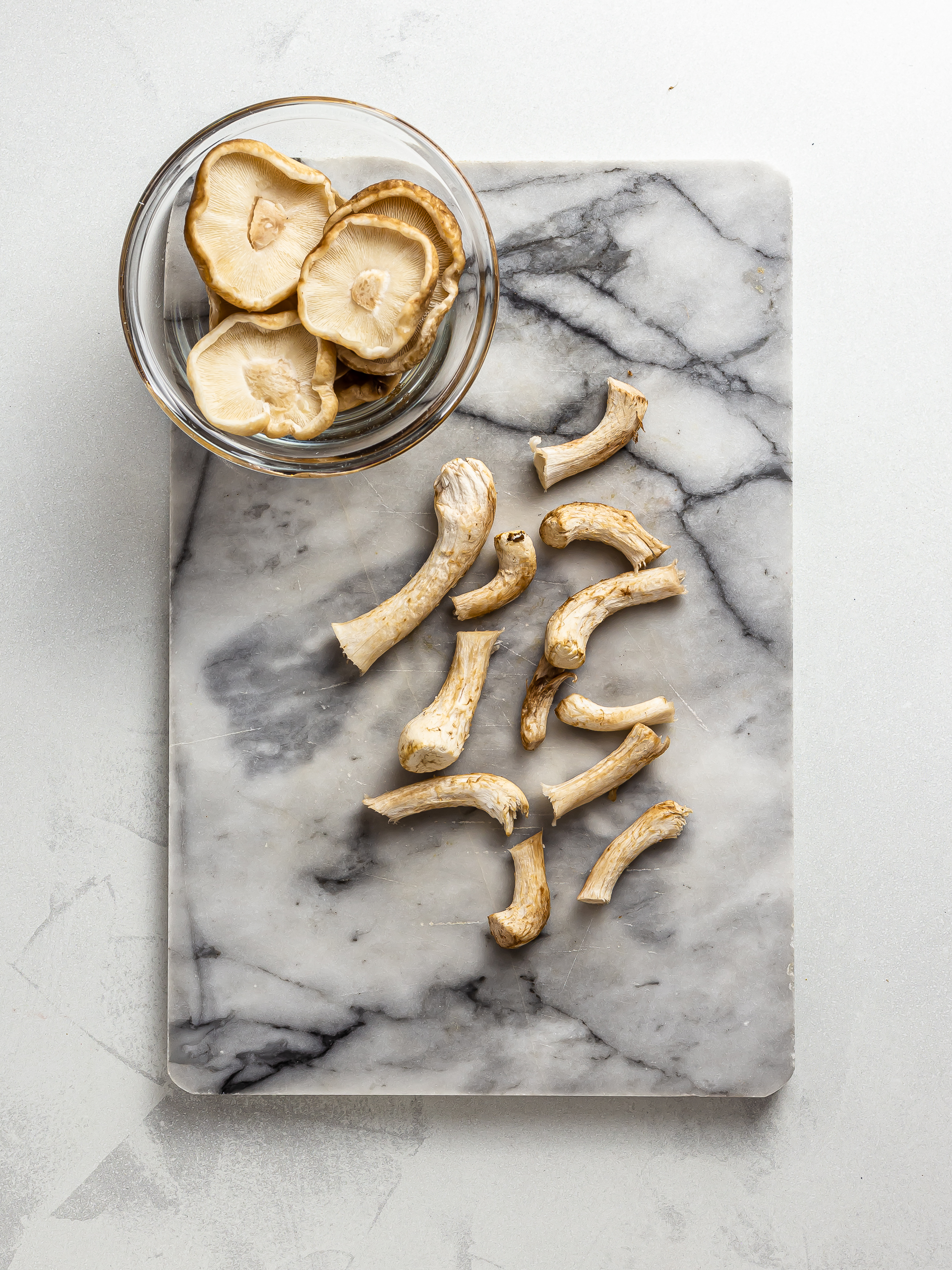 Step 2
Next, let's prepare the coating for our vegan ebi shrimps.
Whisk miso paste with lemon juice, water, and garlic powder in a small bowl (1).
Then, use a pair of scissors to cut the seaweed into very small bits and mix them with sifted starch in a second bowl (2).
Finally, combine salt and white flour in a third bowl, pour in ice-cold sparkling water, and whisk well (3).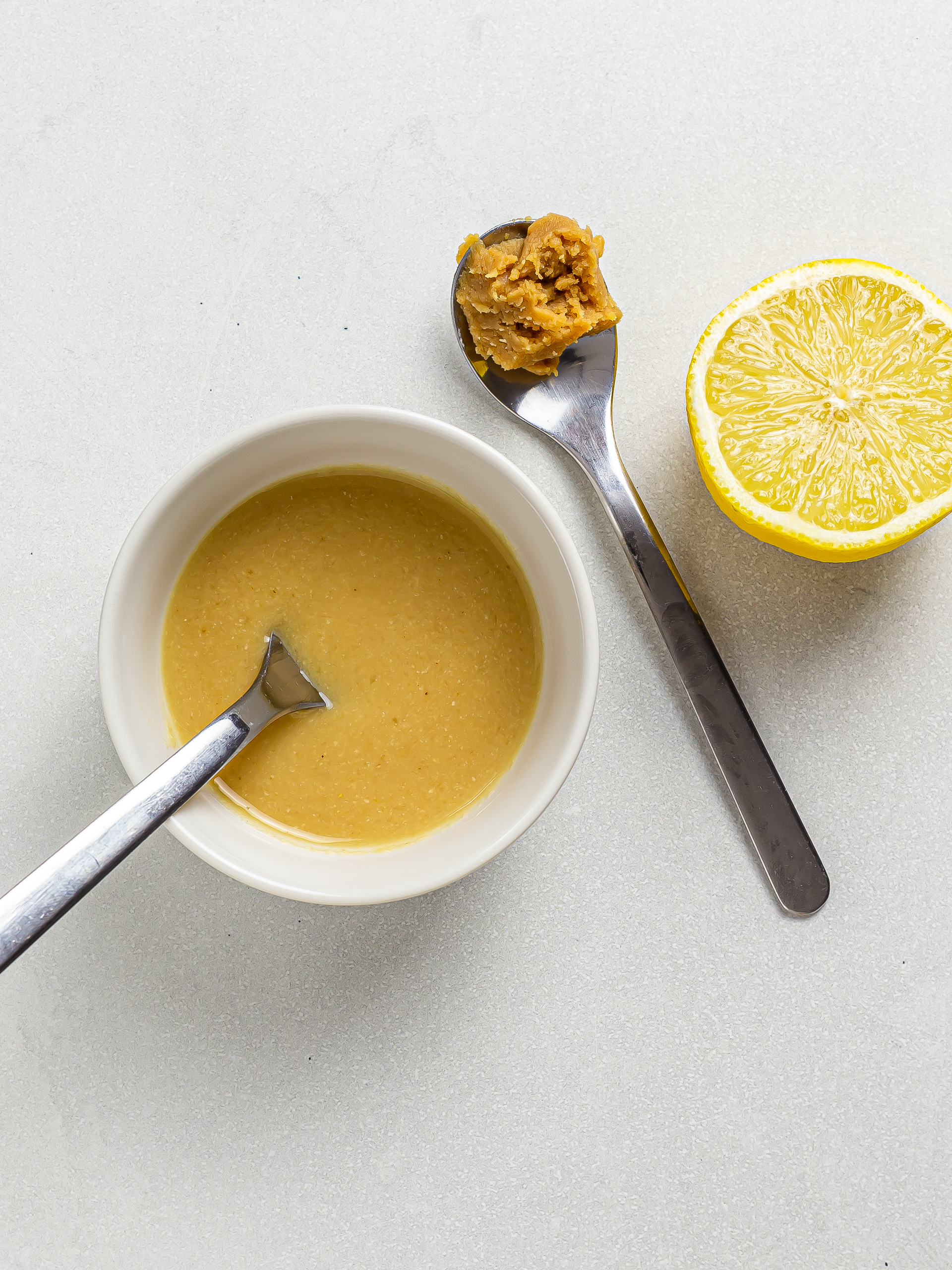 1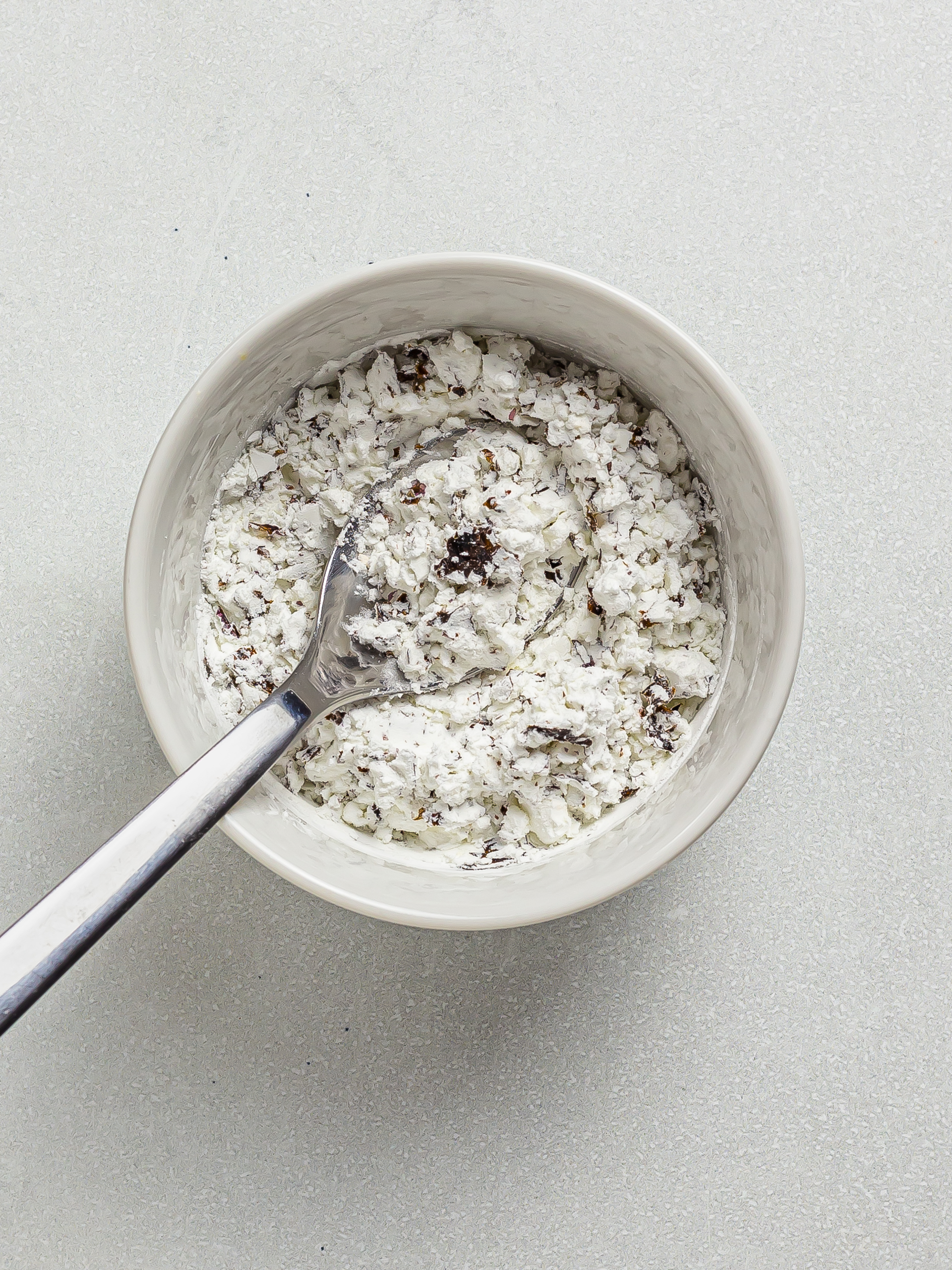 2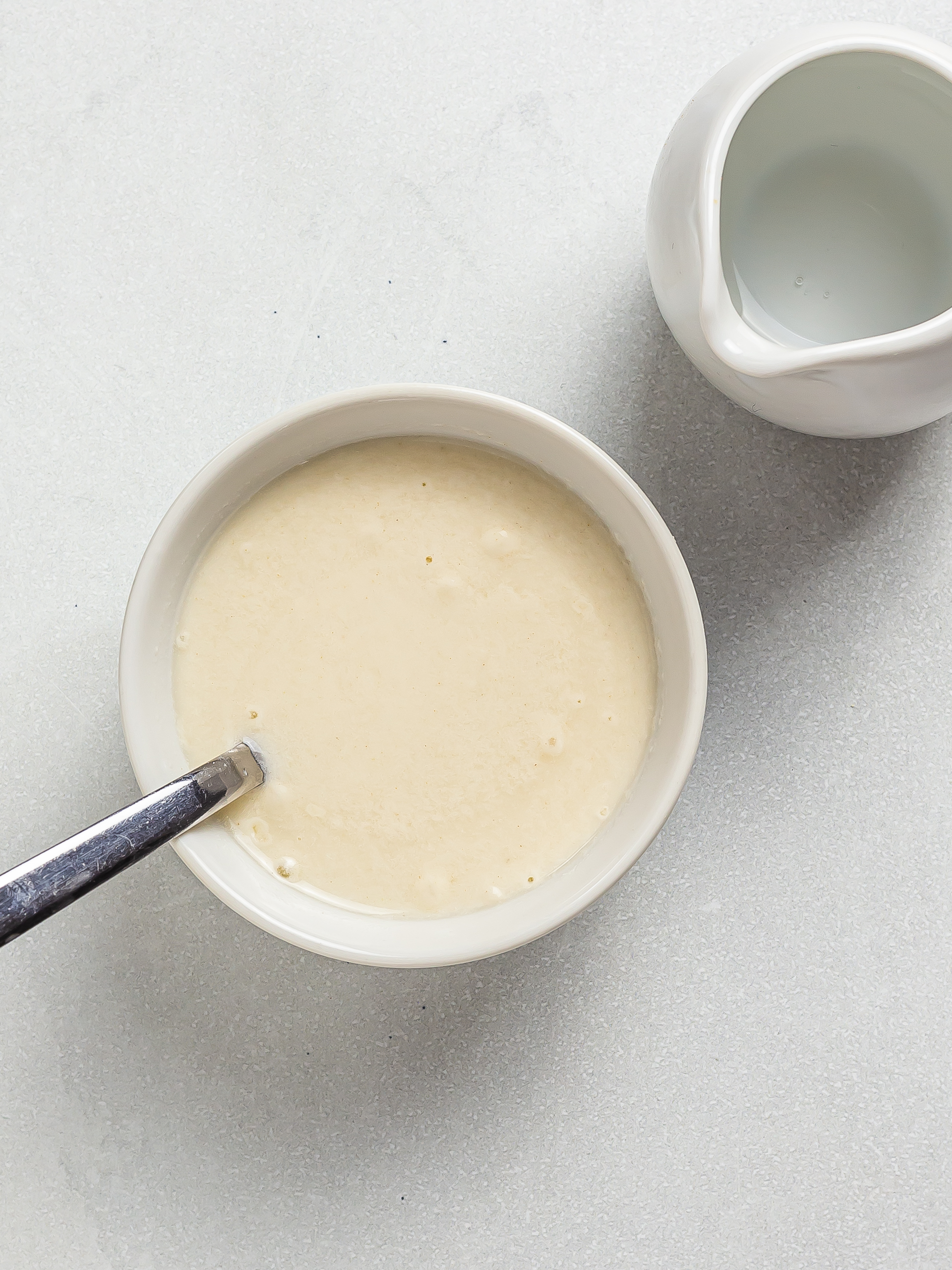 3
Step 3
Pour enough frying oil into a pot so that the ebi tempura will be completely submerged in it, and heat it to 180°C (355°F).
If you don't have a kitchen thermometer, you can check if the oil is ready by dipping the tip of a wooden chopstick or spoon in it.
If you see many bubbles forming around the wood and they float up, the oil should be hot enough for frying.
Meanwhile, dip each vegan ebi piece first in the miso mix, then in starch, and finally in the tempura batter.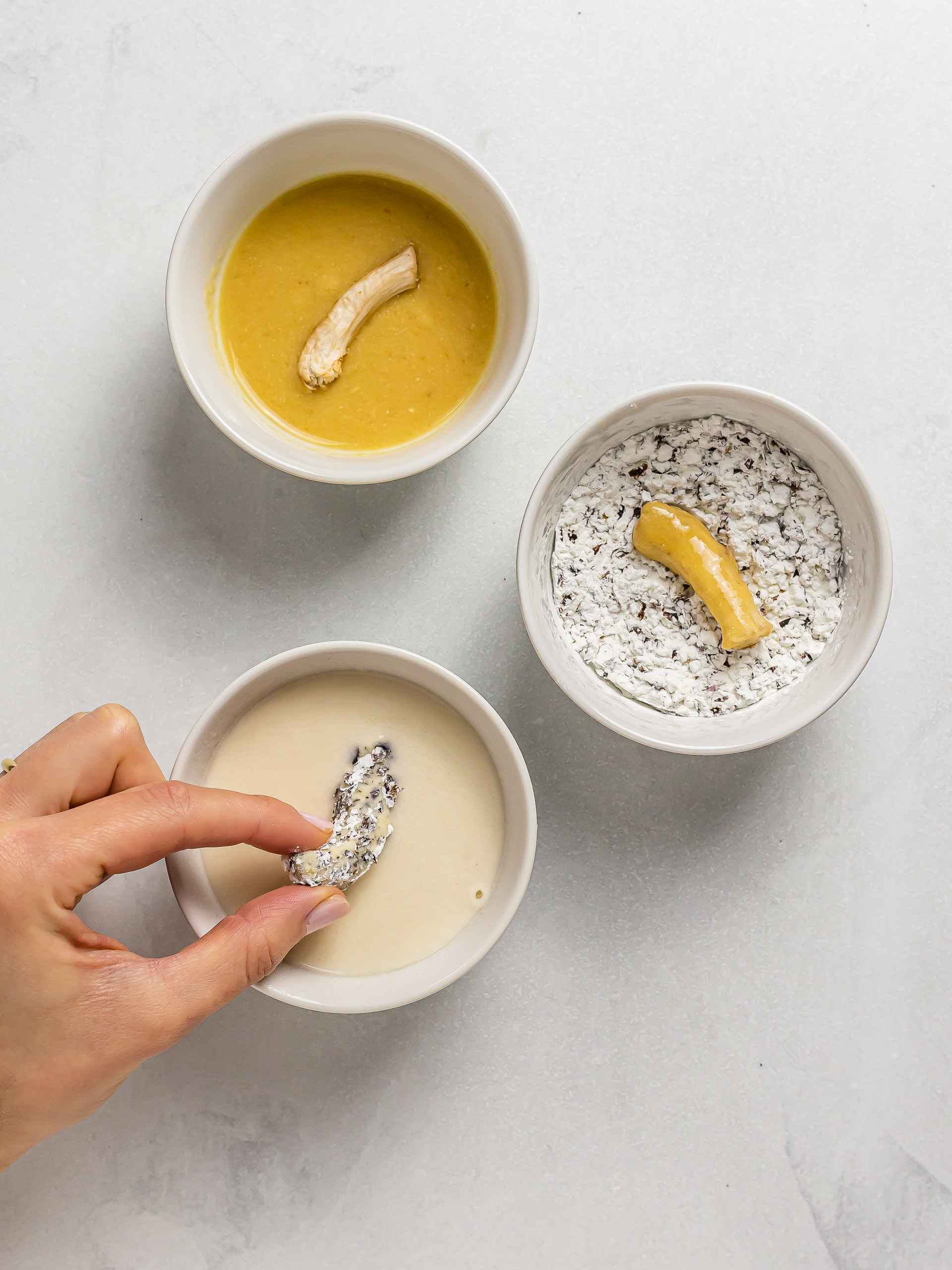 Step 4
When the oil is hot, add in 4 or 5 ebi pieces, and fry them for 2.5 to 3 minutes until crispy and golden.
If you put in too many pieces at the same time, the oil temperature will drop quickly, and the batter will absorb too much oil.
Make sure the oil temperature doesn't go below 170°C (340°F). You can monitor the oil temperature with a kitchen thermometer, or, if you don't have one, by how fast the ebi tempura browns.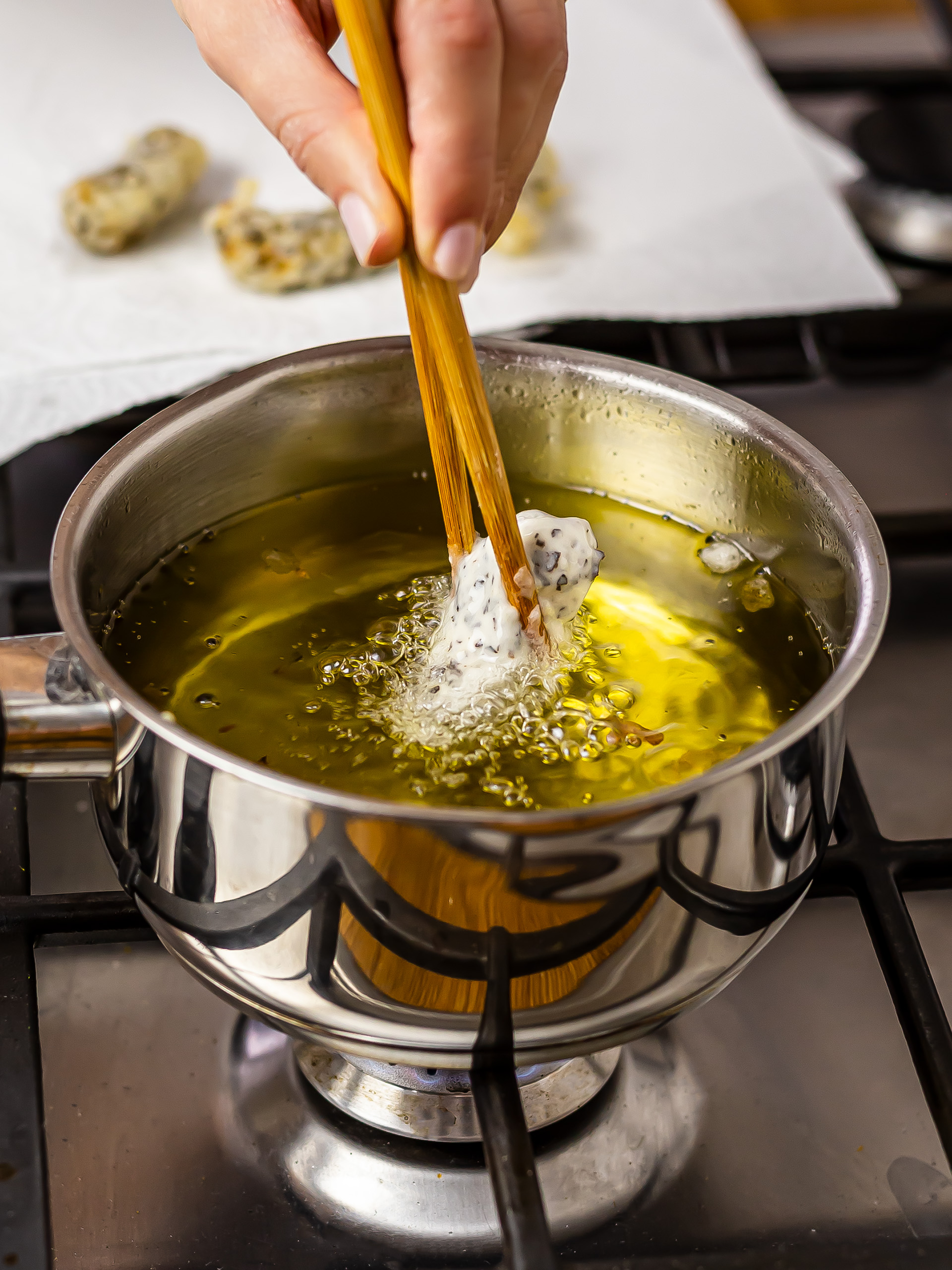 Step 5
Transfer the fried ebi tempura onto a rack lined with kitchen paper to absorb excess oil and stay crisp.
Finish coating and frying the vegan shrimps until you have used all the mushroom pieces.
As you can see from the picture, there're small and big ebi pieces. The four largest pieces on the right-hand side are the prawn shapes carved out from the mushroom cups.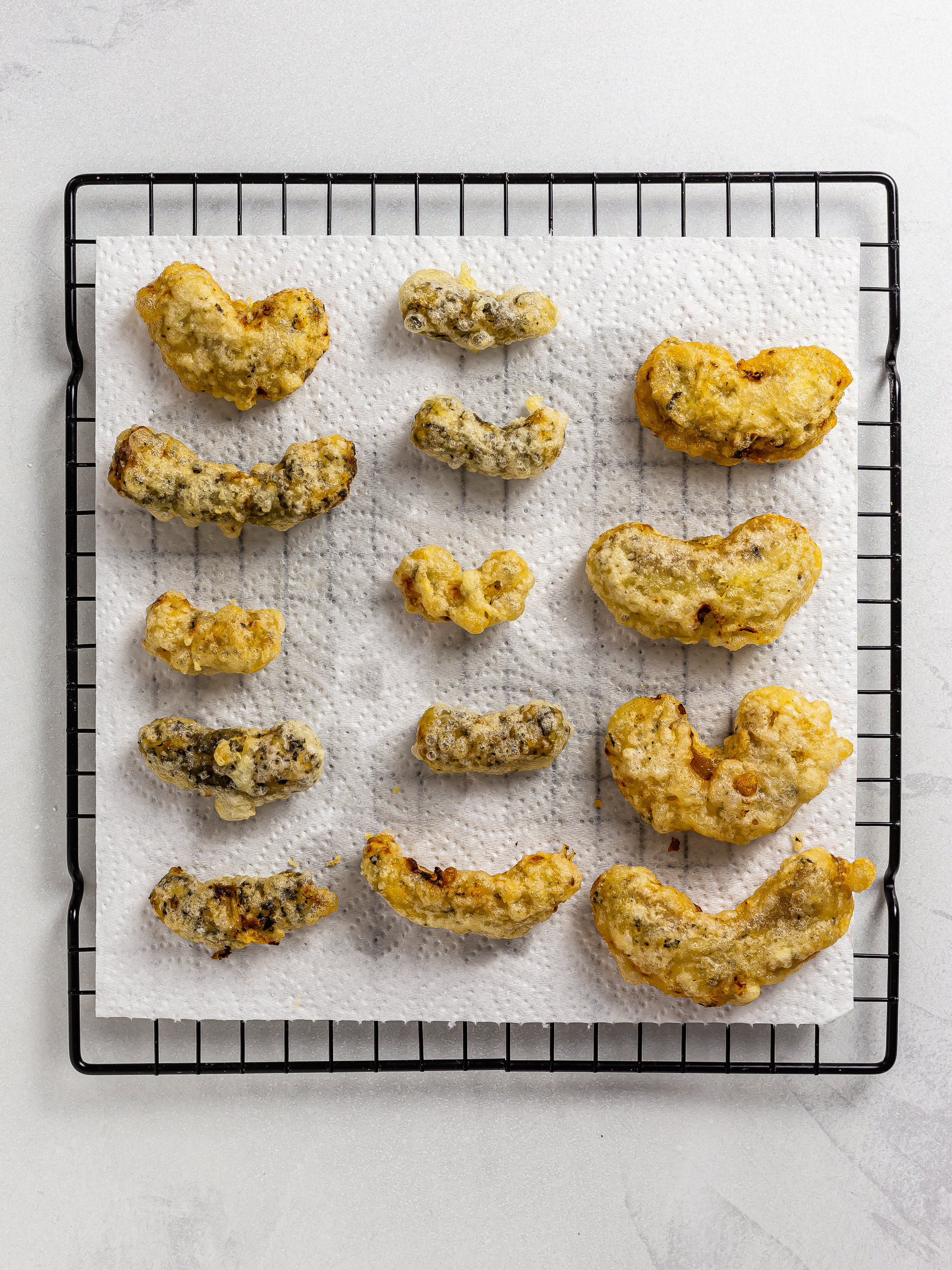 Step 6
As for the ebi sauce, you can use store-bought vegan spicy mayo or make it from scratch following our easy vegan sriracha mayonnaise sauce with cashews.
For more mayo sauce tips and alternatives, check our FAQs section.
Slather or drizzle the spicy mayo over the fried vegan shrimps and enjoy them hot.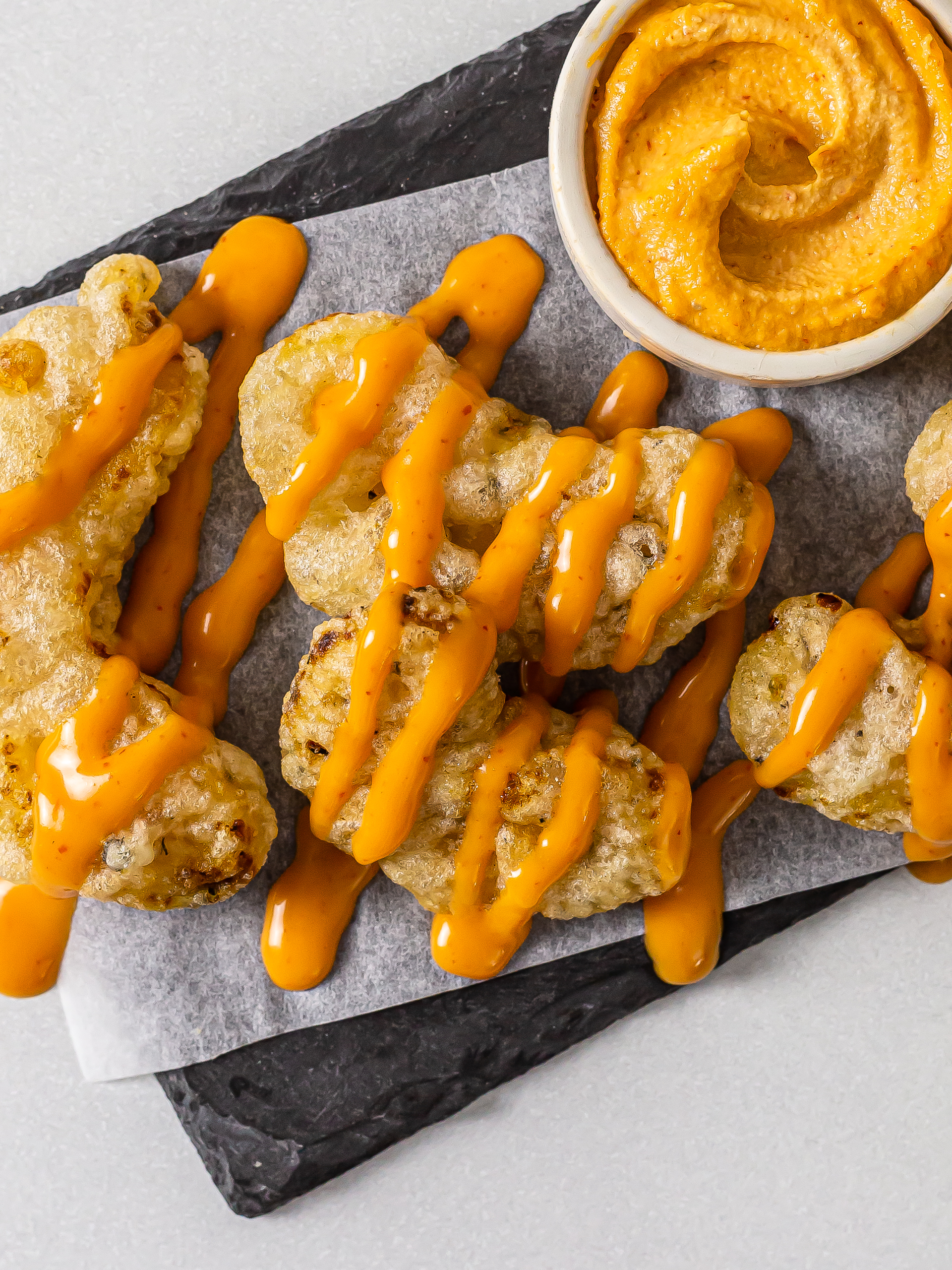 Tips
For best results, use the tempura batter as soon as you make it and fry the vegan ebi as soon as you coat them with it.