Today we are ultra excited because we will show you how to make sourdough cinnamon rolls from scratch. This recipe uses two of our favourite ingredients: sourdough and cinnamon!
Sourdough bakes are incredibly flavourful thanks to the slightly acidic taste given by the yeast fermentation. They are also easier to digest than those made with instant yeasts, as the fermentation process partly breaks down the gluten. Gluten is a protein that can cause digestive problems for some people.
Cinnamon is... Well, cinnamon is cinnamon! It's awesome, and we sprinkle it copiously in our bakes.
Our cinnamon buns are a real delight. They are fluffy, sweet, and slightly spicy, perfect for an indulgent breakfast, brunch, or as a dessert.
But indulgent doesn't have to mean unhealthy. We worked hard to make this recipe more wholesome than the original one. By carefully replacing some nasty ingredients, we made our sourdough cinnamon rolls vegan, low-fat, high-fibre, and refined-sugar-free.
The dough is prepared with wholemeal flour, sourdough starter, almond milk, and a little maple. And instead of the classic butter and sugar filling, we made a paste blending soft dates with a little water and cinnamon.
The result is a delicious plant-based spread, naturally sweet and with zero fats. Compared to a traditional cinnamon bun, our vegan swirls have ten times fewer fats, four times more fibres, and half of the sugars. All in just 200 calories per bun. Awesome!
So what are we waiting for? Time to start baking!
Frequently Asked Questions
What can I use to glaze the rolls?

We love our buns just as they are, warm from the oven, and with an intense cinnamon flavour.

Glazing the rolls would add unnecessary sugars, fats, and calories to this healthy baked swirls.

However, if you'd like to give the buns extra texture and a fancier finish, then we have a sugar-free glaze recipe here. We made it with natural sweetener erythritol, almond milk, and a little coconut oil. Give it a go!
How do I swap active dry yeast with a sourdough starter?

Substituting instant yeast in a recipe with the sourdough starter is incredibly easy.

Replace one sachet of yeast - which is about 7g (0.2 oz)with 100g (3.5oz) of sourdough starter.

Also, you'll have to adjust the amount of liquids and flour in your recipe to account for extra water and flour from the sourdough starter.

For every 100g (3.5oz) of sourdough starter reduce the liquids like milk or water by 50ml (1.7 fl oz) and the flour by 50g (1.7 oz.)

Finally, allow a longer proving time for your dough. Sourdough baked goods take double the time to rise than those using instant dry yeast. So aim for a total of 6 to 8 hours of proving time.

For example, in this recipe, we did the first proving for 4 hours and then the second proving for 2 hours.
What other milk can I use?

To keep this recipe vegan, we have used almond milk. It's low in calories and fats, and it also adds a subtle sweet and nutty flavour to the bake.

However, you can replace it with any other plant-based milk like rice, oat, and hemp in the same amount.

You can even use filtered water if preferred.
Are classic cinnamon buns vegan?

The traditional cinnamon rolls are not vegan as they are made with butter, eggs, milk, and cream.

In our recipe, instead, we swapped these ingredients with plant-based alternatives. We substituted butter with canola oil and milk with almond milk.

Also, instead of using the classic butter and sugar spread, we prepared the cinnamon filling with a sweet paste of dates blended with water.

Finally, to cut on extra calories and fats, we didn't glaze the buns with the usual frosting made with butter, cream cheese, and cream. We rather prefer our rolls as they are, with all their glorious cinnamon flavour.

The result are healthy, vegan swirl buns with a fraction of the sugars and fats compared to the classic ones, plus all the plant-based goodness.
Ingredients
Dough
Wholemeal Bread Flour

380 g

Salt

6 g

Rapeseed Oil

1 tbsp

Maple Syrup

2 tbsp

Sourdough Starter

200 g

Lukewarm Almond Milk

200 mL

Filling
Pitted Dates

230 g

Water

100 mL

Cinnamon

1 tsp
Step 1
Before you start, feed your sourdough starter with equal parts of water and flour.
Leave it to ferment for 2 hours at room temperature or overnight in the fridge.
It will double in volume, and you'll see lots of bubbles on the surface.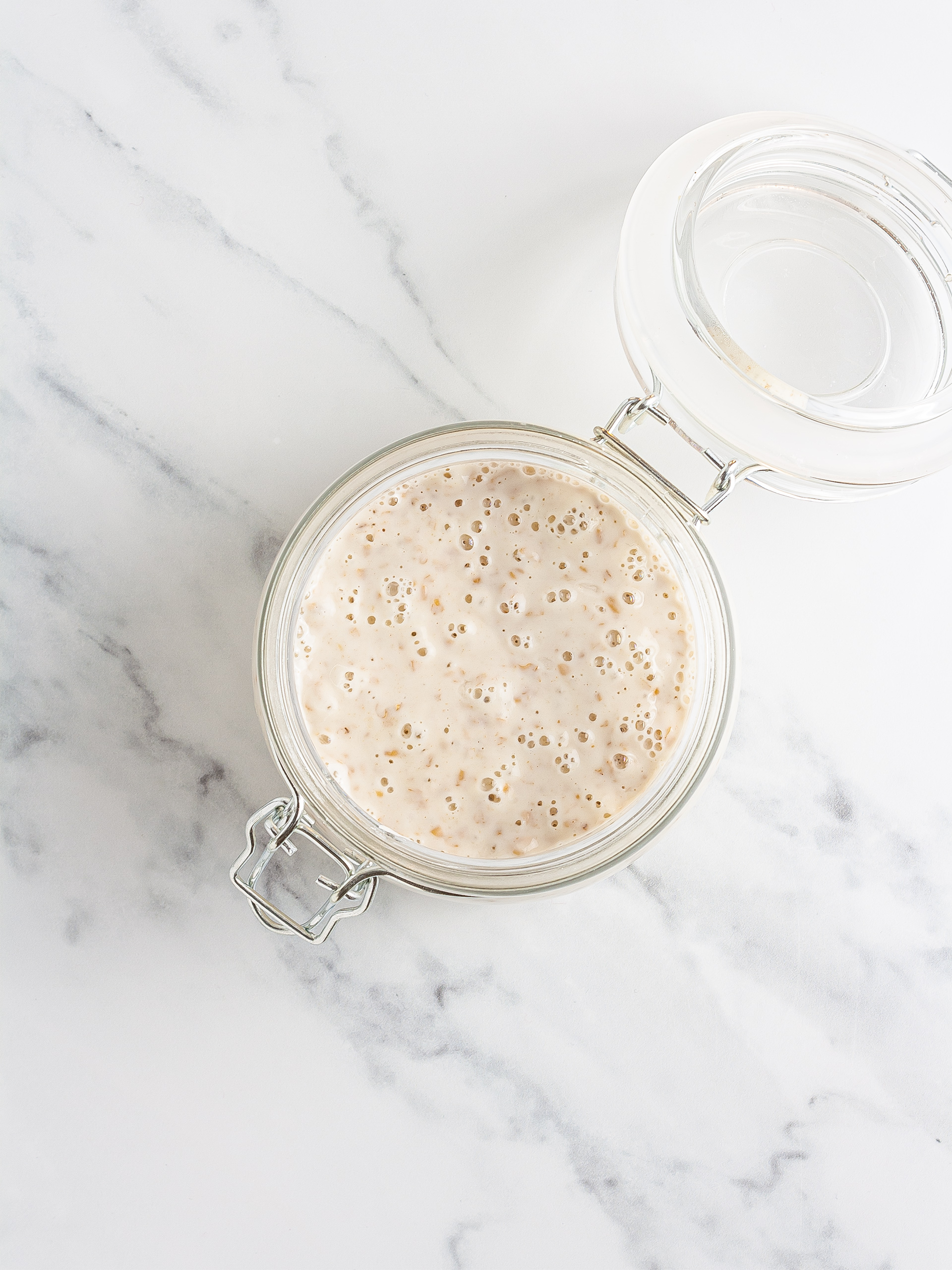 Step 2
In a mixing bowl, combine the bread flour with salt, oil, maple syrup, warm almond milk, and the active sourdough starter (1).
Work the ingredients until they come together into a dough, then turn it out onto a floured surface, and knead it for 5-10 minutes.
To knead the dough, press it down and stretch it forward with the heel of your hand. Then fold it back, turn sideways, and repeat until you have a smooth and elastic dough (2).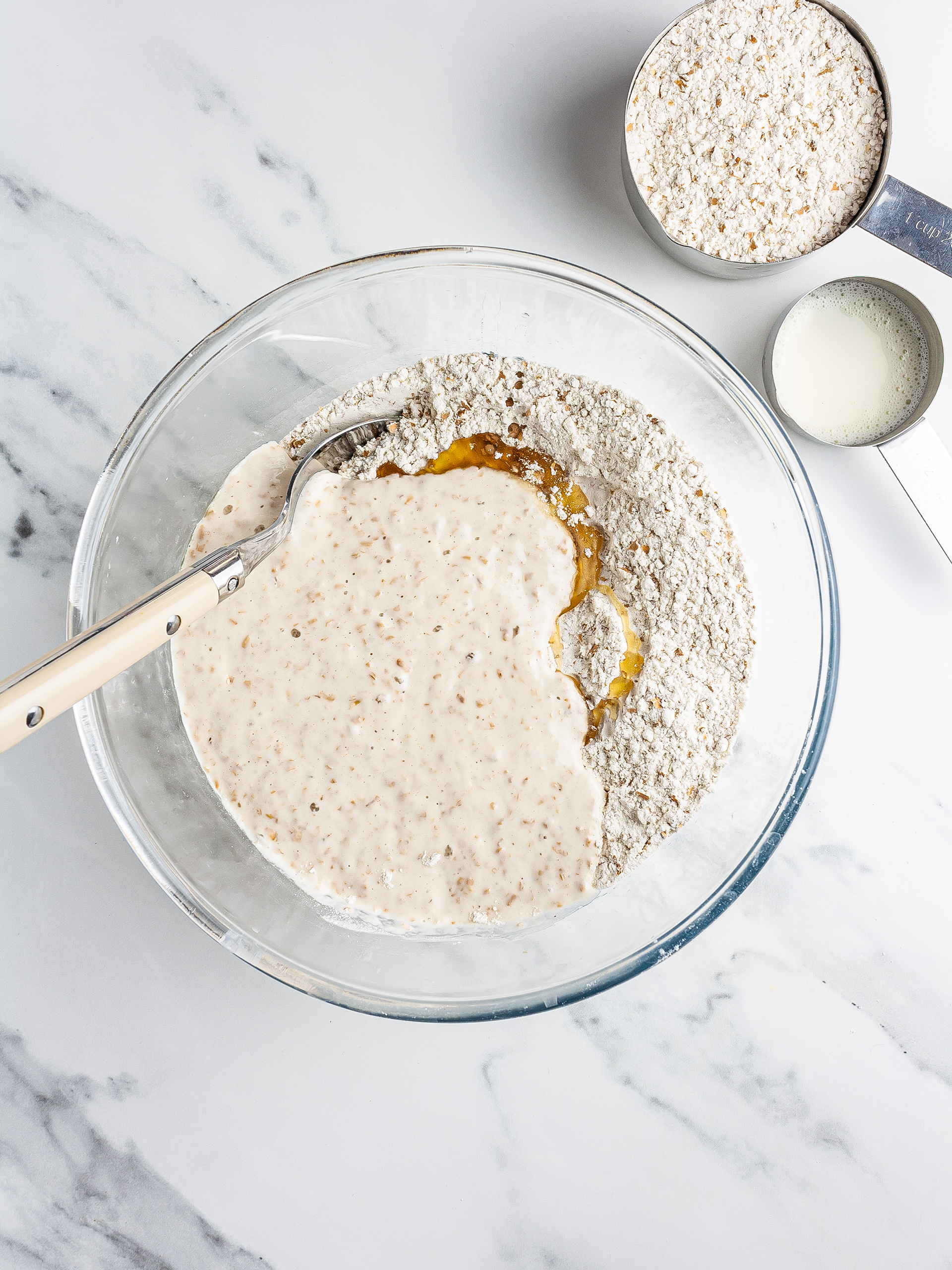 1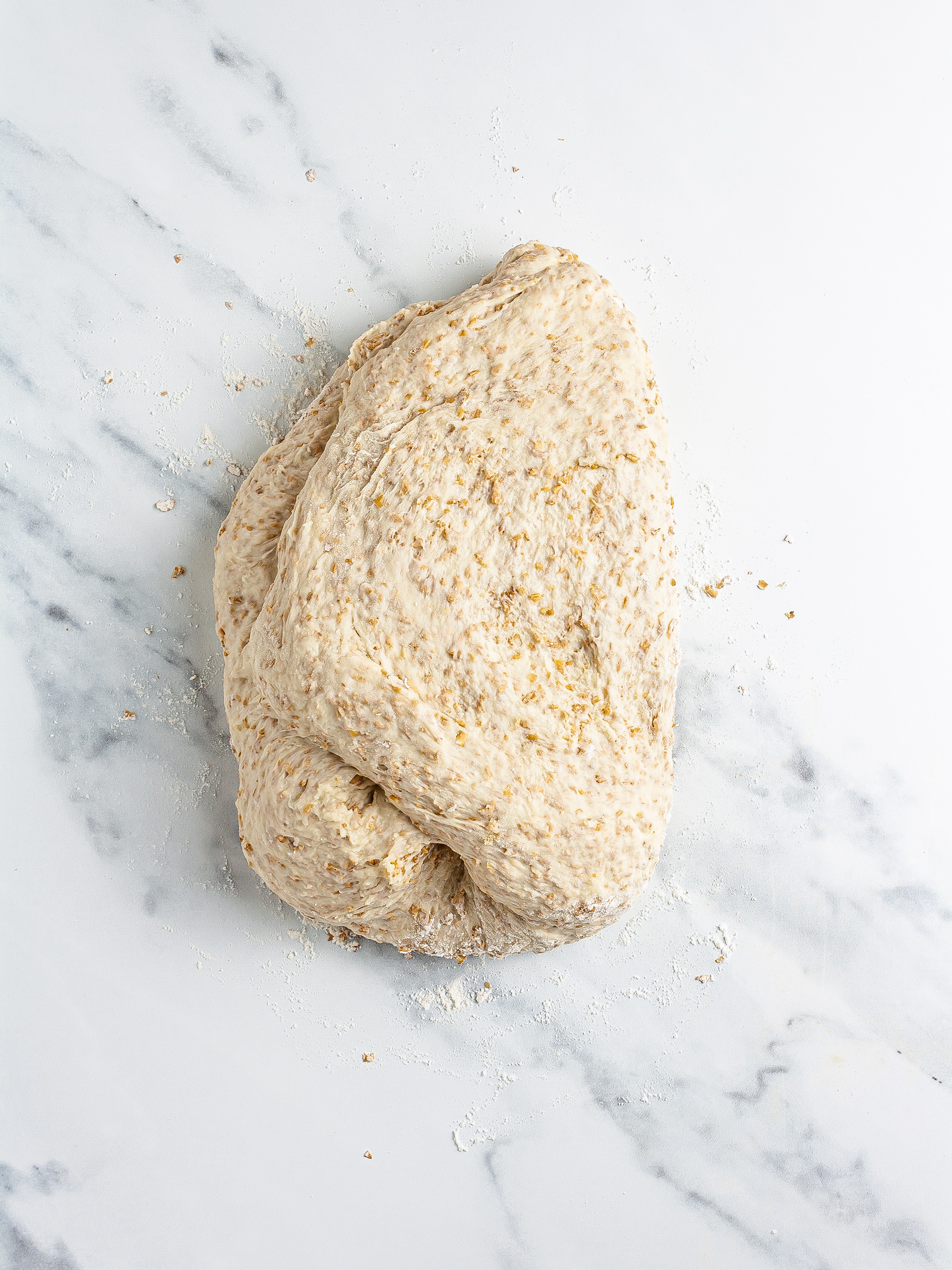 2
Step 3
Now, roll the dough into a ball and transfer it into a greased bowl and wrap it in cling film.
Leave it to prove in a warm place for at least 3 hours. You'll see that it will double in volume.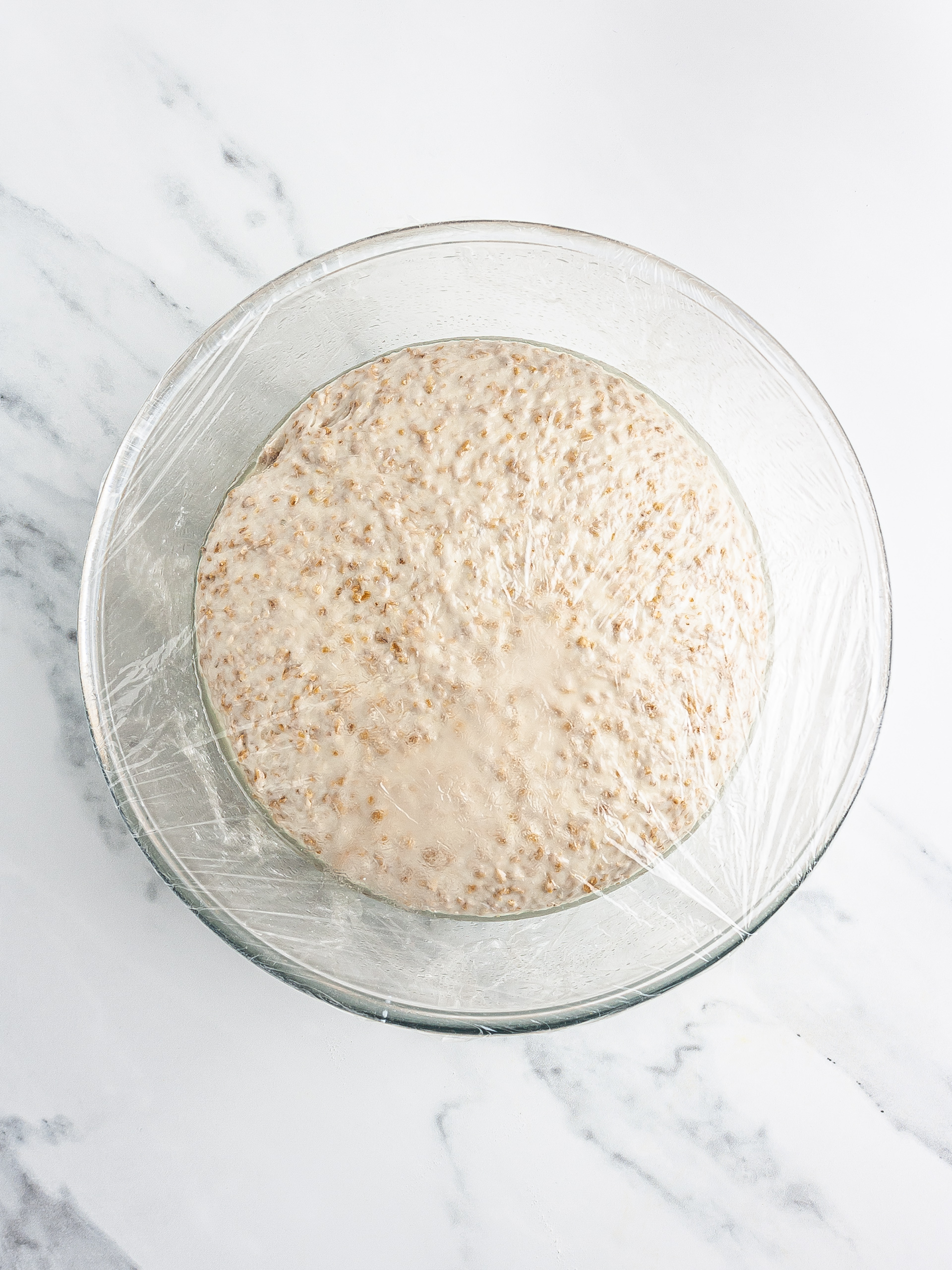 Step 4
Meanwhile, let's prepare the filling.
In a food processor, add pitted dates, water, and cinnamon, and blitz all into a smooth and dense paste.
You can pre-soak the dates in warm water for 10 minutes before blending them, for an even smoother finish.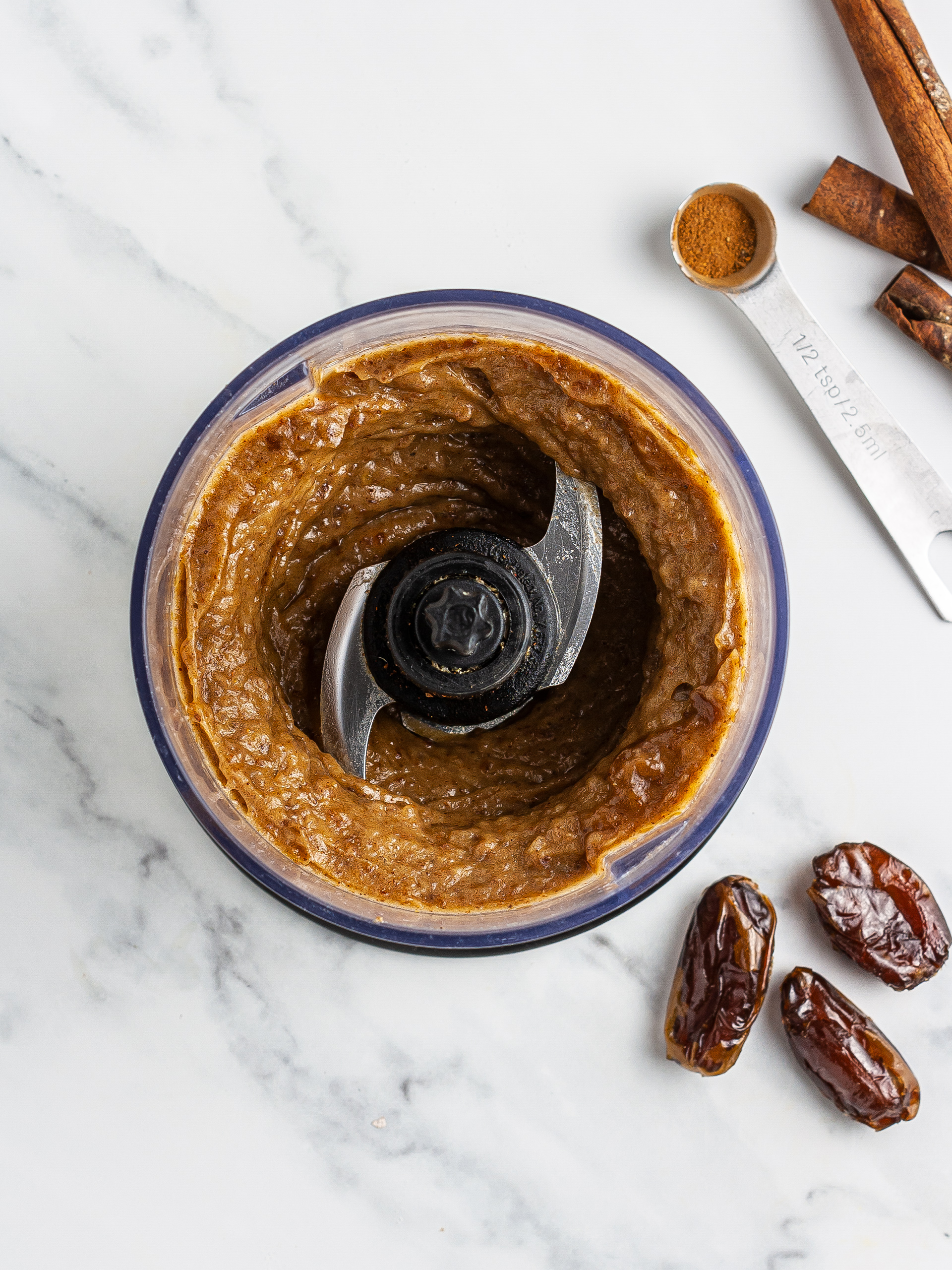 Step 5
Transfer the proved dough onto a large sheet of parchment paper.
With the help of a greased rolling pin, roll it out into a rectangle, 1 cm (1/2 inch) thick.
Then, spread the date filling over the entire surface with a spatula (1).
Now, starting at the short end, wrap the dough tightly into a roll. Use the baking paper to grip the roll and then unfold it as you go by.
Next, cut the roll into 3 cm (1.2 inches)-thick pieces with a sharp knife, a wheel cutter, or a baker blade (2).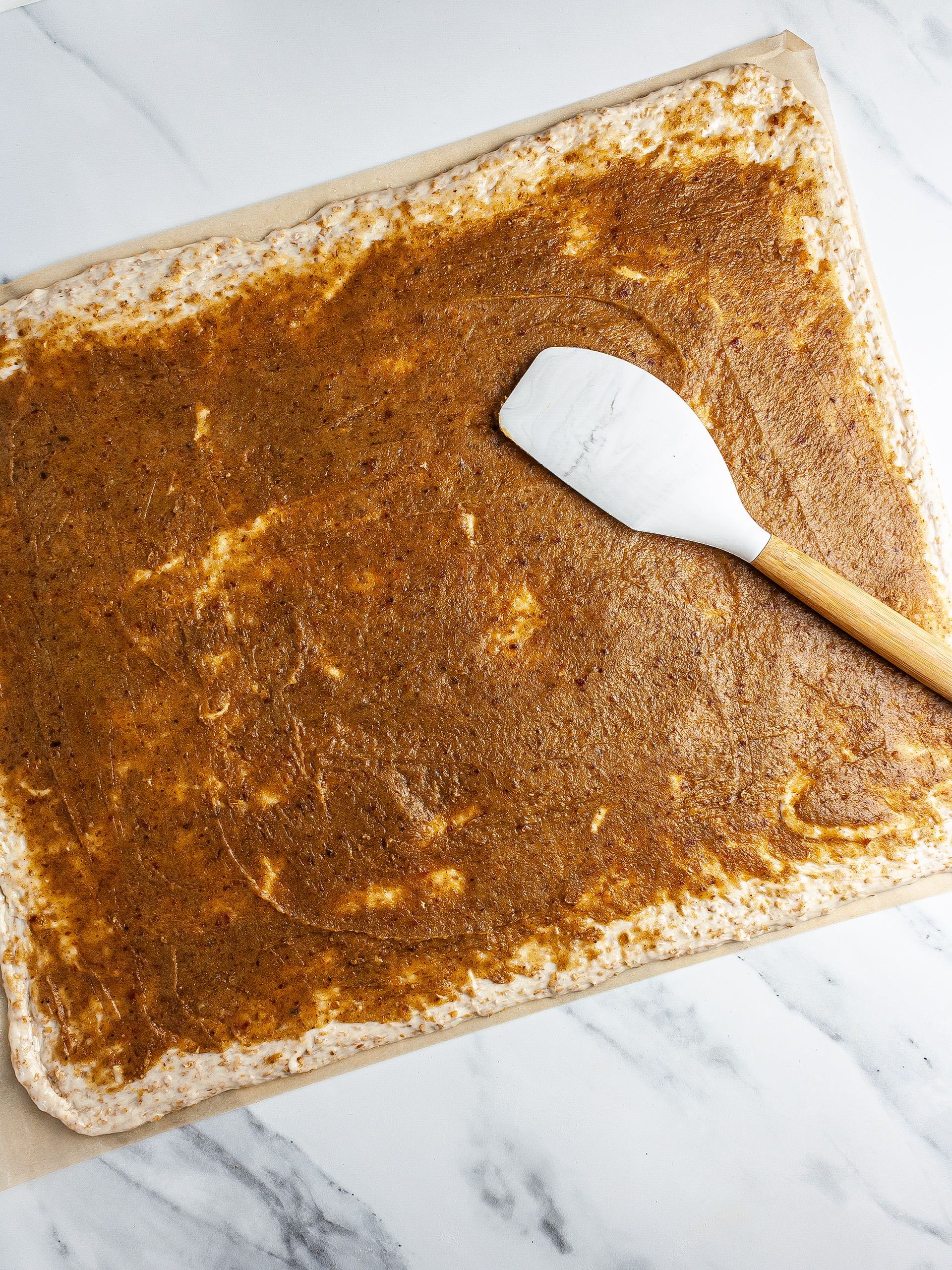 1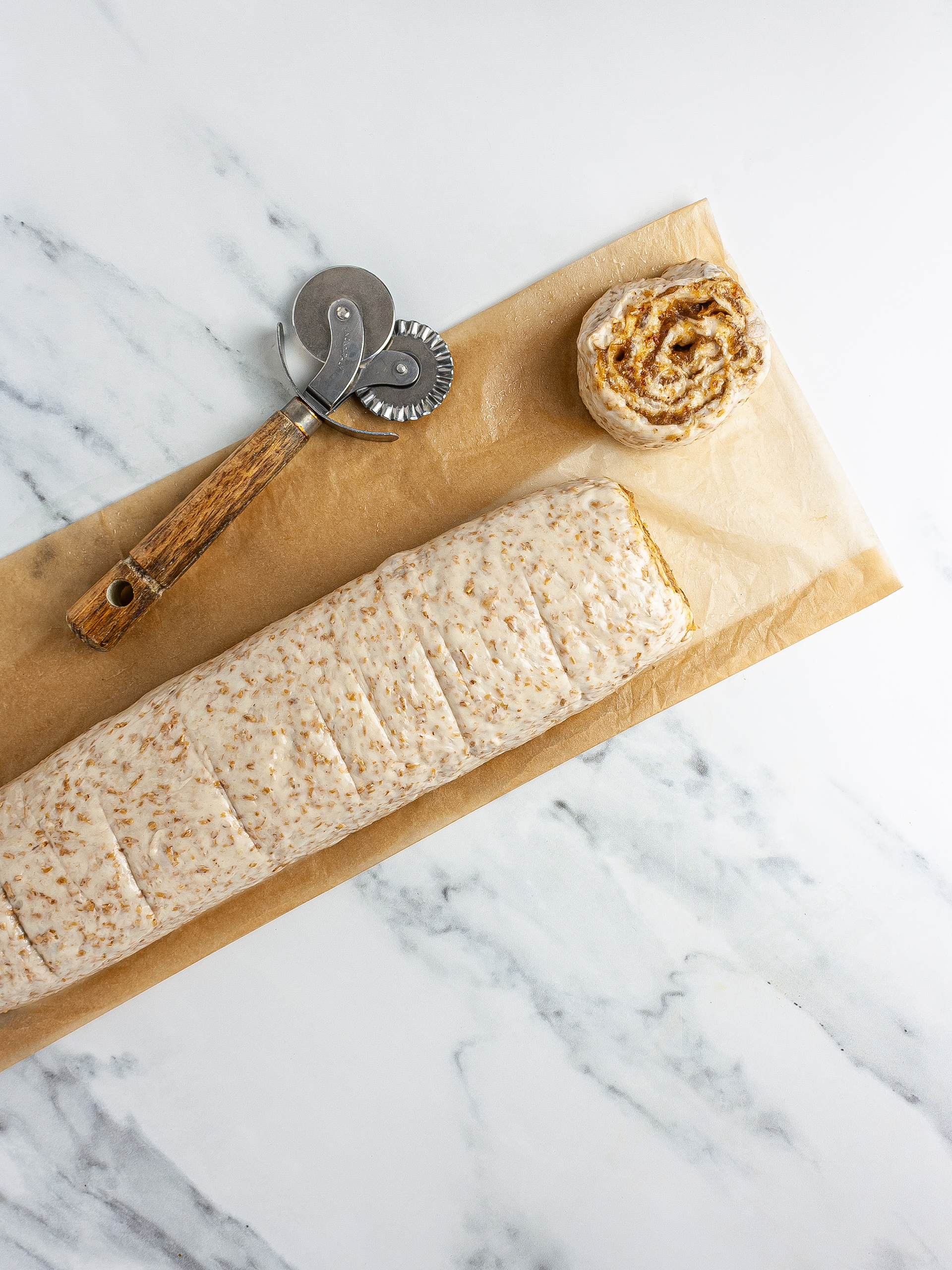 2
Step 6
Now, transfer the slices onto a baking tray with the swirl side facing up.
Leave the rolls to prove for 3 hours wrapped in oiled cling film (1).
Bake the cinnamon buns for 15 minutes at 200°C (390°F) for conventional ovens or at 180°C (355°F) for fan ovens (2).
Finally, place the baked buns onto a wire rack to cool down evenly.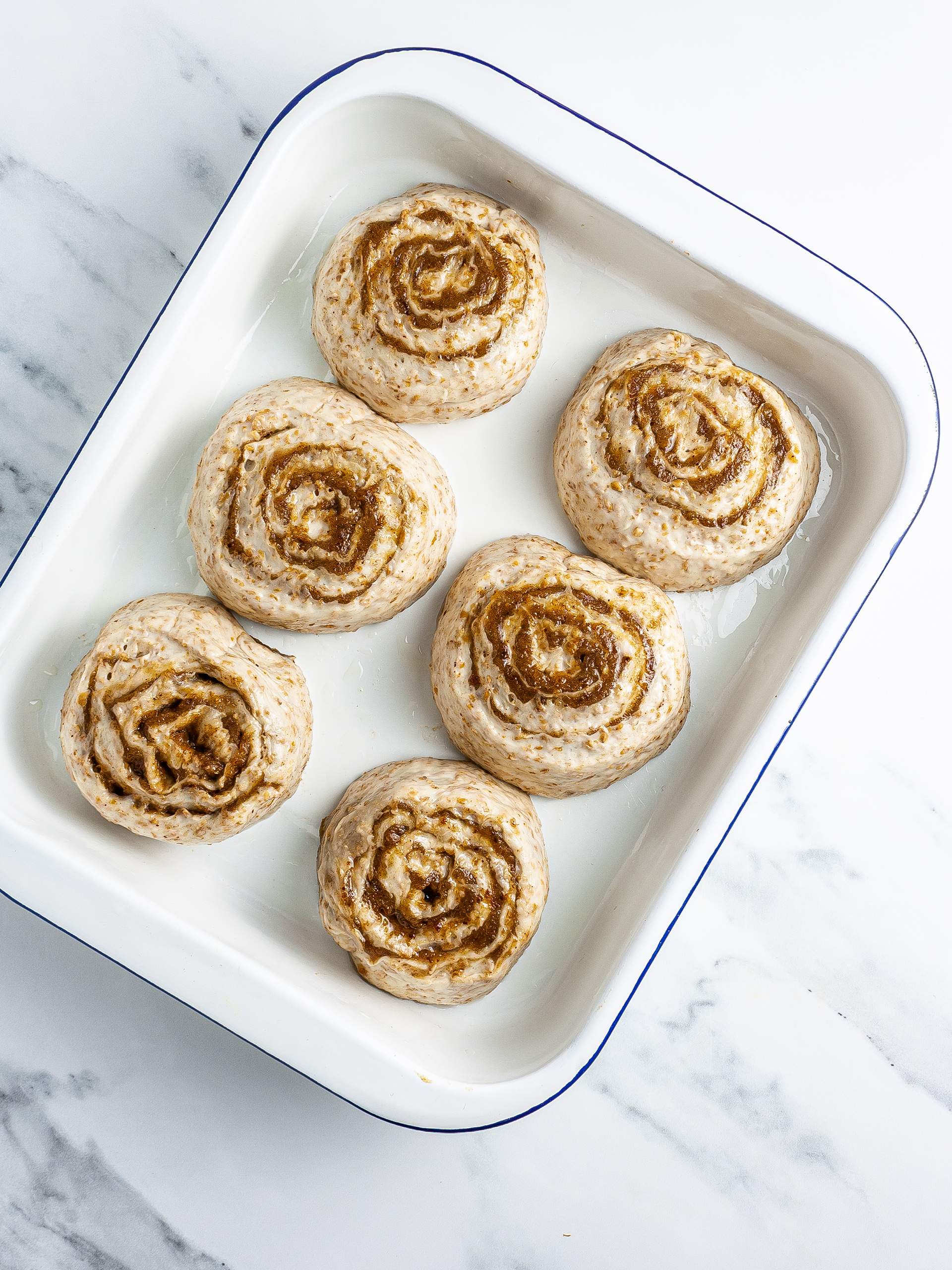 1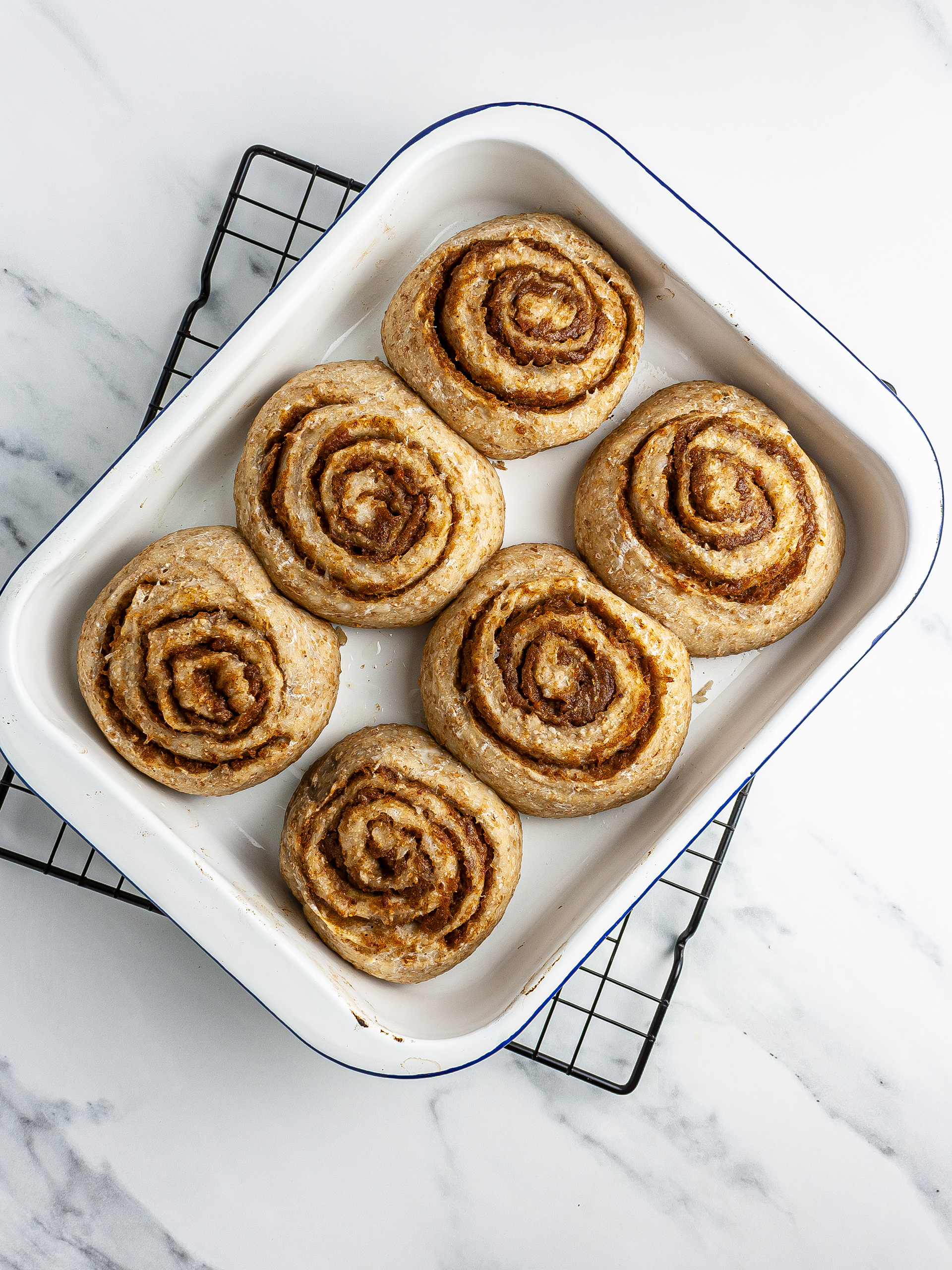 2
Tips
When you knead it, the dough will be slightly sticky. You can dust it with extra flour but avoid adding it too much of it or your rolls will become tough.