Biting into a cheesecake is always the best part of the day, isn't it? But what if you could carry a tiny cheesecake with you, in the form of a cookie? No mess, no forks, but all its glorious flavour! Today, we'll show you how to make vegan strawberry cheesecake cookies using fresh strawberries!
This recipe is heaps of fun. Think of a soft cookie that uses chopped strawberries instead of chocolate chips and is stuffed with velvety cream cheese. Sounds complicated? It's truly isn't! We'll show you below a simple way to stuff cream cheese in the cookies with minimum effort.
As you see from the recipe title, we made this recipe vegan. So we didn't use any eggs, butter or dairy, and of course, we didn't use classic cream cheese. So, what cheese can you use to make these strawberry cheesecake treats?
If you are on a fully vegan diet, the best and often only choice is to go for coconut-based cream cheese. That's what we used. Vegan cream cheese is very common nowadays, and you should have no problem finding it, even at medium-sized grocers.
If instead, you are simply allergic to lactose, you could also consider a lactose-free cream cheese. For example, you could opt for lactose-free Philadelphia. You could also use blitzed silken tofu instead of cream cheese, but the flavour would be somewhat different from classic cheesecake. It's worth a try if you don't want to use cheese at all, though.
Whatever you choose, we think you'll fall in love with these vegan cheesecake cookies. They are so flavourful, fudgy, and indulgent, yet healthier than classic cheesecake. All thanks to the healthy plant-based ingredients we selected. Also, if you are reading this when strawberries are in season, expect to get even juicier results. An absolute must-try!
Ingredients
| | |
| --- | --- |
| Plain Flour | 260 g |
| Corn Starch | 1 tbsp |
| Baking Powder | 2 tsp |
| Baking Soda | 1/2 tsp |
| Vegetable Oil (canola or e.v.o. oil) | 80 mL |
| Maple Syrup | 60 mL |
| Lemon Zest | 1 tbsp |
| Lemon Essence | 1/2 tsp |
| Oat Milk | 2 tbsp |
| Fresh Strawberries | 150 g |
| Vegan Cream Cheese | 80 g |
Step 1
Mix flour with starch, baking powder, and baking soda in a bowl.
Then, add oil, maple syrup, lemon zest, and lemon essence, and mix all into a crumbly dough.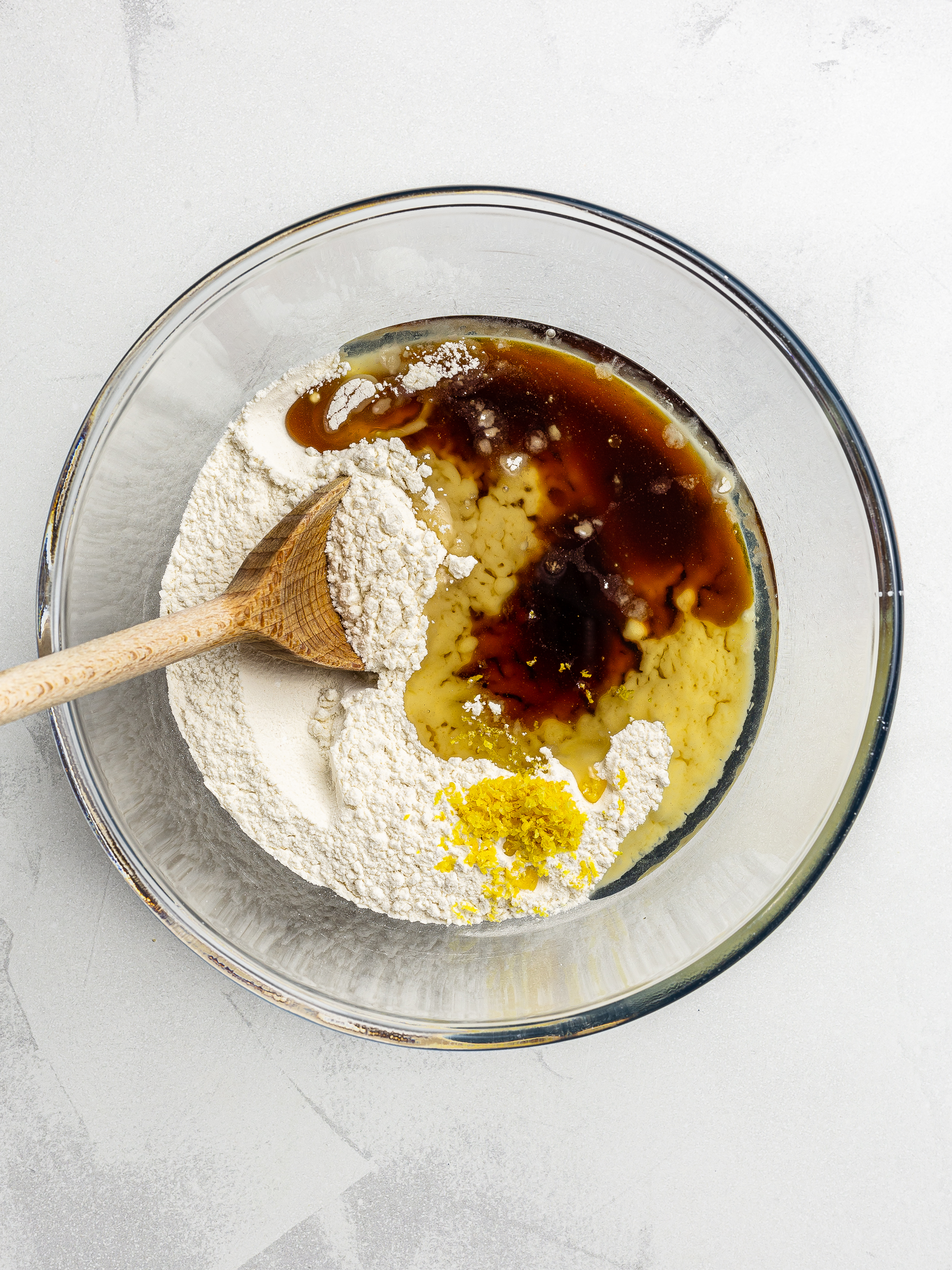 Step 2
Now, add the oat milk and finely chopped strawberries.
Work the ingredients first with a spoon and then by hand into a soft and sticky dough.
Then, refrigerate it for 15 minutes.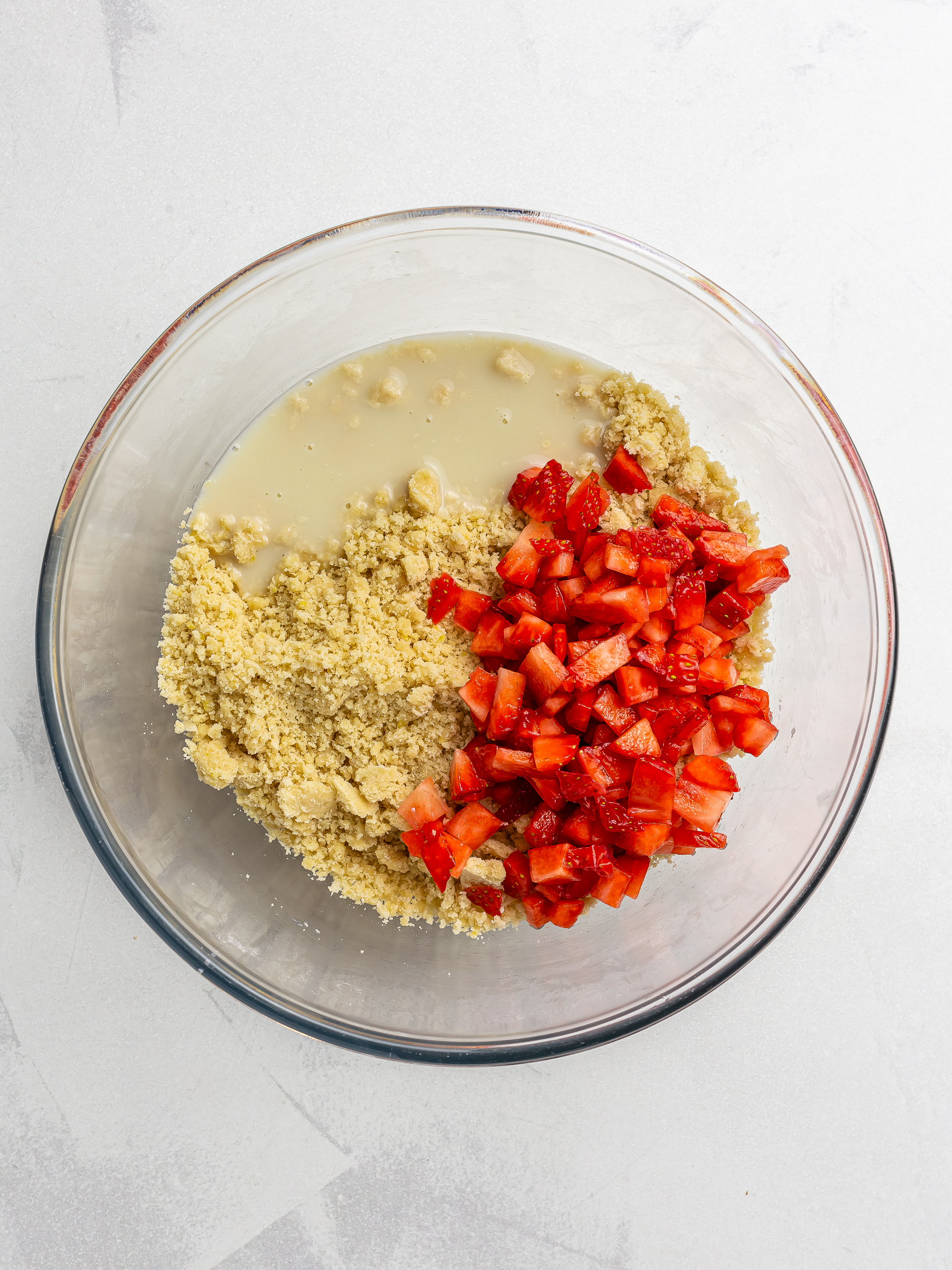 Step 3
For each cookie, pinch off a small handful of dough (about 40g/1.5oz).
Dust it with flour, roll it into a ball, and flatten it down a sheet of baking paper.
Make sure to flatten the cookie's edges very thinly, as they will overlap when you wrap the dough around the cream cheese.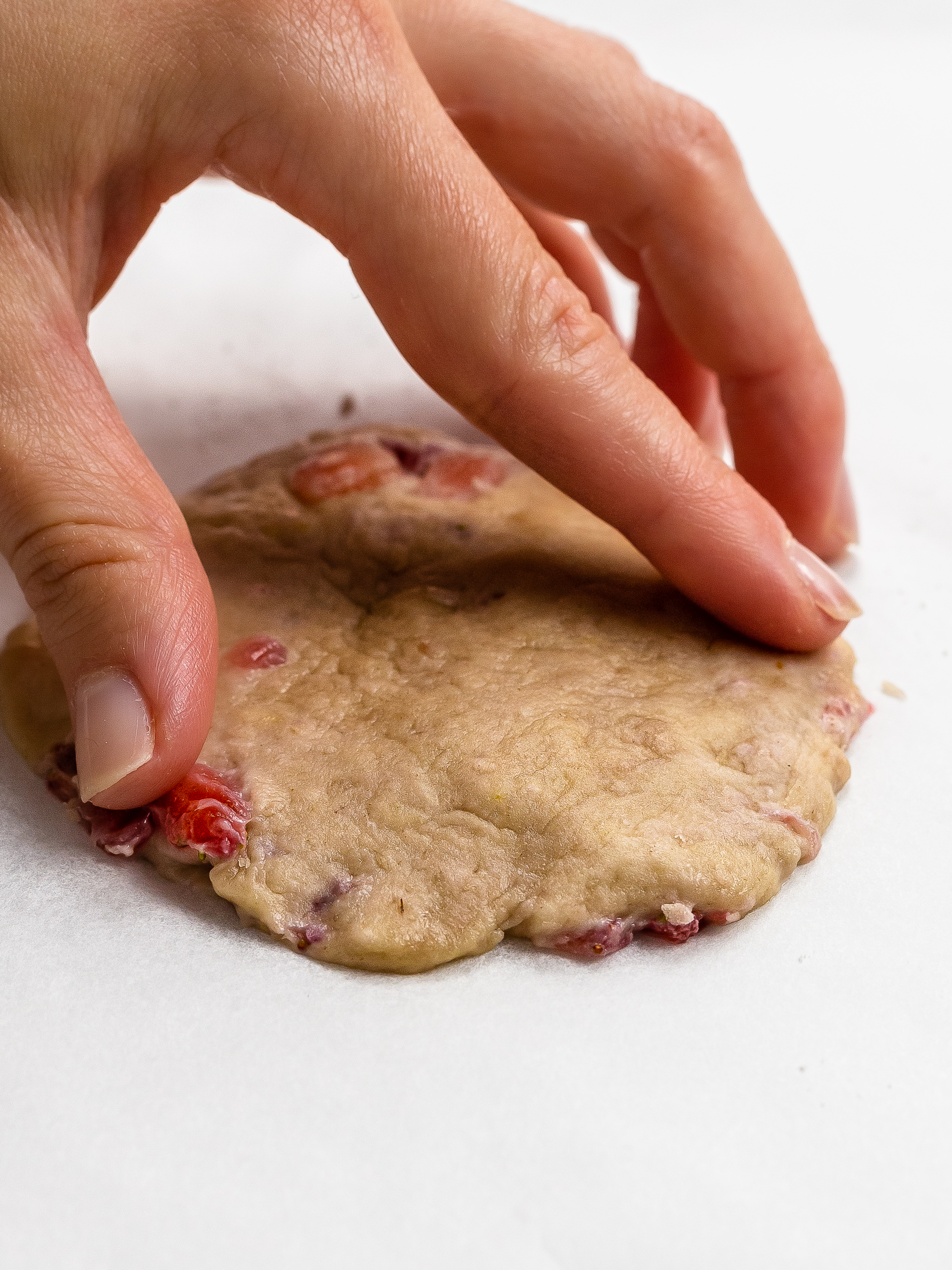 Step 4
Place one teaspoon of vegan cream cheese in the centre of the cookie (1).
Then, take the dough in your hand and start wrapping it around the filling (2).
To do so, fold the dough as you would do for a dumpling and seal it in the centre, pinching the dough edges together (3).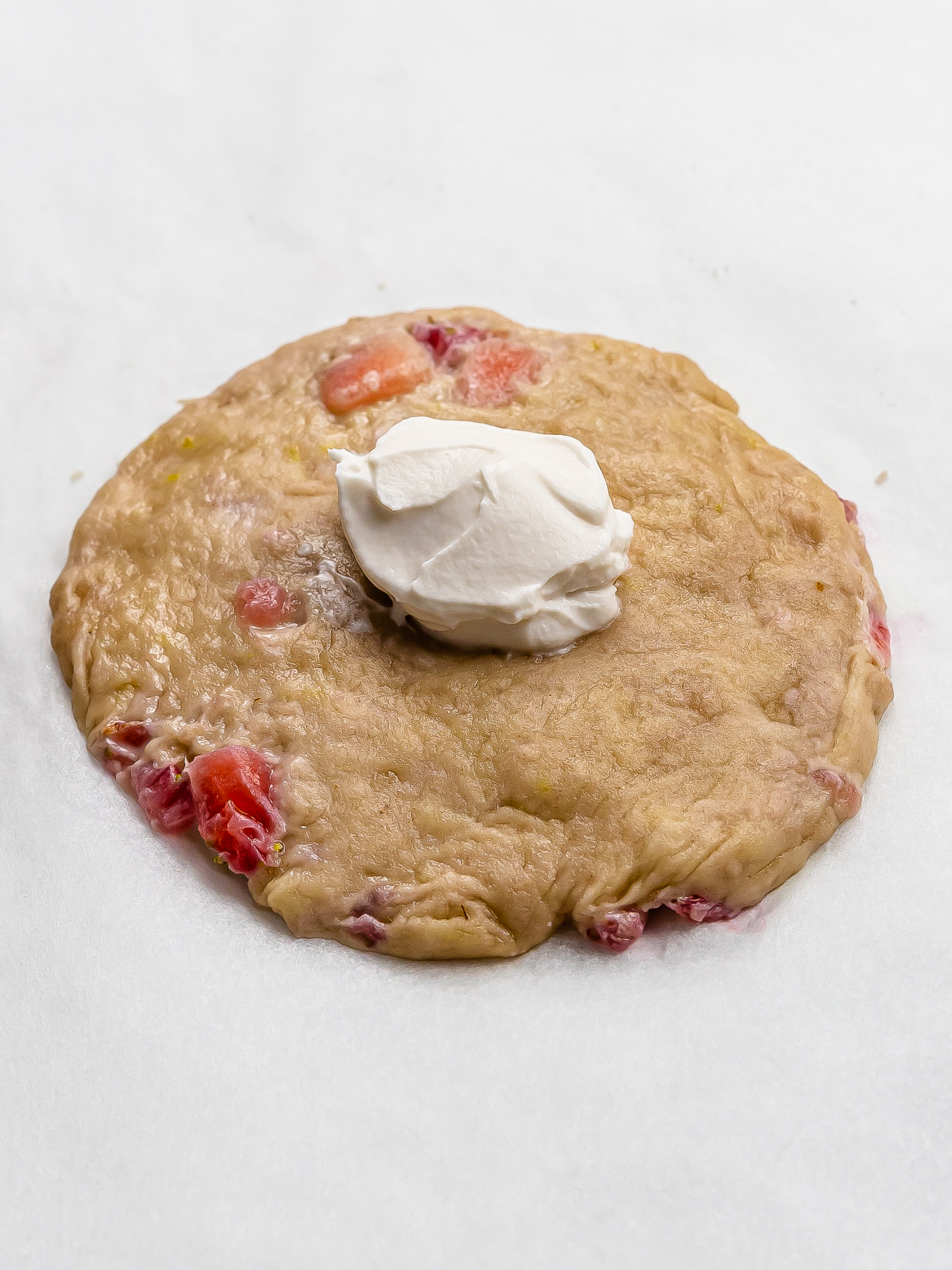 1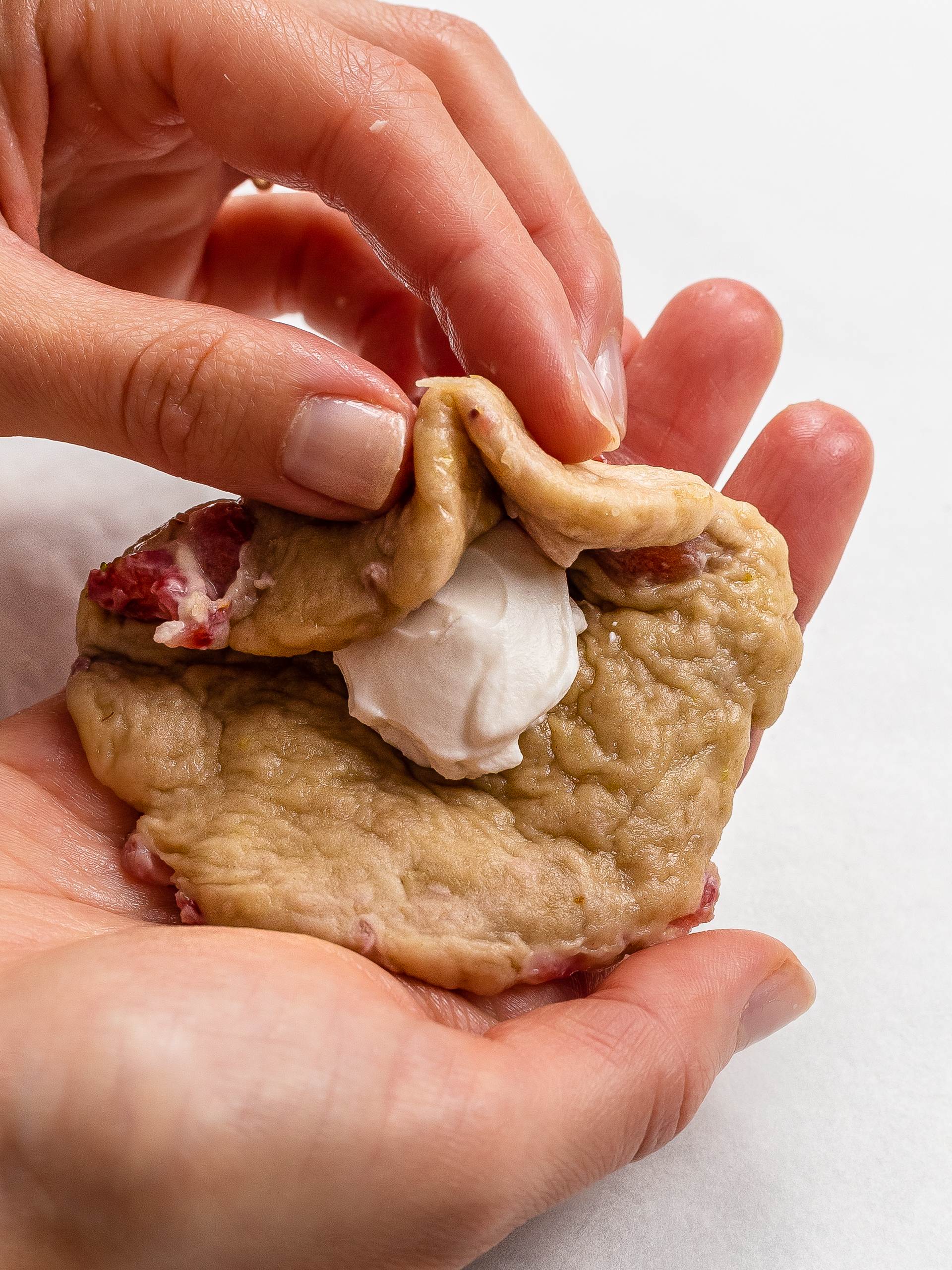 2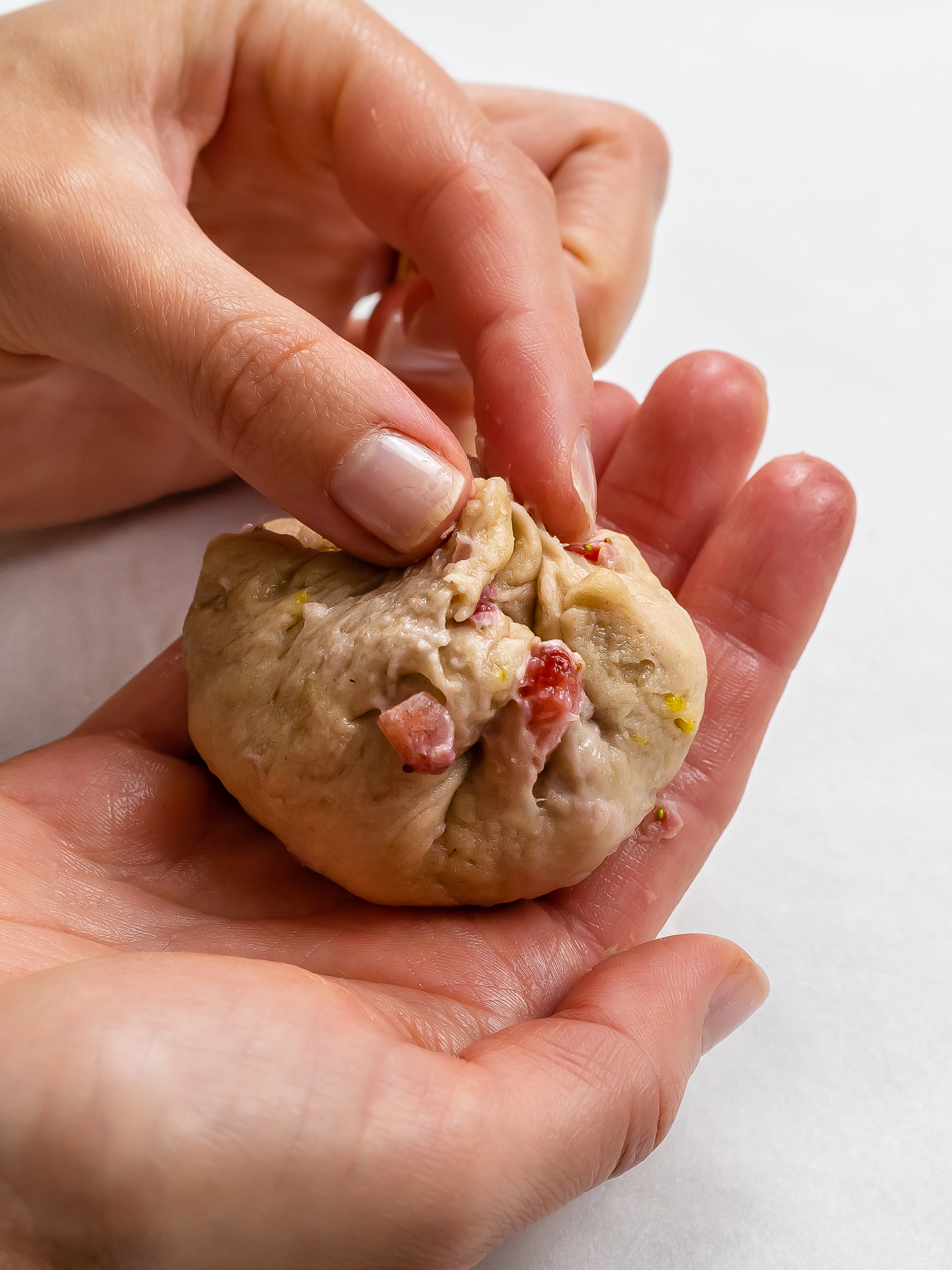 3
Step 5
Finally, place the stuffed cookie seam side down and lightly press it down to give it a dome shape (1).
Repeat steps 4 and 5 until you have used all the dough and cream cheese.
Then, place the shaped cookies on a baking tray lined with parchment paper, leaving some space between each biscuit (2).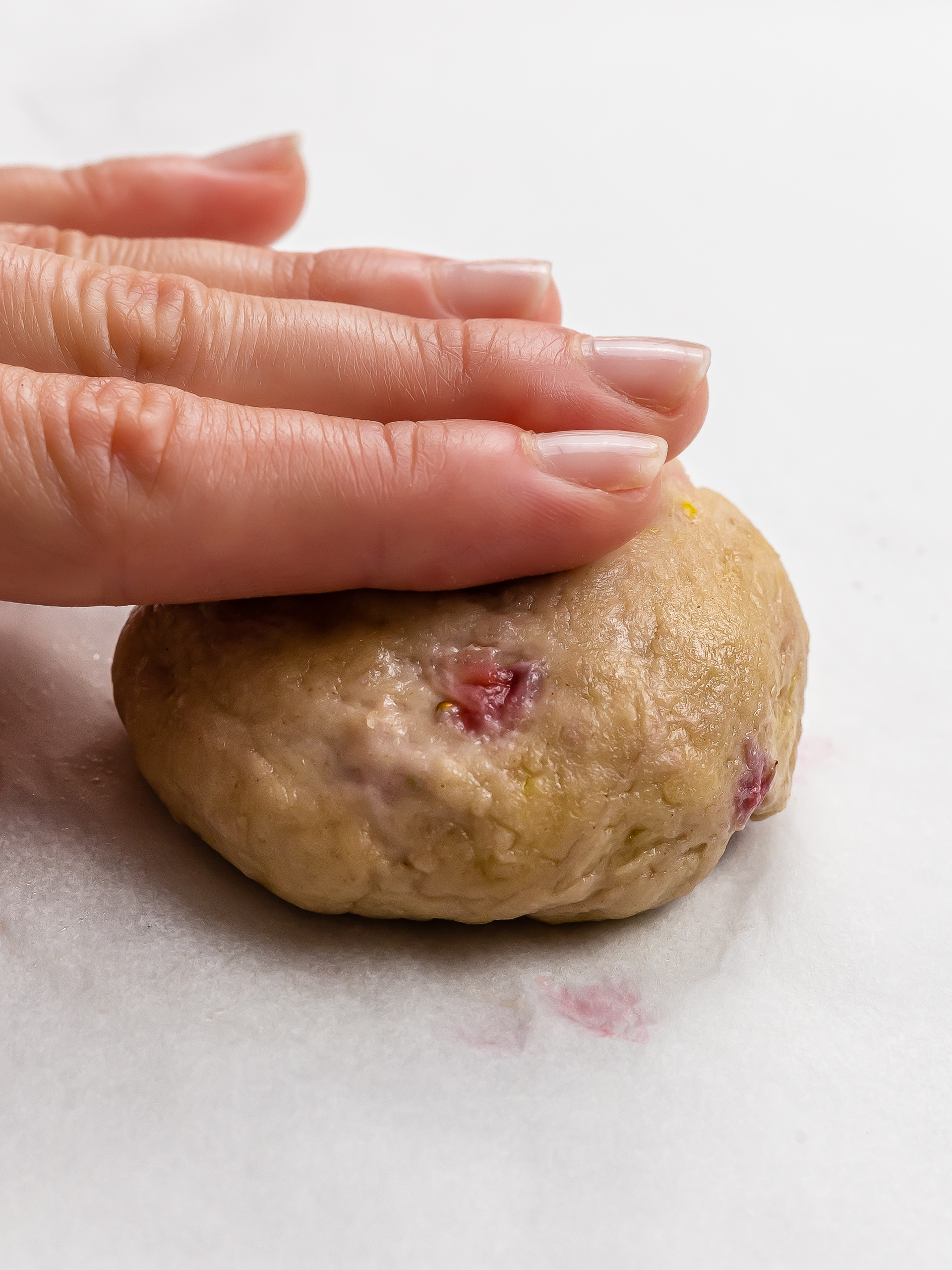 1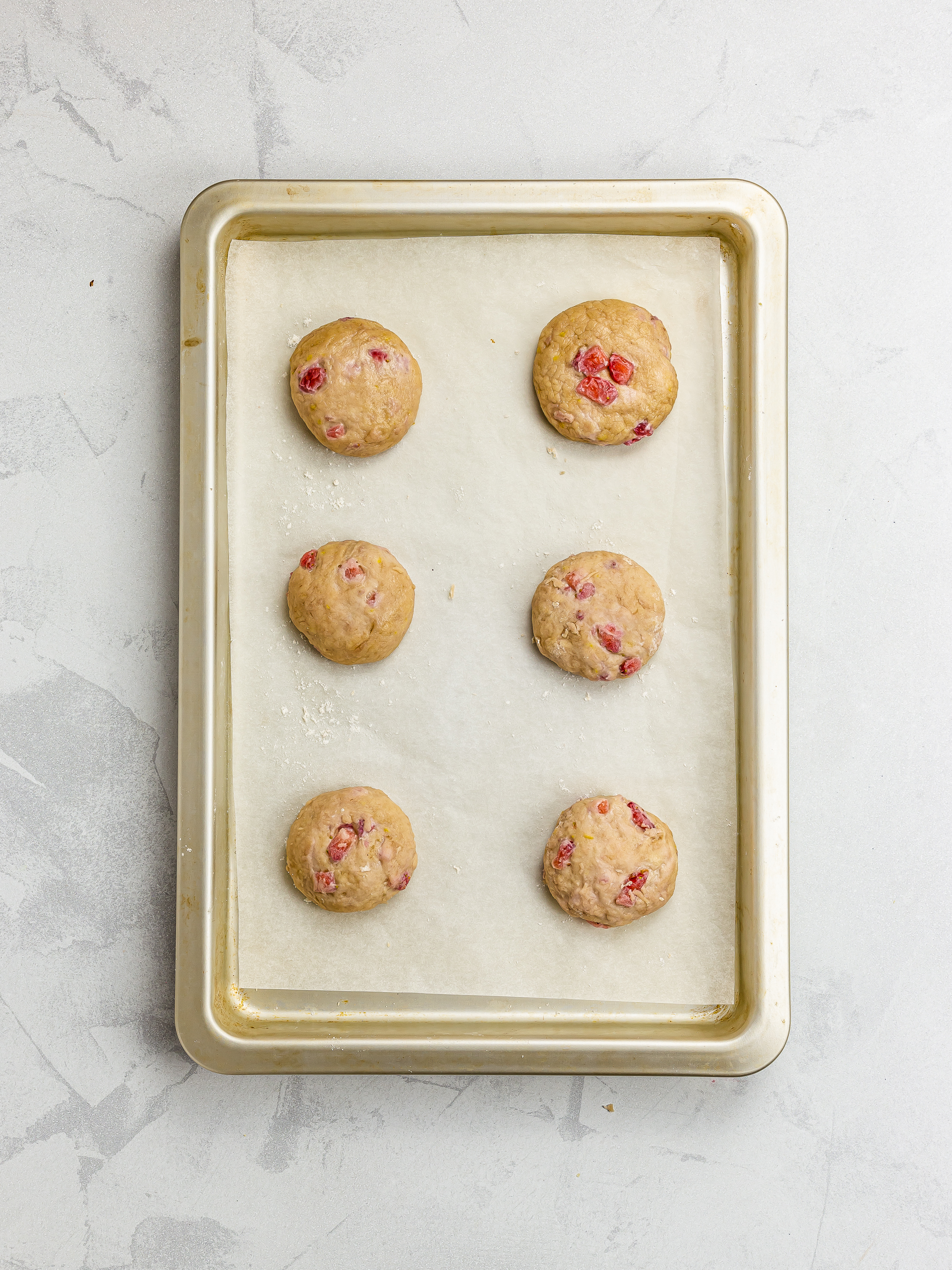 2
Step 6
Before baking, you can optionally brush the cookies with a vegan egg wash made with 1 tablespoon of maple syrup, 1 tablespoon of oat milk, and 1/2 tablespoon of oil.
Bake the strawberry cookies at 180°C (355°F) for 20 minutes until golden and let them cool down on a rack before serving.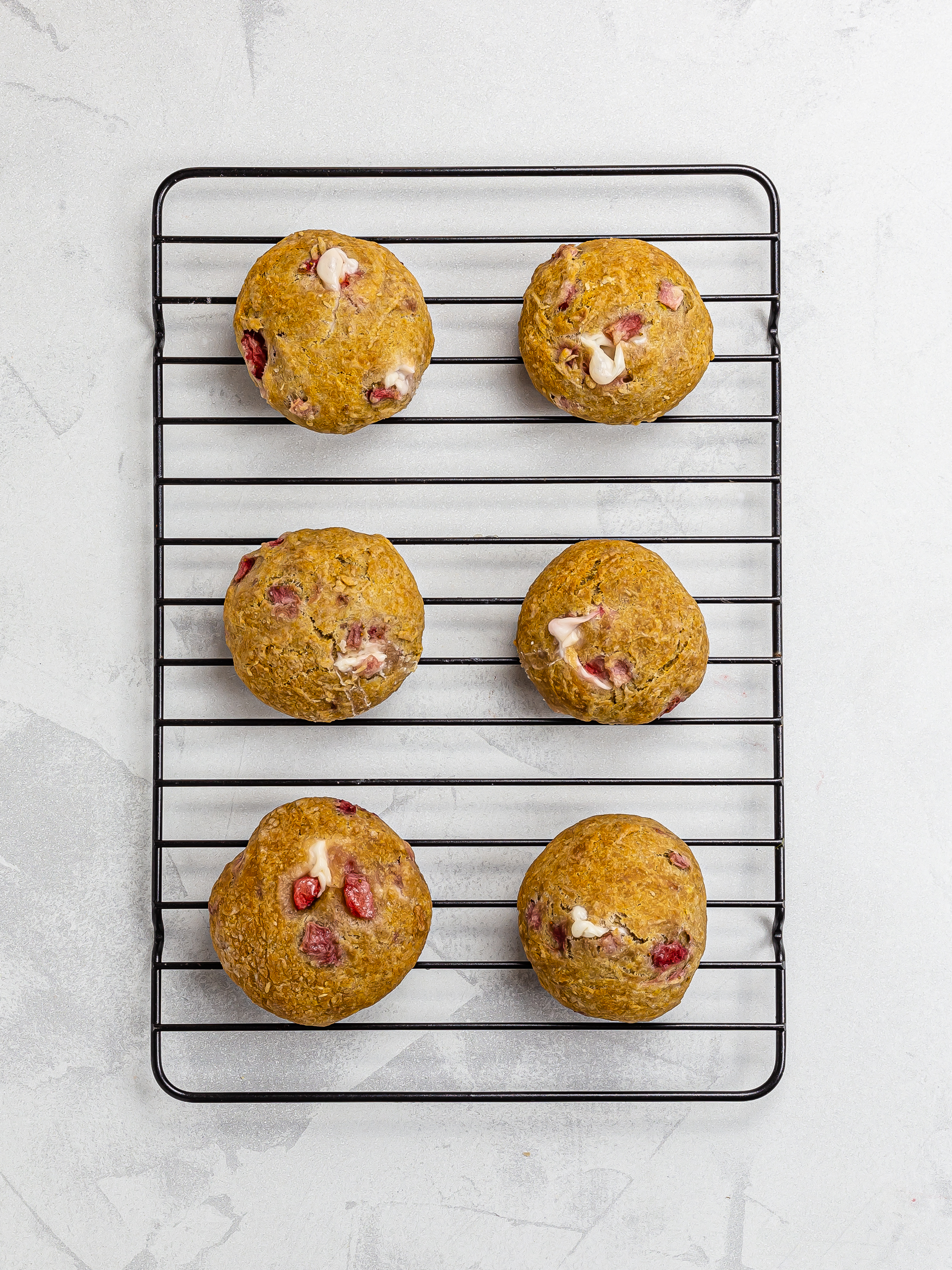 Tips
Store the cookies in a tight-seal container in the fridge for up to 4-5 days.

You can keep the cookie dough as a base and use a different cheesecake cream flavour for the filling. Have a look at this blue butterfly pea cheesecake or tropical durian cheesecake for inspiration!