It's sunny outside; you are chilling in the shade of a big oak tree with your family and friends, gazing at the blue sky, strewn with fluffy clouds. In your hands, a bowl of healthy Mediterranean pasta-salad, emanating a mouth-watering scent of freshly grated lemons, grilled zucchini and vegan tuna. Sweet day-dreaming, right? We can't guarantee the beautiful weather, but we can promise you a wholesome vegan tuna pasta salad ready in less than 30 minutes.
When we were working on our onigiri recipe, we found a healthy vegan alternative to tuna, made only with chickpeas, soy sauce and nori - the seaweed used in sushi. After we shredded and mixed everything, we couldn't believe just how delicious and indeed fishy this blend tasted.
The seaweed in our vegan tuna is the secret to the recipe. Without it, you'd just be eating some chickpeas. But add a few shredded bits of nori, and instantly bring the alluring scent and flavour of the sea into the dish. Nori does more than adding taste to our vegan tuna; it also fills it with precious antioxidants and nutrients [1].
What we love about this cold pasta salad is how healthy it is. Even though the tuna is "fake", the nourishment it gives you is real. All good vegan alternatives shouldn't just emulate looks and taste, but nutrients as well. Tuna is rich in proteins, and so we ensured our vegan replacement is as well.
By combining the proteins from wholegrain pasta and chickpeas, we get back all the nine amino acids that form complete proteins, that we lost from real tuna.
Moreover, our pasta doesn't have mayo nor any other harmful fats. Instead, we got back the healthy fats from fish by using wholesome extra virgin olive oil - a blessing for a healthy heart.
Overall, a portion of this healthy summer pasta salad has under 500 calories and will contribute to almost half of your recommended daily intake (RDI) of fibres and proteins. If you want to make this gluten-free and low-carbs, read the tips at the bottom of the page.
Follow our simple recipe below and get it done! Take it with you to a picnic or pack it in a lunch box.
Frequently Asked Questions
How to keep cold pasta salad from drying out?

To prevent pasta salad from drying out, you should keep it in an air-sealed container inside the fridge. If you don't have a proper food-grade box, seal the salad bowl with some cling film.

Pasta salad can dry out if exposed to air for too long. If this happens, drizzle in a bit of oil and give it a good stir. If you are following our vegan tuna pasta salad recipe, use extra virgin olive oil.

Our recipe above is the ideal candidate for batch cooking, as you are supposed to refrigerate the pasta anyway. So make some more, split it into single-serving boxes and keep it in the fridge for future days.
How long does cold pasta salad last?

Our vegan tuna pasta salad lasts in the fridge between 5 and 7 days.

Here's a general rule of thumb for estimating homemade food lifespan. Food made using raw animal products, like sushi, should be consumed within a few hours. Dishes that instead use cooked animal products will last in the fridge for up to three days. The foods that last longer are the ones prepared with plant-based ingredients, like our vegan tuna pasta salad.

Plant-based ingredients, even more so if consumed raw, don't decay as fast as others like meat or fish. Therefore, vegan recipes are the ideal candidate for batch-cooking. They also make great meals for picnics and hiking trips, as they stay fresh and tasty for longer.

We encourage you to cook enough of our vegan pasta salad to last for two or three meals and to store in the fridge.
What goes well with vegan tuna pasta salad?

The beauty of pasta salads is that we can go wild with extra ingredients and toppings. In our recipe, we used capers, grilled zucchini and a mix of green and black olives.

Other ingredients that pair well with our vegan tuna would be ripe plum tomatoes, green peas, or shredded carrots.

Our vegan tuna consists of chickpeas, some soy sauce and shredded nori sheets. The nori is what contributes the tasty maritime flavour. So there isn't any real fish in the recipe. But if you aren't following a strict vegan diet, you could add some prawns or squid rings.

Finally, a good pasta salad should always come served with a refreshing drink. Take a look at our selection of lemonades for inspiration!
Ingredients
Pasta Salad
Zucchini

380 g

Extra Virgin Olive Oil

2 tbsp

Wholemeal Fusilli Pasta

300 g

Pitted Olives

120 g

Capers

1 tbsp

Lemon Zest

1 tbsp

Black Pepper

1 tbsp

Vegan Tuna
Canned Chickpeas

300 g

Soy Sauce

4 tbsp

Rice Vinegar

3 tbsp

Garlic Powder

1 tsp

Water

100 mL

Nori Sheets

2
Step 1
Toss diced zucchini with extra virgin olive oil and salt in a baking tray.
Roast the vegetables for 20 minutes at 200°C (390°F) for conventional ovens or at 180°C (355°F) for fan ovens. Toss the courgettes halfway through cooking time to prevent them from sticking to the bottom of the tray (1).
Bring water to a boil, and add a pinch of coarse salt and the wholemeal fusilli. Cook according to packet instruction but make sure the pasta is al dente - meaning cooked through but firm to the bite. Then drain and set aside (2).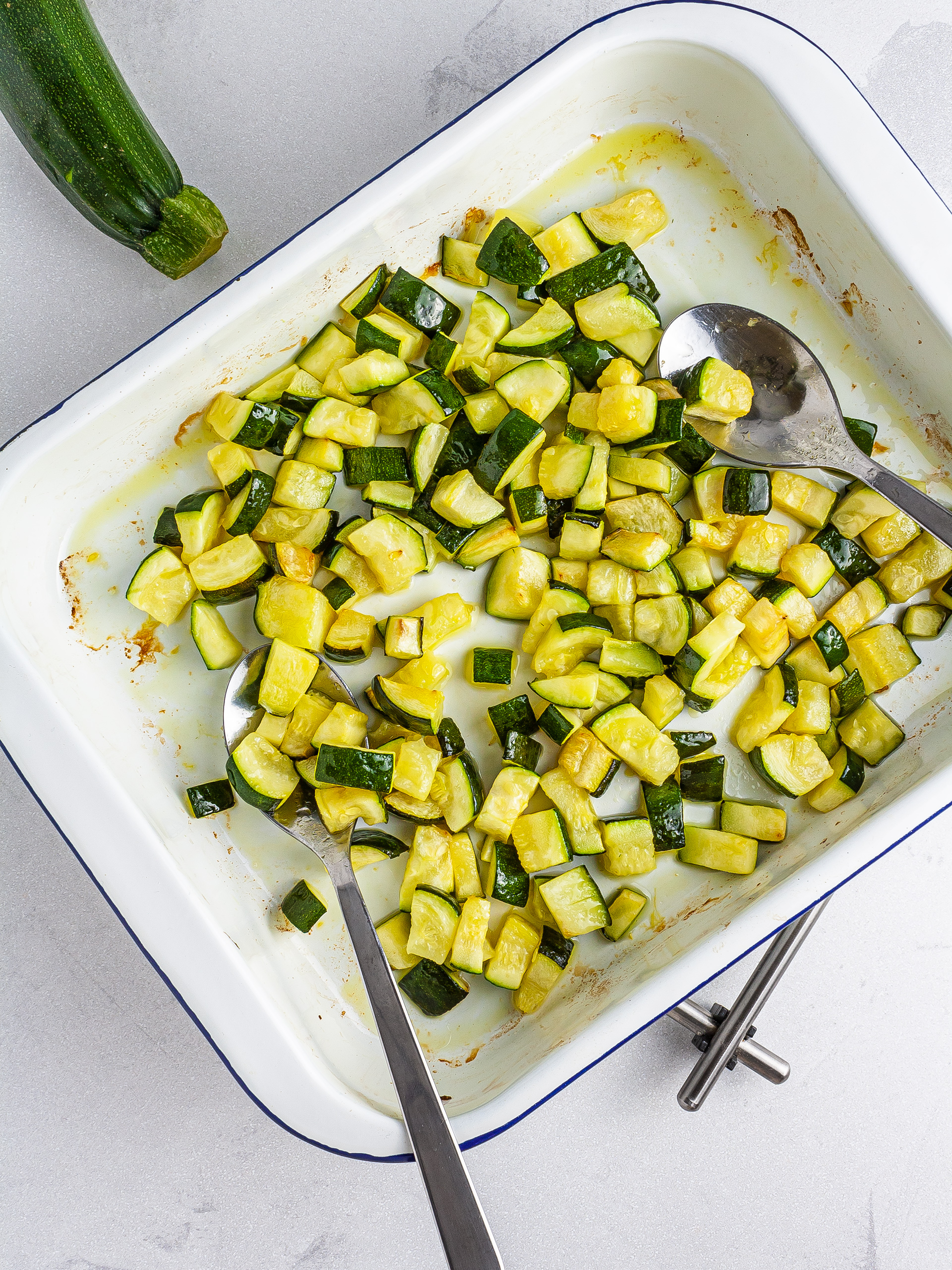 1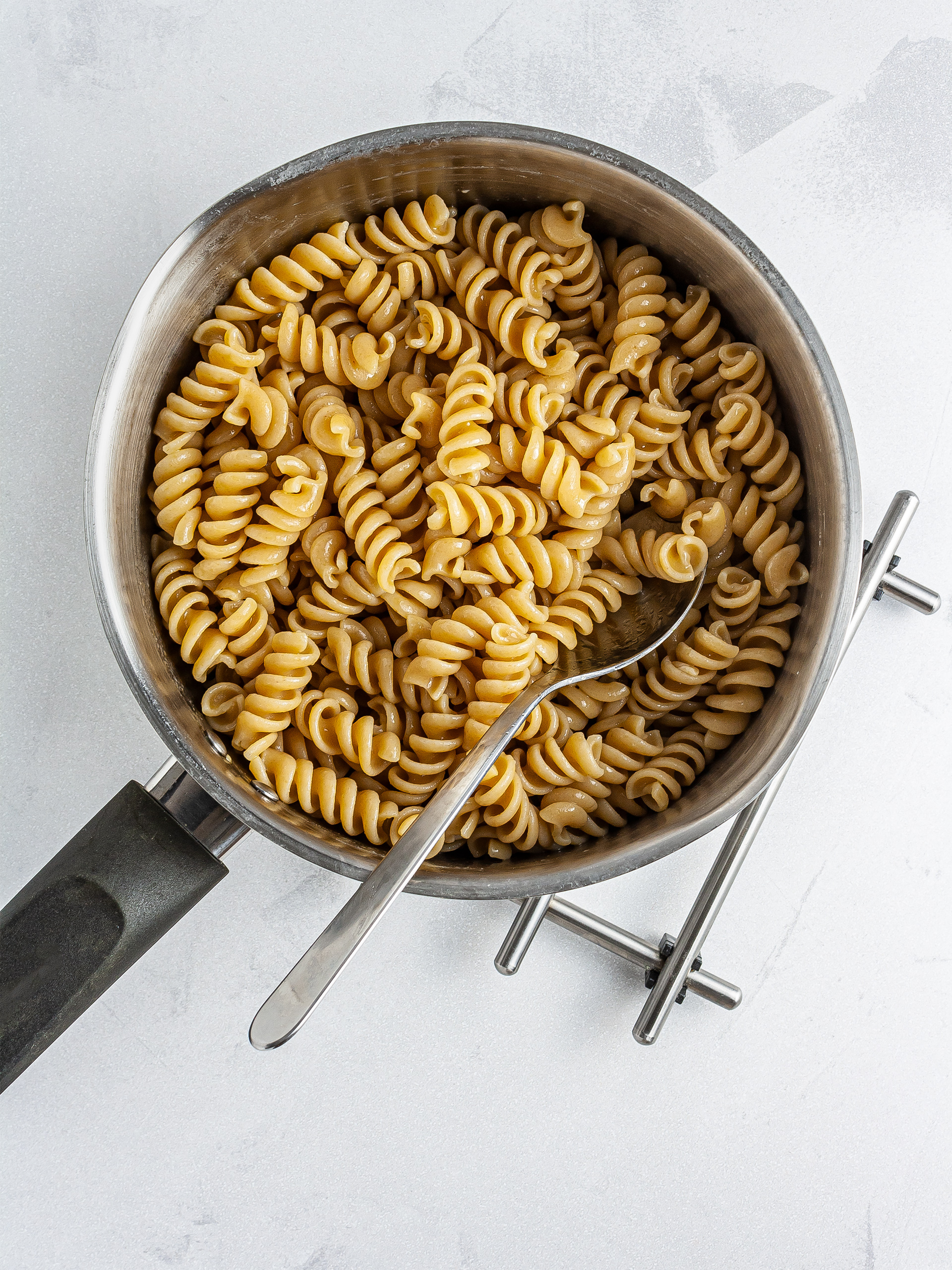 2
Step 2
Meanwhile, let's make the vegan 'tuna'.
Blitz the chickpeas in a food processor with soy sauce, rice vinegar, garlic powder, and flaked nori sheet. Pour water a bit at a time and keep blending until you have a paste that looks like mashed tuna.
Then, season with salt to taste and set aside.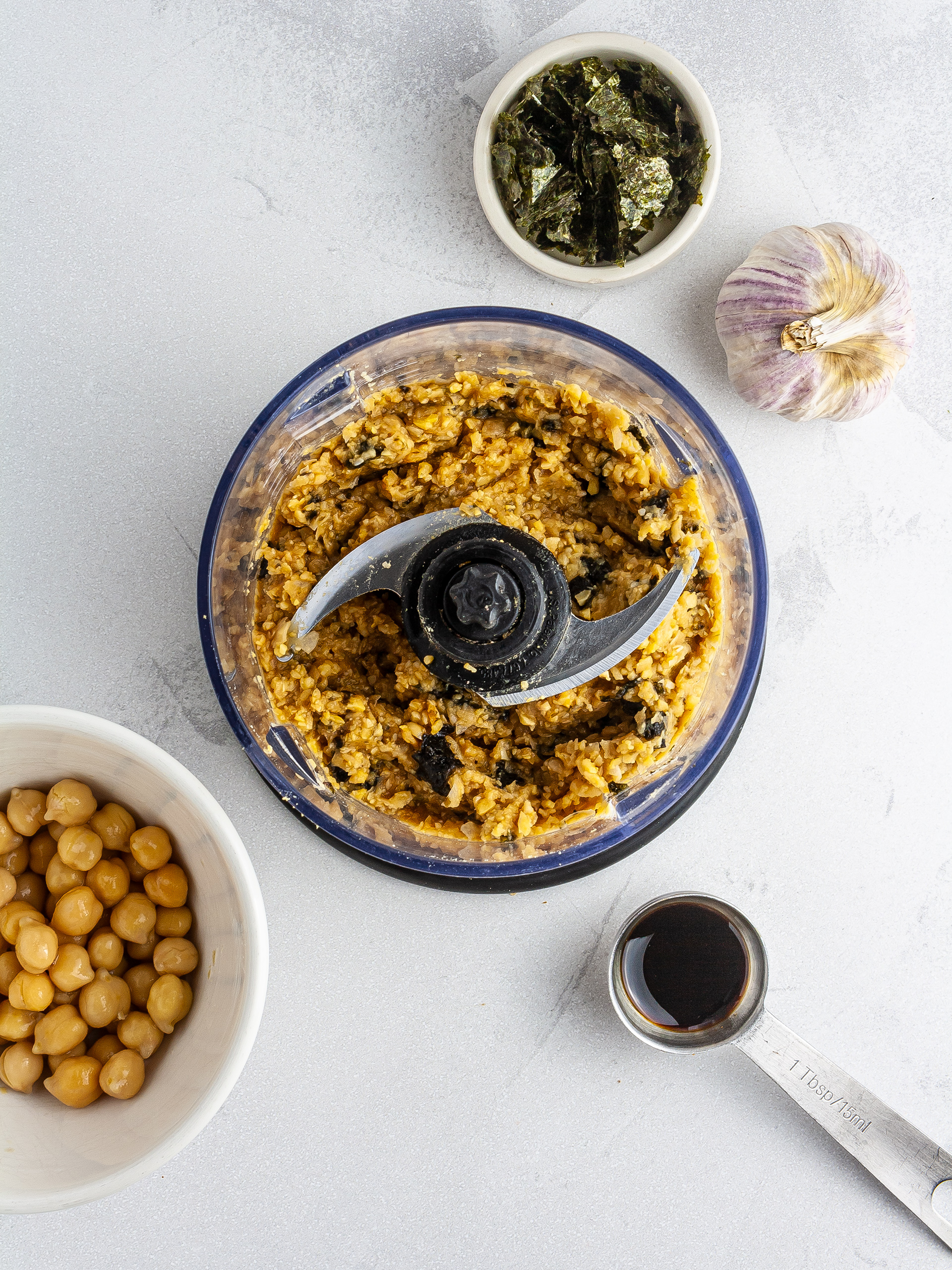 Step 3
In a salad bowl, combine the cooked pasta with roasted zucchini and fake tuna mixture.
Then, add capers and pitted green and black olives.
Give it all a good stir and garnish with lemon zest and cracked black pepper.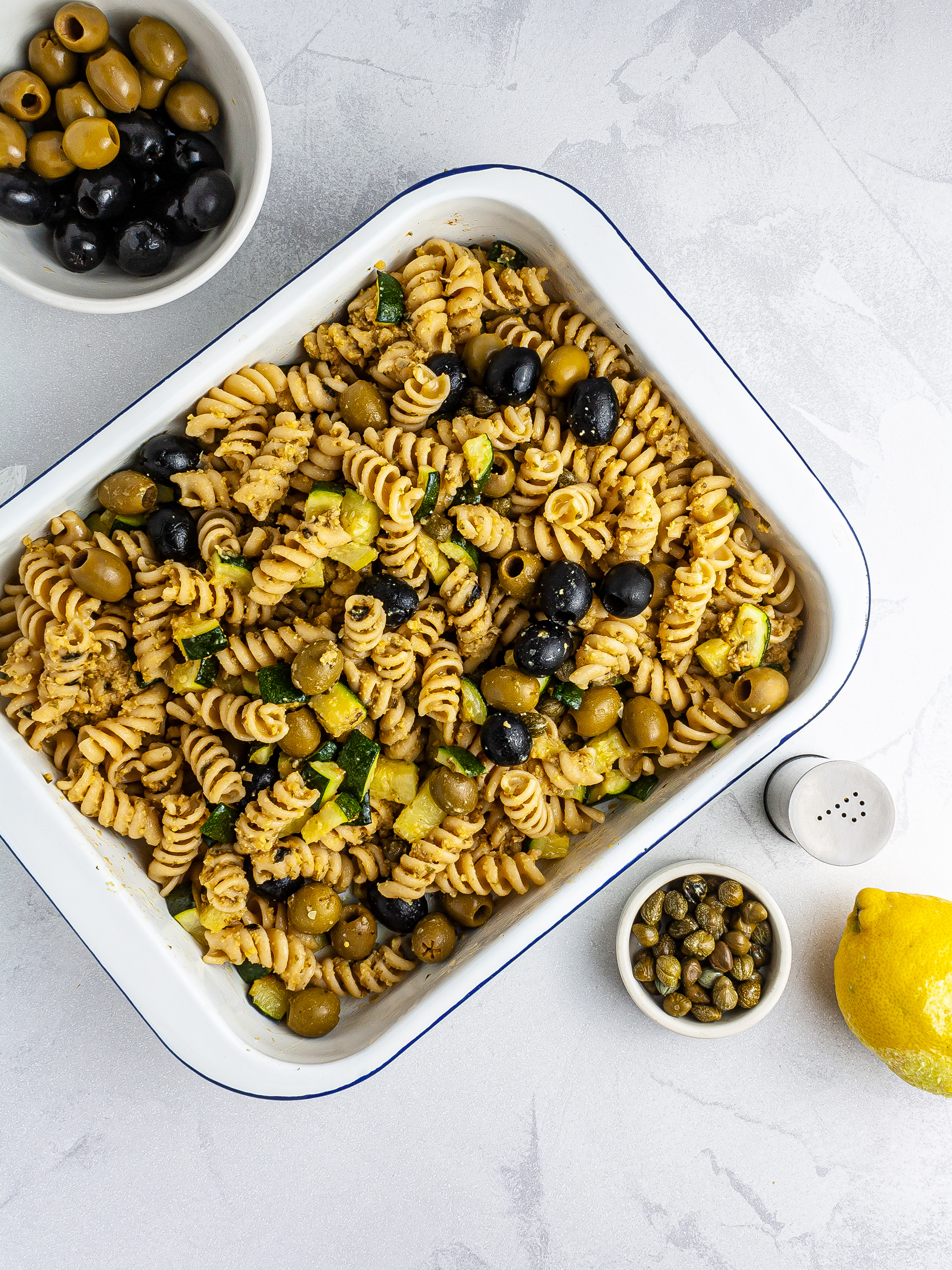 Tips
Want to use real tuna instead? Skip step two and replace all the ingredients in the Vegan Tuna section with two cans of tuna. We suggest you buy tuna in brine and add the extra virgin olive yourself.

If you want to make gluten-free pasta salad, choose a suitable pasta and make sure you use gluten-free soy sauce. We suggest you try red lentil pasta. This pasta is not just gluten-free but also high-protein and low-carb.

Instead of rice vinegar, you can use apple cider vinegar.

You can add one tablespoon of tahini paste or olive oil to the chickpeas mixture for a richer vegan tuna.