For today's recipe, we revisited the classic cinnamon rolls and made a colourful vegan variation with purple ube filling. These cute swirls are deliciously sweet and flaky, bursting with a lovely cinnamon flavour. Let us show you how to make them!
These wonderful ube rolls consist of dairy-free puff pastry swirled with purple yam spread and baked until crusty and golden. You can prepare both the ingredients from scratch or buy them ready-made and assemble the cinnamon rolls in a flash. But, whatever you choose, we'll explain how to go about it — so no worries!
Cinnamon rolls are a traditional Northern European treat usually prepared with a yeast-leavened dough and a sweet filling of cinnamon, sugar, and butter. The type of dough used for cinnamon rolls depends on what you want to achieve: you can make a rich bread dough for fluffy buns or a laminated pastry dough for flaky and crusty swirls.
In both cases, classic cinnamon rolls contain both eggs and dairy from butter and milk, so they're not plant-based. But we're going to show you how to make them vegan in this recipe. So, if you've got a milk or egg allergy or you're following a vegan diet, we've got you covered.
In our recipe, we used vegan puff pastry prepared with vegetable oils instead of butter. You should be able to find it in the free-from chilled section of your supermarket. But if you have time, why not make it yourself from scratch? Just follow our easy vegan pastry recipe here. As for the filling, we kept the cinnamon (of course) but replaced sugar and dairy butter with purple yam (aka ube) spread.
Ok, now, if you've never tried purple yam before, we guarantee you'll be blown away! This wonderful tuber from the Philippines has a vibrant violet flesh and a deliciously sweet and nutty taste — it's too good! You can buy purple yam spread (aka ube halaya) online or make it yourself with fresh ube following our ube butter recipe. The great thing about making your ube spread at home is that it's fun and you can then use it in all sorts of purple treats, drinks, and bakes.
Step 1
For the filling, you can use the ready-made purple yam spread, called ube halaya.
Alternatively, you can prepare it yourself using fresh purple yams, coconut oil, and a little maple syrup, following our easy ube butter recipe. The default ingredients in our recipe yield 300g (10 oz) of spread, exactly how much you need for these cinnamon rolls.
Keep the ube butter chilled so it will be thick and spreadable, and it won't leak from the rolls when baking. Then, mix it with ground cinnamon in a bowl.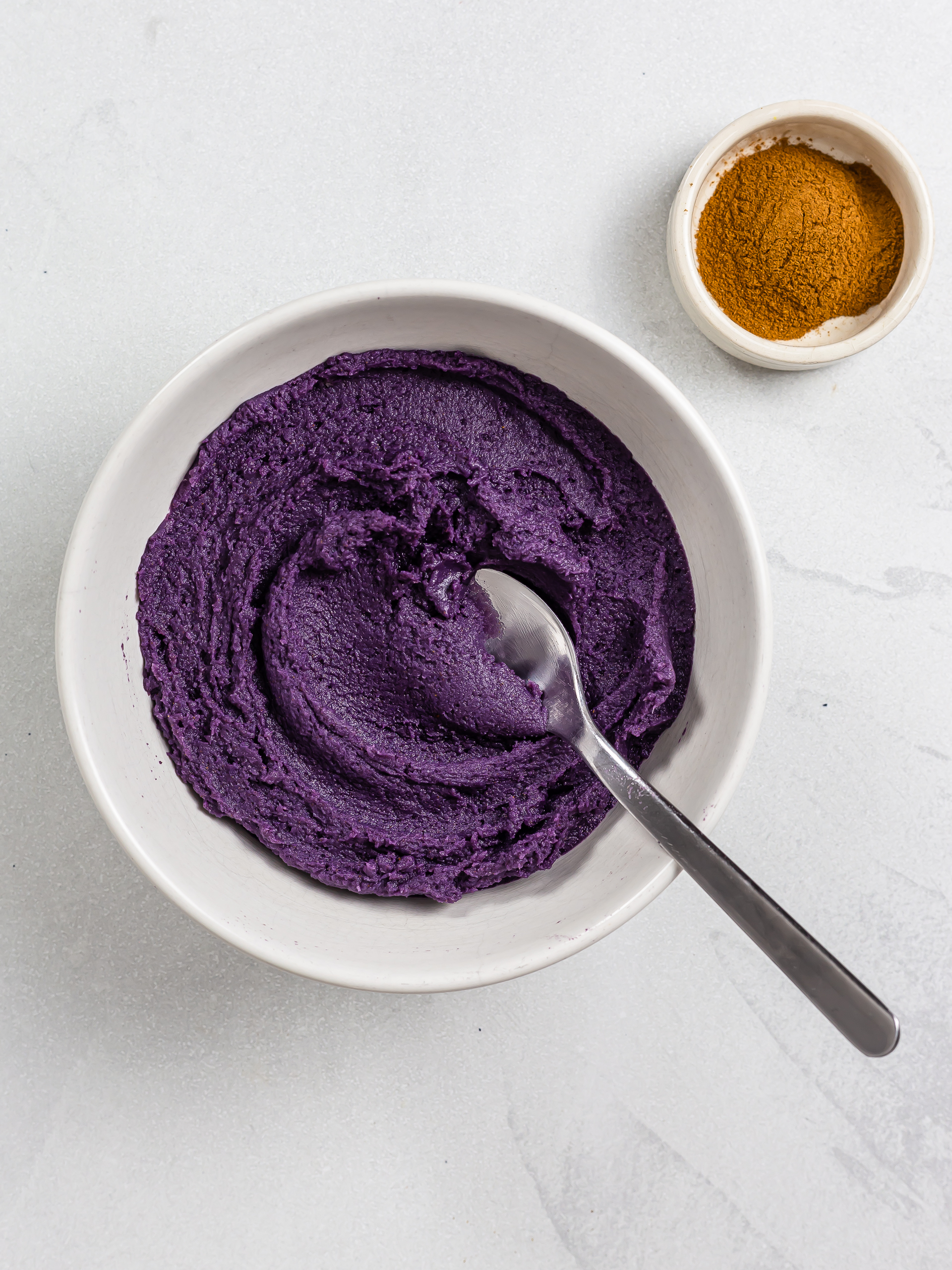 Step 2
As for the vegan puff pastry, you can use the store-bought pastry made without vegetable oil instead of dairy. Or you can prepare it from scratch with vegan butter, following our vegan puff pastry recipe here.
Working on a sheet of baking paper, roll the pastry into a 36 x 23 cm (14 x 9 inches) rectangle, about 3-4 mm thick.
Then, use a palette knife or spatula to spread the ube butter over the entire surface, also covering the edges.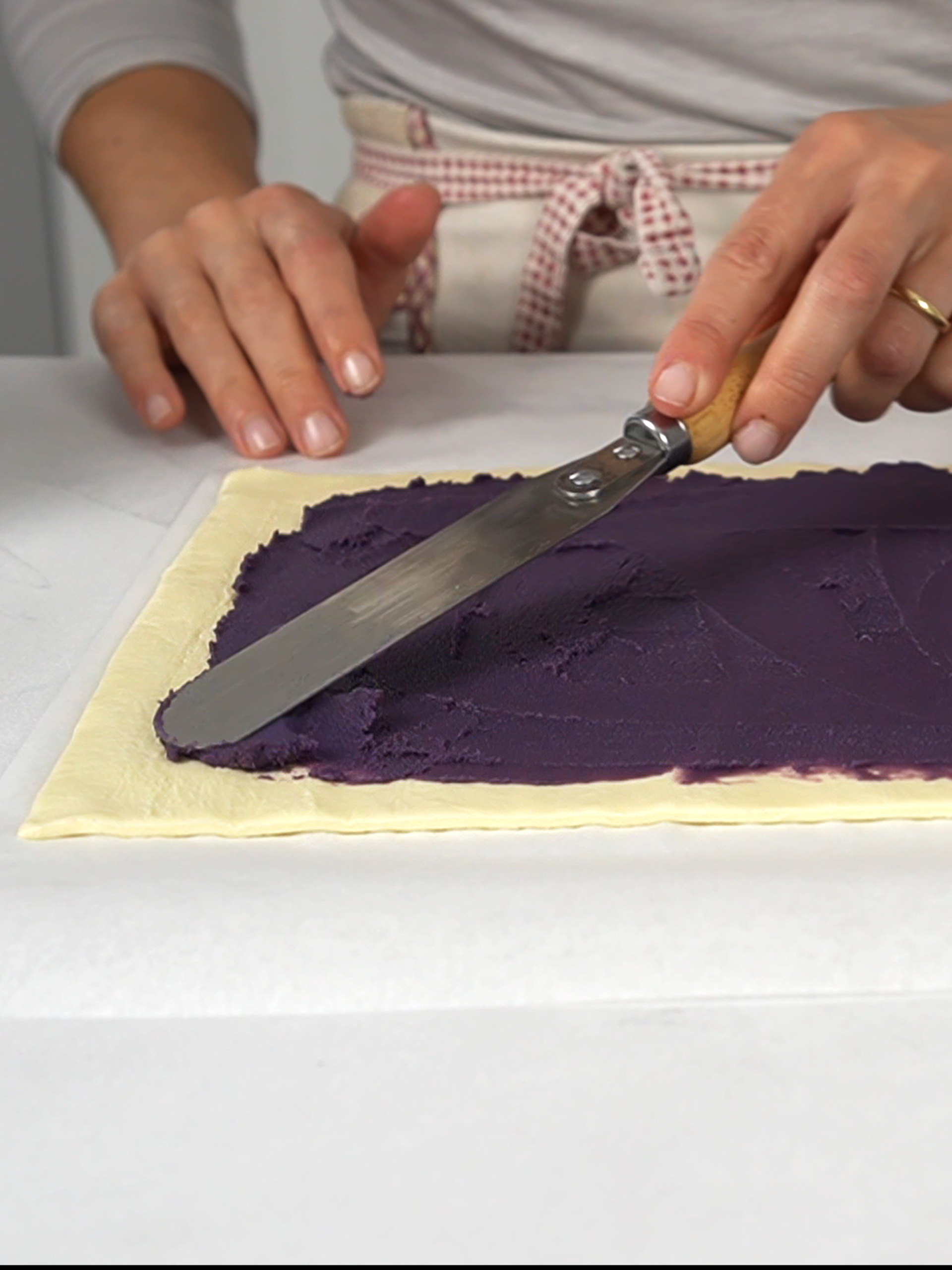 Step 3
Now, starting at the long side of the rectangle, roll the pastry into a 36 cm (14 inches) long log (1). Wrap the pastry tightly around the ube filling, helping yourself with baking paper.
Then, use a cake wire or sharp knife to cut the pastry log into slices, about 3 cm (1.2 inches) wide (2).
If at any point the pastry feels too soft and it's tricky to slice, wrap it in baking paper and put it in the fridge to harden for a few minutes.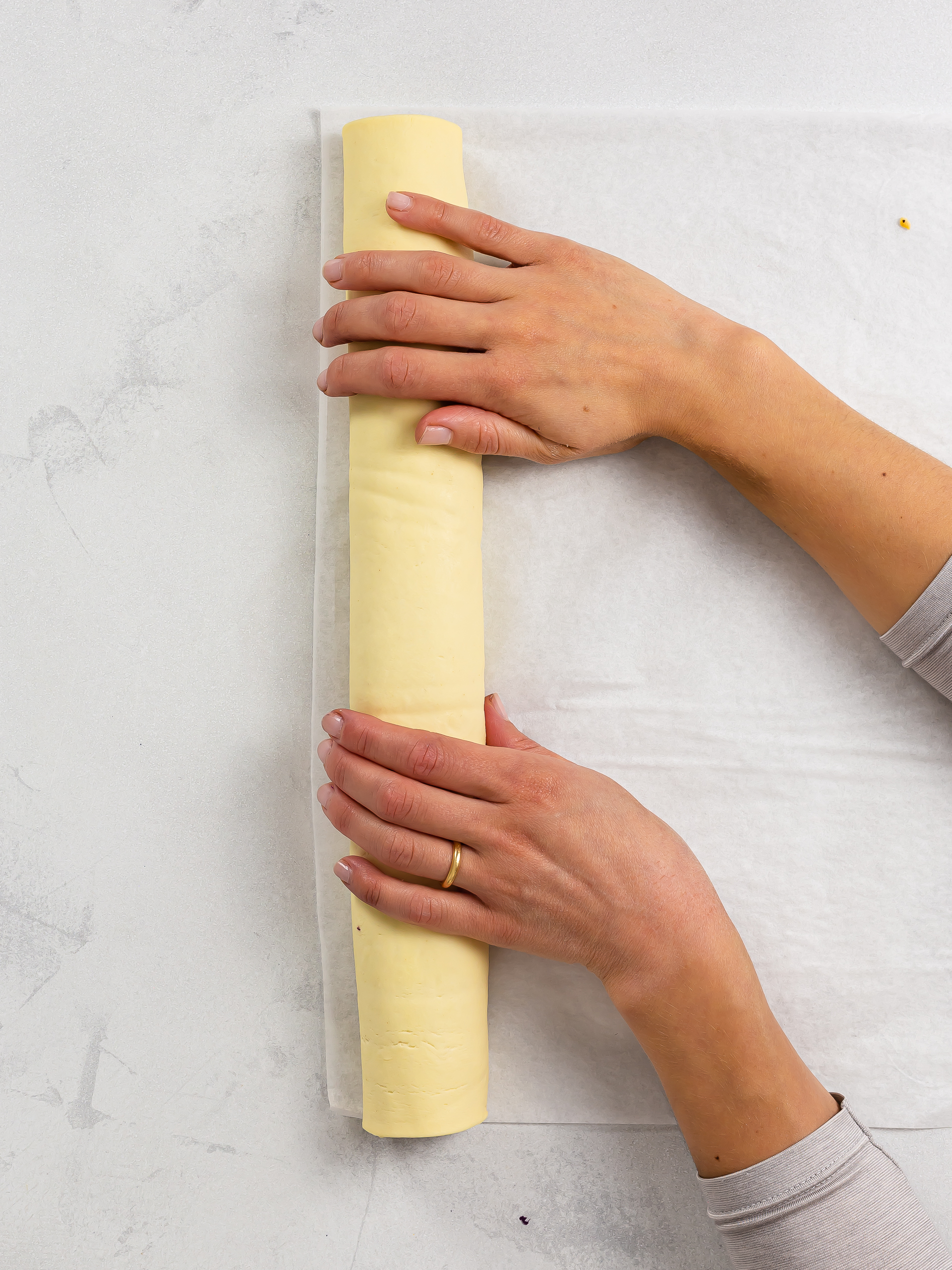 1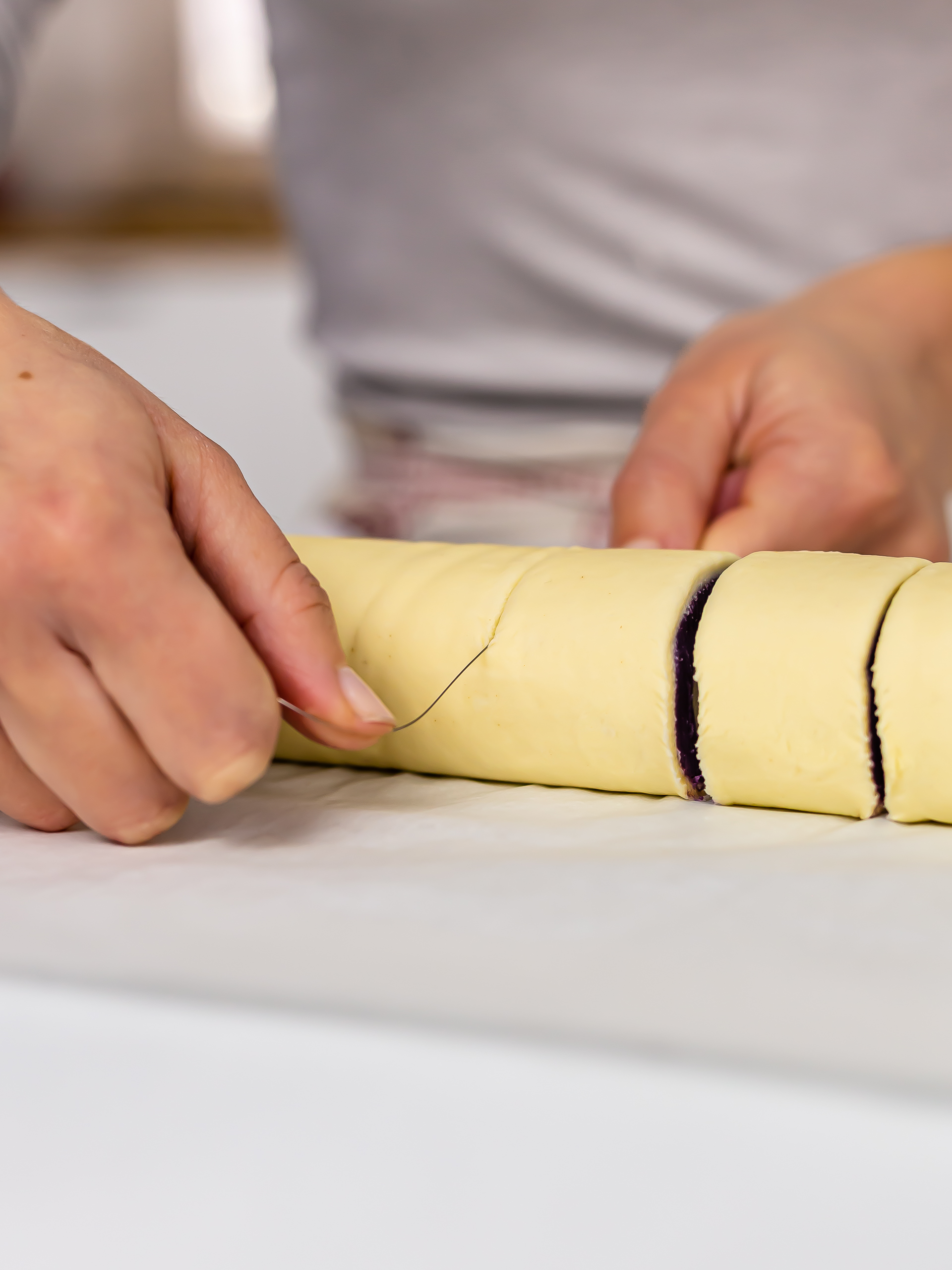 2
Step 4
Transfer the sliced ube cinnamon rolls onto a baking tray lined with parchment paper. Place them cut-side up and leave enough space between them to puff up.
Bake the rolls for 20-25 minutes at 220°C (430°F) in static mode or at 200°C (400°F) in fan mode.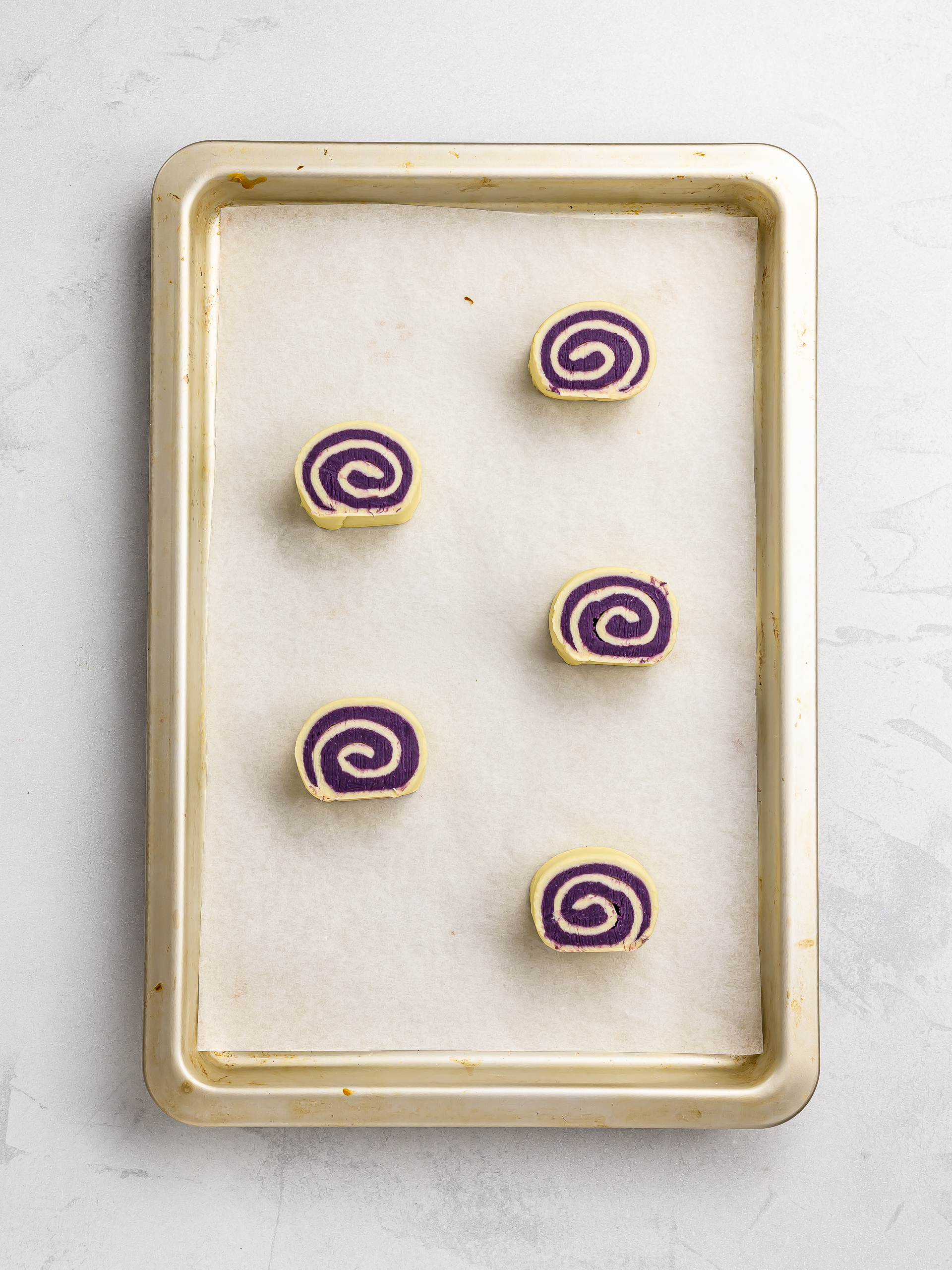 Step 5
Once the pastry cinnamon rolls are golden brown and crusty, remove them from the oven and let them cool down on a wire rack for a few minutes before serving.
You can optionally garnish these ube rolls with icing. We have an easy glaze recipe prepared with erythritol, a sugar-free sweetener.
It's just like the classic icing but with zero sugars. But if you don't have erythritol, you can also make it with regular icing sugar. Give it a go!
Just remember, let the pastries cool down completely before glazing them, or the icing will just melt away.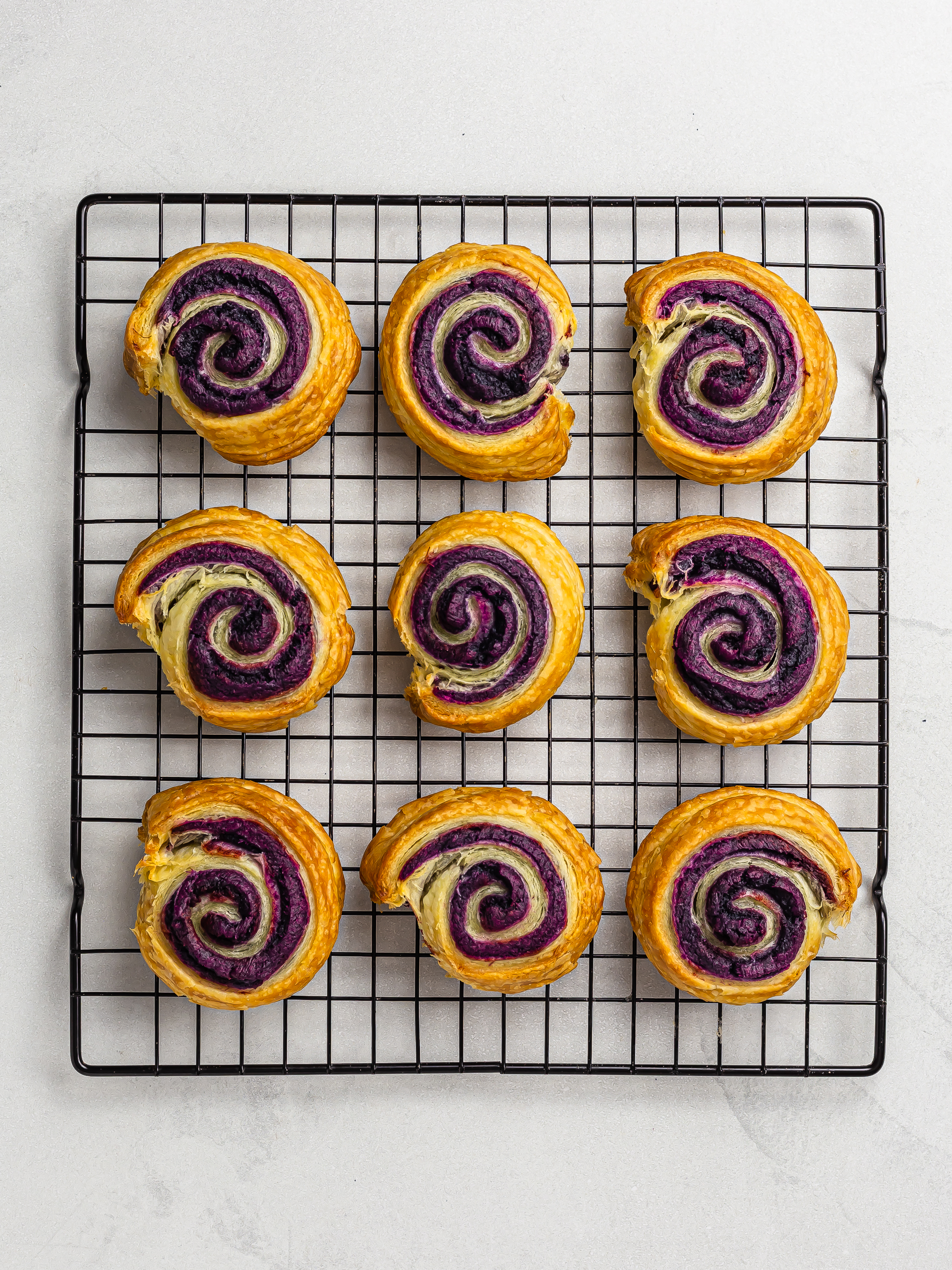 Tips
If you want to store the pastries and keep them fresh, pack them individually first in a paper bag (to absorb the moisture) and then in a plastic container or zip-lock bag (to keep the air out). Then, store them at room temperature in a cupboard; they will keep for 3-4 days. Before eating them, warm them up in the oven.