Not a tahini lover? Not a problem! We have prepared a delicious beetroot hummus recipe without tahini for you to enjoy! We made it with roasted beetroots, walnuts and a blend of tasty spices. It's a great starter dish for dipping in with crispy bread or crunchy carrot sticks.
We also prepared this hummus without chickpeas and used white cannellini beans instead. Feel free to use chickpeas if you prefer!
Hummus is the king of dips. It is naturally vegan, dairy-free and gluten-free, and our beets version makes it even more wholesome! Extra virgin olive oil adds plenty of healthy fats, and the beans bring in loads of plant-based proteins and fibres.
Moreover, using beetroots in the recipe makes this hummus a low-calorie and low GI (glycemic index) dish and gives you a way to eat more vegetables. Beetroots are high in vitamin C and folate and help to lower blood pressure.
We sprinkled in cinnamon and cumin for extra flavour and squeezed in fresh lemon juice for a refreshing twist. Crunchy walnuts add a nutty vibe to the recipe, they are rich in omega-3 fats and essential minerals like magnesium.
If you love healthy and allergen-friendly recipes like this one, you could be receiving two of them every week in your inbox!
Ingredients
| | |
| --- | --- |
| Raw Beetroots | 180 g |
| Extra Virgin Olive Oil | 1 tbsp |
| Canned White Beans (navy, lima, or cannellini) | 240 g |
| Lemon (juiced and zested) | 1 |
| Water | 70 mL |
| Garlic Clove | 1 |
| Salt | 1/2 tsp |
| Black Pepper | 1/2 tsp |
| Cinnamon | 1/2 tsp |
| Cumin | 1/2 tsp |
| Fresh Parsley | 10 g |
| Walnuts | 25 g |
Step 1
Peel the raw beetroots and chop them into chunks.
Toss the beets with extra virgin olive oil in a baking tray lined with parchment paper.
Then, roast them in the oven at 220°C (428°F) for 20 minutes flipping the vegetables halfway through cooking time to make them evenly crisp.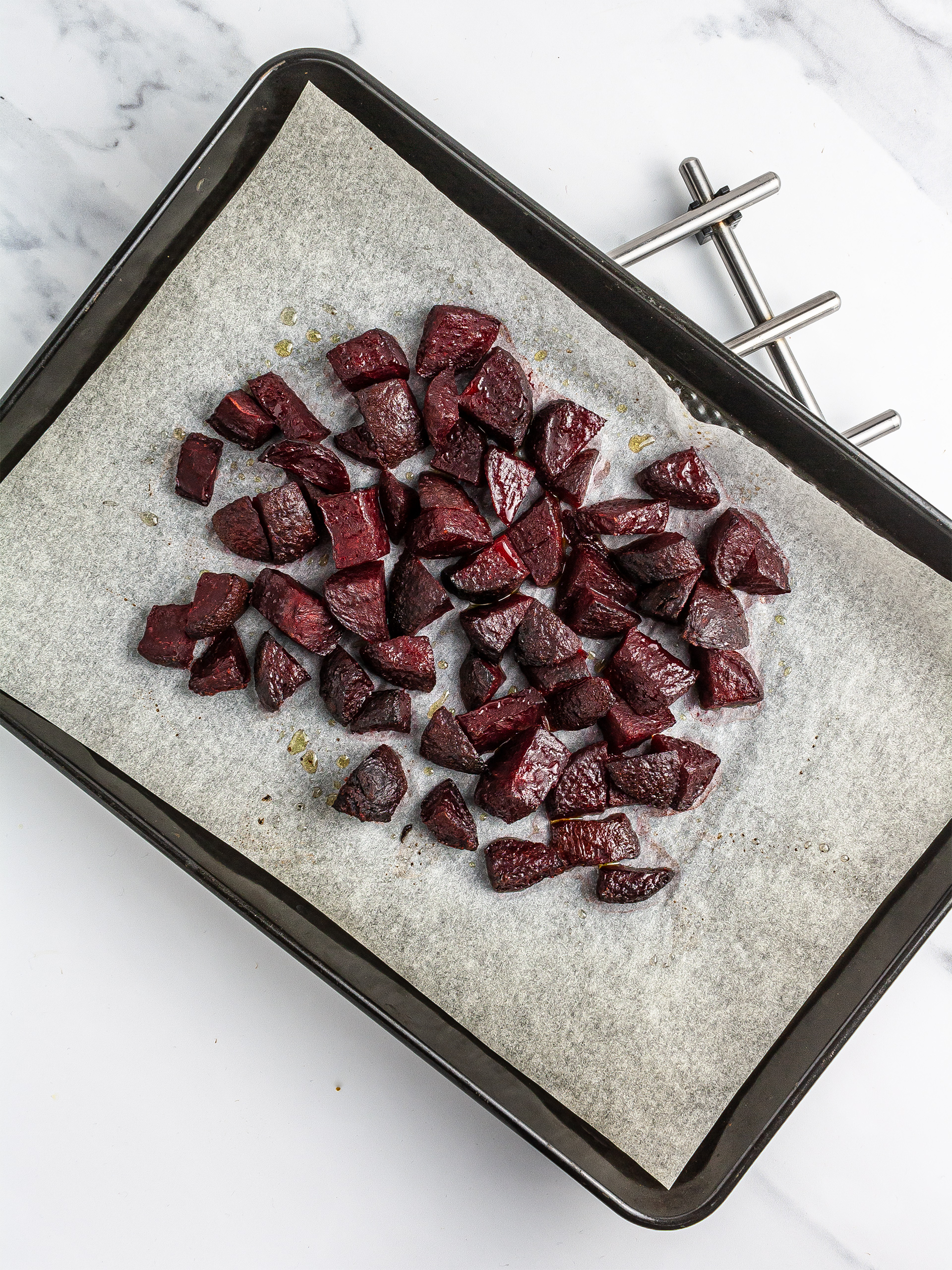 Step 2
Grate the lemon zest and keep it aside to garnish the hummus later on.
In a food processor, add the baked beetroots, white beans, lemon juice, water, crushed garlic, and half of the parsley and walnuts. Then, season with salt, black pepper, cinnamon, and cumin (1).
Now, blitz all the ingredients until you have a smooth and dense paste (2).
If the hummus is too chunky, then add a splash of water to reach the right consistency.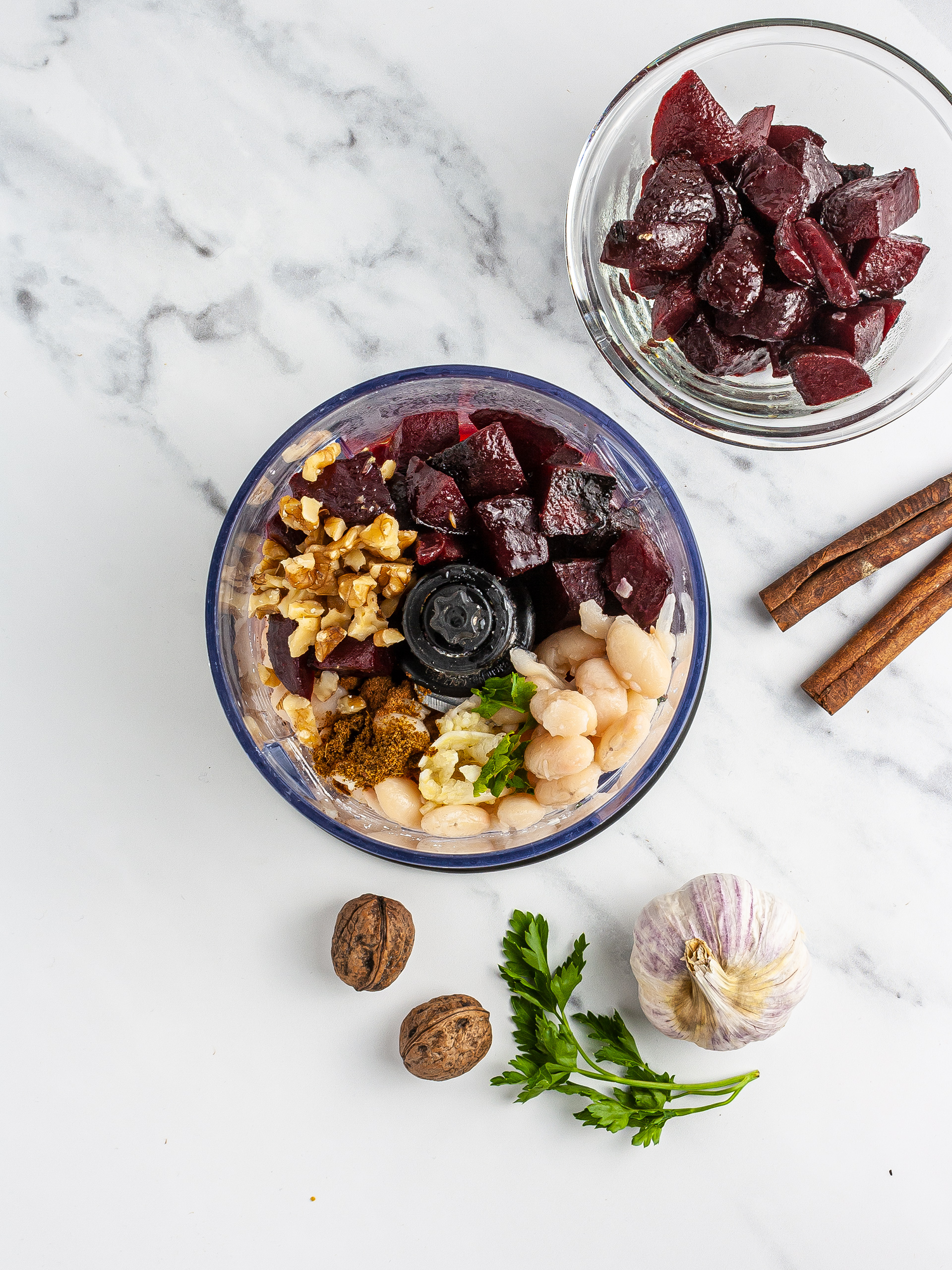 1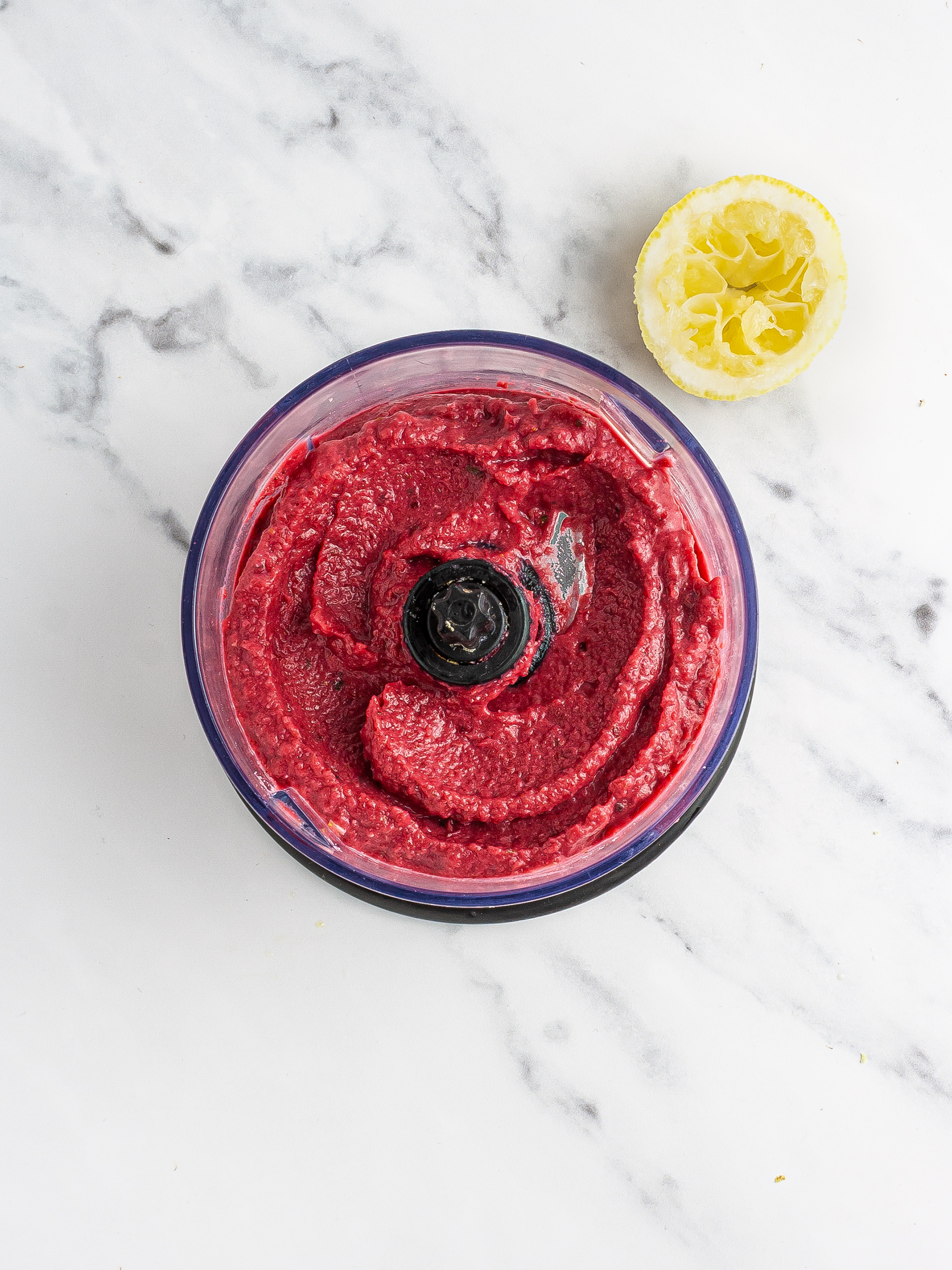 2
Step 3
Transfer the beetroot hummus to a serving bowl and sprinkle with the remaining walnuts.
Finally, garnish this dish with lemon zest and chopped parsley.
Enjoy your white beans hummus with crudités, flatbread or crunchy chips.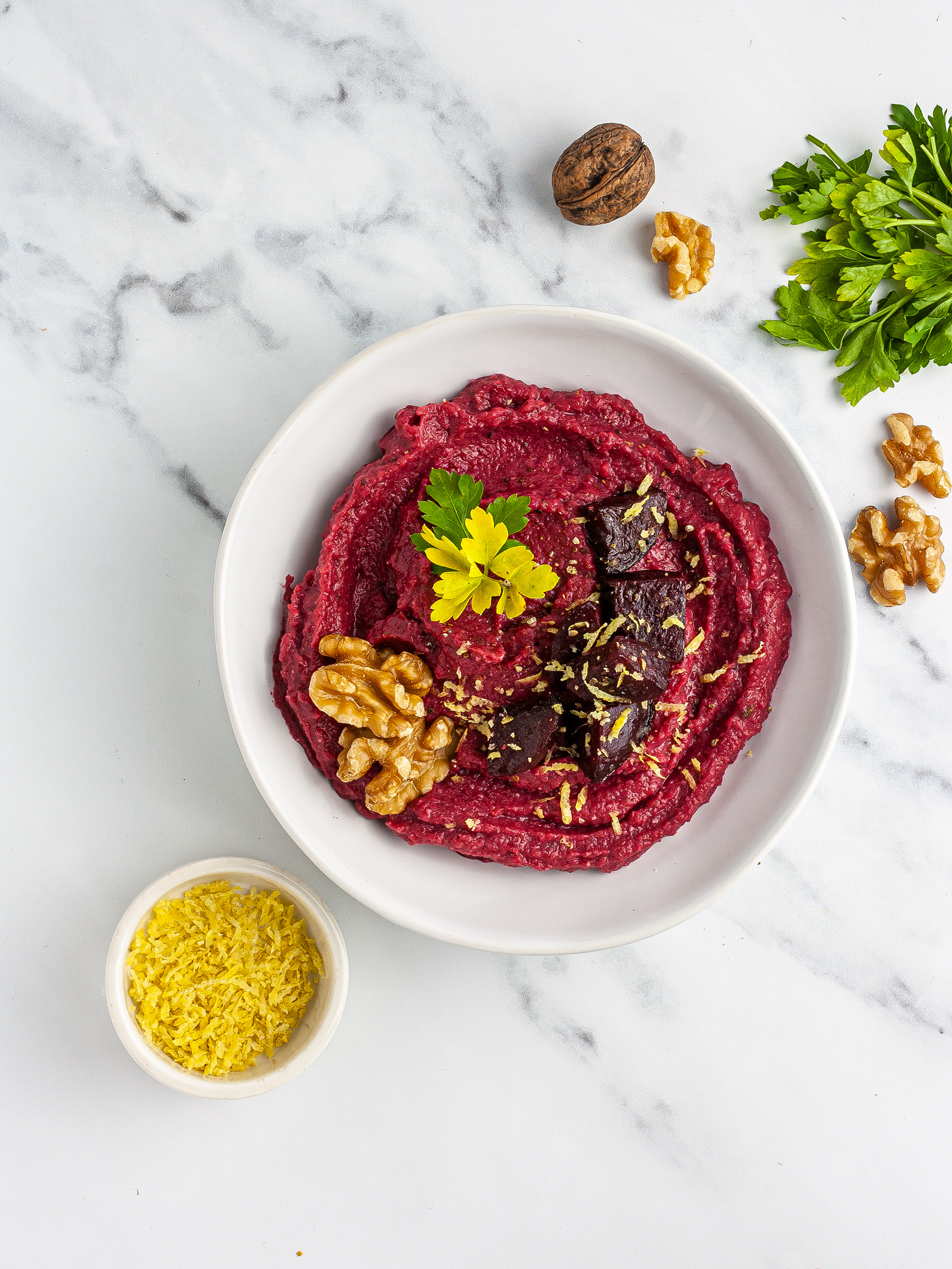 Tips
For a faster recipe, you can skip roasting the beetroots and use the already cooked ones that are easily found at the supermarket.