Today we will show you how to make tortilla chips using black beans instead of corn. These cool-looking crackers have fewer carbs but much more proteins and fibres than the traditional Mexican totopos. They make a wholesome snack for vegans, gluten-free folks, gym-goers that need to refuel, or people on a diet.
This recipe is dead simple and only uses natural, plant-based ingredients. We will turn dry black beans into flour, add a few extra ingredients and pull a tray filled with crispy crackers out of the oven.
To make these black bean chips even healthier, we included highly nourishing ingredients in our recipe. We used chia seeds to help keep things together, and selected a mix of seeds - optional but recommended - to use as toppings.
Chia is an excellent binder when soaked in water, to the point that vegans use it as an egg-replacement in their bakes. Eat 100 grams of these seeds, and you'll get 18 grams of heart-boosting omega-3 fats, 39 grams of gut-friendly fibres, and 100% RDI of essential manganese, phosphorus, and magnesium minerals. Not bad for such a tiny seed!
For extra crunch and wholesomeness, we topped the crackers with a mix of sesame and flax seeds - fabulous sources of healthy fats and vitamins.
Delicious both on their own or dipped into guacamole, these black tortilla chips will bring excitement and flavour to your next Mexican night. Let's bake this out!
Frequently Asked Questions
Black bean chips vs tortilla chips: which snack is healthier?

To decide which of the two chips is the healthier snack, we'll be comparing the nutritional profiles of black beans and corn.

One hundred grams of corn contains (1):

Calories: 131

Carbs: 25.9 grams - of which: 2.6 g Fibres; 18.2 g Starch; 3.4 g Sugars

Protein: 3.6 grams

Fat: 1.4 grams

Whereas the same amount of black beans contains (2):

Calories: 132

Carbs: 23.7 grams - of which: 8.7 g Fibres; 0 g Starch; 0 g Sugars;

Protein: 8.9 grams

Fats: 0.5 grams

The first thing you notice is that given the same calories, black beans have more proteins, more fibres, and fewer fats. In simple terms, black beans are more nutritious than corn.

Eating black beans will give you more than twice as many proteins. The legumes are a better choice for building up muscles.

Another interesting fact is that black beans have fewer carbs, and don't have any sugars nor starches, compared to corn that instead packs quite a few. Sugars and starch are the enemies of people with diabetes, as they cause spikes in blood sugar levels. No wonder black beans have a lower Glycemic Index and Glycemic Load score, making them the better choice for people with diabetes.

Fats are lower in black beans, and if you dig deeper into the data, you will notice that the legumes win over corn in terms of overall vitamins and minerals as well.

We are sorry corn, but you were sorely defeated. All hail black beans! Next time you crave tortillas, remember about this recipe and make some healthy black bean chips yourself!
Are black bean chips suitable for all diets?

Can all of you enjoy our black beans tortillas without worries? We'll answer this by taking a look at the following diets and medical conditions:

Vegan diet.

Gluten-free diet.

Ketogenic diet.

Diabetic diet.

Loss-weight diet.

Our black beans are vegan, as we used 100% organic and plant-based ingredients. Moreover, beans are a great way to get back the proteins lost from meat. Pair this snack with some quinoa - abundant with complete proteins - and you'll be good to go.

Just like the original tortillas made with corn, our legumes-based recipe is gluten-free. We haven't used any flours, apart from the black bean flour, or any other ingredient with traces of gluten. People sensitive to gluten can put their mind at ease while the crunch one down.

Our black bean chips have 30% fewer carbs than traditional corn tortillas and are therefore a better snack for people on a weight-loss diet. Also, most of these carbohydrates consist of dietary fibres which, unlike starch and sugars, are not digested, and therefore they don't add calories [3]. High-fibres foods help us to lose weight by getting our guts to work well, by slowing down the metabolisation of nutrients and curbing our hunger.

But those that instead follow a strict low-carb diet, like the ketogenic diet, may have to skip this one out. Keto purists don't include beans in the list of foods they can eat. If you are part of that group, check out our list of keto recipes.

Good news for people with diabetes or those on a low-sugar diet: these black beans crackers are perfect for you! The high amount of fibres in beans help keep your blood sugar levels in check. With a low GI score of 30, these chips are a practical way to add much-needed nutrients, minerals and vitamins to a diabetic diet. One serving of these crunchy chips has only 16g of carbs and 0.6g of sugars.

No matter your diet, there's one undeniable advantage of making tortilla chips at home: there are no nasty surprises in the ingredients. No added chemicals, highly-processed additives, and stabilisers. Just wholesome organic ingredients. And if you are putting in the work, why not choose black beans instead of corn? You will get a healthier snack for the same amount of work.
How to store and keep these crackers crunchy?

Just like the tortillas you buy in a store, these black beans chips have to be stored appropriately, or they will turn stale and lose their crunch.

If you plan on eating them in one go, you won't have to worry much as they will stay crisp for up to half a day once baked. But if you made a big batch or want to extend the black tortillas "shelf life", then here are some tips on how to store them properly.

Don't freeze or refrigerate the crackers, as the moisture will make them soggy. Instead, store at room temperature in a dry and dark place, like a cupboard.

Wait for the black bean tortilla chips to be cold before placing them in a container, to prevent steam from building up and moistening them.

Suitable containers are zip-locked bags or food-grade boxes with rubber seals. Using clips or rubber bands on plain plastic bags is risky, as air will likely find a way inside.

Store the chips in single-portions. The less you open and close the container, the longer the crackers will last. Ideally, you'd want to open the box once and eat all the crisps therein, hence why single-portions work best.

Once properly stored, you can expect crisps tortillas for up to a week, or longer if you followed our single-portion bags advice
Ingredients
Optional
Sesame Seeds

to taste

Ground Flaxseeds

to taste

Pumpkin Seeds

to taste

Others
Dried Black Beans

220 g

Salt

1 tsp

Chia Seeds

30 g

Cumin Powder

1/2 tsp

Garlic Powder

1/2 tsp

Extra Virgin Olive Oil

2 tbsp

Water

200 mL
Step 1
Let's start by making the black bean flour from scratch for the chips dough.
Although it would take a bit longer, we strongly recommend you rinse the beans thoroughly and then toast them for 20 minutes at 150°C (300°F) before grinding them into flour.
By doing so, the chips will taste much sweeter as you'll wash away the saponins, bitter compounds naturally found in legumes.
However, if you're in a hurry, simply use the dried beans as they are.
To make the flour, you should use a very powerful food processor, even better a seed grinder or coffee grinder.
Blitz the black beans into a fine powder, pulsing the blender for a few minutes.
The finer you make the black bean flour, the smoother and more cohesive the tortilla dough will be; so keep at it.
If you're having trouble blitzing the beans into flour, check the tips at the bottom of the page.
Step 2
Transfer the prepared bean flour to a bowl and add salt, chia seeds, cumin powder, and garlic powder.
Then, pour in the oil and water.
Mix the ingredients until they come together into a dough that has a dense, paste-like consistency.
Then, leave the black bean dough to set for 10 minutes covered with cling film.
This way, the chia seeds will have time to absorb water and turn a little jelly, helping the tortilla dough hold together.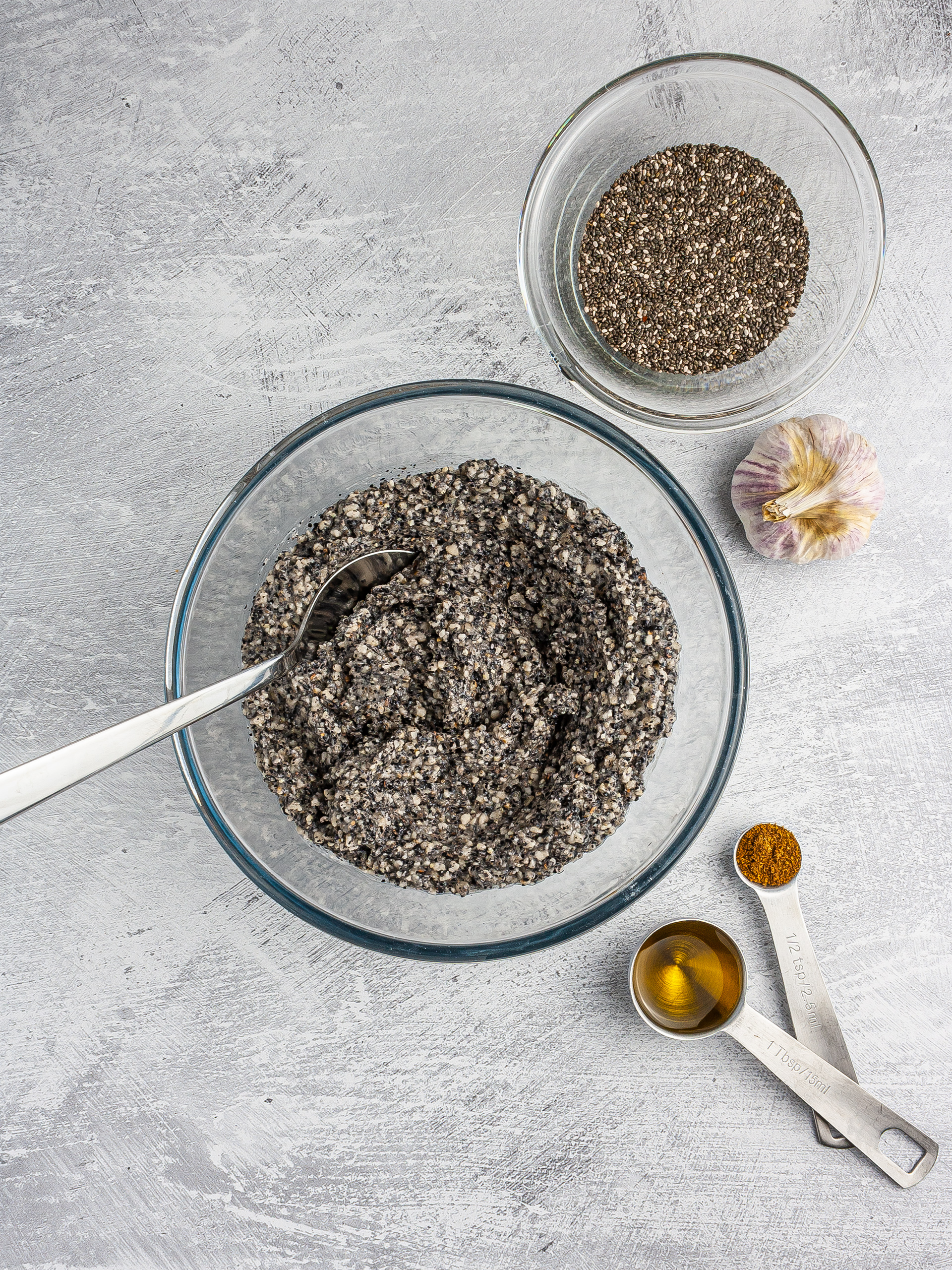 Step 3
Now, roll out the black bean dough between two sheets of baking paper. The thinner you roll it, the crunchier the tortilla chips will be.
Peel off the top sheet of baking paper and sprinkle the dough with sesame seeds, flaxseeds, and pumpkin seeds if using them.
Use a rolling pin or the back of a spoon to press the seeds down into the dough so they'll stick.
With a sharp knife or pastry-cutting wheel, cut the dough to form the typical tortilla chips triangles (1).
Bake the bean dough slab for 30-40 minutes in the preheated oven at 160°C (320°F) in static mode or at 140 °C (285 °F) in fan/convection mode.
When the dough slab feels dry and hard enough, you can flip it onto another sheet of baking paper and return it to the oven.
Bake it for another 10-15 minutes to ensure the chips will be crunchy on both sides.
Once ready, transfer the cooked slab onto a rack and let it cool down slightly before cracking the tortilla chips along the premade cuts (2).
The bean tortillas will crisp up and harden as they cool down, so it's important to keep them on a wire rack to allow even airflow.
Once ready, you can enjoy these super healthy black bean chips dipped in guacamole dip or try them with our artichoke dip, beetroot hummus, or sweet and spicy chilli jam.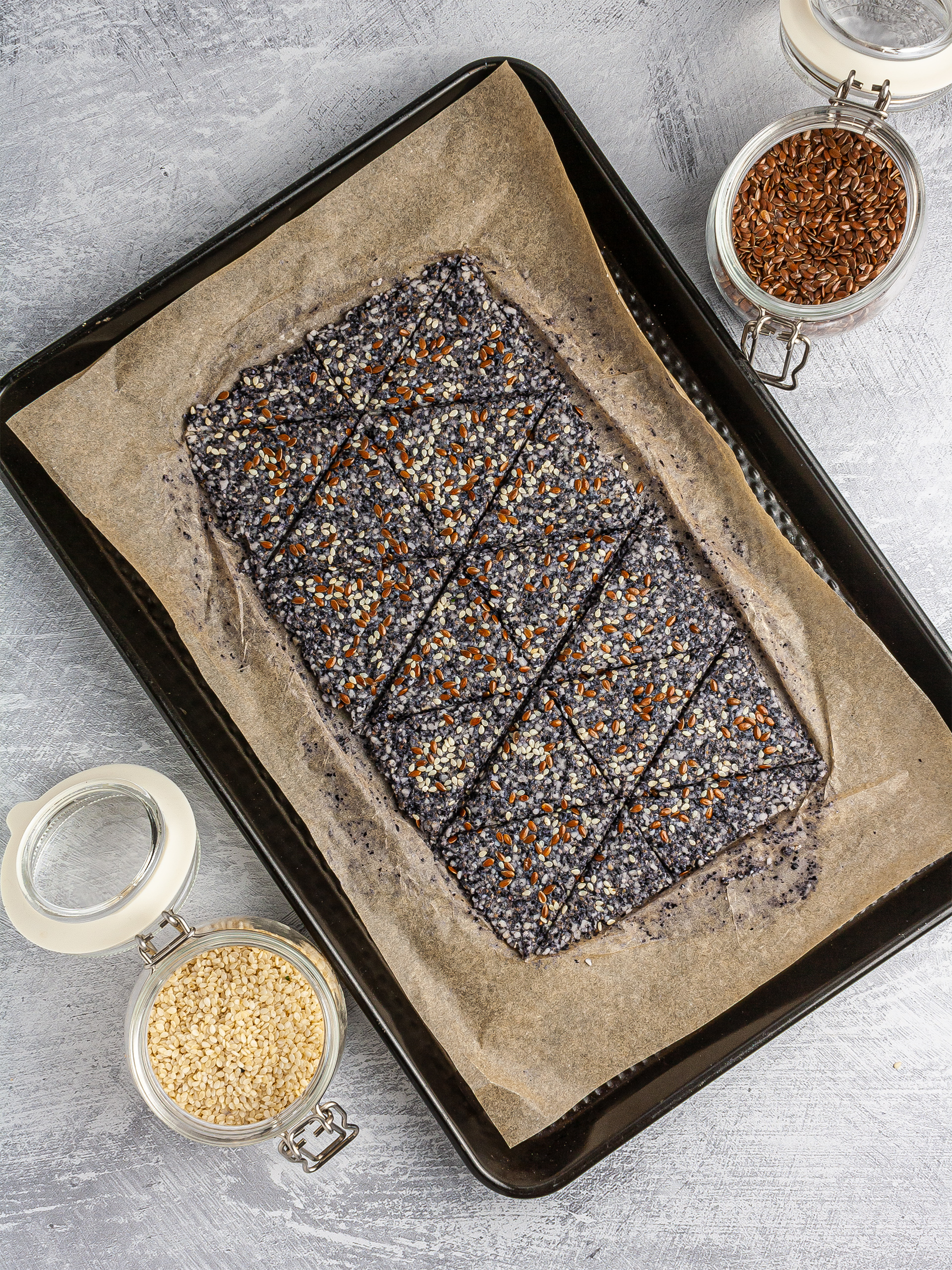 1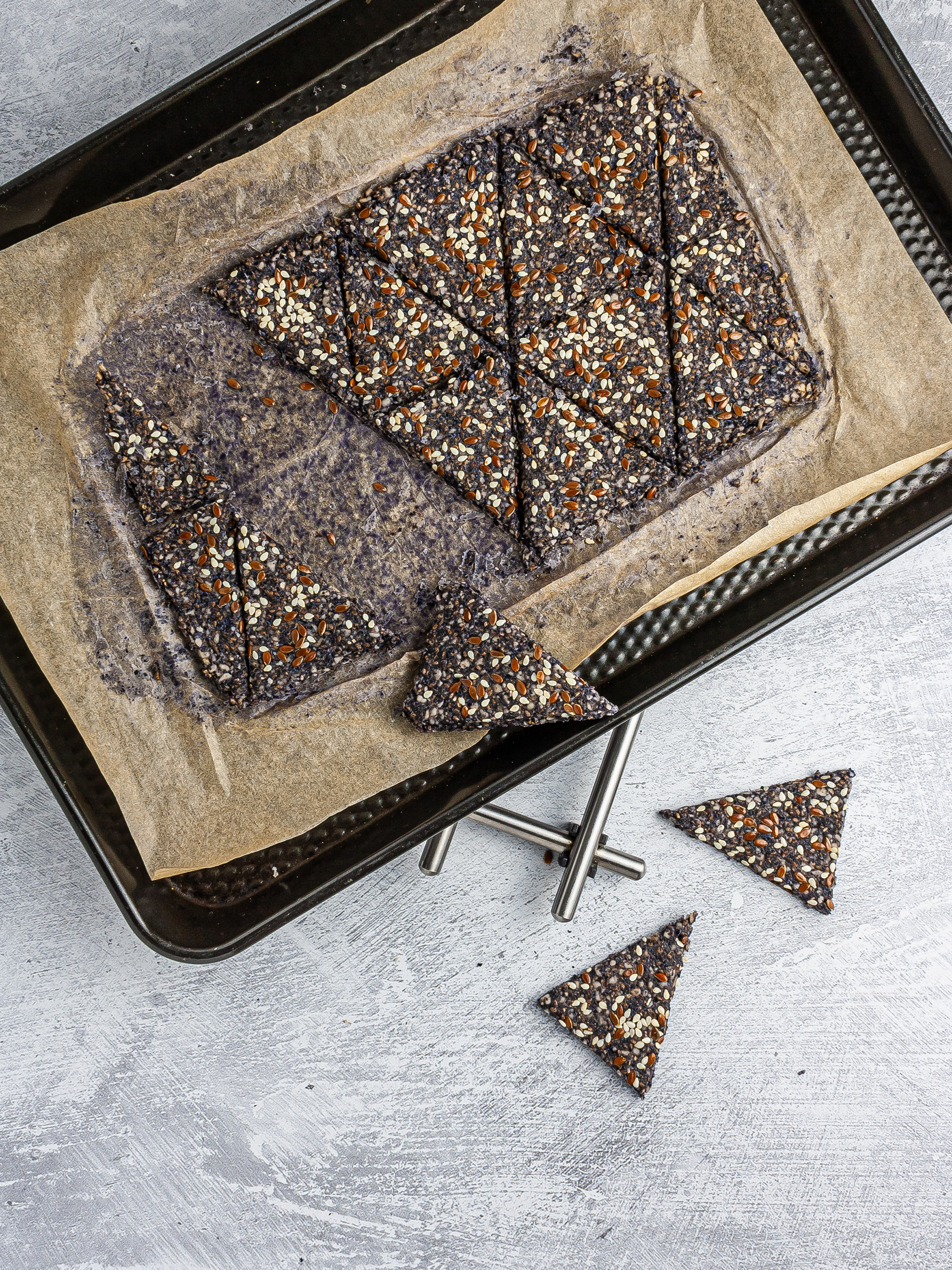 2
Tips
Here are some troubleshooting tips you may find useful if you're having problems making the bean flour:
If in Step 1 you rinsed the beans, make sure you toast them, as dry beans are a bit easier to grind than wet beans.

You will get fewer problems if you don't rinse and roast the beans before blitzing, but then the tortilla chips will taste a tad more bitter, due to the saponins. We tried both ways and preferred the chips we got using the rinsed beans.

Don't pulse continuously, but do short pulses. This will prevent your blender from overheating and will allow the flour to settle down and the hard bits to surface up closer to the blades.

If after blitzing you still have some pellets, then transfer everything into a sieve and get out as much flour as possible into a bowl. Then, put the pellets back in the blender and pulse again. Repeat once or twice until you get rid of the hard bits.

If you still have some pellets left, grind them into flour using a pestle and mortar. Alternatively, use the flour you got to make the chips, and turn the pellets (which are perfectly edible beans) into a black bean "guacamole". Do this by cooking the pellets, blitzing them, and drizzling in some lemon. Adjust the recipe to match the quantity of flour that you were able to make, by using the +/- buttons in the ingredients list until the amount of dry black beans matches the quantity of flour that you have.

If you have a seed grinder or coffee grinder, use that instead of a food processor for perfect results.