In today's article, we'll talk about the best ingredients to use in a cholesterol-lowering smoothie. Also, we'll share 9 delicious smoothie recipes for you to try, and we hope you'll find your new favourite!
A quick and tasty smoothie is the perfect breakfast for those busy mornings.
You can prepare it with lots of health-boosting ingredients that will nourish you from the inside out. So, why not make a smoothie to help lower bad cholesterol? It's easy and simple!
You can skip right to the recipes using the table of contents below or keep reading if you want to learn more about what you can do to keep cholesterol in check.
Can smoothies help lower cholesterol?
If you've been wondering if smoothies are good for lowering cholesterol, the answer is yes. But only if you prepare them with specific, heart-healthy and beneficial ingredients.
Besides quitting smoking, increasing physical activity, and limiting alcohol, improving your diet is another thing you can do to lower bad cholesterol.
But if when it comes to diet, you don't know where to start, here are five things you should try:
Limit saturated fats

Consume more heart-healthy unsaturated fats

Boost your omega-3 intake

Eat fibre-rich foods, especially soluble fibres

Include more foods rich in plant sterols
This means focusing on wholesome, plant-based foods like fruits, veggies, nuts, seeds, legumes, and soy products.
Luckily, preparing a breakfast smoothie can help you pack lots of these beneficial ingredients in a tasty and practical format. So you can start the day knowing you fueled your body with foods that are actually good for your cholesterol.
Good fats for cholesterol
Choosing your fats wisely can help you keep cholesterol in check.
If you consume too many foods high in saturated fats, your body produces more "bad" cholesterol, called LDL.
Instead, foods high in unsaturated fats help maintain healthy cholesterol levels, decrease LDL, and increase "good" HDL cholesterol.
When making a smoothie, think about using plant-based milk like almond or soy milk and adding avocadoes or nut butter.
Also, tip in a few flax seeds or chia seeds for a boost of omega-3. These unsaturated fatty acids not only improve cholesterol but also benefit your overall heart health.
Good fats for smoothies: avocado, almond butter, walnuts, chia seeds, flaxseeds.
Which fibres are best for cholesterol?
Fibres not only keep your gut healthy, stabilise blood sugars, and help you lose weight, but they're also a bliss for folks with high cholesterol.
Soluble fibres, in particular, have the power to flush out bad cholesterol.
Soluble fibres bind cholesterol particles in the digestive system and drag them out of the body before they get into circulation.
Also, the fermentation products from soluble fibres can directly halt the production of cholesterol in the liver.
So, next time you whizz up a smoothie, try adding in some fibre-rich foods. These include oats (rich in beta-glucans), fruits like apples, oranges, and pears (rich in pectins), and flaxseeds.
Good fibres for smoothies: apples, pears, strawberries, carrots, bananas, apricots, grapes, citrus fruits, flaxseeds, chia seeds, and oats.
Are plant sterols good for lowering cholesterol?
Plant sterols are compounds that have a similar structure to cholesterol and occur naturally in plant-based foods.
They compete and interfere with cholesterol uptake in the gut. This way, less of the cholesterol you eat is actually absorbed. In turn, your body takes the "bad" cholesterol that's already in your blood and sends it to the liver. Consequently, your LDL blood cholesterol goes down but not your "good" HDL cholesterol.
Food sources of plant sterols include legumes and cereals. But, we're not asking you to make a lentil smoothie, of course. Other awesome plant-based foods rich in sterols include fruits, vegs, and nuts, which are great for smoothies.
Good sterols for smoothies: silken tofu, soy yogurt, almonds, walnuts, pistachios, cashews, flaxseeds, carrots, spinach, strawberry, blueberries, bananas.
Other allies to a healthy cholesterol

And if you want to boost your smoothie with even more beneficial ingredients, then have a look at these suggestions:
Berries - They're a concentrate of antioxidants and anti-inflammatory compounds which promote overall heart health.

Dark Chocolate - It may sound too good to be true, but dark chocolate and cacao have specific plant compounds that reduce the oxidation of LDL, a precursor event in the development of cardiovascular diseases.

Kale and Spinach - These leafy greens pack antioxidants that fight free radicals, prevent cholesterol oxidation, and help the body to get rid of it.

Green Tea - Beneficial compounds in green tea help regulating blood pressure and inhibit cholesterol production.
What is a good smoothie for high cholesterol?
If you want to make a good smoothie that helps lower cholesterol, aim for a combo of fibre-rich fruits, berries and leafy greens, oats, soy yogurt, nuts and seeds.
There are infinite combinations you could try, mixing and matching different ingredients every time.
We even have an entire article where we explain how to build up a balanced smoothie, from liquid bases to healthy toppings, with tips on serving sizes and nutrition. Check it out if you need some inspiration!
But for today, we did all the hard work, and we came up with 9 amazing cholesterol-lowering smoothie recipes you can try. So all you have to do is blitz and sip!
Smoothies to lower cholesterol
Here is our collection of the best smoothies for high cholesterol. They're healthy, filling, and nutritious, not to mention super tasty.
We carefully selected them among the many smoothie recipes on our website to include lots of beneficial, cholesterol-lowering ingredients.
Let's have a look at them together!
Chia Raspberry Smoothie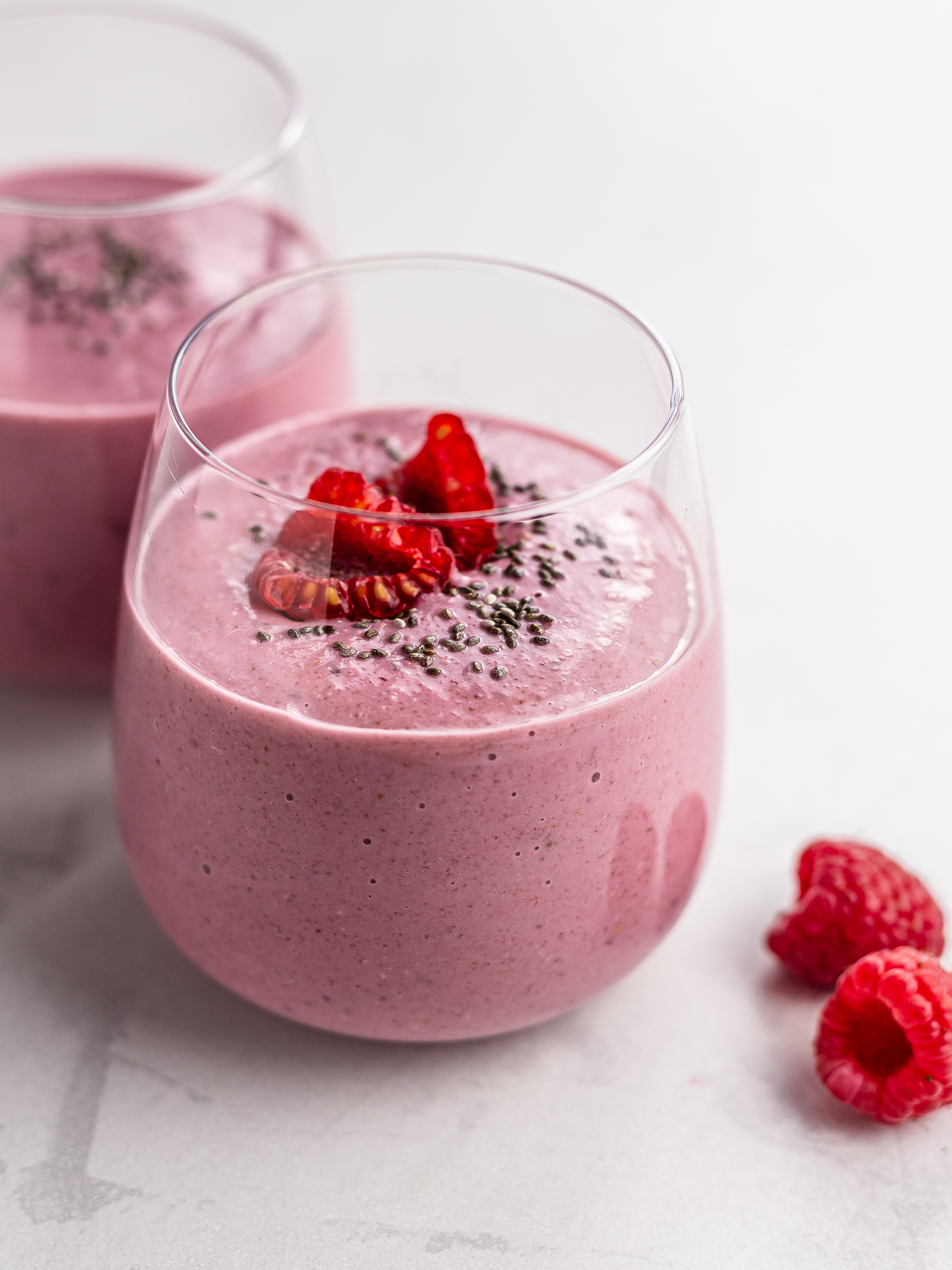 This high-fibre pink smoothie is as gorgeous as nutritious.
It's a concentrate of soluble fibres from oats, chia seeds, and bananas. Almond butter tops it up with healthy unsaturated fats and sterols, while raspberries boost it with precious antioxidants.
Each glass covers a whopping 50% of your daily fibres, which will also keep hunger a bay. Bye-bye mid-morning cravings!
Carrot Strawberry Smoothie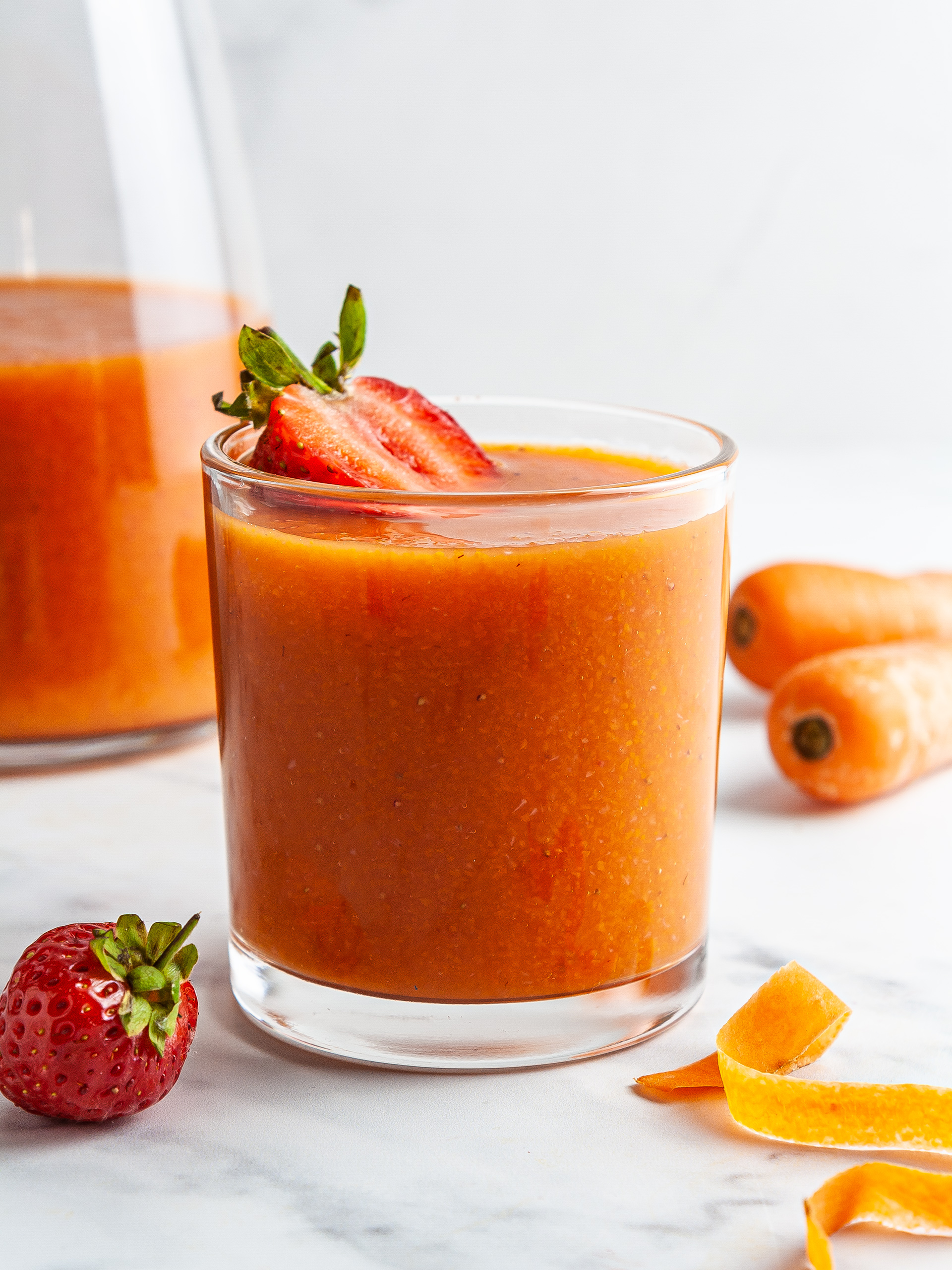 For this one, the list of ingredients is short and sweet: carrots and strawberries. That's it!
They both provide soluble fibres and sterols, which are crucial to lowering "bad" cholesterol levels.
To juice the carrots, you can use an extractor. Alternatively, read the recipe for a cool tip on how to make this juice without an extractor.
Beet Greens Smoothie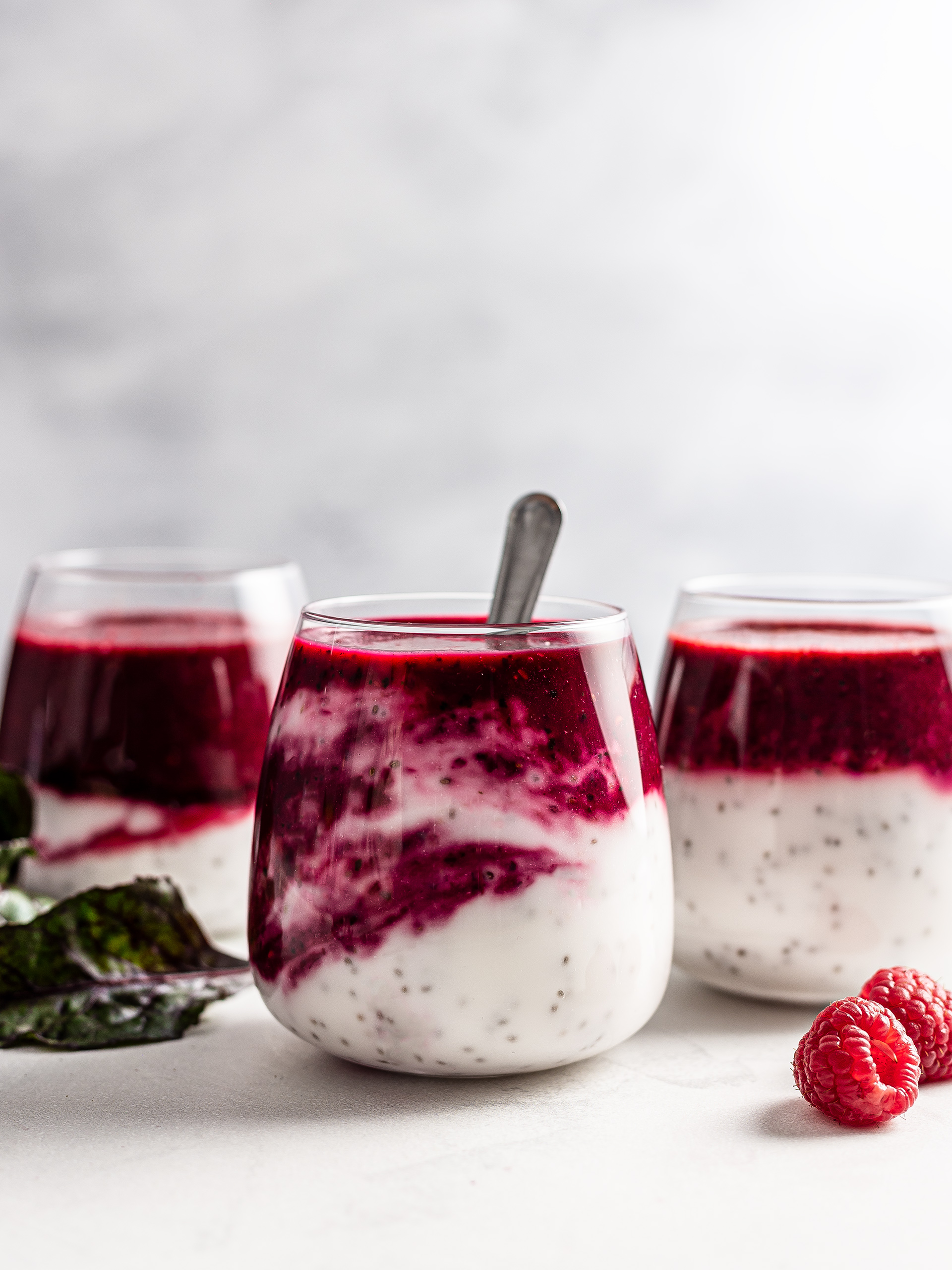 Every single ingredient in this smoothie is there to help lower cholesterol, from soy yogurt and chia seeds to grapefruit and beet greens.
Not to mention, it packs so many powerful antioxidants and cleansing fibres you'll body will thank you for it.
Whizz it all together or give it a cool layered look as we did.
Spinach Apple Smoothie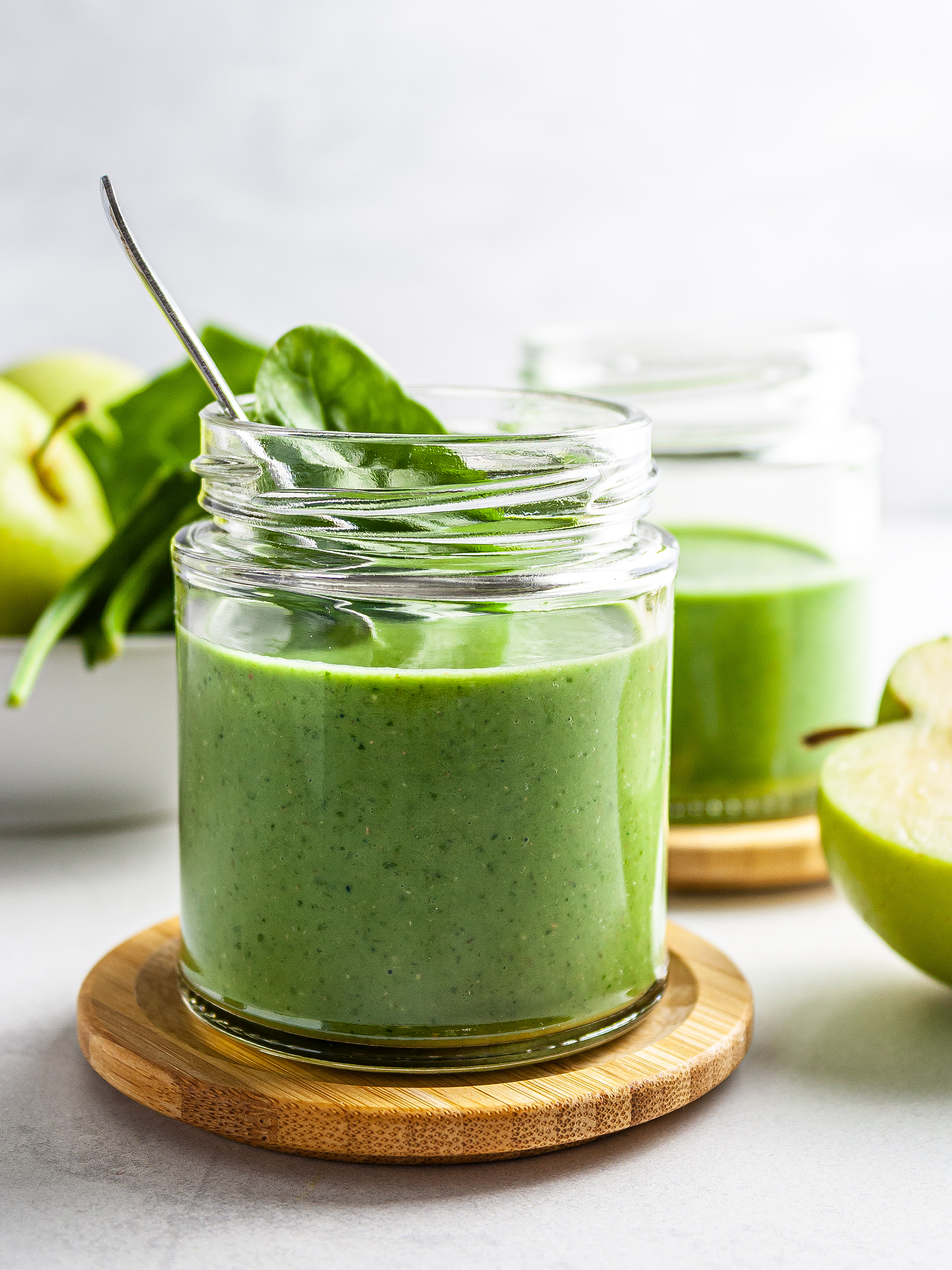 Apples and oats are the best sources of cholesterol-lowering soluble fibres. And here, we paired them with almond butter and soy yogurt for a boost of sterols. It's the perfect smoothie!
Healthy and tasty, this green smoothie is sure to fuel your day with plant-based goodness.
Grape Avocado Smoothie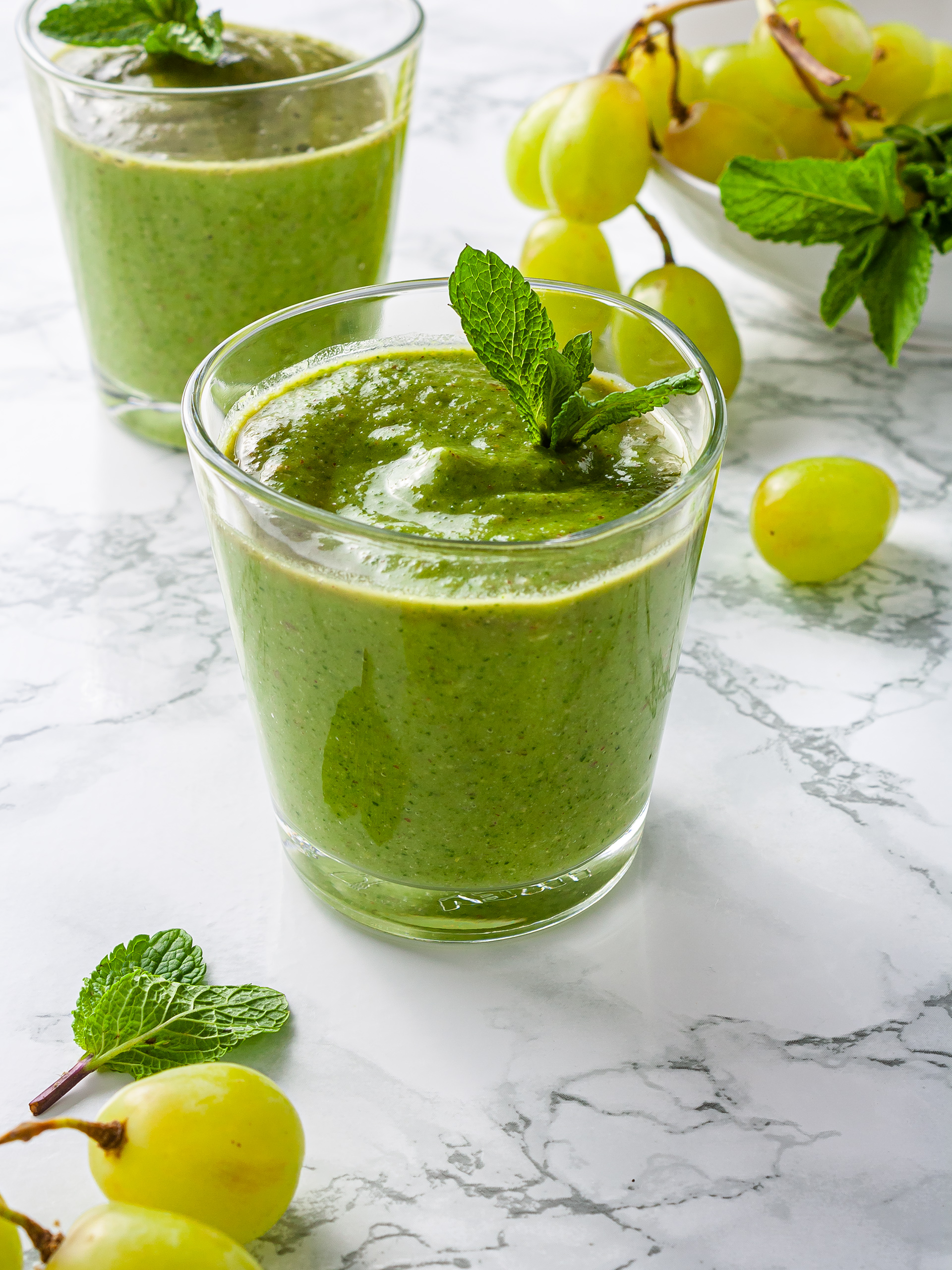 Here is another awesome green smoothie that ticks all the boxes on our cholesterol-lowering ingredients list.
You'll get unsaturated fats from avocado and almond butter and soluble fibres from chia seeds, grapes, and pears.
And if you never tried avocado in a smoothie, you're in for a treat! It makes all so silky and creamy you'll probably want to savour the smoothie off a spoon rather than drinking it.
Chocolate Banana Strawberry Smoothie
This one is for all the chocolate lovers out there — we hear you!
Despite what one might think, cacao and dark chocolate are actually good for you if you have high cholesterol.
Specific plant compounds in cacao help reduce the oxidation of bad HDL cholesterol, a process linked to the development of cardiovascular diseases.
So a bit of cocoa powder or dark chocolate in a smoothie can protect you from the harmful effects of high HDL. Awesome!
Kale Beet Smoothie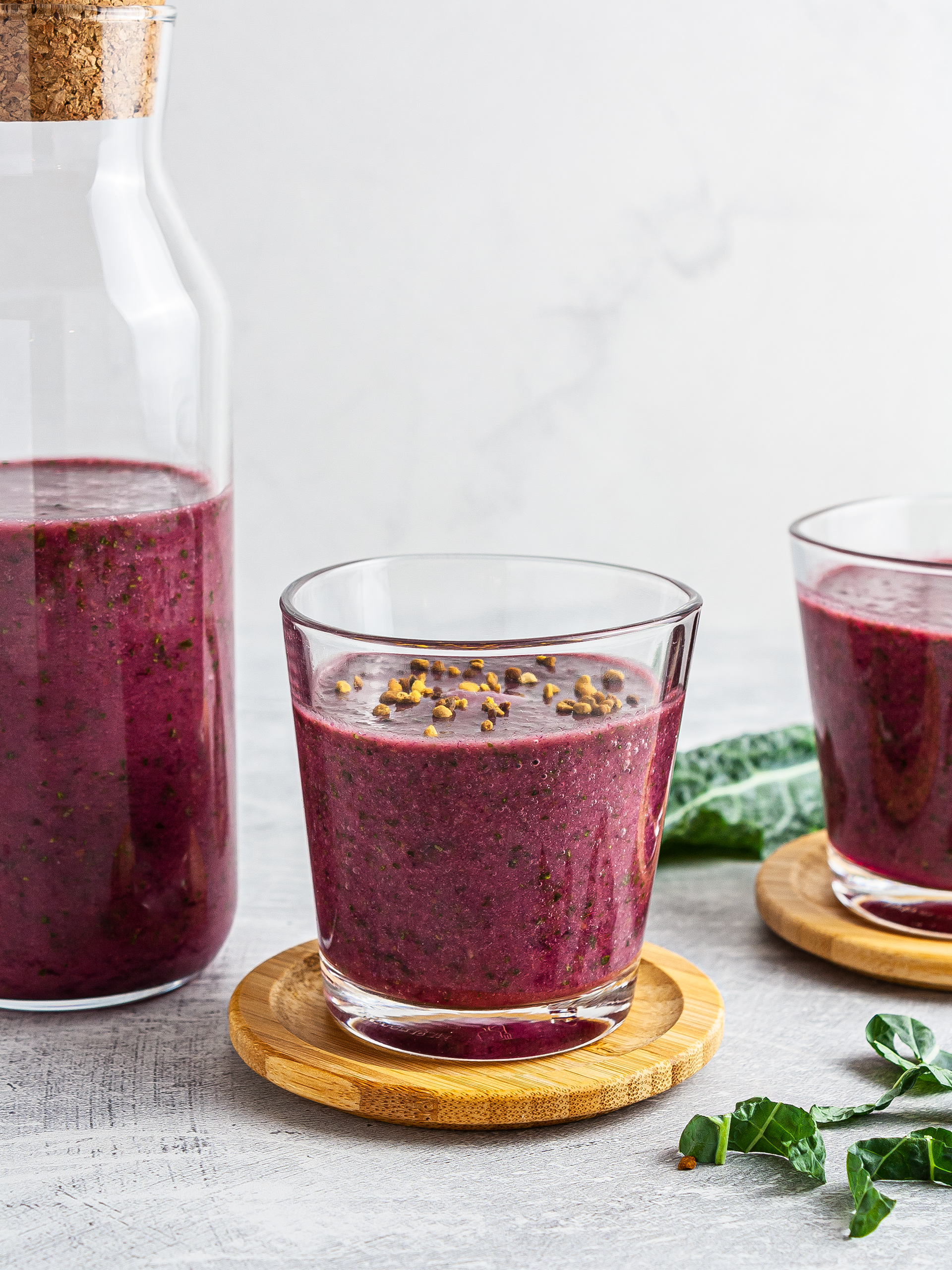 This purple smoothie makes it into our list because it's rich in soluble fibres as well as antioxidants — both great against bad cholesterol.
Antioxidants from leafy greens and beets protect you from damaging free radicals. Also, they help your body get rid of extra cholesterol and, similarly to cacao, prevent the oxidation of bad cholesterol.
Not just healthy, this smoothie also satisfies the sweetest tooth thanks to naturally sweet dates and bananas.
Try it!
Blue Spirulina Smoothie Bowl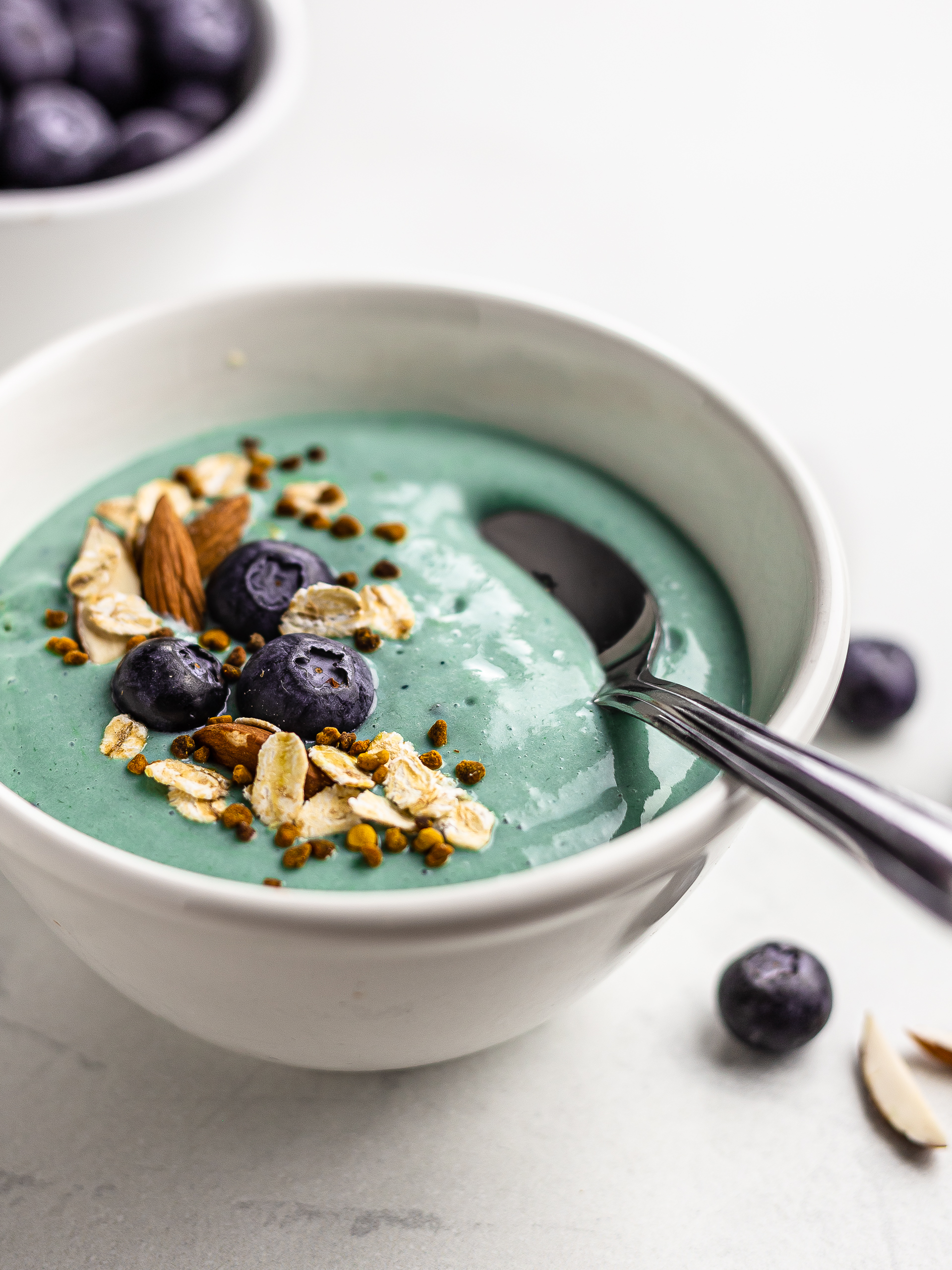 If you're new to smoothie bowls, we bet you'll love them! They are a great way to turn a smoothie into a more filling meal.
Here, we blended soy yogurt with bananas and spirulina powder. Then, we topped the smoothie with whole blueberries, oats, almonds, and hemp seeds.
You'll still get all those amazing cholesterol-lowering ingredients but in a super cute bowl!
Blueberry Pineapple Smoothie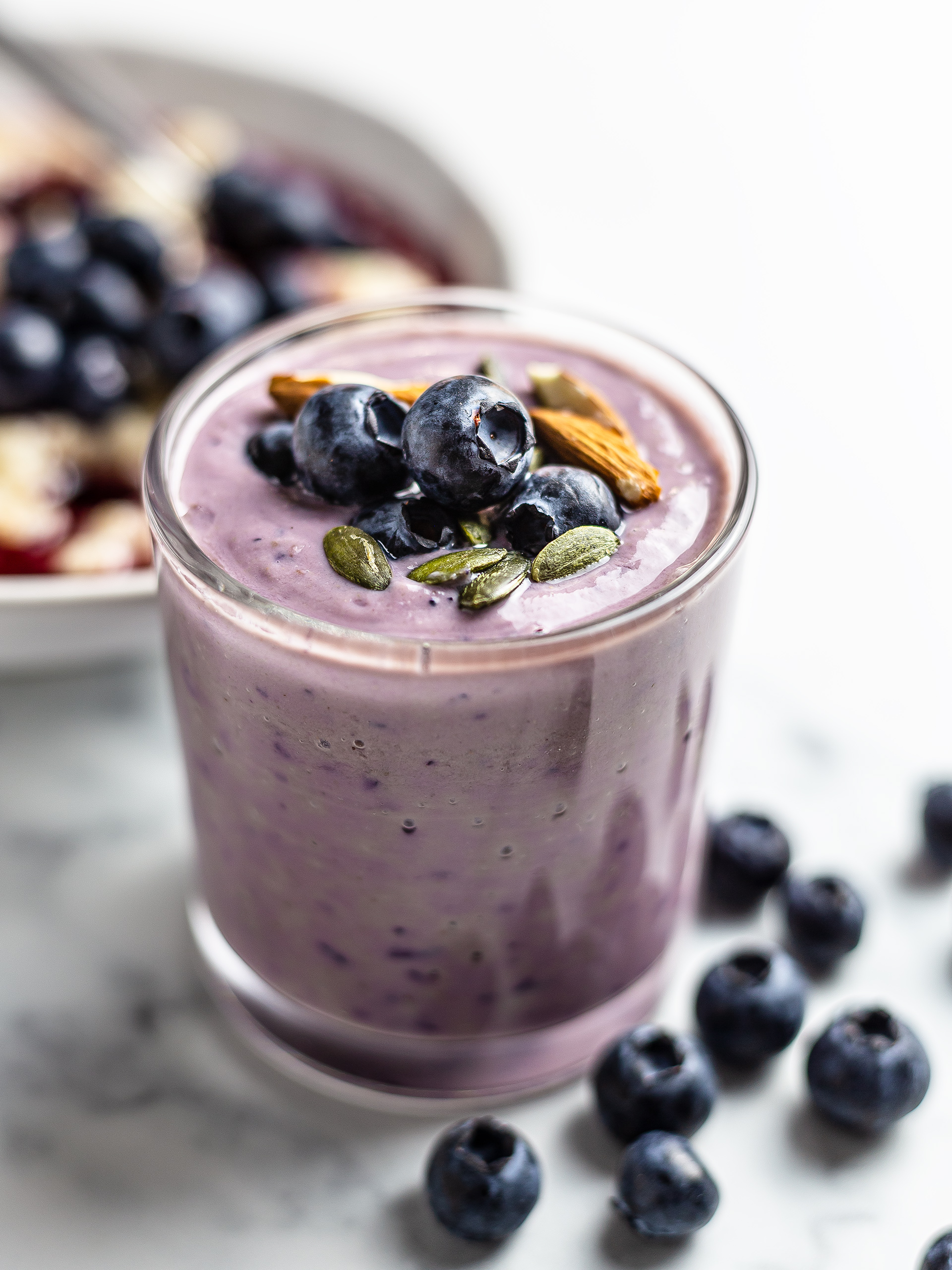 Last but not least, this berry smoothie it's a real blast of sterols, precious plant compounds that help lower bad cholesterol.
Silken tofu, blueberries, almond butter, and almonds come together into a wonderful purple smoothie that's also high in proteins.
We added fresh pineapple for a sweet, tropical finish we're sure you'll love!
Takeaway
You should now know more about how you can prepare a healthy and tasty smoothie that's also good for your cholesterol.
But mostly, we hope you discovered some yummy recipes that will become your new breakfast favourites!
And if you're looking for more inspiration, you can use our recipe search engine. A free tool that lets you filter out the hundreds of recipes on the site according to allergens, diets, nutritional macros and more. Check it out!
Have a great day!