Are you looking for a filling, tasty, and quick breakfast idea for those busy mornings? Well, our delicious high-fibre smoothie comes to the rescue. It's so easy to put together, all you need is 5 minutes and 6 fibre-packed ingredients.
We blended raspberries, bananas, and beetroot with almond butter, chia seeds and oats flakes. The result is a delightful, creamy smoothie that has all you need to start your day right.
Raspberries and bananas are the fruits with the most fibres, packing 6.5 grams and 3 grams per 100g (3.5 oz), respectively.
Raspberries are also high in precious antioxidants, while bananas provide important minerals like potassium and magnesium.
A healthy breakfast smoothie is not complete without a serving of whole-grains, nuts and seeds. So, we chose oat flakes, almond butter, and chia seeds.
These ingredients balance out your shake with slow-digesting carbs and proteins. Chia seeds are one of the best sources of fibre as they are 40% fibre by weight [1].
Because this breakfast smoothie has 13 grams of fibre, you'll cover over half of your daily fibre intake with just one glass.
Fibres are the key to improving blood sugar control, maintaining a happy gut, and losing weight.
They slow down the absorption of foods after a meal, providing you with a steady stream of energy.
Eating more fibre-rich food throughout the day is a simple and effective way to keep your hunger in check, consume fewer calories, and feel more energised.
That's what this high-fibre smoothie will do for you! Fancy more high-fibre recipes for weight-loss? Check out our meal plan.
Frequently Asked Questions
How can I make my smoothie higher in fibres?

Adding fruit and vegetables to your smoothie is an easy way to boost your fibre intake.

Among fruits, bananas, oranges, apples, and pears are particularly rich in fibres. But raspberries beat them all — and they're low in sugars too!

Veggies like avocados, leafy greens, and beets deliver lots of fibre and keep the smoothie carbs low — perfect for weight-loss recipes like this grape avocado smoothie, beet ginger smoothie, and low-carb kale smoothie.

Besides fruit and vegetables, what can really boost your fibre intake are nuts, seeds, and whole grains.

So, try adding nut butter, chia seeds or flaxseeds, and oats to your smoothie blend.

For more tips and info, check out our detailed blog post here, where we explain how to make the perfect, nutritionally balanced smoothie.
What can I replace banana with in a smoothie?

In this recipe, we paired raspberries with bananas. Bananas are a fantastic ingredient in smoothies as they turn extra creamy when blended, and they add natural sweetness too.

However, you can easily swap bananas with other ingredients, such as avocados or yogurt. For this high-fibre smoothie, avocados would be an excellent choice as they contain 7 grams of fibres per 100g of weight.

Yogurt is also a great alternative if you want to keep the carb and sugar content low. You can opt for Greek yogurt or plant-based options like coconut or soy yogurt.
Are chia seeds high in fibre?

When we designed this high-fibre recipe, chia seeds were the first ingredient we knew we had to use.

These tiny seeds are 40% fibres, and almost all of the carbs they contain are from fibres.

In particular, they pack soluble fibres, a type of fibre that dissolves in water, forming a gel-like substance. That's why they can swell up to 10 times their size when soaked in water.

Besides fibres, chia seeds are also rich in proteins, calcium, and essential omega-3 fatty acids — perfect for those on a vegan diet.
Can I use frozen raspberries?

You can use either fresh or frozen raspberries to prepare this smoothie as their nutritional profile is equivalent.

The only difference is that frozen berries yield a thicker, cold smoothie. But sipping frozen fruit smoothies can be a blessing on those hot summer days!
Do you have to cook beets before blending?

No, you can use raw beets to make smoothies without cooking them first.

Consuming vegetables raw is always preferable as they preserve more nutrients like fibres and vitamins. Just make sure to have a blender powerful enough to blitz the roots into a creamy smoothie.

However, if you can't find fresh beets at your local supermarket, then you can use the cooked ones. For more tips and inspiration, check out our detox beet greens smoothie recipe.
Ingredients
| | |
| --- | --- |
| Raspberries | 200 g |
| Bananas | 1 |
| Beetroot (Raw or Cooked) | 1 |
| Almond Butter | 1 tbsp |
| Chia Seeds | 2 tsp |
| Jumbo Rolled Oats | 50 g |
| Almond Milk | 250 mL |
Step 1
In your food processor, add fresh raspberries, bananas, beetroot, almond butter, chia seeds, oat flakes, and almond milk.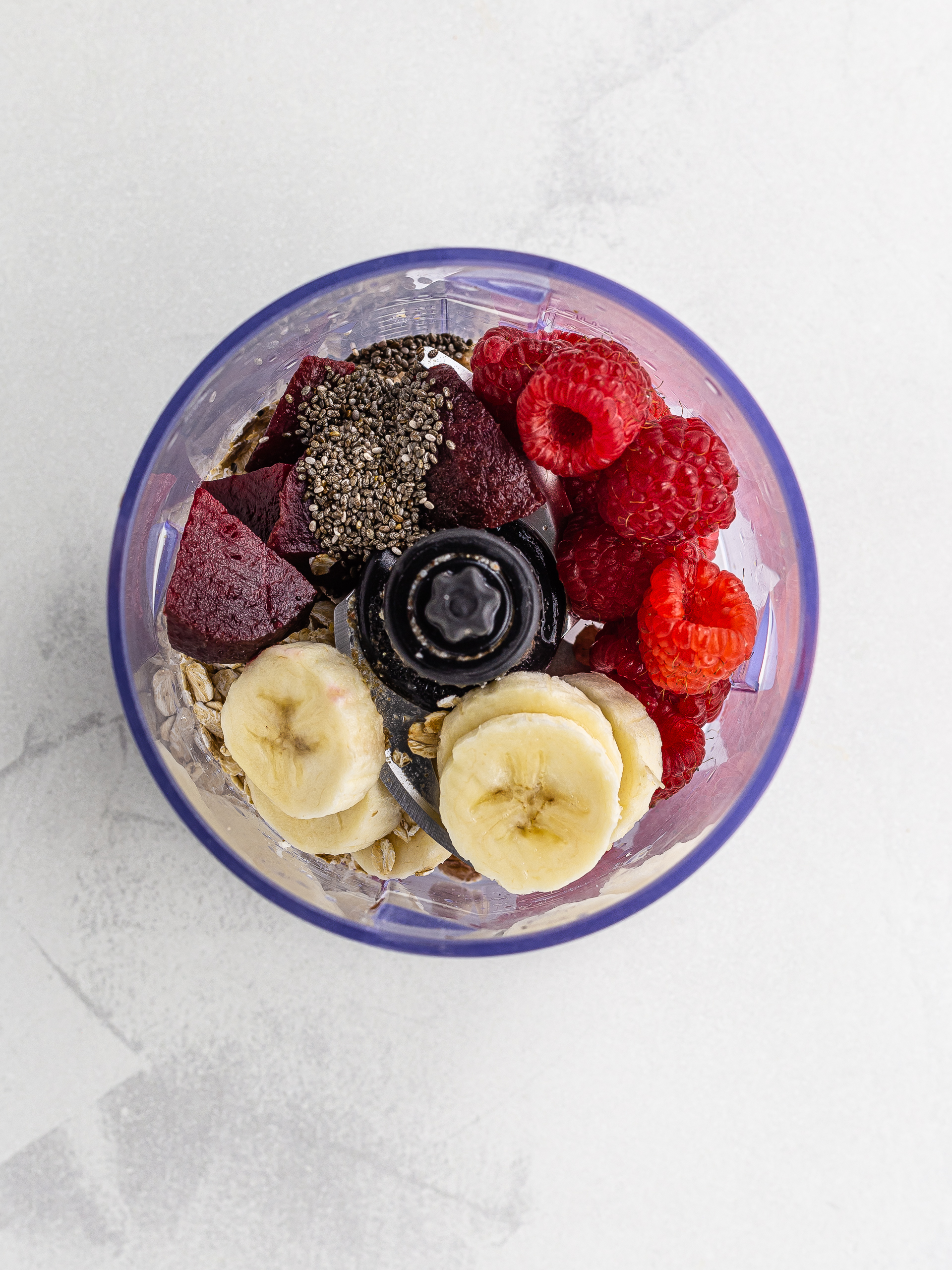 Step 2
Then, blitz all into a creamy smoothie.
We like our smoothie quite thick, but you can add more milk to get a runnier consistency if preferred.
Also, keep in mind the chia seeds will absorb water and swell, thickening the smoothie even more.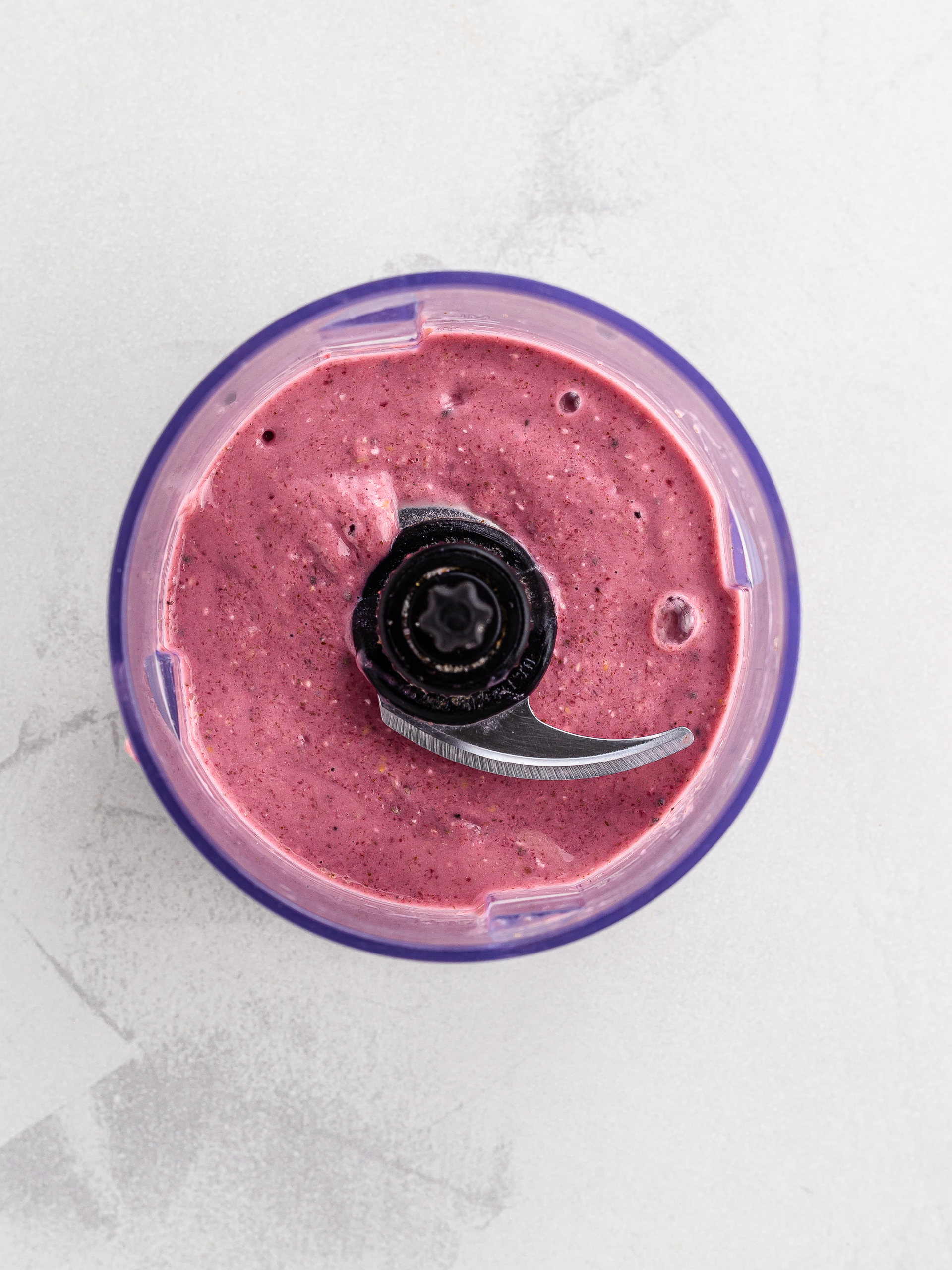 Step 3
Finally, divide the smoothie among serving glasses or jars.
You can enjoy it right away or store it in the fridge for later.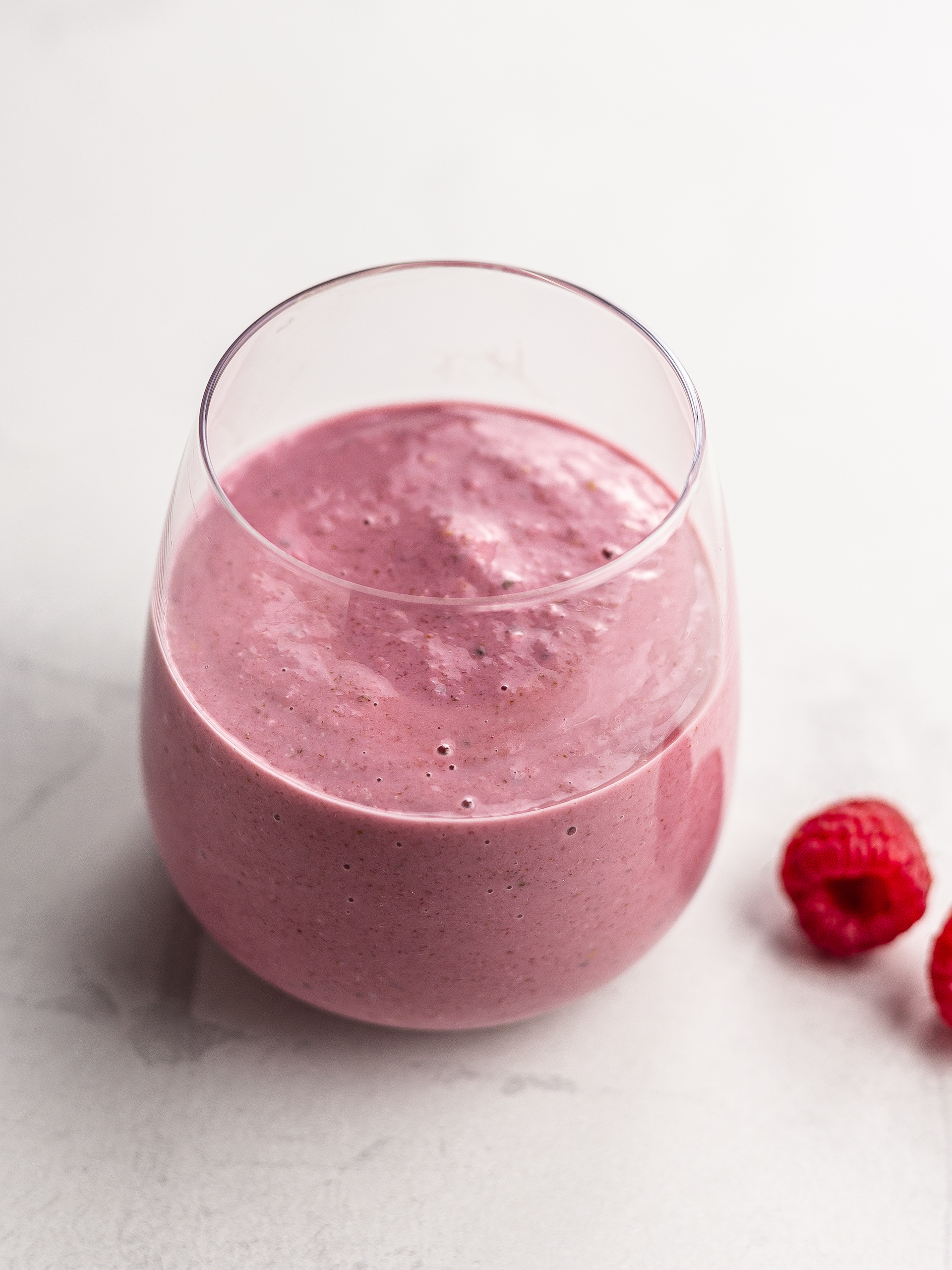 Tips
You can swap almond milk with any other plant-based drink, such as oat, coconut, or soy milk.

Store the prepared smoothie in an airtight jar and keep it in the fridge for up to 2-3 days.