French crêpes are a much-beloved dessert, but being made with eggs, butter, and milk, they aren't suitable for all. Well, not anymore! Say hello to our eggless and dairy-free almond milk crepes.
In our recipe, we swapped eggs with flaxseeds, butter with soy yogurt, and cow milk with almond milk. We also replaced refined white flour with whole-wheat flour. The result are incredibly tasty crepes with half the fats, four times fewer saturated fats, and three times more fibres. Sweet!
Almond milk is a very popular plant-based drink that you can easily find at your local supermarket. It has a mildly nutty and sweet flavour perfect for preparing sweet treats like cakes, cookies, and crepes. Moreover, almond milk comes with half the calories and a tenth of the carbs than cow milk[1], making a healthy dairy-free option for those with lactose intolerance, milk allergy, or following a vegan diet.
To help bind the crepe batter ingredients, we used ground flaxseeds. These seeds are an excellent egg replacement as they form a viscous mixture when soaked in water. This is thanks to their high content of soluble fibres, which dissolve in water and form a sticky gel[2].
Finally, we opted for wholemeal flour instead of the white one to give these homemade crepes a nice fibre boost. With three times more fibres and 30% fewer carbs, using whole-wheat helps you consume fewer calories and feel full for longer. In the tips section, we'll also give you the option to make these crepes gluten-free with rice flour if you like.
As we didn't use any sugar, you can stuff these almond milk crepes with either sweet or savoury fillings. We love ours with yogurt, sugar-free jam, and fresh berries. Have fun experimenting with different flavours and combinations, and enjoy!
Ingredients
| | |
| --- | --- |
| Wholemeal Flour | 120 g |
| Almond Milk | 420 mL |
| Soy Yogurt | 120 g |
| Ground Flaxseeds | 10 g |
| Vegetable Oil (Coconut or Canola) | 11/2 tbsp |
Step 1
Add wholemeal flour, almond milk, soy yogurt, ground flaxseeds, and vegetable oil to a bowl.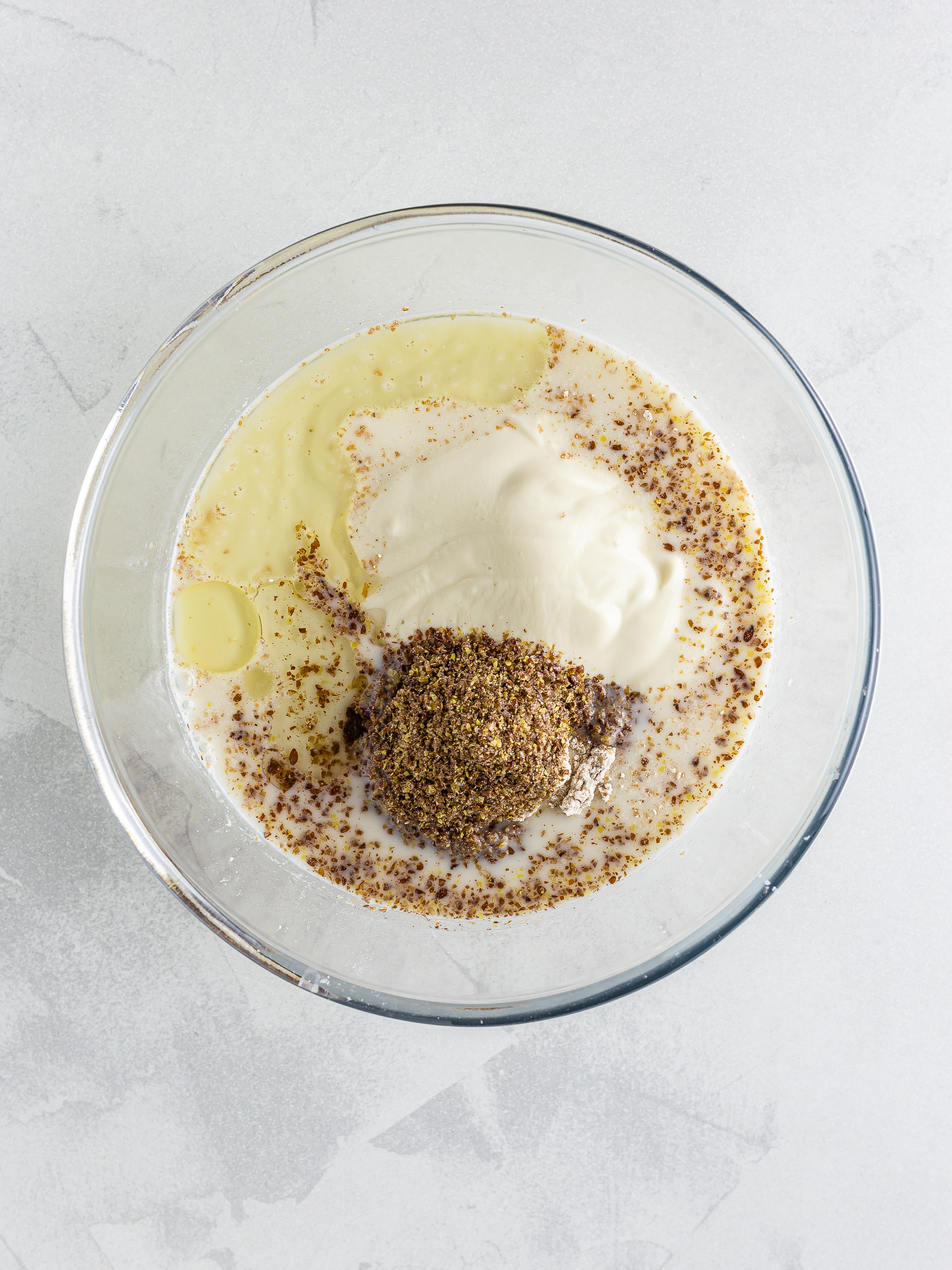 Step 2
Whisk the ingredients into a smooth and runny batter and leave it to sit undisturbed for 8 minutes.
This allows the flaxseeds to soak in the water and form a gel-like mixture that acts as an egg replacement.
Step 3
Heat a large shallow skillet or crepe pan over medium-low heat. If you're using a non-stick pan, there's no need to grease it.
Now, pour one ladle of batter in the centre and tilt the pan to spread the mixture thinly and evenly over the surface. Alternatively, you can use a crepe spreader tool.
Cook the crepe for 5 minutes until it's set and you can easily lift the edges with a spatula.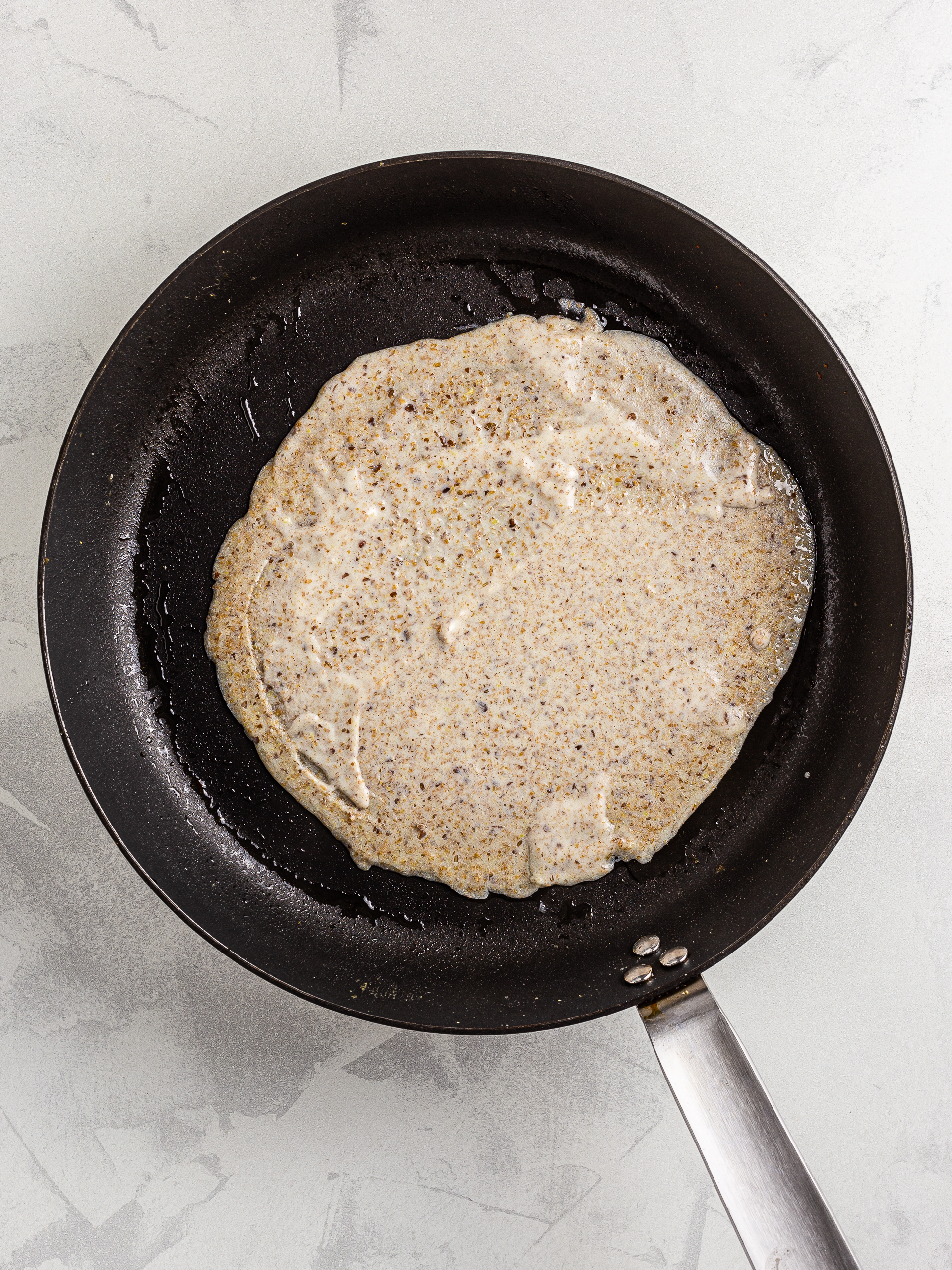 Step 4
Now flip the crepe over and cook it for a further 2 minutes.
Keep the cooked crepes moist under a kitchen towel while you finish cooking the others.
Enjoy these healthy almond milk crepes warm or cold. You can fill them with jam, yogurt, maple, or nut butter, and top them with fresh berries.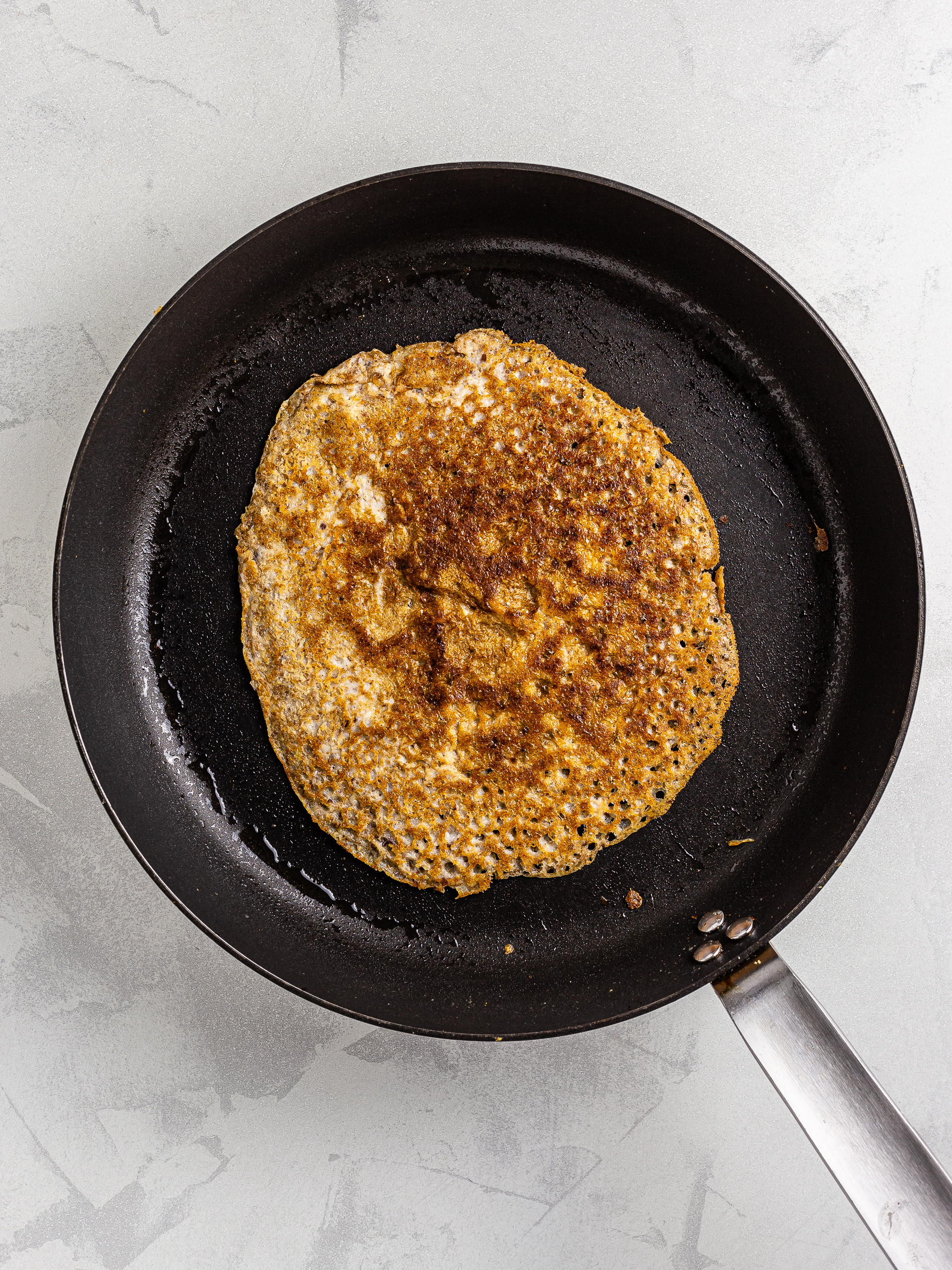 Tips
You can use coconut yogurt instead of soy yogurt.

For a gluten-free option, swap wheat flour with rice flour and reduce the almond milk to 300 ml (10 fl oz).

If you aren't following a plant-based diet, you can replace the flaxseeds and yogurt with 2 eggs.