Nothing says happy summer day like a refreshing plant-based salad. Stick around, and we'll show you how to make a wholesome Tabbouleh with nutty pearl barley and super-nutritious tenderstem broccoli.
Tabbouleh is a Levantine cold salad typically prepared with bulgur wheat and fresh herbs like mint and parsley. Today we spice things up by using another cereal - barley. If you had a bag of this tasty grain hanging about in your cupboard, now it's the time to give it a better life!
But if you already have bulgur wheat at home, feel free to use that. Barley and bulgur have an almost identical nutritional profile so you wouldn't be altering the recipe much. To make a gluten-free tabbouleh, you can use quinoa instead.
The Middle Eastern, Mediterranean salad is often consumed as a starter and accompanied by other dishes, like lamb chops. We propose a fully vegan recipe by using the awe-inspiring tenderstem broccoli. This pretty green is an Asian hybrid of kale and broccoli that combines many of their wholesome benefits.
A single serving of this salad gives you 14 grams of proteins and covers 12% of your recommended daily intake (RDI) for carbohydrates and 50% of your RDI for fibres.
Our barley tabbouleh is easy to make and can be a good weight-loss meal on its own. It's got the right balance of carbs, fibres, proteins, and vitamins thanks to the combination of grains, veggies, and plant-based proteins from tahini and chia. But if you are particularly hungry, we've got two great recipes you can prepare on the side:
Frequently Asked Questions
Can I make tabbouleh ahead of time?

Yes, You can - and should - make tabbouleh ahead of time. Tabbouleh is a refreshing salad best eaten cold, and you would likely store in the fridge at least for an hour before eating.

You can prepare our barley salad and keep in the fridge up to a week before eating. Vegan recipes like this one keep longer than others in the refrigerator, as fruits and vegetables don't decay as quickly as animal products.

We suggest you cover the tabbouleh when stored in the fridge, to keep the flavour and scent from dispersing. Store it in a sealed box, or cover the salad bowl with cling film.
Can I serve this salad hot?

Tabbouleh is typically consumed cold, but nothing is stopping you from eating it warm as soon as prepared or reheating it once taken out from the fridge.

We suggest you don't reheat our barley and tenderstem broccoli tabbouleh in a microwave oven. Add a drizzle of vegetable oil in a skillet instead, and quickly stir-fry the salad for a crispy finish.
Is this recipe suitable for a weight loss or keto diet?

This barley tabbouleh salad is an excellent weight-loss recipe. A single serving has only 360 calories and yet gives you a balanced meal that includes whole grains, healthy unsaturated fats, and plant-based proteins.

Moreover, each bowl covers 2 of your 5-a-day of vegetables and over 50% of your recommended daily intake of fibres. Eating more veggies and fibre-rich foods means consuming low-calorie density meals that also make you feel full for longer.

With only 12% of your RDI for carbs, this salad is relatively low in carbs and thus can be easily included in weight-loss diets.

If you want to eliminate almost all carbs from this recipe, then replace barley with cauliflower rice. If you don't know how to prepare it, check out our crispy cauliflower rice.

Many keto recipes use cauli-rice as a replacement for grains, as the veggie has almost zero carbs, and its shredded florets have both the appearance and consistency of white rice.

Even if you aren't on a low-carb diet, you can swap white rice for cauliflower rice in many recipes and enjoy the numerous benefits of this vegetable. It's rich in fibres and provides essential nutrients like B vitamins, crucial for a healthy metabolism. Cauliflowers also pack disease-fighting antioxidants that promote wellbeing and slow down ageing processes.

Cold salads, like our broccoli tabbouleh, are very well suited for cauliflower rice - give it a try!
Is tabbouleh gluten-free?

Traditional tabbouleh, made with bulgur wheat, is not gluten-free. Even our variation with barley isn't, as this grain also contains gluten.

To turn this Levantine salad gluten-free, we have to find a replacement for these grains.

Here are two smart and easy ways to make gluten-free tabbouleh:

Use quinoa

Make cauliflower rice (check this recipe to see how)

Both options above have advantages besides being gluten-free.

We suggest you choose quinoa if you are also on a vegan diet, or want more proteins. Quinoa is one of the few plants with complete proteins, making it a very welcome addition to vegan nutrition.

If you don't know what complete proteins are, think about it this way: To make proteins and other vital compounds your body needs amino acids which are like building blocks. You system can make almost all the amino acids from scratch, except for nine of them, which are only obtained through diet. Animal proteins have all these crucial amino acids, while most plant-derived proteins don't. Quinoa has all the nine required amino acids, and it's therefore complete. So if you are on a desert island and are vegan, bring quinoa with you, and you'll be fine (protein-wise)!

People following a super low-carb diet - i.e. a keto diet - should instead opt for the cauliflower rice option. We talk a bit more about how to make low-carb and keto tabbouleh in the FAQ above.
Ingredients
Dressing
Tahini

4 tbsp

Lemon

2

Chia Seeds

4 tbsp

Salt

to taste

Black Pepper

to taste

Tabbouleh
Pearl Barley

240 g

Tenderstem Broccoli

300 g

Extra Virgin Olive Oil

1 tbsp

Cherry Tomatoes

300 g

Small Red Onions

4

Fresh Mint

1 tbsp

Fresh Parsley

25 g
Step 1
Rinse the barley thoroughly and add it to a pan. Then, cover with water, bring to a boil, and leave it to simmer for 15 minutes or until the grains are cooked through (1). Drain excess water and set it aside to cool down.
Meanwhile, toss tenderstem broccoli with extra virgin olive oil on a baking tray lined with parchment paper.
Roast the vegetables for 10 minutes at 190°C (375°F) for static ovens or at 170°C (340°F) for fan ovens, flipping them halfway through cooking time (2).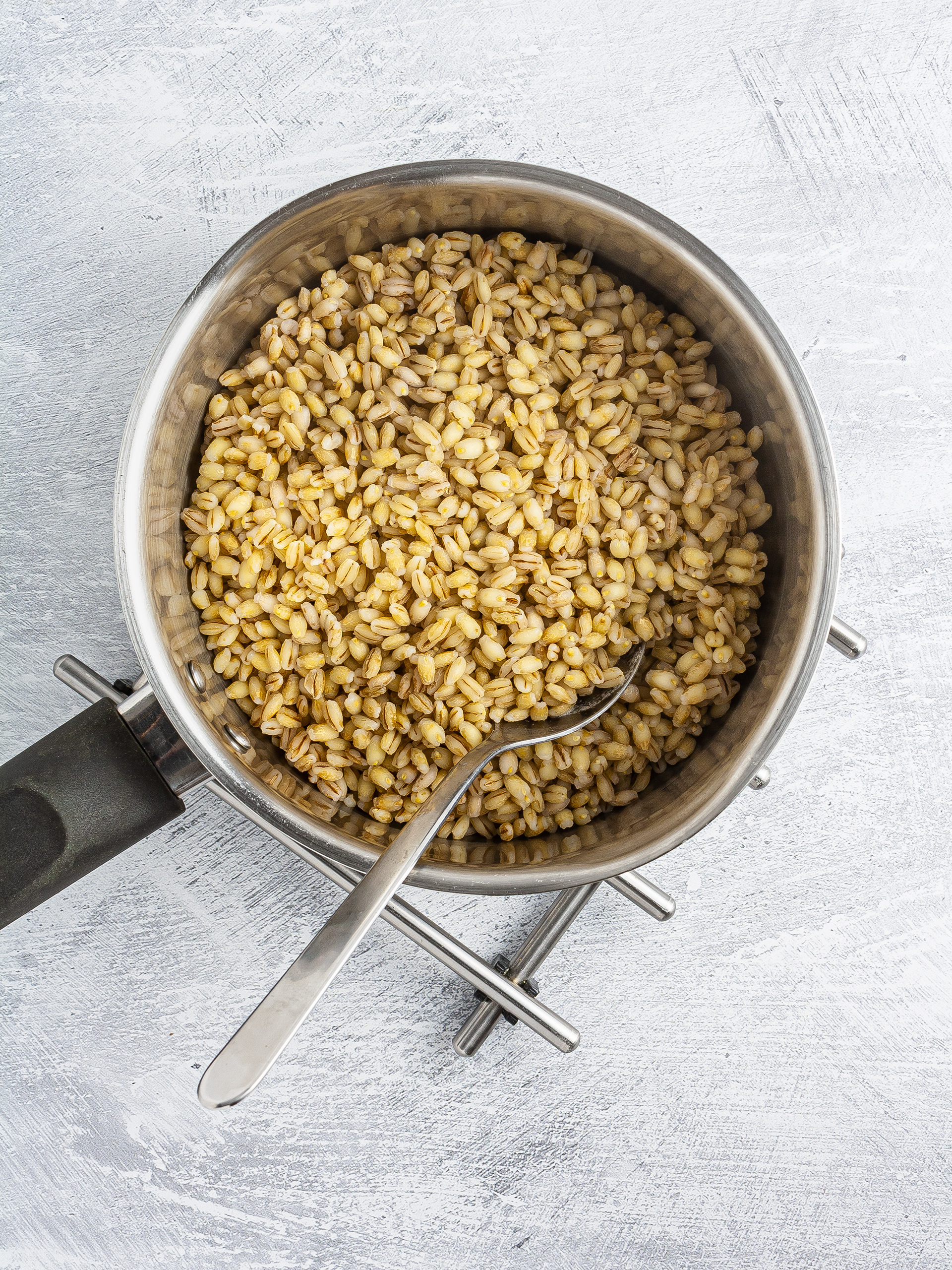 1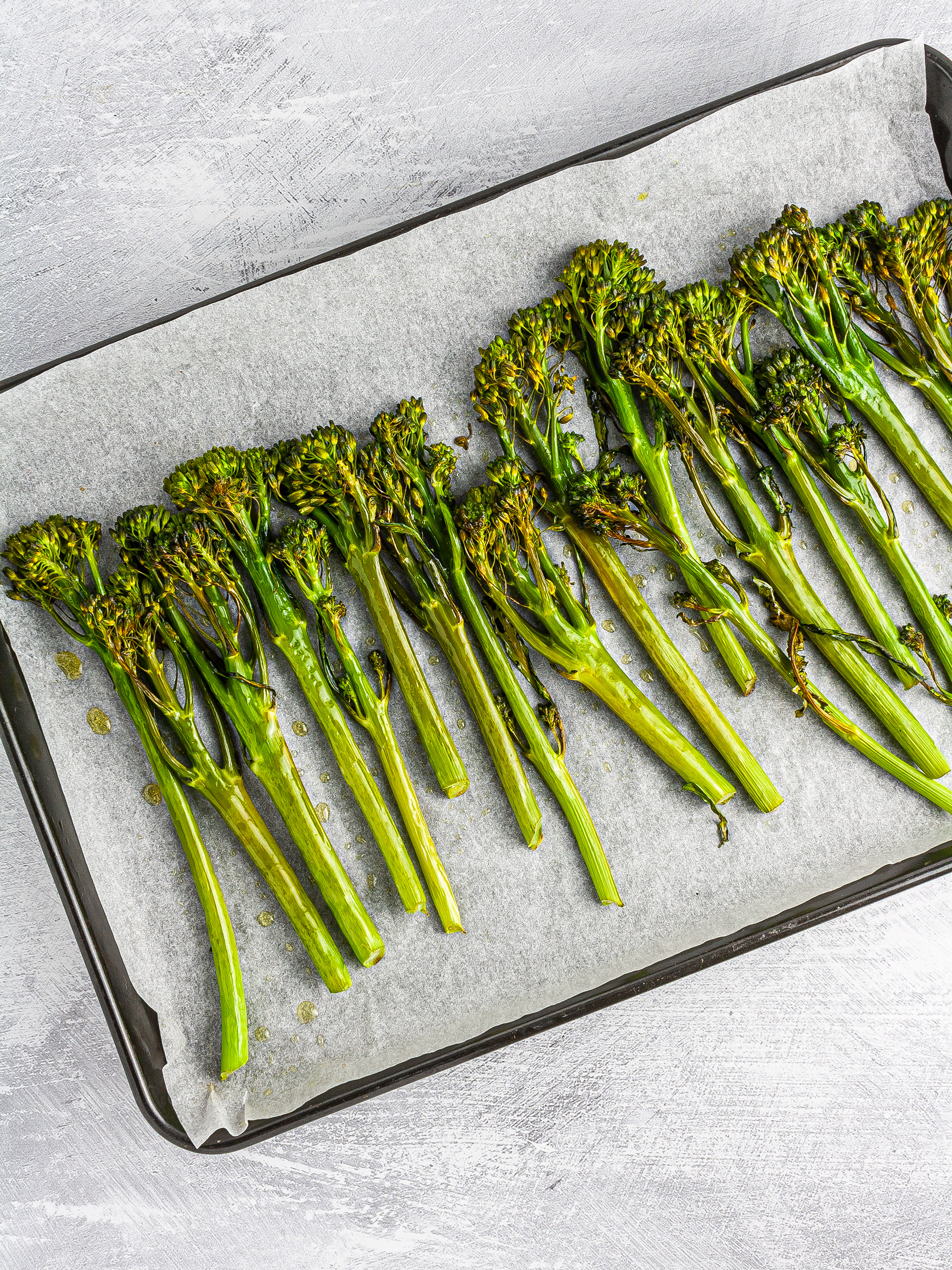 2
Step 2
Finely dice the cherry tomatoes and onions, and chop fresh mint and fresh parsley.
The secret to a perfect tabbouleh is chopping the vegetables and herbs as small as you can.
You can use a food processor to get finely chopped onions or scissors to cut the mint and parsley into small bits.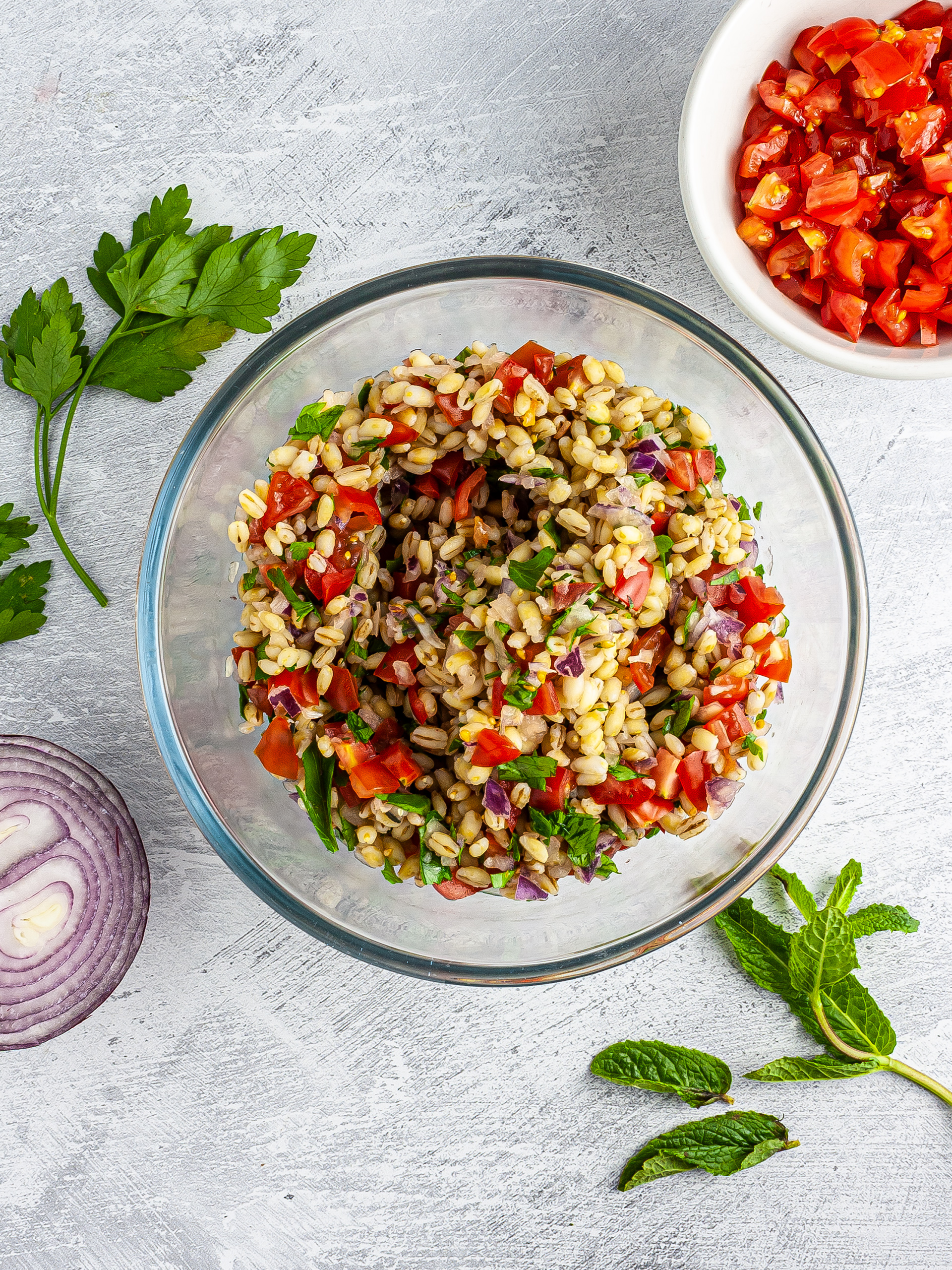 Step 3
To prepare the salad dressing, combine tahini paste with lemon juice, and chia seeds in a bowl. Stir well until the ingredients are well incorporated and then season with salt and pepper to taste (1).
Divide the barley salad among serving bowls and top with roasted tenderstem broccoli.
Finally, pour the dressing over the salad and mix when you're ready to eat (2).
You can serve this healthy tabbouleh with warm wholemeal pitta bread, hummus, or falafels.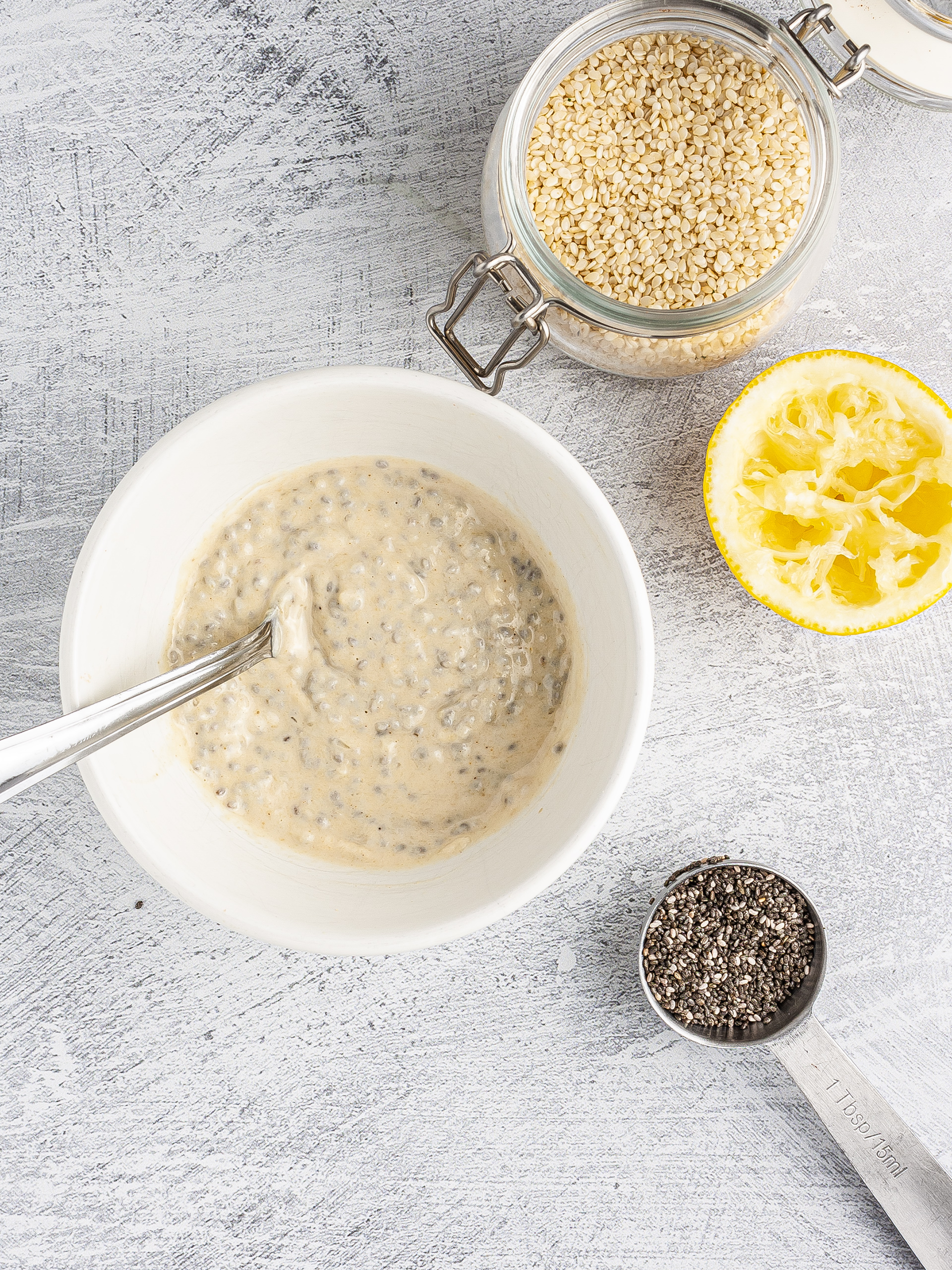 1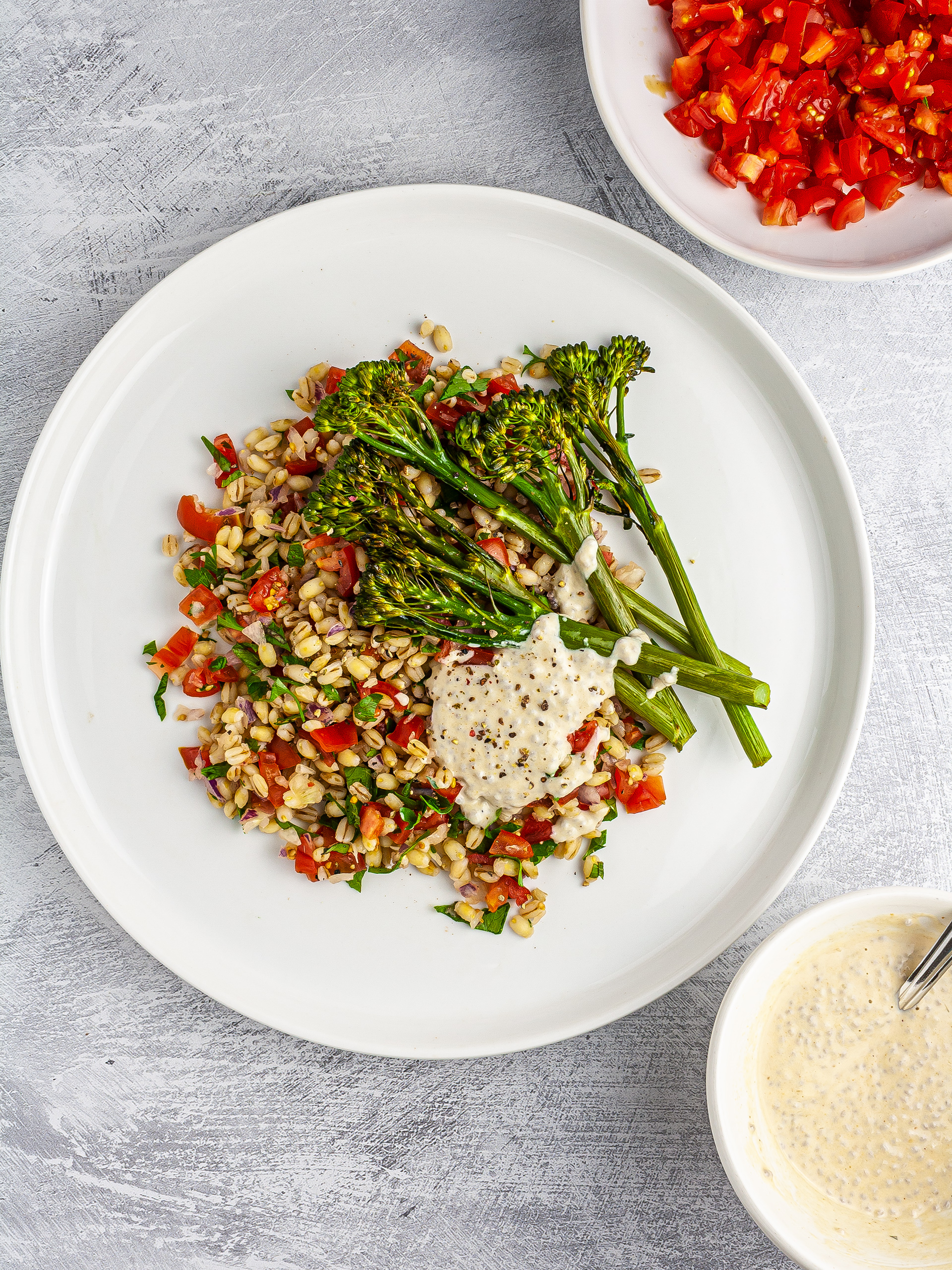 2
Tips
Although red onions pack more antioxidants than white ones, they have a strong taste, especially when eaten raw. If their flavour is too harsh for you, simply swap them with shallots for a milder aftertaste.