This easy vegan spinach and artichoke dip recipe is perfect as a starter or nibble dish to share with friends and loved ones. The original recipe uses cream cheese and parmesan to make a rich dip, but in this vegan version, we have replaced dairy with other tasty and nutritious ingredients.
Also, this recipe is gluten-free and nut-free, perfect for folks with food allergies. We specialise in diet and allergen-friendly recipes and you can find more by using our Smart Search function.
But let's get back to this dip recipe. We made it with a creamy blend of white beans, tahini, and nutritional yeast, spiced up with black pepper and cayenne pepper.
Together these ingredients give all the flavour and nutrients you need to make this vegan dip recipe shine:
White beans provide proteins, fibres, and iron and when blended they give a smooth and rich consistency to the cream.

Nutritional Yeast is a great substitute to parmesan, and it has a salty nutty flavour. It's also high in B-group vitamins, which support your metabolism.

Tahini is a raw sesame paste, and it provides those nutrients which might lack in a vegan diet like calcium, iron, and proteins.
Most recipes for spinach and artichoke dip use frozen spinach, but we wanted to show you how easy it is to use raw fresh spinach instead. It makes the whole dish taste much better!
Make sure you enjoy this dip hot or warm with some crunchy wholemeal pitta or anything else you fancy!
Ingredients
| | |
| --- | --- |
| Extra Virgin Olive Oil | 1 tbsp |
| Garlic Clove | 1 |
| Fresh Spinach | 150 g |
| Cannellini Beans | 230 g |
| Nutritional Yeast (optional) | 2 tbsp |
| Tahini | 2 tbsp |
| Cayenne Pepper | 1/2 tsp |
| Black Pepper | 1/2 tsp |
| Salt | to taste |
| Lemon | 1/2 |
| Artichoke Hearts (in brine) | 150 g |
Step 1
In a skillet, heat the extra virgin olive oil, add crushed garlic, and sizzle for a minute or so.
Then, add fresh spinach and cook at medium heat until the leaves have softened and lost their water.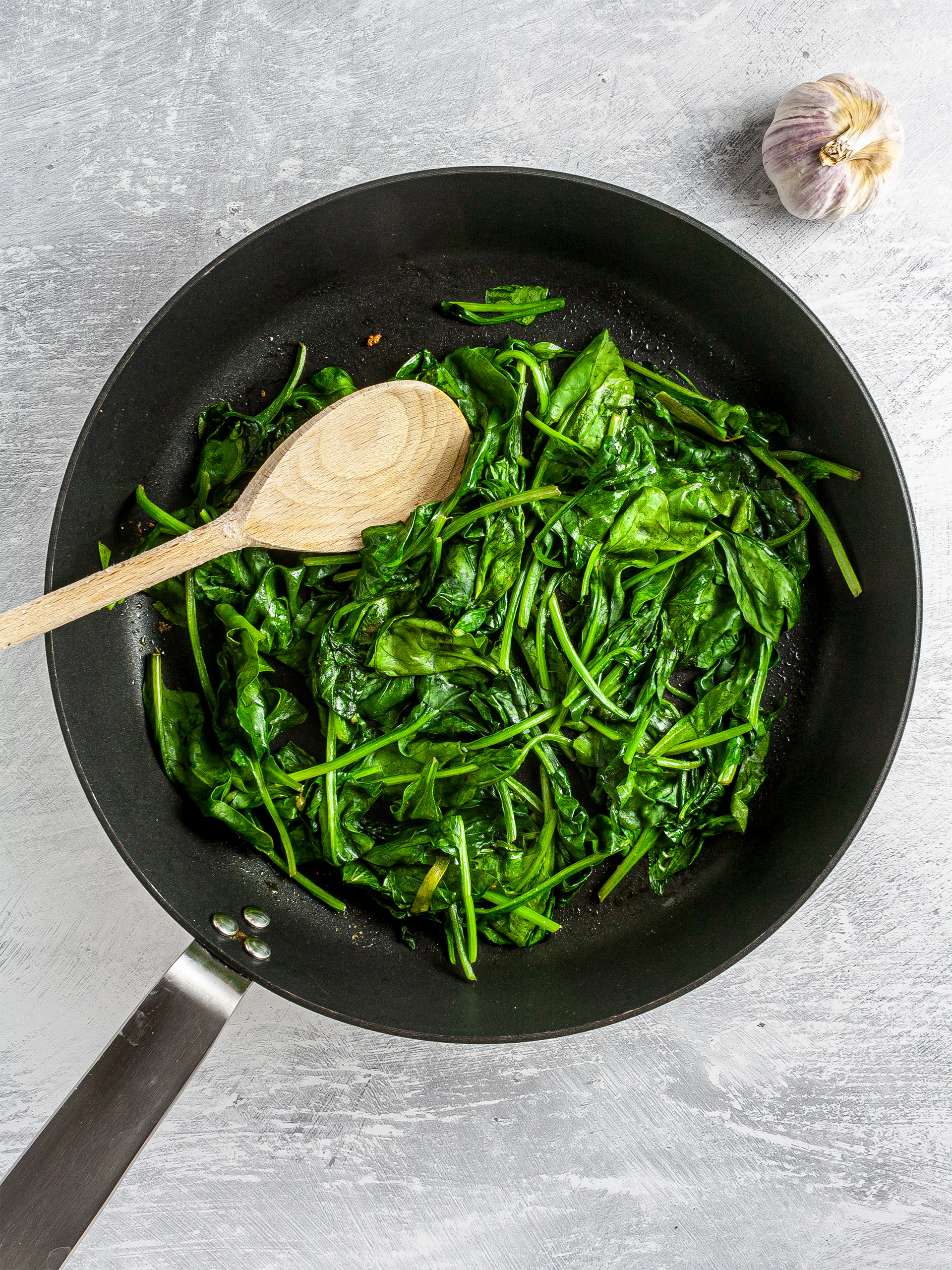 Step 2
In a food processor, blitz the beans with tahini, cayenne pepper, black pepper, and lemon juice. Add also the nutritional yeast, if using it.
You can add a bit of water when blending the ingredients to help the mix loosen up.
Pulse just until the beans are blended but still a bit chunky.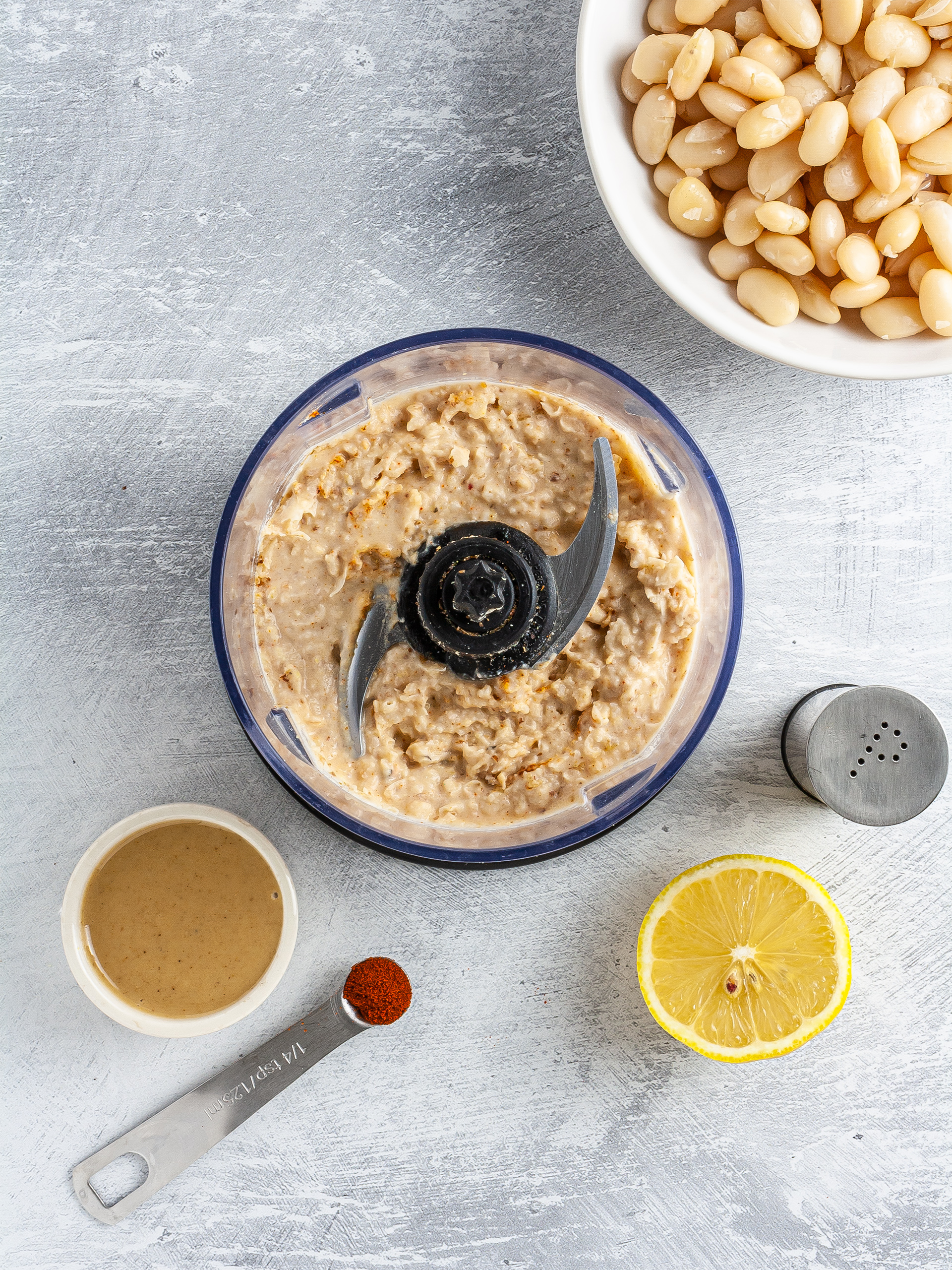 Step 3
In a mixing bowl, combine the cooked spinach and bean mixture with chopped artichoke hearts.
Stir well to incorporate the ingredients into a creamy paste.
At this point, season with salt to taste.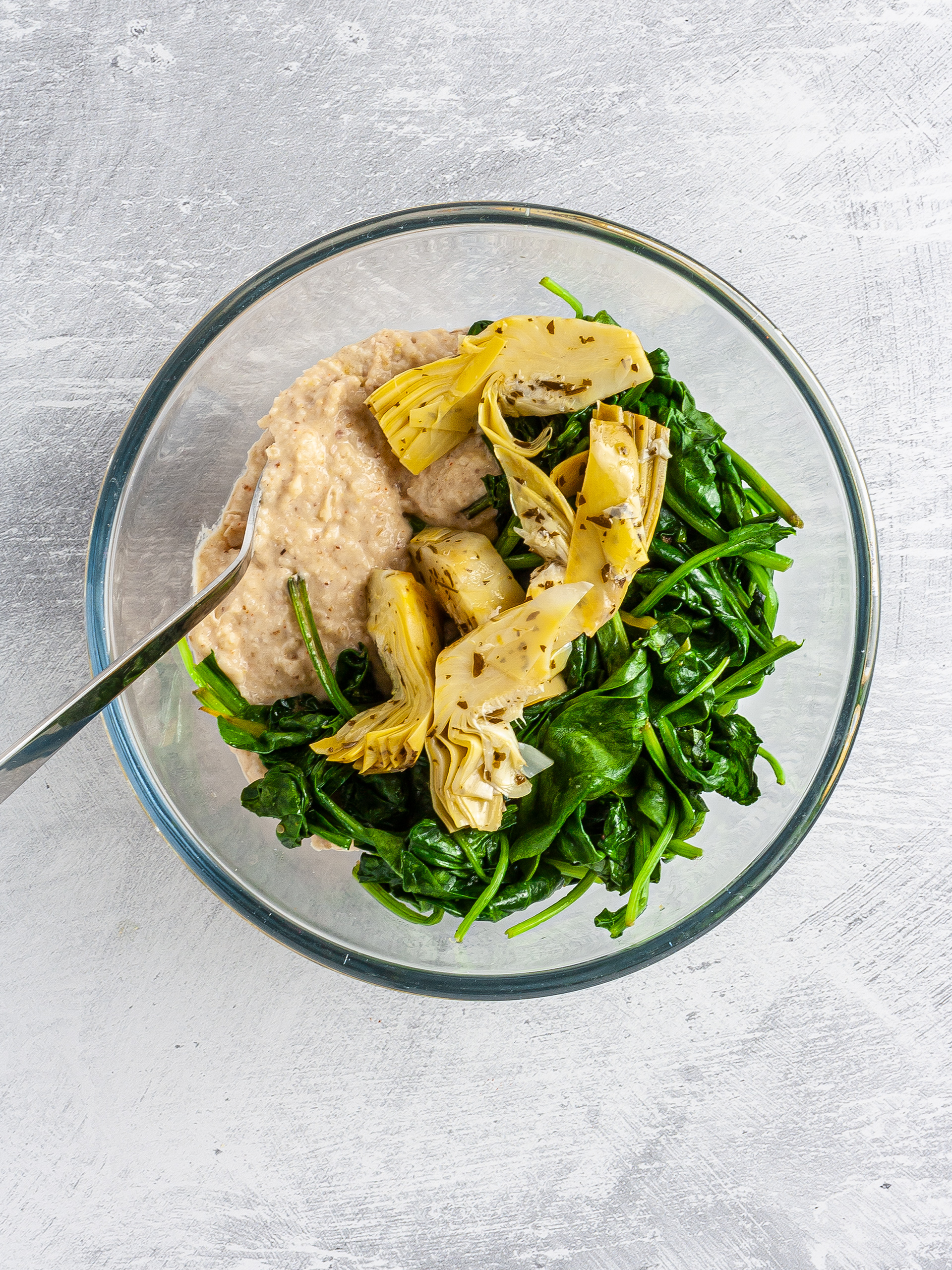 Step 4
Transfer the spinach and artichokes mix into an oven-proof dish.
Bake for 15 minutes at 200°C (390°F) for static ovens or at 180°C (355°F) for fan ovens.
When you see a lovely crust forming on the top, the dip is ready.
You can serve it warm with toasted pitta bread or gluten-free tortilla chips.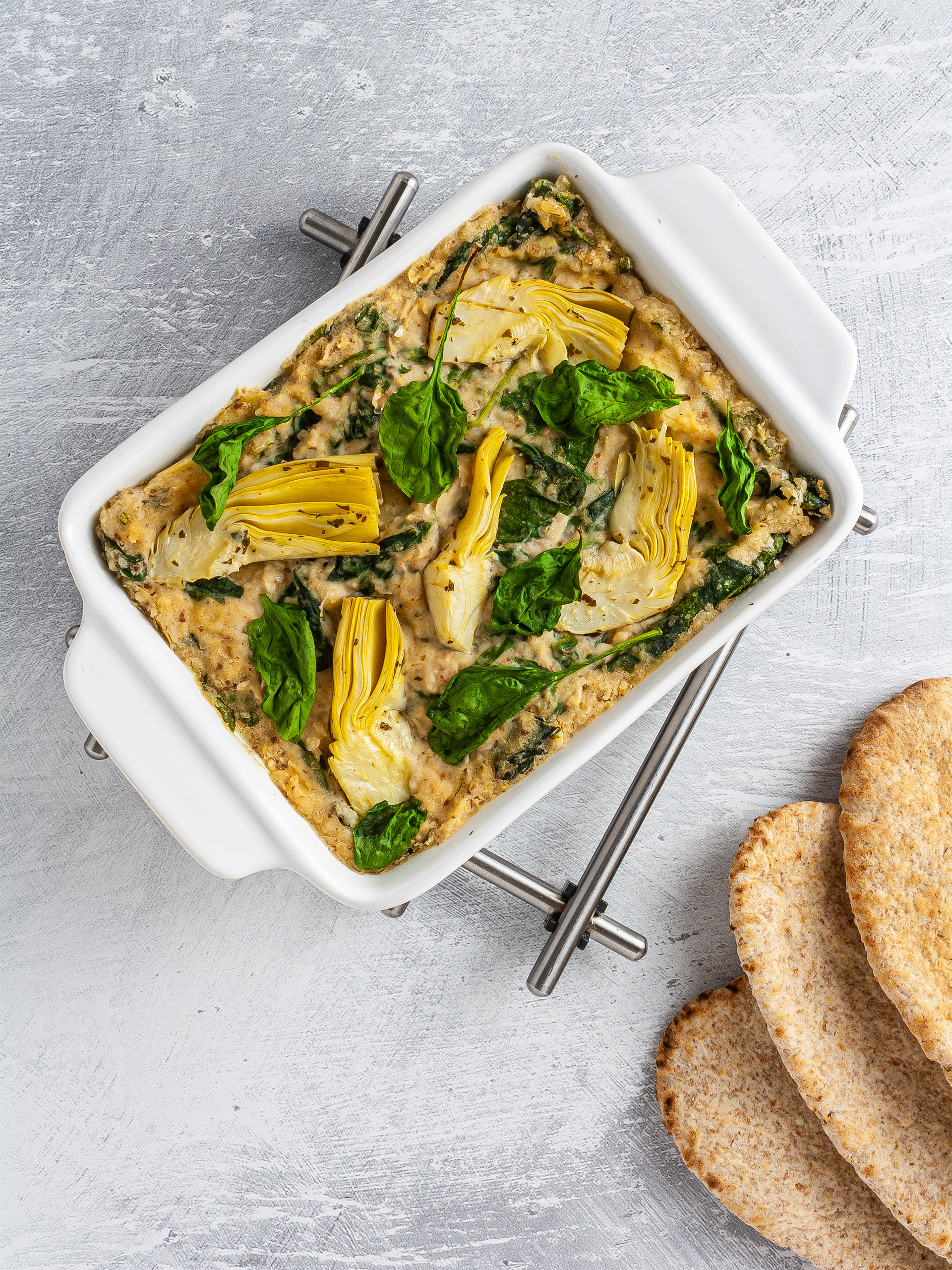 Tips
This creamy dip is great both warm and cold. Store it in the fridge in an airtight container for up to three days.