If you're looking for a new and exciting way to prepare cauliflower, we have the perfect recipe for you: cauliflower crumble. It's a wonderful casserole dish with a creamy heart and crunchy topping, perfect for the whole family.
Our cauliflower crumble is inspired by the classic British recipe but with a vegan and low-fat spin. Although you might have heard or tried the sweet and fruity version of the crumble, veggie-based crumbles are a thing here in the UK. And they're absolutely delicious!
Fruit crumbles and veggie crumbles have the same concept: a soft stewed filling and a crunchy crust. In our recipe, we opted for crunchy cauliflower florets, but many vegetable crumbles often use root veggies instead.
We glazed our cauliflowers with a wonderful white sauce. It's a cross between melted cheese and bechamel, but it's 100% dairy-free and vegan, made with a secret ingredient (that's actually super easy to find!).
But what makes a crumble a crumble is the crust, glorious crust. It consists of butter and flour, rubbed together into a sandy and crumbly dough. Savoury crumbles usually include grated cheese, but we opted for a vegan, no-cheese, and low-fat alternative that combines nutritional yeast with crunchy nuts and olive oil.
Great as a side dish or a main, this cauliflower crumble is full of flavour and texture, so tasty we're sure you'll come back for more. So, are you ready to turn that humble cauliflower into a mouthwatering dish? Let's get started!
Ingredients
Crumble
Wholemeal Flour

80 g

Extra Virgin Olive Oil

50 mL

Porridge Oats

25 g

Nutritional Yeast

2 tbsp

Cashew Nuts

40 g

Sauce
Potatoes

500 g

Oat Milk

250 mL

Bouillon Powder

recipe

1 tbsp

Others
Cauliflower Florets

850 g
Step 1
If you're using a whole cauliflower head, then halve it, pull the florets, and trim off the hard stems.
Line a baking tray with parchment paper, add the cauliflower florets and season them with salt, pepper, and a drizzle of olive oil.
Then, roast them at 180°C (355°F) for 20 minutes.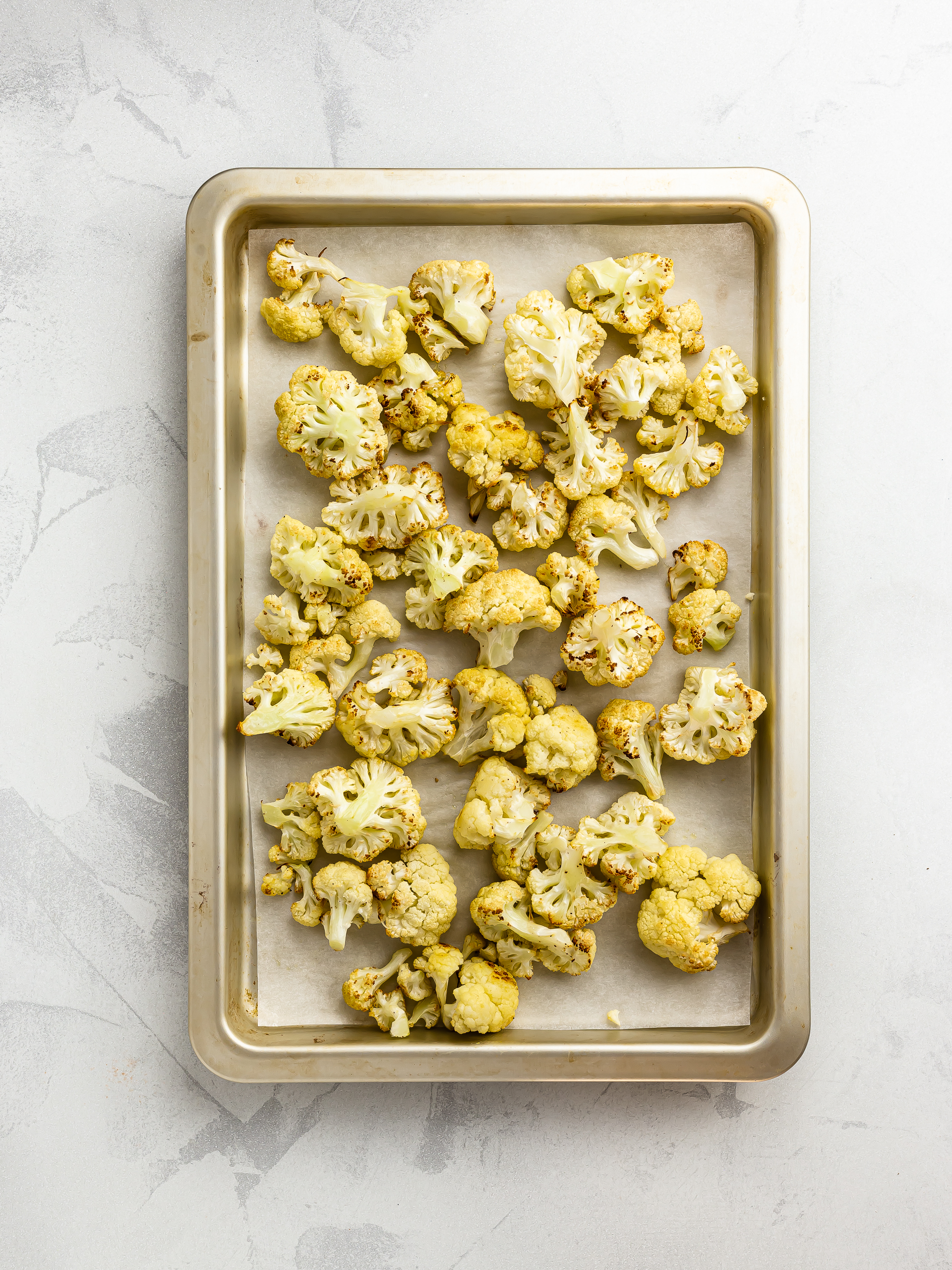 Step 2
Meanwhile, add peeled and diced potatoes to a pot of boiling water and cook them for 15 minutes until soft (1).
Then, blitz them with oat milk and bouillon powder into a smooth sauce (2).
If you don't have bouillon powder, check our tips below for substitutions.
Once ready, taste the potato sauce and season it with salt to taste.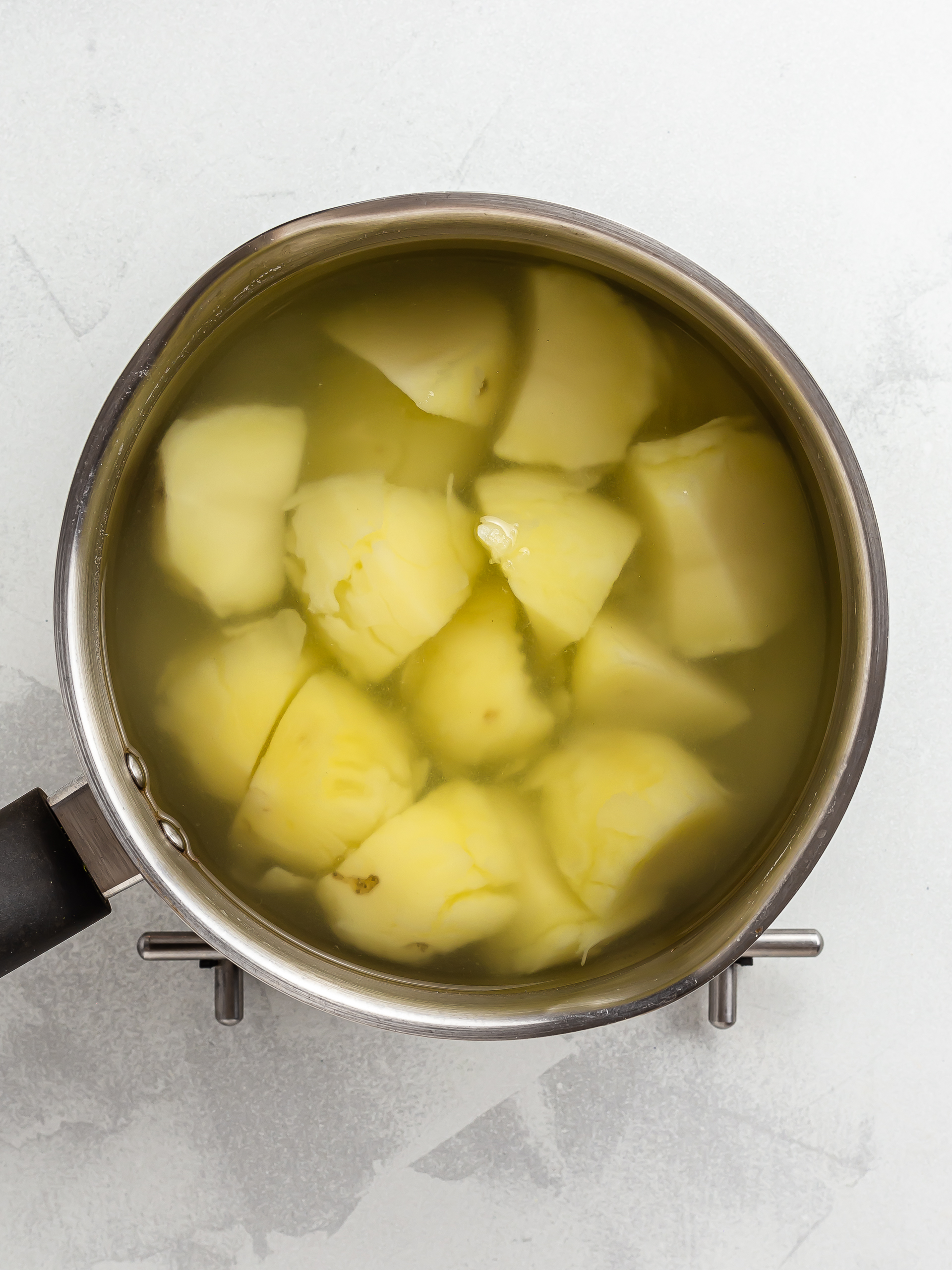 1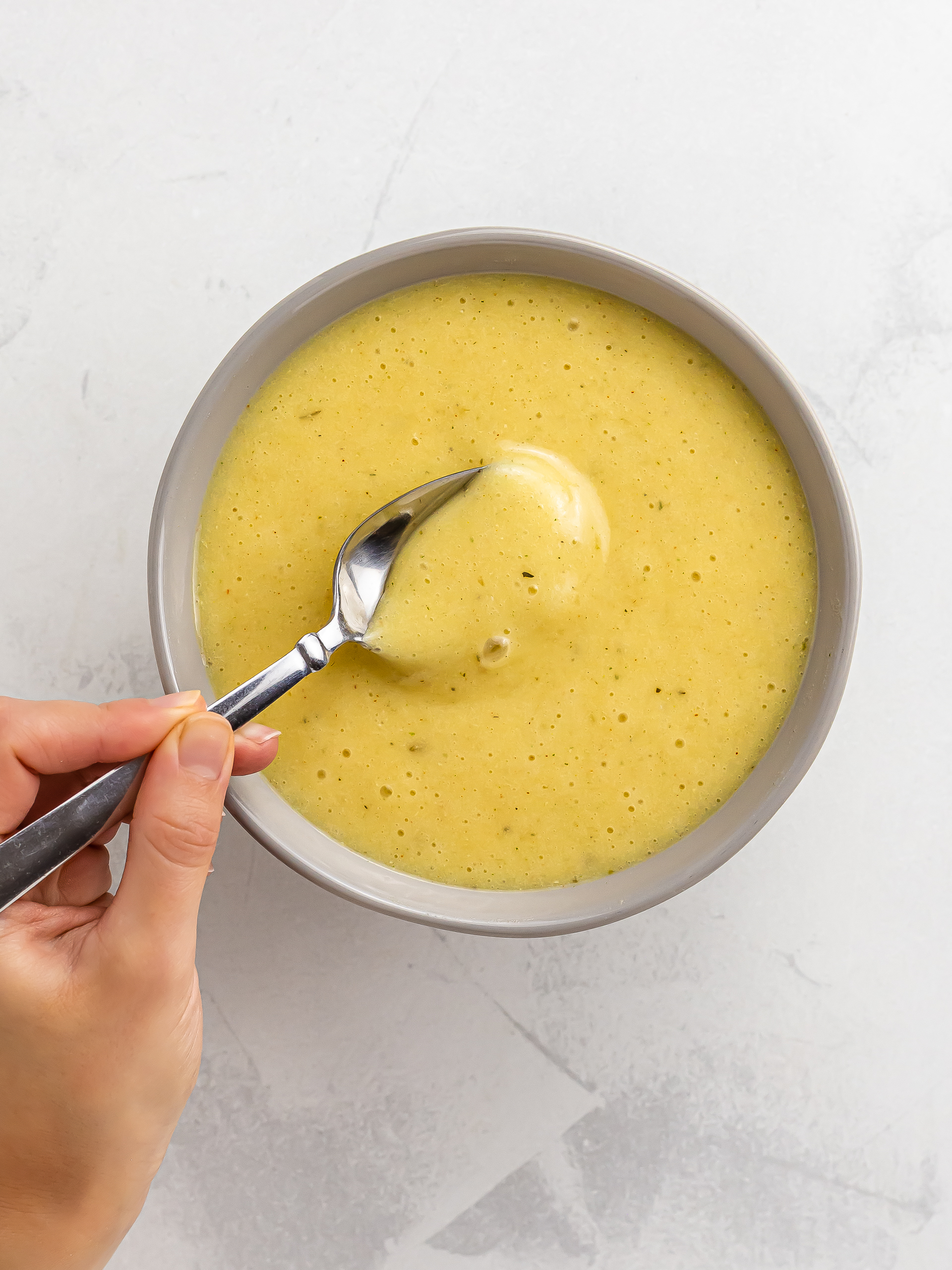 2
Step 3
Using your fingertips, rub together the flour and oil for the crumble.
Once it comes together as a breadcrumbs-like mix, add in a good pinch of salt, oats, nutritional yeast, and chopped nuts.
Now give everything a good mix. If you feel the crumble is too dry, add in a little more oil and give it another rub.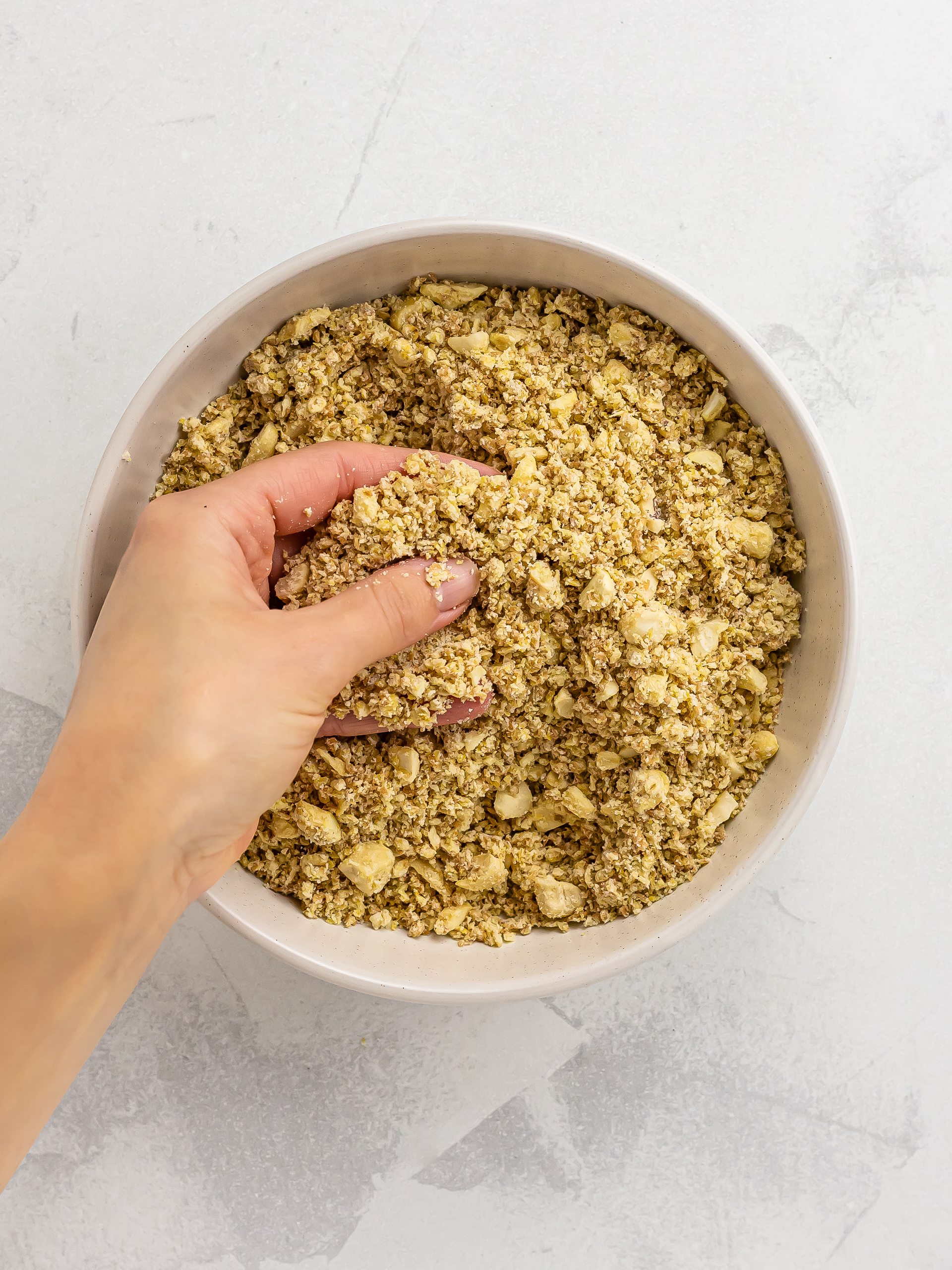 Step 4
To assemble the cauliflower crumble, add roasted cauliflower florets to a baking dish, laying them flat.
Then, pour the sauce over the cauliflowers, making sure they're all covered (1).
Finally, sprinkle over the prepared crumble mix without pushing it down into the sauce (2).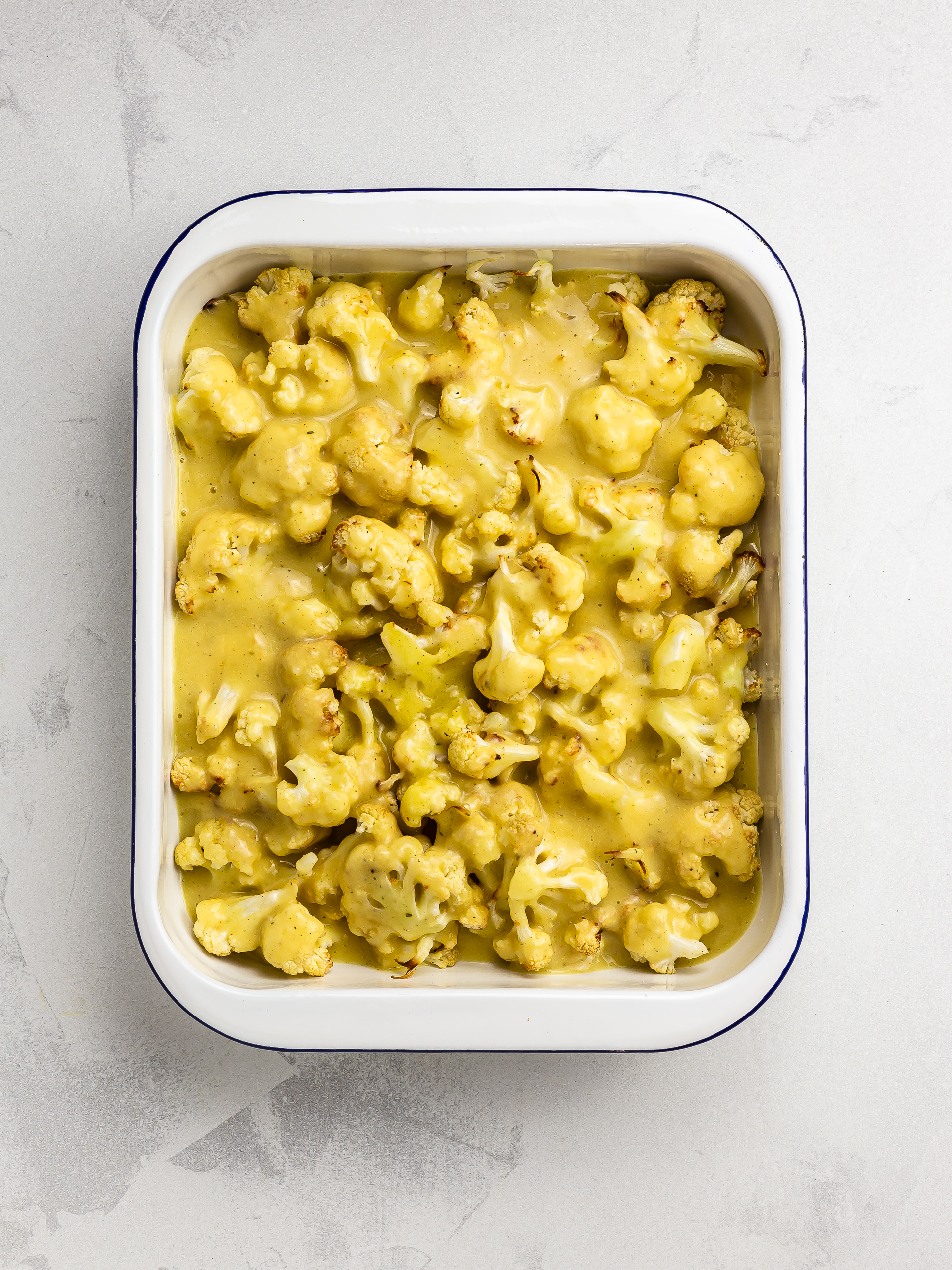 1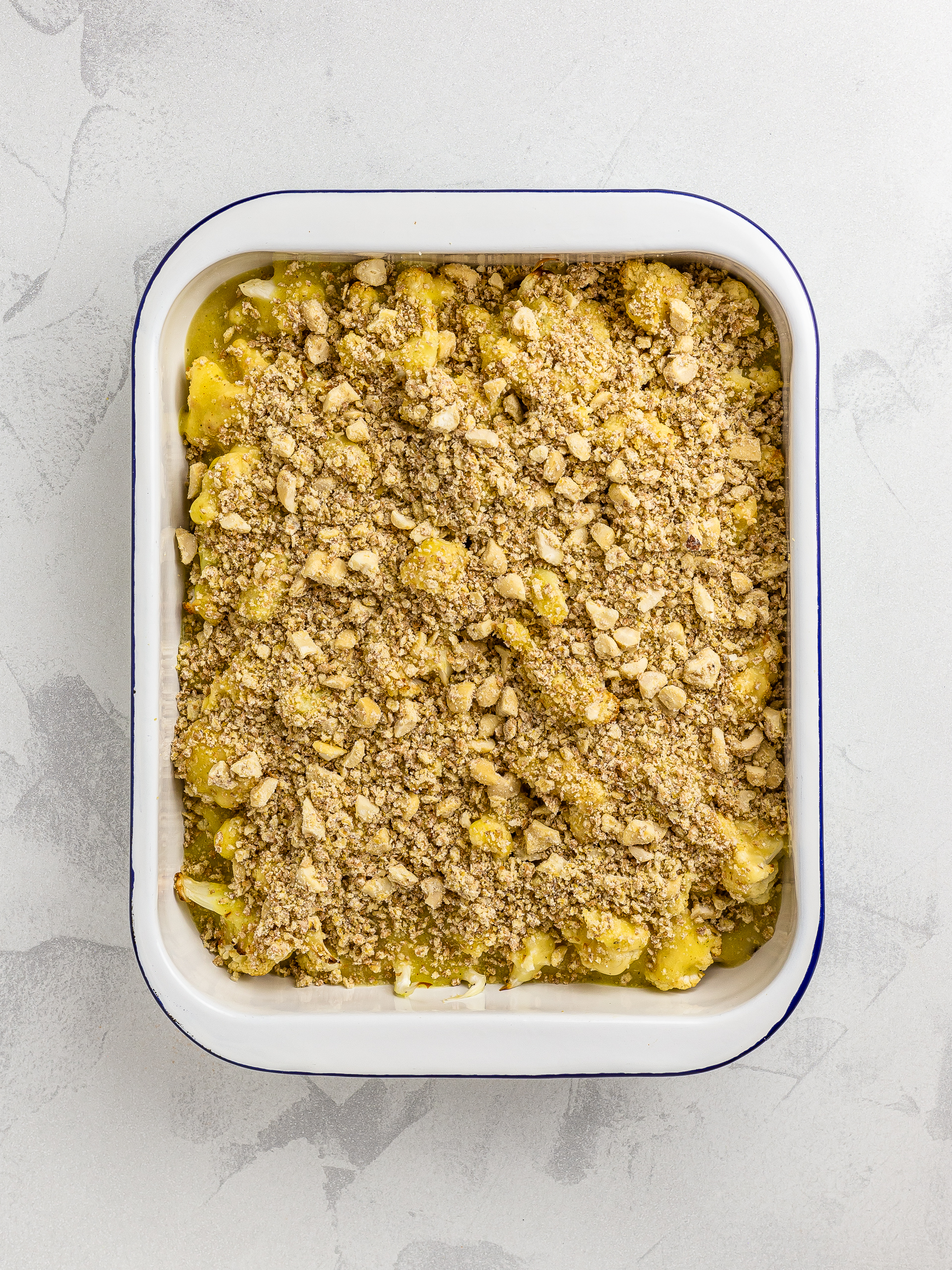 2
Step 5
Bake the cauliflower crumble at 190°C (375°F) for 30-35 minutes until the crumble is golden and crusty.
Garnish with fresh parsley if you like, and enjoy your vegan cauliflower crumble while still warm.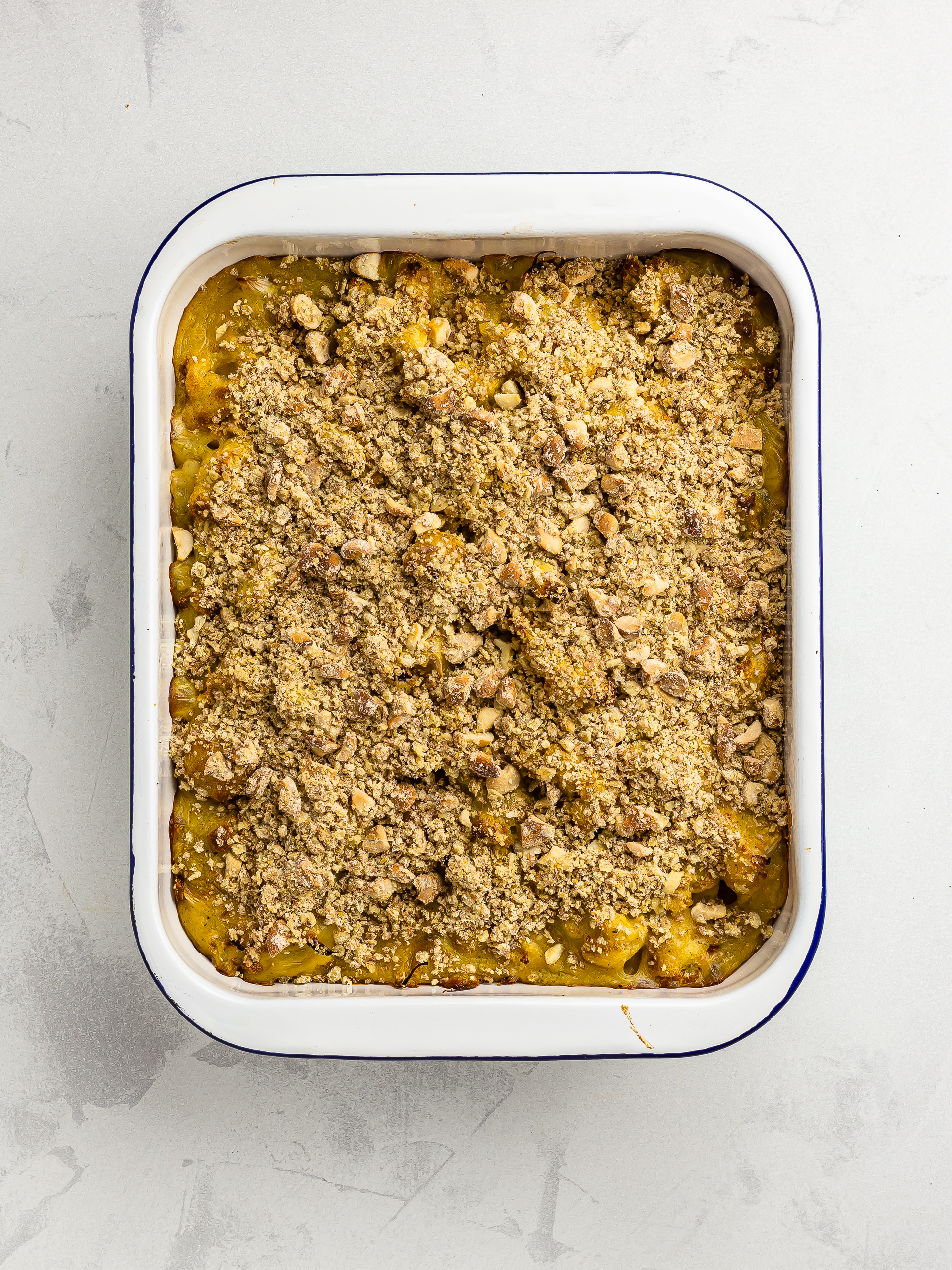 Tips
You can add 1-2 tablespoons of mixed seeds (like chia, sesame, poppy, or sunflower seeds) to crumble for extra flavour and crunch.

Or top it with our baked plantain croutons for an exotic finish.

If you don't have bouillon powder, you can use a crumbled bouillon cube or a homemade mix of nutritional yeast, garlic powder/minced garlic, and nutmeg.