If you're on a gluten-free diet and you miss those crunchy croutons on your soups and salads, don't worry — Foodaciously comes to the rescue!
We have a super easy gluten-free croutons recipe made with plantains instead of bread we're sure you'll love.
You'll need just green plantains, extra virgin olive oil, and some seasoning.
Prep the plantains following our instructions below and let the oven take care of the rest. Then, get ready to savour these plantain crunchies on their own or with your favourite dishes.
Plantains are a variety of bananas and a staple food in many tropical areas. The unripe green fruit is much starchier and way less sweet than the ripe one.
That's why green plantains are used in many savoury recipes instead of bread or potatoes, particularly in African, Southeast Asian, and Caribbean cuisines.
Because you can make chips with plantains, we thought, why not use them to prepare some no-gluten croutons? So here they are!
Croutons made from plantains will be somewhat denser than those made with bread. That's because plantains are starchier than fluffy white bread.
And for the same reason, you'll have to cook the croutons at a lower temperature and for longer to get deliciously crispy results without burning them.
So, follow our baking instructions to the letter, and you'll have perfect croutons — guaranteed! And if you prefer pan-frying them or air-frying them, we'll explain how to cook them in the FAQ section.
The default ingredients yield 120g (4 oz) of croutons and one serving is 30g (1 oz).
Frequently Asked Questions
How do you make plantain croutons?

You can make plantain croutons from diced green plantains. Simply season them with your favourite spice mix and then fry them or bake them until crunchy and dry.

Here are different ways you can cook the plantain croutons:

Deep-fry

Heat the frying oil in a pot to 180°C (355°F), add a few croutons at a time and fry them for a few minutes until golden. Then, let them drain excess oil on kitchen paper.

Pan-fry

Heat avocado, coconut, or veggie oil in a skillet, add the plantains and cook them for 15 minutes, tossing and turning them frequently for an even cooking.

Oven-bake

Spread the plantain croutons on a tray and slow bake them at 160°C (320°F) for 40 to 50 minutes until dry.

Air-fry

Heat the air-fryer to 180°C (355°F), add the plantains to the basket, and air-fry them for 8-10 minutes.
Do you use green or black plantain to make croutons?

You must use unripe green plantains to make plantain croutons, not the black overripe ones.

Green plantains are closer to a potato than to a banana, both in taste and texture.

They're starchy and don't taste sweet, exactly what you want to make a bread crouton alternative.
Are Trader Joe's plantain croutons vegan?

Trader Joe's plantain croutons are vegan as they're made with sunflower oil and seasoning.

However, not all croutons recipes are vegan, as some coat or fry the croutons with butter instead of oil.

Our plantain croutons recipe is 100% plant-based as we didn't use any butter or dairy product, just extra virgin olive oil.
Are plantain croutons gluten-free?

Yes, plantain croutons are gluten-free because they're made with green plantains instead of wheat bread.

So, if you're celiac or have gluten intolerance, you can swap classic bread croutons with these plantain crunchies instead.
Are plantain croutons fried?

It's likely that ready-made plantain croutons, like Trader Joe's ones, are deep-fried in oil as they're extremely crunchy without being burnt.

But if you want to make them at home without the fuss (and the smell) of deep-frying, give our oven-baked plantain bites a try!
What are good seasonings ideas for these croutons?

We used a simple yet tasty seasoning of rosemary salt and garlic, but if you want to try other awesome seasonings for your plantain croutons, here are some ideas to get you started:

Herbs the Provence

Vegan parmesan or nutritional yeast (nooch)

Cajun seasoning

Curry powder or garam masala

Cinnamon and nutmeg

Zaatar seasoning

Ghanian seasoning with ginger, cayenne pepper, onion granules
What's the difference between plantain croutons and plantain chips?

Both plantain croutons and plantain chips are made from green plantains, but the croutons are shaped like small bite-sized cubes, while the chips are like thin discs.

Moreover, both plantain croutons and chips are usually deep-fried, but you can also bake them in the oven or an air-fryer.
How do you use plantain croutons?

Plantain croutons are a wonderful vegan and gluten-free alternative to bread croutons, perfect for adding a crunchy finish to soups and salads.

They're perfect as a topping for this Nigerian cabbage salad, but you could also try them in our exotic purple yam soup or summery grilled peach salad.

These plantain crunchies are also a fantastic topping for hearty casseroles like our Lebanese moussaka or vegan cauliflower crumble.
Are croutons healthy?

Croutons can be a healthy topping for soups and salads if you bake them instead of frying, season them with a little extra virgin olive oil, and consume them in moderation.

One 30g (1 oz) serving of our plantain croutons has just 100 calories and 4g of fats.
Ingredients
| | |
| --- | --- |
| Green Plantains | 2 |
| Extra Virgin Olive Oil | 2 tbsp |
| Dried Rosemary | 1/2 tbsp |
| Garlic Powder | 1/2 tsp |
| Salt | 2 pinch |
| Black Pepper | 2 pinch |
Step 1
Trim off the ends of the plantains, then score the peel with a knife, and peel it off.
To make the croutons, slice the plantain into chips as thick as a pinky finger.
Then, for each chip, square out the edges with a knife and cut small cubes, as shown in the picture.
If you are wondering what to do with the offcuts, then use them to make some healthy plantain chips.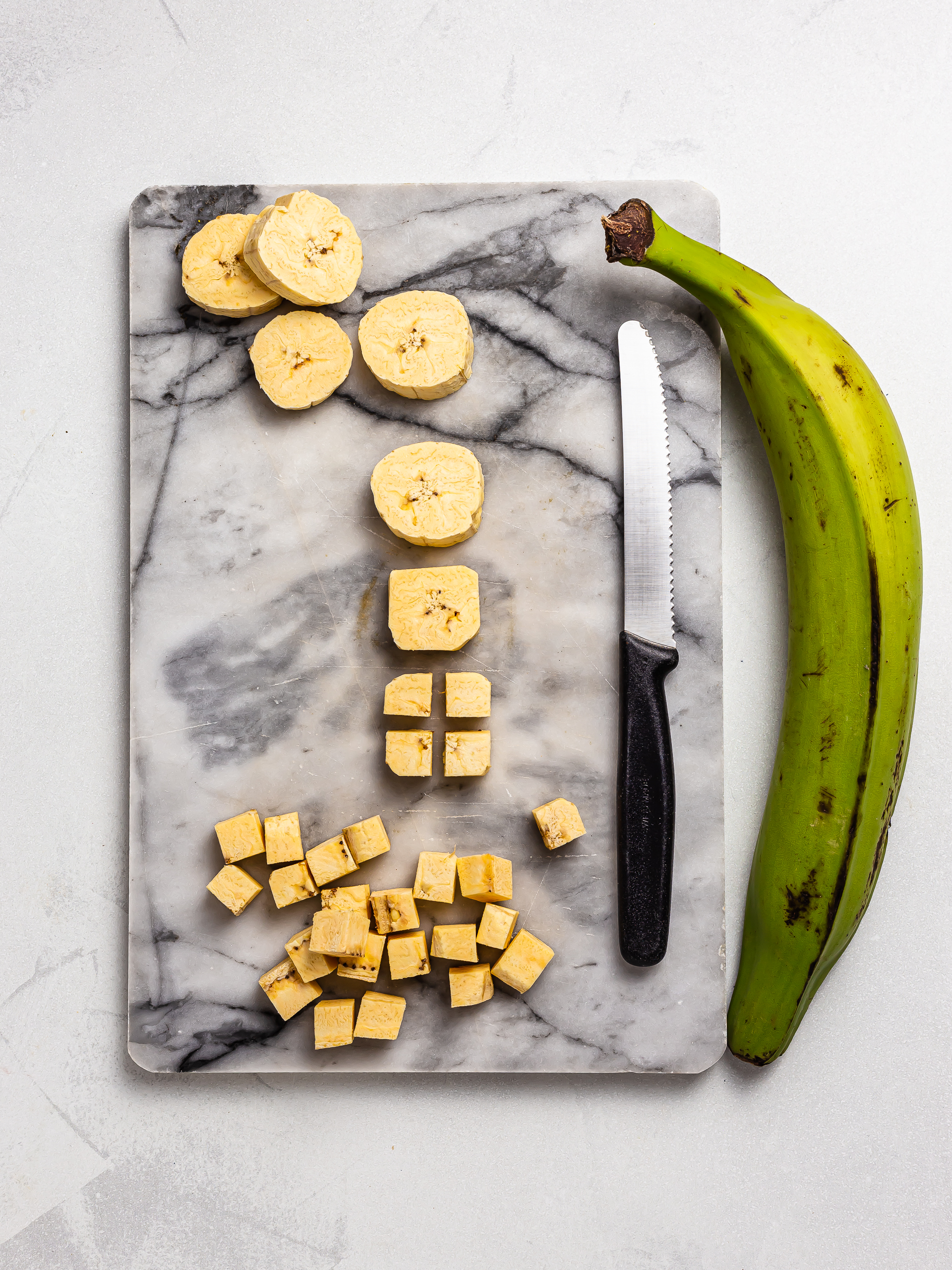 Step 2
In a bowl, mix olive oil with finely ground dried rosemary, garlic powder, salt, and pepper.
Then, add in the plantain croutons and toss until they're coated well.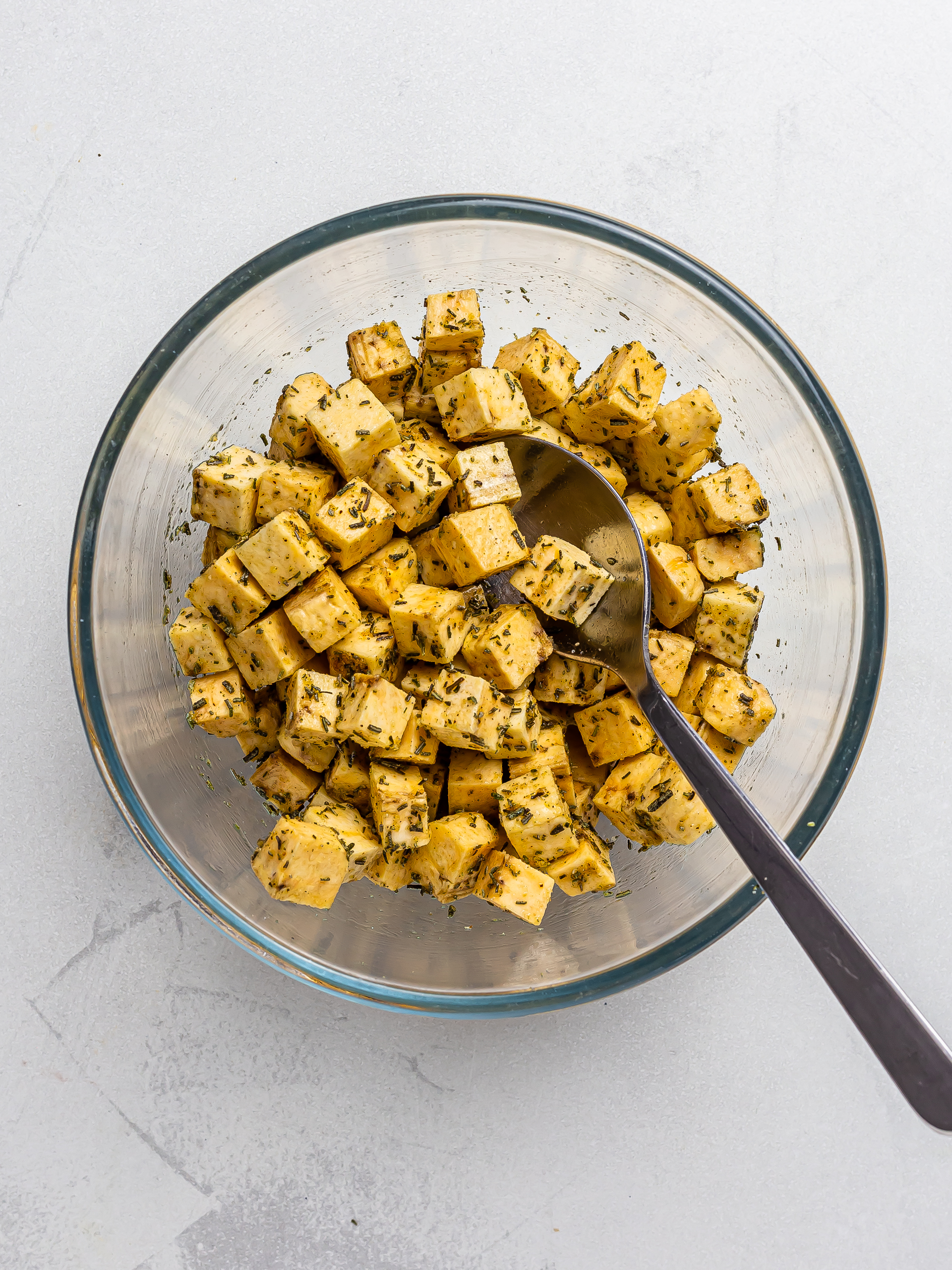 Step 3
Transfer the seasoned plantains onto a baking tray lined with baking paper.
Spread the croutons flat and leave some space between them so they'll cook evenly.
Bake them at 160°C (320°F) static or 140°F (285°F) fan mode for 40 minutes.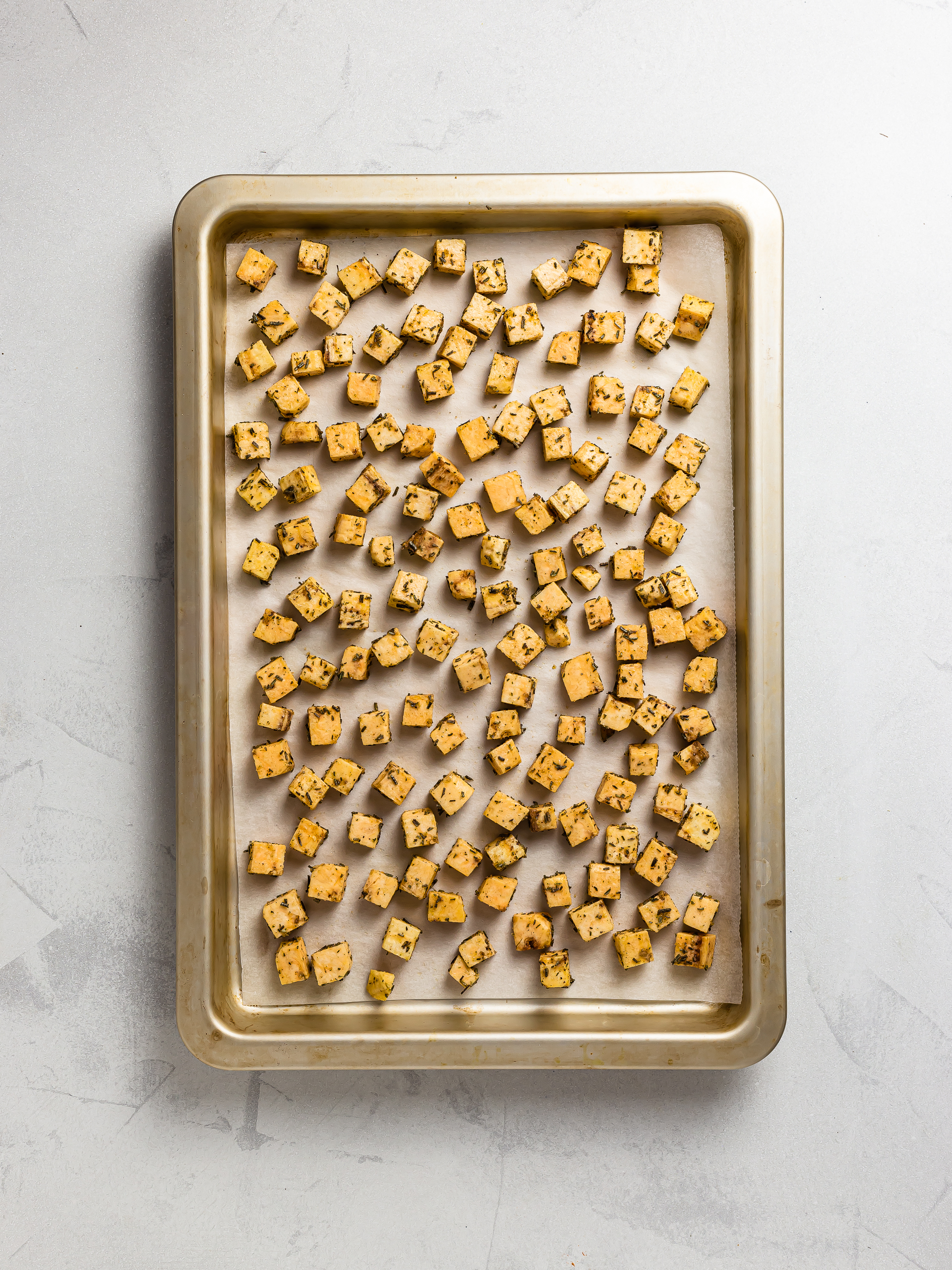 Step 4
At this point, check if the plantains croutons are to your liking and, if you want them to be crunchier, bake them for 10 more minutes.
The cooking time may vary depending on your oven, how many croutons you're baking, or how big the croutons are.
So, keep coking them until they're crunchy outside and dry inside, just like bread croutons.
Once ready, let them cool down slightly and enjoy them in soups or salads.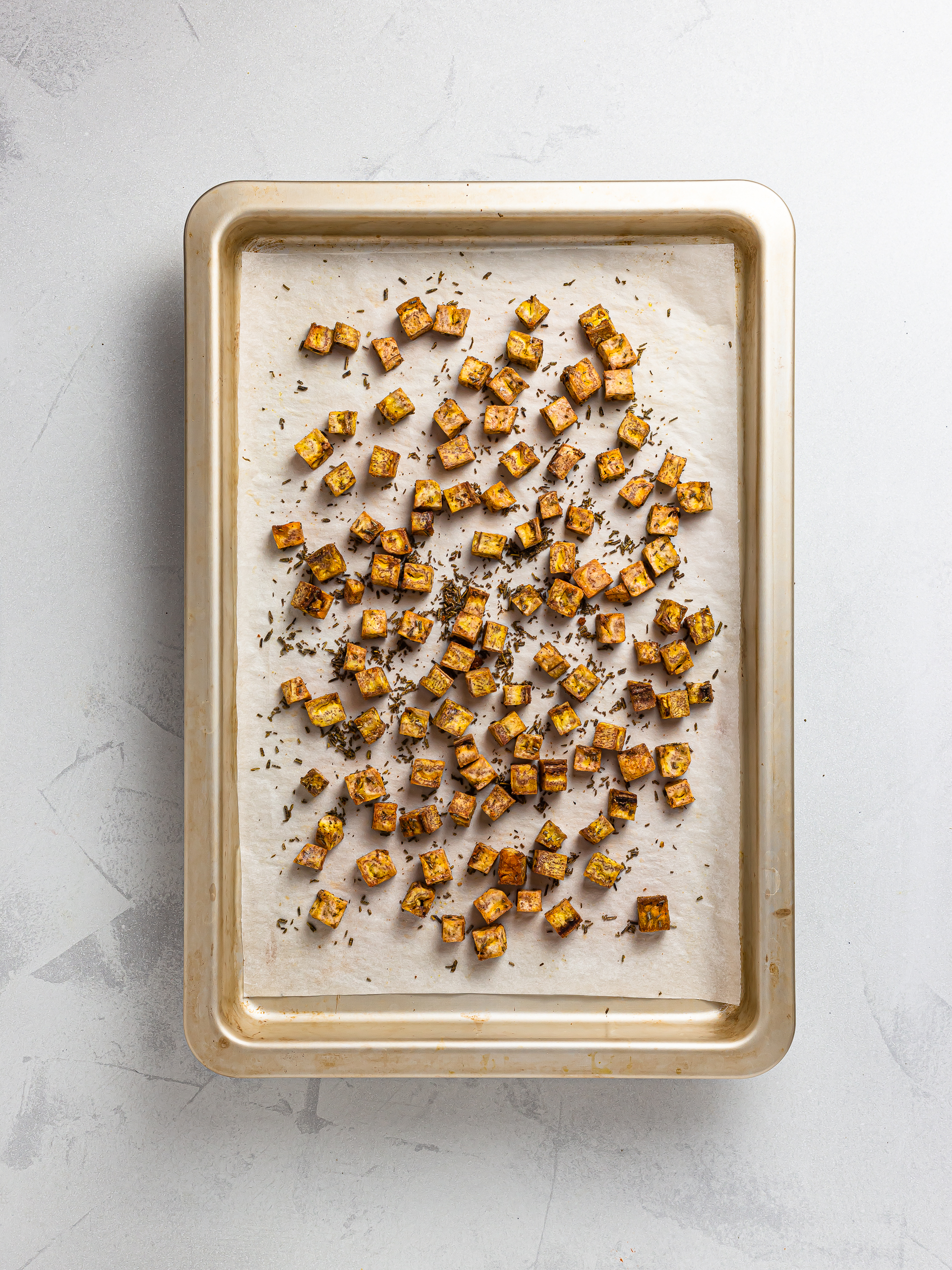 Tips
These plantain croutons are best enjoyed on the same day as they'll lose some of their crispiness when stored for longer.