Are you looking for a gluten-free, vegan, and low-fat brownie recipe? We think you'd like this one below: Chickpeas blondies with raspberries (AKA blond brownies). They are vegan, gluten-free, and made only with unrefined, healthy ingredients.
As you know, classic brownies have butter, eggs, refined sugars, and wheat flour. All these things make them unsuitable for vegans, people with gluten-intolerance or diabetes, and anyone on a low-fat diet. What is joy, if it's not available to everyone? That's where this recipe comes in. Our healthy chickpea blondies don't have any butter or dairy-product, any sugar or excessive fats, and are 100% gluten-free.
We have been making healthy brownies using plant-based ingredients for a while now. As of writing, these are the other vegan and gluten-free brownies many of you have enjoyed:
We wanted to add a blondie to our list of recipes, and chickpeas are quite the rising stars nowadays. And for a good reason! Chickpeas (AKA garbanzos) are not just a versatile replacement to wheat flour, but also a rich source of proteins, vitamins, and minerals[1].
We compared our recipe against a few classic blondie recipes. The result is fewer fats (40% less), fewer sugars (87% less), and twice as many dietary fibres. Plus a single square will give you 11% RDI of proteins. All while keeping the recipe vegan and gluten-free! We are quite proud of these healthy blondies, and we hope you'll be too once you try them. Follow the recipe below and enjoy them!
Frequently Asked Questions
Are classic blondies vegan?

Classic blondies, just like their dark siblings, are not vegan.

That's because they contain butter and eggs, at the very least.

To turn brownies vegan, you'll have to find a suitable substitute for those animal products. All brownies on this website are vegan, and we used different techniques for each of them. Check them out here if you are looking for some inspiration!

You can also keep reading our other FAQs below, as we talk more about how to make a diet-friendly brownie.
How to make a healthy brownie?

Take a classic brownie recipe and look at the ratios of ingredients used. You'd see that traditional brownies broadly consist of:

17% butter

35% sugar

25% flour

20% Chocolate (non-dark, which itself has a good amount of sugars and saturated fats from milk)

3% other ingredients

More than 52% is just butter and sugars! Not quite the picture of health, right? Luckily for the brownie-loving world, unhealthy brownies are not the only ones that are so darn tasty. There are lots of healthy variations (some of which are also vegan and gluten-free) that are just as gooey, fudgy, and irresistible as the classic treat.

Take a look at our current list our healthy brownies, for example:

All these brownies are vegan, gluten-free, and made without added sugars, and have a much better nutritional profile. What is their secret? What makes a wholesome brownie? Here is a list of tips and tricks you can follow to start baking healthy brownies and blondies yourself.

Replace butter with low-fat ingredients that act as a binder.

Use naturally sweet ingredients like fruit instead of white sugar.

Use dark chocolate (90%+) instead of other varieties.

Add superfoods or highly-nutritions ingredients to your brownie dough.

[Optional - for Gluten-Free brownies or low-carb brownies] Swap wheat flour for gluten-free or low-carb replacements, like blended chickpeas, cauliflowers, black beans, etc.

In the FAQs below, we will talk more about each of these points.
How to make brownies fudgy without using butter?

Butter is what makes brownies fudgy. That is true, but you can achieve the same result without using butter, nor any other dairy product. You can even get incredibly gooey brownies using the most unexpected ingredient, like cauliflower.

What we need is to find a combination of ingredients that act like butter, bind like butter, but have none of the bad stuff in it.

Recently we developed two brownie recipes using some rather unconventional ingredients: cauliflower and zucchini.

Neither of them has any dairy-products, nor refined butter replacements like margarine. Yet, they are insanely gooey and fudgy. Like really, really fudgy! They are wonderful.

These are the two things we did to make those brownies fudgy without using butter:

We used a little bit of nut spread (almond or peanuts, or any other nut-based spread) to replace the binding properties of butter.

We kept the batter more liquid than you would do in the classic recipe, and let the brownie slab cool down in the fridge for up to an hour before cutting it.

This last tip is kind of the secret here. The ingredients will naturally bind and harden with time in a cool place. By starting with a softer, more liquid batter, you end up with a fudgier consistency after a little nap in the fridge. The result? A fudgier brownie that doesn't use any unhealthy ingredient to be so.

Want to practice it yourself? Follow our cauliflower brownies recipe, and then adapt the same technique to other plant-based ingredients you fancy.
How to make brownies without added sugars?

Preparing healthy brownies or blondies without any sugar is incredibly easy.

You can do so by replacing white sugar with naturally sweet ingredients like fruit or with natural sweeteners like erythritol.

We found that pitted dates and bananas are a great sugar alternative in brownies. They also blend into a dense and creamy paste, helping to get that fudgy consistency that we all love in this dessert.

Erythritol and stevia are natural sweeteners perfect for preparing diabetes-friendly sweet treats as they have zero sugars and zero calories.
How to make gluten-free blondies?

The classic blondie recipe includes wheat flour, and therefore it is not suitable for those following a gluten-free diet.

Oats are a great alternative to plain flour when preparing brownies. You can grind them into flour simply by pulsing the oat flakes in your food processor. Oats also help to get a denser and moister brownie dough.

Other gluten-free options you can try include coconut flour, rice flours, or almond meal.

You can even skip the flour altogether as we did in our zucchini brownies for a super fudgy consistency. Also, you can use starch-rich chickpeas, as we did in our chickpea blondies, or opt for black beans.
Ingredients
| | |
| --- | --- |
| Canned Chickpeas (drained weight) | 600 g |
| Large Ripe Bananas | 2 |
| Cashew Butter | 90 g |
| Baking Powder | 2 tsp |
| Vanilla Extract | 3 tsp |
| Dark Chocolate 90%+ | 100 g |
| Raspberries | 150 g |
Step 1
Drain and rinse the chickpeas and then transfer them into a blender. Add the bananas and cashew butter, and blitz all into a smooth dough.
Scrape the edges of the blender bowl in between pulses to make sure you don't have any chunky bits in the chickpea mix.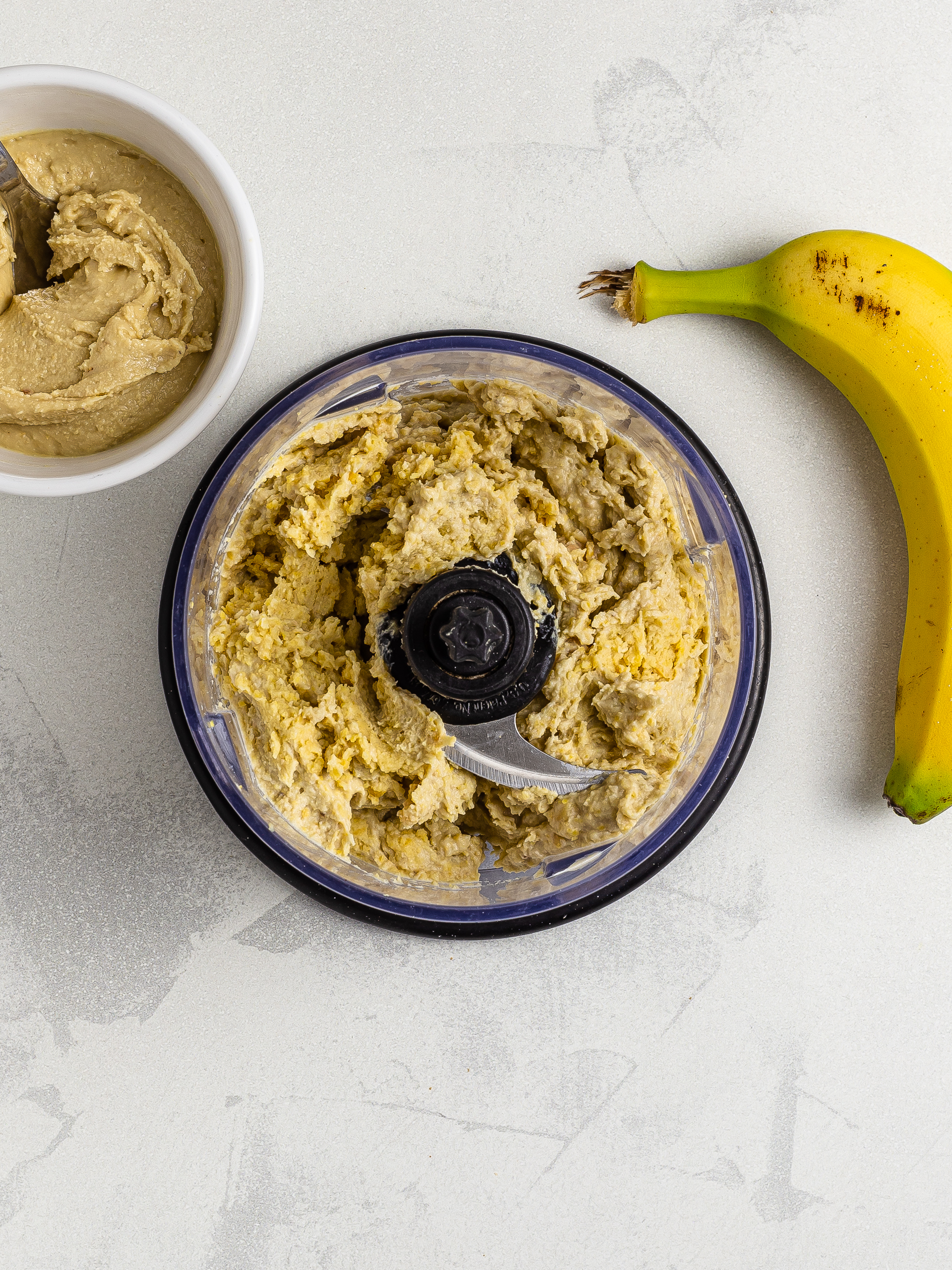 Step 2
Next, transfer the mixture into a bowl and tip the baking powder and vanilla extract.
Then, add the dark chocolate chopped into small chunks and work the ingredients until they come together into a soft and moist dough.
You can save some of the chocolate chips for garnishing.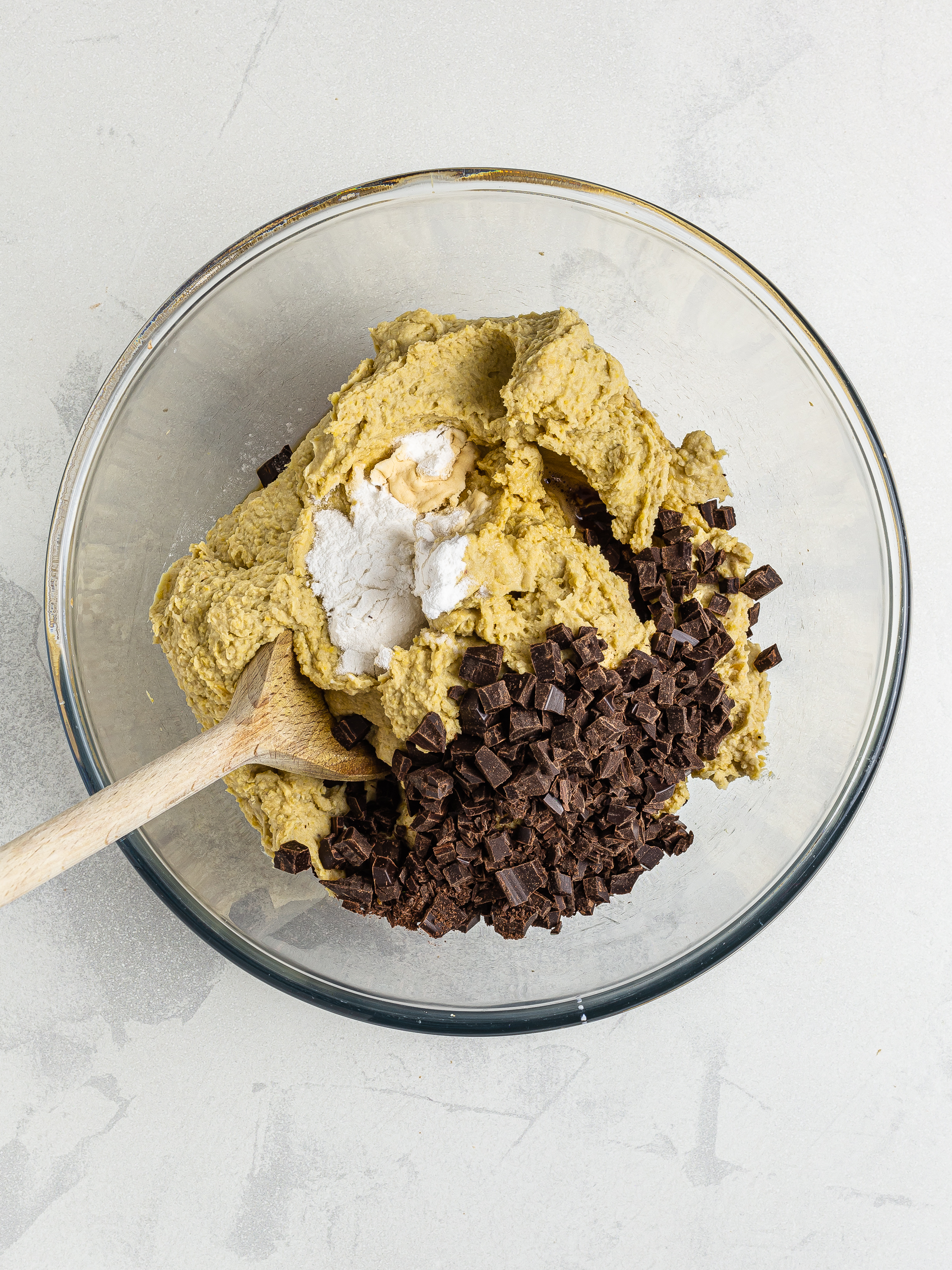 Step 3
Chop the fresh raspberries and add them to the blondie dough saving some for garnishing.
Mix carefully until they're well incorporated.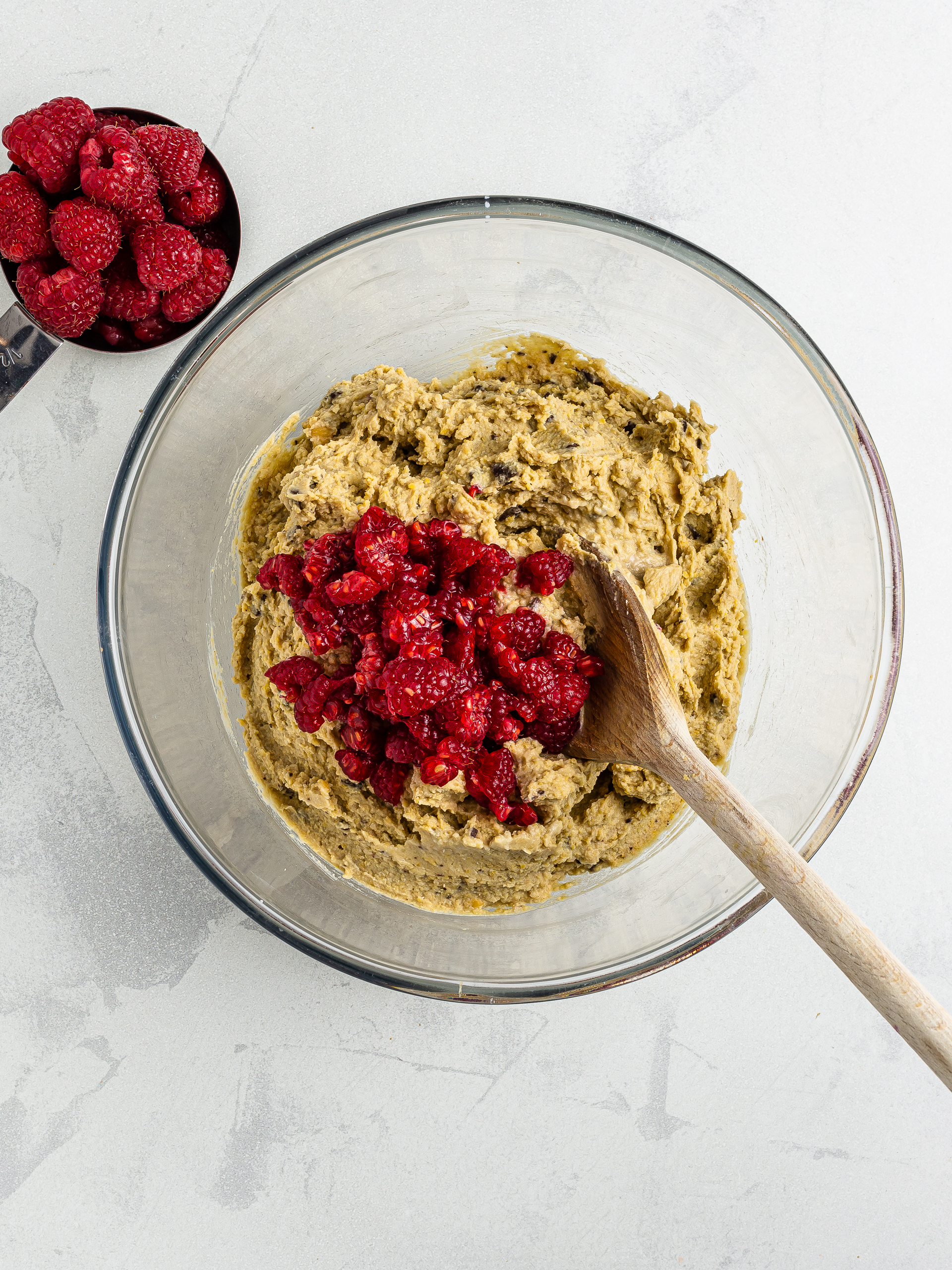 Step 4
Transfer the dough into a 20 cm (8 inches) square baking tin and level it with the help of a spatula or the back of a spoon.
Garnish the surface with chocolate chunks and halved raspberries.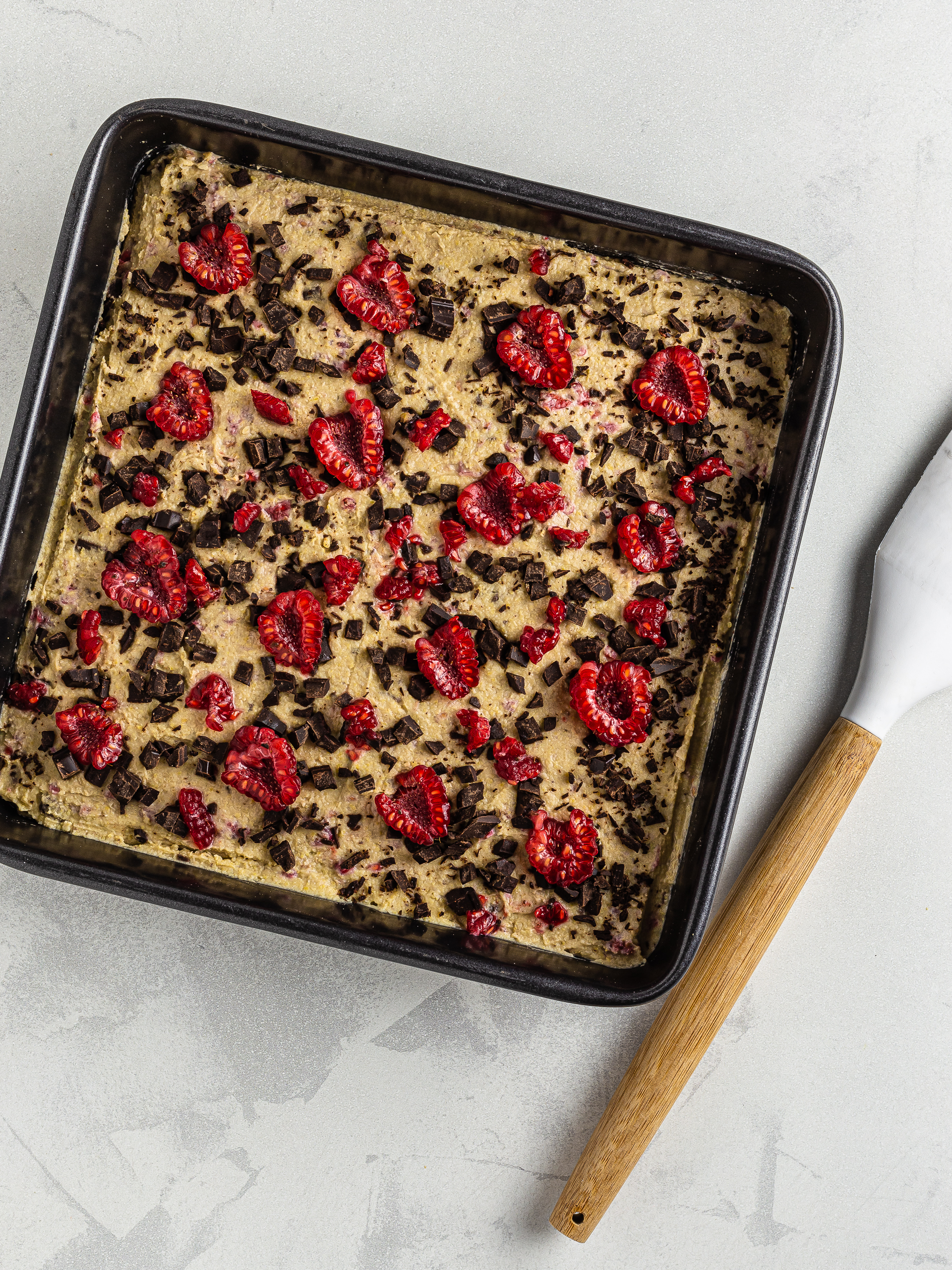 Step 5
Bake the blondies for 30 minutes at 200°C (390°F) for static ovens or at 180°C (355°F) for fan ovens.
For the last 10 minutes of cooking time, cover the tin with foil to prevent the raspberries from getting too browned.
The blondies are ready if a toothpick inserted in the centre comes out clean.
Leave the blondie slab to cool down in the baking tin for a bit.
Then slice it into squares and, lifting them with the help of a spatula, transfer the blondies onto a wire rack to cool down completely.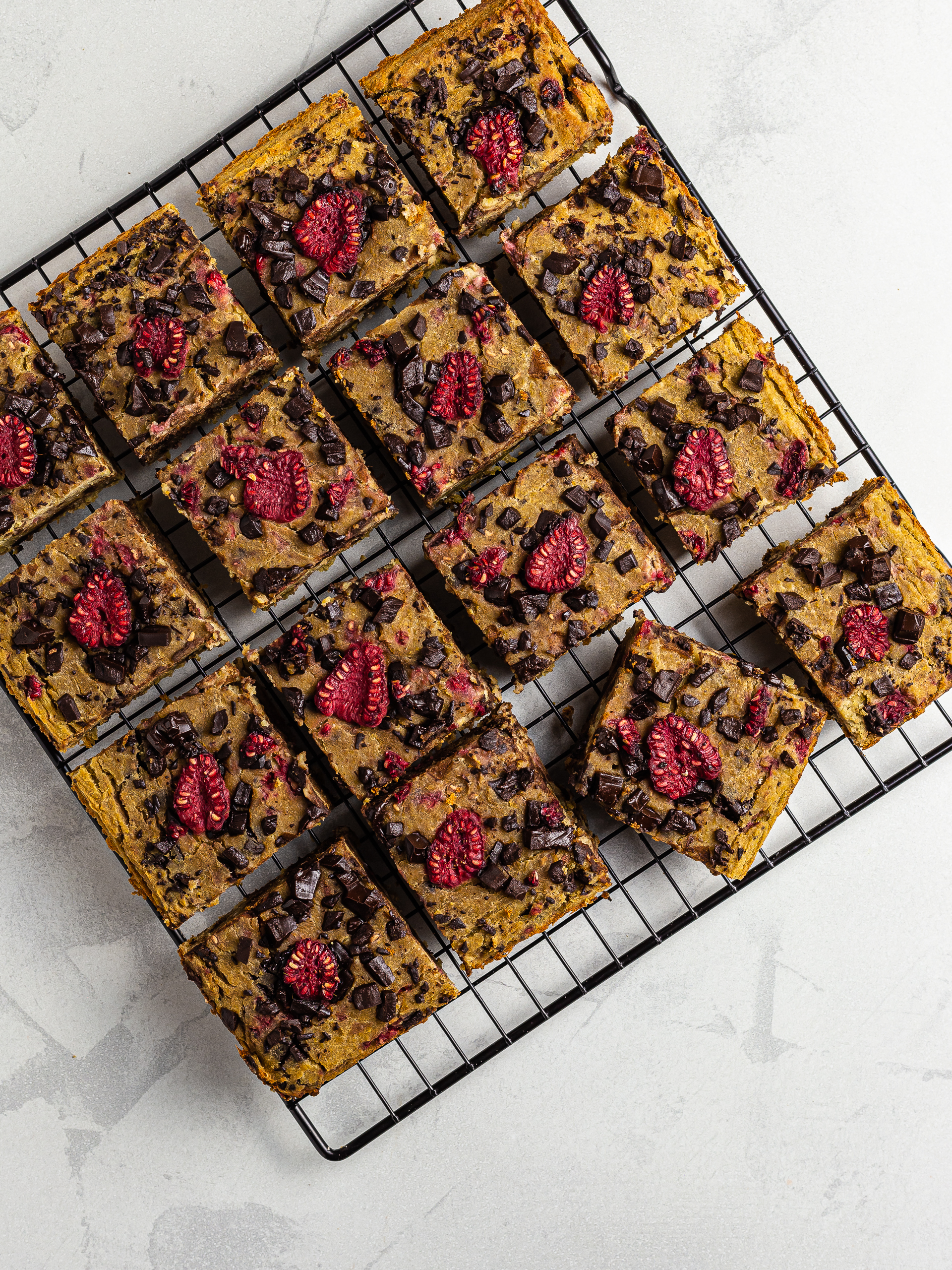 Tips
Try adding roasted and chopped nuts like pecans or almonds to the blondie dough for extra crunchiness.

To speed up the cooling time, keep the baking tin in the fridge for 20 minutes and then proceed to slice the baked blondie slab into single-serving squares.

Store these chickpeas blondies in the fridge in an airtight container for up to 4 days or freeze for 2 months.