If you're stuck with the same boring lettuce salad, it's time to jazz up your lunch box and give our colourful chicory salad a try.
We made a delightful combo of buttery avocado, crunchy red chicory, sweet spinach and tender lentils. And if it couldn't get tastier than this, we added a juicy chia blueberry dressing.
We love preparing salads as they're a quick and practical way to pack a complete meal in our lunch box. So, we designed this recipe to include as many nutritious ingredients as we could. The result is a well-balanced, vegan salad bursting with antioxidants, plant-based proteins, and fibres. Plus, it's got health-boosting superfoods to boot.
Red chicory, AKA radicchio, is a bittersweet leafy veggie loaded with free radical-fighting antioxidants and a whopping 170% RDI of vitamin K per serving [1]. Avocado provides healthy unsaturated fats, while spinach pack calcium and iron [2].
Our sweet and sour blueberry dressing is made with fresh berries, chia seeds and lime juice. It's just perfect for drizzling, and it brings this lovely salad to a whole new level of goodness.
Ready in just 15 minutes and with less than 350 calories, this healthy, diet-friendly salad is sure to become your new meal-prepping favourite and keep you full and satisfied for long.
Ingredients
| | |
| --- | --- |
| Red Chicory | 170 g |
| Avocado | 1/2 |
| Canned Brown Lentils | 300 g |
| Baby Spinach | 120 g |
| Fresh Blueberries | 160 g |
| Chia Seeds | 2 tsp |
| Lime | 1 |
| Walnuts | 20 g |
Step 1
To prepare the chicory, trim the stem of the chicory head and let the leaves fall apart. Alternatively, cut it into quarters and then chop them into bite-sized pieces.
Then, peel and core the avocado and slice it into wedges. Drain and rinse the canned lentils.
Now, add the chicory, avocado, lentils, and baby spinach leaves to a bowl.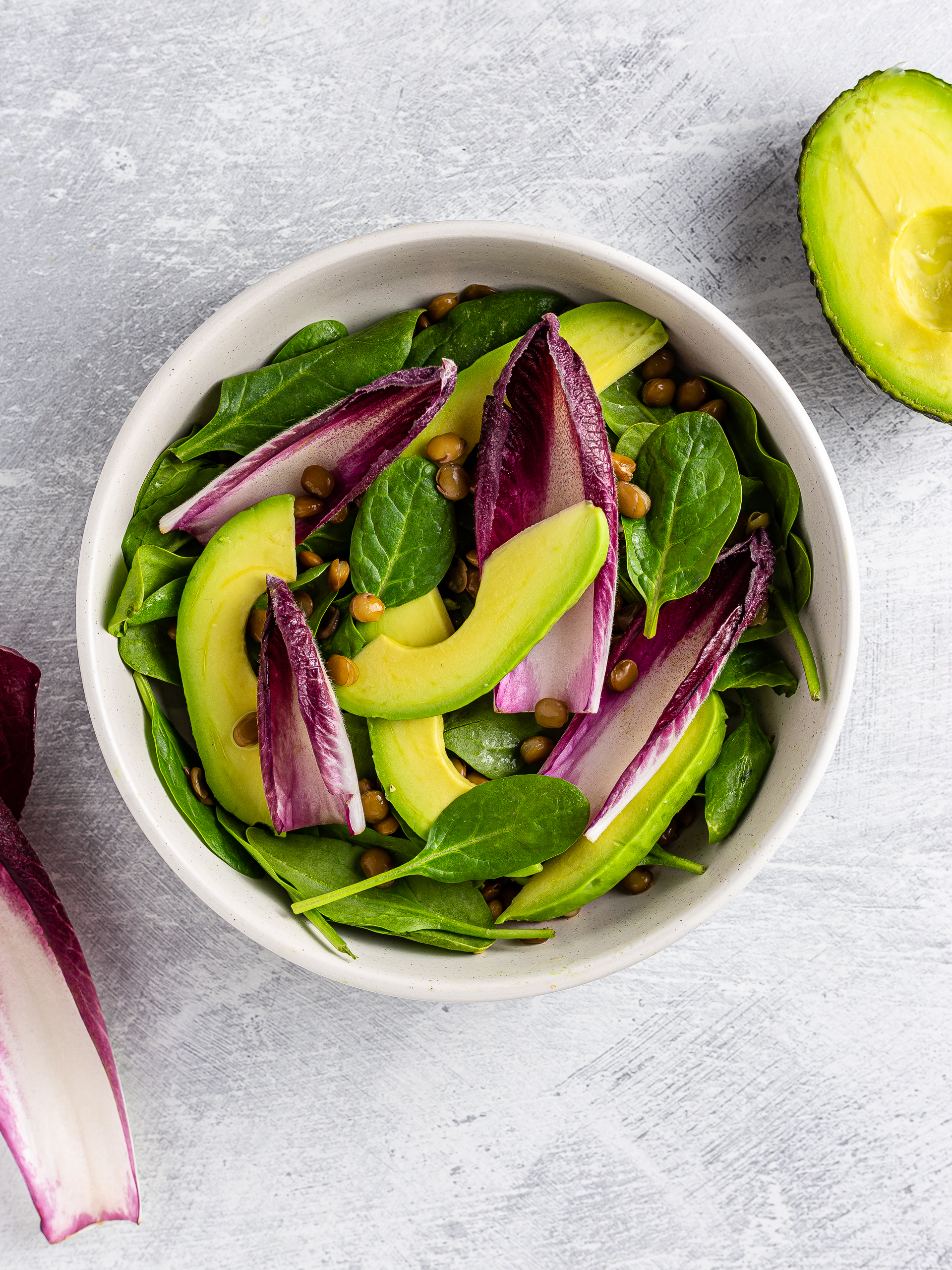 Step 2
Add 80 g of blueberries to a food processor followed by lime juice and chia seeds.
Blitz the ingredients into a smooth and runny dressing.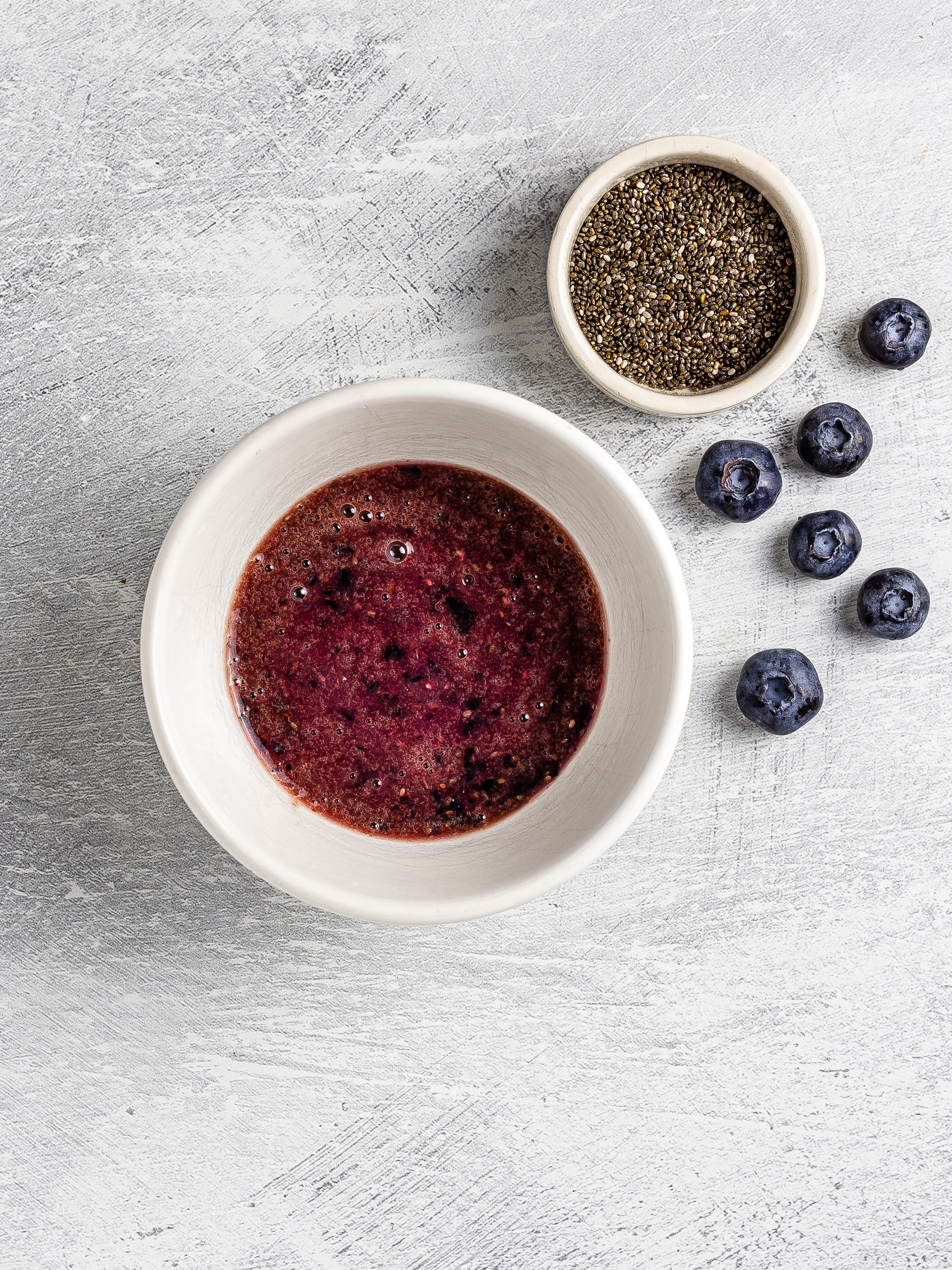 Step 3
Next, finely chop the walnuts and add them to the bowl along with the remaining 80 g of blueberries.
Finally, pour the chia blueberry sauce over the salad, season with salt and pepper, and toss well.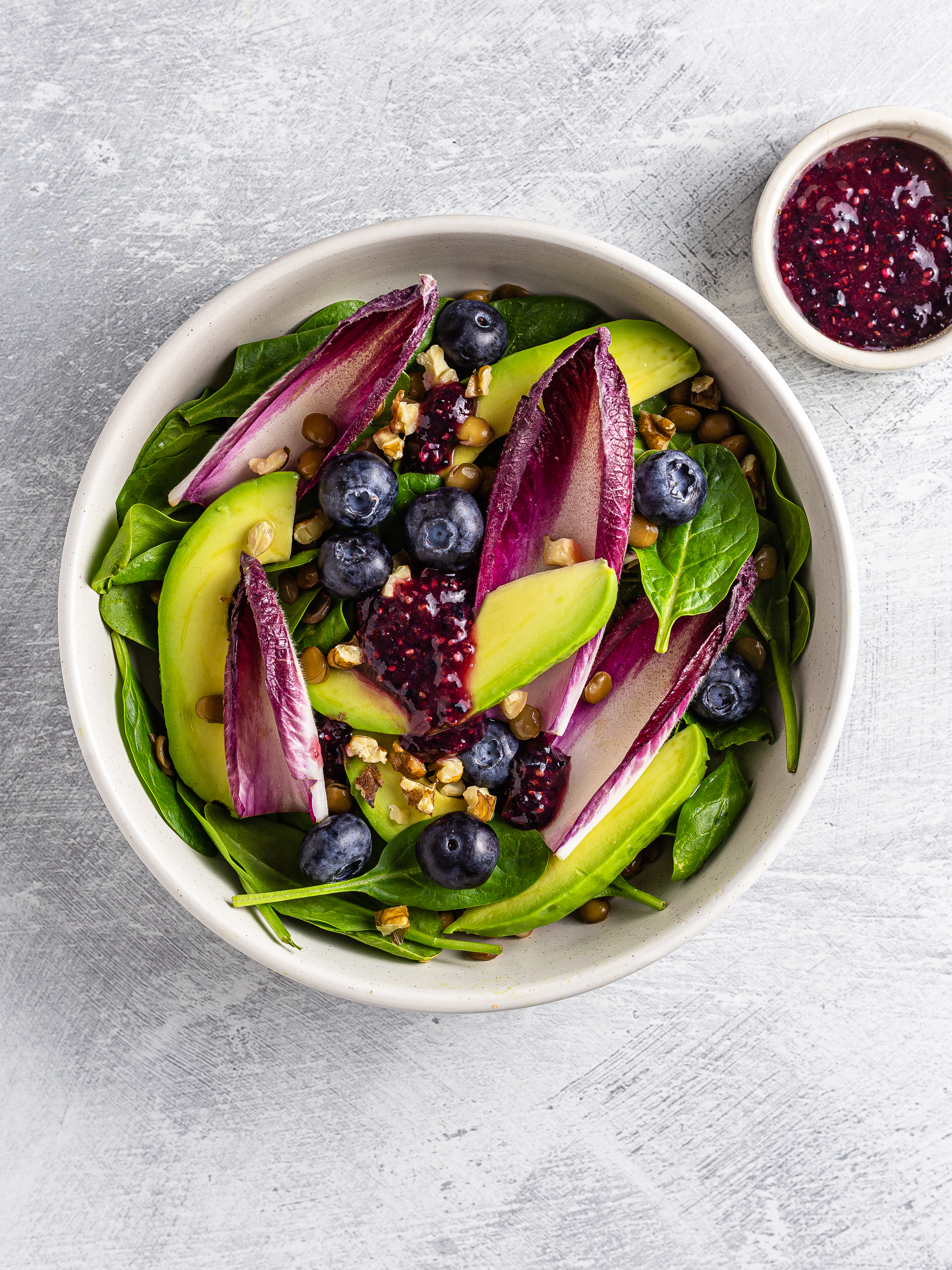 Tips
You can swap chicory with red cabbage, and spinach with rocket.