For today's recipe, we want to show you how to make delicious courgette and sweetcorn fritters without eggs and dairy. And to keep the recipe even healthier, we oven-baked them rather than frying them. They're crispy outside and soft inside, packed with colourful veggies — so yummy!
Corn fritters are quite popular in the United States, especially in the southern states. They consist of a dough of corn kernels, eggs, flour, and milk.
They're shaped like patties and then deep-fried or shallow fried. Unfortunately, classic fritters are not vegan, and because they're fried, they're relatively high in fats.
Corn patties rely on the binding and leavening action of eggs, as they don't include yeast or baking powder. Eggs also give flavour and richness to the dough.
So, to make our fritters egg-free, we used a combo of the following ingredients: chickpea flour for colour and structure, nutritional yeast for proteins and vitamins, olive oil for richness, and flaxseeds for binding. It worked perfectly!
Then, we added grated courgettes, chillies, and shallots to the patty dough, plus dill for a grassy and fresh note.
To ensure the fritters get nice and crispy and not soggy, make sure you remove excess water from the zucchini and corn.
To do so, pat the grated courgettes dry with kitchen paper and drain well the canned sweetcorn before mixing them all together.
Finally, all you have to do is spoon the fritter dough onto a baking tray and bake the patties for 20 minutes.
Alternatively, you can cook them in an air-fryer, but you'll have to do it in a few rounds as they probably won't fit all at once in the air fryer basket. We made hash browns with the air-fryer, and they were incredibly crispy!
A serving of 4 zucchini fritters has only 200 calories, meaning just 50 calories per patty. It also provides almost 10 grams of proteins and 20% RDI of fibres, plus healthy unsaturated fats from olive oil and flaxseeds.
So, make a big batch of these healthy fritters and pack any leftovers for the next's day lunch. They're also great to bring over to a picnic or party — everyone will love them!
And if you're looking for more healthy and delicious veggie fritters recipes, check out these vegan red cabbage fritters, egg-free carrot hash browns, and vegan enoki pancakes.
Ingredients
| | |
| --- | --- |
| Courgettes | 580 g |
| Gram Flour (or Rice Flour) | 70 g |
| Ground Flaxseeds | 2 tbsp |
| Nutritional Yeast | 2 tbsp |
| Water | 80 mL |
| Extra Virgin Olive Oil | 2 tbsp |
| Canned Sweetcorn | 170 g |
| Fresh Red Chillies | 4 |
| Shallot | 1 |
| Garlic Cloves | 2 |
| Dill Sprigs | 4 |
Step 1
Rinse the courgettes, trim off the ends, and shred them with a box grater (1).
Then, pat the zucchini shreds thoroughly with kitchen paper to remove excess moisture (2).
You can then leave them to drain on a colander while you prepare the other ingredients.
1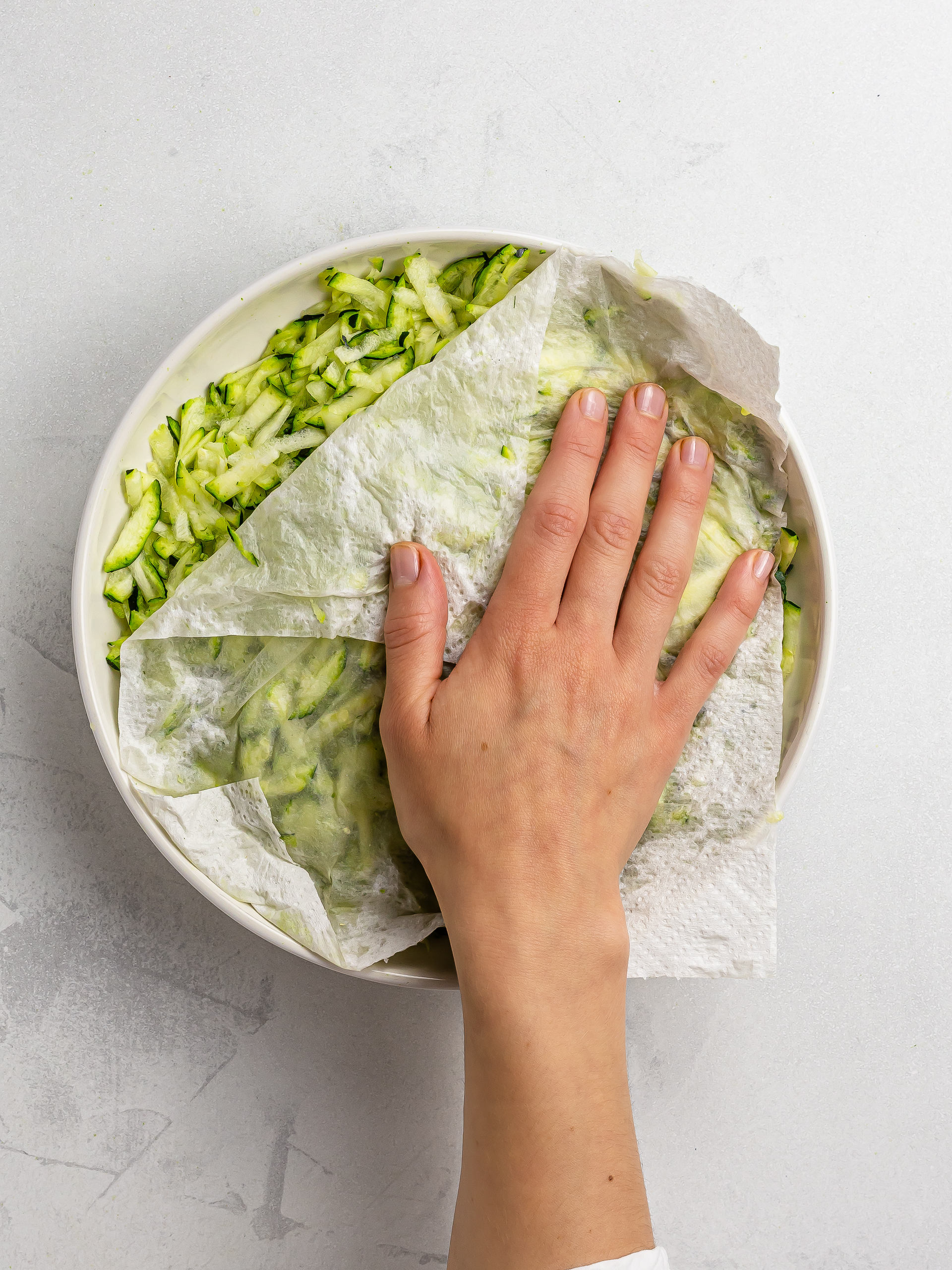 2
Step 2
Now, let's prepare the vegan egg replacement.
In a bowl, add chickpea flour, flaxseeds, nutritional yeast, water, and olive oil.
Season with salt and pepper to taste and mix all until combined.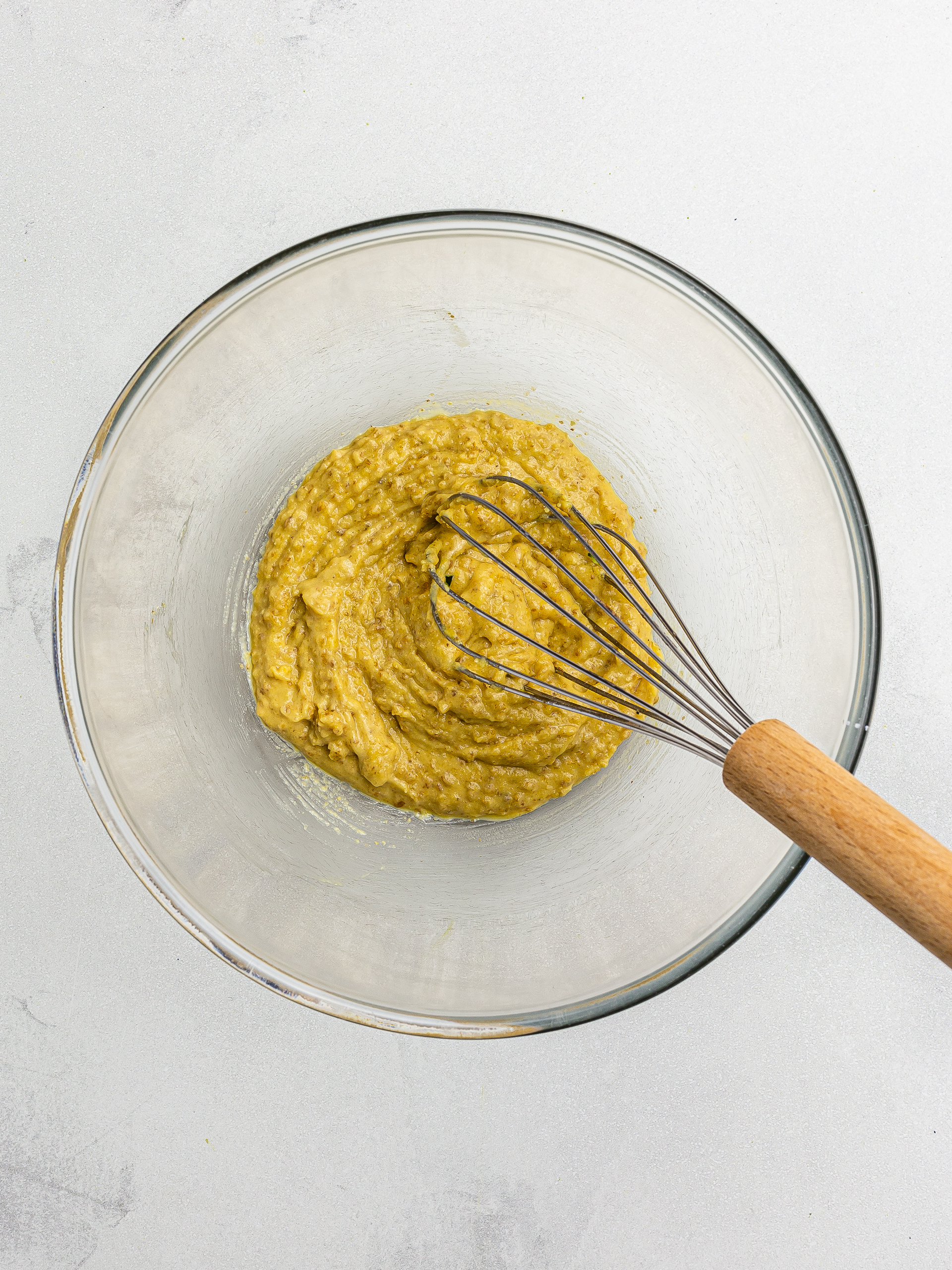 Step 3
Finely chop the red chillies, shallots, garlic, and fresh dill.
Then, add them to the bowl, followed by drained sweetcorn and grated courgettes.
Stir well until the veggies are coated with the vegan egg mixture.
If the fritter mix looks too watery, you can refrigerate it for 30 minutes or tip in a little bit of chickpea flour.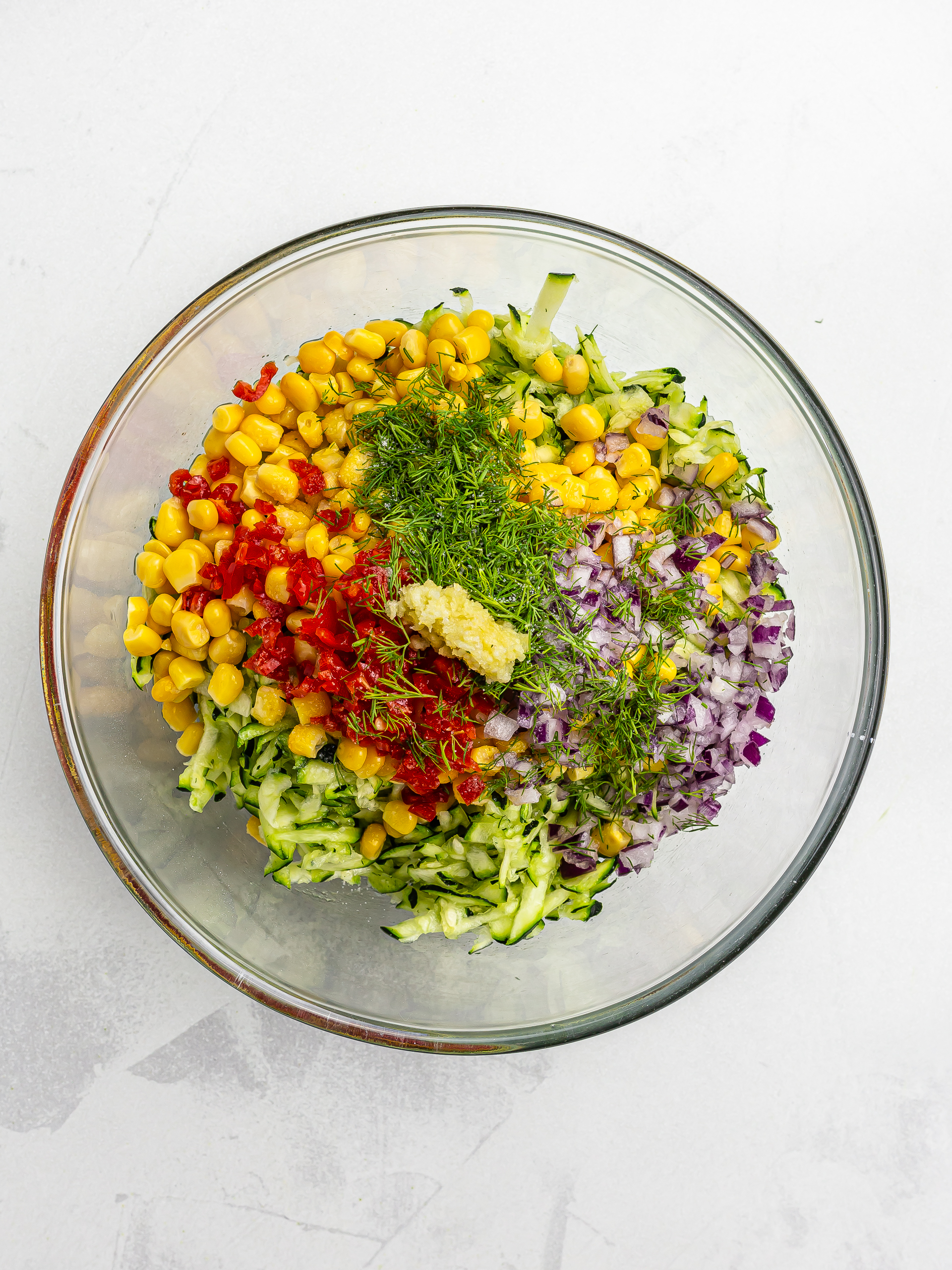 Step 4
Set the oven to 220°C (430°F) and line a baking tray with parchment paper.
To shape the fritters, take a heaped spoonful of the zucchini mixture and place it onto the baking paper.
Then, spread it out with the back of the spoon into a thin, round patty. The thinner you make it, the crispier it will get.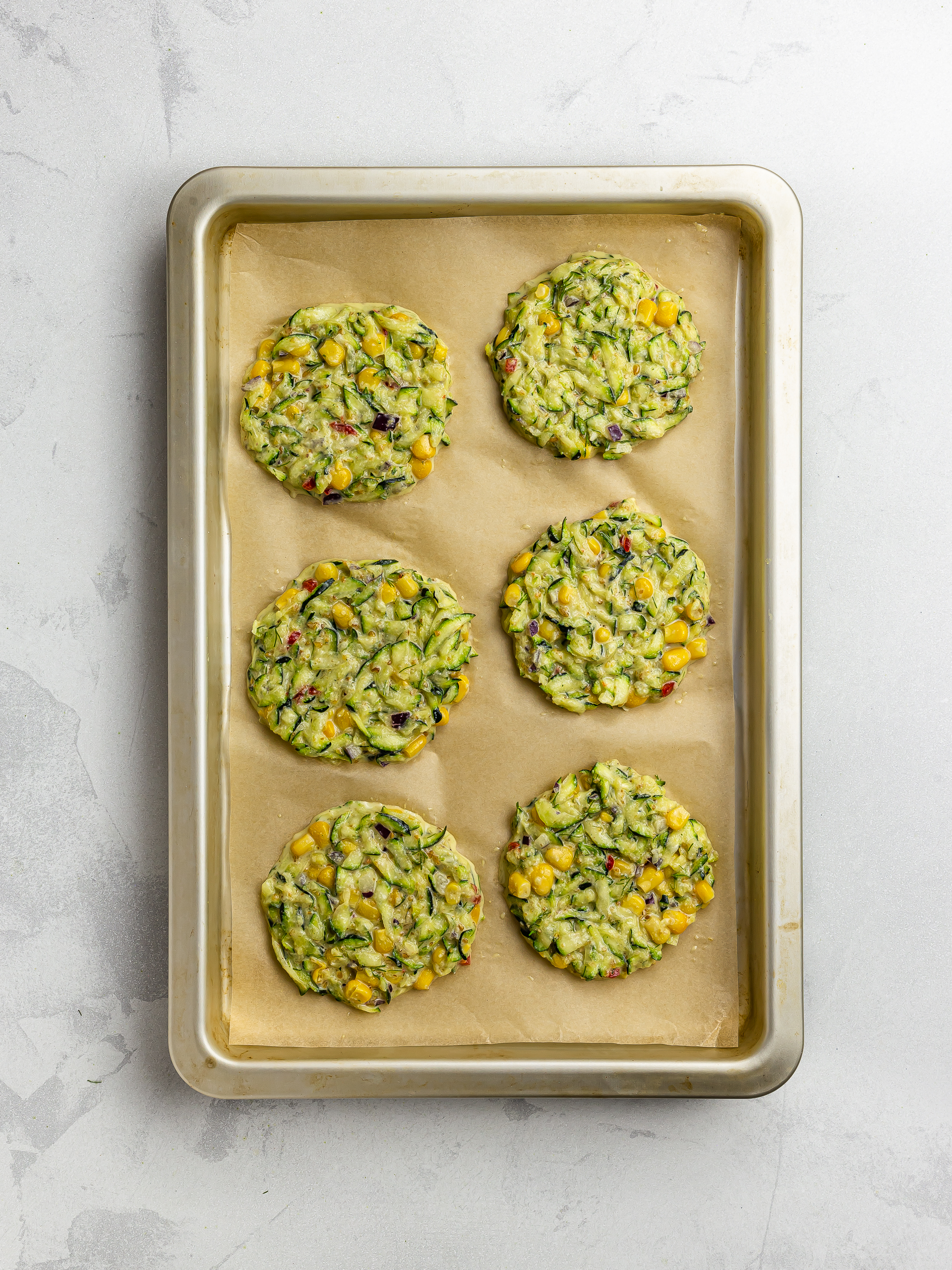 Step 5
Finally, bake the fritters for 20 minutes, flip them and then cook for 5 more minutes until browned.
If you're baking them on multiple trays, swap them halfway through cooking time to get even browning.
Once ready, transfer the veggie patties onto a rack and enjoy them warm or cold.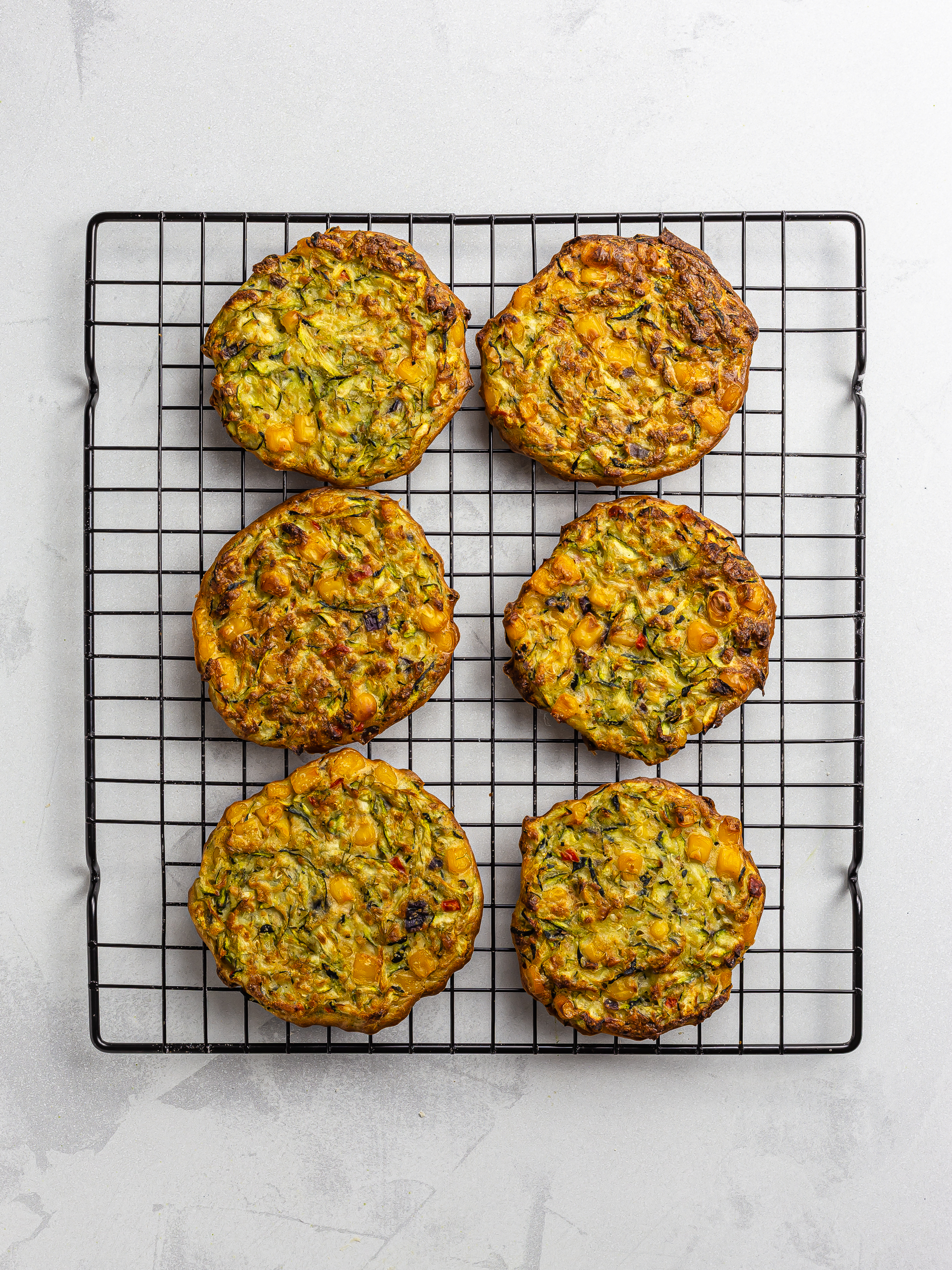 Tips
Enjoy these sweetcorn fritters with herbed soy yogurt, guacamole, or homemade beet hummus.