If you're looking for a fun and tasty recipe idea with red cabbage, you're in the right place. We've got the perfect recipe for you: vegan red cabbage fritters with apple and fennel. These colourful patties are full of flavour and incredibly healthy as they're baked instead of fried. Learn how to make them below!
Fritters are thin, savoury pancakes that you can prepare with pretty much any vegetable you like and even legumes. They're perfect to use up those leftovers you're keeping in the fridge.
For this recipe, we paired crunchy red cabbage with sweet apples, aromatic fennel seeds, and spicy mustard. It's an awesome combo worth trying!
What classic fritters have in common, though, is the batter: a combo of eggs, flour, and milk. They're beaten into a runny mixture that holds all the vegetables together when cooking.
We found a clever replacement for the classic batter that is dairy-free, egg-free, vegan, and gluten-free. And it's practically nutritionally equivalent!
What did we do? We used chickpea flour, chia seeds, nutritional yeast, and extra virgin olive oil.
These ingredients give us a creamy yellow batter that works exactly like eggs, holding our fritter veggies together. And it provides proteins, vitamins, minerals and healthy fats. It's a win-win!
Once you have the cabbage mix ready, all you have to do is shape the fritters and bake them in the oven until crispy outside and soft inside.
Skipping the traditional frying means you'll cut back on fats, and it will also take much less time and effort.
Serve these healthy cabbage pancakes on a bed of salad and with any dip you like. We love them with our vegan cashew mayo or spicy plum chutney for extra flavour.
Ok, it's time to get started and prepare these beauties!
Oh, and if you're in the mood for more veggie fritters ideas, check out these curried carrot hash browns, needle mushroom pancakes, or chickpea flour courgette fritters — all delicious!
Ingredients
Batter
Chickpea Flour (or rice flour)

65 g

Chia Seeds
11/2 tbsp
Nutritional Yeast
11/2 tbsp
Dijon Mustard

1 tsp

Fennel Seeds

1 tsp

Extra Virgin Olive Oil
11/2 tbsp
Others
Red Cabbage

400 g

Large Apple

1

Small Juiced Lemon

1/2
Step 1
Finely shred the red cabbage and apples using a box grater and then toss them with lemon juice in a bowl.
If you don't have a grater, you can pulse the ingredients in a food processor in short bursts. You'll get a mix of larger chunks and very small bits, but it will still work for this recipe.
We recommend keeping the apples with the skin on for extra fibres, but you can also peel them if you prefer.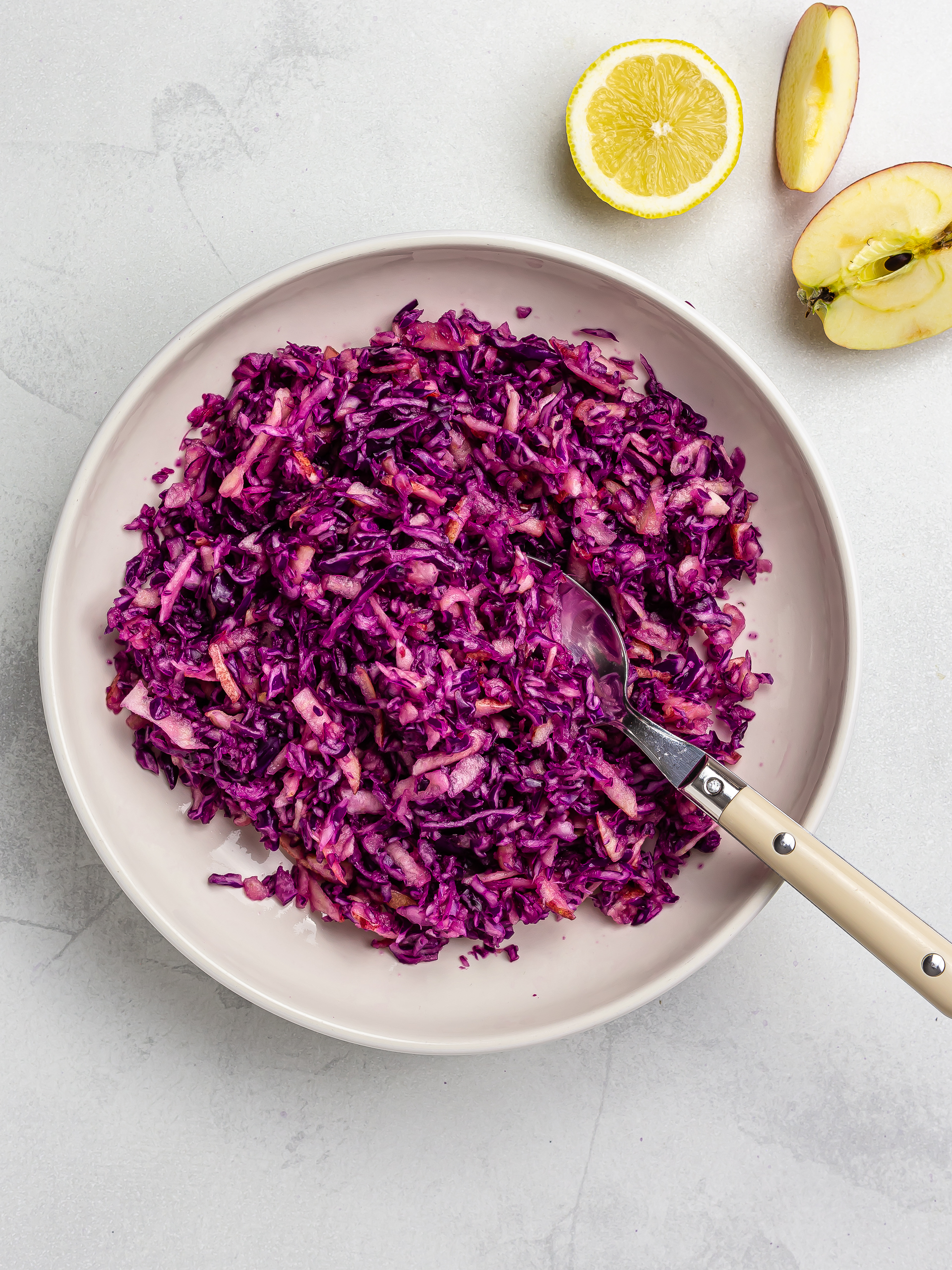 Step 2
Now, let's prepare the vegan egg replacement for our fritters.
Add chickpea flour, chia seeds, nutritional yeast, mustard, fennel seeds, and olive oil to a bowl.
Season with salt and pepper to taste and stir all into a crumbly mix.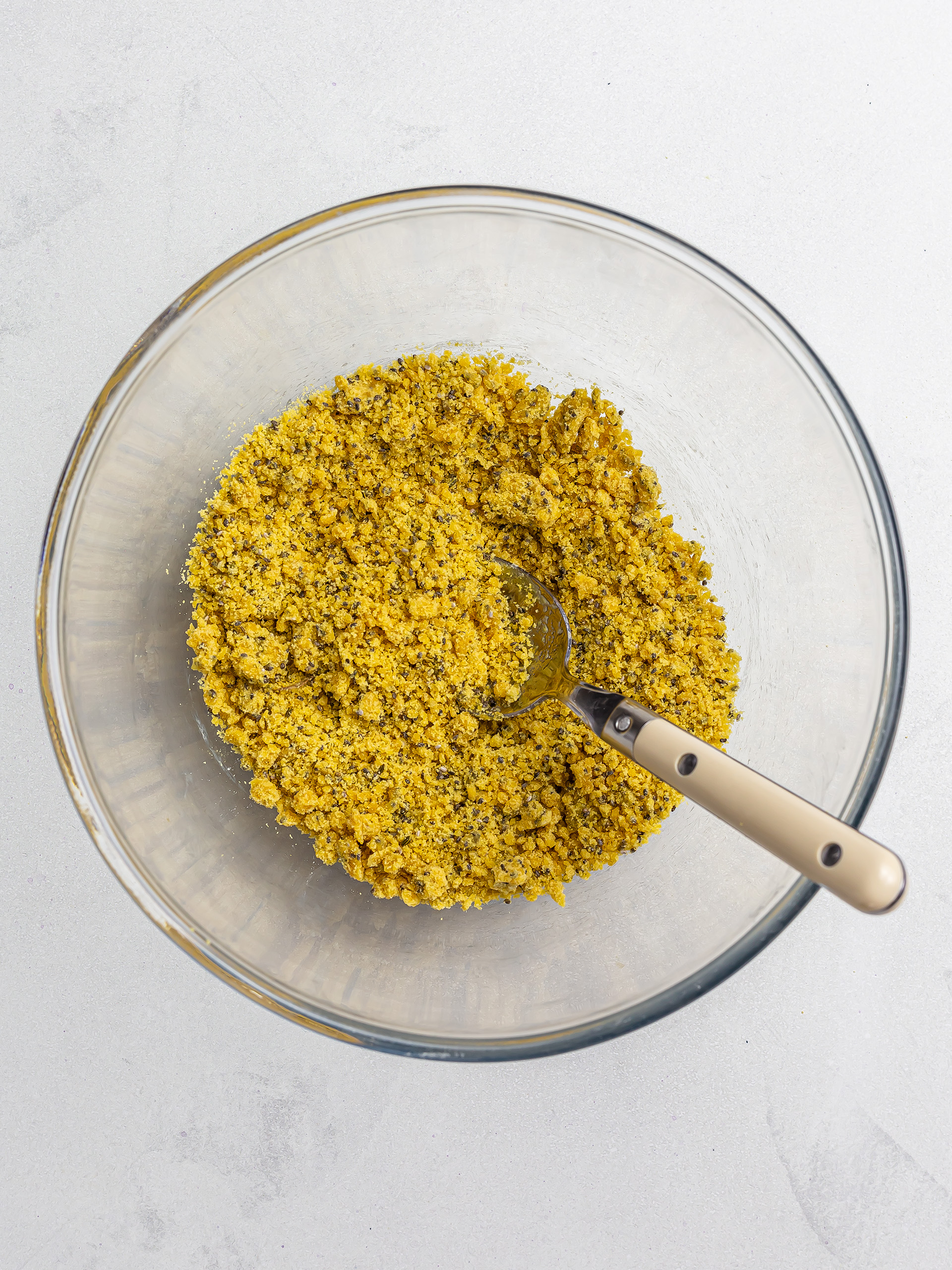 Step 3
Next, incorporate the shredded cabbage and apple into the prepared batter.
Wrap the bowl with cling film and let the fritter mixture set in the fridge for 15 minutes while you warm up the oven.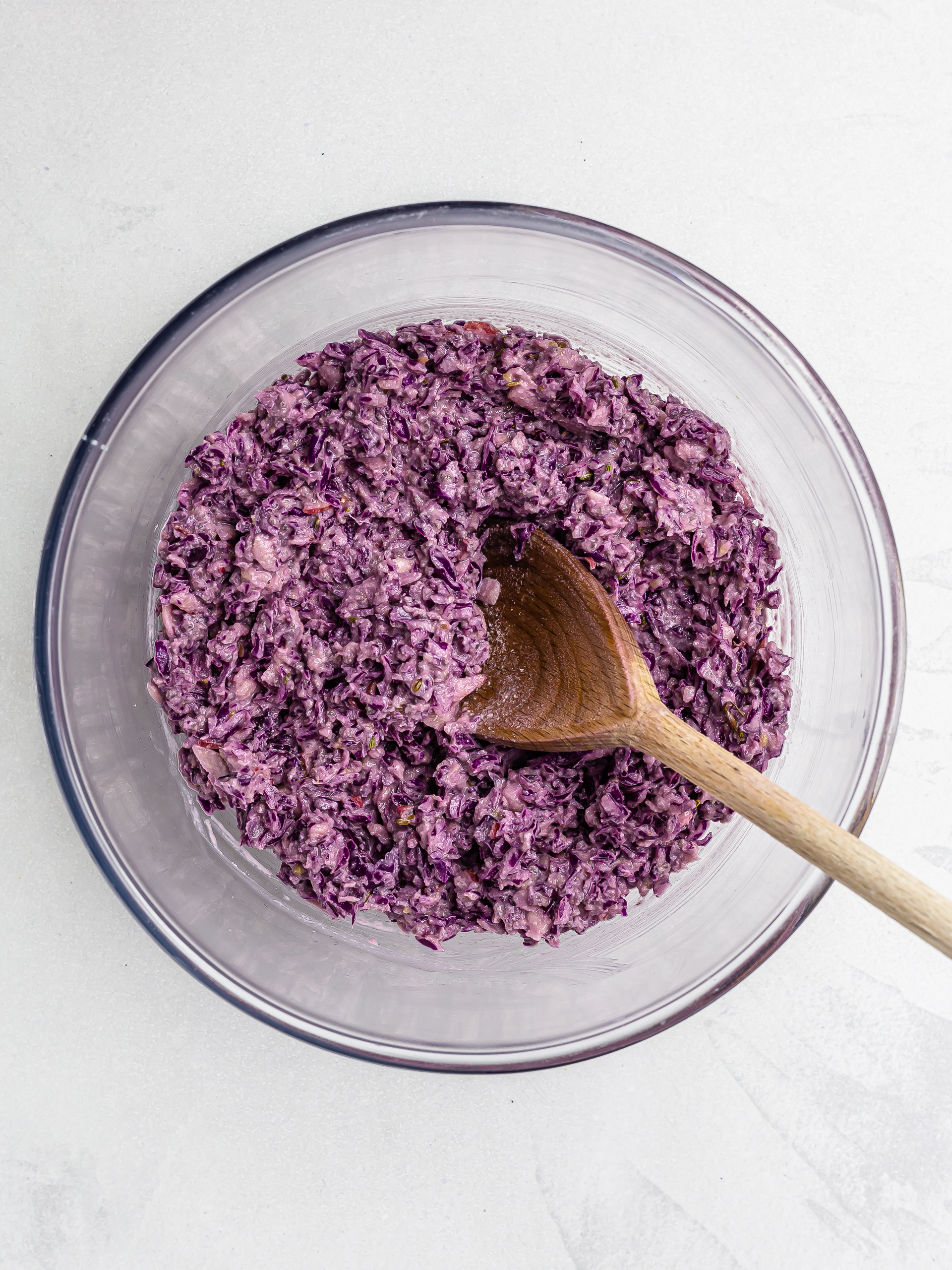 Step 4
Preheat the oven to 220°C (430°F) and line a baking tray with parchment paper.
To shape the fritters, place a heaped spoonful of the cabbage mixture onto the prepared tray.
Then, press it down with the back of the spoon to form a round patty, about 1/2 cm (1/5 inch) thick.
The thinner you make the fritters, the crispier they will get.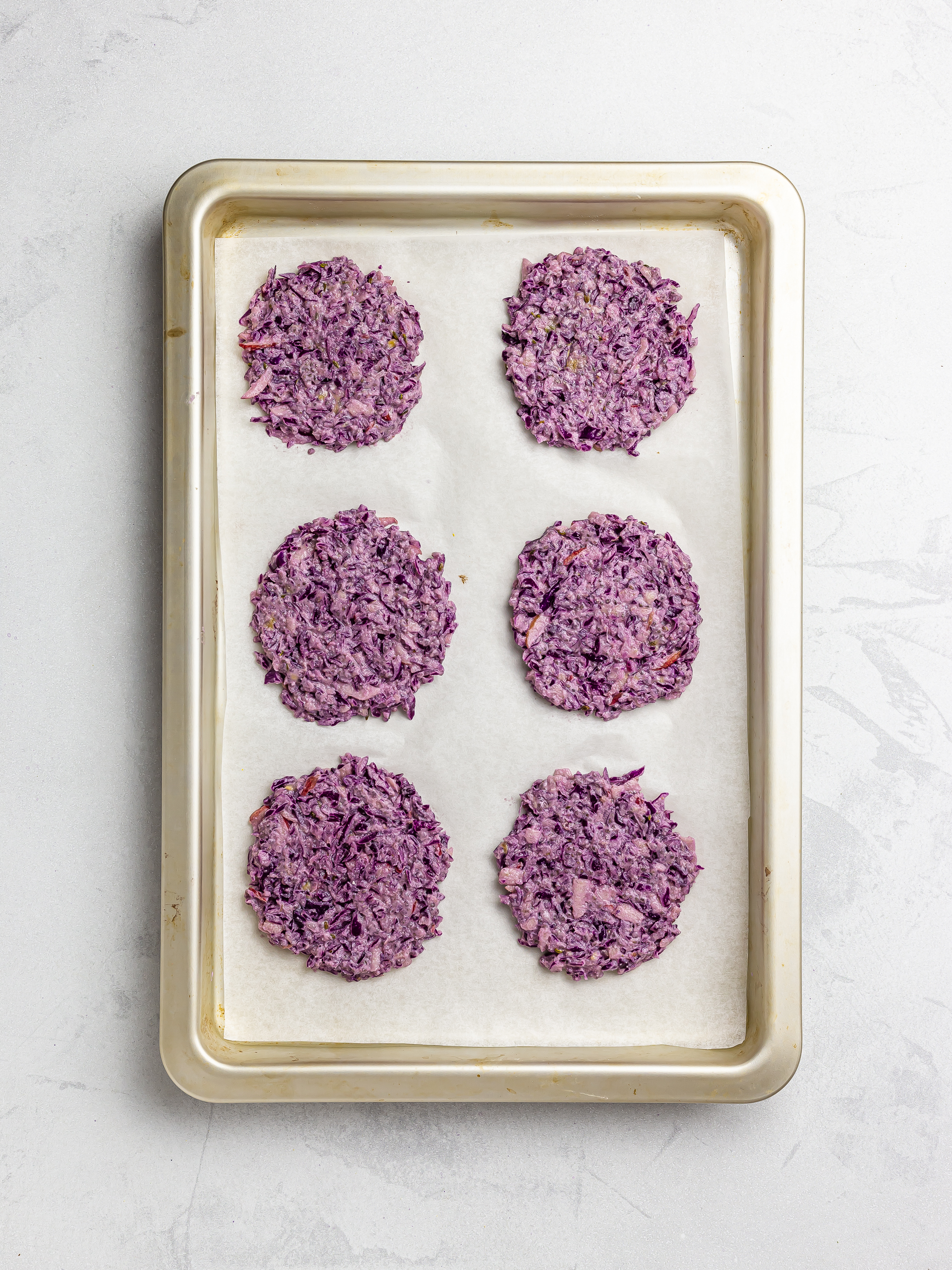 Step 5
Before baking them, you can brush the cabbage patties with a little vegetable oil and sprinkle them with extra fennel seeds.
Finally, bake them for 20-25 minutes or until they're browned and crispy outside.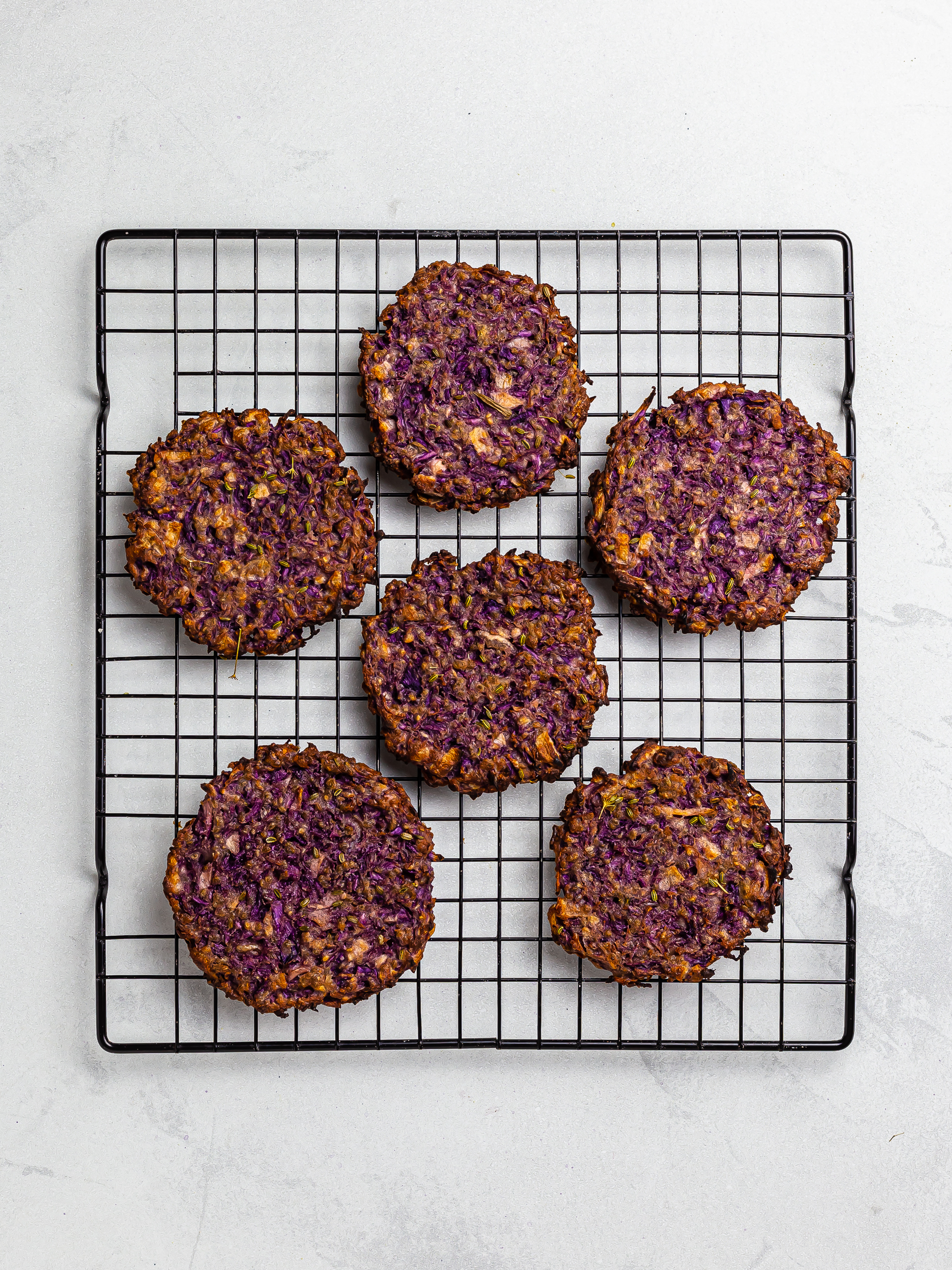 Tips
You can add canned sweetcorn or chickpeas to the patties mix for extra flavour and nutrients.

If you can't find fennel seeds, you can swap them with caraway seeds (which have a similar liquorice taste) or use cumin seeds instead.