Deliciously spicy and saucy, this Ghanaian spinach stew is an easy vegetable side dish from West Africa that pairs wonderfully with rice, yams and plantains.
This stewed spinach recipe builds on a base of fragrant garlic, onion, and ginger sauteed with tomato paste and sweet chillies, like habaneros or scotch bonnets.
Fresh spinach are added to this spicy sauce with juicy plum tomatoes and smoked paprika and stewed until tender.
In our take on the classic recipe, we added the spinach to the very end and cooked them just until wilted but still green to retain more nutrients and antioxidants.
But you can also stew the spinach for longer for a thicker, creamier result as it's done in the traditional African recipe.
What we love about this Ghanaian spinach stew is that it makes a simple way to prepare and eat more spinach, leafy greens essential for good health!
And, once ready, we recommend you savour this spicy spinach stew the African way with plantain chips, pounded yam, and beans. Find more pairing ideas below!
Frequently Asked Questions
Which ingredients are in Ghanaian spinach stew?

This Ghana vegetable stew is prepared with simple ingredients including fresh spinach, plum tomatoes, and a spicy paste made with ginger, garlic, onions and habanero chillies.
Is African spinach stew vegan?

Spinach stew is a popular dish in Ghana, Nigeria and Cameroon and comes in different variations.

Some recipes only have spinach and tomatoes, while others also include dried shrimp or various cuts of meat.

Our stewed spinach recipe is fully vegan, and you can top it up with a can of beans like chickpeas, black-eyed peas or red kidney beans for extra proteins.
What I can pair African spinach stew with?

Ghanaian spinach tomato stew is often served with:

Rice, brown rice or steamed long-grain white rice

Plantains, like plantain chips, baked plantains, or plantain fufu

Yams, like pounded yam 'buns'

Kenkey, fermented ground white corn

Nigerian Jollof rice or Kenyan pilau seasoned rice

Fresh egg salad, like this quick African salad recipe
Ingredients
| | |
| --- | --- |
| Vegetable Oil | 1 tbsp |
| Garlic Cloves | 4 |
| Fresh Ginger Root, grated | 1 tbsp |
| Medium Red Onion | 1 |
| Scotch Bonnets or Habanero Chillies | 2 |
| Tomato Paste | 2 tbsp |
| Smoked Paprika | 2 tsp |
| Canned Plum Tomatoes | 400 g |
| Fresh Spinach | 400 g |
Step 1
Heat the oil in a pan and add minced garlic, grated ginger, thinly sliced onions, and finely chopped chillies.
For less spiciness, remove the seeds and ribs of the chillies; for extra spiciness double up the chillies.
Sizzle the ingredients for 2-3 minutes, then stir in the tomato paste and cook for 1 more minute.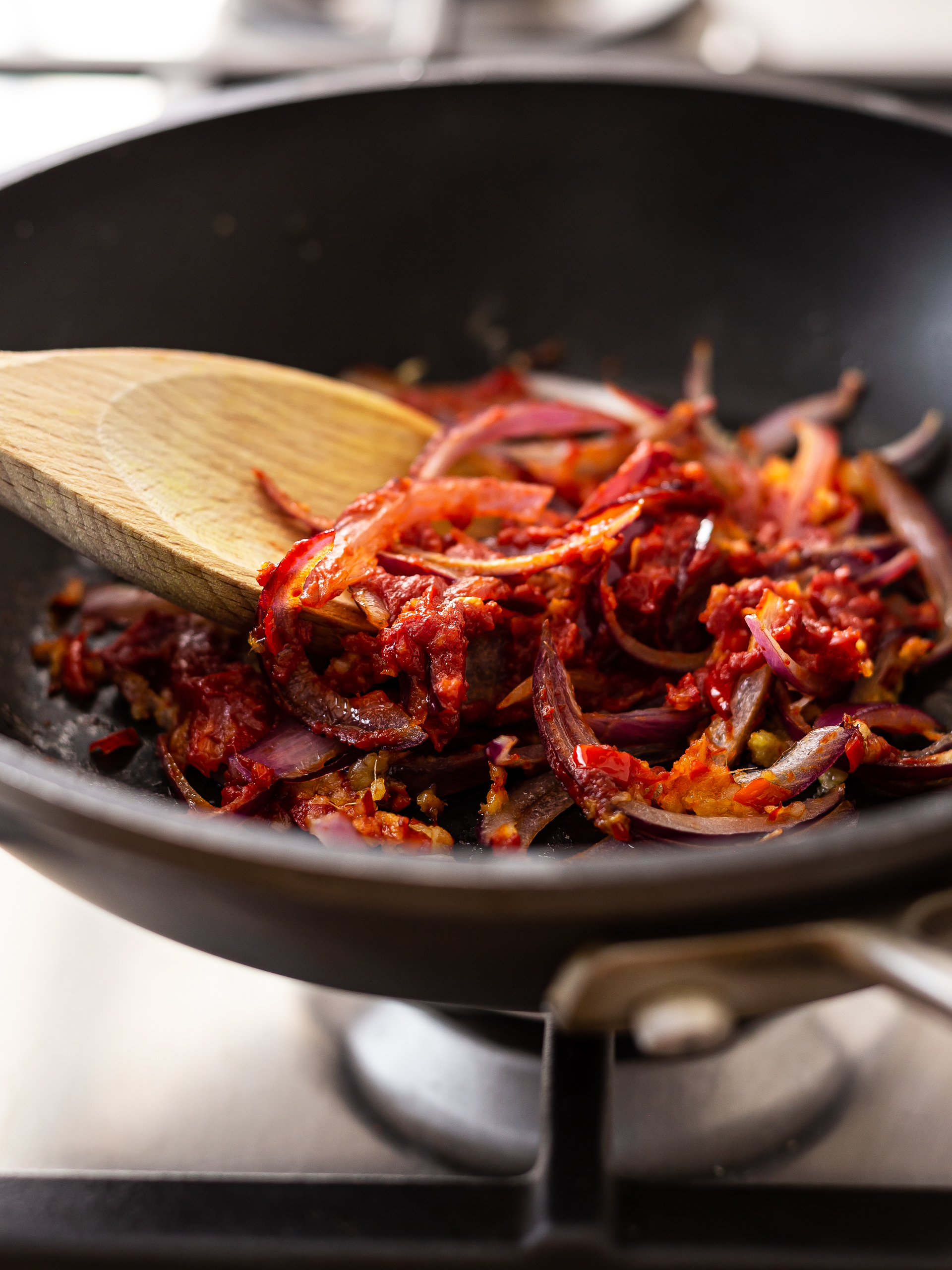 Step 2
Tip in the smoked paprika and chopped plum tomatoes along with their canning juices.
Season with salt to taste, cover the pan, and cook the spicy tomato sauce for 10-15 minutes or until slightly reduced and thicker.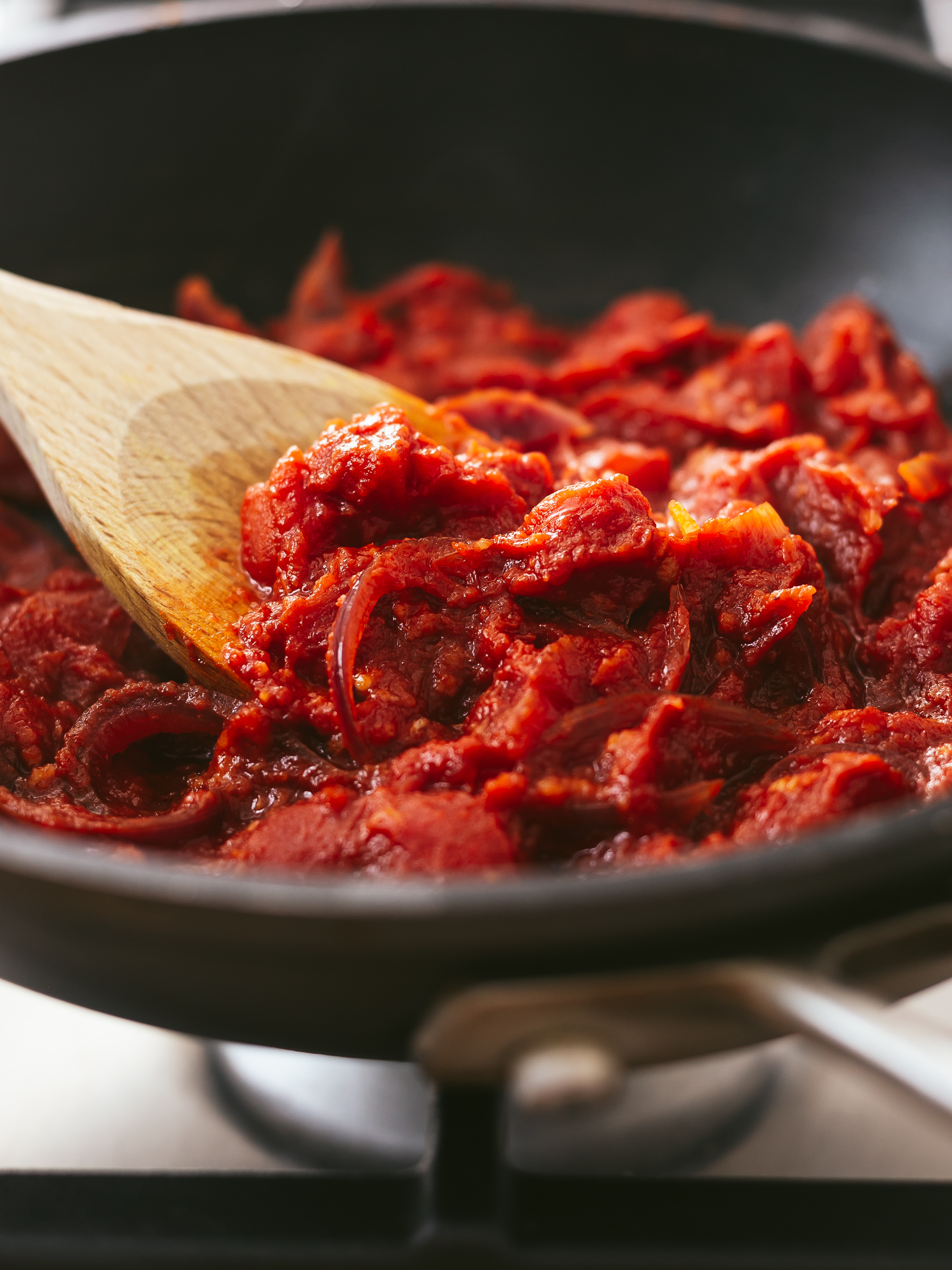 Step 3
Roughly chop the fresh spinach and add them to the spicy tomato sauce (1).
Cover and cook the stew until the spinach are wilted but still nicely green, about 2-4 minutes (2).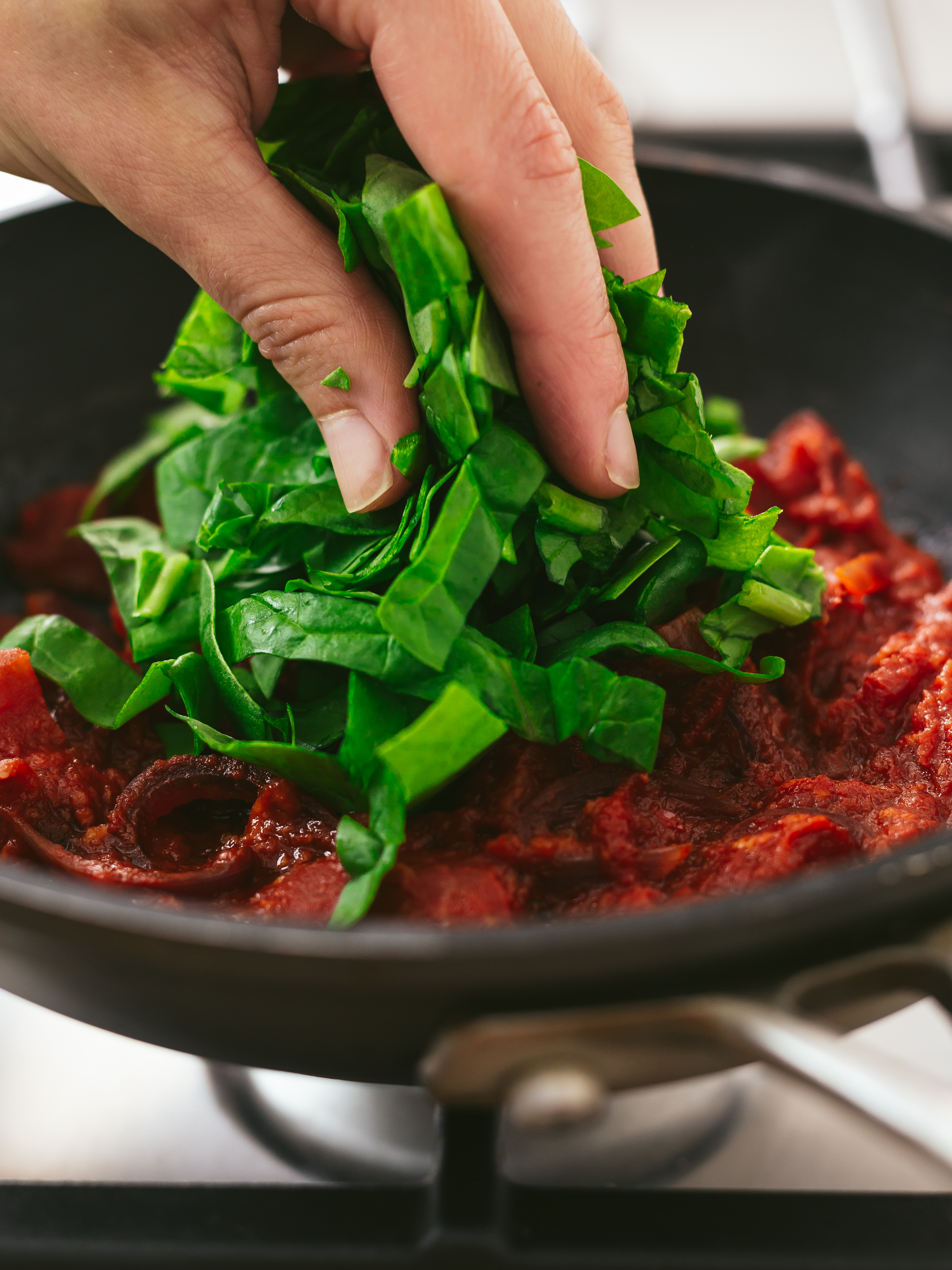 1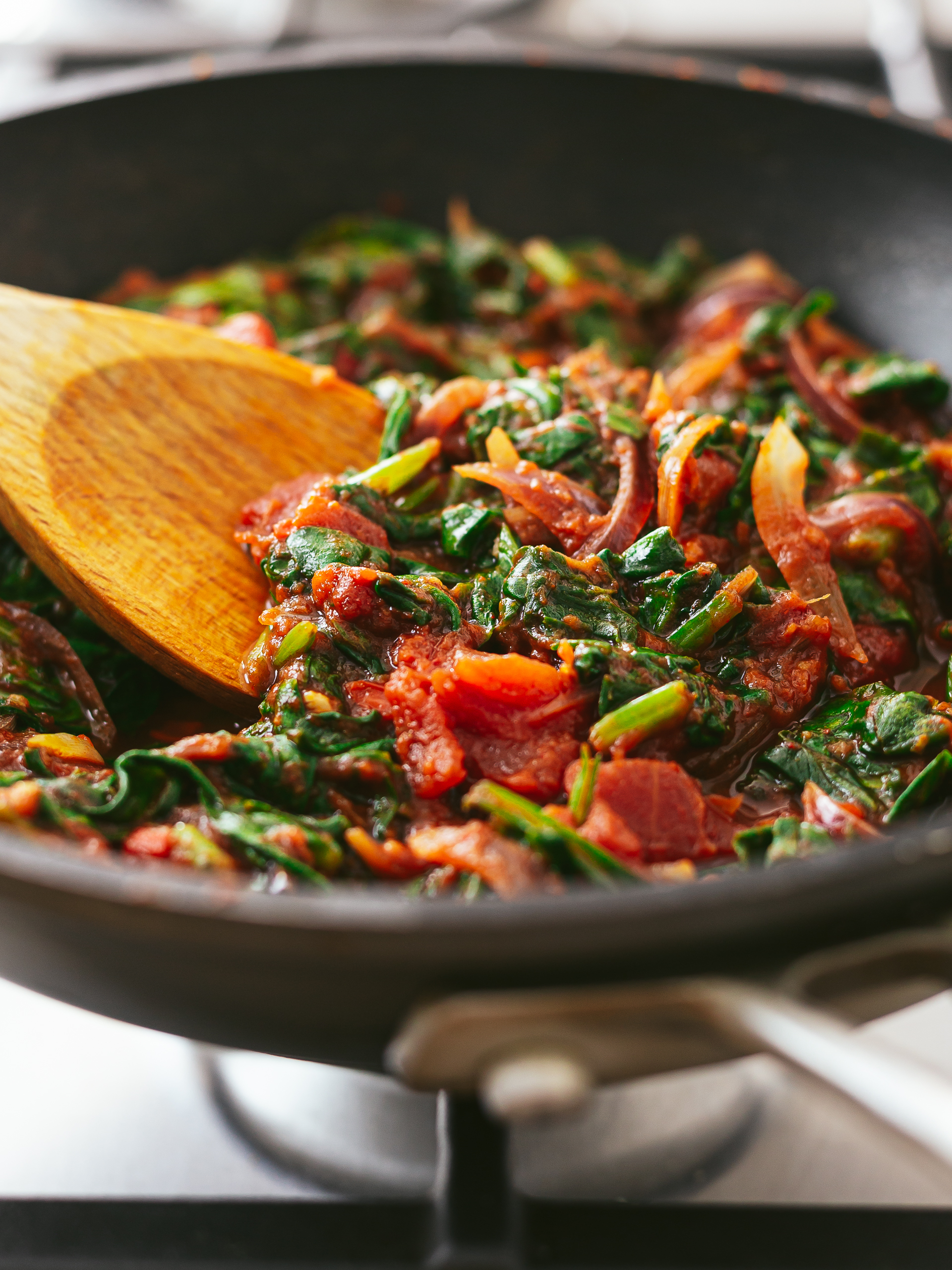 2
Step 4
Your Ghanaian spinach tomato stew is ready!
Serve it warm alongside steamed long-grain rice or our Jollof rice with black-eyed peas, plus baked plantains or these air-fried plantain chips.
You can garnish it with freshly chopped coriander and ground pumpkin seeds if you like.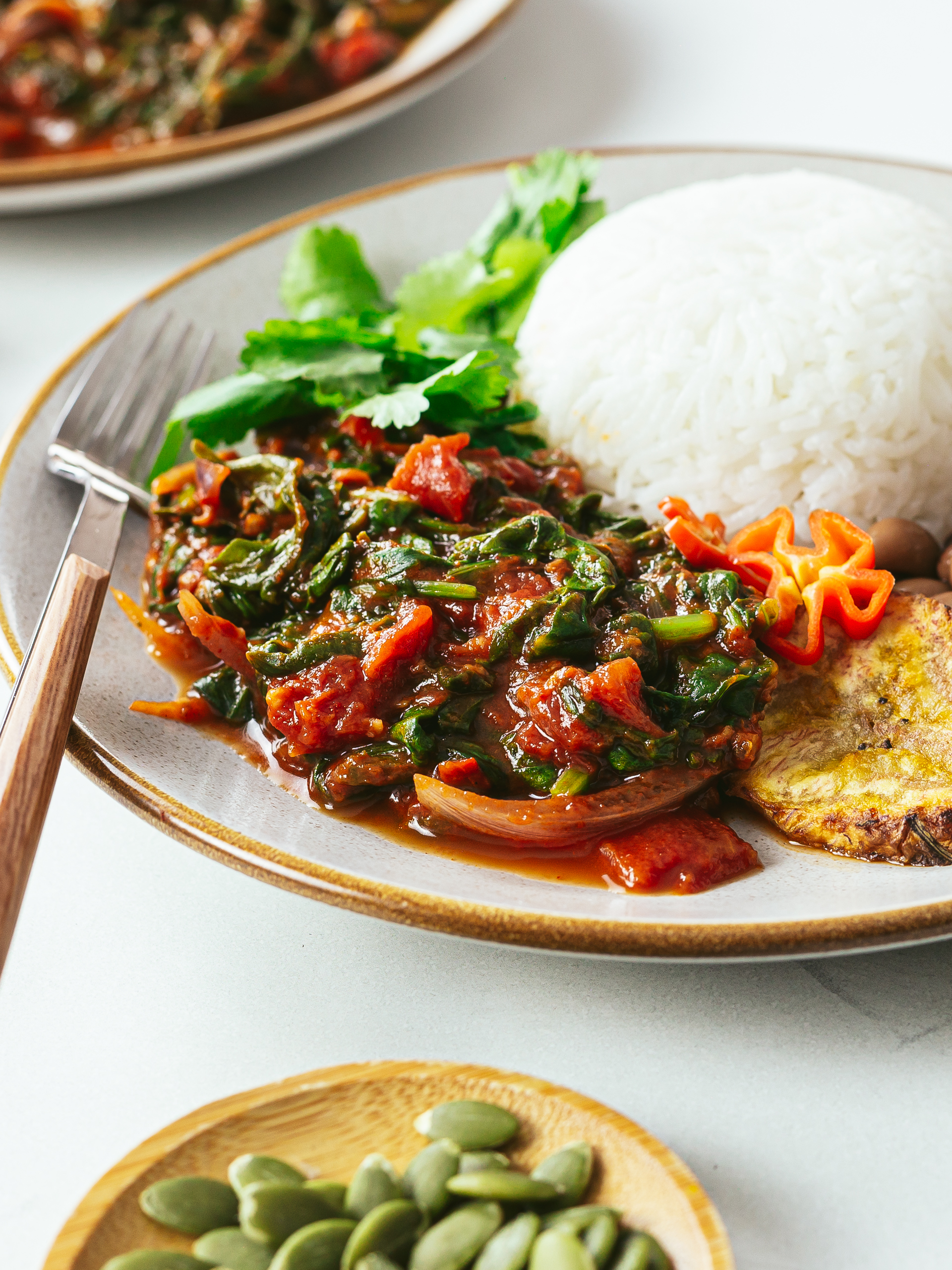 Tips
You can blend garlic, ginger, onion, chillies and tomato puree into a paste in a food processor and then heat this spicy chilli paste in the pan with oil.

Dense and juicy plum tomatoes work best for this African stew: you find them peeled and canned in tomato juice. But you can also use fresh plum tomatoes if you find them.

The traditional recipe calls for spicy and fruity habanero chillies. But you can also use scotch bonnets, which belong to the same chilli family but taste slightly sweeter. If you can't handle the heat, another option is to go with red bell peppers instead.

Other African spices you can use in this tomato spinach stew include nutmeg, cumin, and thyme.

Many African stews with greens include ground egusi seeds, which are added to the sauce and cooked to thicken it. Give them a try!

You can make this stewed spinach dish with frozen spinach instead of fresh. Just microwave them for a few minutes and strain excess water before adding them to the stew.