Today, we'll prepare a lively vegetarian salad from Nigeria which features lots of colourful vegetables, nutritious eggs and beans, and a rich mayo-based dressing.
The ingredients for Nigerian salad can vary from recipe to recipe, but this popular African side dish almost always includes a base of shredded cabbage, lettuce, carrots, and cucumber.
To this vegetable salad mix, you then add some canned beans of your choice: red kidney beans, black-eyed beans, green peas, or saucy Heinz baked beans are some of the most popular.
Some versions of Nigerian salad also include cooked pasta, boiled potatoes, or corn for a filling, carb-rich addition.
In our recipe, we opted for a combo of black-eyed beans, navy beans, and canned sweetcorn.
And finally, no traditional Nigerian salad is complete without sliced boiled eggs as a topping and sweet, tangy salad cream as a dressing.
Ready in under 20 minutes, this African vegetable salad is the perfect recipe to feed a crowd or batch for meal prepping.
And it's so nutrient-dense and filling, it practically makes a hearty meal by itself!
But, as it's often done in Nigeria, you can serve it as a side to Jollof rice—or try this pilau rice from Kenya!
Or you can pair it with one of our other African nibbles and sides like these air-fried plantain chips, egg-filled rolls, spinach tomato stew, and chin chin snacks. All delicious!
And if you're looking for more salad ideas, check out this shredded jackfruit mayo salad or mayo beet and potato salad next!
Frequently Asked Questions
Which are the ingredients for Nigerian salad?

Classic Nigerian salad ingredients include fresh vegetables, canned beans, corn, and boiled eggs, plus mayo-based salad cream as a dressing.
How do you make Nigerian salad?

Nigerian salad is made with tomatoes, cucumber, carrots, lettuce and cabbage mixed in a bowl with canned beans and corn, then topped with boiled egg slices and dressed in salad cream.
Do you need baked beans for Nigerian salad?

Nigerian salad often includes Heinz baked beans, but you can also use other canned beans like red kidney beans, navy beans or black-eyed beans as an alternative.
Does Nigerian salad have pasta in it?

Cooked pasta like macaroni is a common addition to Nigerian salad, but it's optional.

You can use boiled potatoes instead or add a can of sweetcorn, as we did in this recipe.
What's Nigerian salad cream dressing?

Salad cream used in Nigerian salad is a rich dressing similar to mayonnaise but sweeter and tangier as it includes sugar and mustard besides egg yolks, oil, and vinegar.

Created by Heinz, salad cream dressing is actually of British origin, and it's a common sauce for salads and sandwiches.

You can prepare homemade salad cream by mixing:

3 tablespoons of mayo

1 teaspoon of mustard

1/2 tablespoon of icing sugar

1/2 tablespoon of white vinegar
Ingredients
| | |
| --- | --- |
| Medium Eggs | 4 |
| White Cabbage | 150 g |
| Lettuce | 150 g |
| Carrots | 200 g |
| Cucumber | 200 g |
| Canned Sweet Corn (drained) | 200 g |
| Canned Black Eyed/Navy Beans (drained) | 250 g |
| Salad Cream | 4 tbsp |
| Ground Nutmeg | 0 to taste |
Step 1
Add fridge-cold eggs to a pot of boiling water, gently lowering them in with a skimmer.
Cook the eggs for 8 minutes until soft-boiled, keeping the water to a simmer (1).
Meanwhile, prepare an ice bath by adding cold water and ice cubes to a bowl.
Once the eggs are cooked, immediately place them into the ice bath to prevent further cooking and let them cool down for 10 minutes.
Then, peel the eggs starting from the base (2) and keep them in the fridge to set.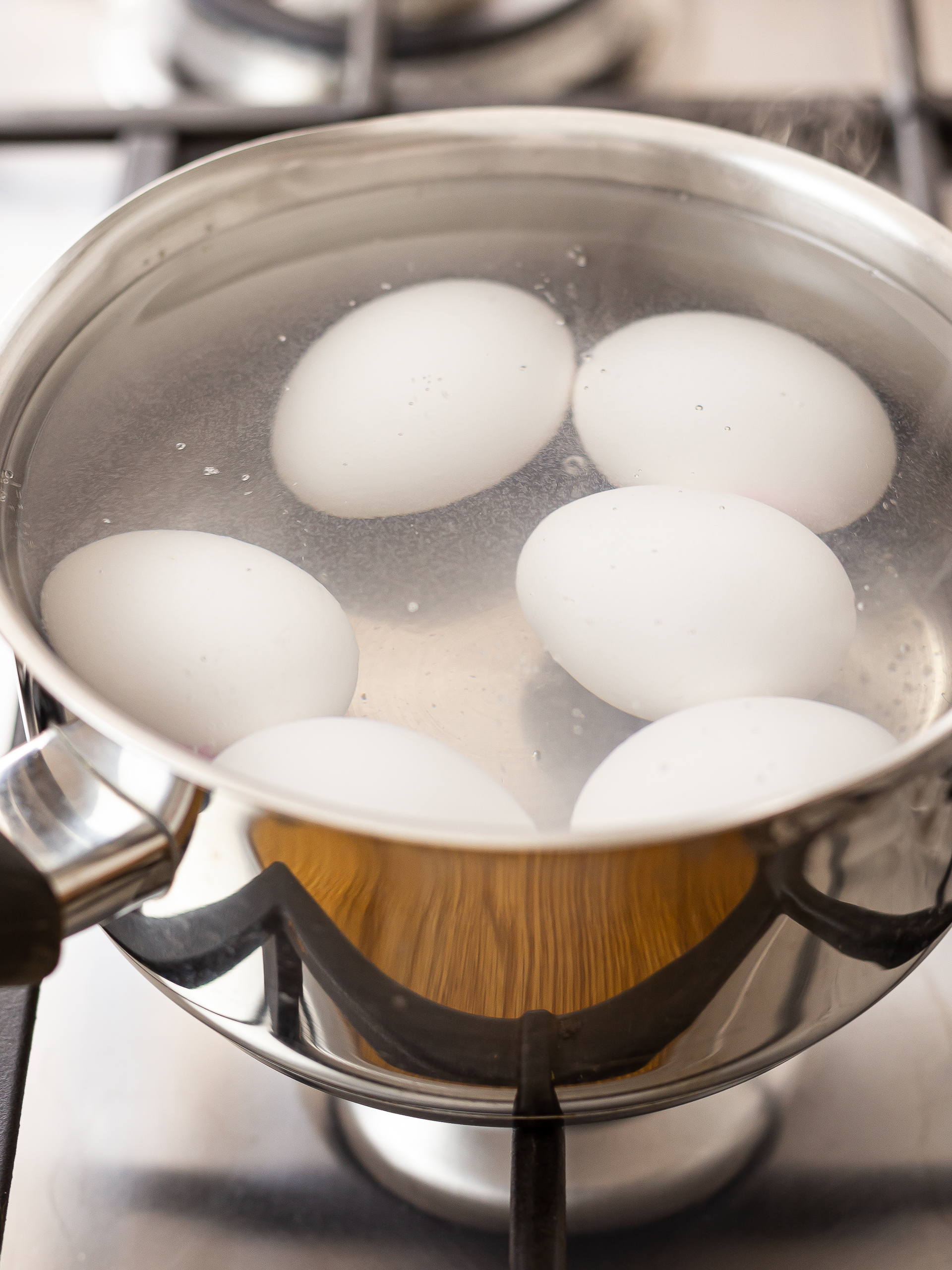 1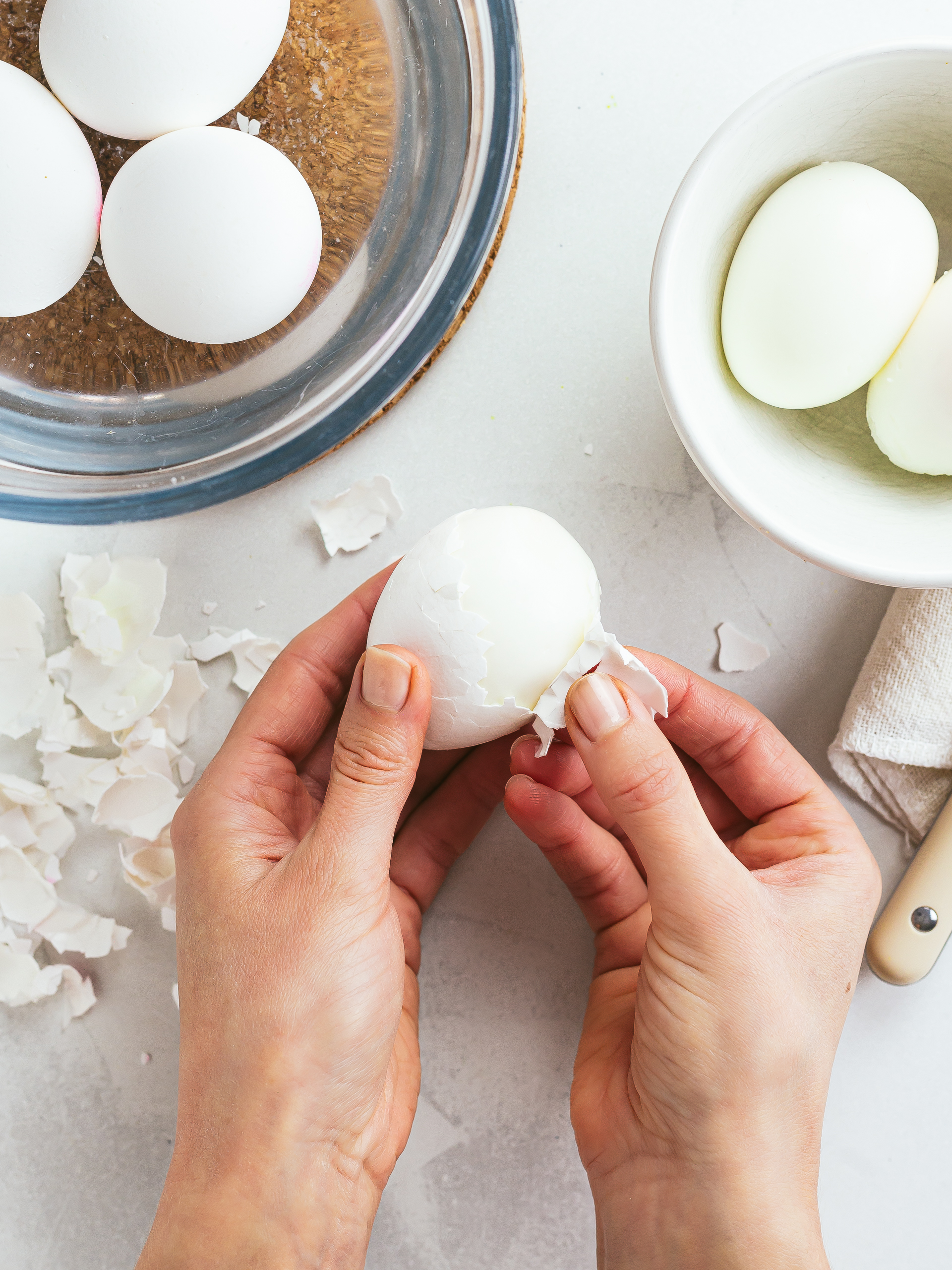 2
Step 2
Next, trim off the hard stems from the cabbage and lettuce leaves and thinly slice them.
Peel and shred the carrots.
Halve the cucumber lengthwise, scoop out the watery core and seeds with a teaspoon, and then slice into thin half-moons.
Drain and rinse the canned sweetcorn and beans.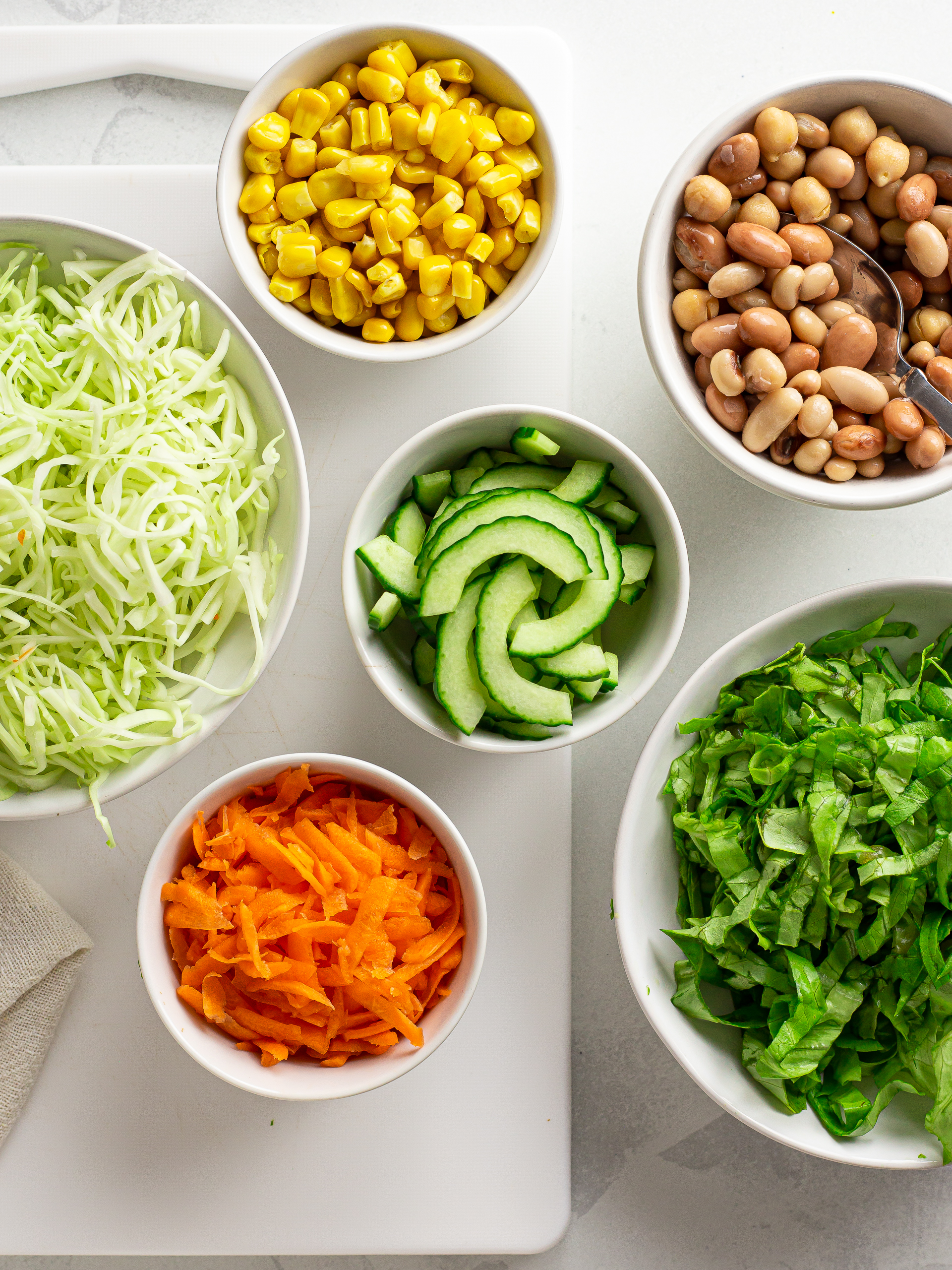 Step 3
Add the prepared vegetables, beans and corn to a serving bowl, drizzle all with salad cream and top with the eggs, cut into quarters.
Finally, season with salt and nutmeg to taste.
Your Nigerian vegetable salad is ready!
Enjoy it as is, or toss it all together to coat the vegetables with the cream dressing and keep the salad in the fridge for 30 min - 1 hour to soften and soak in the flavours.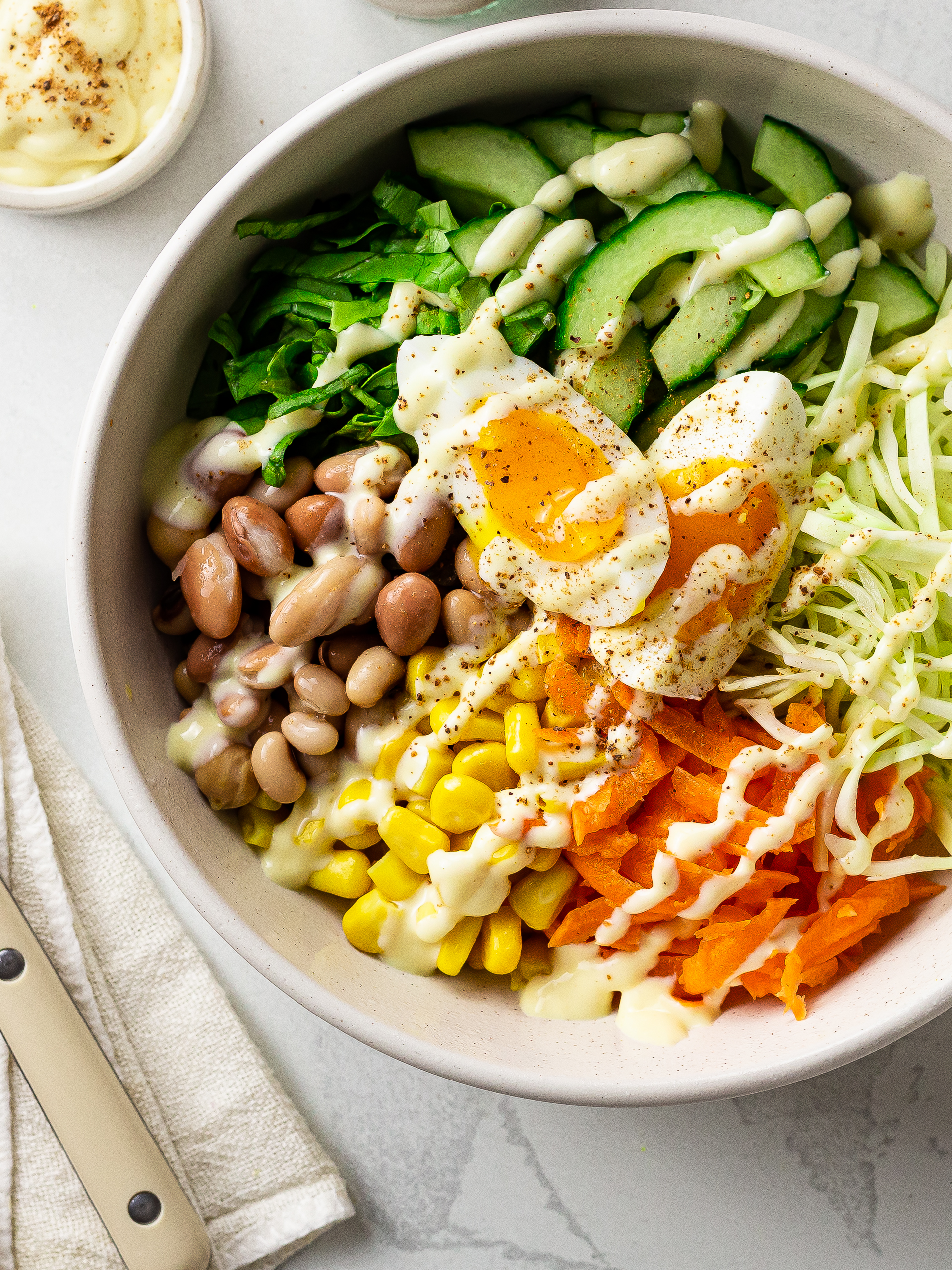 Tips
Other ingredients you can add to this Nigerian salad include boiled potatoes, boiled/canned green peas, chopped fresh tomatoes and red peppers. You can also top it up with crunchy plantain croutons.

For a plant-based alternative, you can omit the boiled eggs or replace them with firm tofu cubes. As for the dressing, you can use vegan, oil-based salad cream or prepare vegan mayo with cashews.

Once ready, store this African vegetable salad for up to 2 days in the fridge, covered with cling film or packed into an airtight container.