Are you tired of the same old lemonade recipe? Then, we have a tasty and healthier alternative for you: ginger thyme lemonade with honey.
You might think thyme is only for preparing savoury dishes like soups and stews, but its floral and citrusy notes pair wonderfully with sweet recipes too.
To prepare this lemonade, we have infused fresh lemon juice with a delicious syrup made with ginger thyme tea and raw honey. To finish, we have added a splash of almond extract to balance the flavour with a sweet, nutty aroma.
The result is an incredibly fresh lemonade that bursts with tangy, peppery, and spicy notes. It's absolutely perfect for cooling you down on those hot days or for preparing a flavoured drink for a summer party, bbq, or outdoor lunch.
Keep reading to learn more about the amazing properties of this refreshing lemon drink, or jump straight to the recipe where we'll show you how to make this lemonade at home from scratch.
Ginger root is a true superfood, with health-boosting properties that span from easing nausea and indigestion to help fighting inflammation, cancer, and age-related diseases. The same chemical responsible for its pungent taste - gingerol - is also the one that exerts these healing qualities [1].
Instead of just adding sliced ginger to the lemonade, we have steeped the fresh root with thyme sprigs into a tea. This way, more beneficial compounds can be released, boosting your glass of lemonade.
Lemon juice is rich in vitamin C, antioxidants, and potassium. Potassium is a precious mineral that helps balance electrolytes levels in your system, keeping your blood pressure in check.
To make to lemon water refined-sugar-free, we have swapped white sugar with raw honey. This golden syrup is a real powerhouse of plant-based nutrients and antioxidants [2].
So sipping this ginger lemonade won't just quench your thirst in a flash, but also provide many health benefits.
Frequently Asked Questions
What can I use instead of honey?

We prepared this lemon drink with no sugar, just a few tablespoons of raw honey. However, you can substitute it with maple syrup to make this recipe suitable for vegans.

Maple also has a lower glycemic load (GL) than honey, with a score of 8 against 10 per 1 tablespoon, and fewer sugars, 11 grams per tablespoon against 17g [3], [4].

If instead, you want to make this ginger lemonade totally sugar-free, sweeteners like stevia or erythritol are excellent alternatives.

We love erythritol and use it many of our keto-friendly recipes. This natural ingredient is 70% as sweet as sugar, but it has zero-calories. Your taste buds will feel its sweetness, but your digestive system won't metabolize it.

If you want to discover more ways of using this sugar replacement, check out these recipes here.
Can I make this ginger tea lemonade ahead?

Of course! Your thyme lemon drink will taste even better if you leave it to infuse overnight.

Prepare the lemonade the night before, add a few extra lemon slices and thyme sprigs in the pitcher, and then place it in the fridge.

Your drink will be ready the next morning, ready to be enjoyed for lunch, dinner or throughout the day.

As a recommendation, make sure to remove any lemon slices or thyme springs left in the jug after 12 hours of infusion or they will start to spoil.
What can I add to this ginger root drink?

We tried to give this lemonade a unique, new flavour by using ginger tea, thyme sprigs, and almond extract.

However, if you don't have these ingredients at hand or want to experiment with other aromas, then we suggest the following options:

Herbs like rosemary, mint, or basil

Spices such as cumin, cinnamon, or cloves, or even turmeric as we did in this recipe

Spirulina as in this detox lemonade

Lavender as in this coconut lemonade

Other citrus fruits like limes, grapefruits, or oranges
Is this ginger lemonade good for weight loss?

can help curb hunger, increase metabolism, stop cravings, and keep you hydrated.

Besides eating less, many diets also recommend staying well hydrated to flush toxins away and keep a healthy gut. This means drinking more water throughout the day. But if you're one those who don't fancy the taste - quite tasteless - of water, then sipping a flavoured drink, as this lemonade, can help you reach your daily fluids needs.

Drinking lemon water first thing in the morning and before your meals, can even suppress appetite, helping you eat less food.

Also, it often happens that when you feel hungry, you're actually just thirsty. So drinking a tall glass of water, like this lemon water, is a great way to introduce fewer calories when you have food cravings.

Moreover, sipping water is also linked to a temporary increase in body metabolism, as some studies have shown [5]. After drinking, your system tries to warm up the ingested water to your body temperature, and to do so it has to burn extra calories. Awesome!
Ingredients
| | |
| --- | --- |
| Fresh Ginger Root | 50 g |
| Raw Honey | 2 tbsp |
| Thyme Sprigs | 4 |
| Large Lemons | 2 |
| Almond Extract | 1/2 tsp |
| Filtered Water | 850 mL |
Step 1
Let's start by preparing the ginger tea and honey thyme syrup.
In a saucepan, add 250 mL of water along with peeled and sliced ginger root, raw honey, and thyme sprigs.
Bring the mixture to a soft boil, then lower the heat and simmer for 5 minutes.
Next, remove the pot from the hob and leave the infusion to steep and cool down for 10 minutes.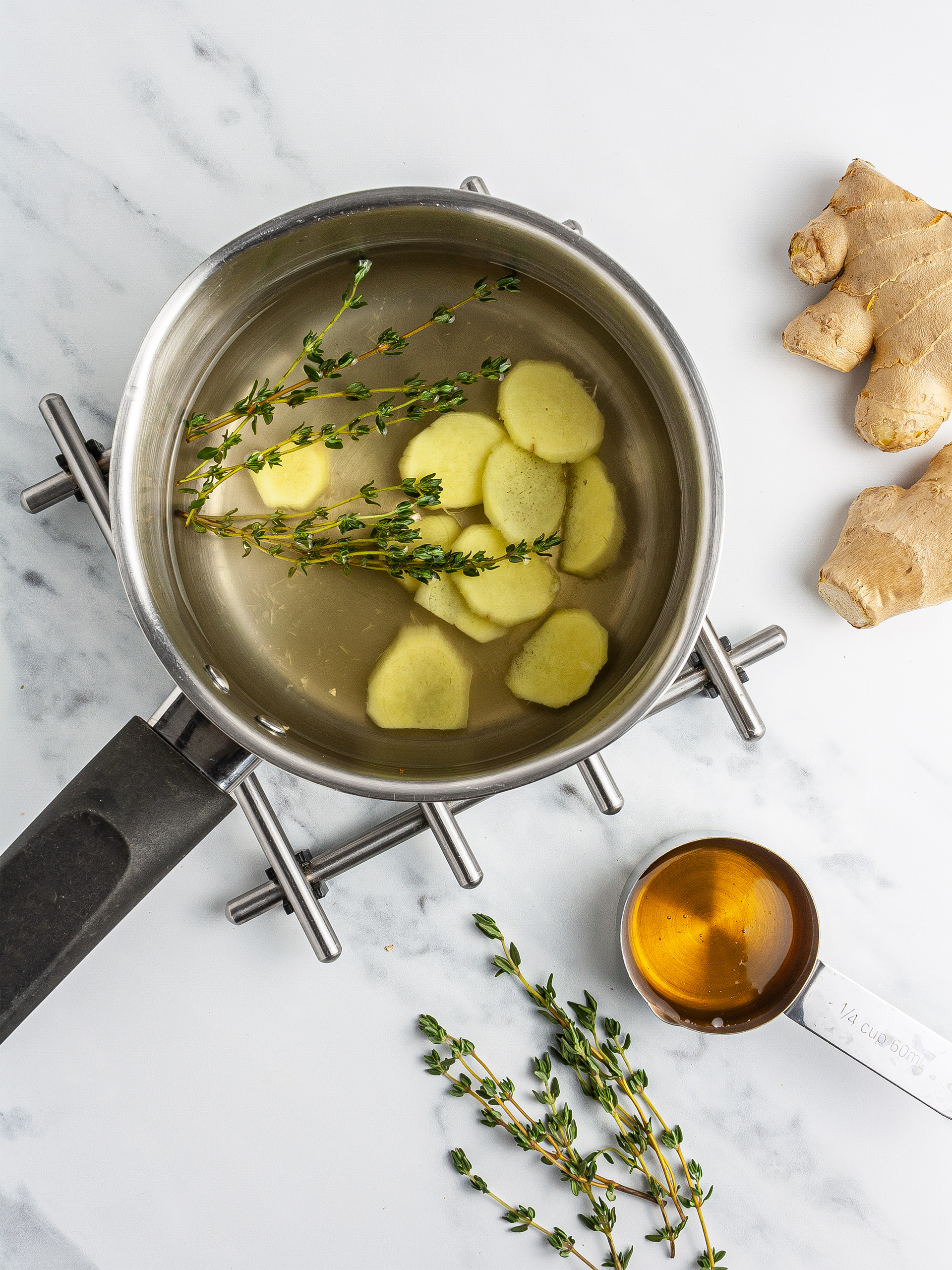 Step 2
While the thyme syrup cools down, squeeze the lemons with the help of an orange juicer or lemon squeezer. Make sure you don't drop any lemon seeds, or you'll have to filter the juice later on.
Then, transfer the lemon juice to a jug or pitcher and add the almond extract and the remaining 600 mL of water.
Now, pour in the prepared tea, filtering the thyme sprigs and ginger slices with a strainer.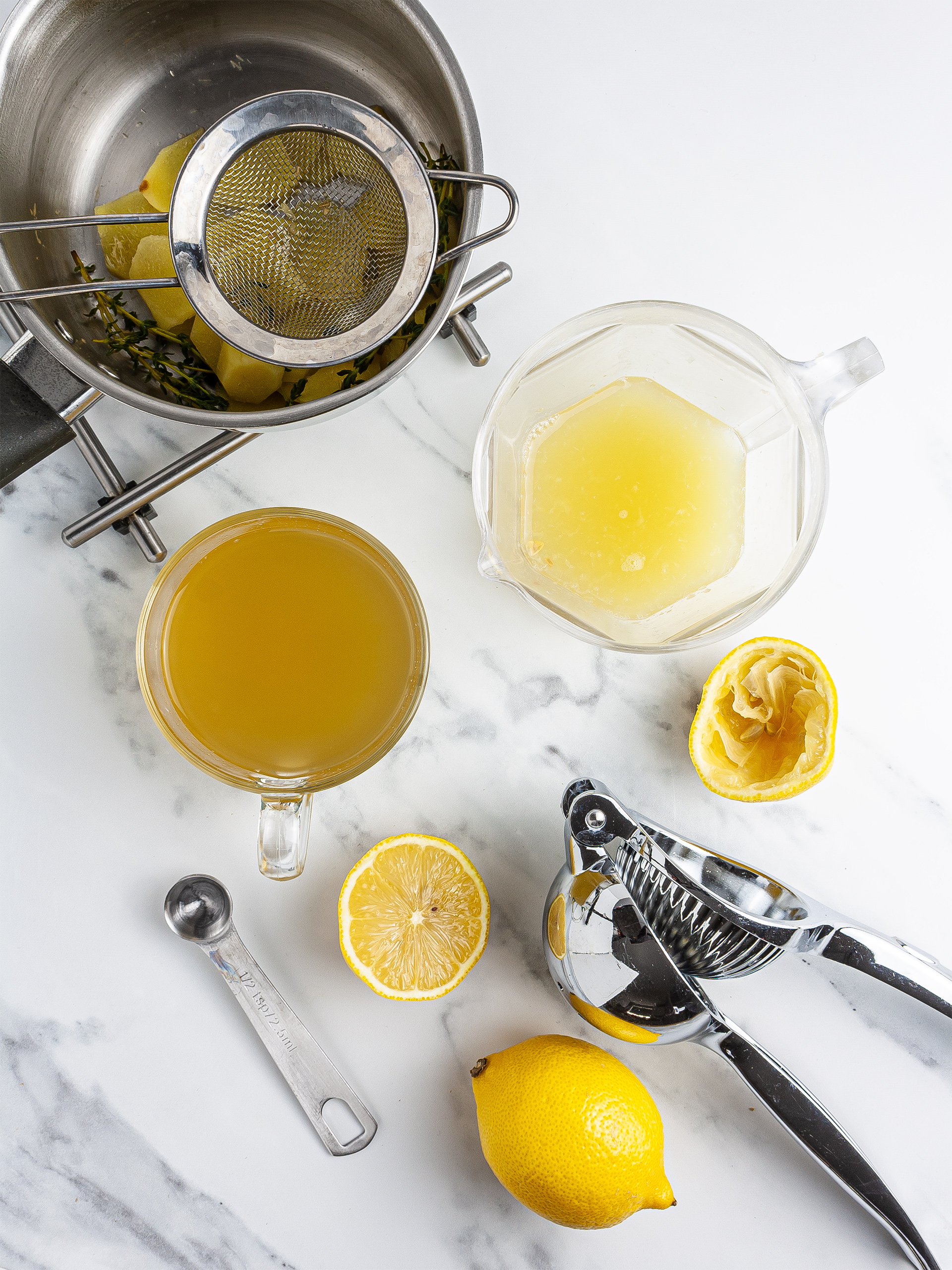 Step 3
Finally, leave the lemonade to infuse for at least two hours in the fridge.
For an even deeper flavour, we recommend you refrigerate it overnight.
Enjoy it cold, served with ice cubes and some lemon slices.
Tips
Replace plain water with sparkling water for a fizzy twist.