Brioche is a traditional French bread enriched with butter and eggs for a tender texture and sweet flavour. However, being prepared with flour and dairy is unsuitable for celiacs or those who suffer from lactose intolerance.
As at Foodaciously we strive to help you find the food you love without compromise, today we want to show you how to prepare a no dairy and gluten-free brioche bread from scratch.
To prepare the dough, we have used a gluten-free flour mix plus xanthan gum to avoid crumbling and help to bind everything together.
Instead of milk and butter, we opted for plant-based oat milk, which is rich and creamy, and coconut oil. This tropical oil is a great substitute to butter in dairy-free bakes as it has a higher amount of saturated fats compared to other vegetable oils. These fats give that flaky, "melt in your mouth" effect.
Compared to the classic recipe, we have reduced the fat to flour ratio form 1:2 to 1:3 so you can enjoy this brioche with less guilt.
Making fresh homemade brioche is a lengthy process as it involves long kneading and proving, but the result is worth every minute of work! Your bread will taste so much better than store-bought ones, and you'll have complete control over the ingredients.
Let's get started!
Frequently Asked Questions
How long does this French bread keep?

Due to its high amount of fats, this brioche keeps for longer than classic bread, and, when properly stored, it can last up to four or five days.

We recommend than once it's baked, you leave the loaf to cool down completely on the kitchen counter. Then, wrap it in a plastic bag - like a zip-lock bag - squeezing out as much air as you can. By doing so, you lock the moisture to keep the brioche soft.

Store the wrapped bread in the dark, cool place, like a cupboard, to prevent any light from spoiling your brioche. Avoid putting the brioche in the fridge as it adds moisture and can speed up mould growth.

Alternatively, you can freeze the proved dough for later use or freeze the baked loaf if you want to preserve it for weeks.
What can I use instead of honey?

To make this recipe refined-sugar-free, we have swapped white sugar with honey, but you can also try other sweeteners. Maple syrup is a great option as it's lower in sugars than honey, packs many nutrients, and add a lovely flavour to the brioche.

Alternatively, you can use erythritol or stevia for a sugar-free bake that is suitable for people with diabetes.

We love using erythritol in our healthy sweet treats as this natural sweetener has zero calories as tastes almost as sweet as white sugar. To use it in this brioche recipe, use it in a ratio 1:1,3 - so 1 part honey (40g) swaps with 1,3 part erythritol (52g). Check out our recipes with erythritol here to see how we've used it.
What can I use if instead of oat milk?

As we wanted to make this brioche recipe both gluten-free and dairy-free, we substituted cow milk with oat milk. However, you can use any other plant-based milk, such as rice, hemp, soy, coconut, or almond milk, in the same amount.

Coconut and oat milk are one of the best suited for this recipe as they are creamier and have a consistency more similar to regular milk.
Which gluten-free flour should I use?

For best results, we recommend you opt for a gluten-free flour mix. You can either buy it at your local store or prepare it yourself. For leavened bakes like this brioche, using only one type of wheat-free flour won't yield a good dough with the right consistency and elasticity.

Instead, the combination of different gluten-free flours like rice, potato, tapioca, maize and buckwheat, will give the best of each flour for a perfect bake.

Also, due to the lack of gluten, a binder is necessary to hold the dough together. So, if your flour mix doesn't already include one, we suggest you add xanthan gum, as we did in the recipe above.
What is brioche good for?

This French bread is usually consumed for breakfast or as a snack.

You can eat it on its own or with fillings, both sweet and savoury.

Try serving this egg bread with spreads like jam, butter, or nut butter. Our healthy sugar-free jam recipes are just perfect for this fresh brioche.

Also, you can use the bread to make a light lunch sandwich, filling it with ham, cheese, tuna, tomatoes, or salad.

You can even add dried fruit or chocolate chips to the dough to make a pastry dessert recipe out of it.
Ingredients
| | |
| --- | --- |
| Gluten-Free Flour | 600 g |
| Xanthan Gum | 2 tsp |
| Salt | 1 tsp |
| Honey | 40 g |
| Dry Yeast | 7 g |
| Warm Oat Milk | 150 mL |
| Eggs | 6 |
| Coconut Oil | 200 g |
Step 1
Make sure the eggs and oil at room temperature. To work the ingredients, you can use a free-standing mixer or a hand mixer, both fitted with a dough hook.
In a bowl, combine the gluten-free flour with xanthan gum. Then, place the salt and honey on one side and the yeast on the other.
Now, pour in warm oat milk and one egg at a time, mixing at medium speed for 10 minutes.
Make sure each egg is fully incorporated before adding the next one.
Then, gradually add the coconut oil a few spoons at a time to allow it to emulsify properly, and mix for a further 8-10 minutes.
The brioche dough should be soft, shiny, and slightly sticky.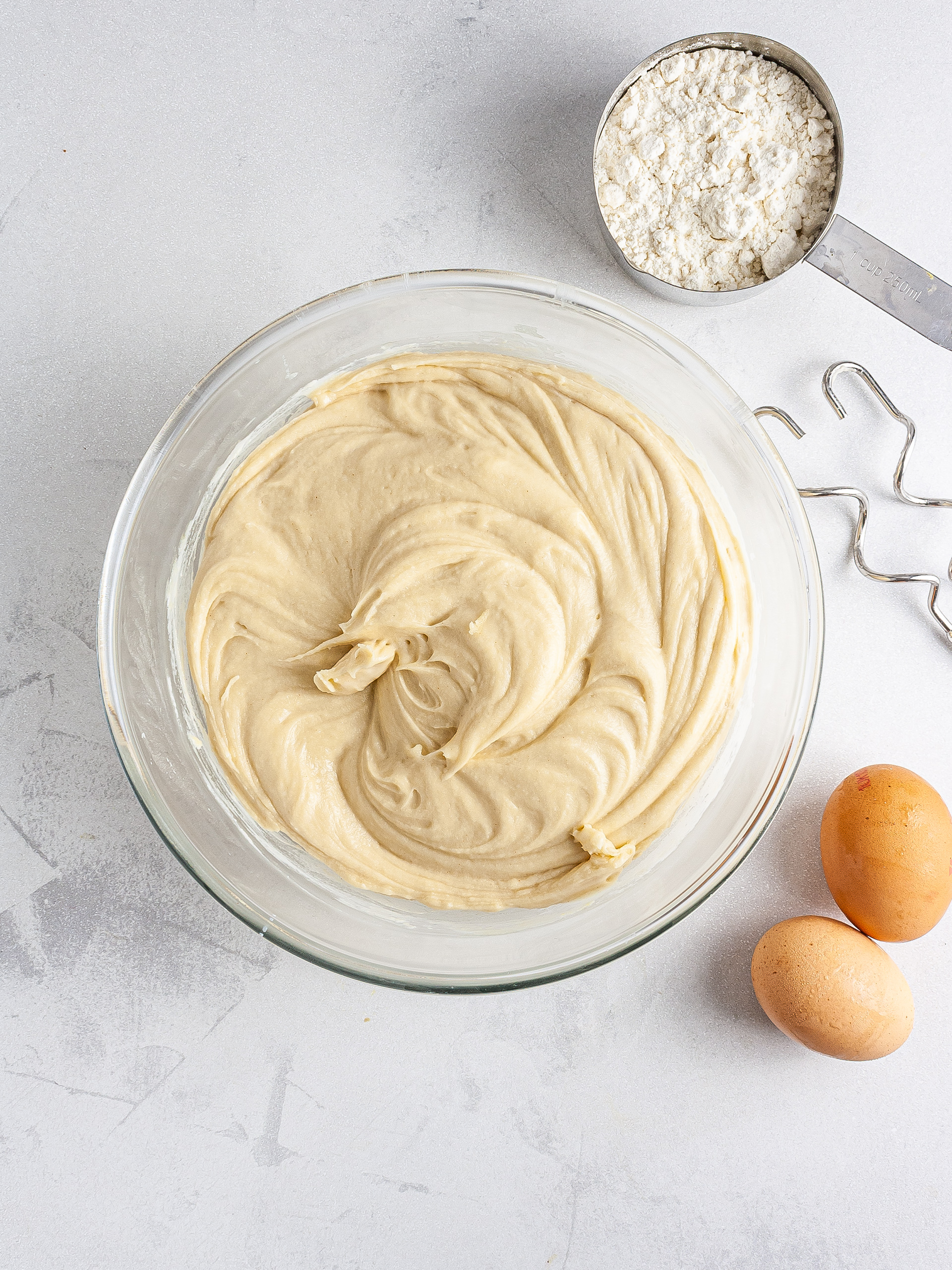 Step 2
Wrap the bowl in cling film and leave the egg mixture to rise for 3 hours in a warm place. The dough should double in volume.
Then, place it in the fridge for a cold proving for a further 2-3 hours. By doing so, the brioche will develop a better flavour, and it will be easier to handle later on.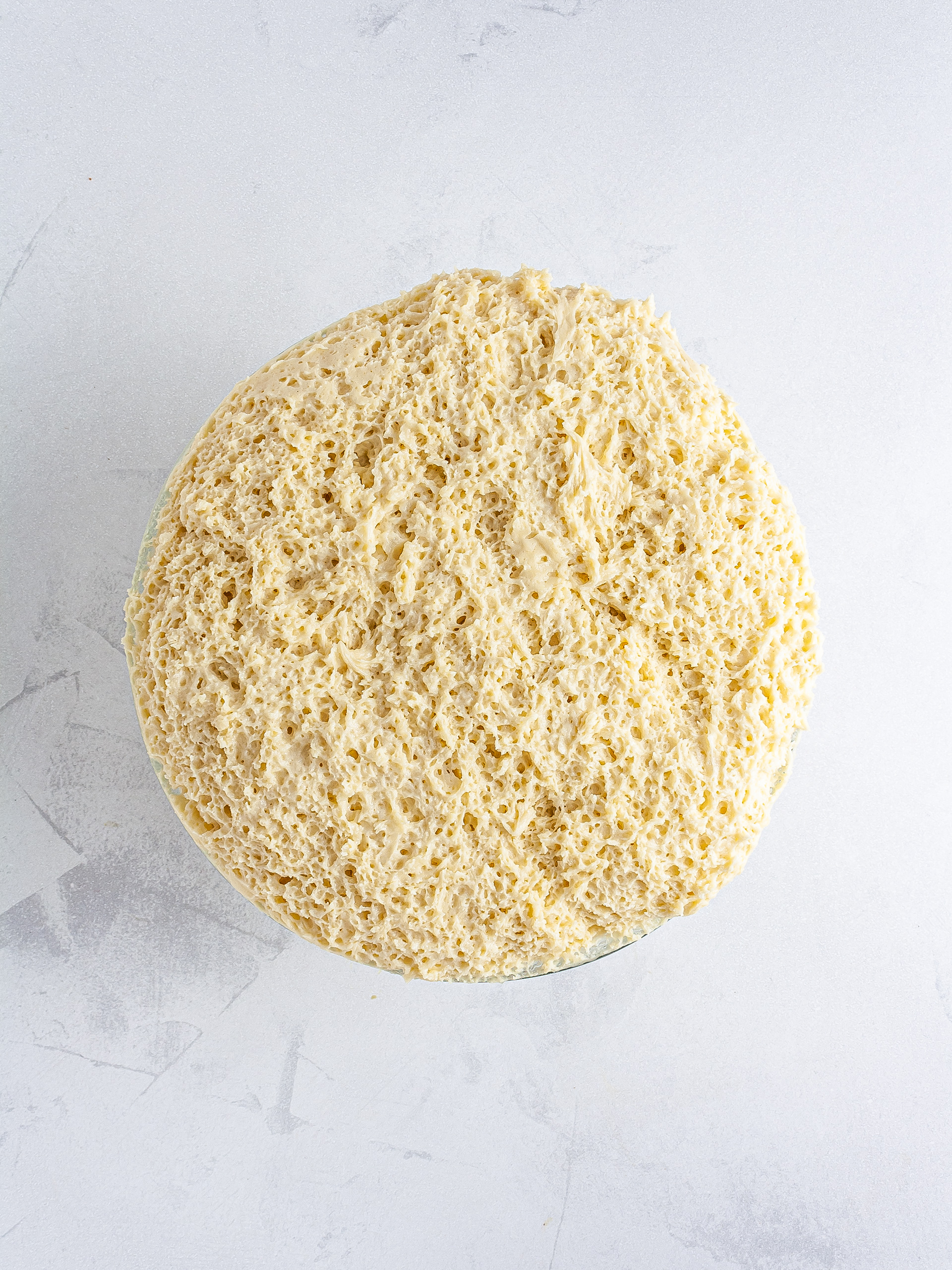 Step 3
Now, transfer the dough to a greased loaf tin with the help of a spatula, (1). Don't worry if the mixture is quite soft and sticky, gluten-free bakes don't have the same elasticity and structure as regular ones.
Leave to prove at room temperature for another 1-2 hours and then brush with an egg wash, made with an egg beaten with little water (2).
1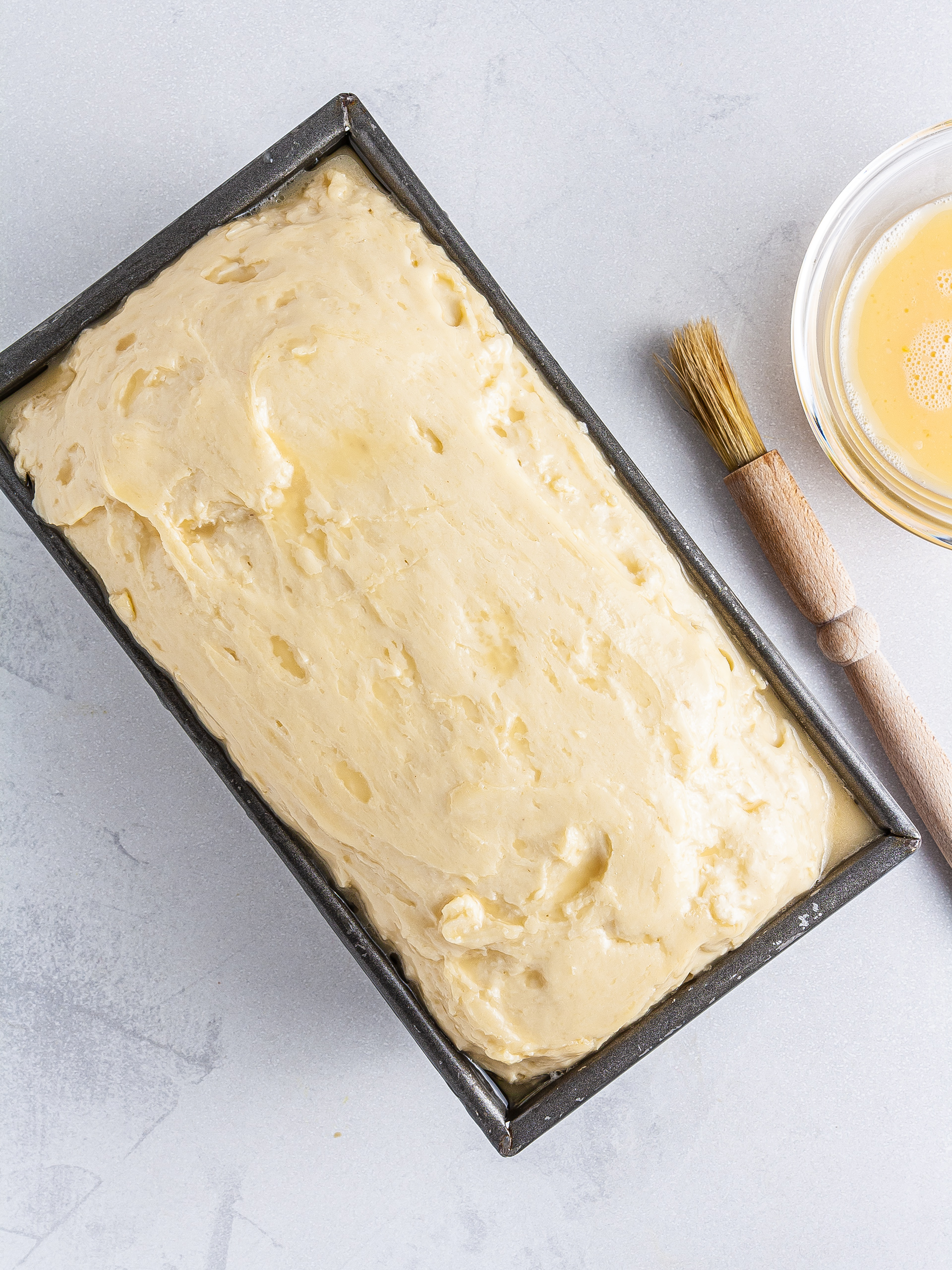 2
Step 4
Bake the brioche for 45 minutes at 190°C (375°F) for static ovens or at 170°C (340°F) for fan ovens.
It should look deep golden all over and have a lovely crust.
Leave the bread to cool down on a wire rack before serving.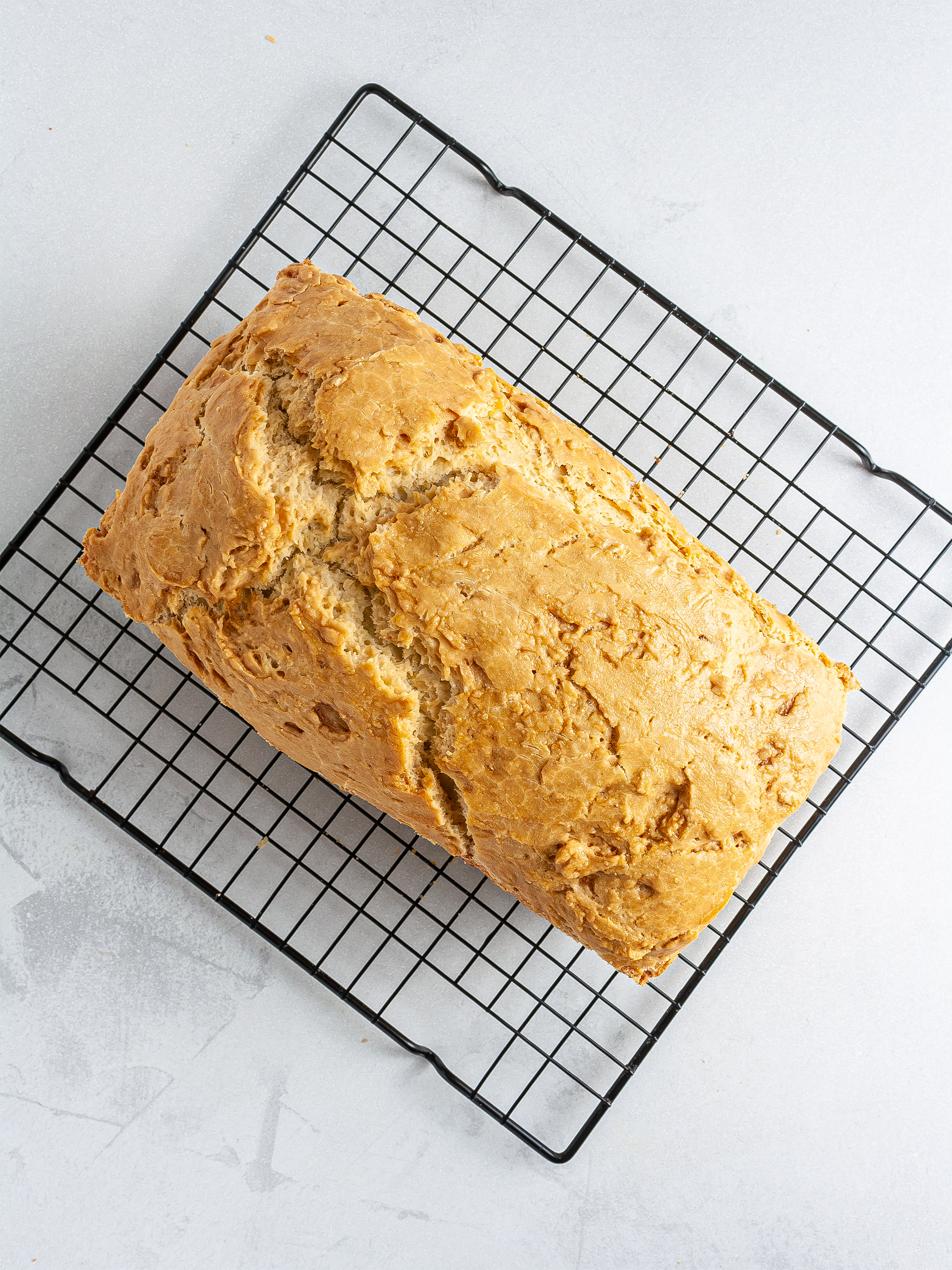 Tips
Add lemon and orange zest or vanilla essence to the dough for extra flavour.