This wonderful cake combines the delight of banana bread with the gooeyness of Japanese mochi. So we called it "mochi banana bread"! It's a quick and easy recipe that'll surprise you, and we hope it will become your new favourite breakfast loaf!
How do you make banana bread with mochi? Our recipe starts from the classic banana loaf cake but uses a combo of rice and mochi flour instead of wheat flour. So yes, it's fully gluten-free!
Mochi flour is called mochigomeko in Japan, and it's made from mochigome rice. And what's that? Mochigome is a type of short-grain rice that's incredibly high in starch.
This special rice is also known as glutinous rice or sweet sticky rice outside Japan. And because it's so high in starch, it turns sticky and gluey (hence "glutinous") when cooked.
As it turns out, flour milled from glutinous rice also turns sticky and gluey! It is this very flour that makes the famous Japanese mochi balls so irresistibly chewy and stretchy.
Using glutinous rice flour (mochi flour) in this banana bread means you'll have a moister crumb that's also a little sticky and gooey. So unique and delicious!
Of course, you can't use mochi flour alone in a cake this size, or it will be too dense and gummy.
So, we paired it with regular rice flour, which keeps the recipe gluten-free and adds a hint of sweetness to the banana bread.
Here are a few more handy notes on the ingredients used:
Overripe bananas

They should be so ripe the peel looks blackish. This means the bananas are soft and super sweet, making the cake batter thick, creamy, and sweet.

Tinned coconut milk

We used it as a dairy replacement to make our cake vegan and dairy-free. It also tastes very good in this recipe!

Baking powder

As this banana bread has no eggs, it needs an extra kick to rise. So, we used a little more baking powder than usual to help the rice loaf grow nicely.

Sweetener

You can use sugar or swap it with erythritol sweetener if you want to keep the sugars low. Erythritol is a natural sweetener that tastes and looks like sugar but has no calories — and works perfectly in bakes!
Wondering how this mochi loaf tastes?
It bursts with flavour from bananas and coconut milk with a hint of rice flour sweetness. It's so spongy, and at the same time, deliciously moist and gooey. You'll love it!
For more sweet treats with mochi flour, check out these stretchy mochi waffles or these mochi cookies with a gooey heart. So good!
And if you'd like to use mochi in savoury recipes instead, check out these mochi flour bread rolls for inspiration.
Ingredients
| | |
| --- | --- |
| Rice Flour | 230 g |
| Mochi Flour (Glutinous Rice Flour) | 80 g |
| Baking Powder | 20 g |
| Caster Sugar (or sugar-free erythritol) | 80 g |
| Salt | 1 pinch |
| Overripe Bananas (peeled) | 300 g |
| Coconut Milk (canned) | 300 mL |
| Vegetable Oil | 45 mL |
| Cinnamon (optional) | 1/2 tsp |
Step 1
Preheat the oven to 185°C (355°F).
Take a 21 cm x 11 cm (8 x 4 inches) loaf cake tin, grease it with a little oil, or line it with baking paper.
To make the cake batter, add rice flour, mochi flour, baking powder, sugar, and salt to a bowl.
Mix thoroughly to ensure the baking powder is evenly distributed so the banana cake will rise evenly.
Mochi flour is also called glutinous rice flour or sweet rice flour, and you can find it online or at your local Asian food store.
As for the sugar, you can swap it with the same amount of erythritol, a safe and natural sweetener that looks like sugar but has zero calories.
We always use it in our sugar-free bakes — give it a go!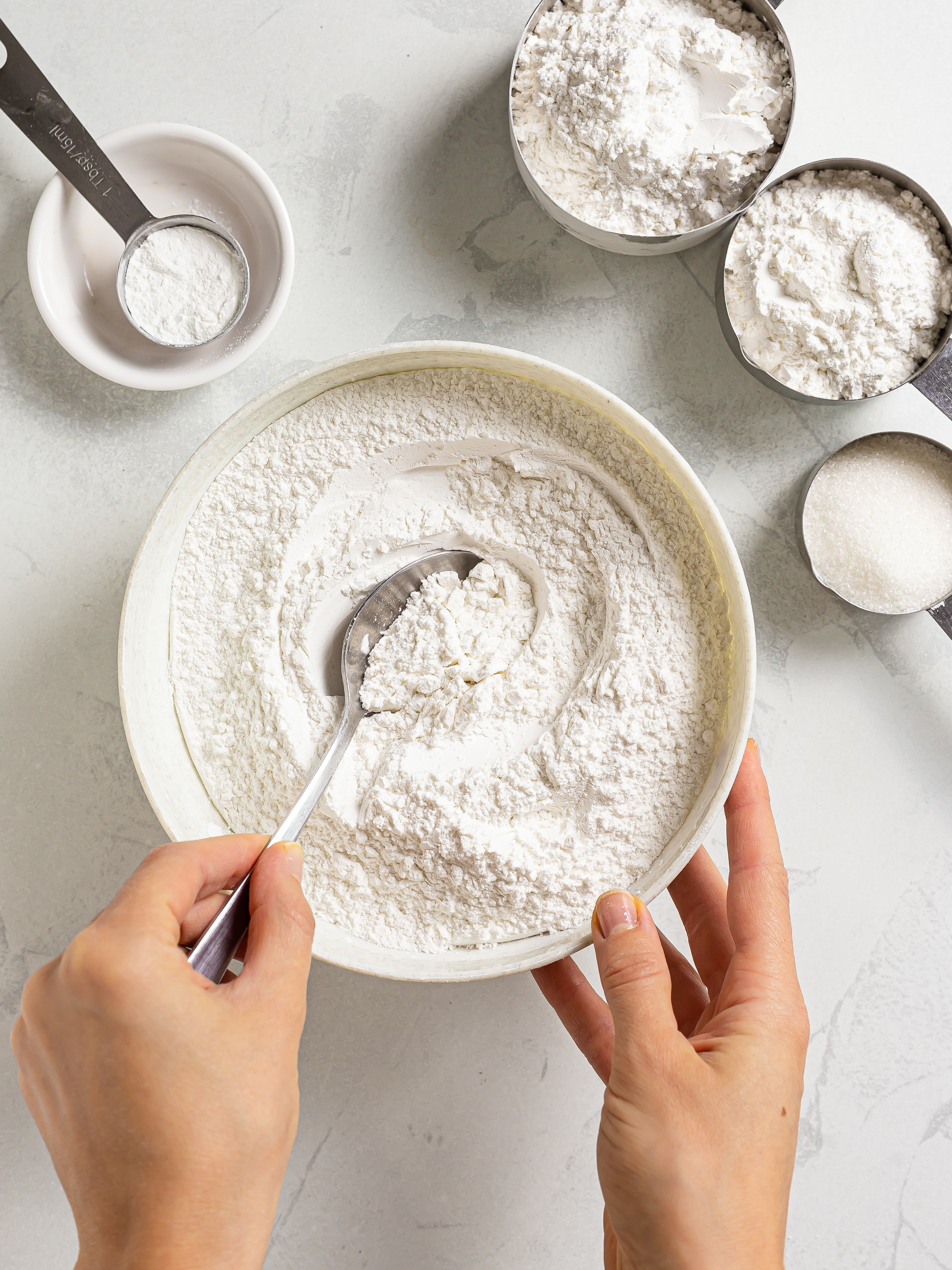 Step 2
Blitz the overripe bananas in a blender until smooth and creamy.
Then, transfer the banana mash to a large bowl, and tip in the coconut milk, oil, and ground cinnamon if you're using it.
Mix the ingredients with a hand whisker or electric mixer into a smooth batter.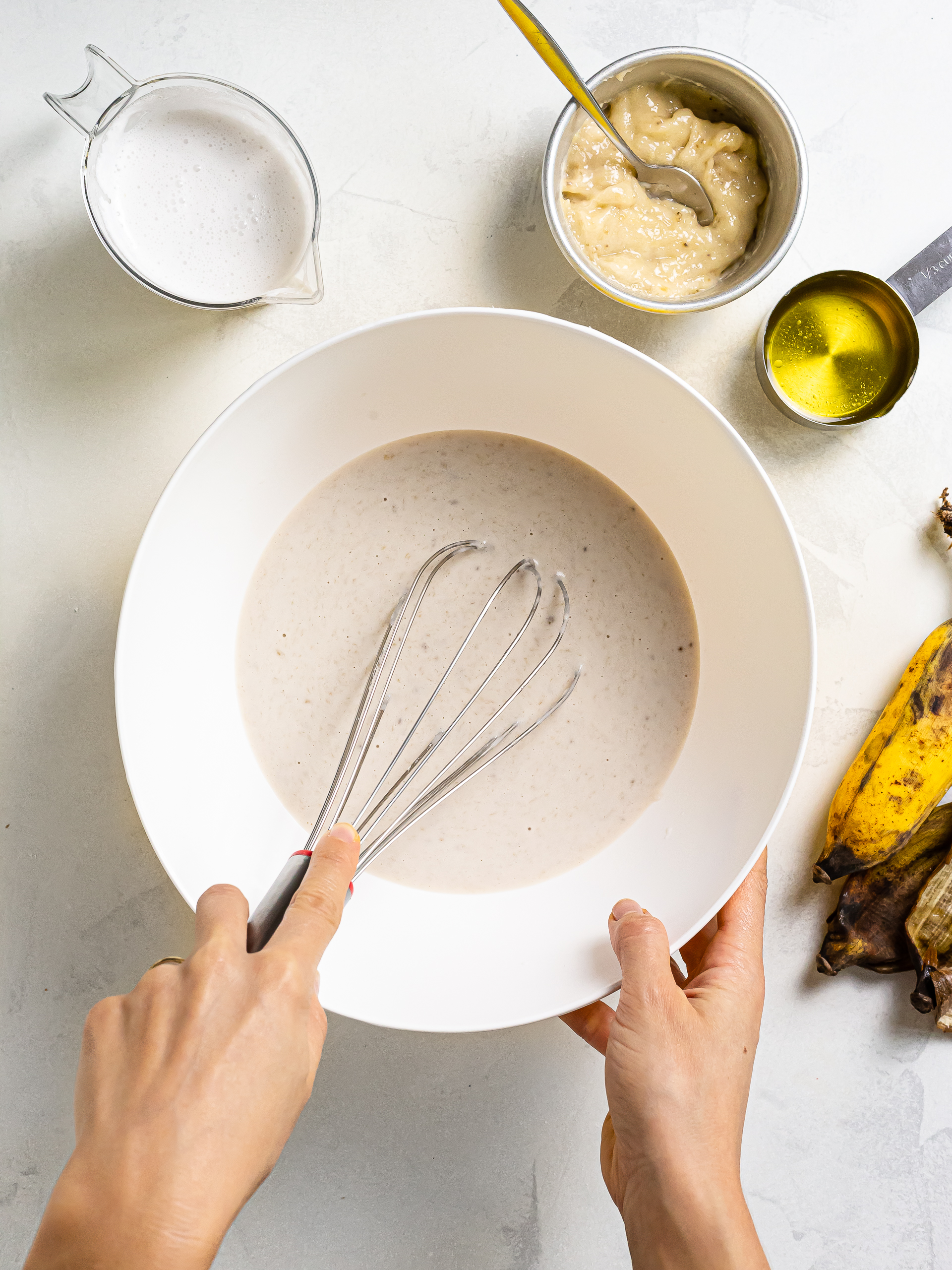 Step 3
Now, incorporate the dry ingredients into the wet: add a third of the mochi flour mix at a time and mix well until it's fully incorporated before adding more.
Mix the mochi cake batter with a hand whisker or electric mixer until there are no lumps and you have a smooth and creamy cake batter.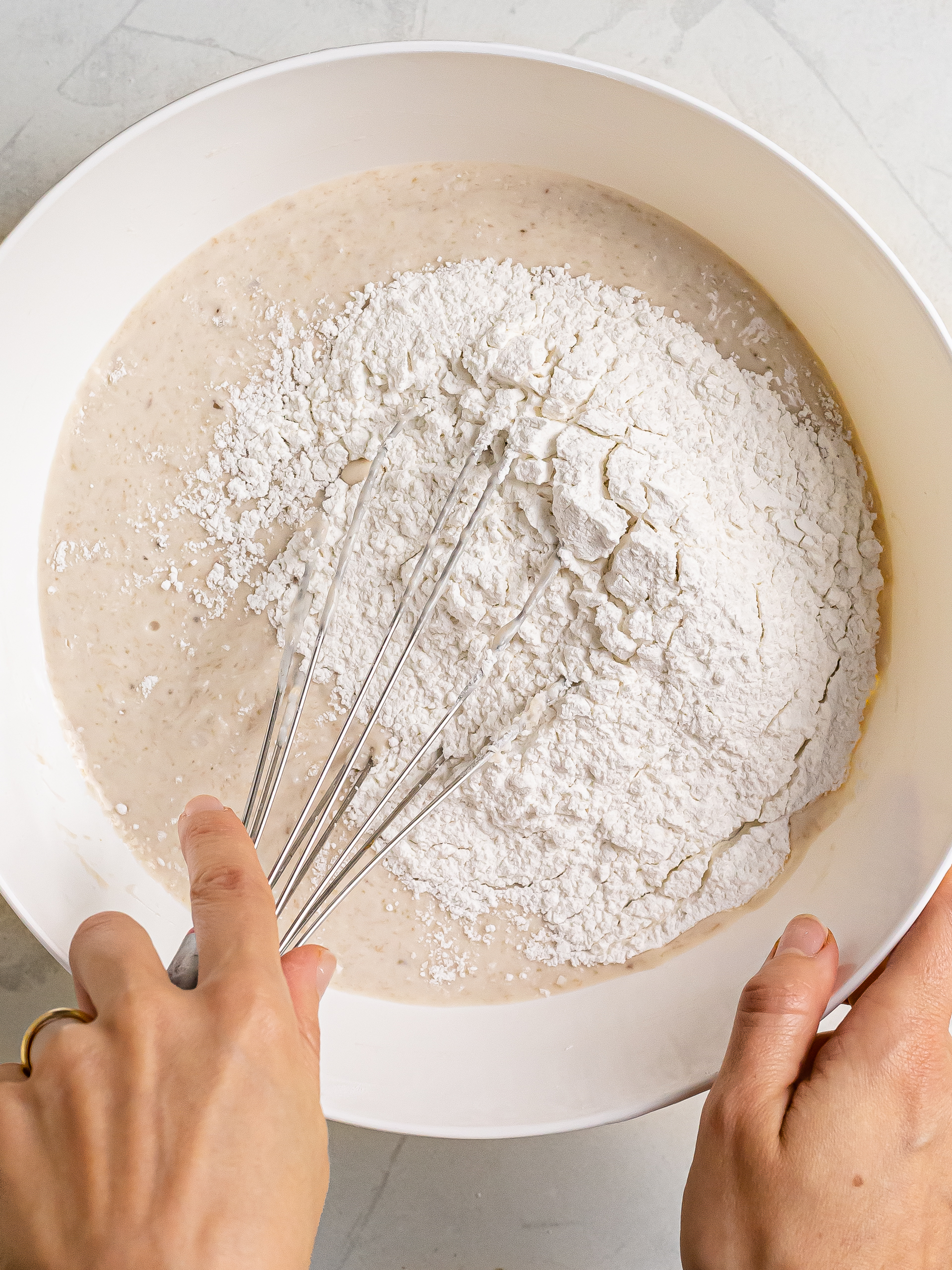 Step 4
Pour the mochi cake batter into the prepared tin and level it with a spatula.
Now, here's a little trick to ensure the banana bread will rise evenly.
Mix a little starch with oil in a small cup to make a thin paste and spread it over a knife to coat it.
Then, use the coated knife to "cut" a slit in the centre of the cake batter lengthwise, as shown in the picture.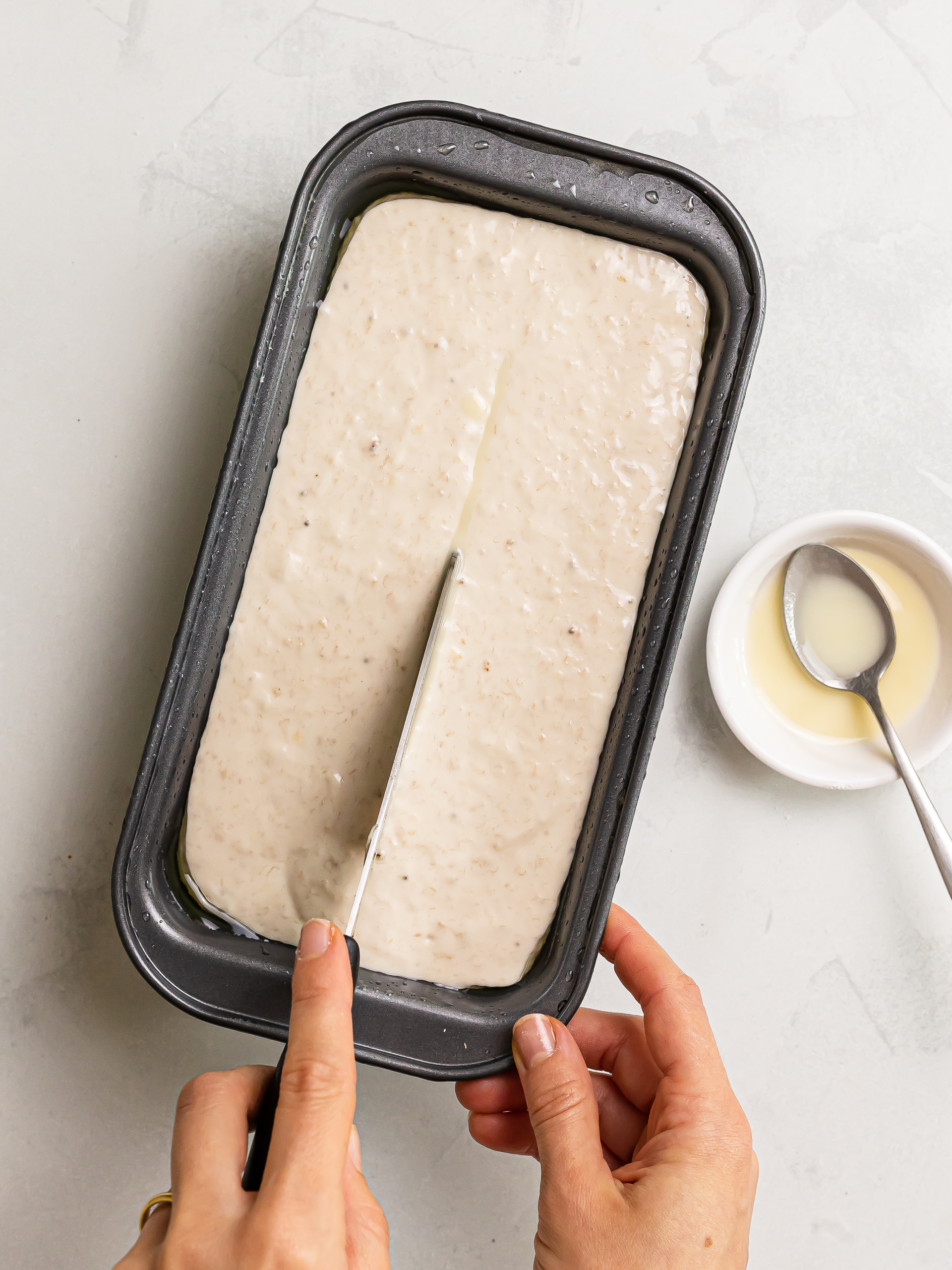 Step 5
Bake the mochi cake in the oven at 185°C (355°F) for 50 minutes to 1 hour or until it's golden and cooked through.
Let the mochi loaf cool for a few minutes before flipping it on a tray, and then leave it to cool down completely.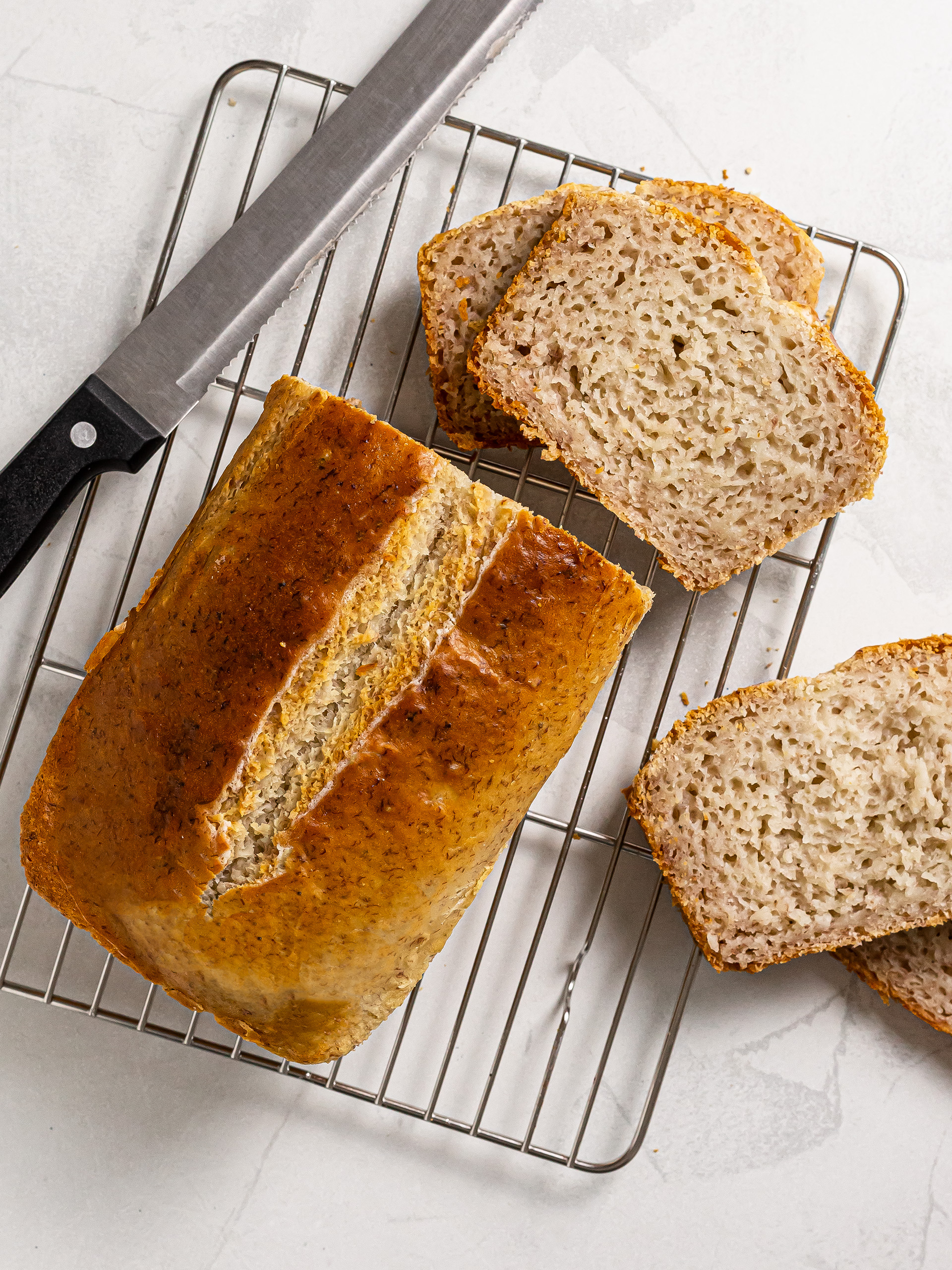 Step 6
Your delicious mochi banana bread is ready!
It's got the look and taste of classic banana bread, plus a hint of sweetness from rice flour.
And thanks to mochi flour, the cake is very moist, a little sticky and gooey, a bit like a Japanese mochi would feel.
Enjoy a nice slice with a cup of blue milk latte, matcha tea, or chai-spiced hot chocolate!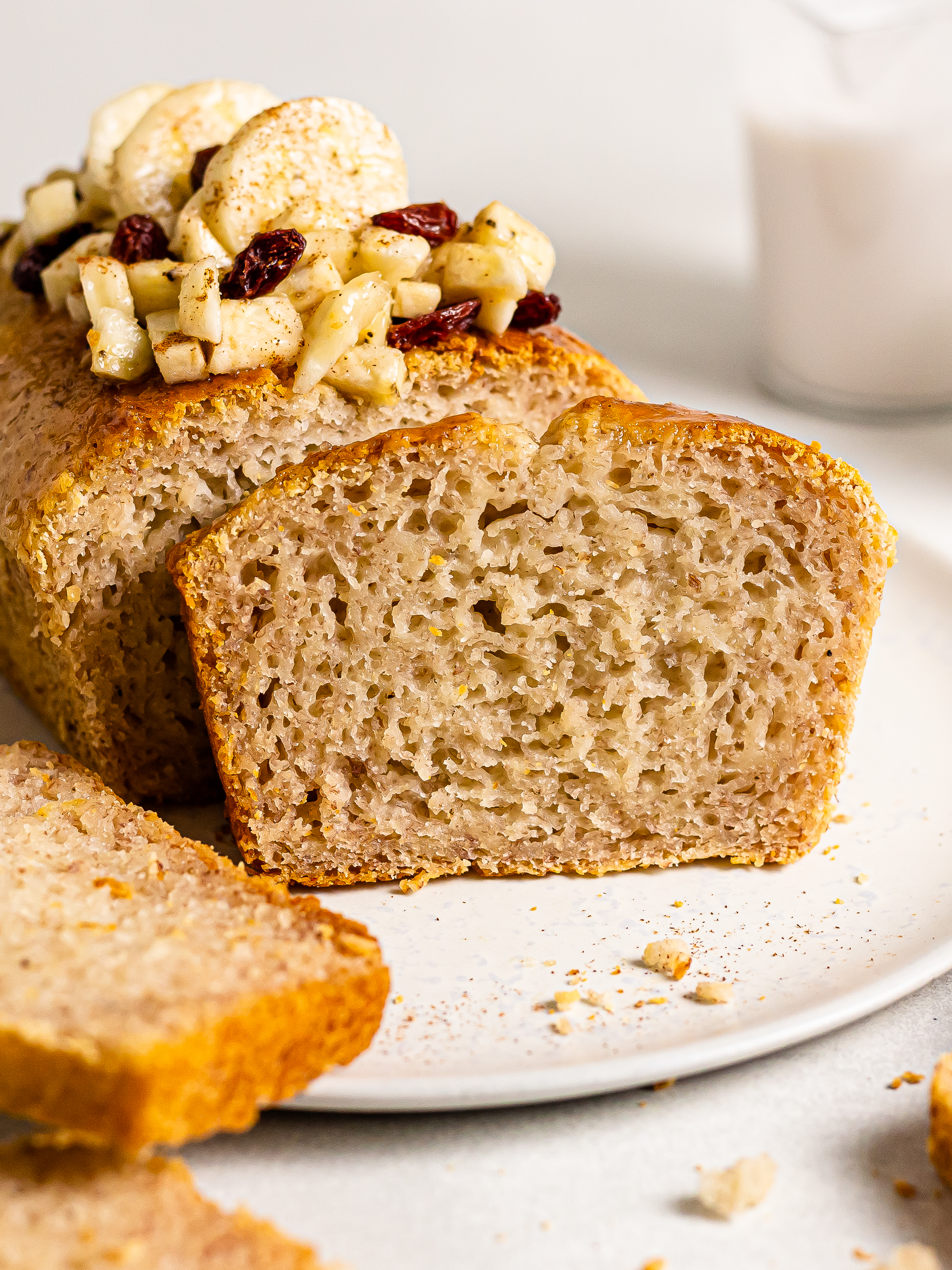 Tips
This mochi banana cake is very moist, and it will keep for 2-3 days stored in an air-tight container.
We recommend freezing the individual cake slices wrapped in baking paper and then reheating them in the oven or toaster before serving — they will be nicely gooey!