These mochi bread rolls are a delicious gluten-free alternative to wheat bread, with a crispy crust and a soft, bubbly crumb. So whether you're looking for new recipe ideas with Japanese mochi flour or you're new to cooking with mochi flour, it's a recipe you must try!
These mochi bread rolls are quick and easy to make; no yeast or baking powder needed, just glutinous rice flour and a few other simple ingredients.
Also known as mochigomeko, mochiko for short, glutinous rice flour is a type of rice flour made from Japanese glutinous rice, aka mochigome.
This sticky rice yields a miraculous flour that turns soft, super chewy, and incredibly stretchy when cooked with water.
Although it looks like classic rice flour, it gives a completely different feel and texture. It's what makes Japanese mochi so deliciously chewy.
After using glutinous rice flour for mochi balls, moffles, and mochi-filled cookies, we decided to give it a go as gluten-free flour for bread. And the results were amazing!
Bread rolls made with mochi flour are crunchy outside, moist and sticky inside.
And because glutinous rice flour inflates when baking, you'll have lots of air pockets in the bread crumb without using yeast or baking powder!
These rolls will look just like wheat bread and have a delicious yet subtle rice flavour.
As for the dough, you'll need mochiko flour, which you can find at your local Asian food store or online, plus some basic bread ingredients like warm water, salt, and vegetable oil.
We also added a little sesame oil for a fragrant finish! And, if you'd like some extra crunchiness, coat the rice bread rolls with sesame seeds (black, white, or a combination of both).
This Japanese bread is ready in a little more than 30 minutes, from start to finish. This means you can have freshly baked gluten-free bread in a flash.
Once ready, we recommend serving these rice bread rolls while still warm as the mochi crumb will be super soft and stretchy!
And if you'd like to try a sweet mochi bread instead, this banana mochi loaf recipe is perfect — fully vegan and gluten-free!
Ingredients
| | |
| --- | --- |
| Glutinous Rice Flour | 250 g |
| Starch (cornflour, tapioca or potato starch) | 40 g |
| Salt | 1 tsp |
| Sesame Oil | 1 tbsp |
| Vegetable Oil | 1 tbsp |
| Warm Water | 260 mL |
| Sesame Seeds (black and white) | 30 g |
Step 1
Before starting, make sure you're using glutinous rice flour, not regular rice flour.
This flour is milled from short-grain glutinous rice, which has a high-starch content. In Japanese, it's called mochigomeko or mochiko for short.
You should be able to find glutinous rice flour at your local Asian food store or online — sometimes labelled as "mochiko flour" or "sweet rice flour".
To make the bread dough, mix mochiko flour with sifted starch and salt in a bowl.
Then, tip in the sesame oil, vegetable oil, and warm water.
The water shouldn't be too hot; you should be able to hold your pinkie finger in it comfortably.
As for the oil, you can replace sesame oil with vegetable oil if you prefer. But sesame oil will add a nice nutty flavour to the bread dough.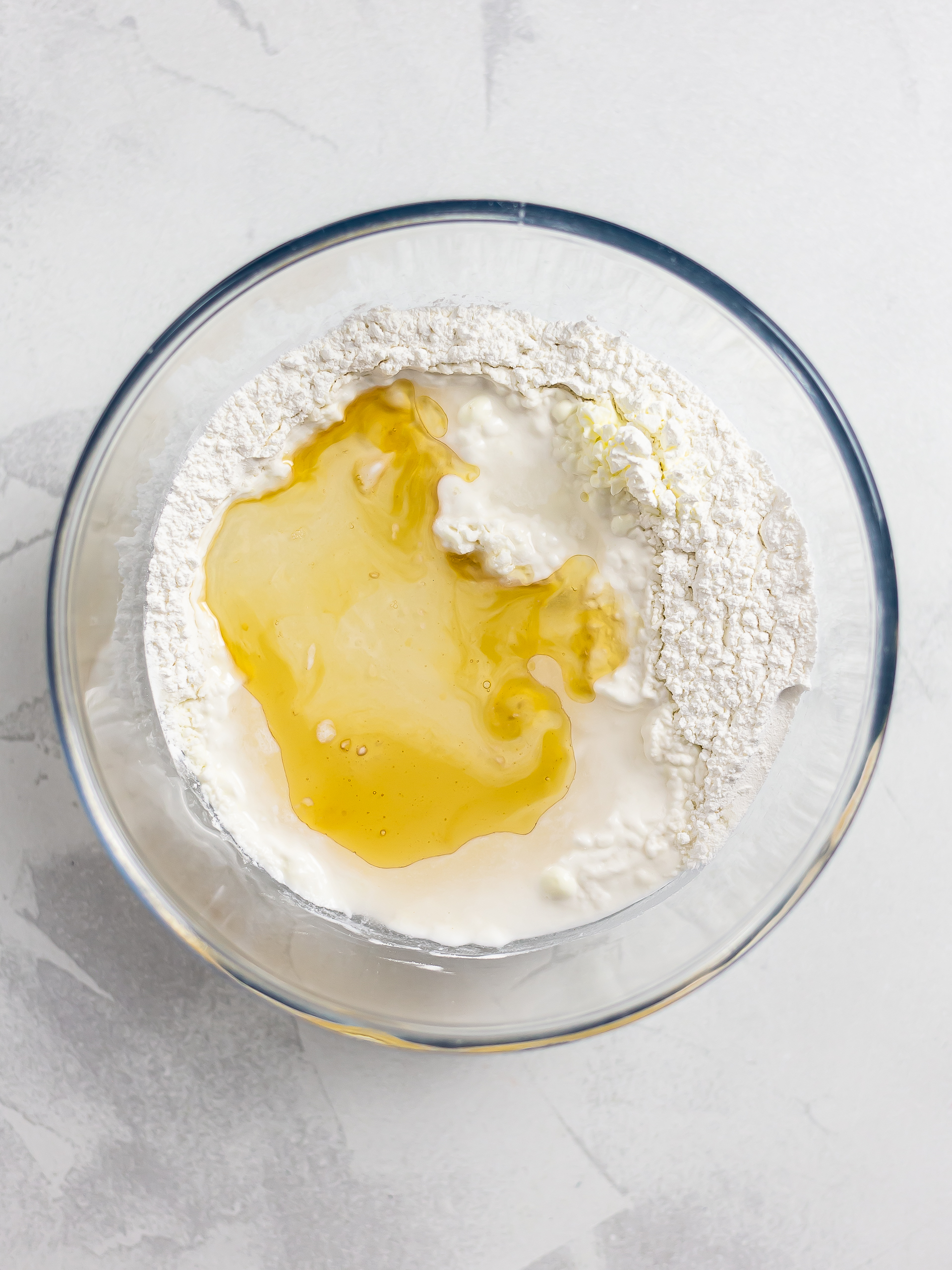 Step 2
Mix the ingredients with a spoon until they come together into a dough.
Then, use your hands to knead the mochi dough right into the bowl until it's smooth, uniform, and pliable (1).
Divide the bread dough into as many pieces as the number of servings, about 45g (1.6 oz) each.
Then, shape each piece into a smooth ball, rolling it between your palms or over a flat surface (2).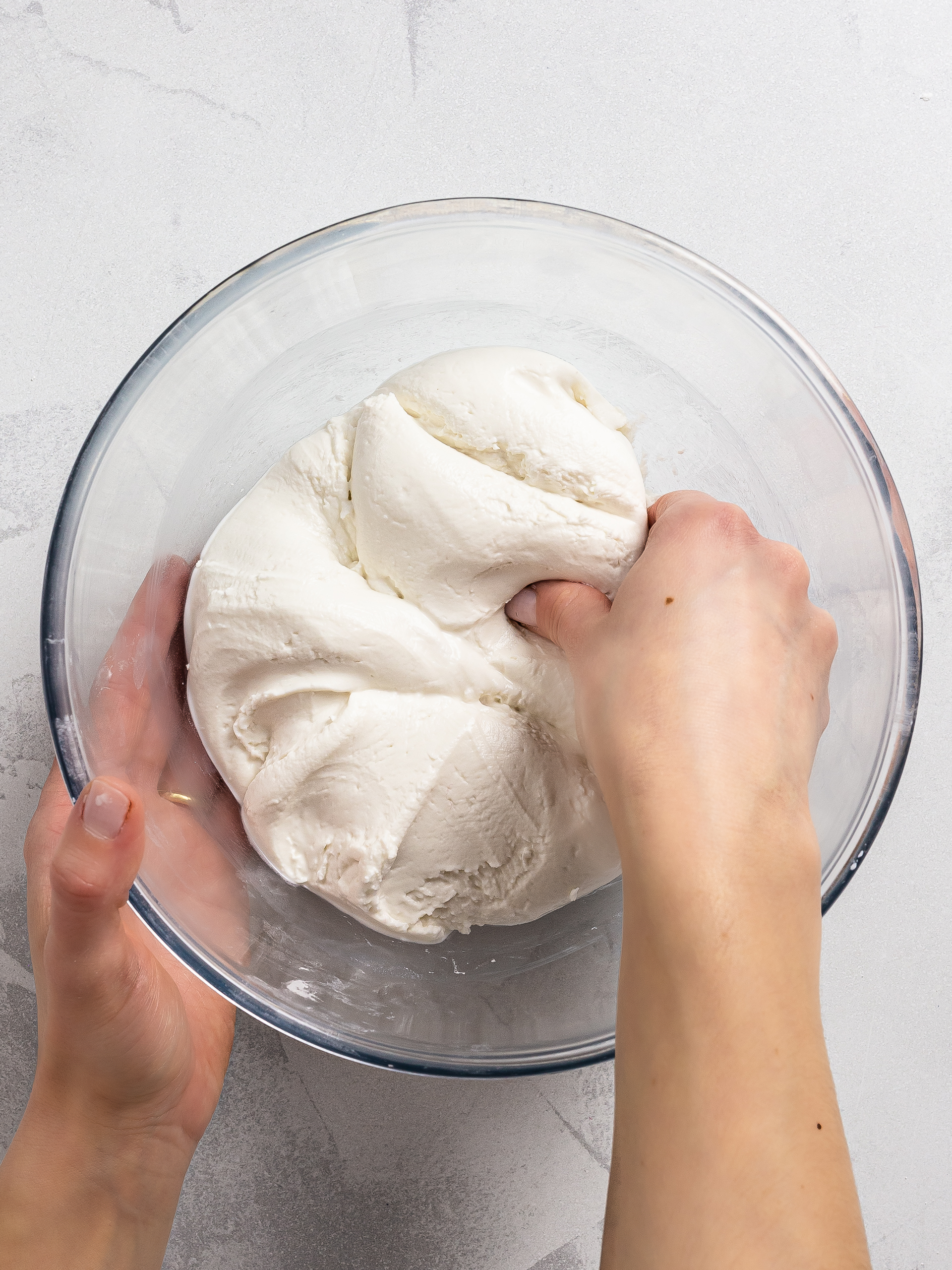 1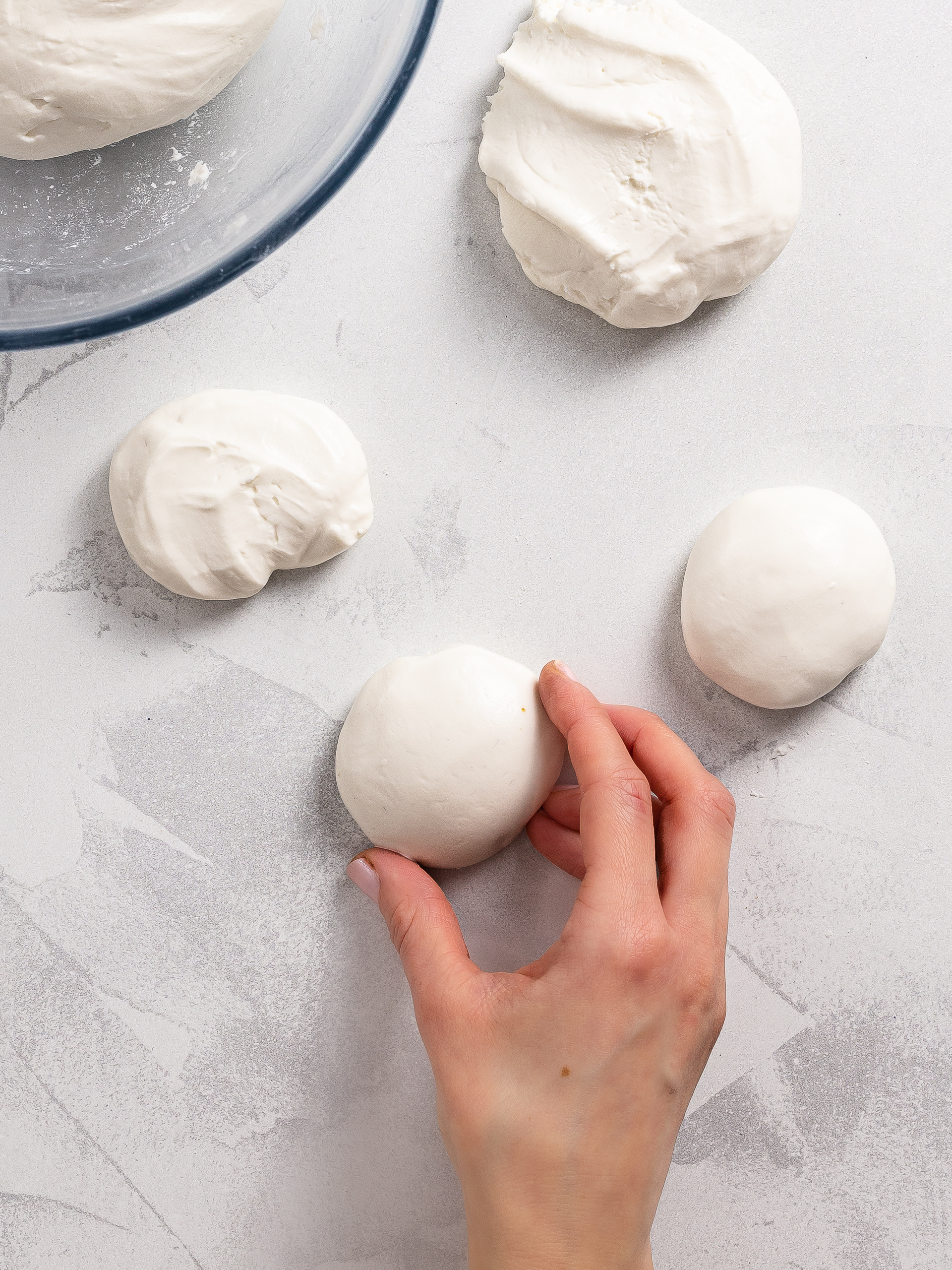 2
Step 3
Next, fill a shallow bowl or plate with a mix of black and white sesame seeds.
Spray or brush the top of each bread roll with water and press it over the seeds to coat it (1). The water will help the seeds stick to the mochi ball.
Place the sesame-coated mochi bread rolls onto a baking tray lined with baking paper.
To help the bread rise evenly and without cracks, score an "X" in the centre of each ball using a sharp knife (2).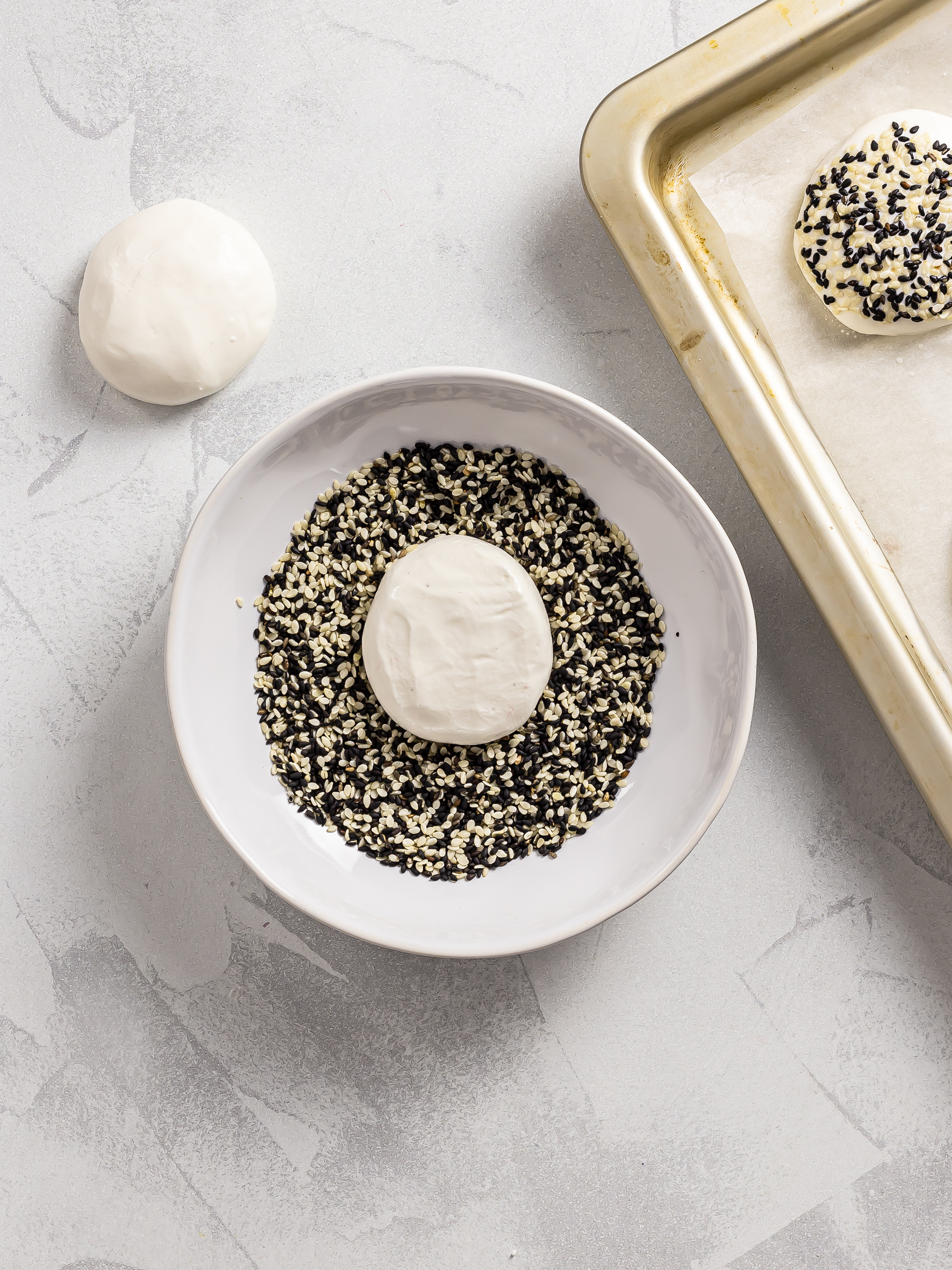 1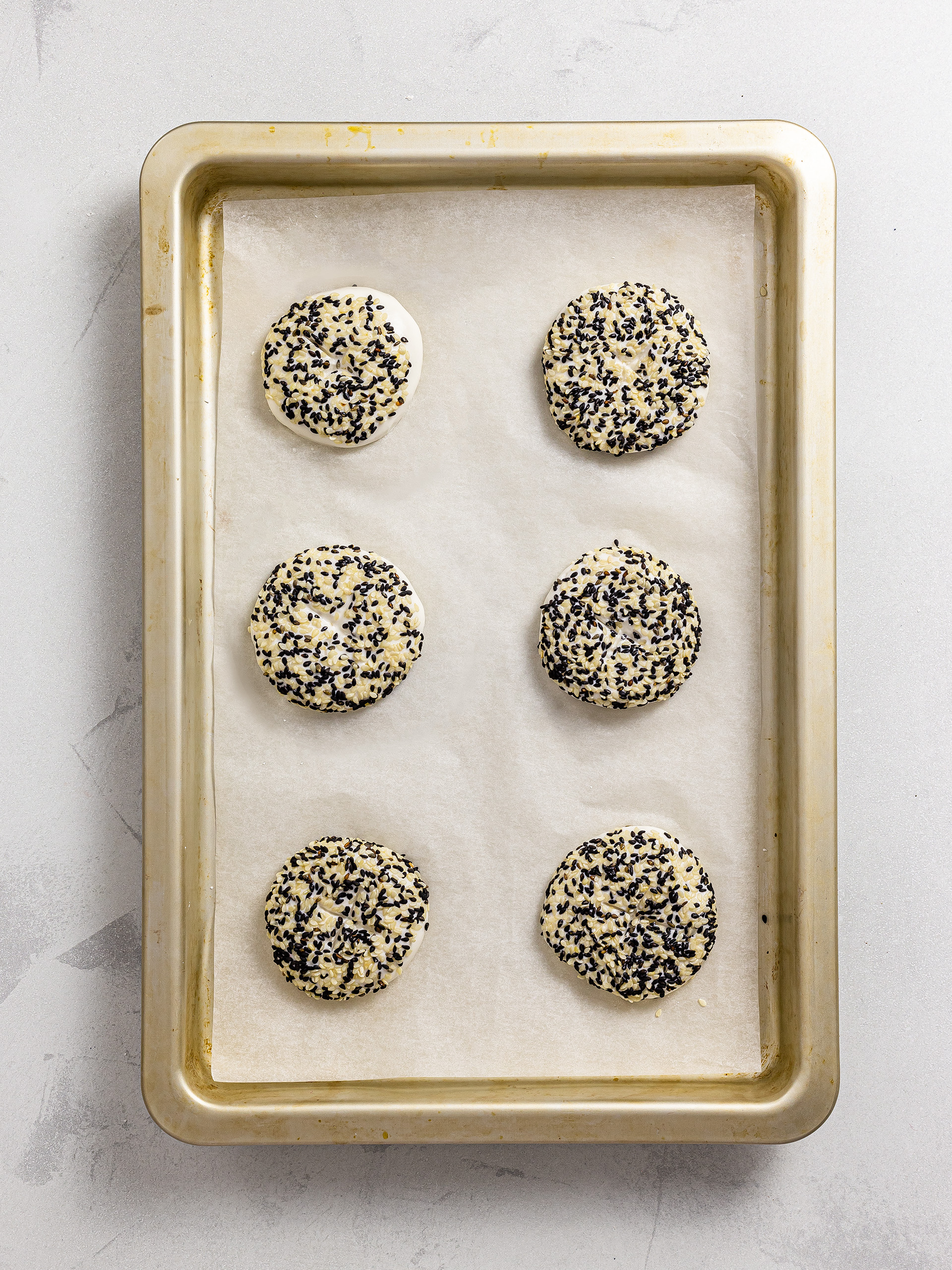 2
Step 4
Preheat the oven to 200°C (390°F) static or 180°C (355°F) fan.
Bake the mochi rolls on the middle shelf for 30 minutes (for slightly softer bread) or 35 minutes (for slightly crustier bread). The rolls will look slightly golden when ready.
Note: as the bread cooks, the mochi dough will inflate making the rolls puff up — this is normal.
Once ready, transfer the mochi rolls onto a rack.
Let them cool down just slightly, and enjoy them while still warm.
The rolls' crust will be ultra crunchy like bread, while the crumb will be deliciously chewy, moist, stretchy, and sticky — just like a Japanese mochi!
If the rolls get too tough or chewy once cooled, we recommend warming them up to make the crumb soft again.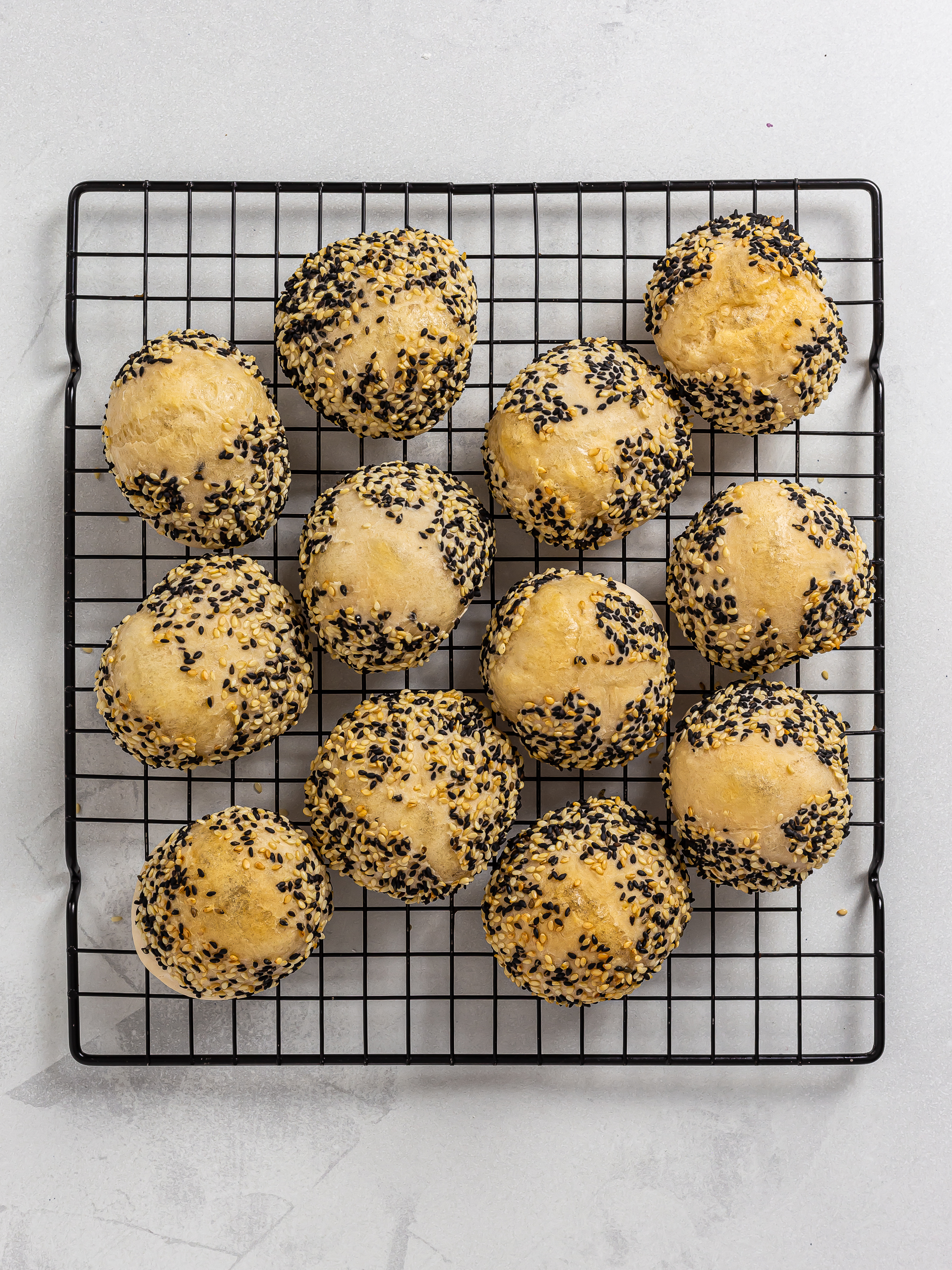 Tips
These gluten-free mochi bread rolls are at their best on the same day and when still warm as the mochi crumb will be soft, moist, and chewy.

You can store any leftover mochi bread in a paper bag or bread box and then warm it up in the oven before serving.