You can hardly enjoy Indian night without a warm and soft chapati. But what if you are intolerant to gluten? Traditional chapati, or roti, is not gluten-free, so you would have to leave it on the table. Well, not anymore!
Below we will show you how to make a healthy chapati that is gluten-free and more nutritious than the classic one.
To get rid of the pesky gluten, we have replaced wheat flour with a combination of gram flour, fine cornmeal, and arrowroot starch.
This mix is tastier than wheat flour and has a better ratio of proteins to carbs, meaning that is more nutritious.
There are many variations to chapati recipes, as this soft bread is native not just to the Indian subcontinent but also to the Caribbeans and East Africa.
We have tipped in a little bit of turmeric to give it a lush yellow colour, but you may also use herbs like coriander, grated radish, garlic powder, or pepper.
In fact, once you get familiar with the recipe, you should just go wild and use your favourite ingredients!
Overall, one of our gluten-free chapatis has 200 calories and comes with 6 grams of protein.
It's so flavourful that you can even have it on its own or pair it with your favourite chutneys and curries. Oh, and it's ready in only 20 minutes!
Ready for this? Let's go!
And if you'd like to try another gluten-free flatbread recipe, check out these flatbreads made with quinoa. Easy to make and full of flavour!
Frequently Asked Questions
Which other gluten-free flours can I use?

To make gluten-free chapatis, you can use a variety of flours. For our recipe above, we resorted to a mix of gram flour (chickpea, or garbanzo flour) and fine cornmeal.

Here is a list of other gluten-free flours you can use to make chapati:

Buckwheat and rice flour (50 - 50)

Almond or coconut flour, for a keto chapati

Oat flour, for a sweet chapati

Cassava flour, for a Caribbean style chapati

When cooking and baking with wheat-free flours, make sure you also add a binder. In this recipe, we have used arrowroot starch, but you can also opt for potato starch or maize starch. Alternatively, try using a flax-egg or chia egg. They are prepared with ground flaxseeds or chia seeds soaked in cold water in ratio 1 : 3 for 10 minutes until thick and gel-like.
Are chapatis gluten-free?

Traditional chapatis are not gluten-free, as they are prepared using wheat flour. Our chapati recipe above is gluten-free instead, as we swapped the wheat flour with a mix of gram flour (chickpea or garbanzo flour), fine cornmeal, and arrowroot starch.
Is chapati good for you or is it fattening?

Chapati is made with simple and natural ingredients, so it is certainly not bad for you. But if you are on a weight-loss diet, you should minimize the excessive consumption of carbs. Foods like bread and chapati can be enjoyed, but in moderation.

Our chapatis above use a mix of flours that has fewer carbs than wheat flour, but it still has some. But you can safely have one or two of these flatbreads on any balanced diet without putting on weight.

To make these rotis even healthier, you can cook them in the oven instead of pan-frying.
What can I serve with chapati?

Just like bread, you can serve chapati with pretty much anything. Traditional choices are curry, chutney, sagaloo, legumes, and steamed greens.

For extra inspiration, check out our curry recipes, chicken saag, and carrot chutney.
Can I reheat chapati?

Yes you can. You can either quickly re-heat it in a skillet or even in the microwave. We are not big fans of using the microwave, as it makes things a bit soggy and steamy during the re-heating process. But for chapati, this is actually a positive thing.

You can also use a standard oven, but keep the temperature medium/low to avoid turning the chapati overly crispy.
Do I need yeast in chapati?

Chapati is unleavened bread, so you don't use any yeast or baking powder. This is one of the main differences between chapati and naan, which is leavened - more about this below.
Is chapati like naan?

While they may appear similar at first sight, chapati and naan are quite different.

First of all, chapati is unleavened and flat, whereas naan uses yeast which makes it grow thicker and form bubbles.

Second, naan often uses more ingredients, like eggs, milk or even yogurt. These extra ingredients add complexity to both flavour and texture.

Finally, the two are prepared using different methods. Chapati is cooked on a regular skillet, while proper naan requires the use of a tandoori oven
Ingredients
| | |
| --- | --- |
| Fine Cornmeal | 100 g |
| Gram Flour | 170 g |
| Arrowroot Starch | 80 g |
| Salt | 1 tsp |
| Turmeric | 1 pinch |
| Vegetable Oil | 3 tbsp |
| Warm Water | 180 mL |
Step 1
In a shallow mixing bowl, combine fine cornmeal, gram flour, starch, salt, and turmeric.
Give it a good stir and then pour in the vegetable oil, like canola oil, and warm water.
Work the ingredients until they come together into a dough, then transfer it on a floured surface and knead for a few minutes.
The flatbread dough should be smooth and pliable, but not sticky. So, if needed, add more gram flour until you reach the right consistency.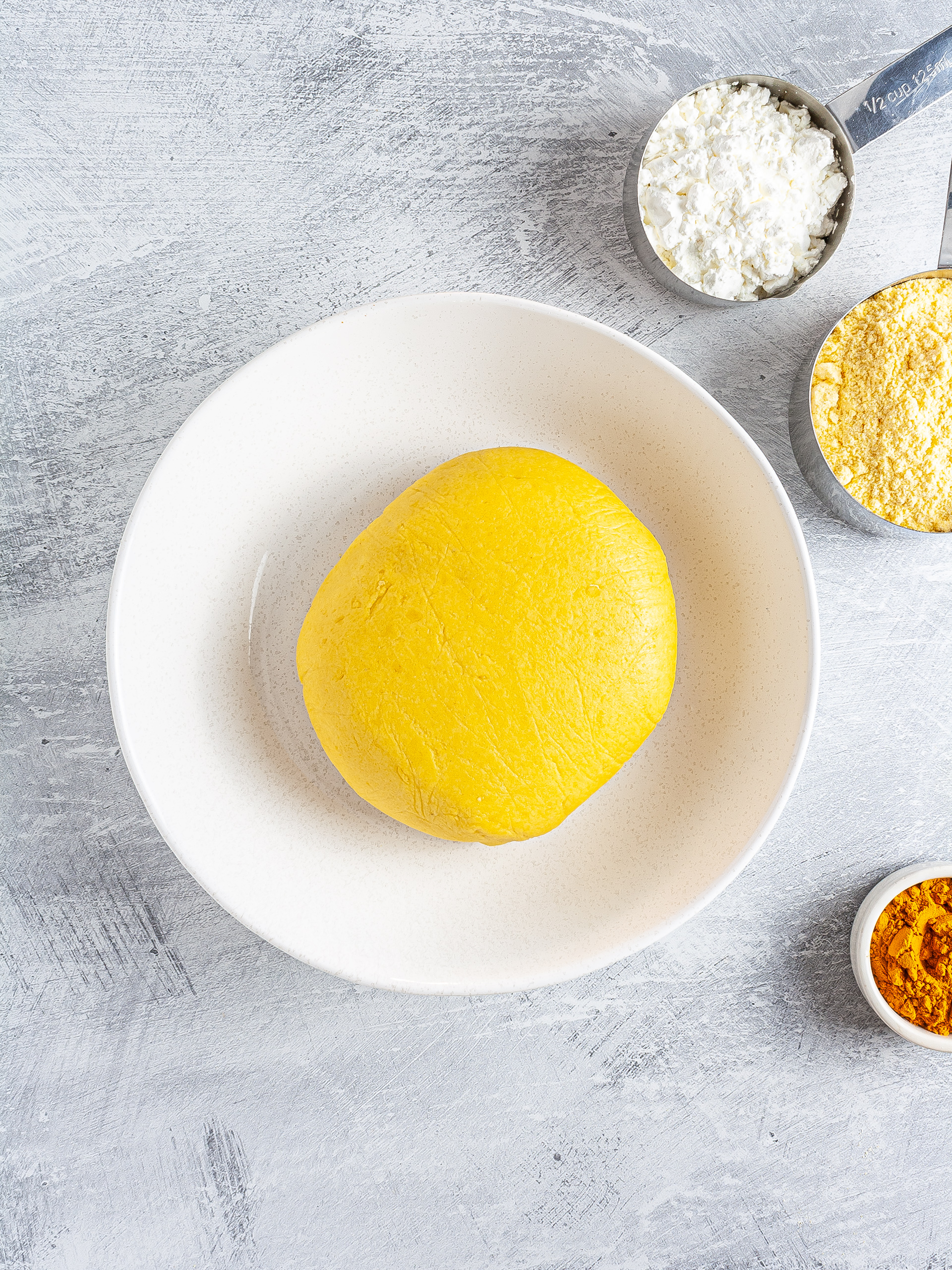 Step 2
Divide the prepared dough into as many pieces as the number of servings.
Roll each piece into a ball, let it sit on a tray, and cover it with cling film.
This way, the dough won't dry out while you roll out and cook each flatbread.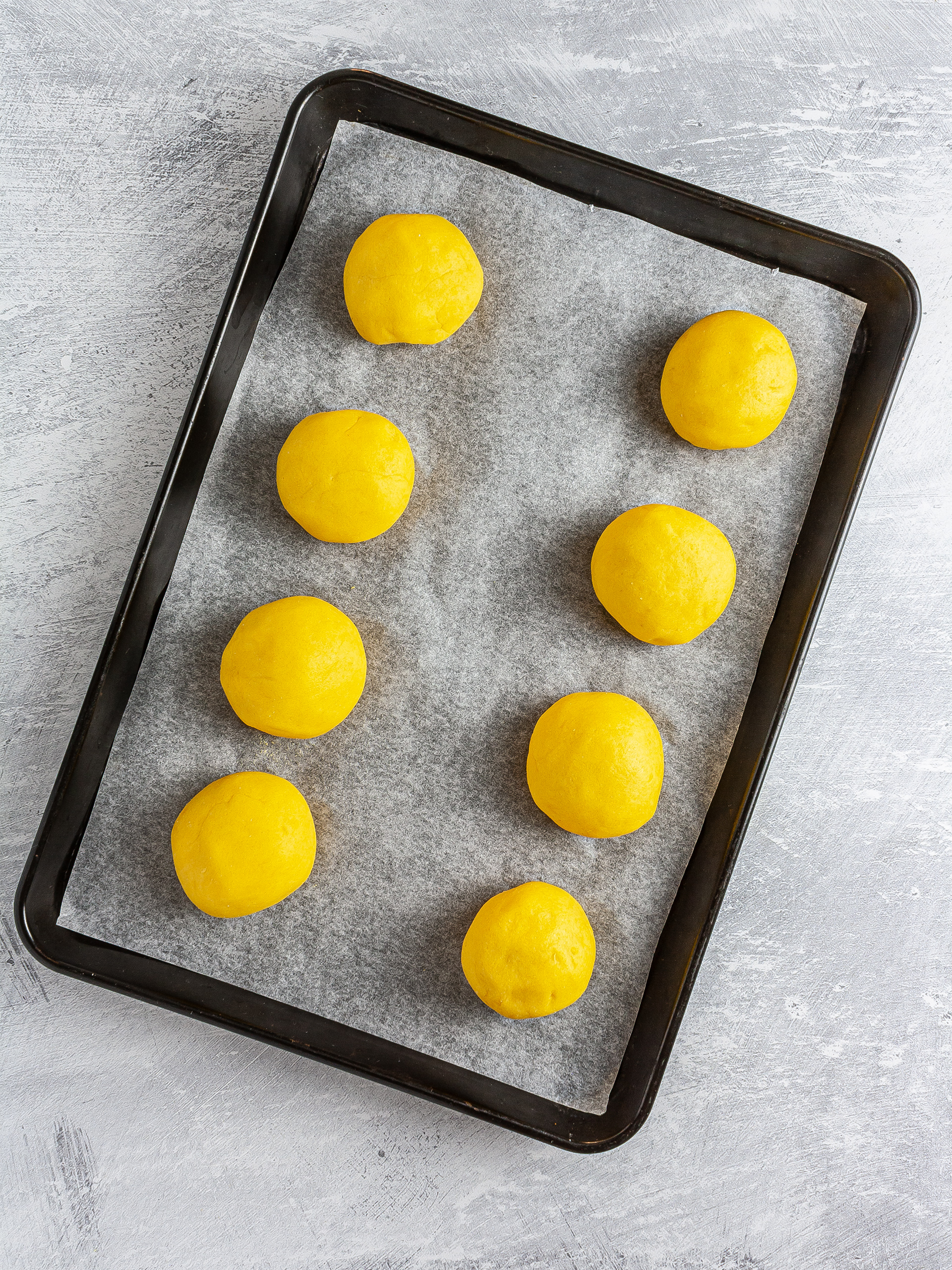 Step 3
For each roti, roll out one ball of dough in between two sheets of baking paper with the help of a rolling pin, forming a 13 cm (5 inches) round flatbread.
As the gluten-free dough is not as stretchy as the classic one, we recommend you roll it out to a slightly thicker chapati, about 3 mm thick (1/8 of an inch).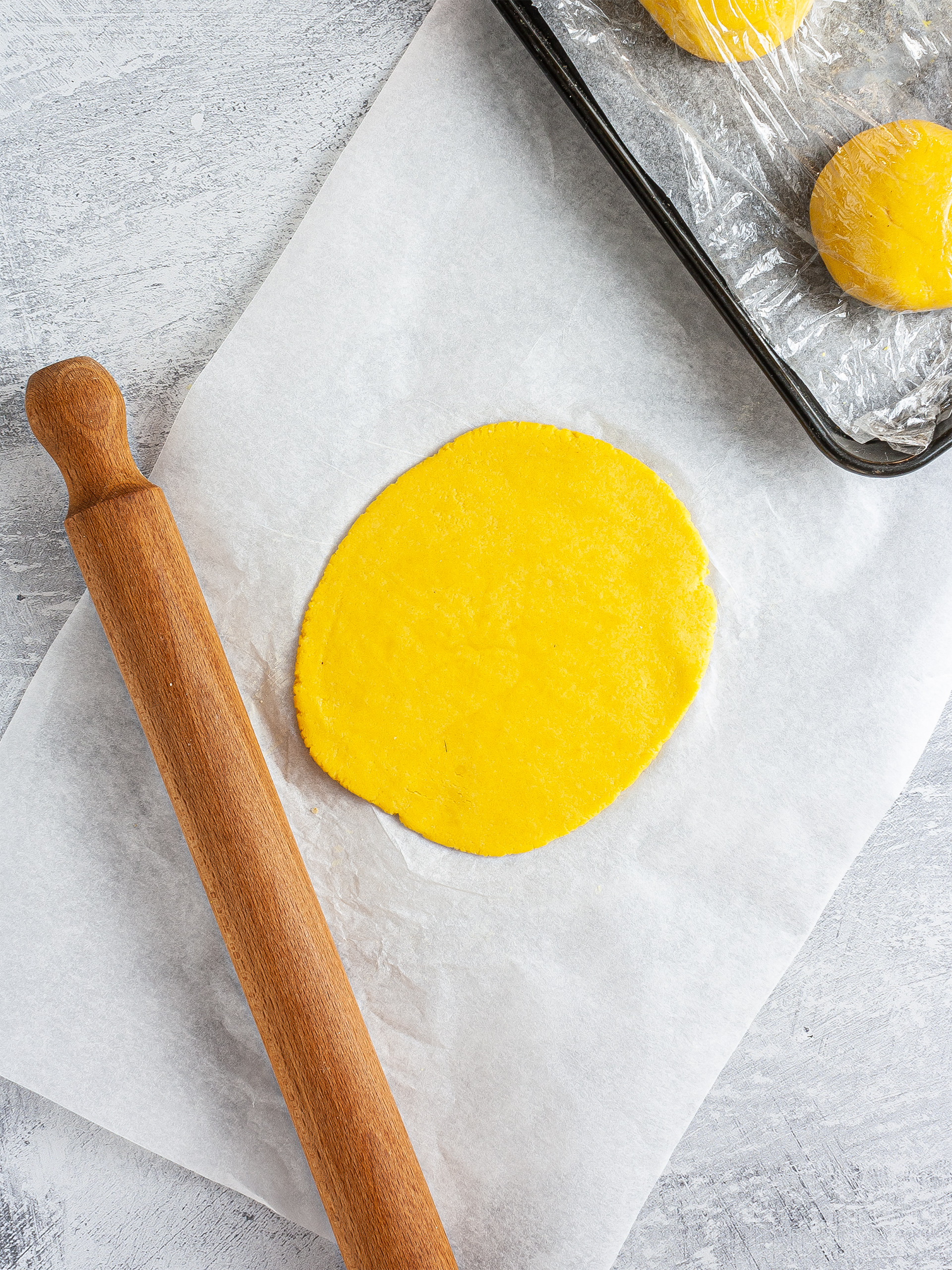 Step 4
In a non-stick skillet, heat a teaspoon of vegetable oil and then add the prepared chapati.
Cook the flatbread for about 2 minutes over medium-high heat. When you see brown spots on the underside, then flip it with a spatula and cook for another 2 minutes.
Make sure you allow the cornmeal to cook properly.
Repeat for this step for each rolled-out flatbread and serve the chapatis warm.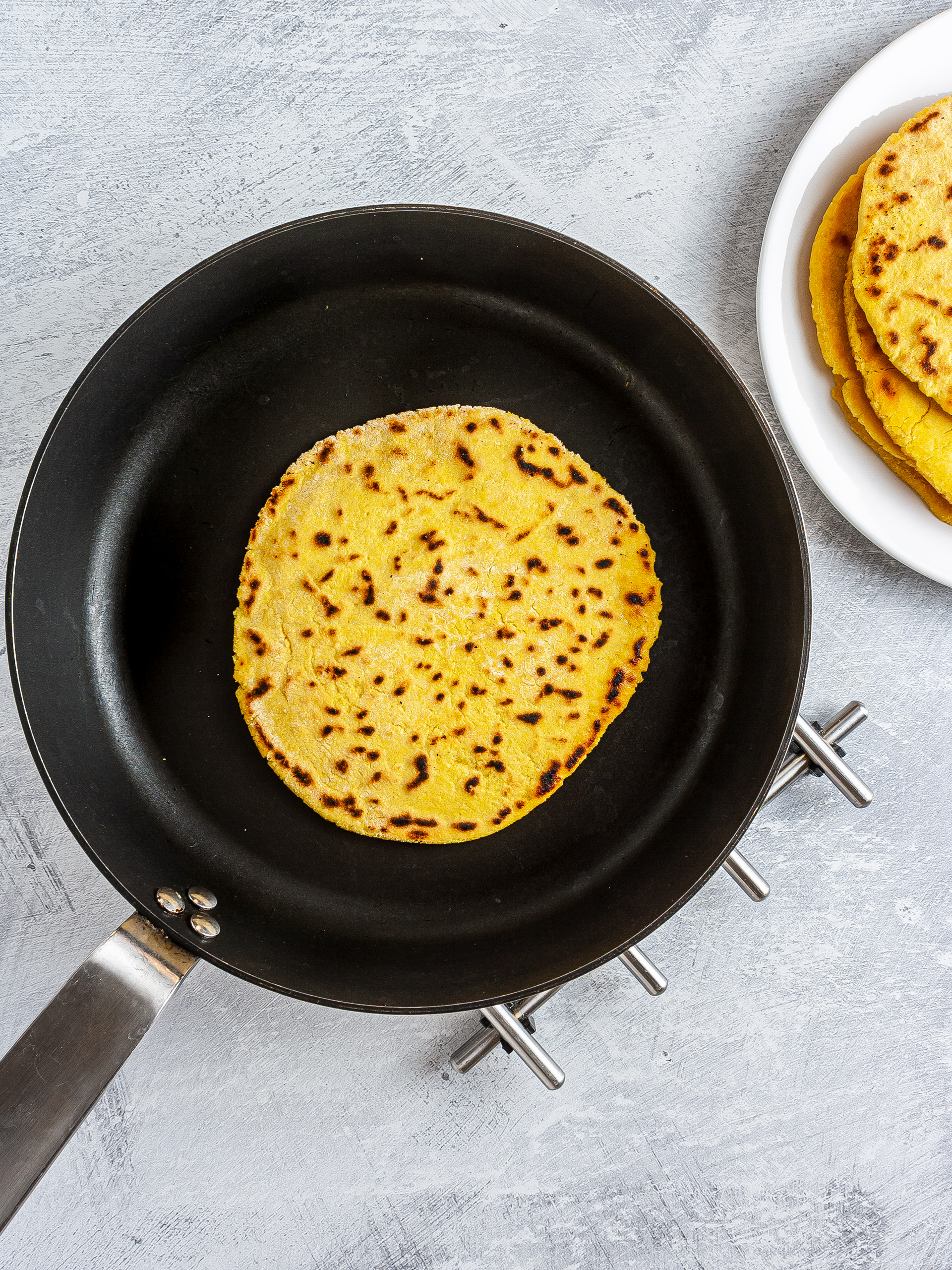 Tips
Traditionally, the chapati dough is kneaded with the knuckles of the hand made into a fist.

Keep the rolled-out rotis under cling film or a damp to towel to prevent them from drying out while you cook each chapati.