Banish those boring sandwiches and jazz up your lunch box with our super-quick veggie hummus wrap.
We made a delicious combo of green pea hummus and chia coleslaw, and used it as stuffing for wholemeal tortillas. The result is a tasty and nutritious wrap with a creamy and crunchy kick.
This no-cook recipe is absolutely perfect for your weekly meal prepping or as a quick midweek dinner. It takes just 15 minutes to make, and you'll need only a few only wholesome, raw ingredients.
We made a velvety green pea hummus with frozen peas, tahini, garlic, and extra virgin olive oil. After our beetroot hummus, we wanted to experiment with new and creative ways of preparing this Lebanese-inspired dip. So we opted for green peas as they pack plenty of proteins and add a hint to sweetness to the hummus.
Then, we paired it with an extra crunchy coleslaw made with red cabbage and carrots. Instead of mayonnaise, we used soy yogurt as a base for our coleslaw to make it low-fat and vegan. Finally, we added superfood chia seeds for an omega-3 boost.
One of these veggie wraps has 377 calories, 10% RDI for carbs, 32% RDI for proteins and almost 60% RDI for fibres. Sweet deal!
Ingredients
Coleslaw
Red Cabbage

200 g

Carrots

200 g

Chia Seeds

2 tsp

Soy Yogurt

100 g

Apple Cider Vinegar

2 tsp

Dijon Mustard

2 tsp

Pea Hummus
Frozen Peas

360 g

Lemon Juice

40 mL

Garlic

2

Extra Virgin Olive Oil

1/2 tbsp

Tahini

2 tbsp

Others
Tortilla Wrap Wholemeal

4
Step 1
Place the green peas in a bowl of hot water for 5 minutes to defrost and then drain them well.
Alternatively, you can leave them to thaw overnight in the fridge.
To make the hummus, add the peas to a food processor followed by lemon juice, garlic, extra virgin olive oil, and tahini.
Blitz the ingredients into a smooth and creamy hummus.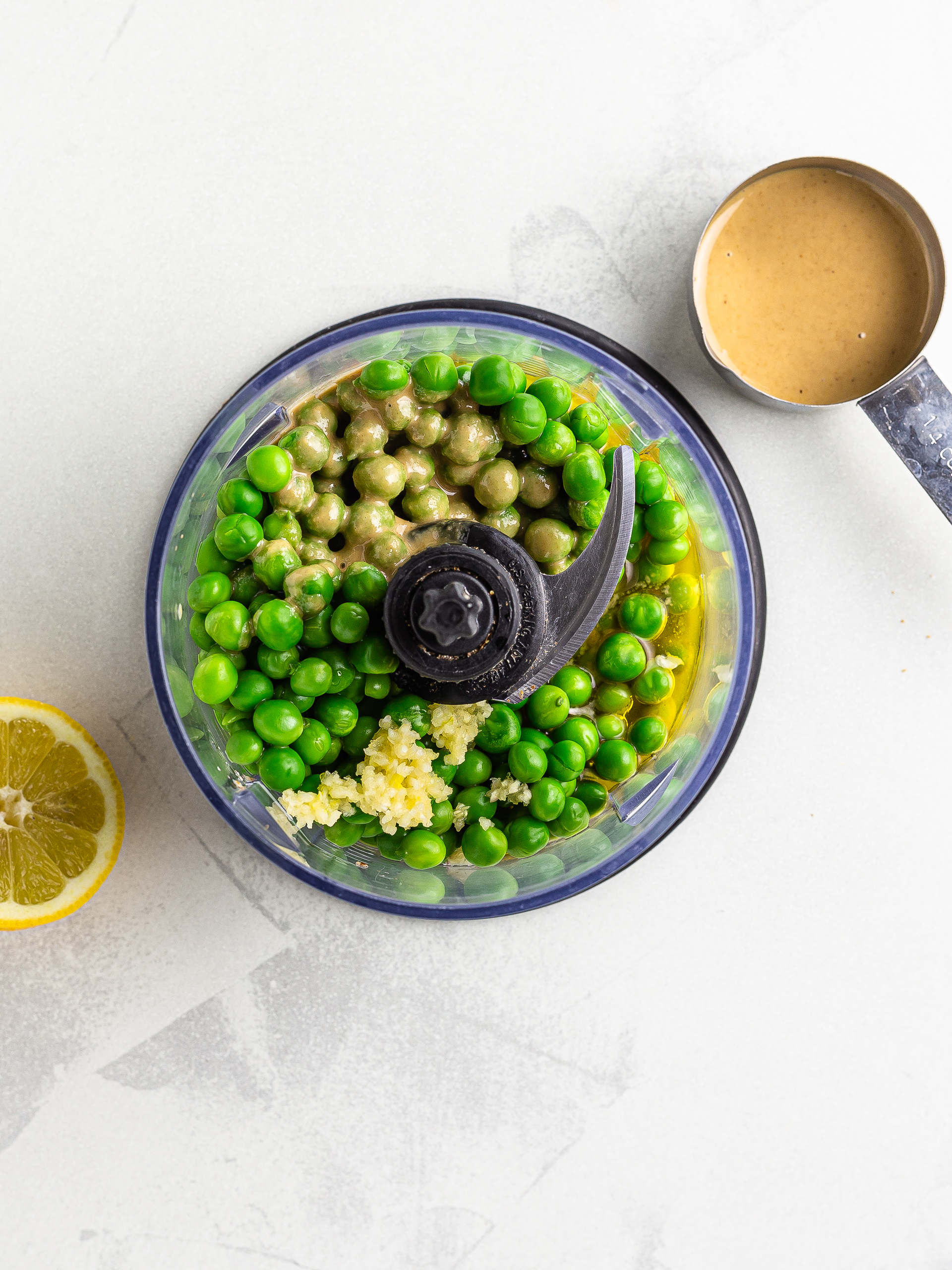 Step 2
Shred the red cabbage and peeled carrots using a box grater or blitz them in a food processor in short bursts.
Then, mix them with chia seeds, soy yogurt, apple cider vinegar, and Dijon mustard in a bowl.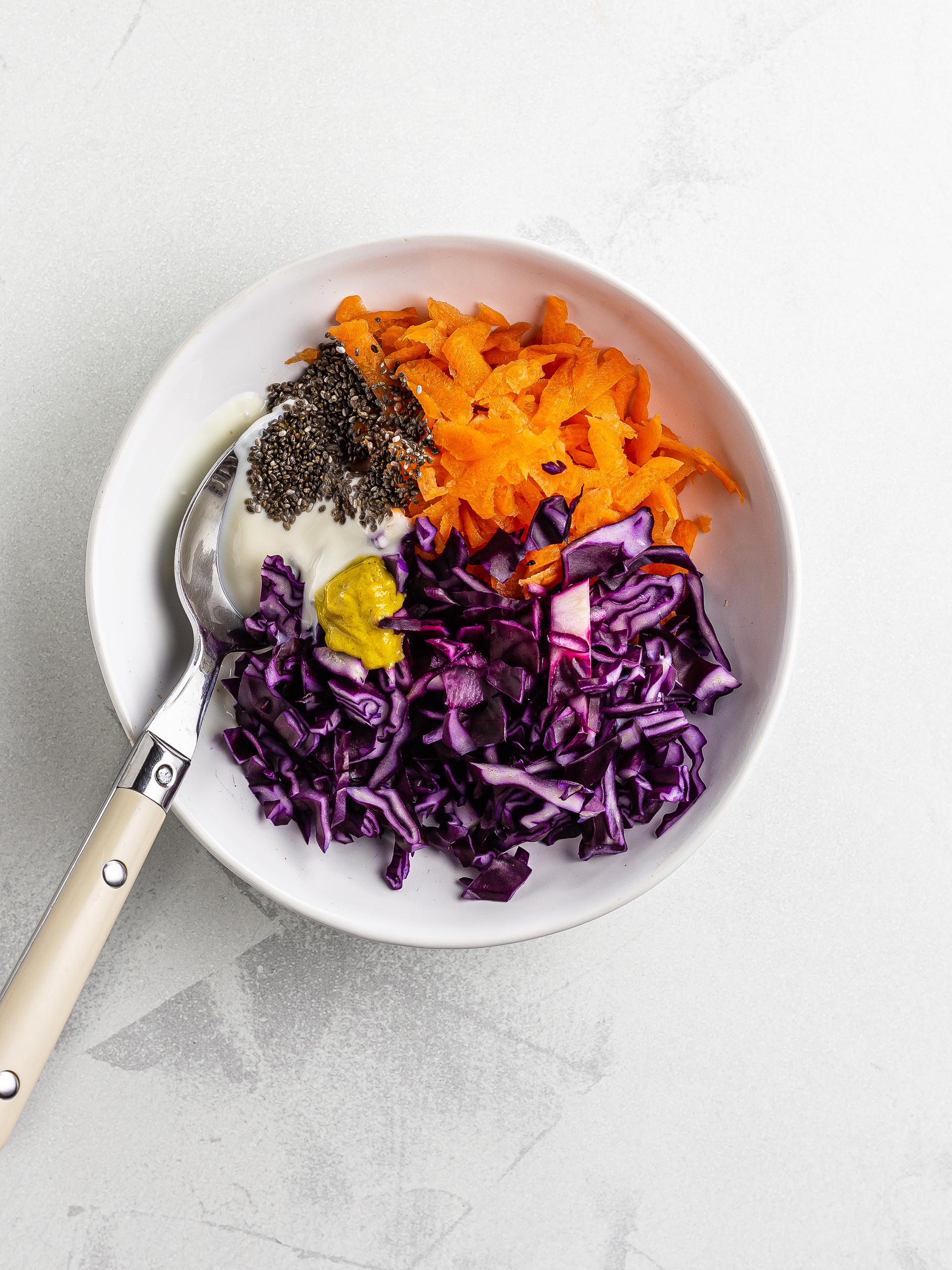 Step 3
Now, spread a few tablespoons of pea hummus in the centre of each wholemeal wrap (1).
Then, top it with the prepared chia coleslaw (2).
Finally, fold the opposite sides of the tortilla over the filling almost to touch each other. Then, keep them pulled as you bring up the bottom flap of wrap and roll it tightly (3).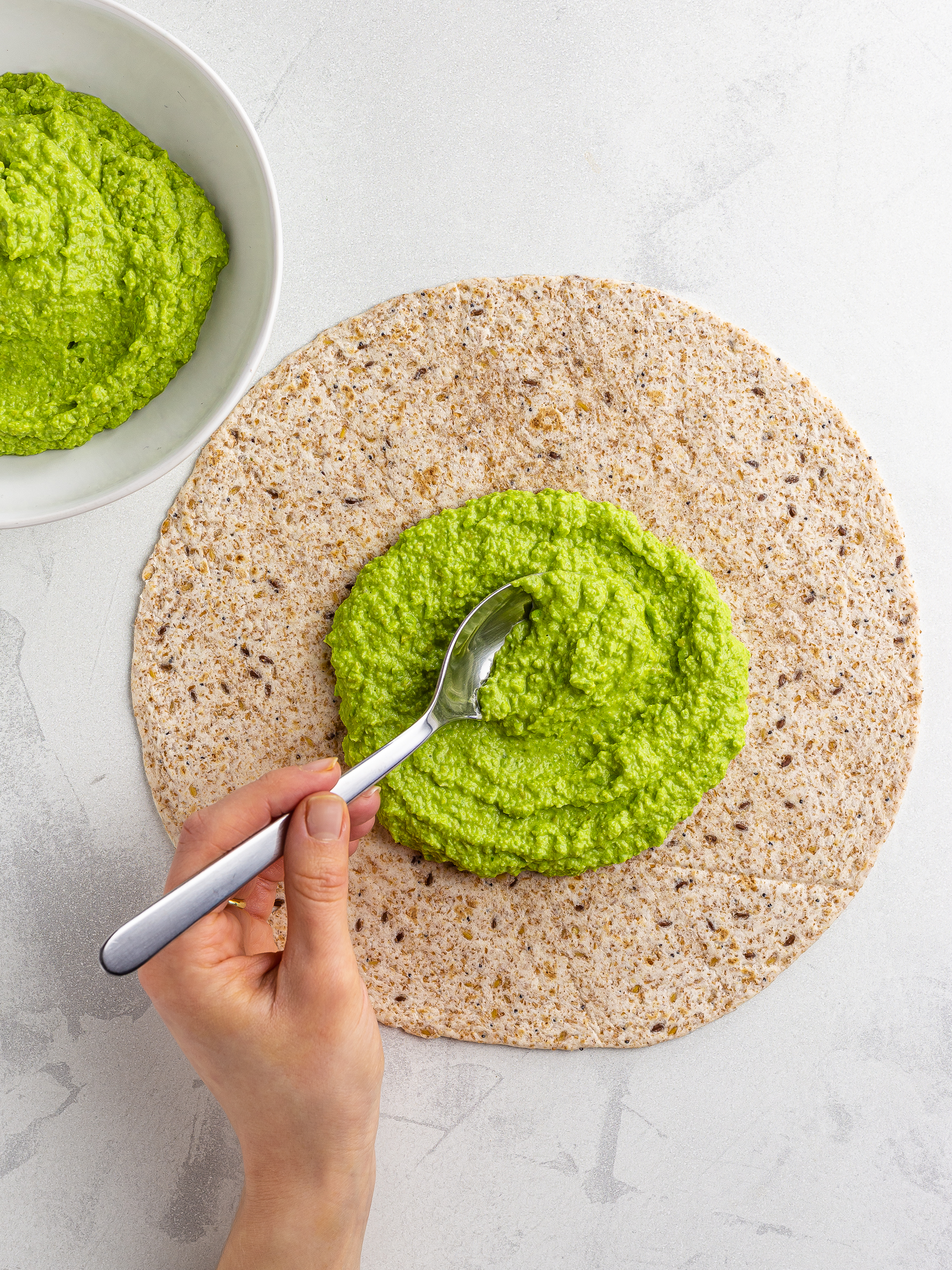 1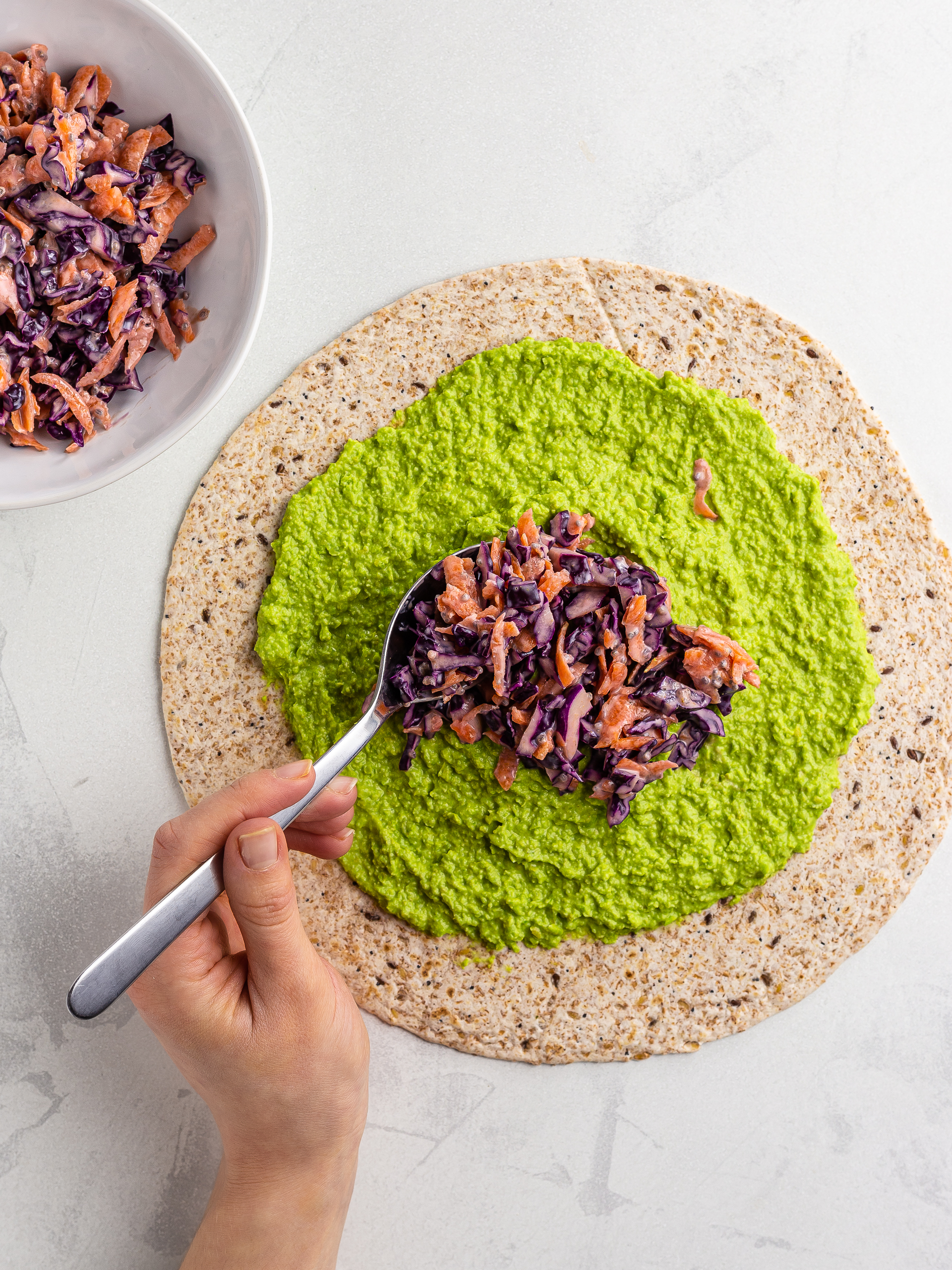 2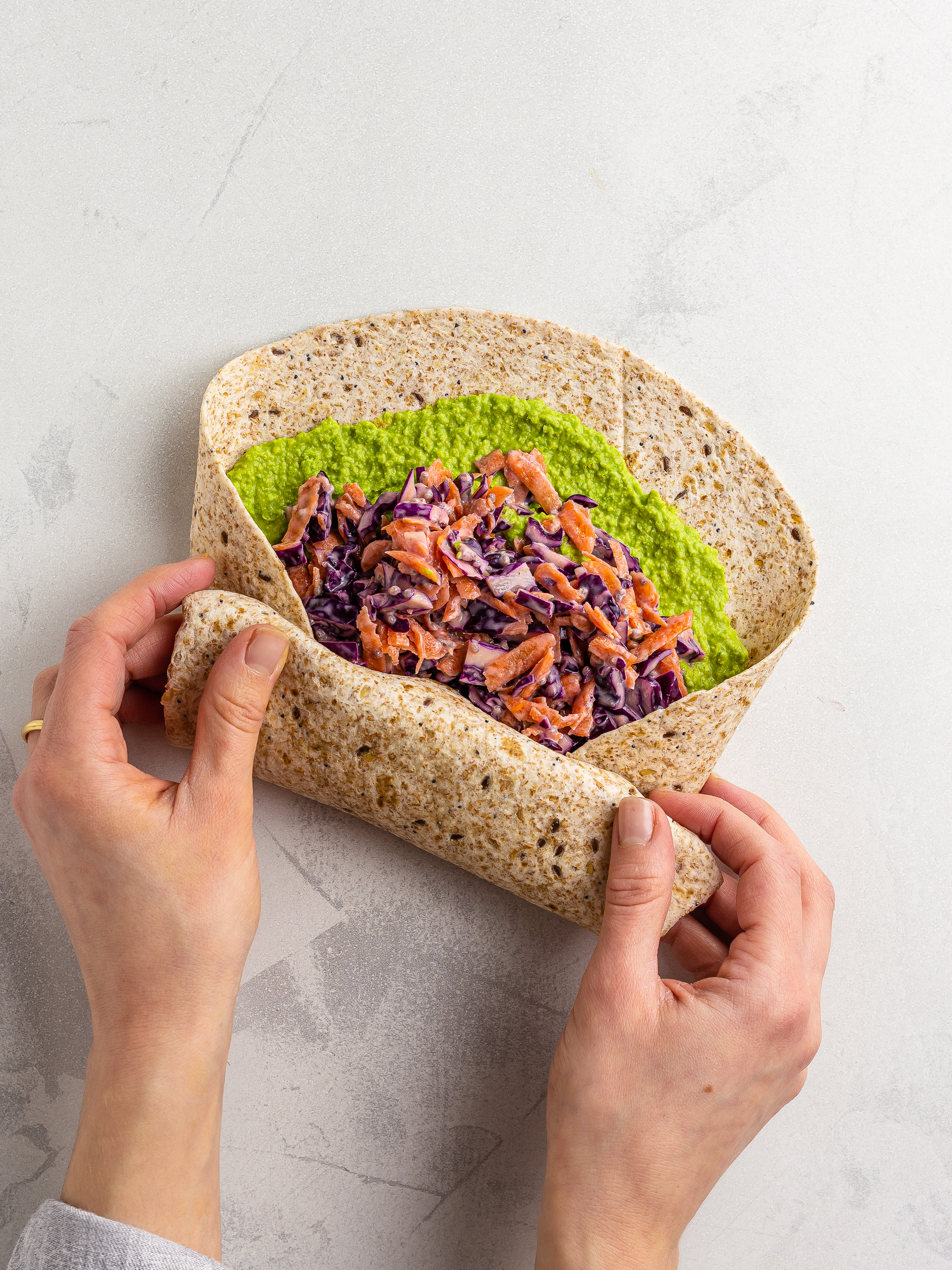 3
Tips
You can season the green pea hummus with a small handful of fresh coriander, parsley or mint.