After the success of our Haitian oatmeal, we decided to make another breakfast porridge inspired by Caribbean culinary traditions.
We opted for a grain-free recipe prepared with one of the most popular ingredients in Haiti: plantain. Creamy, sweet, and easy to make, this plantain porridge is a real delight we're sure you'll love!
Also known as labouyl bannann in Haitian Creole, plantain porridge is a humble breakfast dish yet packed with wonderful Caribbean flavours.
In our recipe, we blended plantain with coconut milk drink and then simmered the purée with cinnamon and star anise. So tasty!
The classic recipe is usually prepared with tinned coconut milk and condensed milk. Instead, we opted for the coconut milk drink, which has the same delicious flavour but a fraction of the fats.
Also, we skipped the condensed milk to keep this recipe dairy-free and vegan.
Plantain, also known as cooking banana or green banana, is a staple food in the Caribbean islands. According to its degree of ripeness, it can be used in different ways.
The green fruit has a mild taste, is higher in starches and is great in savoury recipes like plantain chips.
The overripe, blackened fruit is softer, sweeter, and can be eaten raw, baked, or used in sweet recipes like plantain bread, plantain muffins, and plantain waffles.
Many plantain porridge recipes use green plantain and then add in sugar for sweetness.
Instead, we decided to use just-ripe, yellow plantain, which is sweeter but still retains some starches, essential to thicken the porridge.
Using ripe plantain means we don't need to add any refined sugars to the porridge, keeping our recipe sugar-free.
We love this Haitian porridge because of its unique contrast between fresh coconut, warm cinnamon, and sweet plantain.
And by being ready in less than 15 minutes, it means we can prepare it quickly right before breakfast!
Ingredients
| | |
| --- | --- |
| Ripe Plantain | 1 |
| Coconut Milk Drink | 380 mL |
| Cinnamon Sticks | 1 |
| Star Anise Pods | 2 |
Step 1
Peel and chop the plantain, then add it to a food processor along with the coconut milk drink.
Blitz all until smooth and creamy.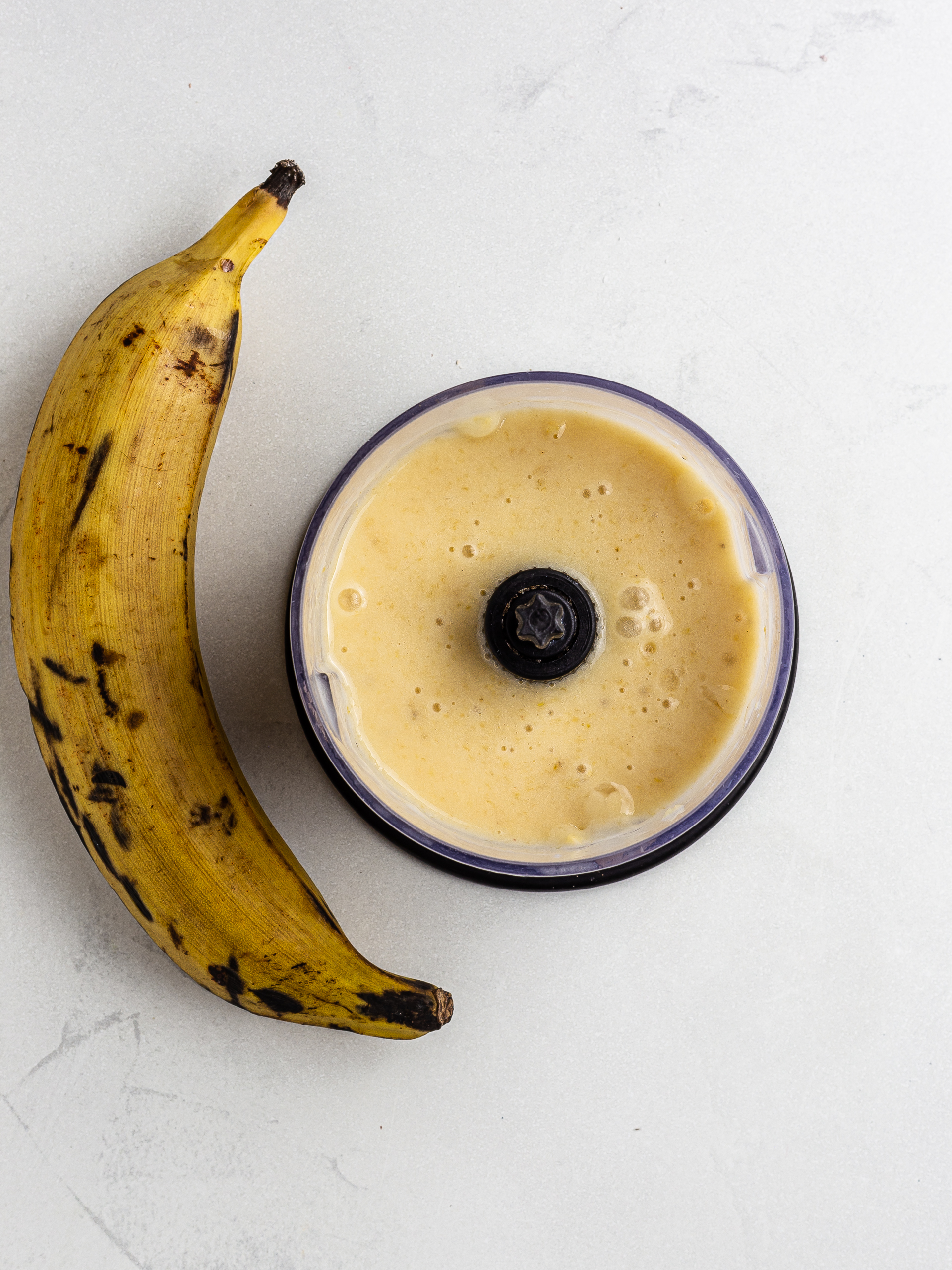 Step 2
Transfer the plantain purée to a pot and tip in the cinnamon stick and star anise pods.
You can also add in more coconut milk drink if you prefer a runnier porridge.
Bring the mixture to a boil and simmer over low heat for 5-8 minutes while stirring.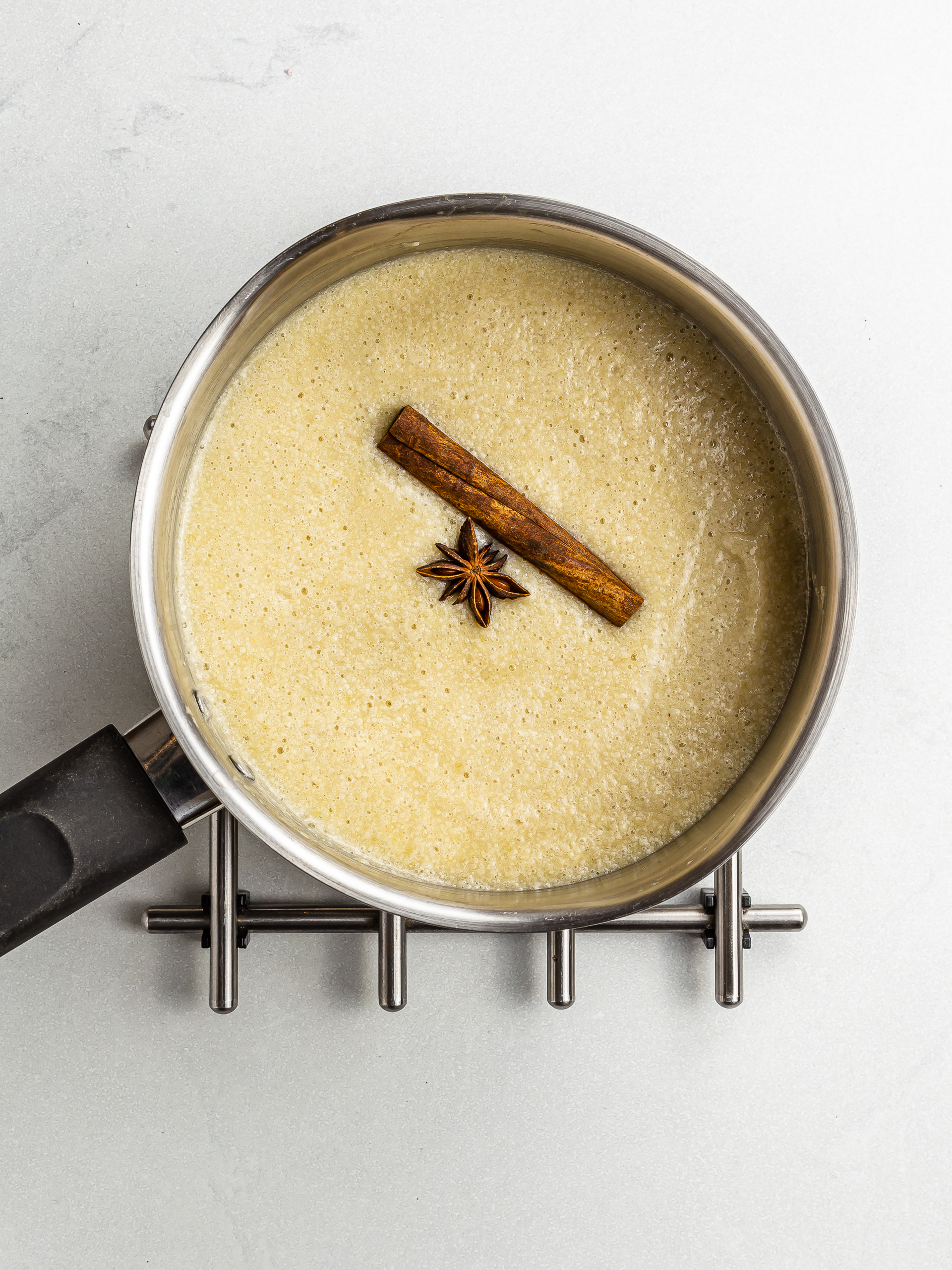 Step 3
Finally, divide the plantain porridge among breakfast bowls and enjoy it warm.
You can optionally top it with plantain slices and dusted cinnamon.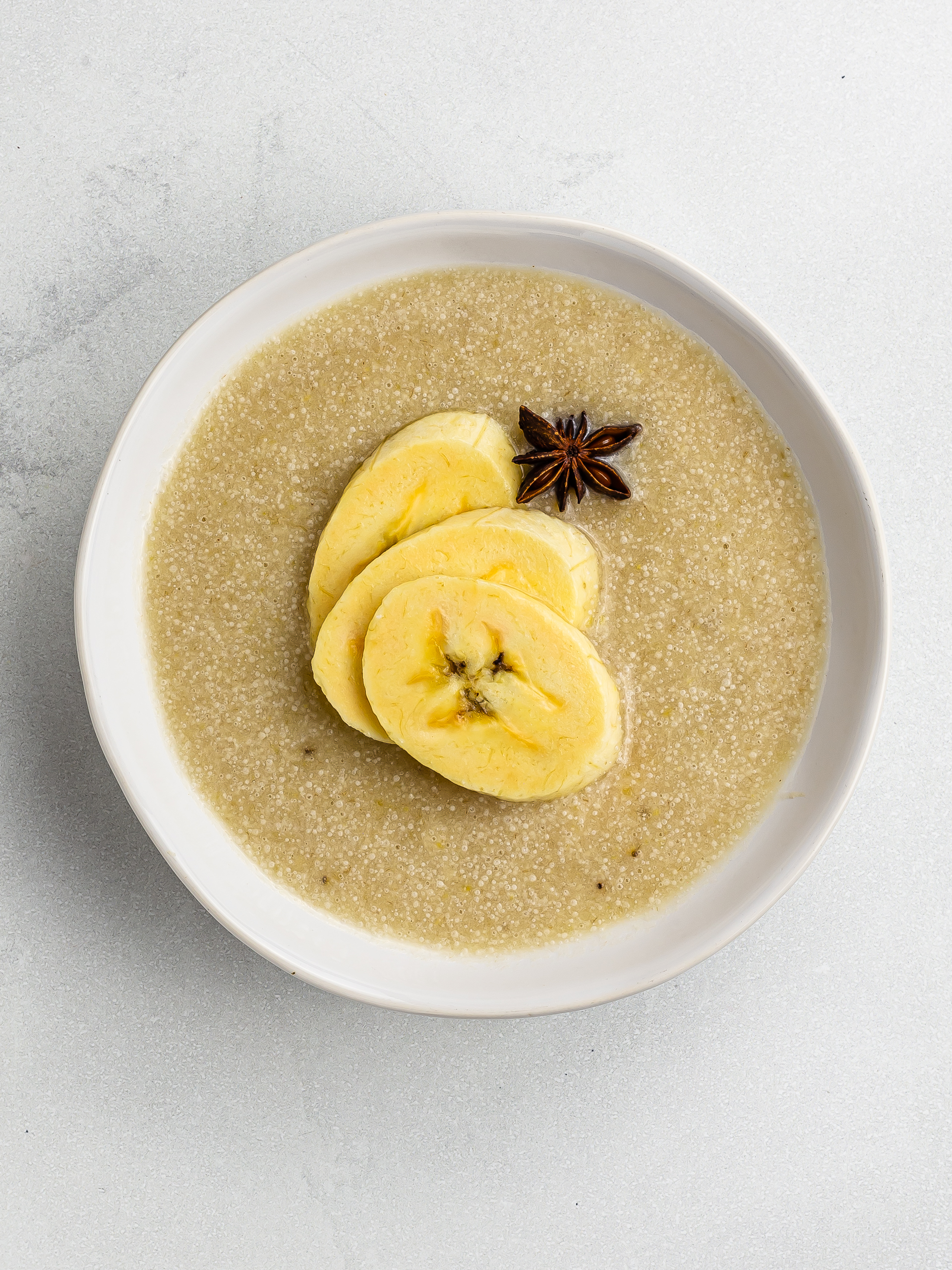 Tips
You can replace coconut milk drink with half tinned coconut milk and half water.

If you're using green plantains, they won't be as sweet as the ripe ones; so taste the porridge and, if needed, drizzle it with maple syrup to taste.

You can add ground nutmeg and lime zest to the porridge for extra flavour.