Finding it hard to get your daily iron? This healthy smoothie bowl idea is the perfect recipe to up your iron intake whilst having a delicious breakfast.
Smoothie bowls are a brilliant way to prepare a well-balanced breakfast with a satisfying combo of smooth and crunchy textures.
They usually consist of a scoopable smoothie, served in a bowl and topped with nuts, seeds, grains, and fruit.
For this recipe, we went through the best plant-based iron foods and selected five perfect ingredients to make an iron-boosting smoothie.
Here they are:
Spinach This leafy green is one of the best sources of vegan iron, delivering almost as much iron as beef, weight by weight.

Soy Yoghurt Choose a brand that's fortified with vitamins and minerals, and opt for vanilla-flavoured or lightly sweetened yoghurt for better taste.

Oats Use old-fashioned oats for a chunkier feel or quick-cooked oats for more creaminess. We recommend leaving the oats to soak in the smoothie to digest them better and absorb more iron.

Pumpkin Seeds An amazing source of plant-based iron and protein, they add a delightful crunch to your smoothie bowl.

Dark Chocolate Choose extra dark chocolate, like 70% cocoa solids, though 85%-90% would be ideal. You'll get more iron and precious antioxidants but less sugar!
Finally, we rounded up this iron smoothie bowl with diced strawberries.
Why strawberries? They're rich in vitamin C, which helps your body absorb more iron!
Instead of strawberries, you can also use other vitamin C-rich fruits like oranges or melon; or also kiwi as in this kiwi spinach iron smoothie recipe or papaya as in this tropical papaya smoothie bowl.
So, guess how much iron one of these mighty smoothie bowls delivers? A whopping 6.8 mg of iron!
It may not sound much, but that actually covers 78% iron RDI for men and 45% iron RDI for women.
So, start the day with this iron-rich spinach smoothie bowl to ramp up your iron intake, boosting your energy levels and supporting your immunity!
Ingredients
| | |
| --- | --- |
| Fresh Spinach | 50 g |
| Large Ripe Banana | 1/2 |
| Fortified Soy Yoghurt | 250 g |
| Rolled Oats | 30 g |
| Pumpkin Seeds | 1 tbsp |
| Strawberries | 60 g |
| Dark 85% Chocolate Shavings | 1 tsp |
Step 1
Trim off any hard stems from the spinach and add the spinach to a blender along with the banana and soy yoghurt.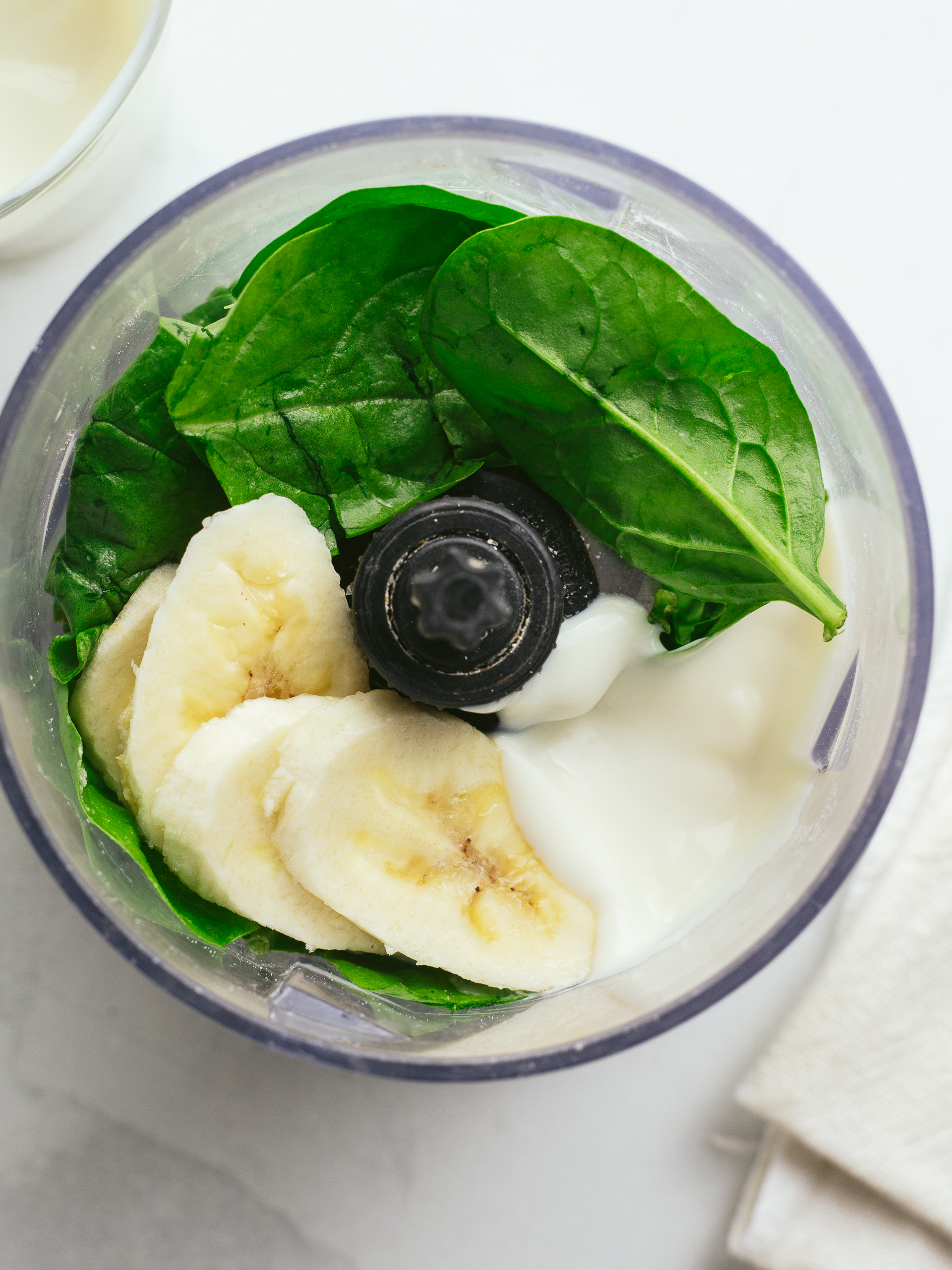 Step 2
Blitz the ingredients into a creamy green smoothie.
Taste the smoothie for sweetness, and add a little more banana or a splash of honey/maple syrup if you like it sweeter.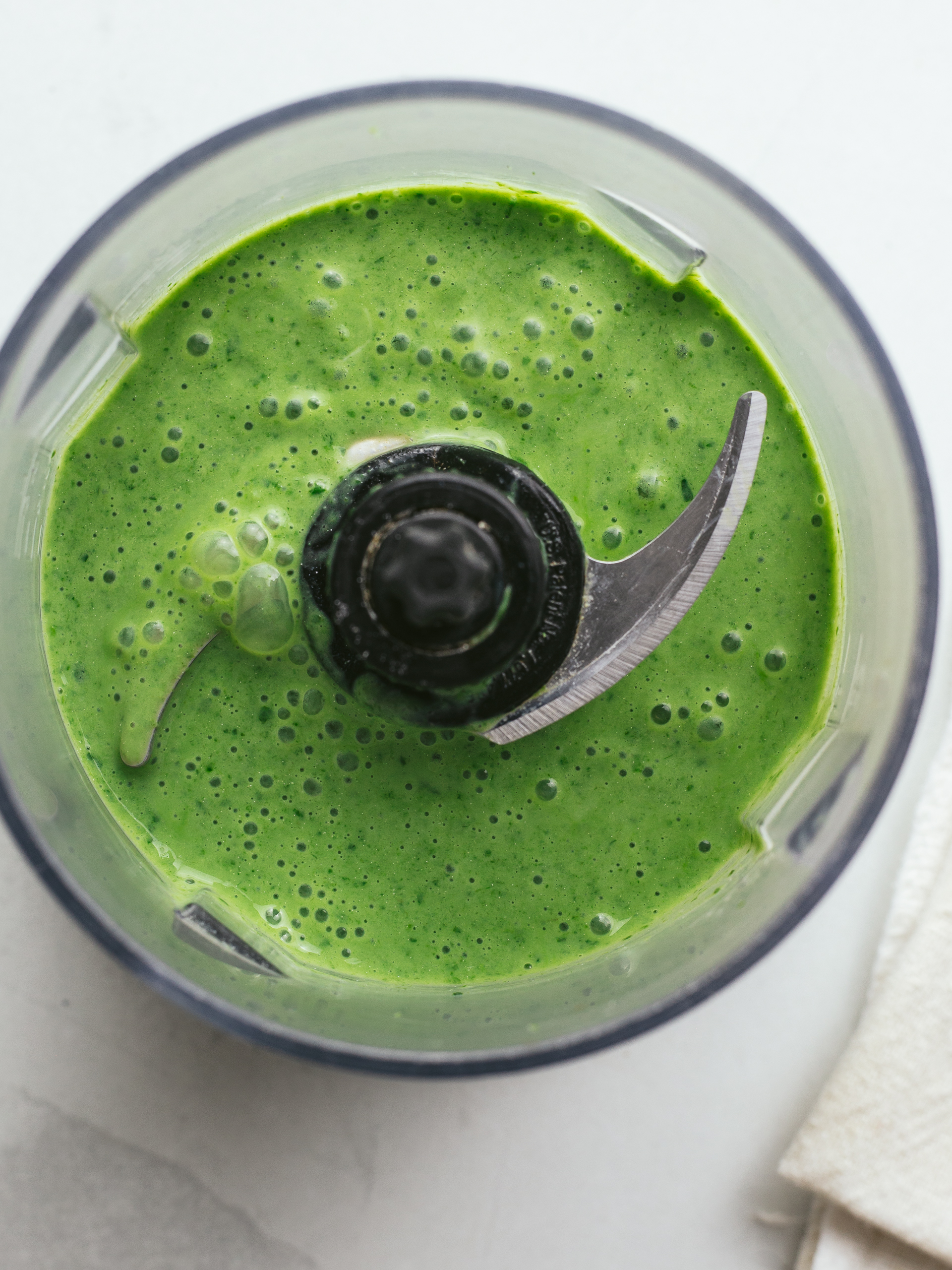 Step 3
Transfer the green spinach smoothie to a bowl and stir in the oats.
Allow the oats to soften for at least 20 minutes for better digestibility and iron absorption, or leave them to soak overnight.
Top your iron smoothie bowl with pumpkin seeds and sliced strawberries (1) and sprinkle with dark chocolate shavings (2). Enjoy!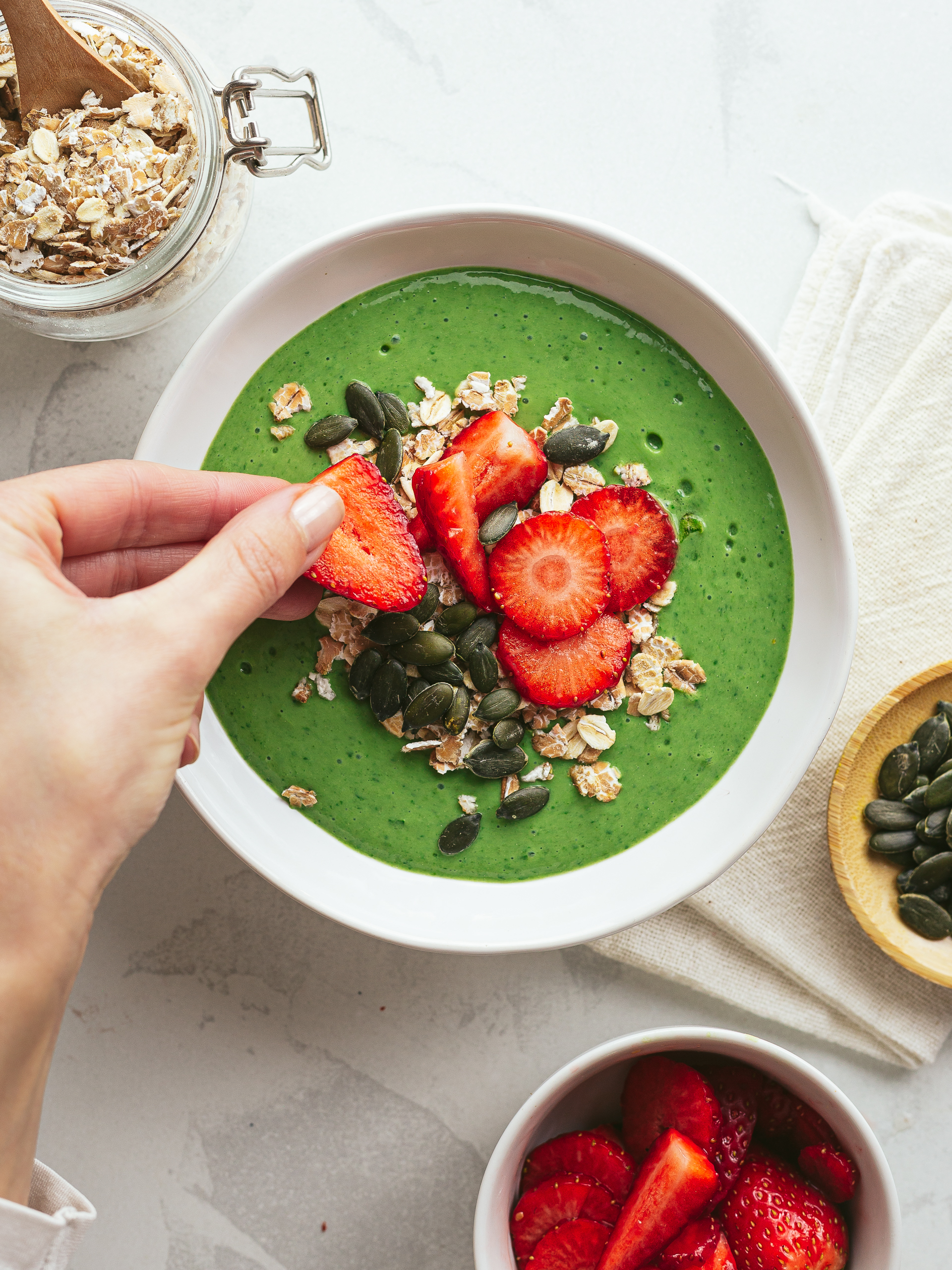 1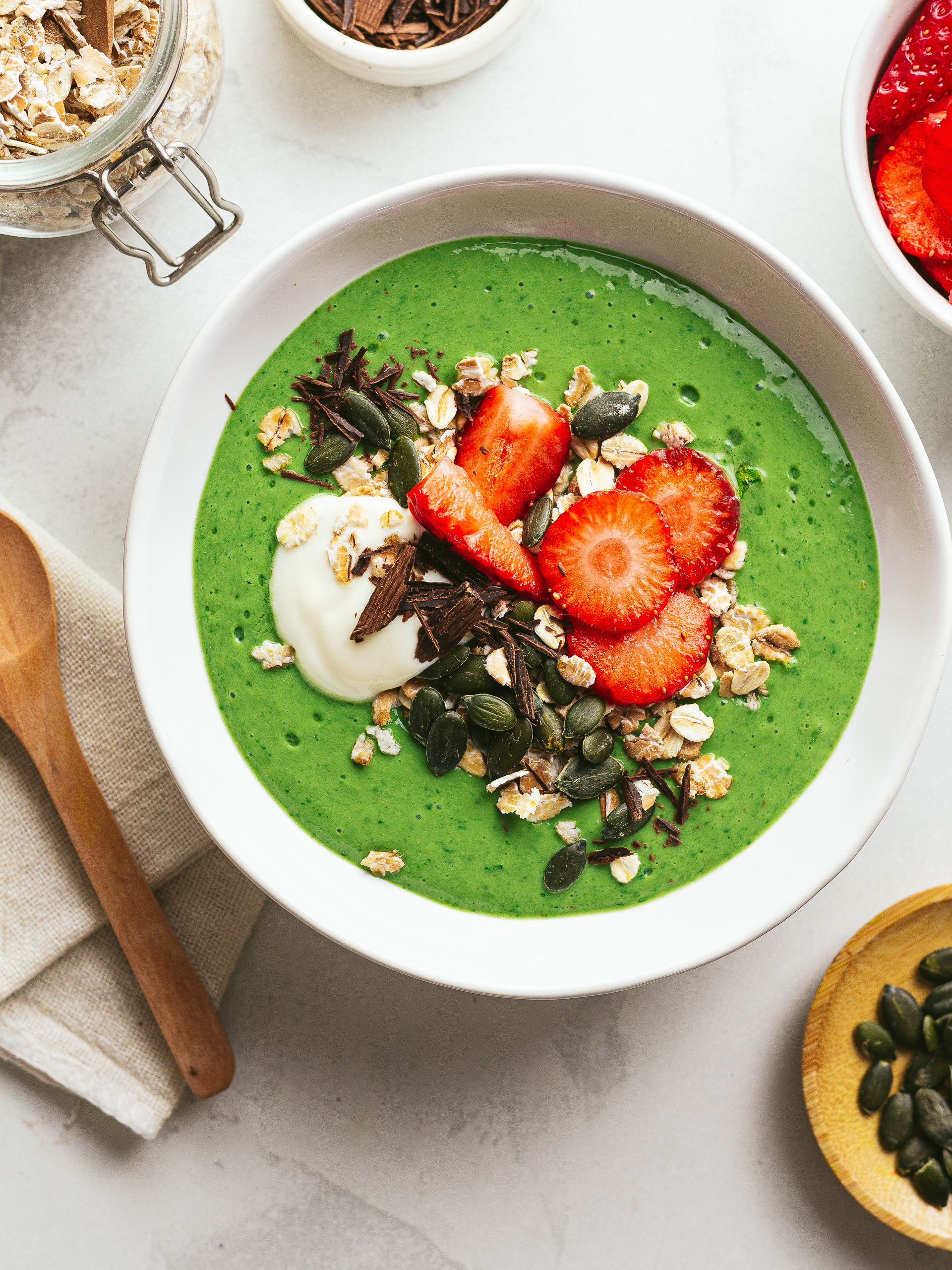 2
Tips
You can swap pumpkin seeds with flaxseeds or sesame seeds, which are also rich in iron.

You can use silken tofu instead of soy yoghurt for an even creamier smoothie bowl. Silken tofu is also higher in proteins and iron.

Instead of dark chocolate shavings, you can use cocoa powder as a healthy, high-iron topping for this smoothie.

If you don't have time to leave the oats to soak, you can dry toast the oat flakes in a hot skillet for a few minutes. Then, stir them into the smoothie and eat right away.

This iron green smoothie bowl is best eaten on the same day. If you want to batch-prepare it, you can store it in the fridge for 2 days, packed in an air-tight container.